This classic side dish takes only 20 minutes to prepare, can be made ahead, frozen and tastes SO much better than the stuff in a can. Homemade Creamed Corn might become a new family favorite all year round!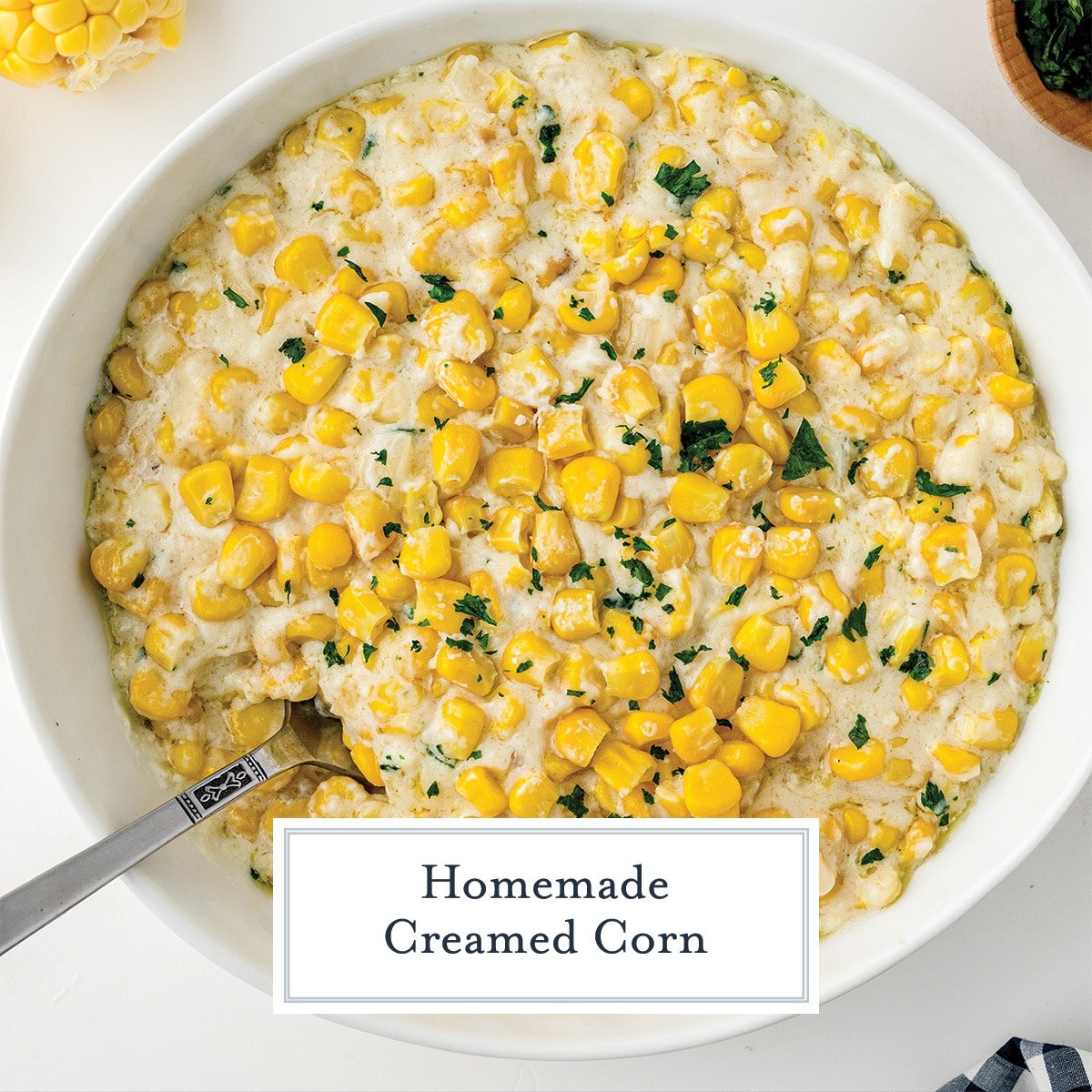 Creamed Corn?
Let's just add creamed corn to the long list of things I never tried as a kid. I only ever saw the stuff served in the cafeteria line, out of a can or as a lumpy off-yellow side at low end restuarents. And let's all be honest, bad creamed corn looks like…. fill-in-the-blank.
But good creamed corn is magical. Little pillows of sweet pops churned in a velvety sauce.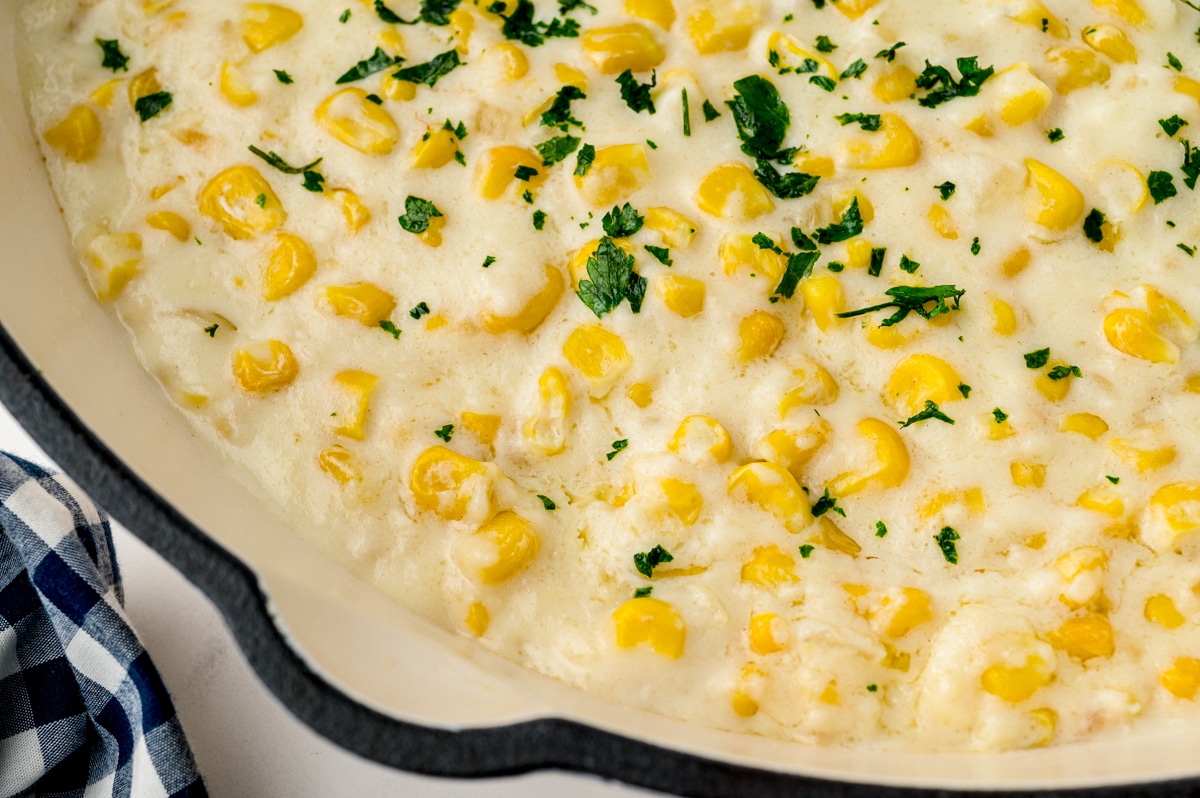 And it happens to be super easy to prepare too. With only 9 ingredients, I would bet money that you already have most (if not all) of the ingredients already in your pantry or fridge.
Ingredients
The ingredient list is simple and also easily modified. This recipe is super forgiving in amounts, but each ingredient serves an important purpose.
Unsalted butter– Feel free to use salted, but then omit additional Kosher salt. Good old southern cooks use rendered bacon fat or pork fat and sometimes lard like Crisco. These can also be used.
Sweet Onion- You can also use red, white or yellow.
Flour– All-purpose is the way to go. It is a thickening agent so you don't end up with soup.
Heavy Cream– Or heavy whipping cream (there is a slight difference).
Skim Milk– Adds more dairy and liquid without being too heavy.
Sugar- Balances the umami and other savory flavors.
Corn– I prefer to use frozen corn, but canned or fresh can also be used. If using fresh, grill, steam or boil first.
Coarse Kosher Salt- A coarse Kosher salt works best to not be overly salty. If using a fine sea salt, reduce to just a pinch. Do not use iodized salt, as this can make it taste metallic.
Ground White Pepper– Black works too, but I prefer the mild taste and also that it doesn't leave unsightly black specks.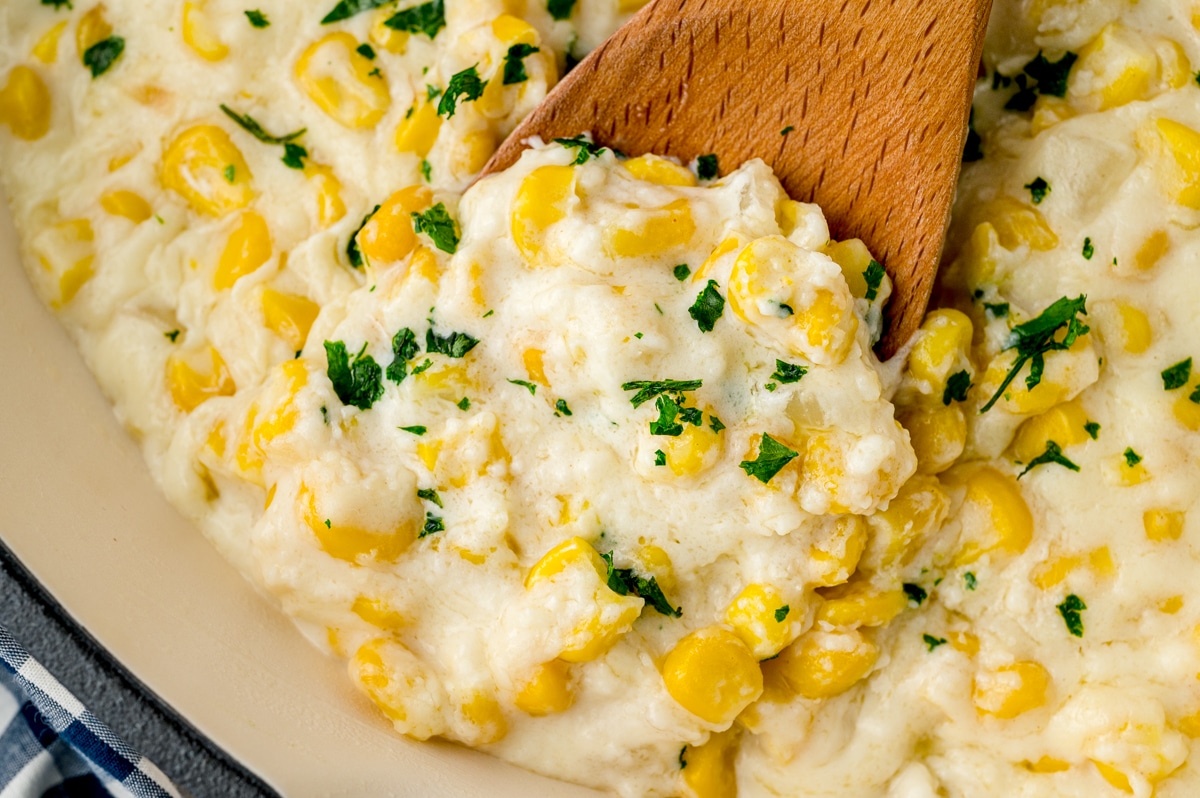 How to Make Creamed Corn
The process is simple and uses simple ingredients commonly found in fridges and pantries.
Melt the butter and saute the onion. If you don't want little bits of onion floating around, try grate the onion instead. You'll get onion flavor and essence, but without the bits. The onion infuses the butter.
Whisk in the flour, creating a roux, which is the thickening agent. You'll want to stir it to make a paste and let it brown just slightly to develop flavor. This is known as a blond roux.
Add the cream, milk and sugar, whisk well. You'll want to whisk any lumps and fully dissolve the roux before adding corn otherwise you might not ever get those lumps out and the sauce won't thicken properly.
Stir the corn into the mix. If using frozen, cook for 5-6 minutes over low heat just to allow it to the thaw.
Season your creamed corn with coarse Kosher salt and white pepper. Add any additional flavors you desire.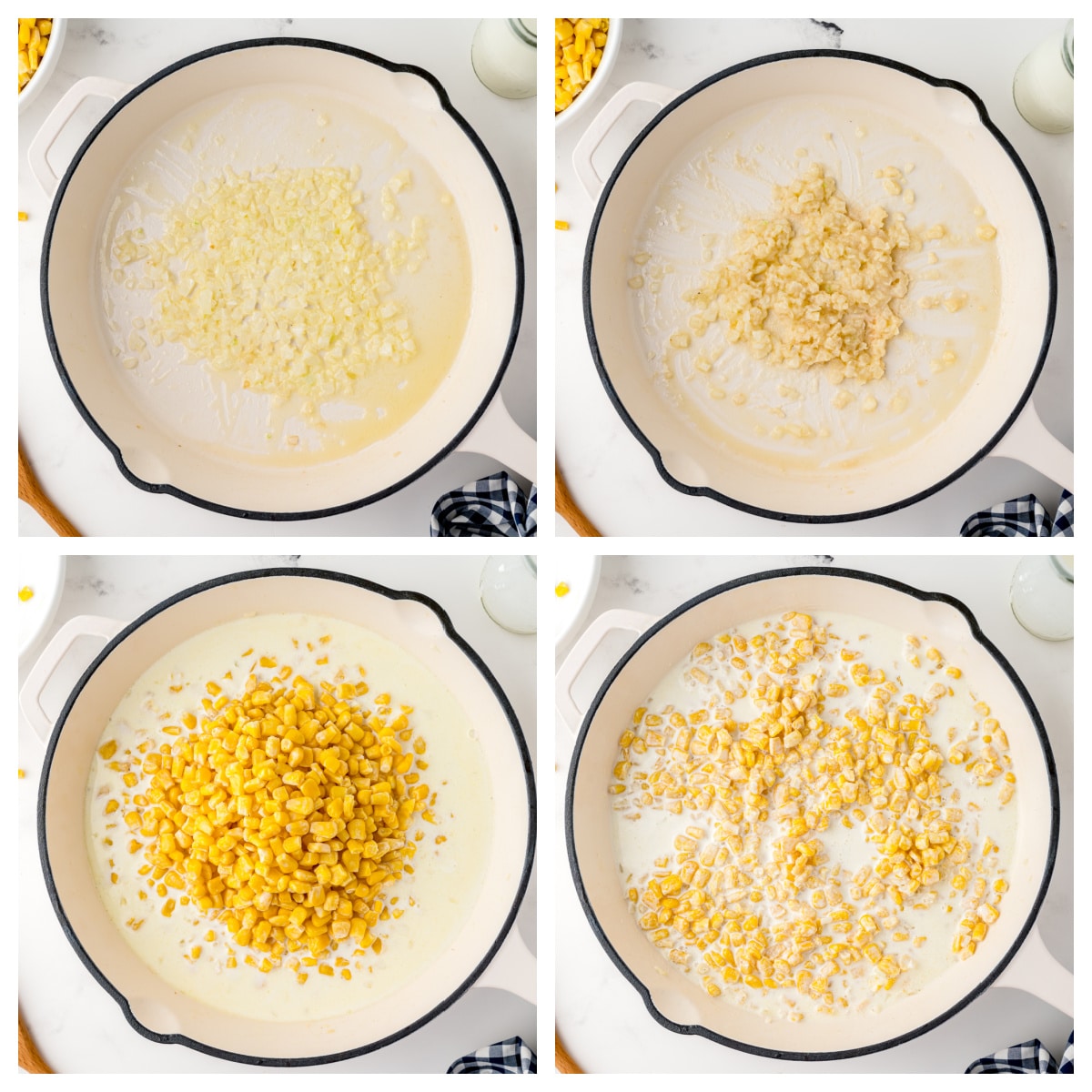 Variations
This recipe is for basic creamed corn, but you can get creative and add so many other flavors or cater it to specific global profiles. Here are a few of our favorites:
Fresh herbs– chopped fresh herbs like sage, thyme, oregano or rosemary add depth and sophistication.
Spice- a shake or two of crushed red pepper flakes or aleppo pepper give it a smoky and zesty edge.
Garlic- I love me some garlic, but I kept the base recipe simple on purpose. Add 1-2 cloves of minced fresh garlic with the onion if you desire.
Seasoning Blends– Taco seasoning or even poultry seasoning make this creamed corn extra special. Only add 1/2 teaspoon and omit Kosher salt and pepper. I've even added a little leftover turkey seasoning when making this for Thanksgiving.
Paprika– Either Smoked or traditional will give it a lovely rosy hue and southwest taste.
Chives or Scallions– Fresh and crunchy raw onions as a garnish makes for an excellent crunch.
Bacon– Because bacon makes everything better!
Thick vs Thin
Creamed corn seems to have two camps and no one meets in the middle. Some like theirs to be soupy, almost like a chowder, and others prefer a thicker, stick-to-your-bones version. I am the latter.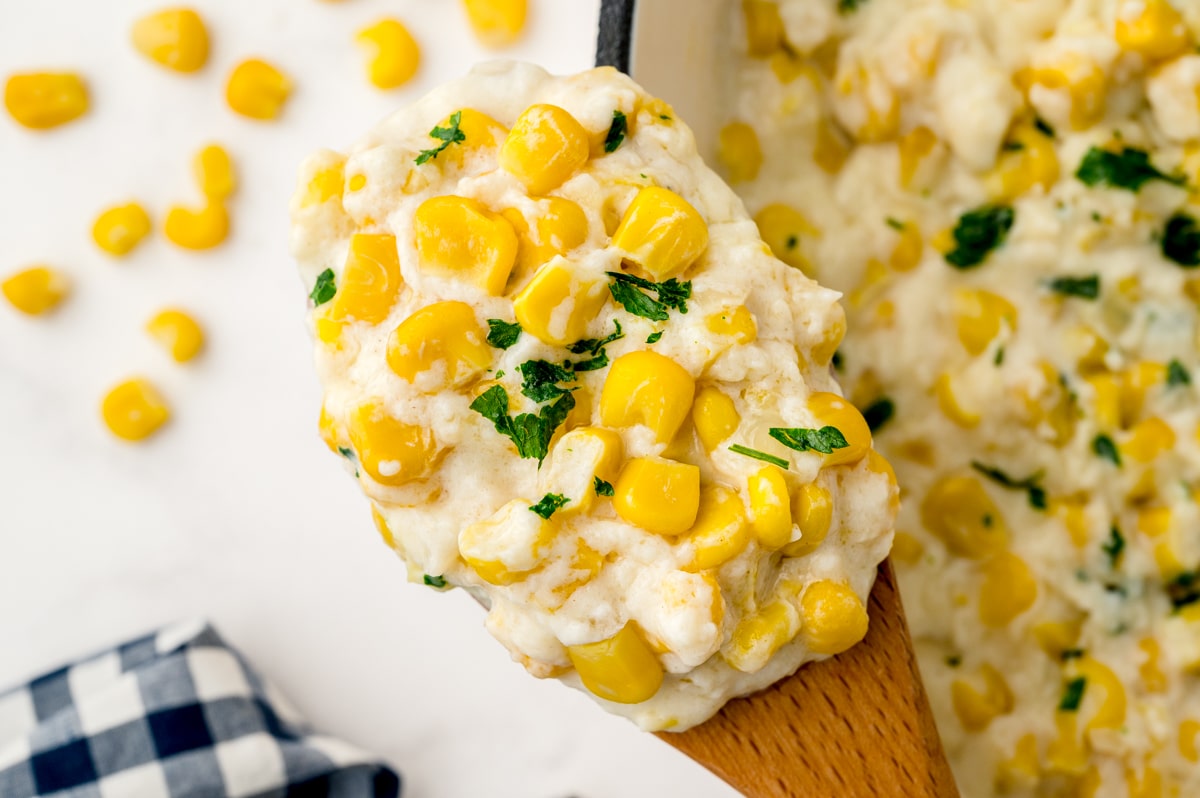 If you like a thinner creamed corn that requires a spoon instead of a fork, add an additional 1/4 cup milk to the mix.
Make Ahead & Freezing
Make -Ahead & Leftovers: This is a very forgiving recipe that can be made up to 2 days in advance. Reheat in the microwave or on the stove in a saucepan. You might need to add 2-3 tablespoons of milk to thin out the cream mixture. Leftovers can be stored in an airtight container for up to 7 days. You can also use it to make creamed corn casserole.
Freezing: Creamed corn can also be frozen. Place in an airtight container and freeze for up to 3 months. Allow to thaw in the fridge for 24 hours and reheat the same way you would leftovers.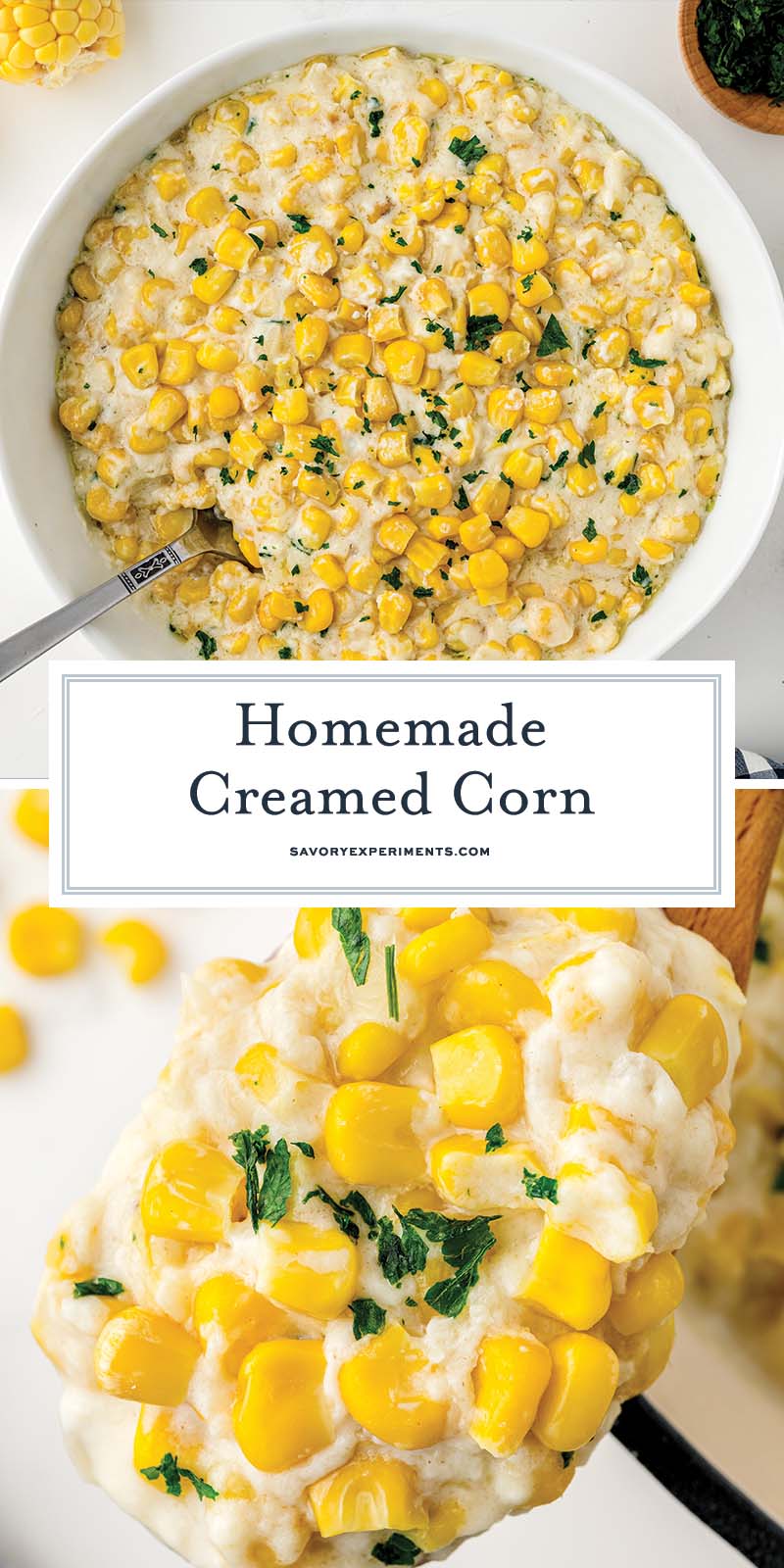 More Side Dish Recipes
Friday Holiday Side Dish Recipes: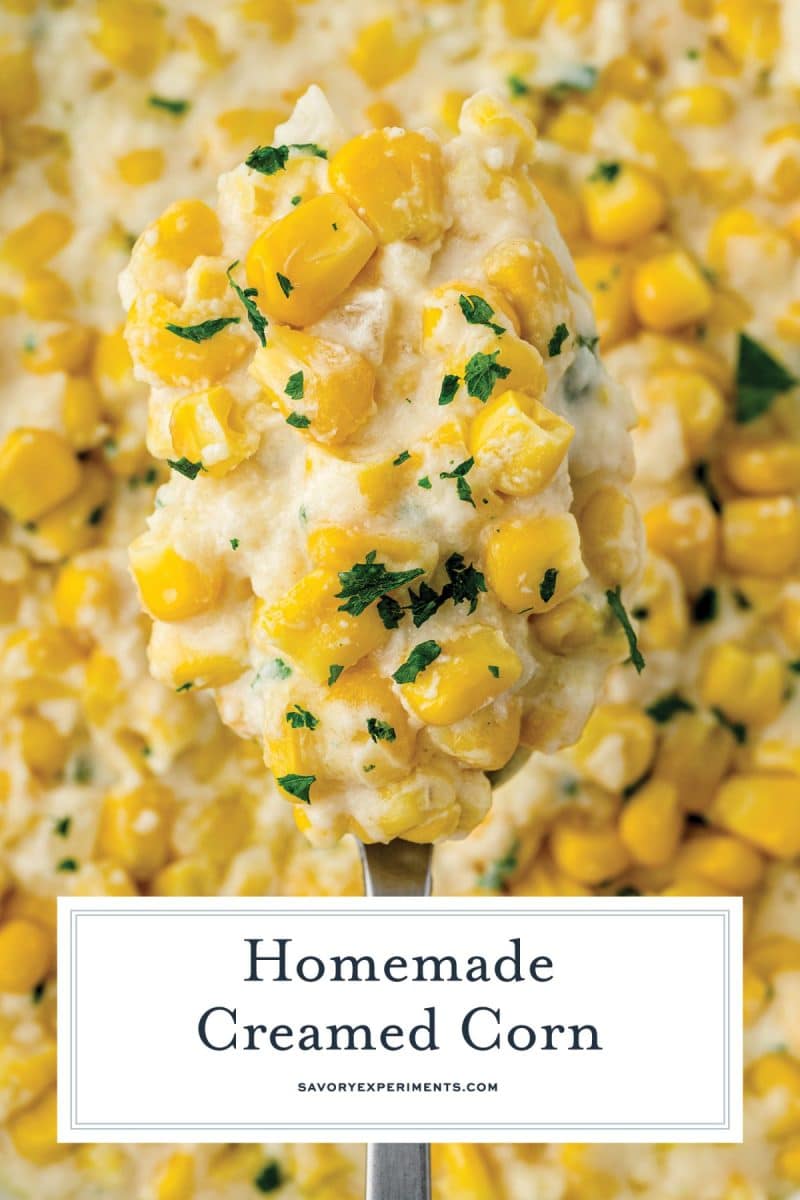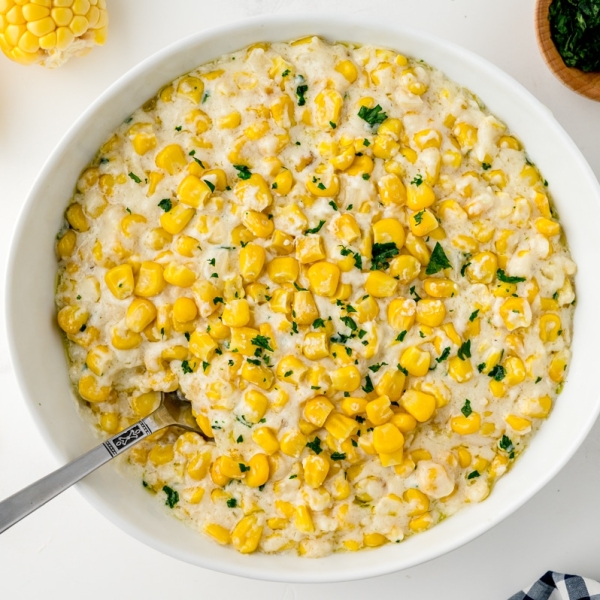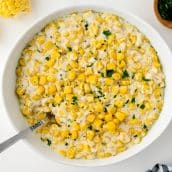 Homemade Creamed Corn
Easy homemade Creamed Corn comes together in minutes with just a few ingredients! BONUS- 12+ flavor variations!
Instructions
Heat butter in a medium saucepan over medium heat. Add onions, sauteing until translucent and soft, approximately 5 minutes.

Add flour and mix to form a paste. Allow to cook for 2-3 minutes until it browns ever so slightly.

Whisk paste with cream, milk and sugar until paste has dissolved.

Fold in frozen corn, kosher salt and white pepper. Continue to heat over medium heat for 5-6 minutes or until corn is thawed and hot.

If you've tried this recipe, come back and let us know how it was in the comments or ratings!
Nutrition
Calories:
236
kcal
,
Carbohydrates:
24
g
,
Protein:
4
g
,
Fat:
16
g
,
Saturated Fat:
10
g
,
Cholesterol:
52
mg
,
Sodium:
408
mg
,
Potassium:
278
mg
,
Fiber:
2
g
,
Sugar:
1
g
,
Vitamin A:
570
IU
,
Vitamin C:
6
mg
,
Calcium:
34
mg
,
Iron:
1
mg