Garlic Parmesan Baked Sweet Potato Fries take this superfood up a few notches with a garlicky, parmesan topping on top. These are crispy on the outside and soft and sweet inside. I eat a whole batch as a meal!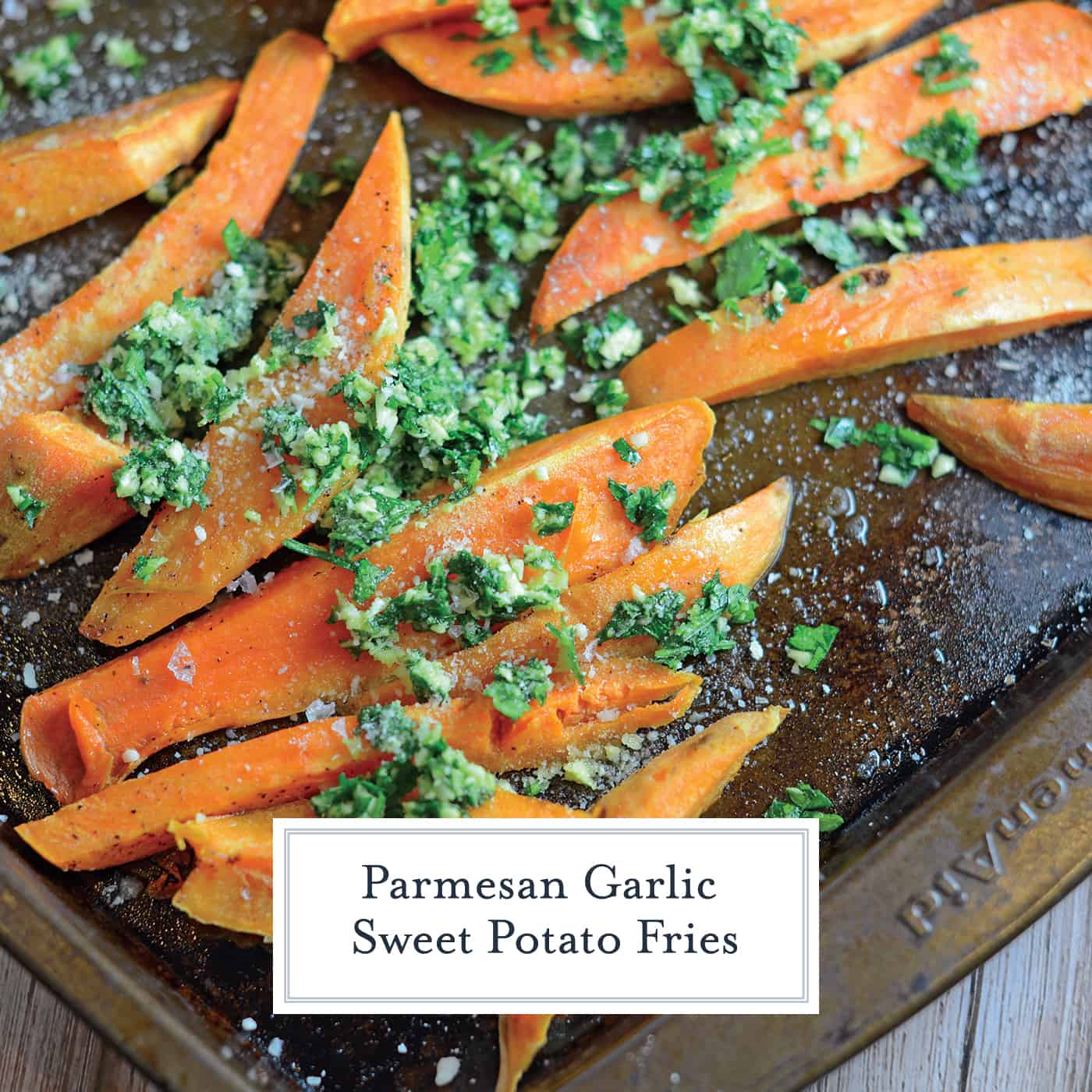 Garlic Parmesan Baked Sweet Potato Fries will jazz up your dinner with their herb and cheese topping. This sweet potato fries recipe is the perfect blend of savory and sweet flavor to satisfy everyone!
I feel like the sweet potato really made a come back in the last decade. For a while, it was a vegetable that only made an appearance around Thanksgiving, but they now grace menus all over the place from the fanciest of the fancy right on down to fast food.
I, too, have fallen prey to the sweet potato craze and make Garlic Parmesan Baked Sweet Potato Fries as a side… or even sometimes as a whole meal. I can't be trusted when there is a baking sheet with fries on it.
In Baltimore, a local restaurant tosses their lightly fried sweet potato fries in a blend of Cajun spices and brown sugar, making a sticky, sweet glaze.
That recipe got the wheels turning. This Italian girl wanted to try something similar, but with my beloved garlic. Let me introduce you to Garlic Parmesan Baked Sweet Potato Fries!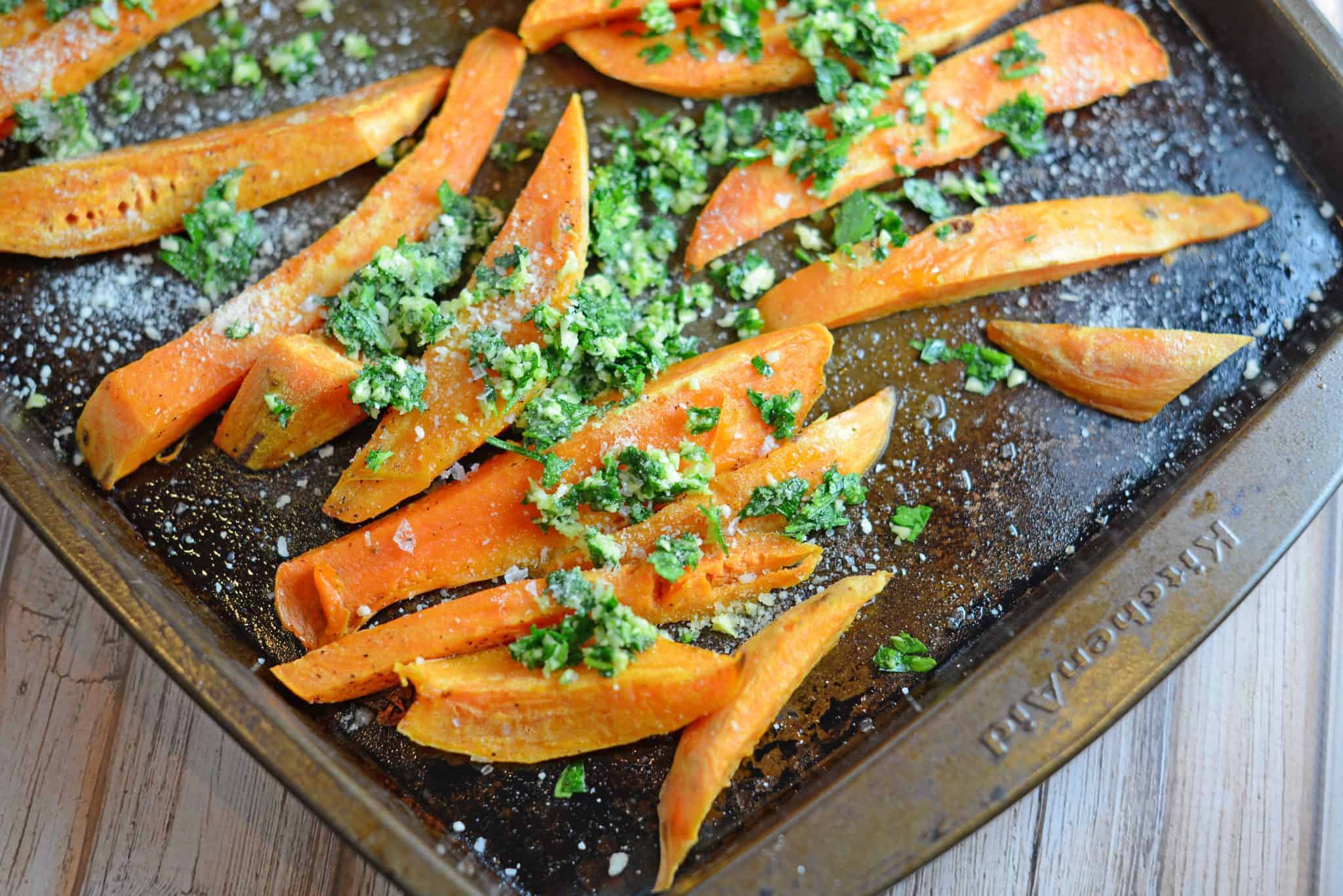 I decided to bake my fries for a couple of reasons. The main one being that deep-frying at home can be a bit of a chore and when you need to get dinner on the table the last thing you want to do is deal with is a pot of hot oil. The other reason is that it's just plain healthier.
Sweet potatoes are rich in beta carotene which your body then converts into Vitamin A. That then helps keep your skin healthy and your vision and eyes. They also contain lots of fiber and antioxidants which promote gut health.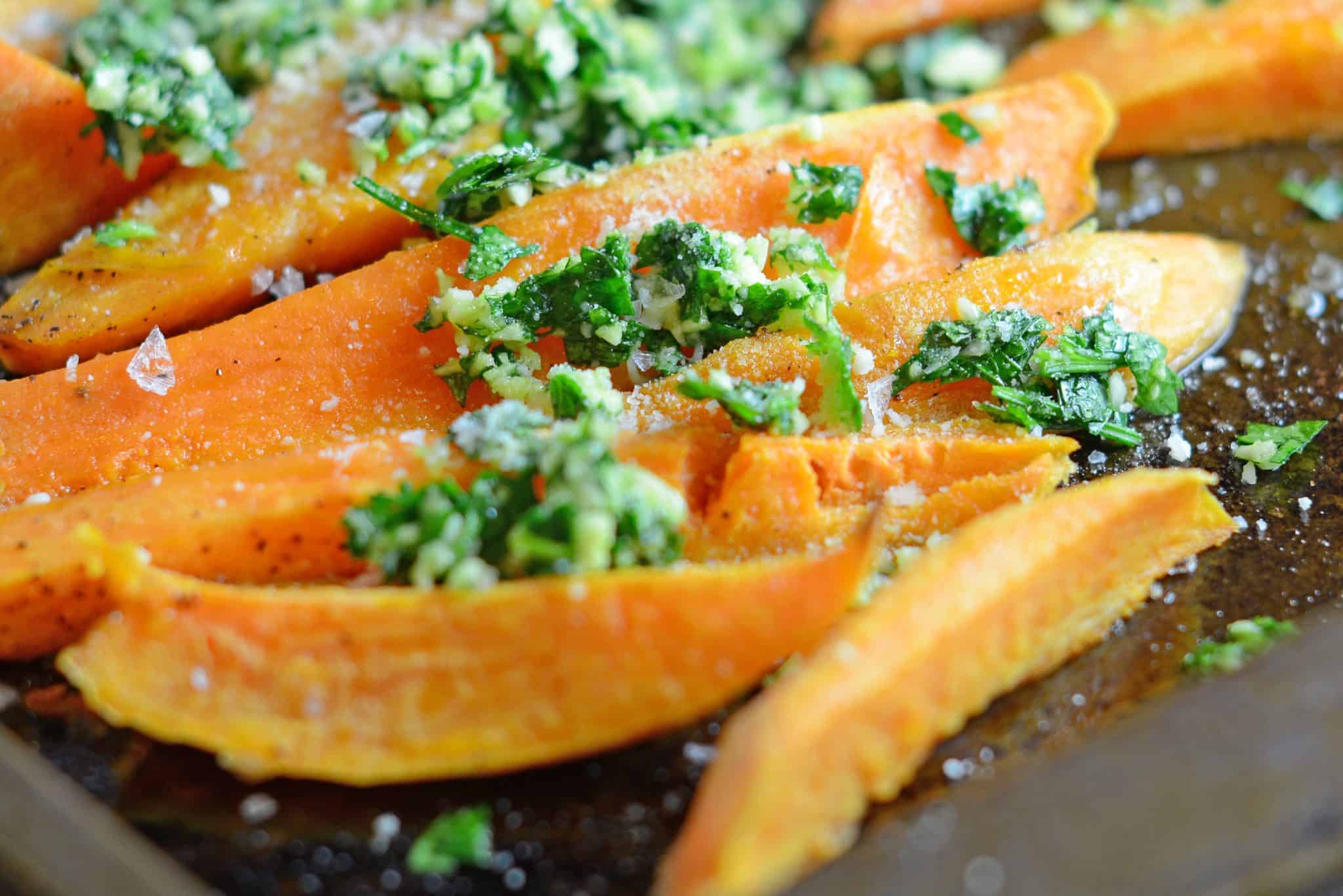 While most would toss their sweet potato fries and then cook, I actually prefer my sweet potato topping not to be cooked. Raw garlic and herbs will retain more of the super healthy benefits of both and also maximize the flavor.
If you want more of a muted flavor or you are making these for a hot date, then toss before and bake with garlic parmesan topping on. The garlic will get nice and toasty in the oven – almost caramelizing and the herbs will release all of their delicious oils.
Try dipping yours in Green Goddess Dressing or Creamy Italian as a dipping sauce.
Did You Know SweetPotato is One Word?
Did you know that sweetpotato is actually one word? Most people still use two, so we do as well, but in 1989 this nun (not an adjective) was officially changed to one word to help standout against it's very commonly confused cousin the yam.
And as we know, sweet potatoes are not yams! You've likely never even had a yam in your lifetime because they aren't grown in the US. So bring up this little bit of trivia at your table tonight.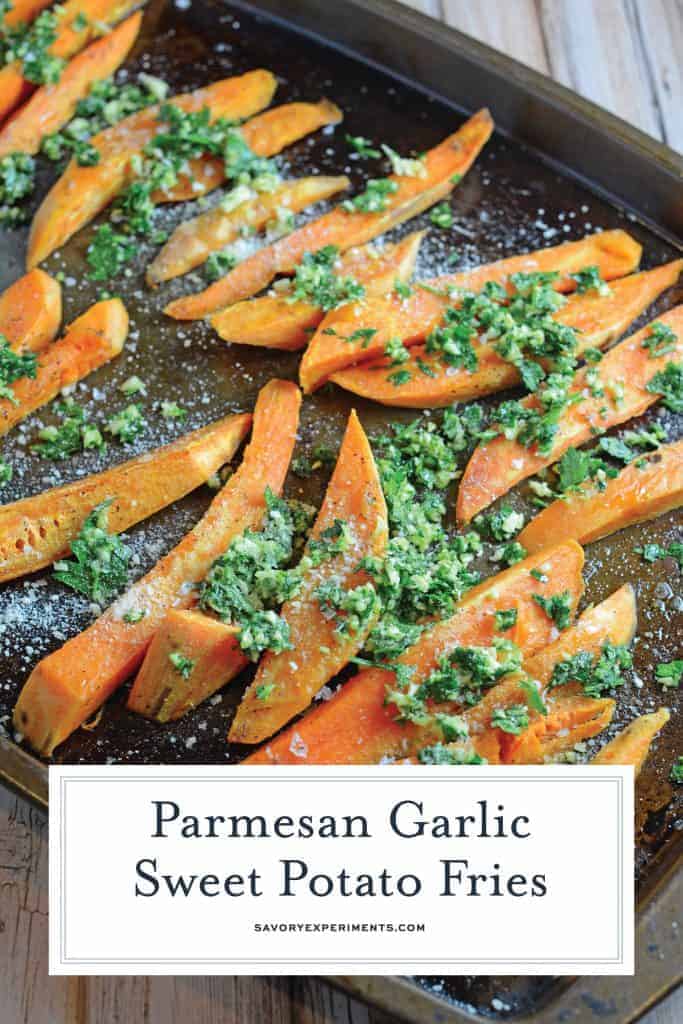 If you love recipes for sweet potatoes, check out these other easy sweet potato recipes: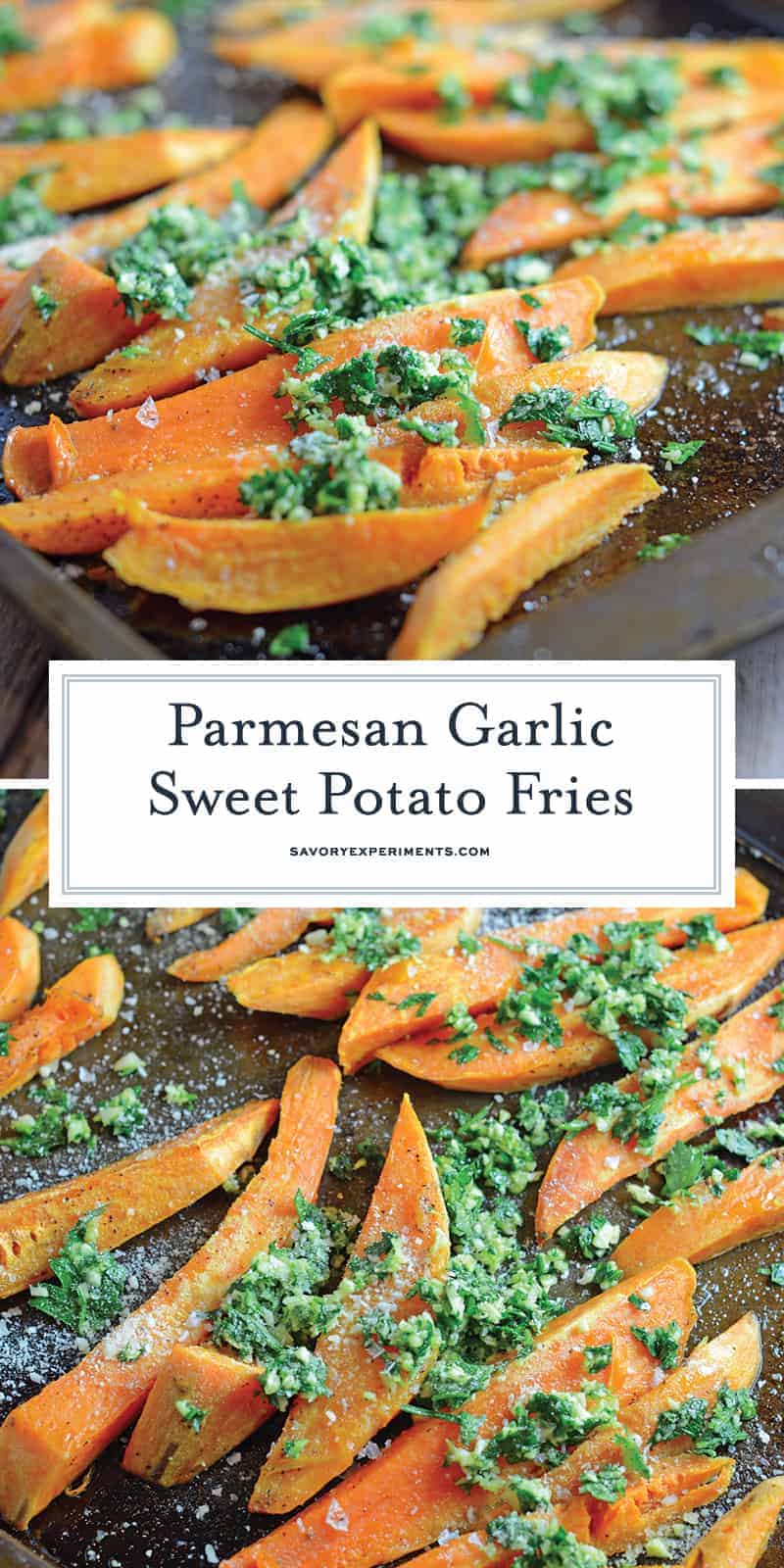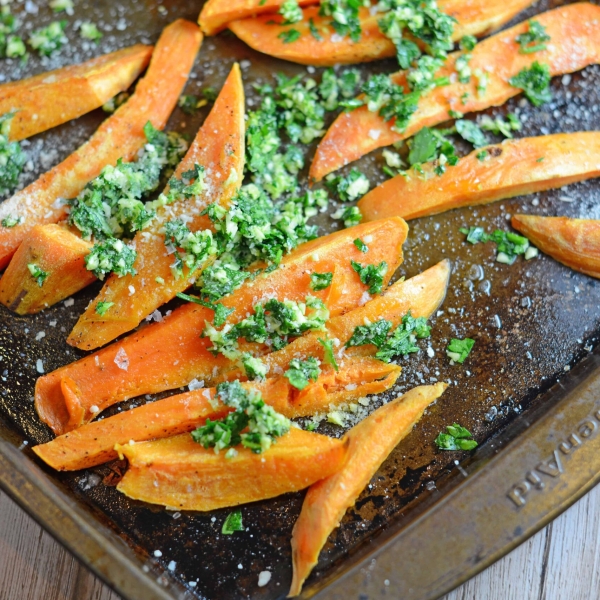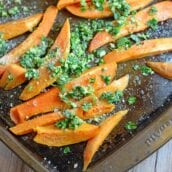 Parmesan and Garlic Sweet Potato Fries
Oven Baked Parmesan Garlic Sweet Potato Fries will jazz up your dinner!
Instructions
Preheat oven to 425 degrees. Line a rimmed baking sheet with aluminum foil.

In a large mixing bowl, toss potatoes with olive oil. Try to coat as evenly as possible. Spread potatoes on baking sheet in a single layer.

Mix garlic cloves through Parmesan cheese in a small bowl. Set aside.

Bake for 20-30 minutes, flipping fries half way through. Baking time will vary greatly based on the size of your wedges. To test, pierce with a fork and wait until the are tender.

Remove fries from oven and spoon Parmesan cheese mixture evenly over sweet potato fries.

Increase oven temp to broil, return baking sheet and watch closely. Remove when cheese is melted and edges begin to brown.

If you've tried this recipe, come back and let us know how it was!
Nutrition
Calories:
146
kcal
,
Carbohydrates:
14
g
,
Protein:
3
g
,
Fat:
8
g
,
Saturated Fat:
2
g
,
Cholesterol:
4
mg
,
Sodium:
282
mg
,
Potassium:
239
mg
,
Fiber:
2
g
,
Sugar:
2
g
,
Vitamin A:
9440
IU
,
Vitamin C:
5.3
mg
,
Calcium:
100
mg
,
Iron:
0.6
mg