Chicken, it's what's for dinner. And then hear the collective moans… "chicken again???"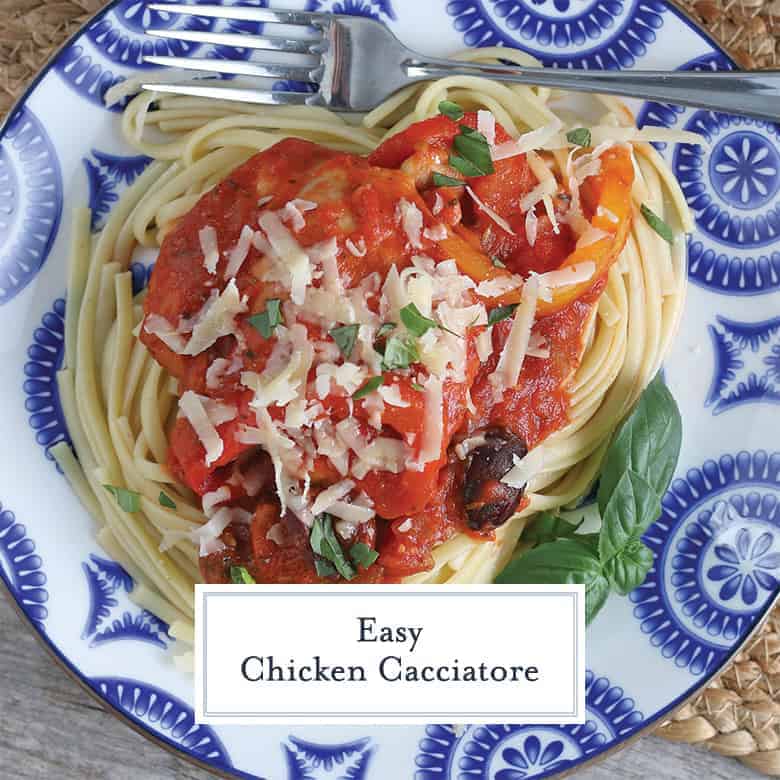 Easy Chicken Cacciatore uses tender chicken in a tomato sauce with mushrooms, bell peppers, olives and herbs. Only takes 30 minutes from stove to plate!
YES- you are going to eat it and like it! Then they rave and request it over and over again. That is how things will go down on the first night you make this chicken cacciatore recipe.
In the states, cacciatore is nearly always made with chicken, but the word "cacciatore" translates to "hunter" Italian. Historically the dish was prepared with hunted meats and foraged herbs and vegetables.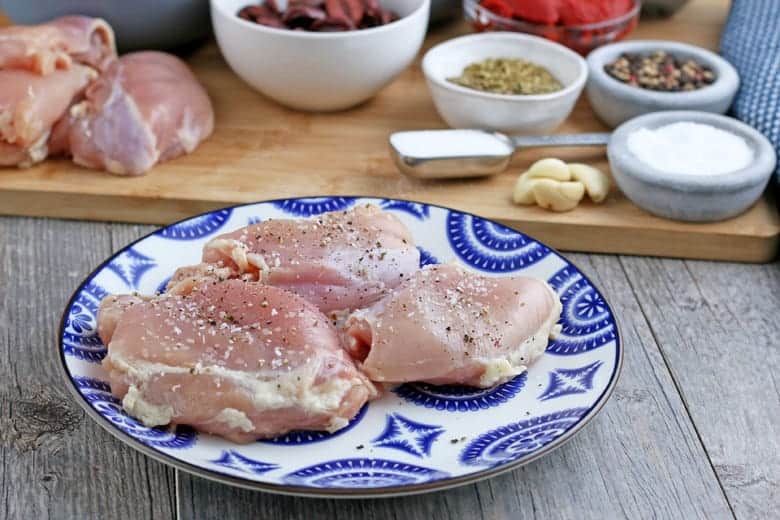 Rabbit was actually the most popular protein for cacciatore, but clearly you can add any to the sauce. Chicken is a close second, but feel free to make pork cacciatore or even seafood cacciatore.
I've never seen it prepared with beef, but there is always a first time for everything and of course beef tastes amazing simmered in tomato sauce.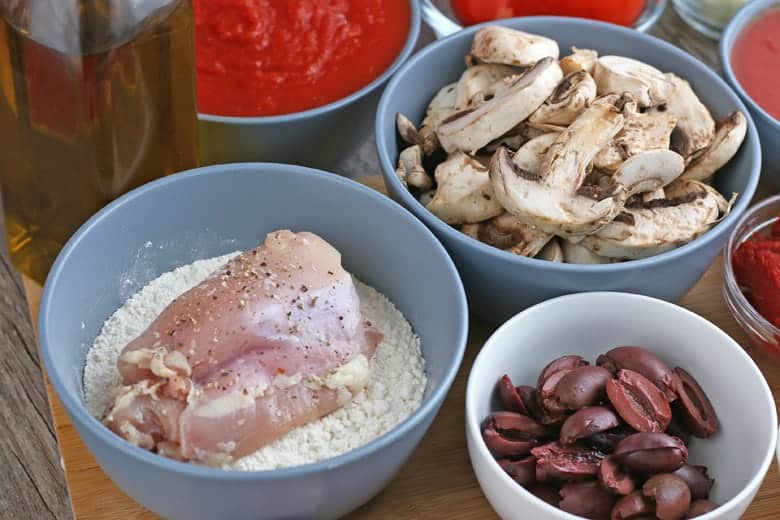 The second defining characteristic is the rich sauce. As with many Italian sauces, it starts with a tomato base and includes mushrooms, herbs and bell peppers. Most sauces also use a splash (or hefty pour) of wine.
But all of these elements are easily adaptable to your own kitchen and the recipe can be followed loosely. Feel free to throw in other leftover pieces of vegetables from the crisper.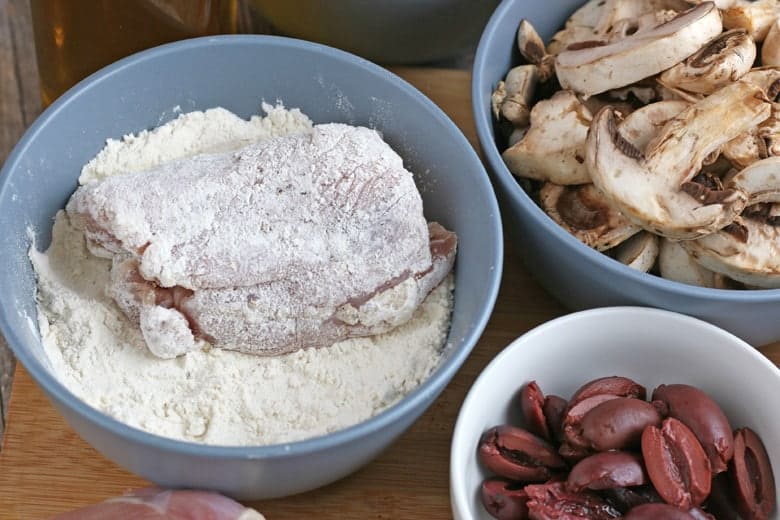 Some of my other favorite ingredients for chicken cacciatore are:
Carrots
Celery
Fresh tomatoes
Squash/Zucchini
Scallions
Asparagus
Broccolini
Wine is optional. Red or white adds flavor and depth. You can use cooking wine, drinking wine or omit it all together.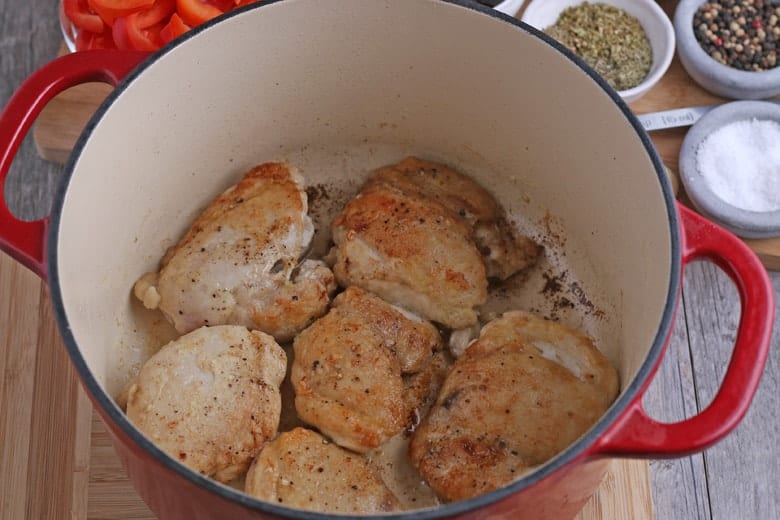 Because this is a "clean out the fridge" type of dish, I sometimes opt to use fresh spices instead of dried, but dried work just fine. To get the maximum flavor from dried spies, rub them together between your palms to release natural oils and fragrance before adding.
PRO TIP: The general conversion for dry herbs to fresh is herbs is 1 tablespoon of chopped fresh herbs for every 1 teaspoon of dried herbs.
The ingredient list for this chicken cacciatore recipe looks pretty lengthy, but I promise you that it is fairly simple and you probably have the majority of the ingredients already in your pantry or fridge.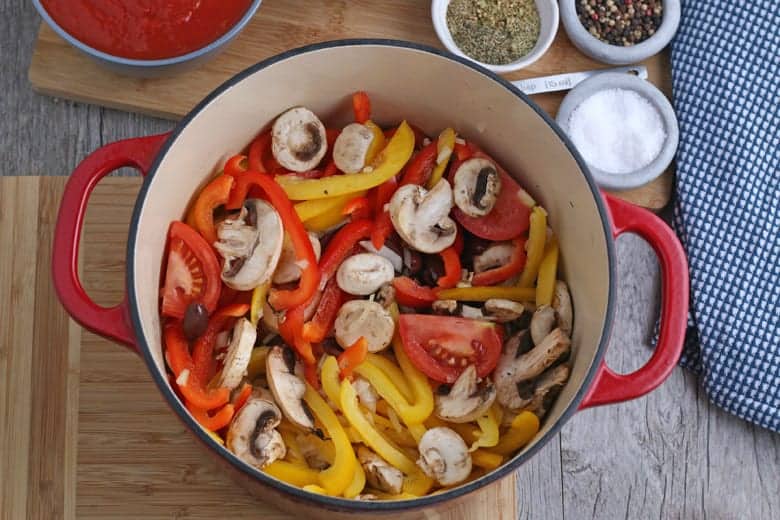 PRO TIP: Dried spices do expire and lose potency. For best flavor, use within 1 year of purchasing! Use a label maker or piece of freezer tape to jot down the open date on the lid to easily keep track.
If not, don't fret, just omit. With the exception of the tomato sauce! That is the only truly imperative piece. Any maybe the chicken….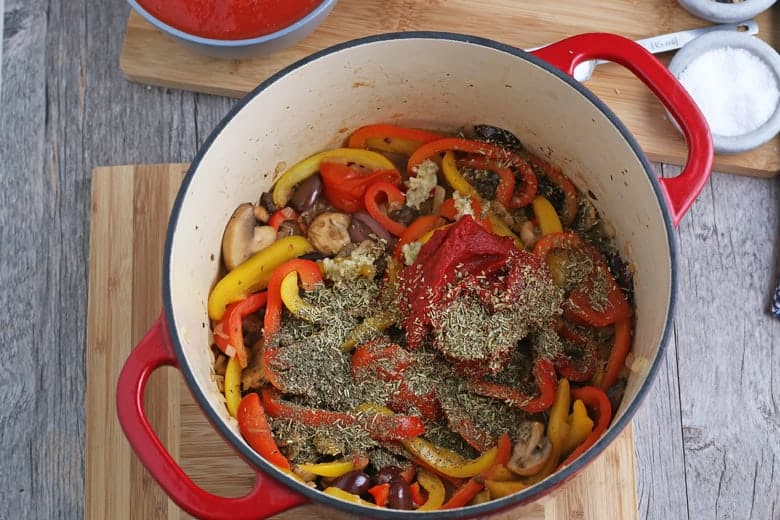 Which brings me to the next most popular question… what type of chicken should I use for chicken cacciatore?
Whatever type of chicken you want! If you are going to a leaner meal, opt for boneless skinless chicken breasts, but for maximum flavor and juiciness, you can't beat the rich dark meat of chicken thighs.
It gets so tender, you don't even need a knife. You might even need a slotted spoon to fish it out without breaking.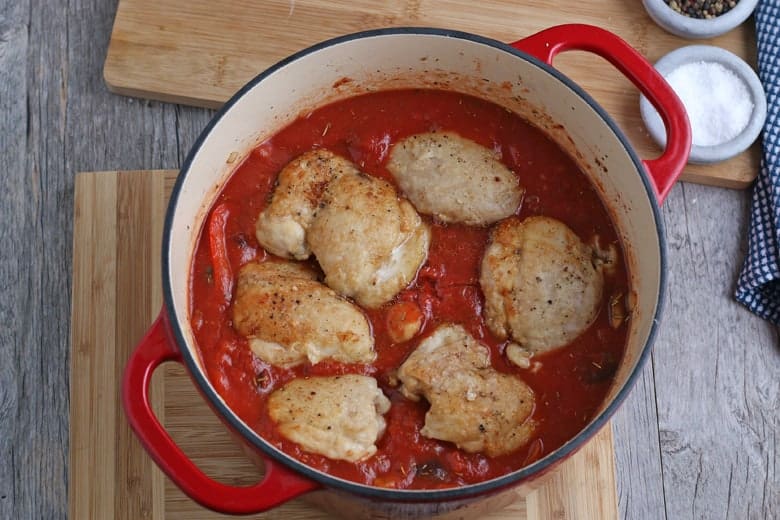 Chicken cacciatore can be served alone as a low carb meal option, but traditionally, it is served over some sort of grain or starch. You may choose to serve it over spaghetti or another type of pasta.
I like it on my Seasoned Buttered Noodles too.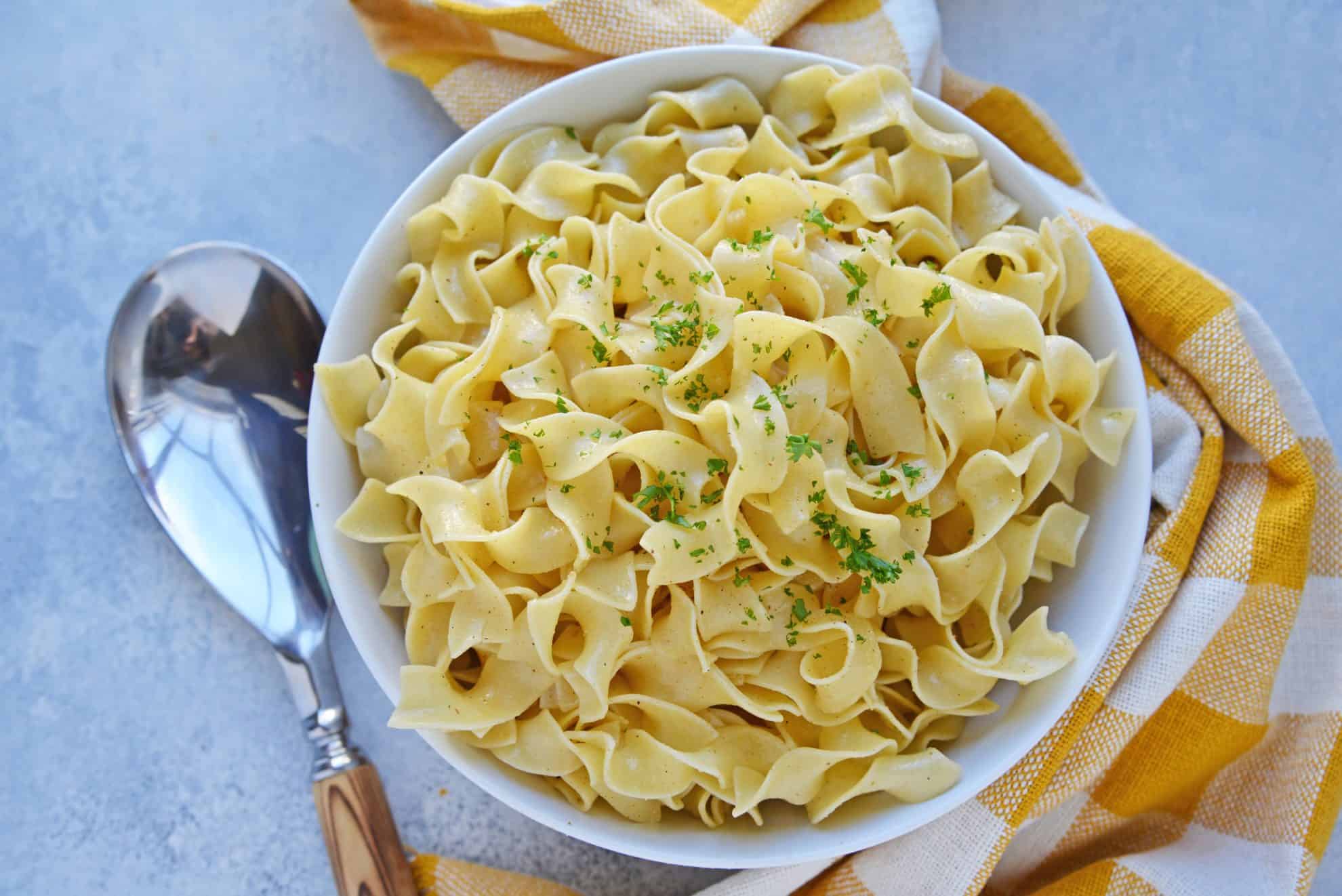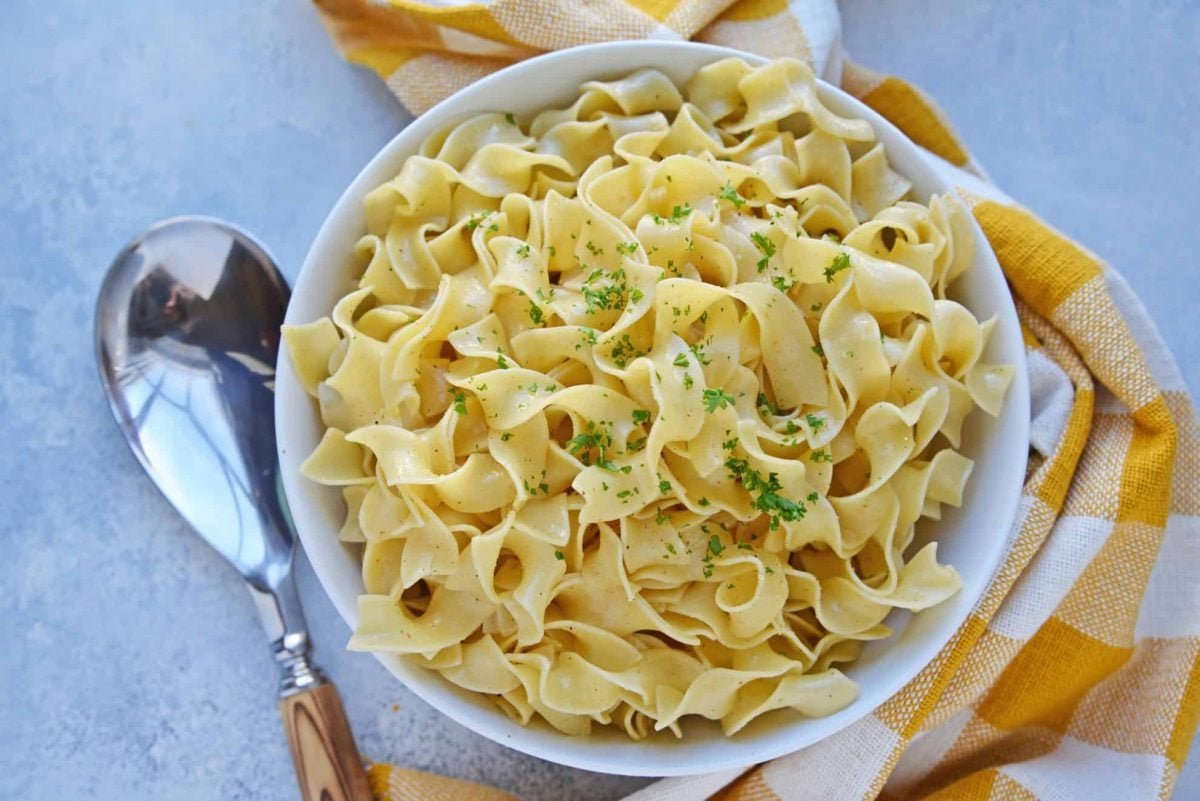 You can serve it over white rice, brown rice, or even quinoa or polenta.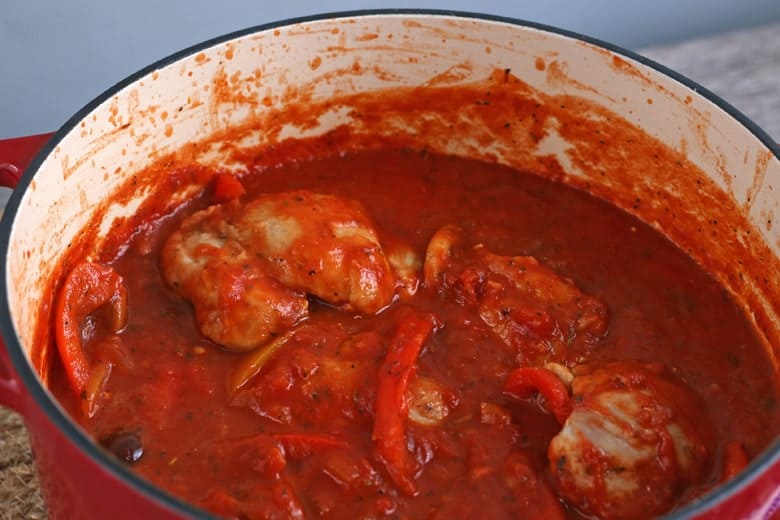 How to Customize Chicken Cacciatore
As previously mentioned, this Italian chicken dish with delicious cacciatore sauce can be customized to your liking. Remember that the basic recipe is given, but you can switch things up.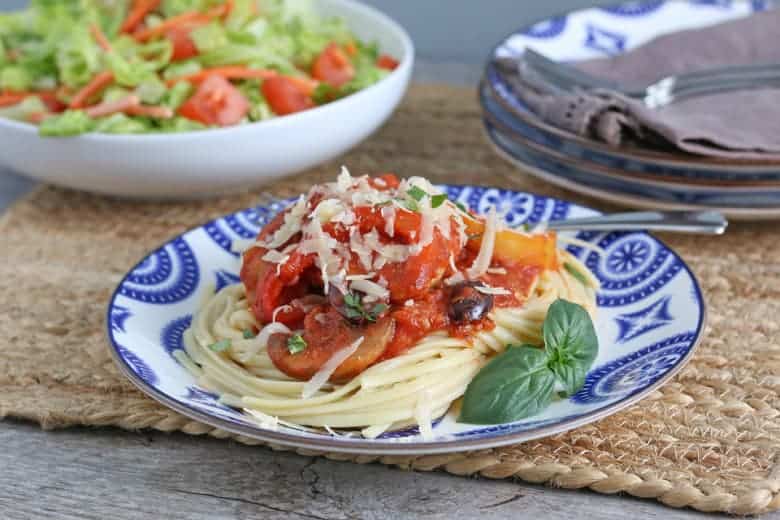 A lot of times, I don't feel like running to the store, so I use what I have on hand.
Cheese: why not add a little cheese to this dish! I'm a lover of all cheese and will never turn away the opportunity to add cheese to my cacciatore. Hard cheese like aged parmesan and pecorino romano are my favorites, but a freshly shredded mozzarella would be good too.
Different veggies: sometimes you just have to use what veggies you have on hand. I like to use various veggies. See my list above!
Add a little spice: hey, for some people, the spice is everything. You can add a little spice to your cacciatore sauce. A teaspoon of crushed red pepper flakes or a dab of cayenne will do the trick.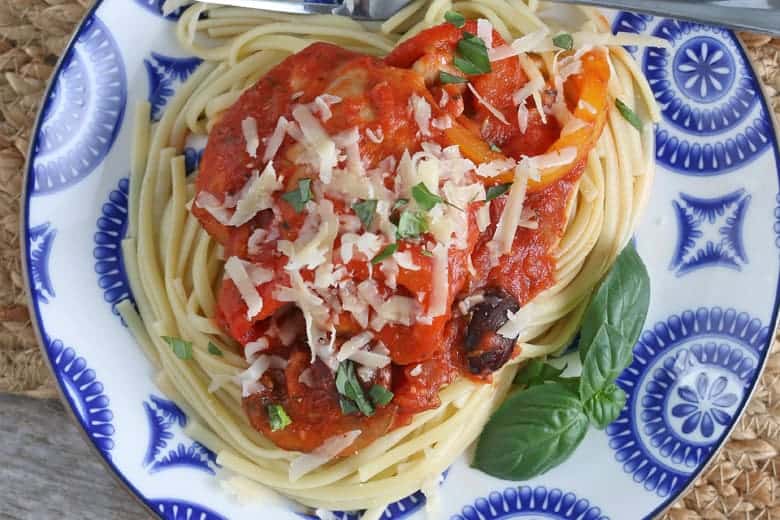 So next time the question "what's for dinner?" is asked, check out this Chicken Cacciatore!
Questions you might have about how to make chicken cacciatore:
Is the chicken for chicken cacciatore breaded? For my recipe, the chicken is tossed in flour, which does technically count as breading even though it isn't actually bread.
If you want a super crunchy chicken fried chicken, you can follow my chicken parm recipe with the exception of the sauce and cheese. Fry up the chicken pieces (boneless chicken breasts or boneless chicken thighs) and then set them aside.
Instead of simmering chicken in the sauce for 15-20 minutes, allow it to simmer on it's own and omit the water. Without flour or breading, it won't thicken and will be too thin.
If you want a low carb chicken cacciatore, omit the flour and just season and cook your chicken pieces. Also omit the water to avoid the sauce being too thin. You can add 1 tablespoon cornstarch or arrowroot whisked with 2 tablespoon water to thicken, if needed.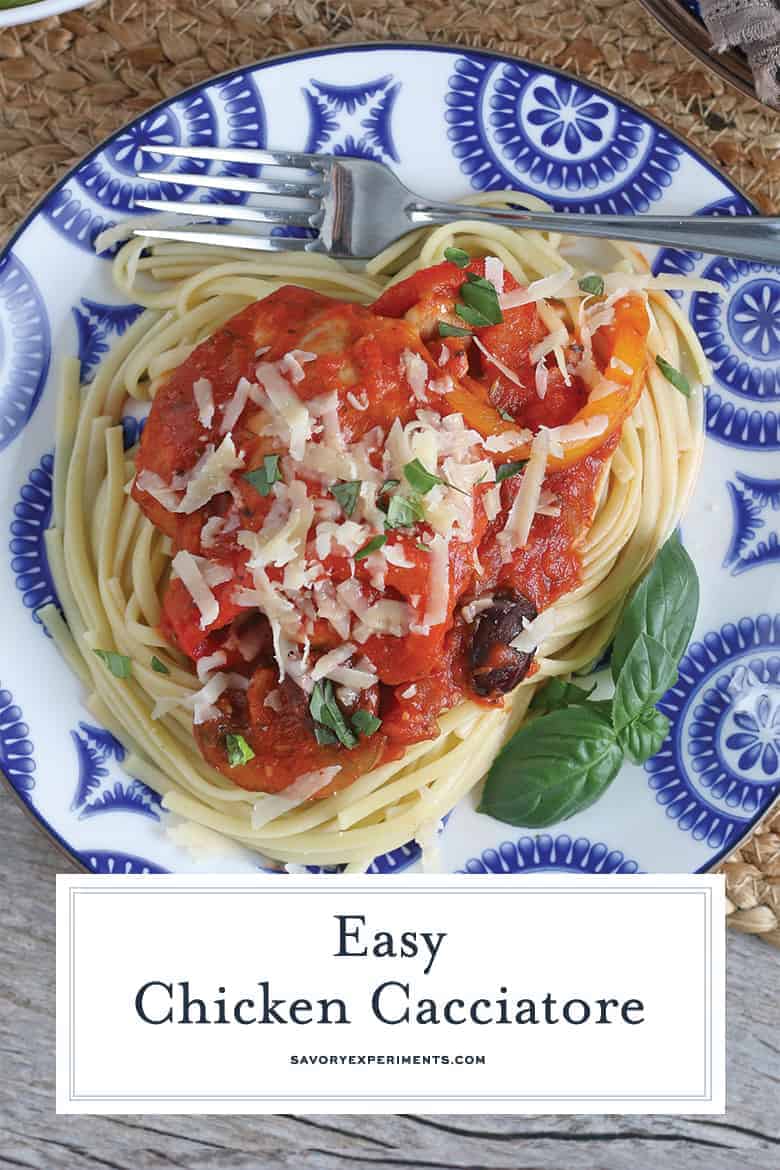 Is chicken cacciatore spicy? Not on its own, but you can add crushed red pepper flakes or cayenne for some heat.
Do I need to use yellow and red bell pepper? Nope- just use a total of two bell peppers in whatever color you desire or have. You can even go down to one or none. Green is usually cheaper than red, yellow or orange, I just like having all the pretty colors.
Why do you add sugar? Sugar helps to balance acidity in tomato sauces. It is very common in marinaras and spaghetti sauce even if you don't realize it. You can easily omit it or use an alternative sweetener.
Why do you use so many types of tomato? Well, I like difference in texture and fresh tomatoes, tomato sauce (super smooth) and crushed tomatoes (a little toothiness) all provide a different element. You can certainly use just crushed tomatoes or tomato sauce, just make sure it equals about 32-34 ounces.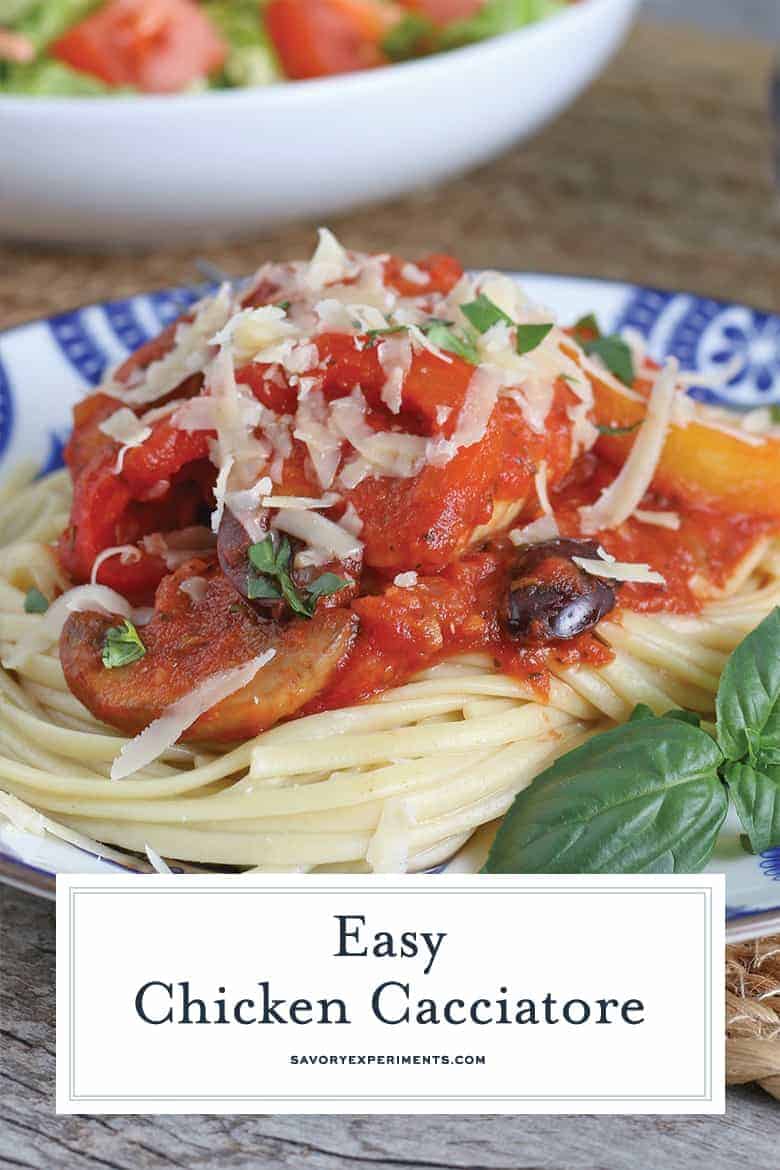 How do you thicken chicken cacciatore? It is fairly easy to get a thin cacciatore sauce and this result most likely has nothing to do with a crappy recipe or your expertise as a cook. Simply put, all of the ingredients are made up of a lot of water.
This is why it is important to cook them down or "sweat them out". There is a fine line between having a vegetable with too much liquid and it being soggy and limp.
To thicken any sauce, make a slurry of cornstarch, arrowroot or flour. Use 1 tablespoon of any of these whisked with a small amount of water then add to your sauce.
Do not add the dry ingredients directly to your sauce. They will clump and impossible to smooth out. If you do accidentally do this, follow my instructions on how to get lumps out of gravy to correct the problem!
What sides you serve with chicken cacciatore? One of the things I love about this recipe is that it is really a one dish meal. I don't feel the need to serve anything additional with it except maybe a salad, bread or appetizer. Here are my favorites:
Can I add red wine? Sure! My family makes it with a splash of red wine too. I think most Italian comfort food include a little. LOL.
Just add about 1/4 cup to the simmer tomato sauce to add richness and depth. For me, that usually just means to eyeball a splash from the glass I am drinking out of!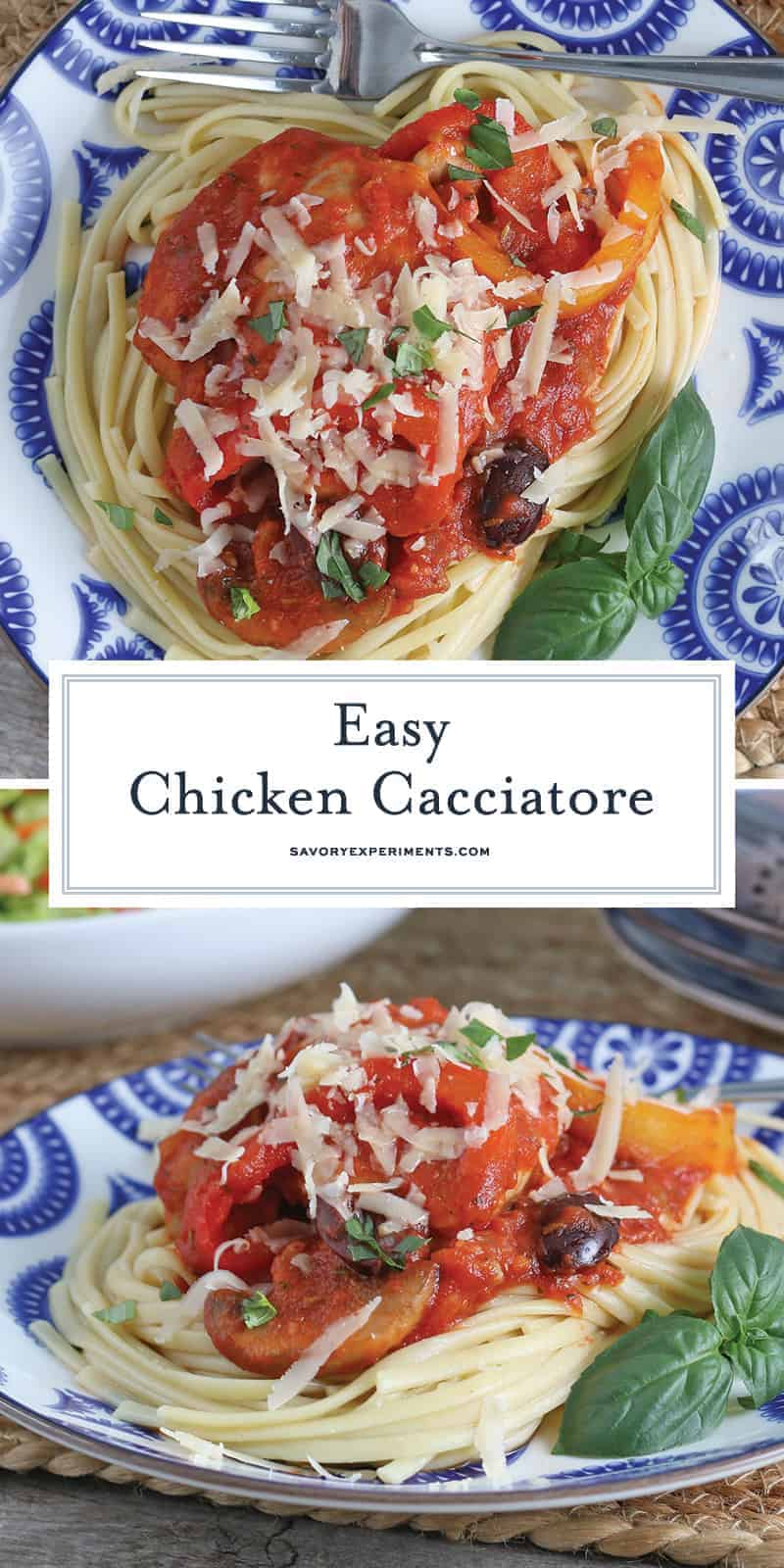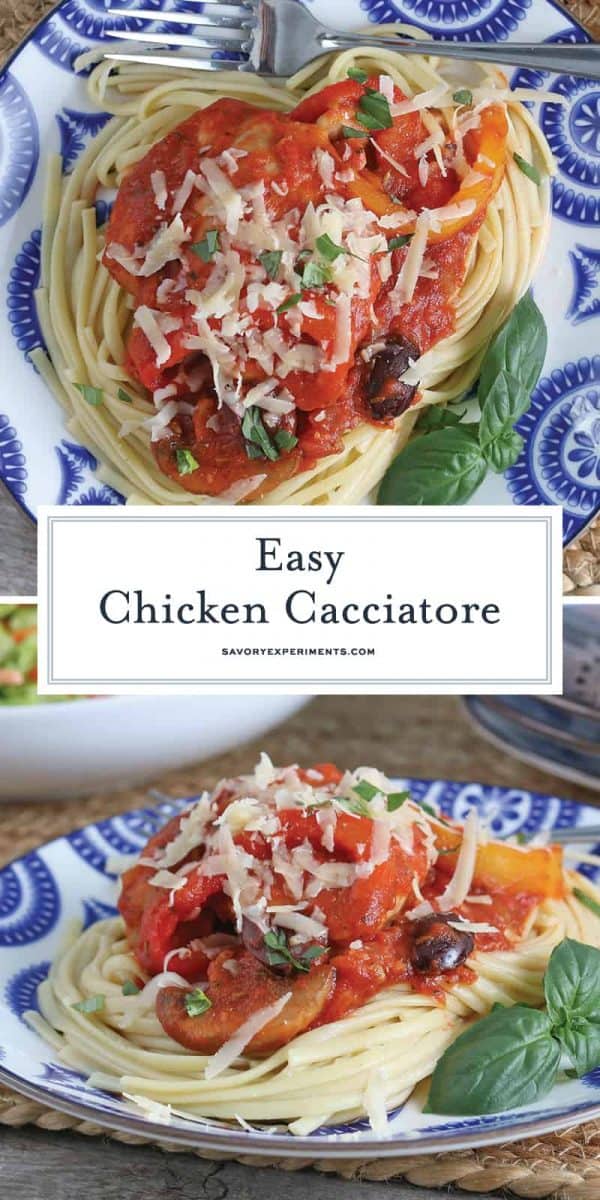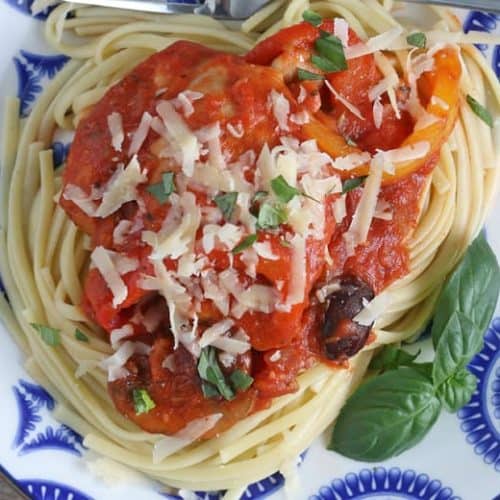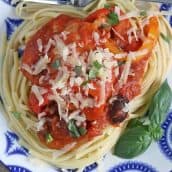 Chicken Cacciatore
Easy Chicken Cacciatore uses tender chicken in a tomato sauce with mushrooms, bell peppers, olives and herbs. Only takes 30 minutes from stove to plate!
Instructions
Heat olive oil and butter in a large skillet or dutch oven over medium high heat.

Season chicken thighs with salt and pepper, then coat them with flour.

Add chicken to hot pan and brown for 3 minutes on each side, or until cooked. Remove and set aside.

Add onion, bell peppers, mushrooms, black olives, and tomato halves to the pan and cook until soft approximately 4 minutes.

Add garlic and dried herbs. Cook for about 1-2 minutes before adding tomato sauce, crushed tomatoes, water and optional sugar. Stir to combine and add the chicken back into the pan.

Simmer on the lowest heat for about 15-20 minutes or until chicken is cooked through.

Add salt and pepper to taste before serving.

Serve over pasta or rice of choice.

If you've tried this recipe, come back and let us know how it was!
Notes
See notes above about types of tomato, tomato sauce, adding fry herbs versus fresh herbs and the type of chicken to use.
Nutrition
Calories:
762
kcal
,
Carbohydrates:
58
g
,
Protein:
83
g
,
Fat:
23
g
,
Saturated Fat:
5
g
,
Cholesterol:
224
mg
,
Sodium:
1377
mg
,
Potassium:
2673
mg
,
Fiber:
9
g
,
Sugar:
20
g
,
Vitamin A:
2554
IU
,
Vitamin C:
132
mg
,
Calcium:
155
mg
,
Iron:
8
mg