Enjoying a delicious spring breakfast with these Carrot Cake Pancakes will have everyone wanting more. These moist and fluffy pancakes are a perfect breakfast or brunch when celebrating Easter or Spring!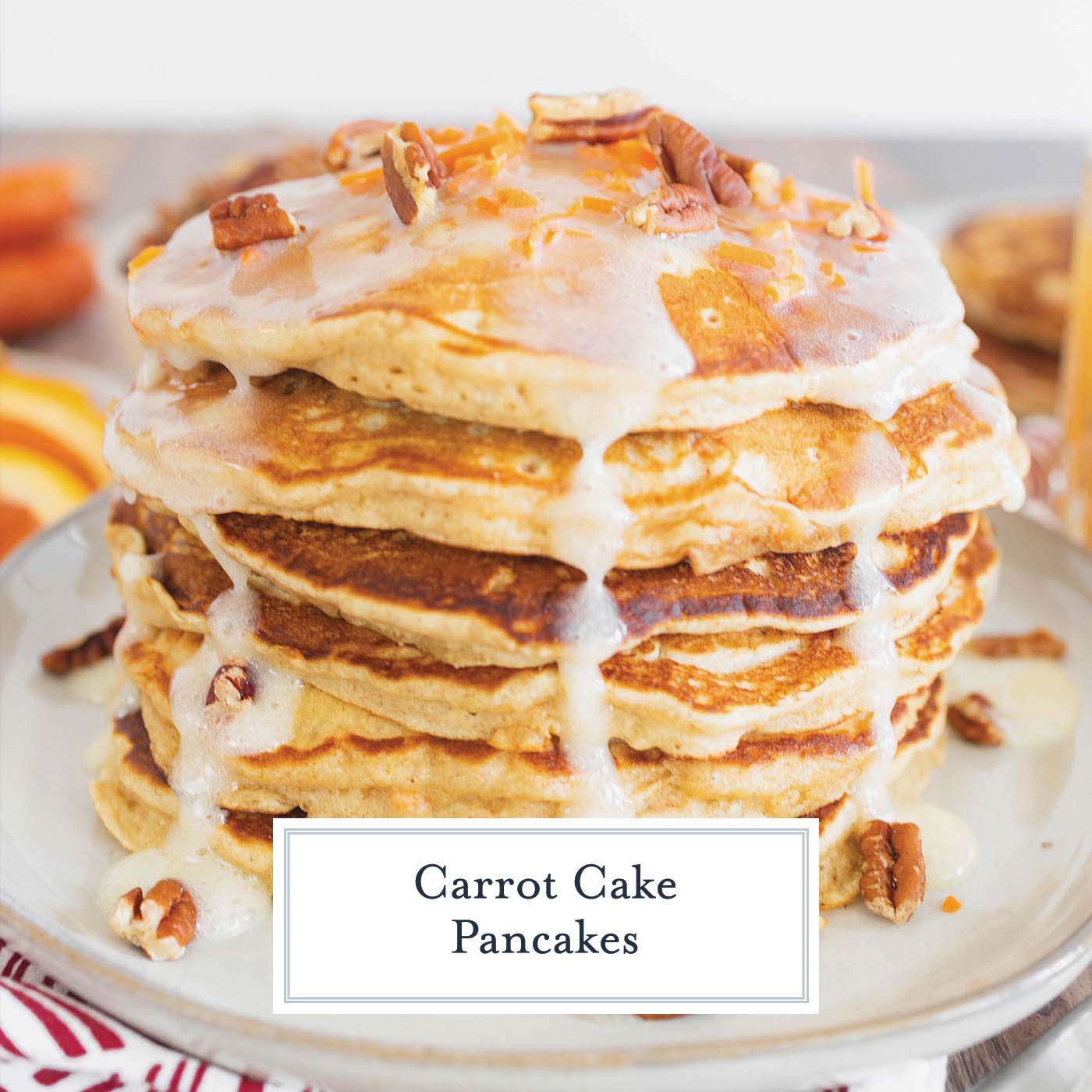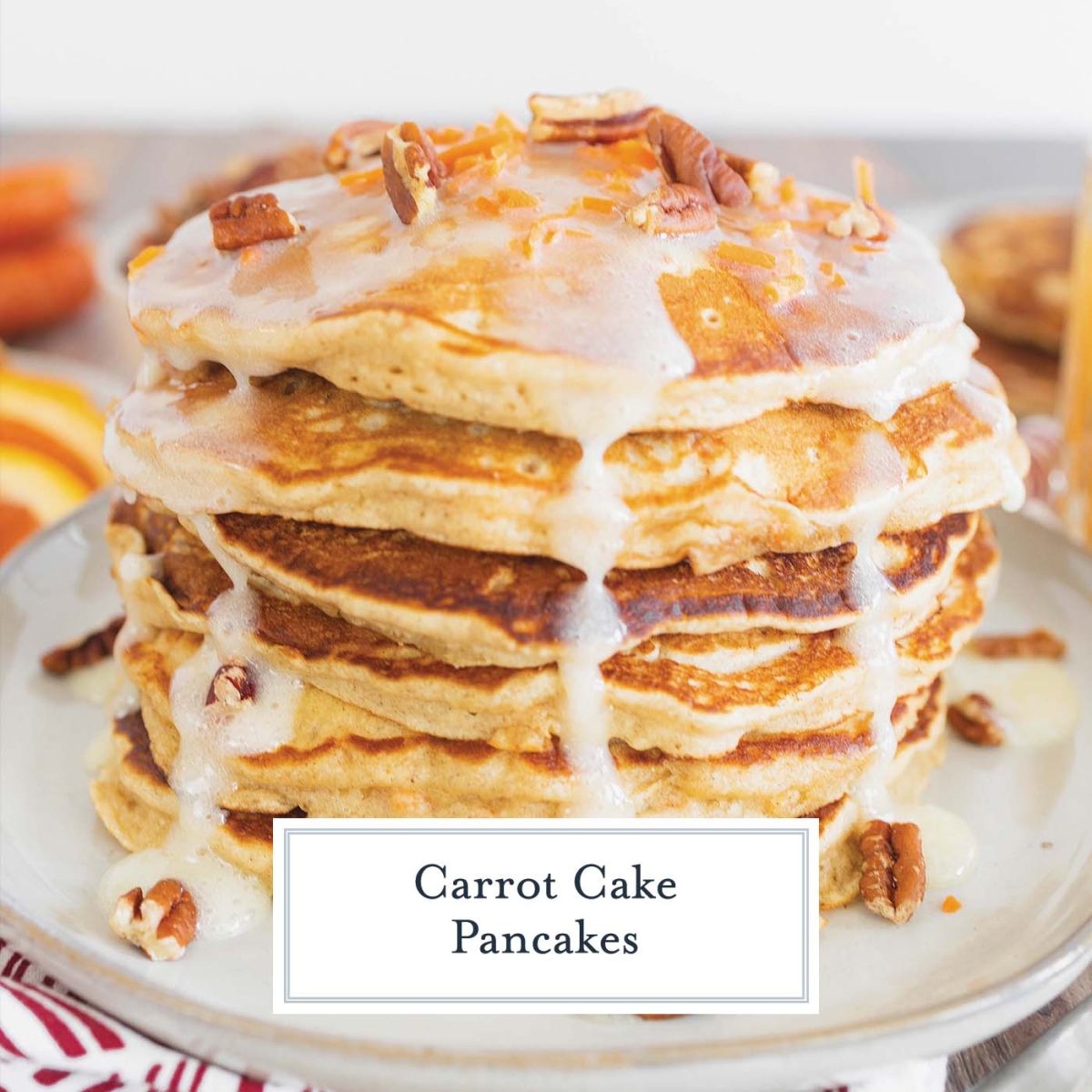 These rank right up there with carrot cake cupcakes and carrot cake dip as far as flavor and ease.
Carrot Cake Lovers
Carrot cake is a welcomed treat for those spring holidays that everyone loves. So why not enjoy a fun carrot pancakes breakfast recipe? This recipe is so easy to make with a from scratch pancake recipe and grated carrots. You'll add a little bit of sweetness and some wonderful spices to finish off the batter before cooking up these easy pancakes.
Personally, it's sort of tradition to make large round pancakes and stack them tall. But why not make shapes like a bunny or tulip. The kids will love them!
If you are a fan of breakfast for dinner, you will love this Carrot Cake Pancakes recipe. There is a subtle hint of sweet with these delicious pancakes which makes them ideal. Serve with home fries or even fresh fruit salad for a perfect meal.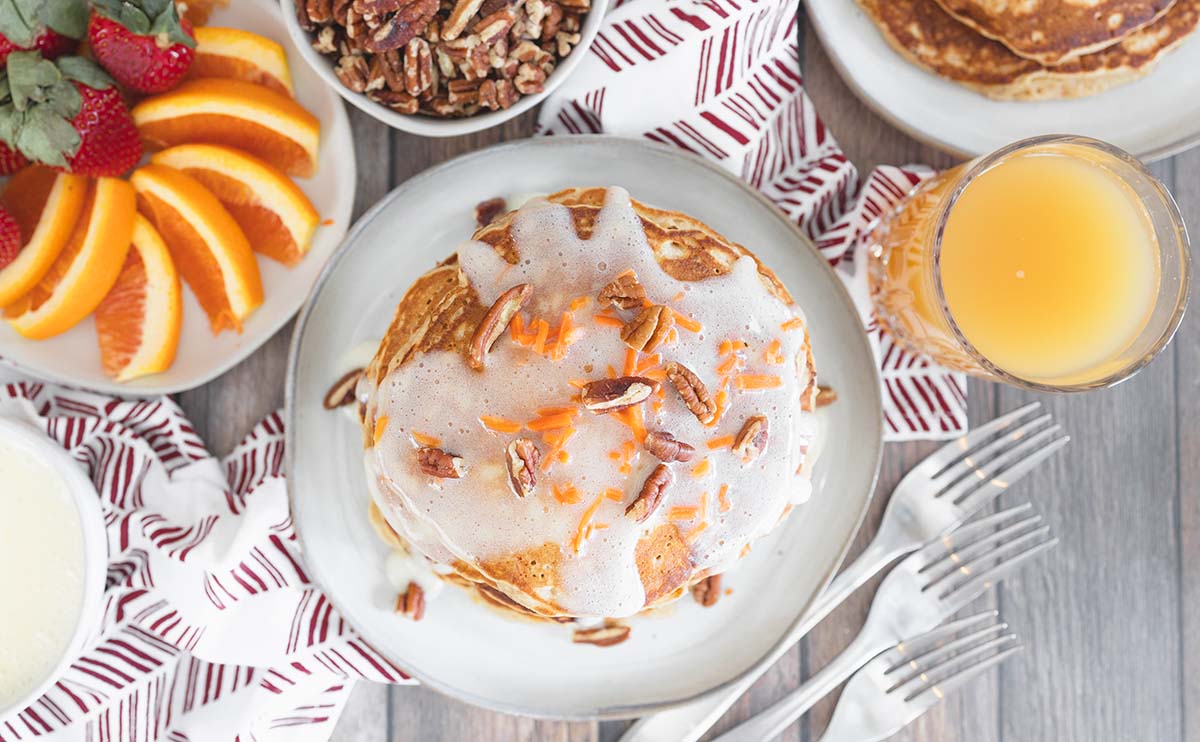 This recipe is so quick and easy and I can make 8-10 larger pancakes. They are so fluffy and a delicious alternative to making a carrot cake for dessert.
Ingredients
Flour – Take your carrot cake pancakes a step further and opt for cake flour instead of all-purpose. It has a lower protein and gluten content so the result is even more feathery and light.
Brown Sugar – To encompass that carrot cake flavor, we're using brown sugar instead of just regular granulated sugar. It not only provides sweetness and flavor, but moisture too.
Baking Soda – This helps to create create pockets of fluffy goodness in your carrot cake pancakes. It's used as a leavener.
Cinnamon – A dash of cinnamon really sends these carrot cake pancakes over the top! Nutmeg is also a fan favorite if you'd prefer.
Coarse Kosher Salt – We just need a bit of salt to help balance out all of the flavors. I always prefer using coarse Kosher salt.
Milk – I prefer to use whole milk or low-fat milk if that's all I have in the refrigerator. However, almond milk or coconut milk can be used here as well.
Eggs – They add structure, richness and leaven as well. Try to beat your eggs well before adding so you don't overmix the batter. This also introduces air.
Unsalted Butter – Use a good quality butter for a recipe like this. Lower qualities have large amounts of water and less of the good stuff.
Vegetable Oil– Or another neutral oil.
Vanilla Extract – I always like adding a splash of vanilla to my pancakes. It rounds out the flavors quite nicely. Other extracts are an option- almond is tasty!
Carrots – They wouldn't be carrot cake pancakes without carrots, right?? You will want these to be grated pretty fine so as to not have huge chunks of carrots in your pancakes.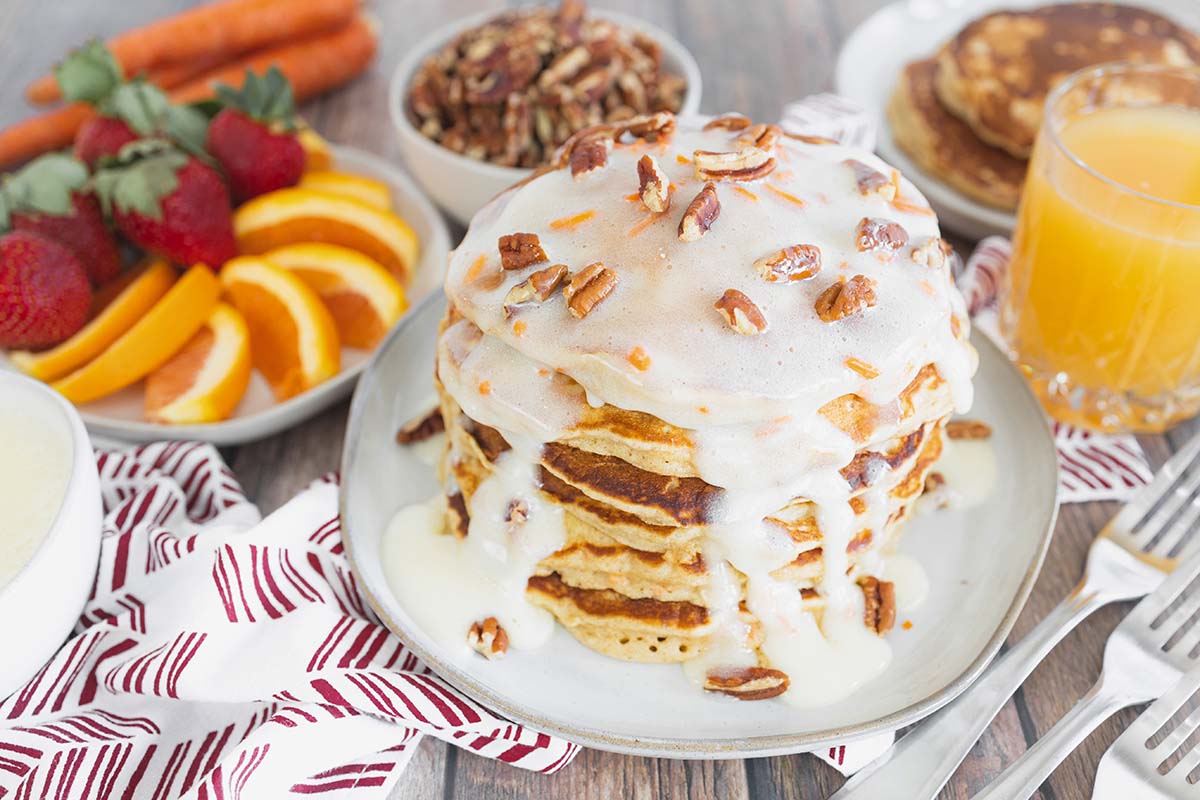 How to Make Carrot Cake Pancakes
Gather ingredients and equipment. A couple of larger size mixing bowls and a whisk or large spoon are handy to have. And feel free to use matchstick carrots. It will save you from peeling and grating carrots. If you have a kitchen scale it's always best to weigh all purpose flour for better consistency to the pancakes.
Combine dry ingredients. In a large mixing bowl combine the dry ingredients together making sure to break up larger clumps of brown sugar if needed.
Peel and grate carrots. I also prefer to rough chop the carrots into smaller bits. This helps to evenly distribute the carrots throughout the pancakes. It's really good! Toss carrots into dry ingredients and create a well in the center.
Mix wet ingredients. Melt butter in a separate bowl and combine remaining wet ingredients. Use a whisk to combine and mix everything together. Then pour milk mixture into dry ingredients.
Make batter. Mix batter together just until combined. Do not over mix batter as it tends to make pancakes more dense.
Cook. Drop scoops of pancake batter on a hot greased skillet and cook over medium/high heat until golden brown and then flip over and cook other side.

Variations and Topping Ideas
Carrot cake pancakes can be topped with whipped butter, cream cheese, maple syrup, or even a cream cheese syrup if desired. I also prefer adding chopped walnuts or pecans. The crunch is excellent. Here are some other ideas:
Carrot cake pancakes are also delicious with raisins. So why not add raisins to the batter or sprinkle on top. It's a fun addition for those who love raisins.
Adding a tablespoon of softened cream cheese to the top and a drizzle of maple syrup is a wonderful combination and every bite is fantastic.
Blond syrup is also an amazing alternative too.
Pancakes are always a favorite recipe so make sure to check out my other fantastic pancake recipes. We truly love the simplicity of Sheet Pan Pancakes. If you are a Red Velvet fan, then these Red Velvet Pancakes are a must make. Oh they are delicious!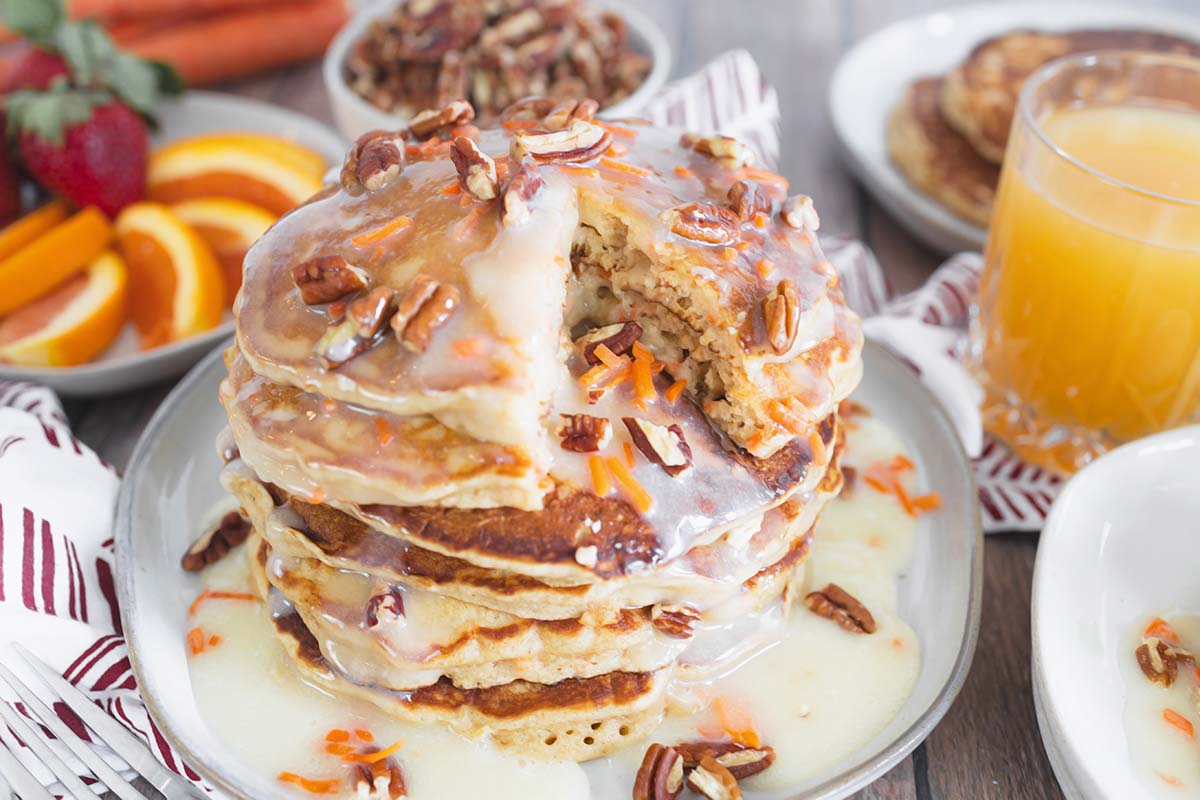 You also can't go wrong with our traditional Pancake Mix Recipe. So take a look and let me know which recipe's your favorite. I always love to hear from you and how much you enjoyed my recipes.
Freezing and Storage
Pancakes can be frozen. Make sure to allow pancakes to fully cool and place parchment paper between each pancake to prevent sticking.
When you're ready to enjoy them again, they're easy to reheat. You can do this in the toaster oven, toaster or the oven and just reheat until warm.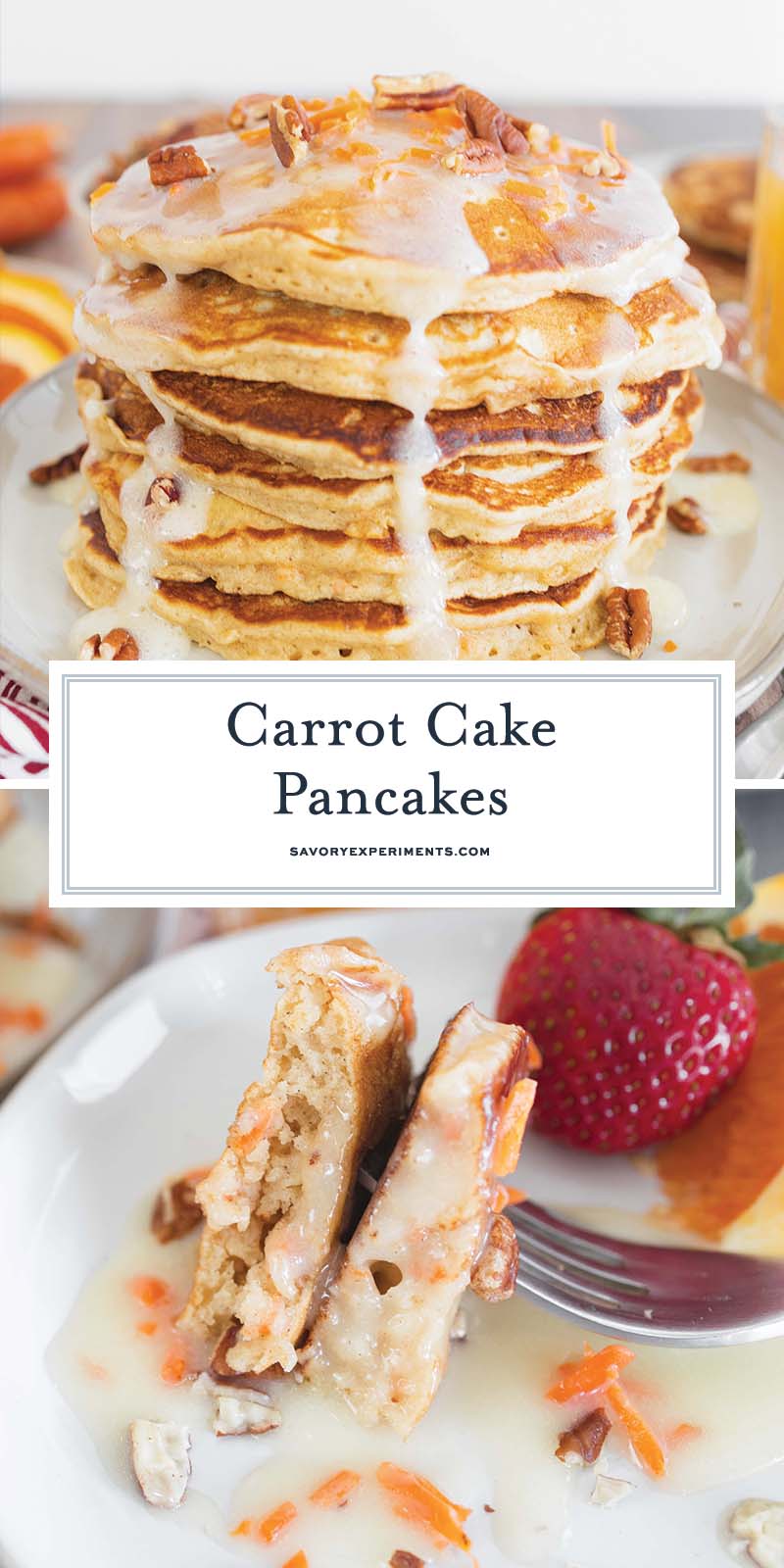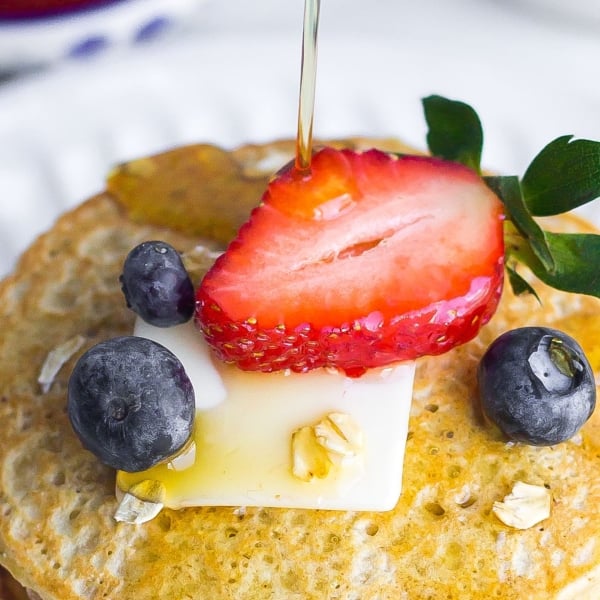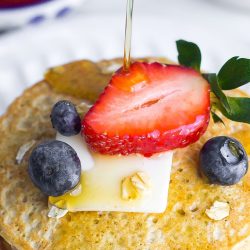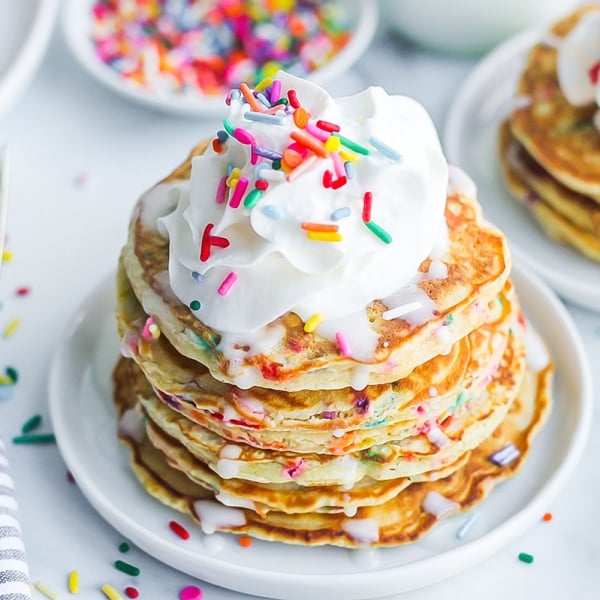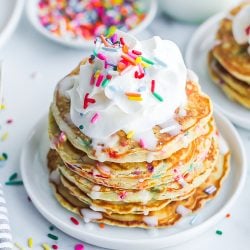 Funfetti Pancakes
Perfect for breakfast or brinner, this light and fluffy Funfetti Pancake recipe is perfect for birthday pancakes or Sunday brunch!
See The Recipe!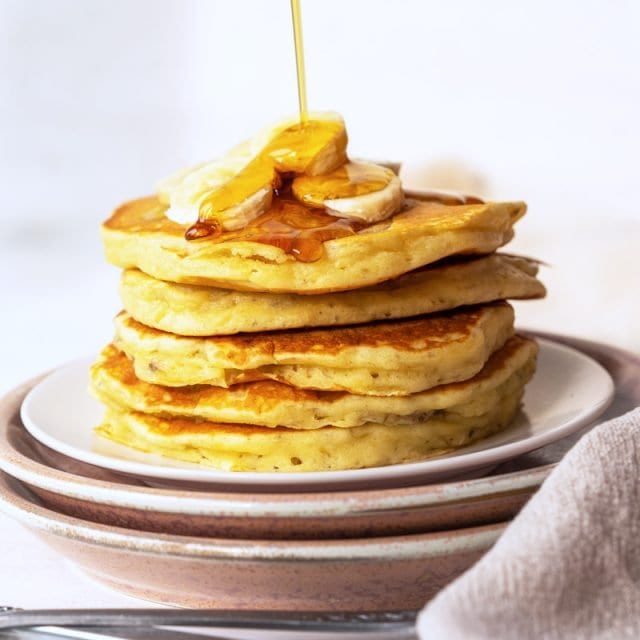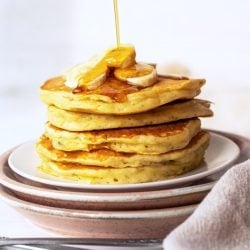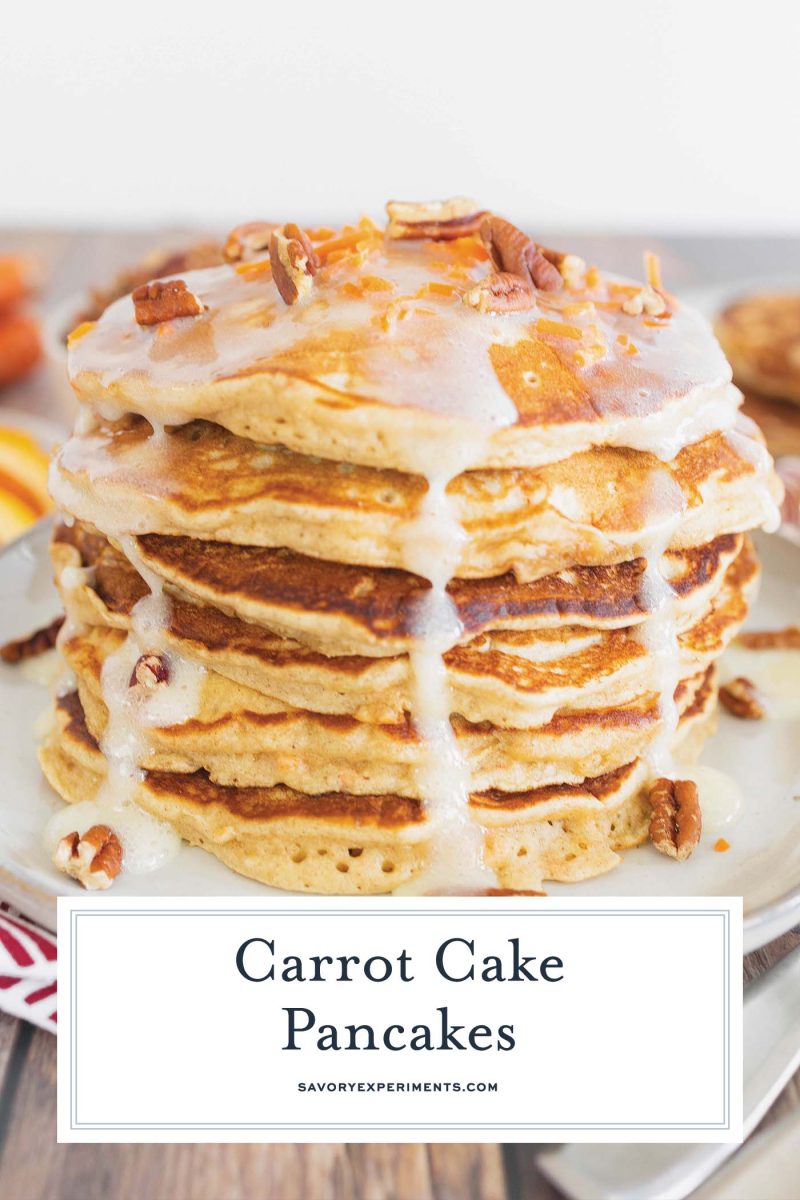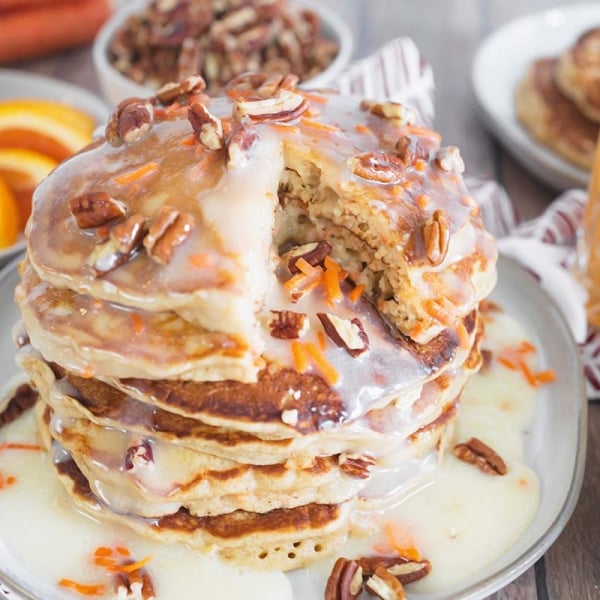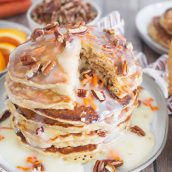 Carrot Cake Pancakes
These Carrot Cake Pancakes will have everyone wanting more. They're moist, fluffy and a perfect breakfast or brunch when celebrating spring!
Instructions
Pancakes:
In a large bowl, whisk together the flour, brown sugar, baking soda, cinnamon, and salt.

Add the grated carrots to dry ingredients and toss together.

In a separate bowl, whisk together the butter eggs, milk, vanilla extract and vegetable oil.

Combine the wet and dry ingredients, stir the batter until combined. Do not over mix.

Heat a greased skillet over medium-high heat and pour about 1/3 – 1/2 cup batter on hot skillet and allow to cook until golden brown. If using an electric skillet, heat to 325°F.

Flip the pancake over when little bubbles form and cook on the other side until done. Repeat until all remaining batter has been cooked.

Top with chopped nuts, butter or the cream cheese cheese drizzle.
Cream Cheese Glaze:
Mix together cream cheese and powdered sugar. Whisk with milk and vanilla extract until smooth.
Nutrition
Calories:
286
kcal
,
Carbohydrates:
34
g
,
Protein:
6
g
,
Fat:
14
g
,
Saturated Fat:
6
g
,
Polyunsaturated Fat:
3
g
,
Monounsaturated Fat:
3
g
,
Trans Fat:
1
g
,
Cholesterol:
59
mg
,
Sodium:
523
mg
,
Potassium:
171
mg
,
Fiber:
1
g
,
Sugar:
14
g
,
Vitamin A:
2513
IU
,
Vitamin C:
1
mg
,
Calcium:
81
mg
,
Iron:
2
mg