These Carrot Cake Cupcakes are moist and flavorful cupcakes packed with freshly grated carrot and spices all topped off with a decadent cream cheese frosting. All of the deliciousness of a layer cake, but in much easier cupcakes.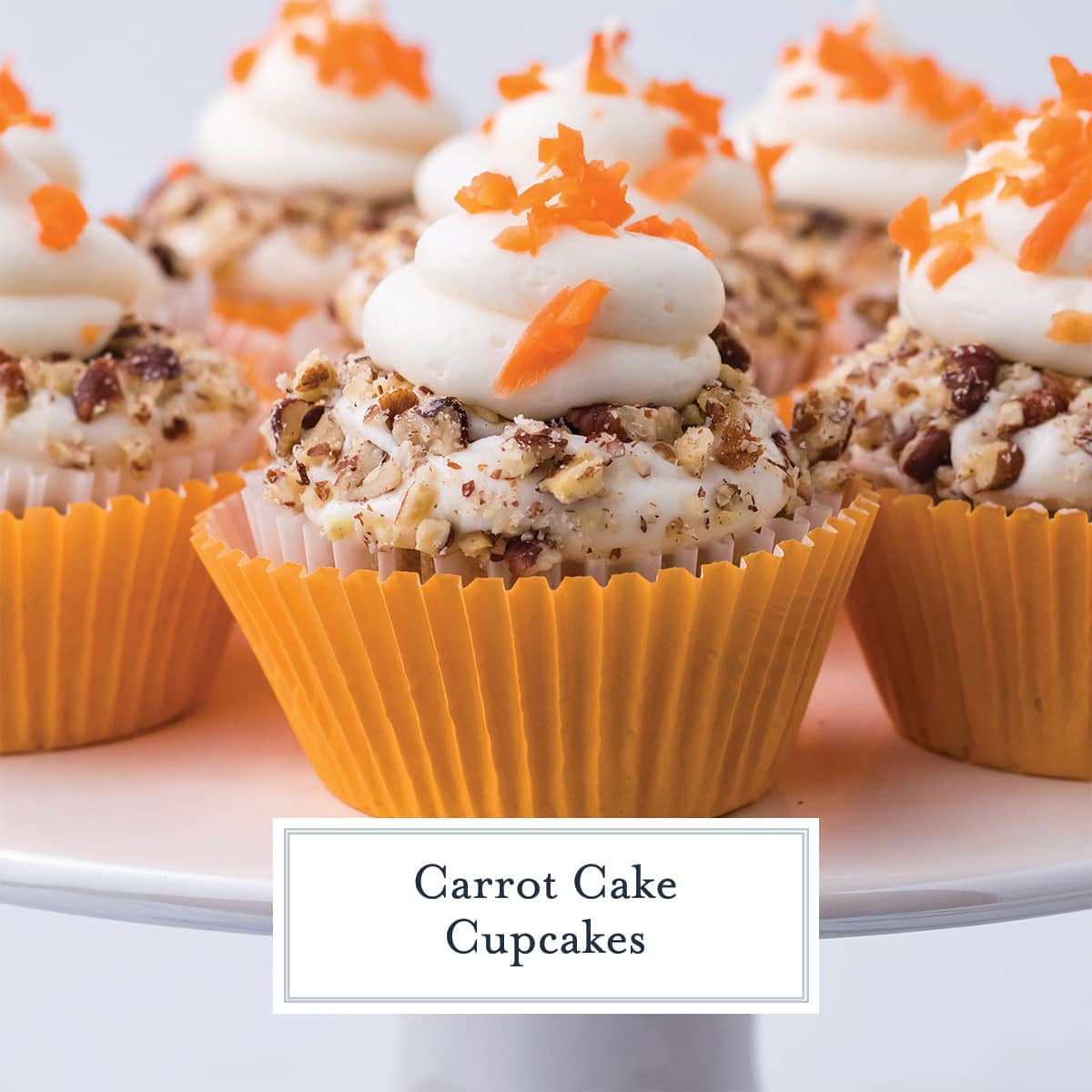 These Carrot Cake Cupcakes would be perfect for an Easter dessert surprise or even a treat for your family. They are super easy to make and so delicious you will want to add this recipe to the family cookbook.
Origin of Carrot Cake
It is believed that carrots were used in baked goods in the middle ages when sugar was hard to come by and super costly. People started using carrots in recipes to replace the sugar and still have a sweet dessert.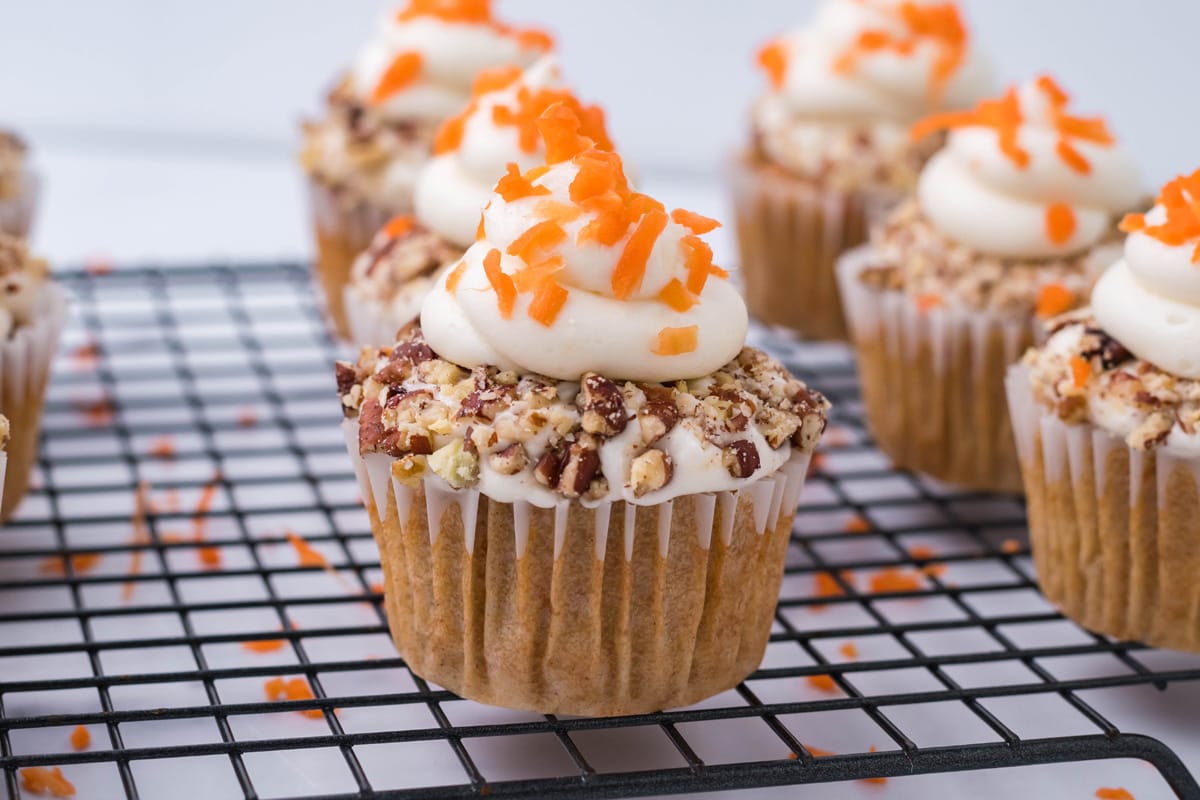 I must say, I am glad they did because Carrot Cake is one of my favorite desserts of all time! That cream cheese frosting gets me every time. 
Crunchy walnuts have been added through the ages, although some omit them or even swap with chopped pecans.
Best Way to Grate Carrots
I highly recommend using a food processor if you have one. I use mini carrots and just put them in the food processor and pulse 5-10 times until you get small pieces of carrot but be careful not to get too crazy and end up with carrot puree.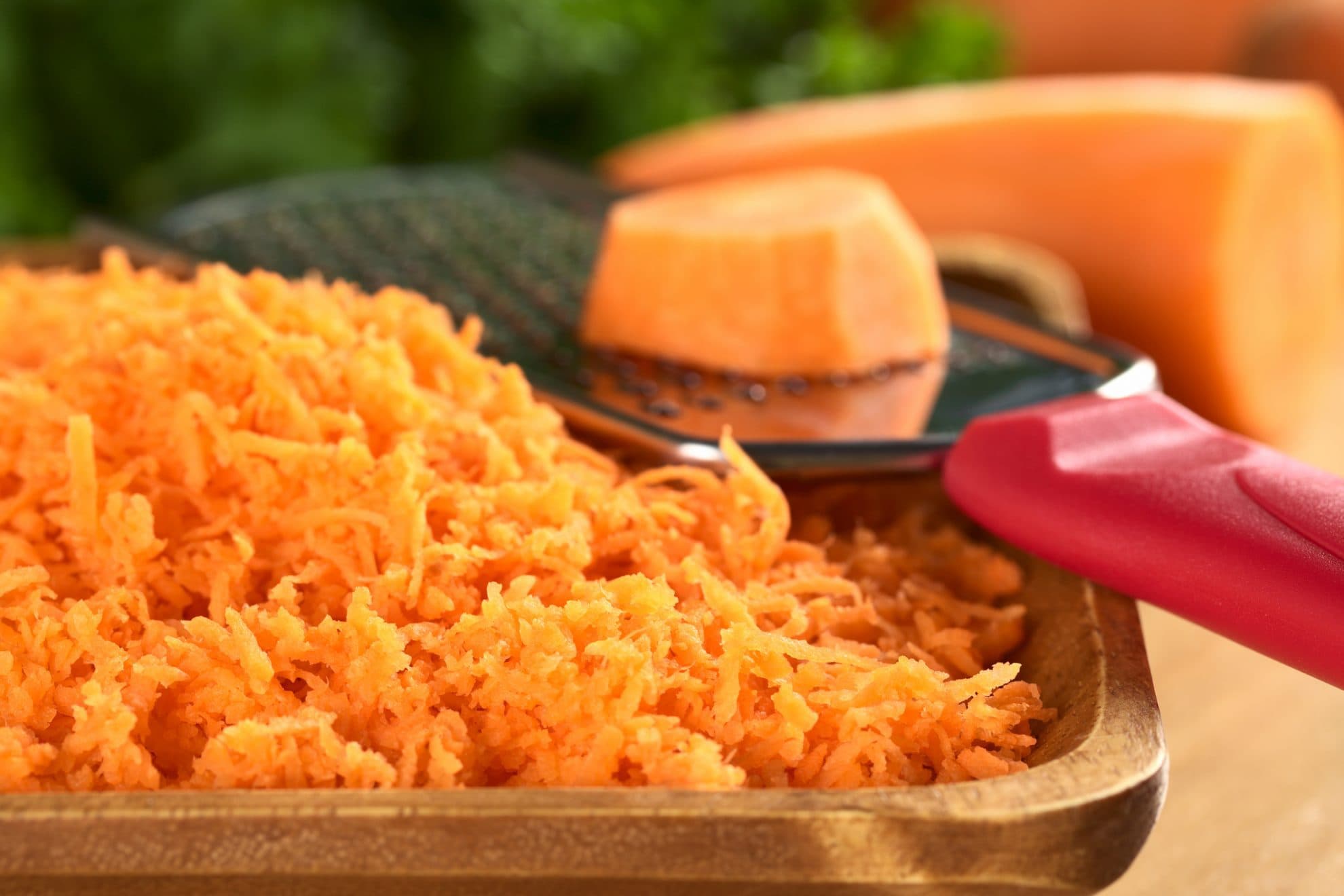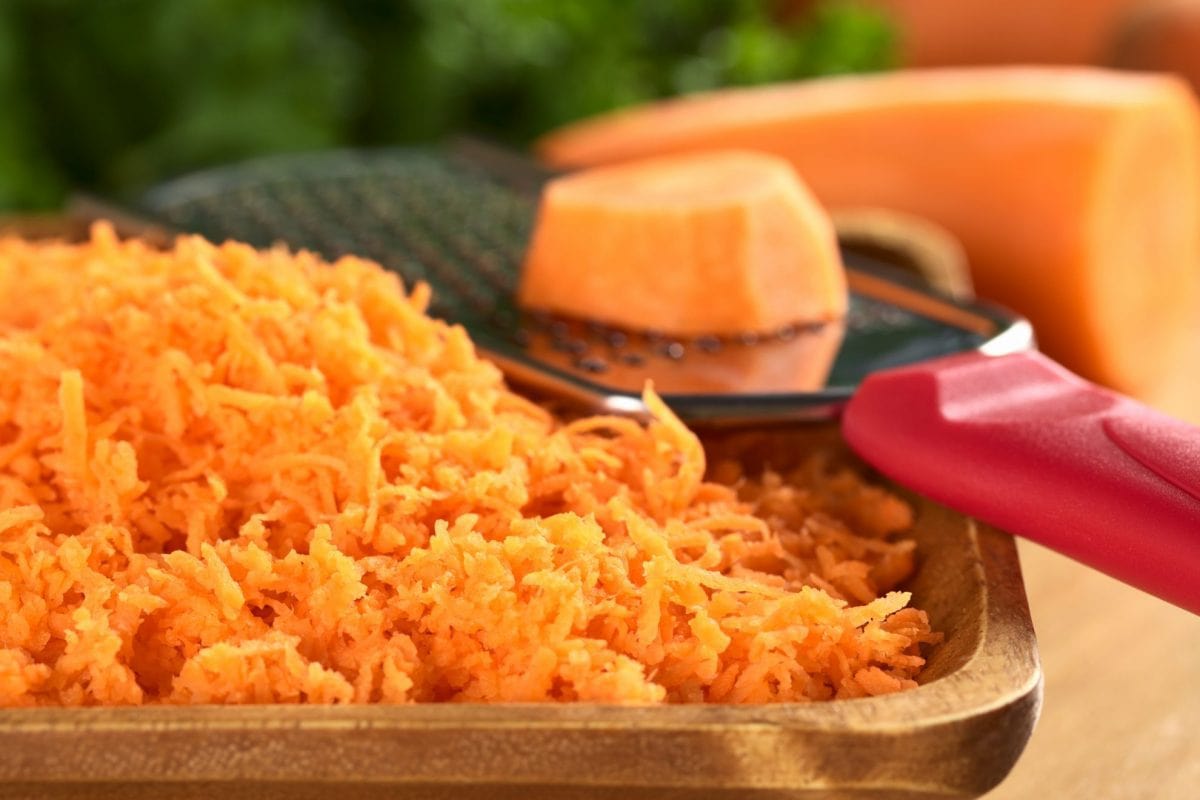 If you do not have a good processor that is perfectly fine. Use full size carrots and use a box or handheld grater and just grate your carrots that way. 
Does Carrot Cake Taste Like Carrots?
Fortunately for me and my kids, no, carrot cake cupcakes do not actually taste like carrots! Like zucchini bread, the brown sugar and cinnamon in the cupcakes overpowers the carrot taste so you do not even taste it at all.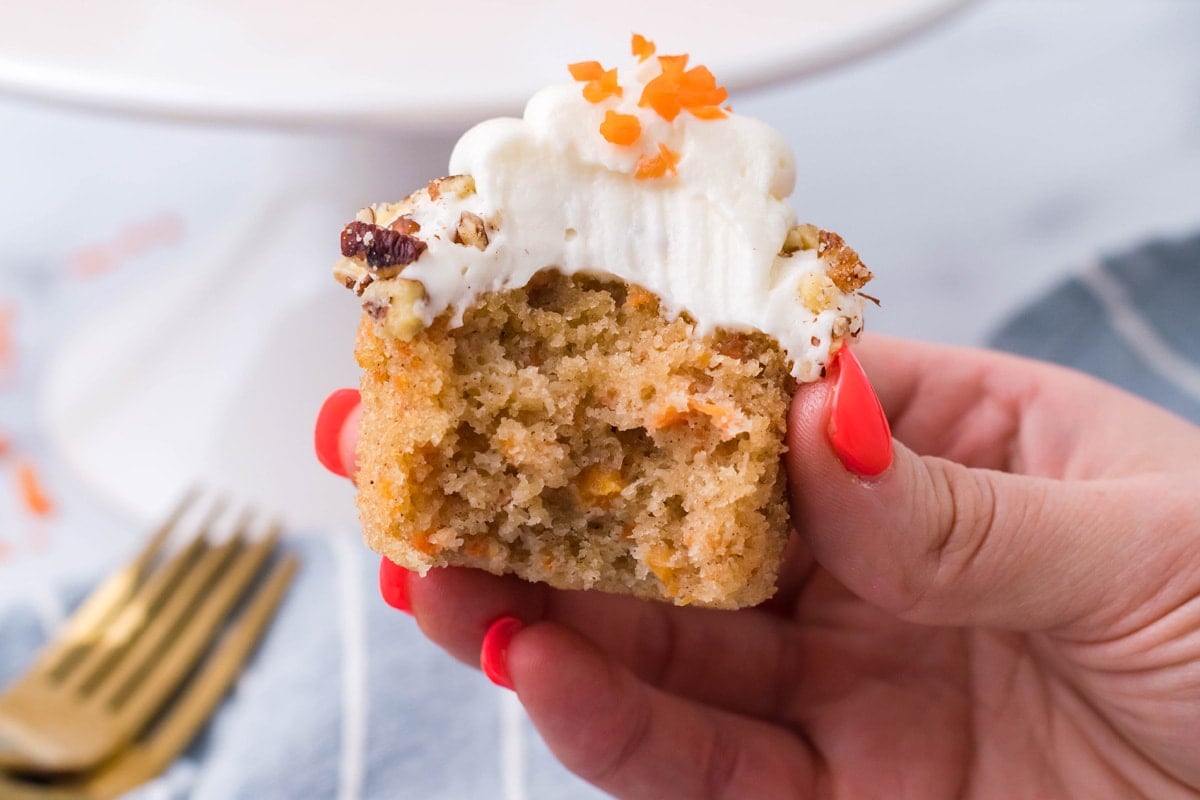 Other than the specks of orange throughout the cupcake, you would never know there was carrot in this recipe. The texture and taste are all quite subtle. It also has applesauce, so really you are getting your fruits and veggies.
Carrot Substitutions
If you do not have carrot, or do not like carrots, you can always replace the carrot with grated zucchini. It will have all the same benefits to the recipe as carrots, and you will not be able to taste the zucchini in the cupcakes.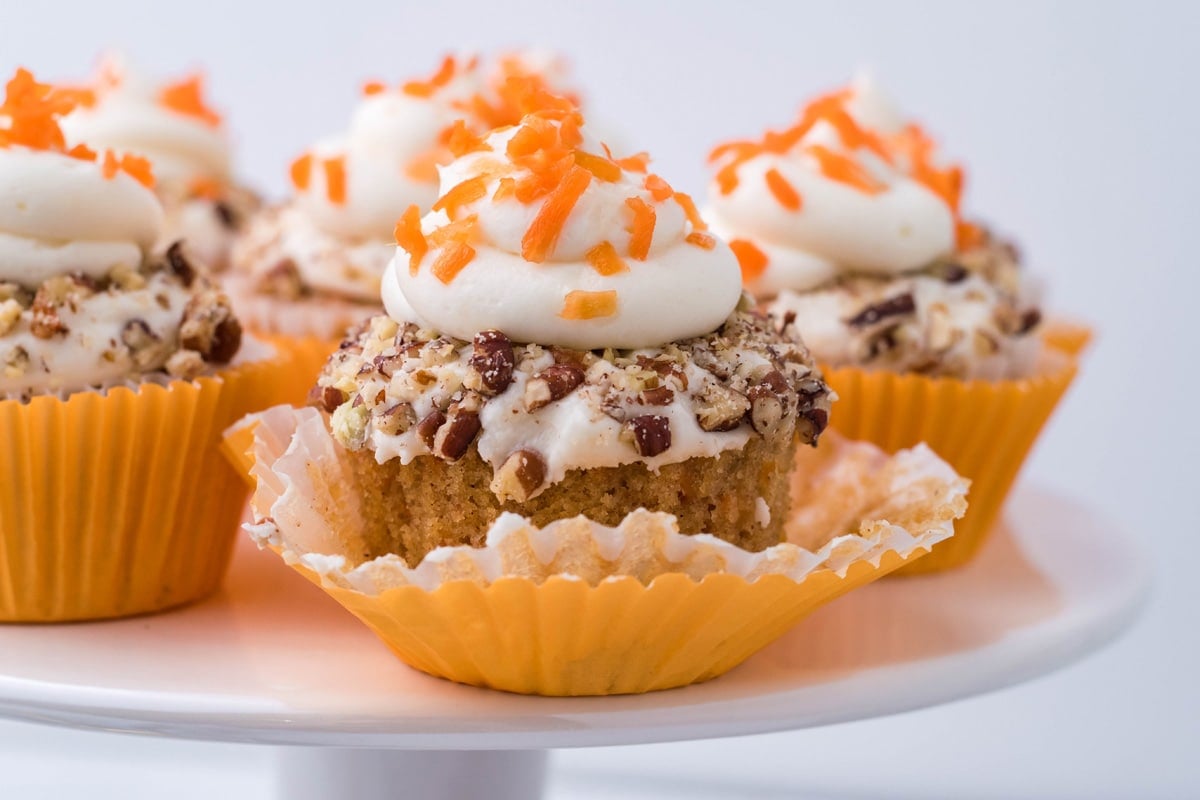 I would recommend omitting the nutmeg in the recipe but leave the other spices the same and replace the same amount of zucchini for carrot.
How to Make Carrot Cake Cupcakes
Add the eggs, vegetable oil, applesauce, both sugars, and vanilla extract into the bowl of a stand mixer equipped with a whisk attachment and whisk until well combined. You can also use a hand held electric mixer.
Add the dry ingredients and combined, being careful not to over mix. 
Fold in the grated carrots with a spatula until evenly distributed. 
Divide the batter evenly between 15 cupcake liners, filling about ¾ full. Bake for 20-23 minutes or until a toothpick inserted in the center of the cupcakes comes out clean or tops gently bounce back.
Allow to cool completely on a wire rack while you make the frosting.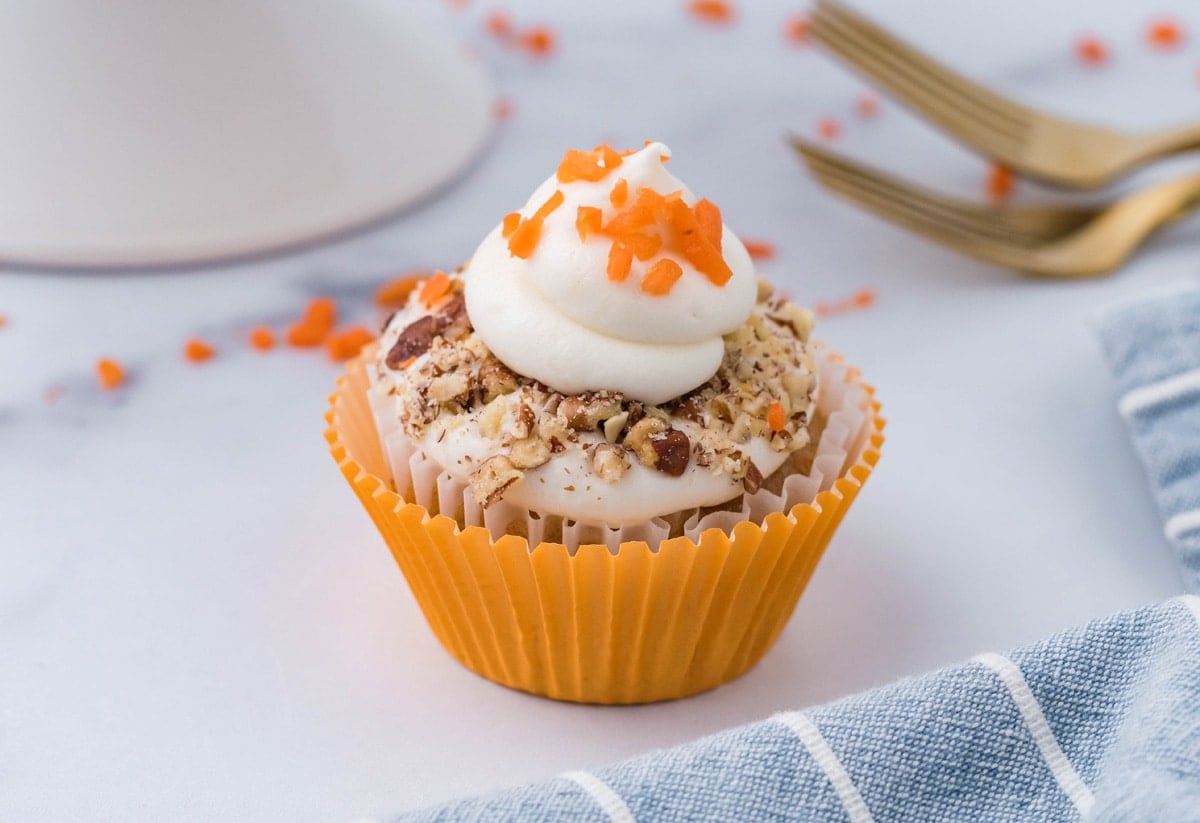 Carrot Cake Cupcake Frosting
 Add the cream cheese, butter, and vanilla into the bowl of a stand mixer equipped with a paddle attachment and cream for 2-3 minutes until completely smooth.
Add in the powdered sugar one cup at a time and mix until combined. Slowly increase the speed to high for 2-3 minutes or until the frosting is fluffy. 
Add to a piping bag with a large round tip.
Assembly
Pipe a small swirl of frosting on each cupcake. Dip into crushed walnut pieces and gently press to stick.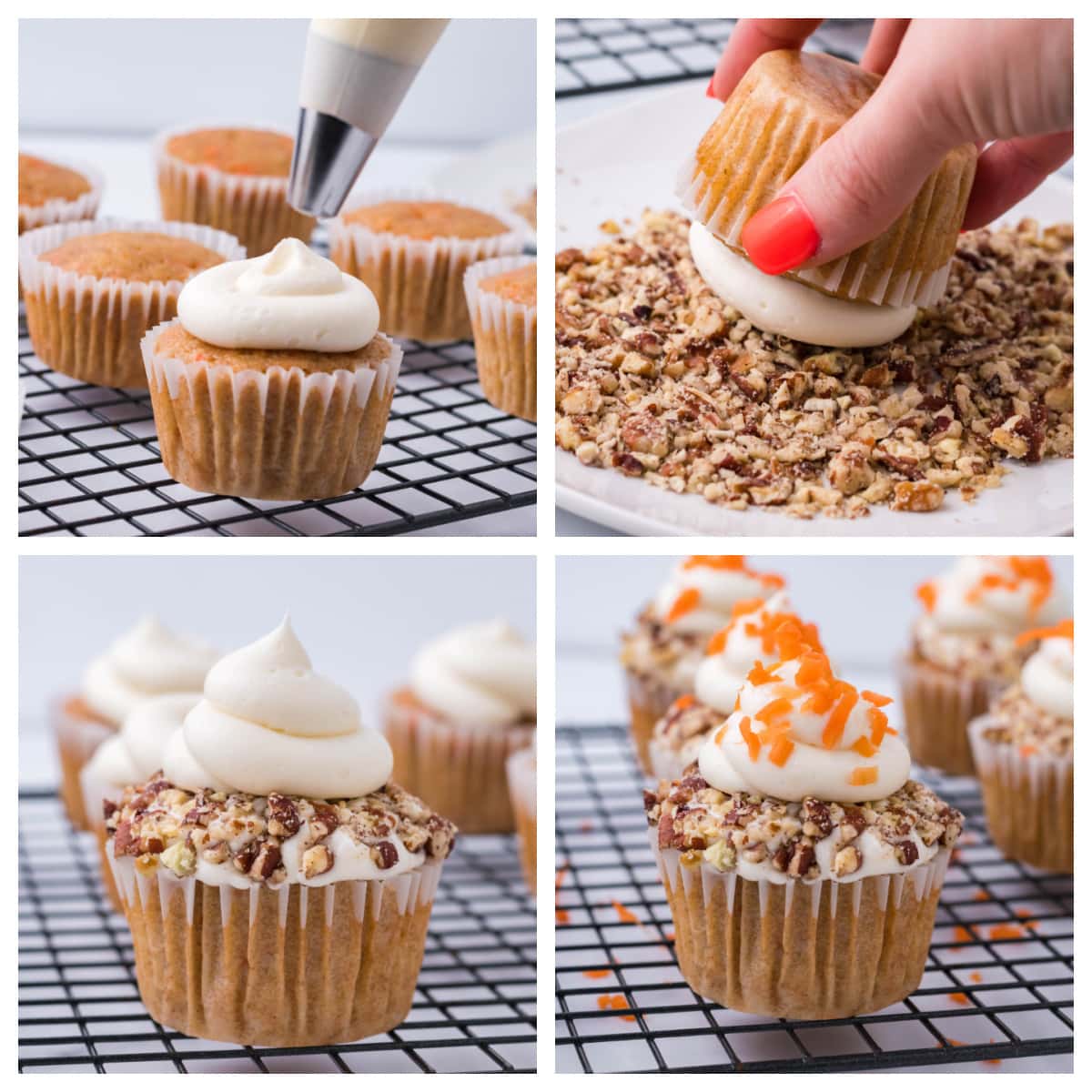 Top with another generous swirl of frosting and top with some grated carrot.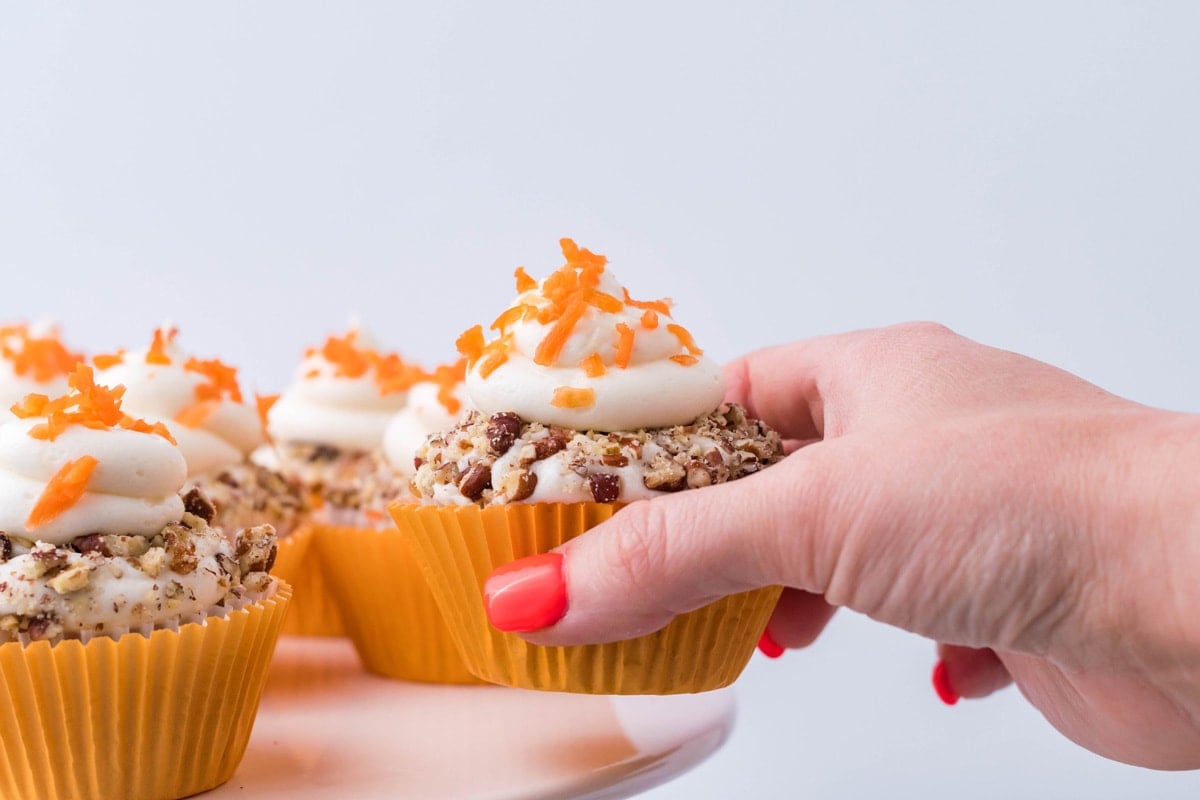 Tips for Perfect Carrot Cake Cupcakes
Be patient..don't ask me how I know this, but do not open the door before it is time to check them. I learned the hard way that if you open the door before they are completely done baking, they will fall!
Make sure all the ingredients for the frosting are at room temperature. If you try to mix cold cream cheese it will have lumps in it, and nobody wants lumpy frosting. 
Why is there so much powdered sugar in the frosting?? My cream cheese frosting has by far the most powdered sugar out of any of my frostings. Why? Because if you do not add enough powdered sugar it is almost impossible to pipe cream cheese frosting. This is the one time that I make an exception and it is so worth it.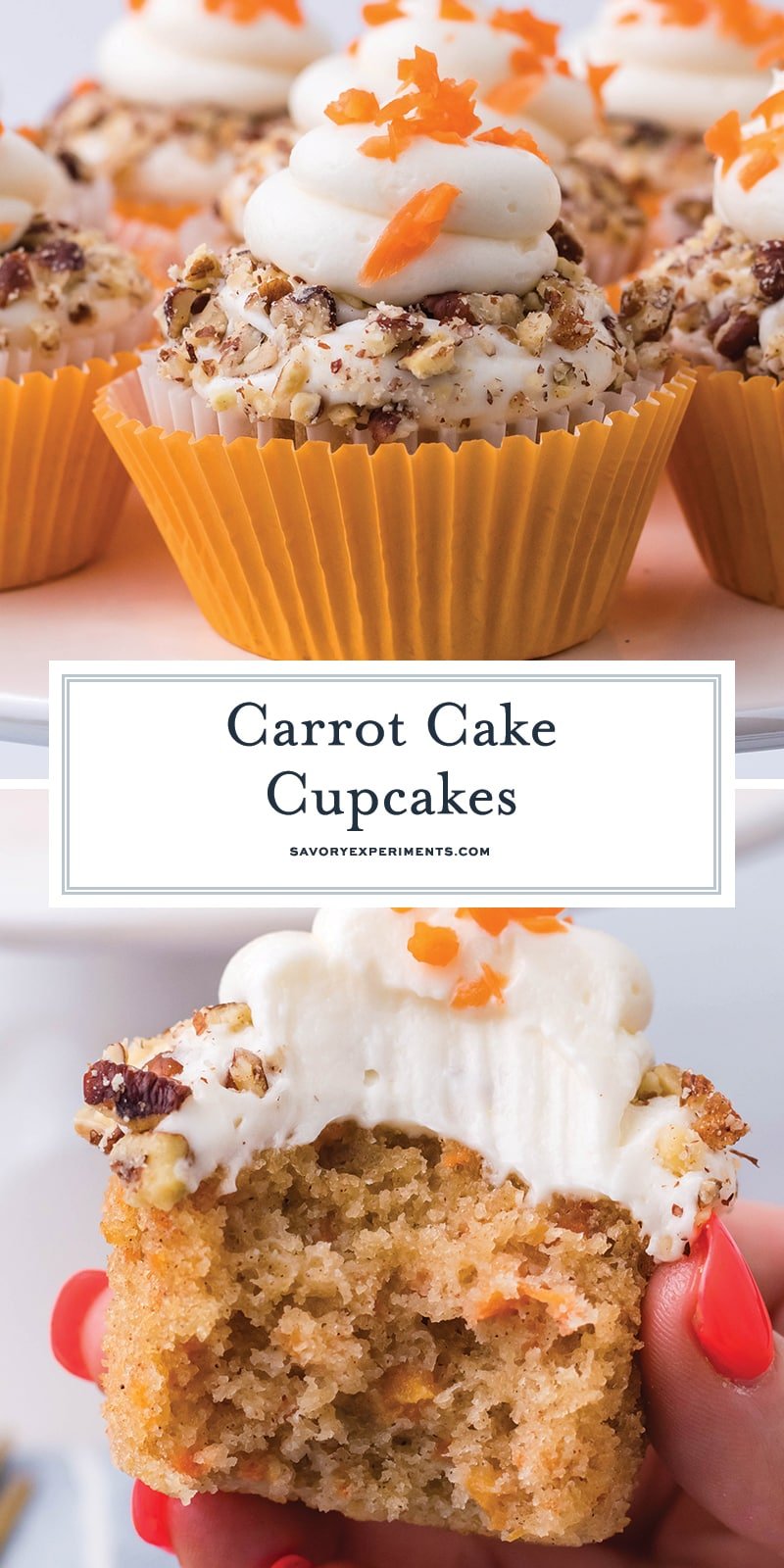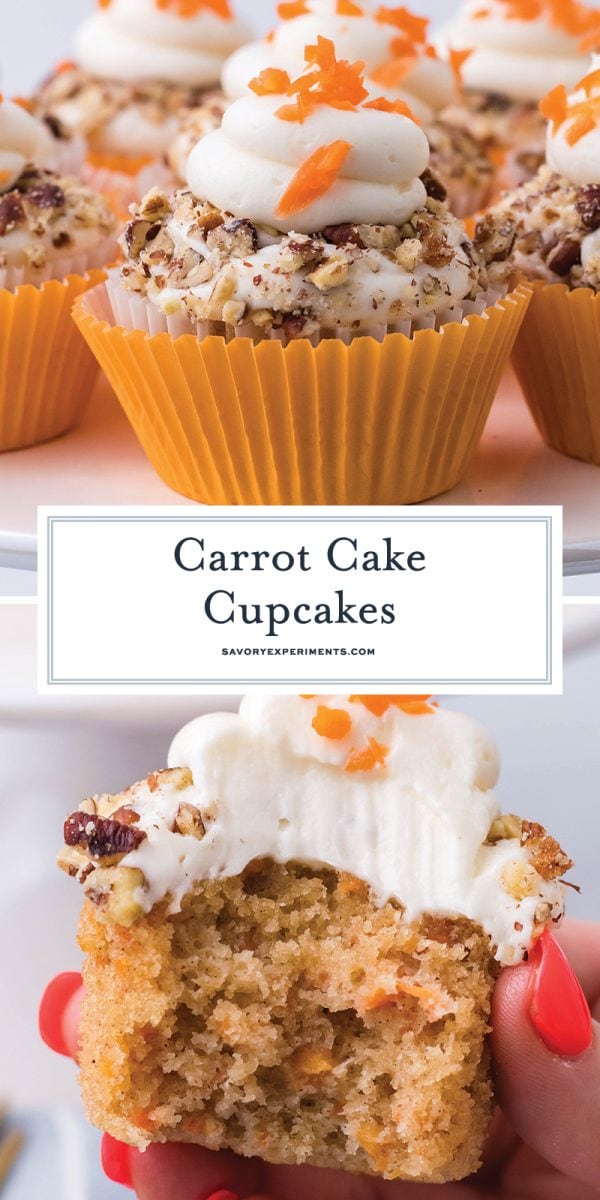 More dessert recipes: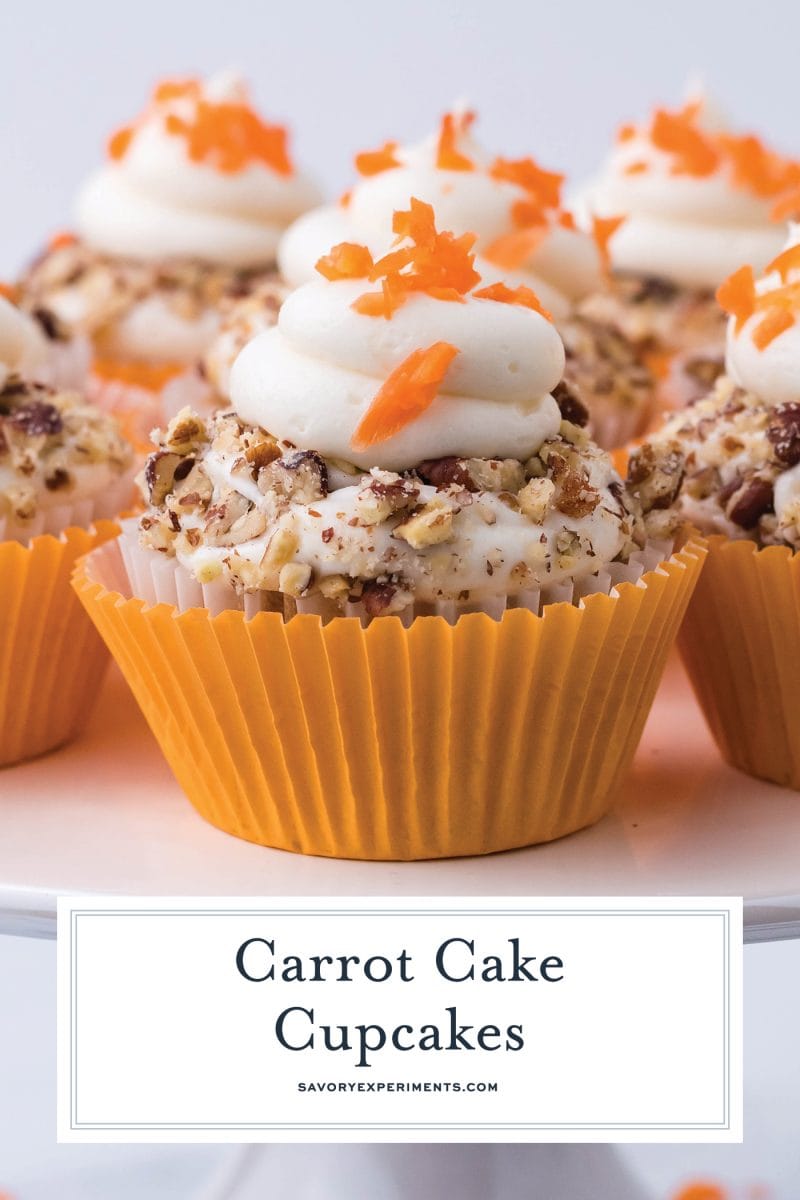 CONNECT WITH SAVORY EXPERIMENTS!

Be sure to follow me on social media, so you never miss a post!

Facebook | Twitter | Youtube
Pinterest | Instagram

Get our FREE 8 Day E-Course on How to Be a Better Home Cook. Sign up HERE!