Homemade Granola is the best simple breakfast or snack for both kids and adults! This healthy Homemade Granola recipe is chunky and packed with nuts, seeds, dried fruit and toasted coconut!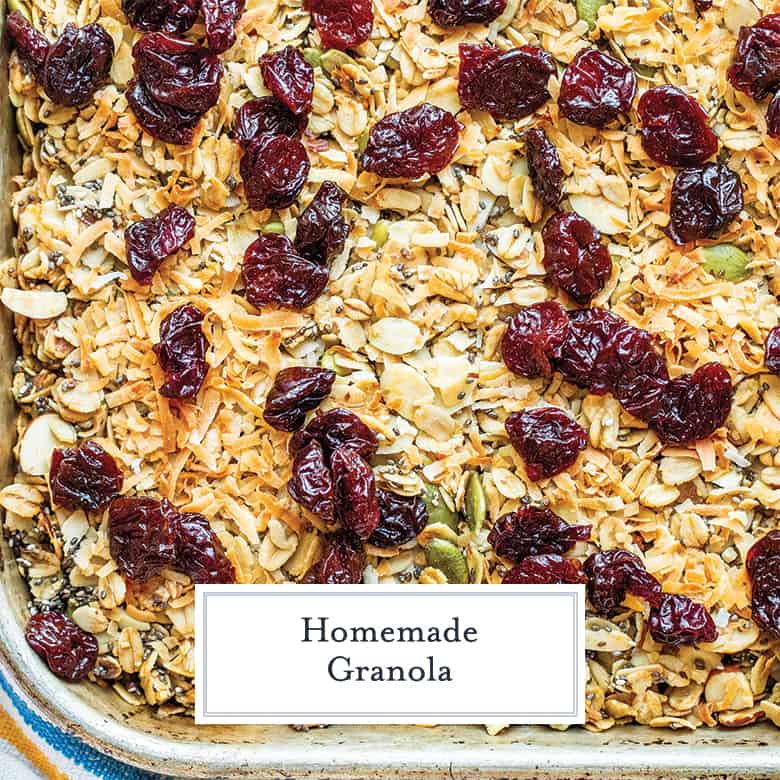 Granola Recipe
When it comes to breakfast I am all about simple and fast. I love that this homemade granola recipe can be made ahead of time and last for weeks making breakfast and snacks simple for me.
Along with being simple, this healthy granola can be enjoyed several ways so I am never getting bored of it. You can pair it with yogurt, milk or fresh fruit for the perfect combo.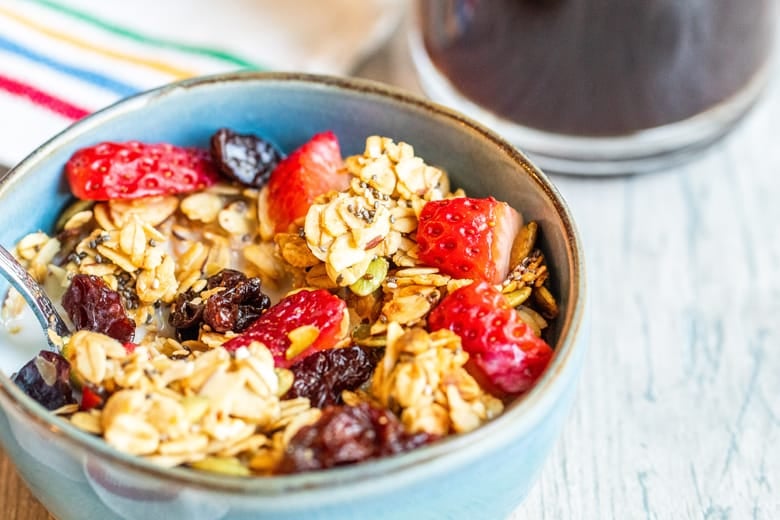 Granola is also great for camping trips, road trips or enjoying on a lunch break at work. Also, I love how versatile granola is and how easy it is to swap in different nuts, seeds and add-ins depending on my mood.
How to Make Homemade Granola
Begin by preheating your oven to 350 degrees F, then lining a half baking sheet with parchment paper.
In a large bowl, combine rolled oats, nuts, seeds and stir to combine. Next, add in oil, honey and vanilla extract then stir granola again until everything is well combined and coated.
Pour the granola onto the prepared baking sheet and pat into a thin even layer and place in the oven on the center rack for 15 minutes.
Once 10 minutes have elapsed, remove the granola from the oven, stir, then add the coconut flakes on top. Return to the oven and bake an additional 10-15 minutes or until the granola is golden.
Once the granola is finished baking, leave the granola on the baking sheet and let it cool for 1-2 hours. After the granola is cool break apart and enjoy, or store in an airtight container.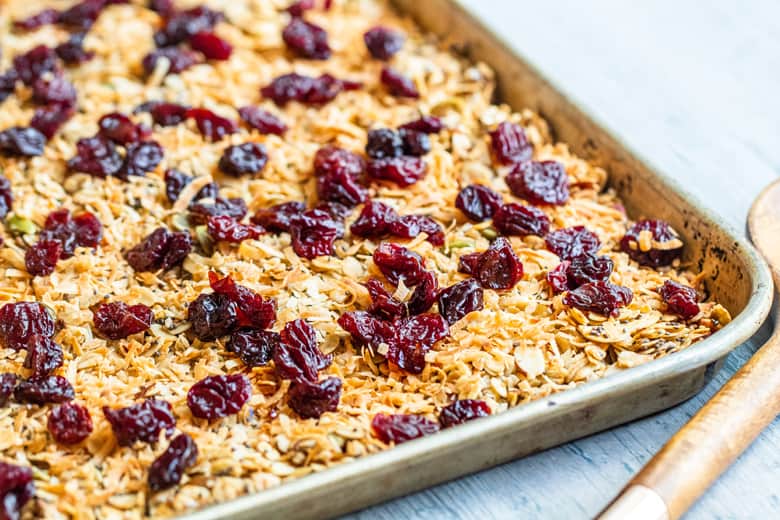 Pro Tip: I cannot stress this enough: do not add in the coconut at the beginning of the bake time. If you add it in early the coconut will be burnt and no one wants burnt coconut in their granola.
Customize Your Granola
This healthy homemade granola recipe can be easily customized by swapping in different dried fruit, nuts, or adding in fun extras.
Nuts: Some great nuts to add to this homemade granola recipe instead of almonds or in addition to are pecans, walnuts, pecans or pistachios.Also, I used pepitas and chia seeds for my healthy granola but you could use sunflower seeds or a combination of all three.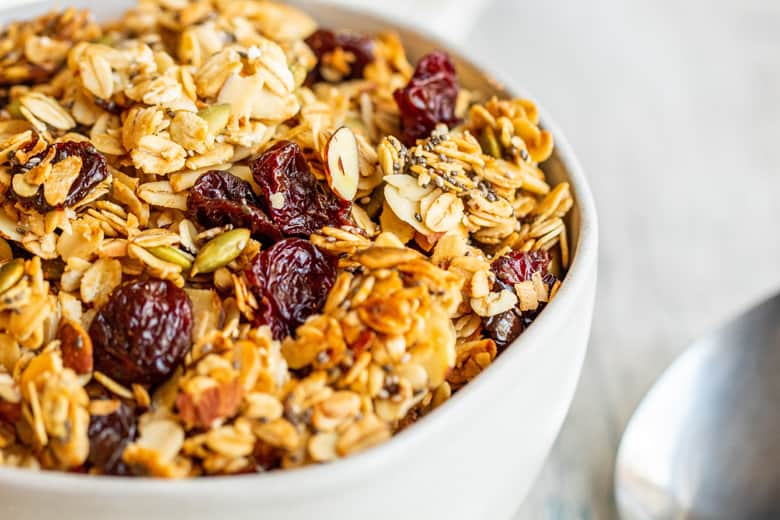 Dried Fruit: I love dried cherries in this recipe but you can also use dried cranberries, dried apricots, raisins, or mixed dried berries in your chunky homemade granola.
Pro Tip: To ensure that the granola gets toasted and crispy throughout, be sure to toss it halfway through.
Sweeteners: Honey, maple syrup, brown sugar, vanilla extract are all great options for granola.
Extras: Coconut flakes add so much flavor to this healthy granola, but if you are not a coconut fan you can leave them out.If you want a hint more spice you can also add some additional spices like cinnamon or nutmeg.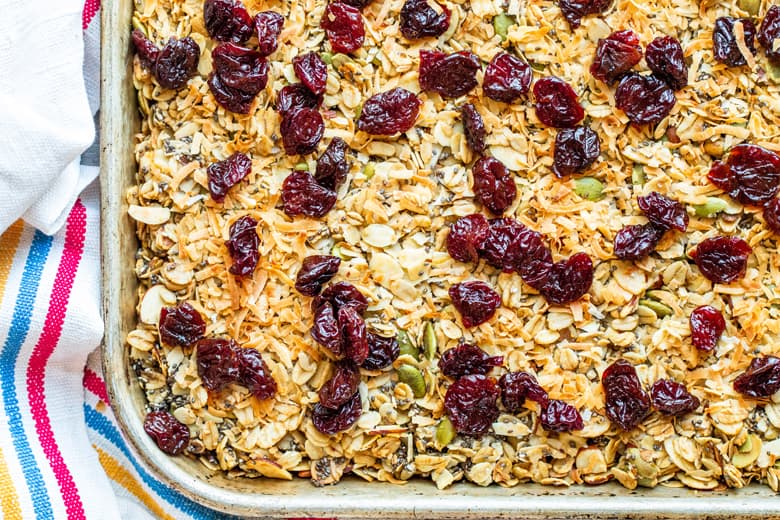 A fun mix-in idea for kids is mini chocolate chips (add them after baked or they will melt.)
Pro Tip: The homemade granola may not seem like it is finishing baking, but the granola should be lightly toasted and golden. You just want the granola lightly toasted and not over-cooked.
What to eat granola with
Pro Tip: For chunky granola lightly press the granola down onto the baking sheet with the back of a wooden spoon after tossing it halfway through baking. Also, be sure to let the granola cool completely before breaking it up.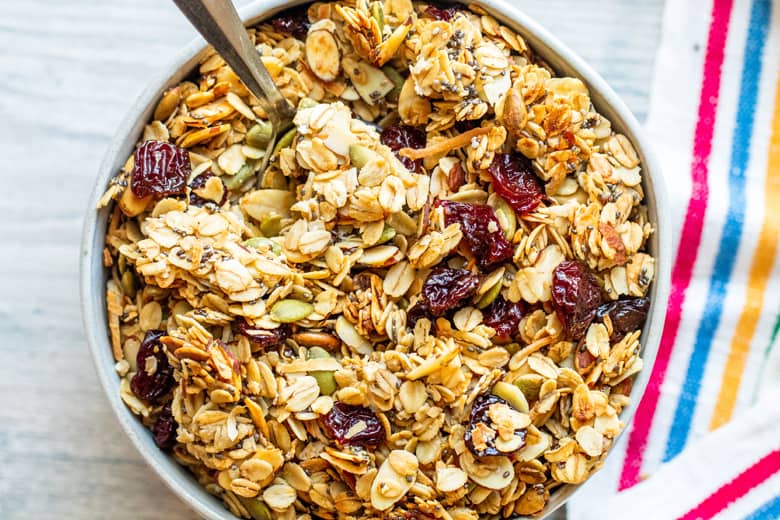 Storage and Freezing
Store leftover coconut granola in an airtight container for up to 2 weeks at room temperature. Personally, I love storing mine in an extra mason jar but any airtight container or zip-lock bag will work.
Unfortunately homemade granola cannot be frozen. The grains will get soggy after thawing and the granola will not have the correct texture.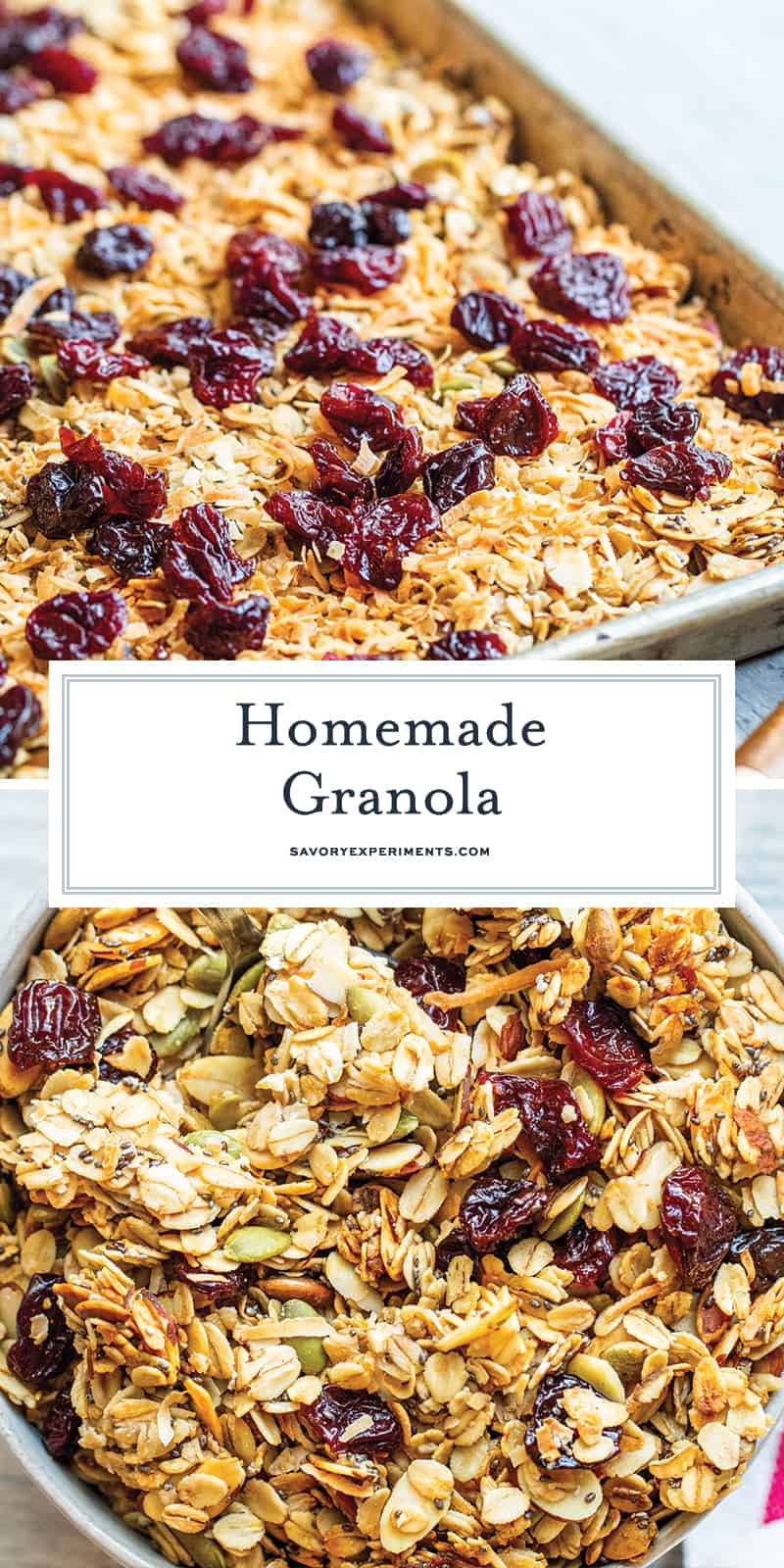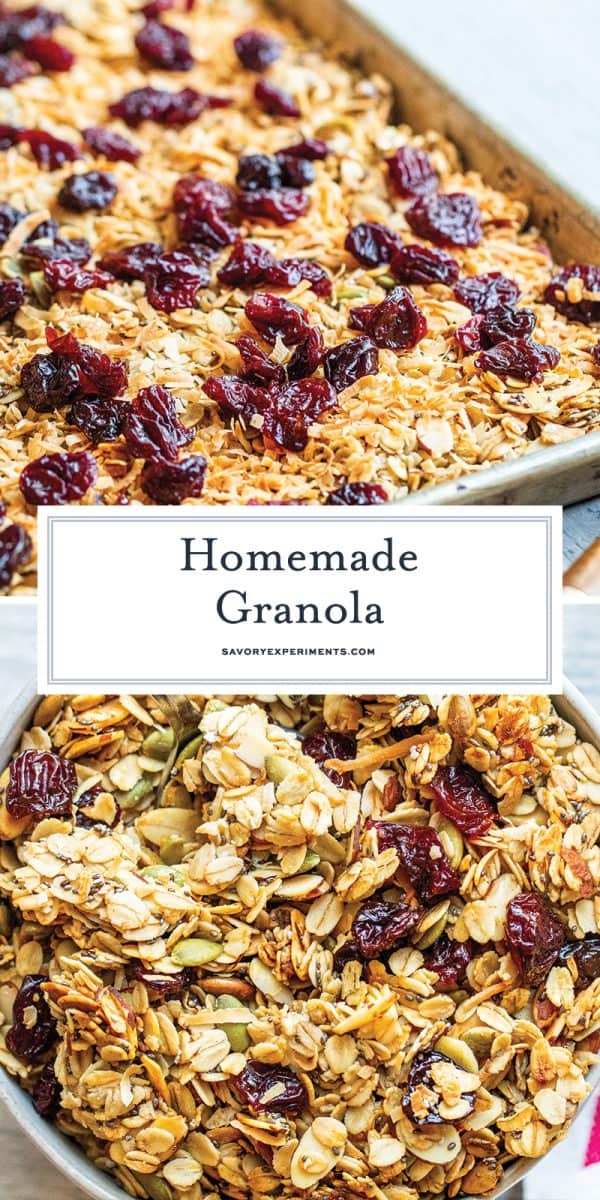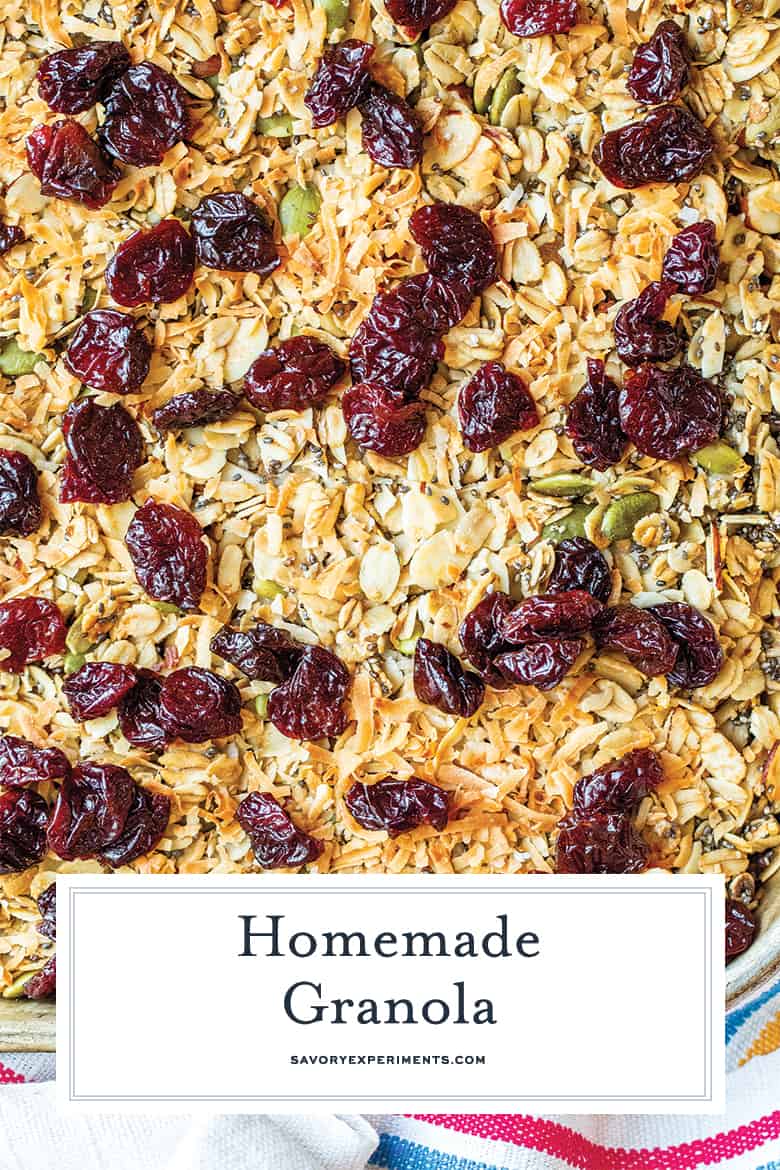 CONNECT WITH SAVORY EXPERIMENTS!

Be sure to follow me on social media, so you never miss a post!

Facebook | Twitter | Youtube
Pinterest | Instagram

Get our FREE 8 Day E-Course on How to Be a Better Home Cook. Sign up HERE!