Brussel Sprouts with Bacon are the perfect side dish to enjoy! The bacon added to the brussels sprouts just brings it all together! The end result is so amazing, you'll be finding yourself wanting more!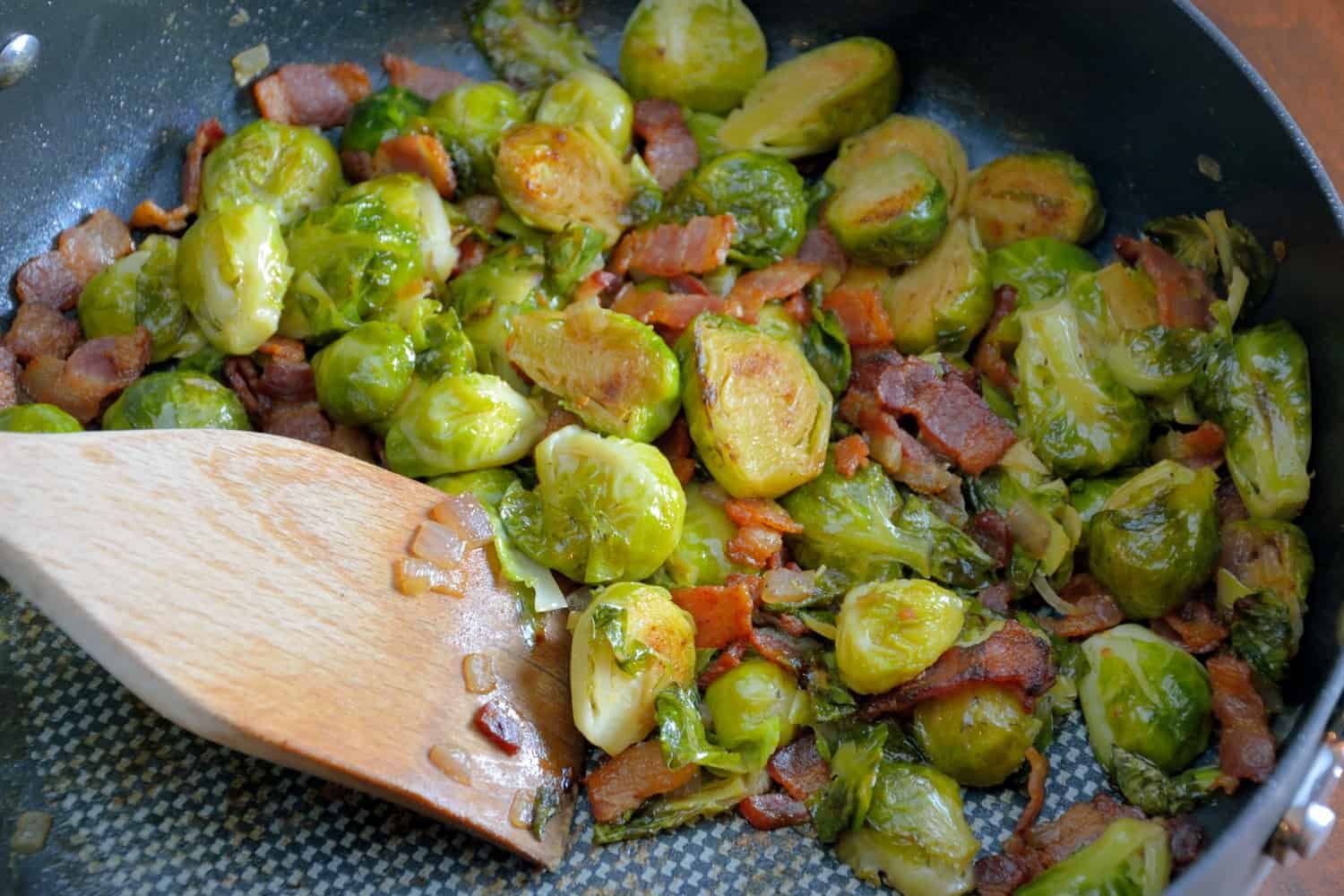 These Brussel Sprouts with Bacon are an easy side dish recipe that can be served with practically any meal! This brussel sprouts recipe is easy to make and has a nice salty and savory taste!
Brussels sprouts get a bad rap. For some reason people seem to be scared of the Barbie sized lettuce heads. In reality they are a super healthy, tasty and hearty vegetable that can be incorporated into many dishes, served basic or fancied up. You definitely don't need to be intimidated by them.
Brussel Sprouts with Bacon is one of my staples. Salty bacon balances out the savory brussels sprouts and briny broth. It doesn't take much time at all and it packs a punch of color to any plate. They look so good that who knows, maybe your kids might even venture out and try them!
Bacon added to anything is a recipe for deliciousness. It introduces a whole new salty flavor which I absolutely love! I don't mind brussels sprouts on their own but there is something about adding bacon to them that just makes me want more!

Technically, the correct name is "Brussels sprouts" as they were named after the city of Brussels, however most folks now just refer to them as brussel sprouts. I guess that "s" at the end of brussels has just become a silent "s" now. If you spell it the correct way or not, it doesn't really matter cause they taste delicious either way they're pronounced!
At the end of the day brussels sprouts will be brussels sprouts. It's entirely up to you if you're willing to take the leap and try them, but I say they're so worth it! You might be a full fledged brussels sprouts hater and you just haven't given them a proper chance. So why not just give them a go and let your taste buds be the judge?
If you enjoyed this Brussel Sprouts Recipe, be sure to check out these other easy brussel sprouts dishes:
Tools to make Brussel Sprouts with Bacon: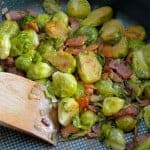 Brussels Sprouts with Bacon
Ingredients
3

slices

center cut bacon

chopped

1

tablespoons

extra virgin olive oil

1

shallot

chopped

1 1/2

pound

of brussels sprouts

trimmed and halved

Salt and Pepper

1

cup

chicken broth
Instructions
Brown bacon in a large skillet. Remove bacon to a paper towel lined plate. Remove any pooled bacon fat.

Add shallots saute for 1 minute. Add Brussels sprouts and coat with oil. Saute for 2 minutes. Season with salt and pepper as desired.

Pour chicken broth over Brussels sprouts. Cover and reduce heat to a low simmer. Allow to steam for 10 minutes. Liquid should be evaporated and Brussels sprouts tender.

Toss bacon back into mixture to heat.