These crispy on the outside, soft on the inside Baked Zucchini Fries are perfect for dipping in all the things! This is one of our favorite ways of using the overabundance of zucchini our garden (and neighbors) delivers every summer!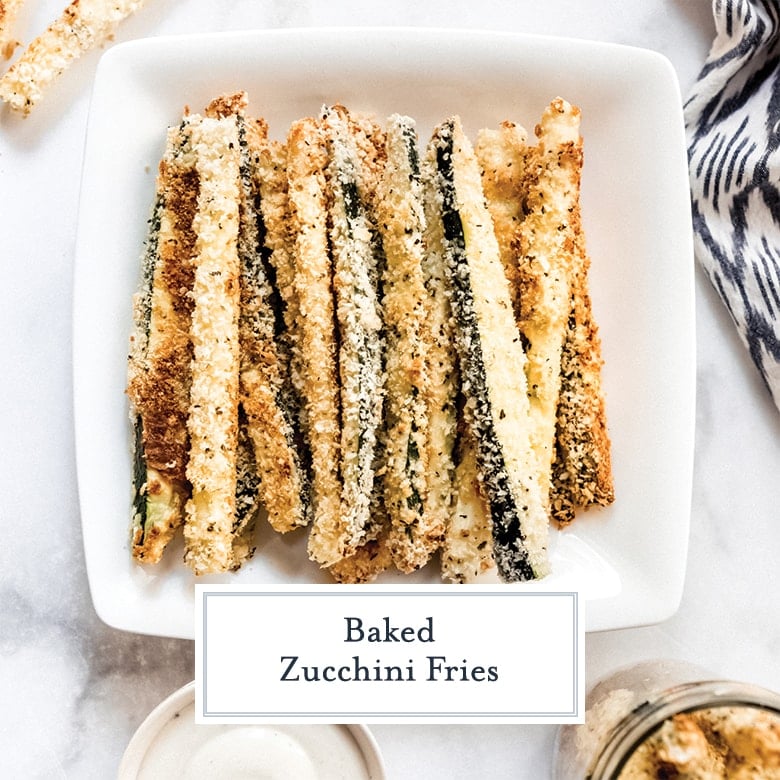 We just love dipping fries into our favorite sauces like yum yum sauce, fry sauce, or even plain old ranch dressing! It's amazing how many vegetables kids will eat when they are in "fry" form. Something about the stick shape and crispy coating on the outside just works!
Baked Zucchini Fries
While regular fries are decidedly on the less healthy side, you can indulge more when you make baked zucchini fries! These are great as an appetizer, snack, or side dish and go with almost anything you can think of.
And it's just another great way of using up one of the easiest-to-grow garden vegetables. Making a batch of zucchini bread is one of our other favorite ways of using up a bounty of zucchini!
Why You'll Love These Baked Zucchini Fries
Crispy fries that are a healthy alternative to the regular, while still being super delicious- what's not to love!
Low carb – These zucchini fries are a low carb alternative to the traditional french fries that you think of. All the flavor with none of the guilt.
Use up that garden zucchini – I'm always looking for new zucchini recipes to try during summer, and this is one of my favorites.
Versatile – You can either serve these as a side, or even a great appetizer with a couple of dipping sauces.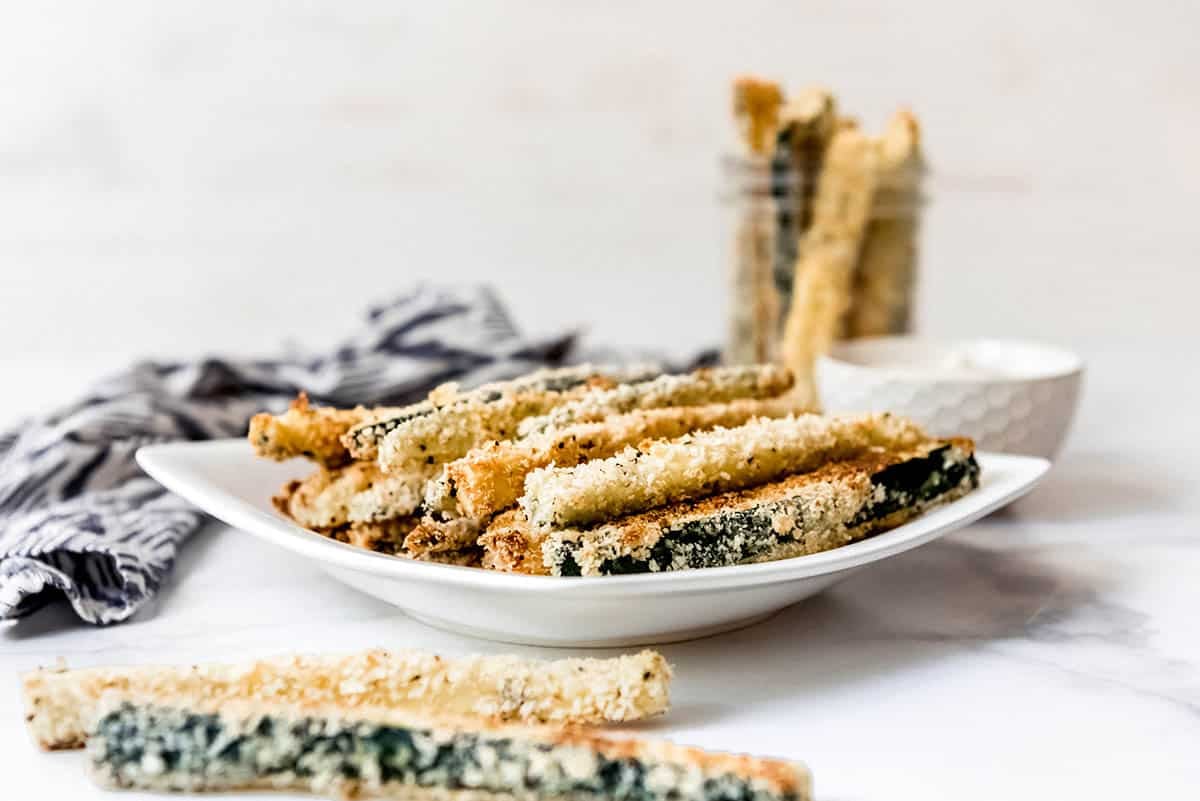 Ingredients
You only need a handful of basic ingredients to make the best zucchini fries.
Zucchini – Fresh zucchini is what you need to make this easy recipe. Summer zucchini is always plentiful, so that's when I prefer to make these.
All-purpose flour – We need a binding agent to hold our coating together. You could try using almond flour as an alternative, but it won't hold together as nicely.
Eggs – This is what we use to dip the sliced zucchini into to help everything stick to it.
Panko bread crumbs – This is what helps to give out breaded zucchini it's slight crunch.
Parmesan or pecorino romano cheese – When using cheese for cooking, freshly grated is always the best option. It melts better than the pre-shredded version.
Seasoning – You could use something simple like Italian seasoning, but I like to use a blend of dried basil, dried oregano, salt, black pepper and garlic powder.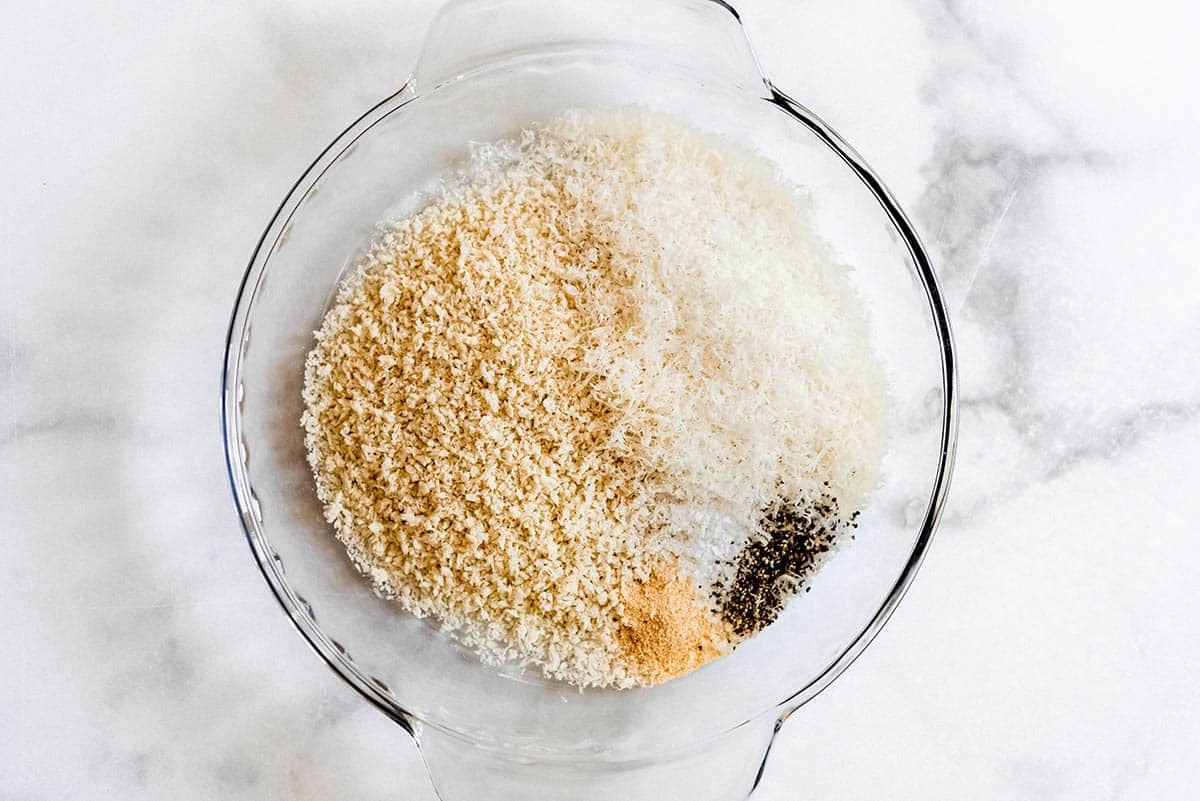 How to Make Zucchini Fries
You are going to love how easy it is to make these crispy zucchini fries.
Prep your supplies: Line a baking sheet with parchment paper or spray it with cooking spray. You don't want to go to the trouble of breading your zucchini sticks only for the flavorful, crunchy coating to stick to the pan and fall off!
Wash and cut the zucchini: Slice off both ends of your zucchini, then slice it lengthwise down the middle. No need to peel the zucchini! Depending on how large your zucchini are, you may want to slice them in half for shorter fries. Slice the zucchini halves lengthwise again to create planks, then slice them into sticks that are the same size, roughly ½-inch around.
Create dipping stations for flour, egg wash and breadcrumb mixture: In a shallow dish like a pie plate, whisk eggs for an egg wash. In another shallow dish, combine panko crumbs, parmesan cheese, dried basil & oregano, salt, pepper, and garlic powder. Finally, add the zucchini strips to a large plastic bag with some flour and toss to coat.
Bread the zucchini sticks, then arrange spaced apart on the baking sheet: Shake any excess flour off each stick, then dip them in the egg wash, a few at a time. Let the excess egg mixture drip off back into the dish before transferring the sticks to the bread crumb mixture and turning to coat on all sides. Lay each zucchini fry on the prepared baking sheet, making sure to spread them out in a single layer so they can get crispy on all sides. Repeat with all zucchini until it has been used up.
Bake until golden brown and crispy: Transfer the pan to a preheated 425 degree F oven and bake for 20-25 minutes, flipping part way through, until golden brown and crispy on the outside. Serve immediately with dipping sauce.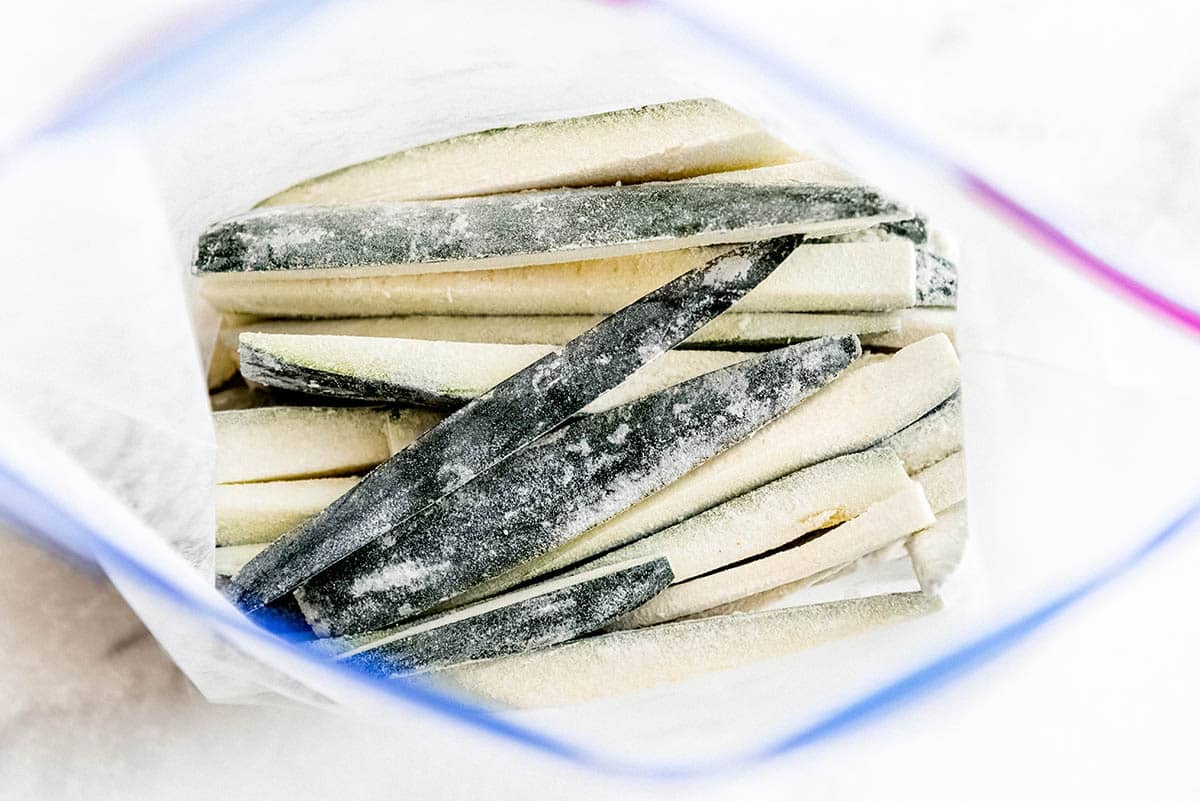 Fried Zucchini Fries
You can absolutely fry your zucchini fries instead! You will want to fill a cast iron skillet or deep pan with at least 1-2 inches of oil and heat it over medium-high heat.
Once the zucchini fries are breaded, go ahead and drop a handful or two into the pot at a time, taking care not to overcrowd them. Fry for 2-3 minutes until crispy and golden before removing with a slotted spoon to a wire rack to drain.
PRO TIP: Don't set them on paper towel or they will lose the wonderful crispiness.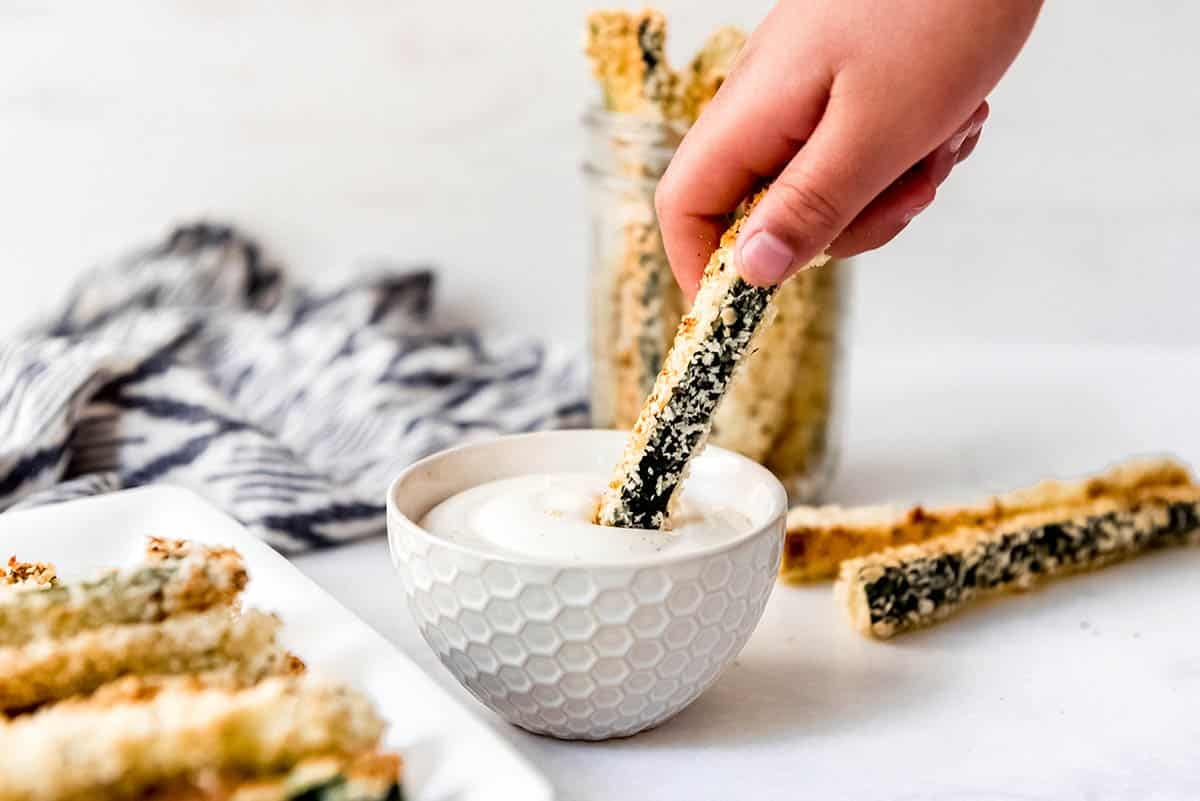 Air Fryer Zucchini Fries
These also taste delightful prepared in an Air Fryer. The only downside is that you'll have to work in batches so they don't touch and also aren't layered. This can be a little more time consuming but is a happy medium between deep frying and baking.
Preheat Air Fryer to 400°F degrees and place zucchini strips in a single layer giving each a little space on either side. You can also make Air Fryer Zucchini Chips!
Spritz air fryer basket lightly with cooking spray or olive oil. Bake for 10 minutes, or until crispy. There is no need to turn halfway through cooking.
Cooking times varying greatly on Air Fryers so pay attention!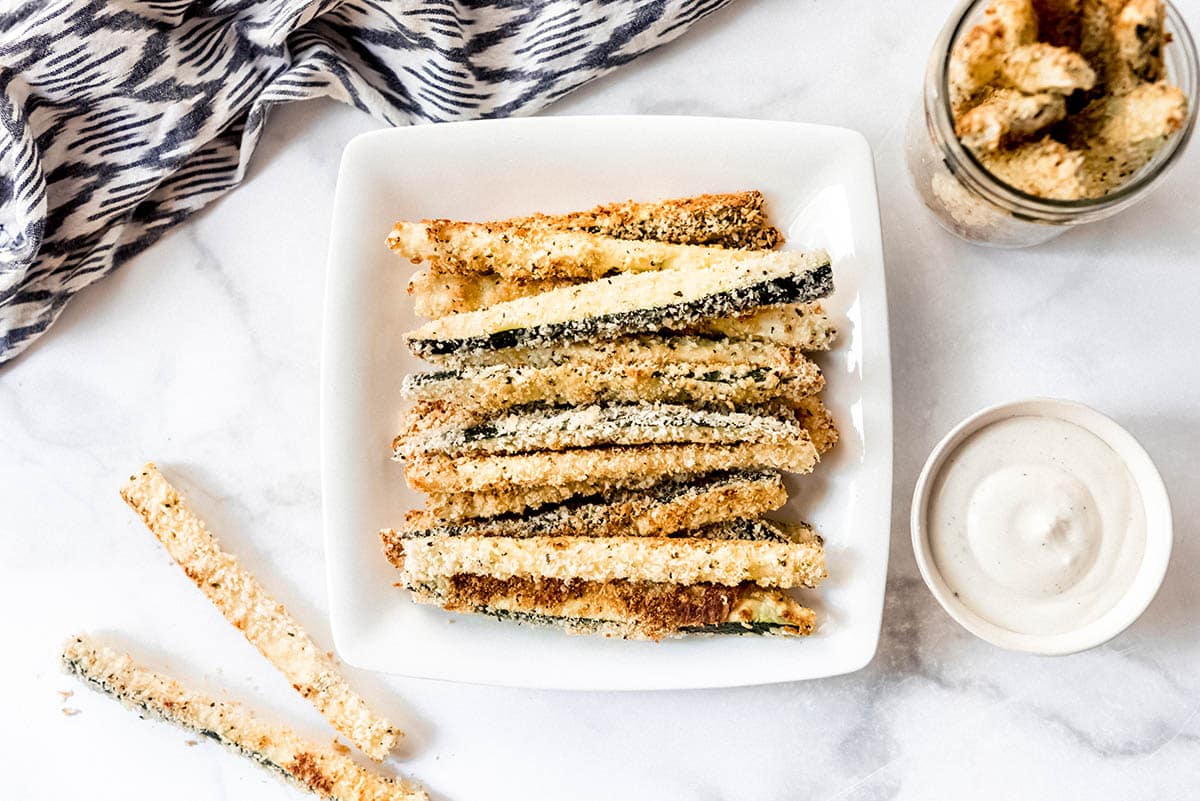 What to Serve with Zucchini Fries
Zucchini fries are good on their own, but they are just begging to be dipped in a special sauce for a wonderful snack. Some of our favorites are: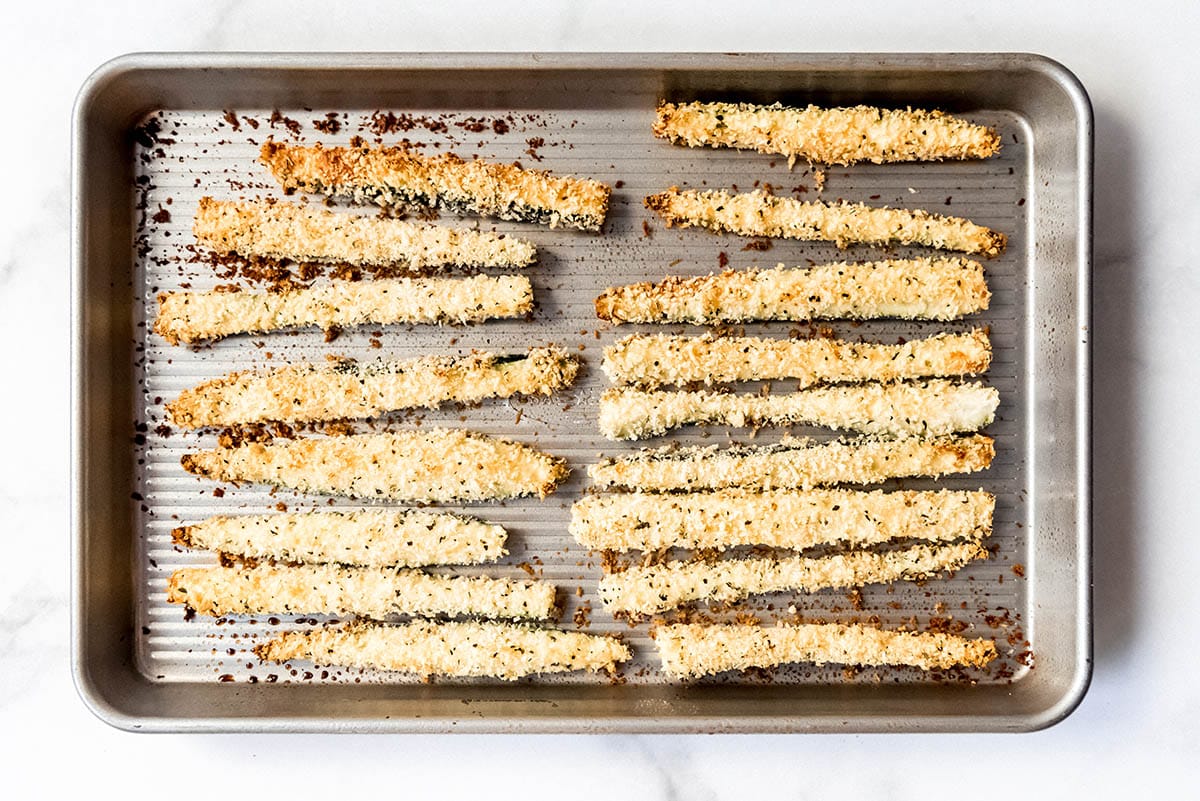 Storage & Freezing
Storage: Leftover zucchini fries can be stored in the fridge for 2-3 days. To reheat, arrange them on a baking sheet again and bake at 425°F until hot all the way through, about 8-10 minutes.
I do not recommend microwaving the zucchini fries as they tend to get limp and soggy that way.
Freezing: Raw zucchini fries can be frozen and then cooked for an additional 3-4 minutes while still frozen.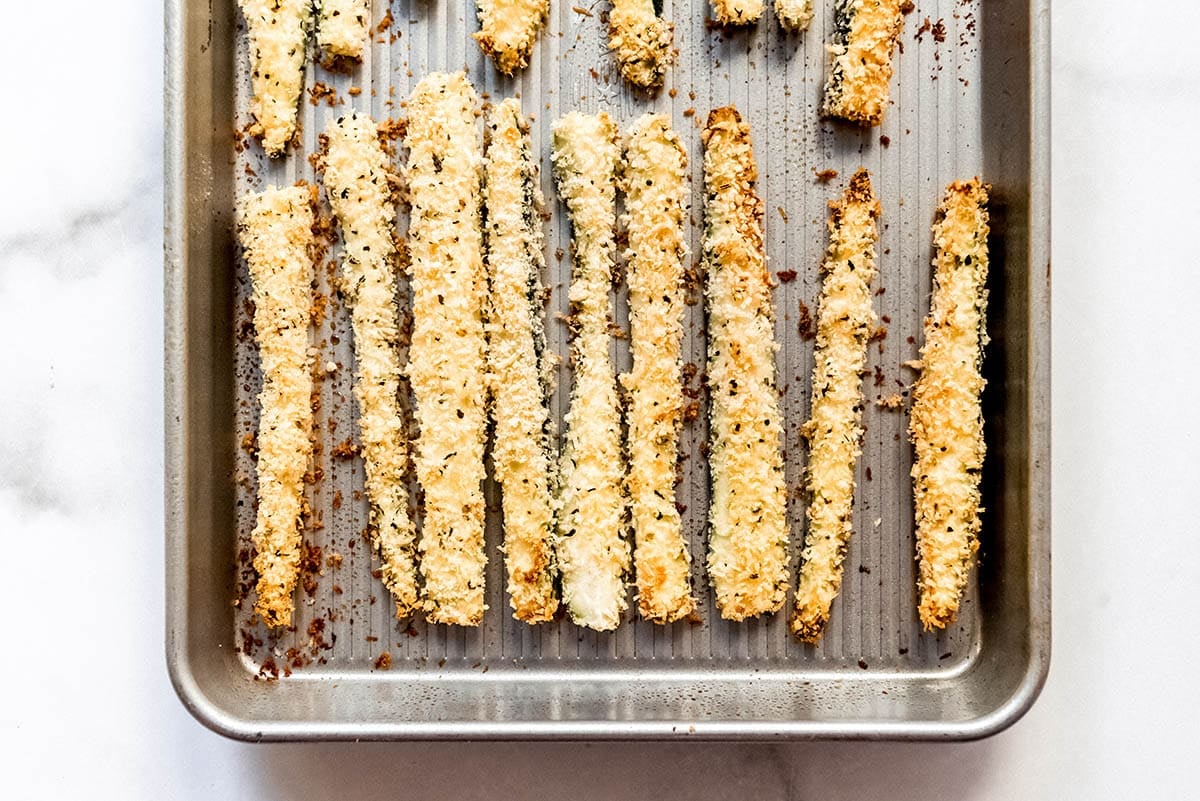 Frequently Asked Questions
How do you keep zucchini from getting soggy when frying?
Keeping your zucchini salted is a great way to keep it from getting soggy. Also make sure your pan is hot and ready.
What goes good with fried zucchini?
You can serve this zucchini with just about anything! Your favorite dipping sauce is always a good idea. It would also be perfect alongside any protein.
Can you freeze zucchini fries?
Yes, raw zucchini fries can be frozen and then cooked for an additional 3-4 minutes while still frozen.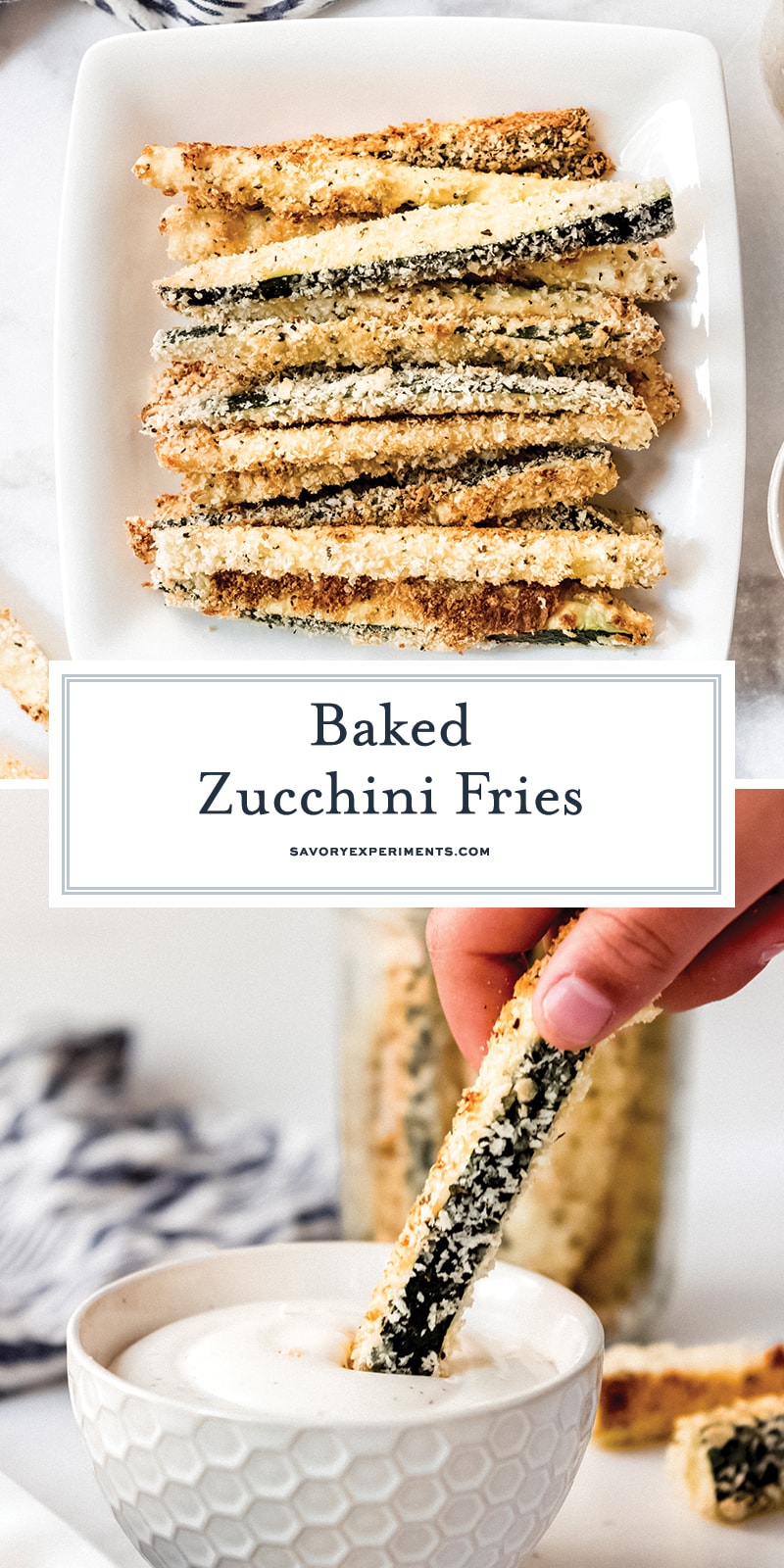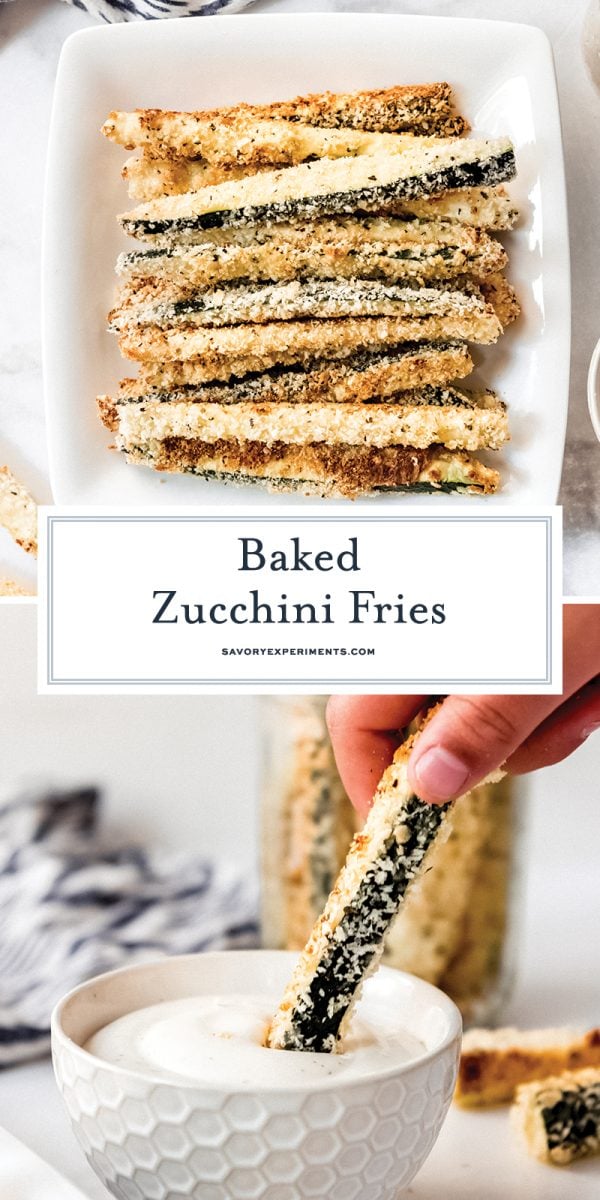 More Snackable Recipes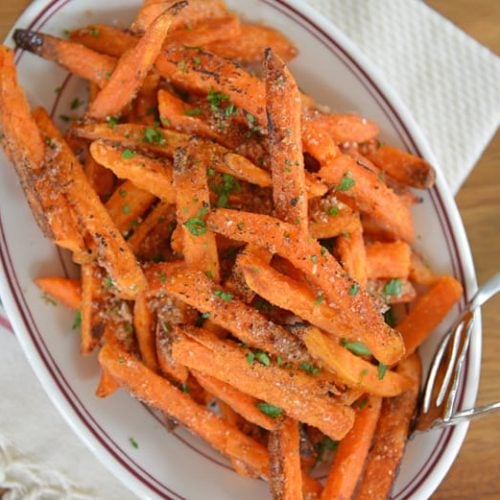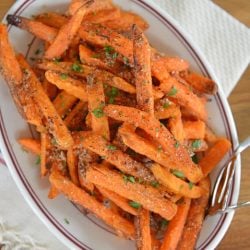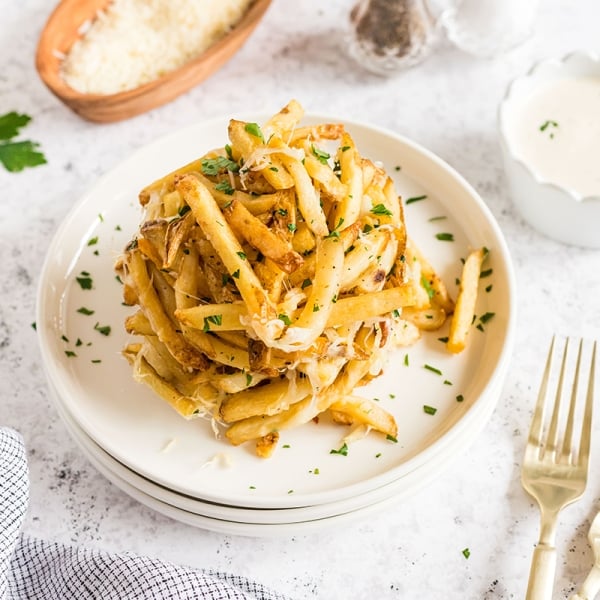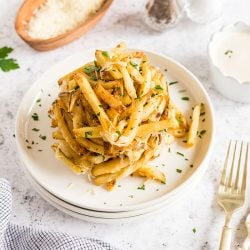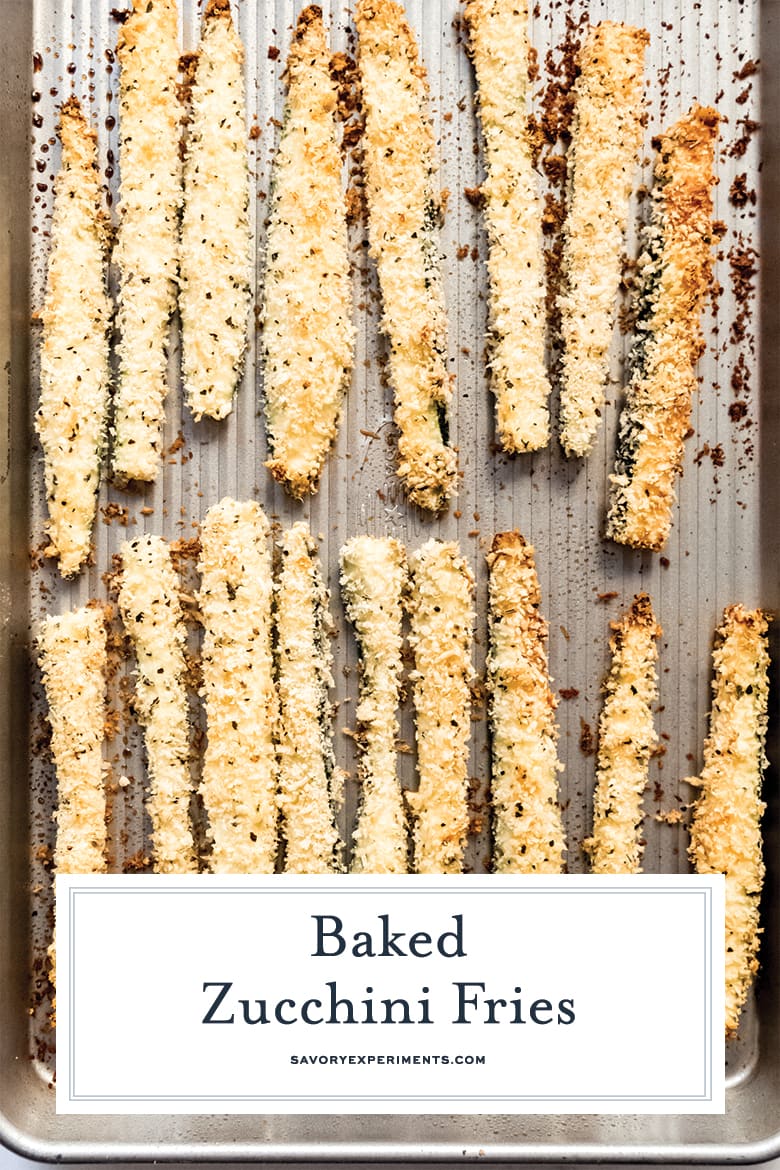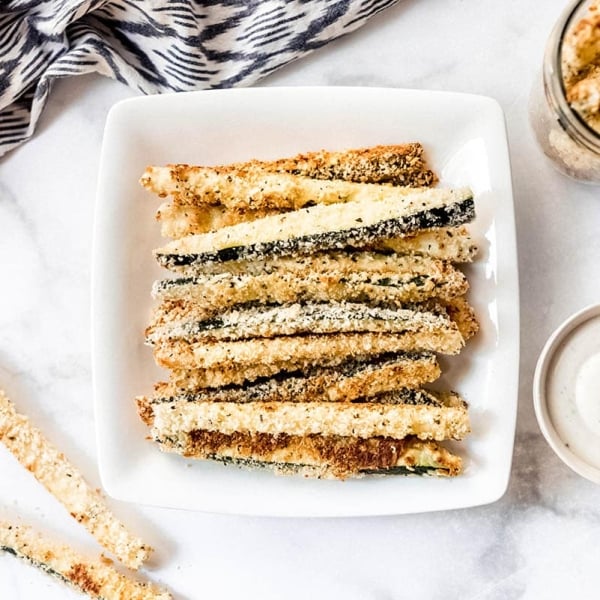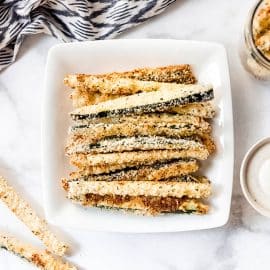 Baked Zucchini Fries
These crispy on the outside, soft on the inside Baked Zucchini Fries are perfect for dipping in all the things! This is one of our favorite ways of using the overabundance of zucchini.
Instructions
Preheat the oven to 425°F. Line a baking sheet with parchment paper or spray with cooking spray.

Wash and dry the zucchini, then cut off both ends using a sharp knife. Slice each zucchini in half lengthwise. If the zucchini are large, you may also need to cut it in half in the middle for shorter sticks. Stand the zucchini on its end and cut in half lengthwise again. Stack the zucchini planks and cut them into sticks that are roughly the same size, about ½-inch around. Lightly sprinkle with a little salt to draw out moisture and set aside.

Combine the panko breadcrumbs, parmesan, basil, oregano, salt, pepper, and garlic powder in a shallow dish. Beat the eggs in another shallow dish. Place the flour in a ziploc bag and add zucchini sticks. Toss to coat each zucchini stick lightly in flour.

Working with a few zucchini sticks at a time, dredge the stick in the egg mixture until moistened all over, then roll them in the breadcrumb mixture, pressing it into the sides to make sure they are evenly coated. Arrange the zucchini fries on the baking sheet, spacing them apart so they aren't crowded together and can get crispy on all sides.

Bake for 20-25 minutes, flipping once partway through until golden brown. Serve with dipping sauce.

If you've tried this recipe, please come back and let us know how it was in the comments or ratings!
Notes
Note: See post for details on how to fry the zucchini fries instead of baking them.
Nutrition
Calories:
320
kcal
,
Carbohydrates:
35
g
,
Protein:
20
g
,
Fat:
11
g
,
Saturated Fat:
6
g
,
Cholesterol:
140
mg
,
Sodium:
1206
mg
,
Potassium:
513
mg
,
Fiber:
3
g
,
Sugar:
5
g
,
Vitamin A:
667
IU
,
Vitamin C:
26
mg
,
Calcium:
393
mg
,
Iron:
4
mg