* I received free product in exchange for this post, however all text, photos and opinions are 100% my own.
Baked carrots. A staple on any winter table or at least in my home they are! The traditional recipe we go to is baby carrots glazed in brown sugar and butter. Finger licking good? YES! Healthy? Debatable!
Tri-Colored Carrots with Herbed Yogurt are a healthy baked carrot recipe using fresh herbs, lemon zest, and spices.
Sometimes I need the carrot fix but don't want to mess up my healthy eating streak. And when it comes to those moments, I ditch the sugary carrots I love so much and go to my second favorite recipe.
Tri-Colored Carrots with Herbed Yogurt are carrots with a tiny like baked carrot makeover. I love using the tri-color variety because I think it adds something special to the table. A little pizzaz if you will.
I used tri-colored young carrots; three bunches cost me just $1 more than buying a bag of pre-cut baby carrots that I would use for the old recipe. Un-peeled and greens trimmed they are an absolute cinch.
We have been enjoying the carrots for a very long time as humans. But the orange carrot we see all the time was not a naturally occurring variety. Dutch farmers in the 17th century created a hybrid from other colors. Enter the orange carrot!
Each carrot color has it's own nutritional benefits. To make these, I roasted them with a small amount of olive oil, coarse sea salt, and freshly ground pepper.
The real star of this dish is the herbed yogurt dipping sauce. Plain yogurt has become the substitute for any recipe asking for sour cream or mayonnaise over the past year.
It provides the same creamy base and tart flavor with a fraction of the fat and calories. For this dish, I used chopped fresh herbs and a little bit of lemon juice to amp up the tart flavor and of course fresh garlic (to ward off vampires, of course).
I also used my brand new, handy dandy Garject Lite from Dreamfarm. It is certainly the most high tech garlic press I've ever used. Check out the features on this bad boy!
Besides it's bright blue color, which makes it easy to spot in the "everything drawer," it also self-cleans and self scrapes. Amazing, isn't it?
You can even use un-peeled garlic and it does all of the work for you! So why don't they just call it a garlic press? Garject actually stands for GARLIC PRESS SCRAPE EJECT.
Veggie side dishes recipes :
Vinegar Coleslaw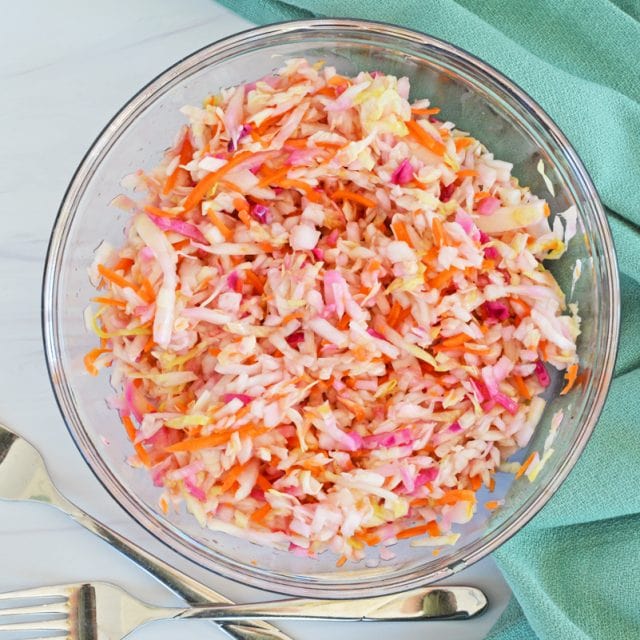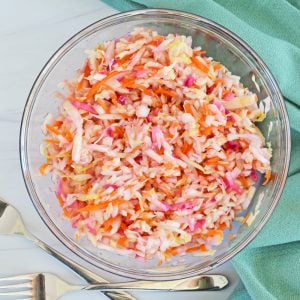 Vinegar Coleslaw is a healthy coleslaw recipe using a no mayo coleslaw dressing including vinegar, oil and salt and pepper.
Tomato Salad with Bacon Mustard Dressing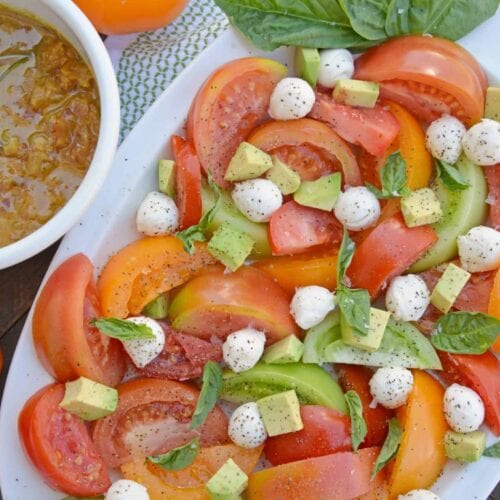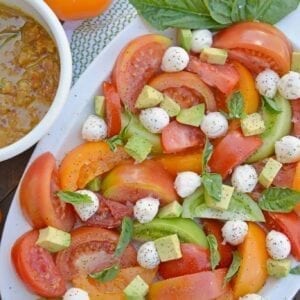 Tomato Salad with Mustard Bacon Dressing is the ultimate summer side dish using lush tomatoes, avocado mozzarella basil. Make it ahead for any party or BBQ.

Tri-Colored Carrots with Herbed Yogurt
Tri-Colored Carrots with Herbed Yogurt are a healthy baked carrot recipe using fresh herbs, lemon zest and spices.
Instructions
Preheat oven to 350 degrees. Wash baby carrots and trim greens down to 1-2 inches. Arrange on a baking sheet in a single layer.

Drizzle with light extra virgin olive oil and toss to coat. Sprinkle lightly with coarse sea salt and freshly ground black pepper. Roast for 25 minutes or until carrots are fork tender. Cook time will vary by the size of your particular carrots.

While your carrots roast, stir together Stonyfield organic yogurt through fine sea salt. Refrigerate until ready to serve.

Serve carrots piping hot with a side of herbed yogurt dipping sauce. Enjoy!

If you've tried this recipe, come back and let us know how it was!
Nutrition
Calories:
142
kcal
|
Carbohydrates:
6
g
|
Protein:
4
g
|
Fat:
11
g
|
Saturated Fat:
2
g
|
Cholesterol:
7
mg
|
Sodium:
180
mg
|
Potassium:
167
mg
|
Fiber:
1
g
|
Sugar:
3
g
|
Vitamin A:
1095
IU
|
Vitamin C:
2.7
mg
|
Calcium:
97
mg
|
Iron:
0.8
mg