An ideal summer side dish and BBQ side, Brussels Sprout Slaw is also quick to prepare and healthy! This Cranberry Almond Brussel Sprout is technically a tasty coleslaw with no mayo!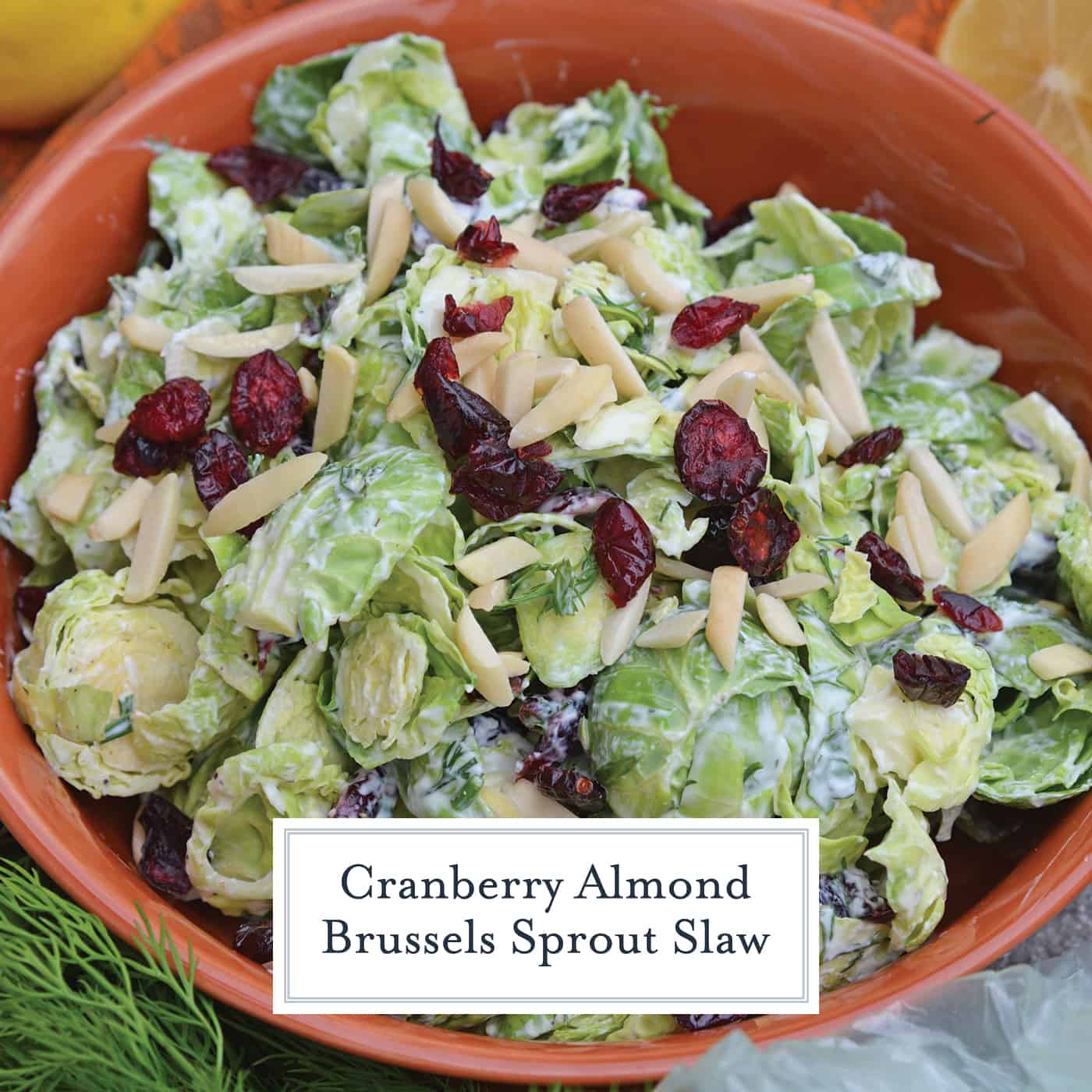 Brussels Sprout Slaw
When most people think of slaw, they think of classic coleslaw. Shredded cabbage tossed with mayonnaise. Maybe some other veggies tossed in like carrots.
But this one is different. This one uses brussels sprouts. And before you ask, yes, you can totally eat raw brussels sprouts and they are delicious.
The trick is to make sure you trim them properly, snipping off the rough ends and then also slicing them thin. Almost like cutting meat against the grain combined with massaging kale.
If you like using your knife skills, sliver them up yourself. Or you can use a mandolin slicer or food processor. The food processor is the way to go for uniform sizes and safety. I don't think I've ever used my mandolin without getting a nick or cut.
Brussel Sprouts or Brussels Sprouts
It is brussels sprouts with an "S" but most people spell and say it without.
In fact they are named after the city of Brussels near where they were originally cultivated in Belgium.
However, nowadays, you can get away with using either saying or spelling.
Greek Yogurt
If you read this blog regularly, you know I am obsessed with plain Greek yogurt. I even make my own in the Instant Pot.
I'm not a huge fan of sour cream or mayonnaise, so it is a great substitute and has the added bonus of being much healthier. I use it in dipping sauces, dressings, marinades and more.
It is now a staple in the fridge!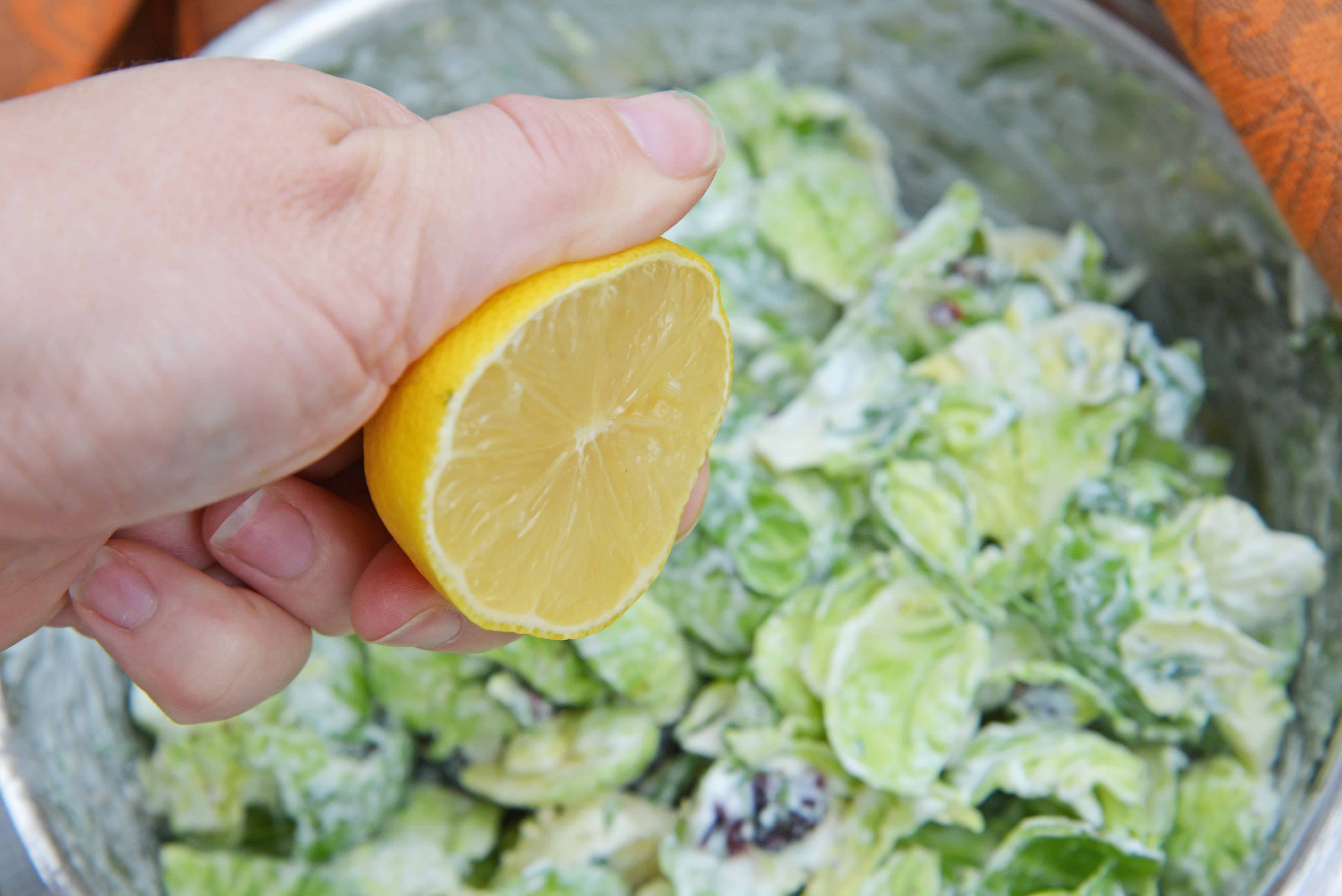 Make Ahead
Almost like eating raw broccoli or cauliflower. Brussels sprout slaw is also great because it can be made ahead of time, requires no cooking and is served cold or at room temperature making it perfect for potlucks and cook-outs.
Surprisingly there are a lot of brussels sprout benefits. They are high in nutrients, rich in antioxidants, and high in fiber.
They could help in maintaining healthy blood sugar levels, may reduce inflammation and have many other benefits that I have not mentioned.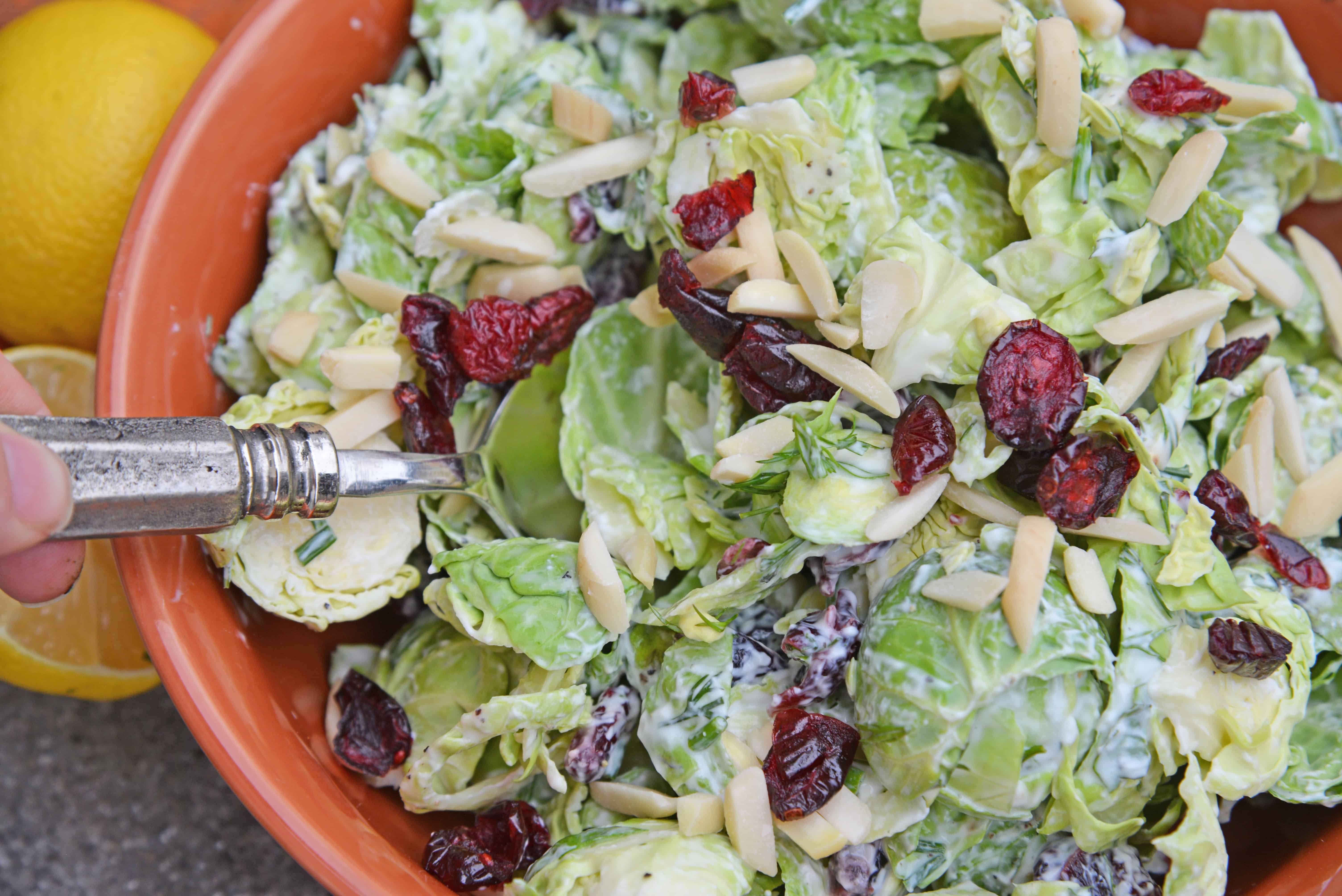 The fiber and antioxidants help to regulate your blood sugar levels. Brussel sprouts also have the potential to help reduce the risk of cancer. If you can add them into your diet regularly they can really help to improve your health.
Ingredients
I love all the fresh ingredients in this salad. Don't skimp, make sure you use them fresh for maximum flavor, for example, don't sub out dried dill weed. Use fresh.
Same with lemon juice. Citrus starts to lose their potency the moment it is juiced, so anything in a bottle is muted compared to fresh.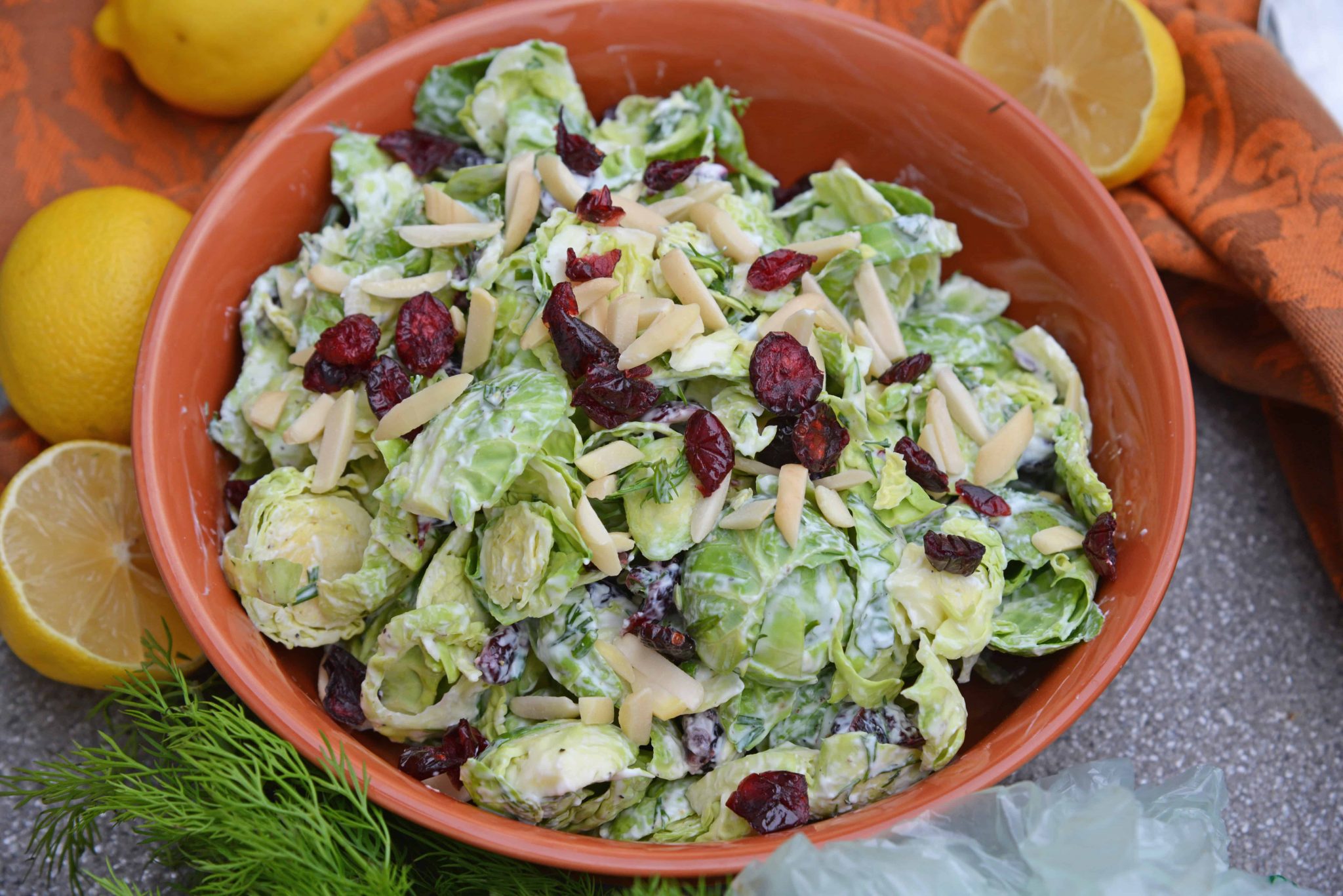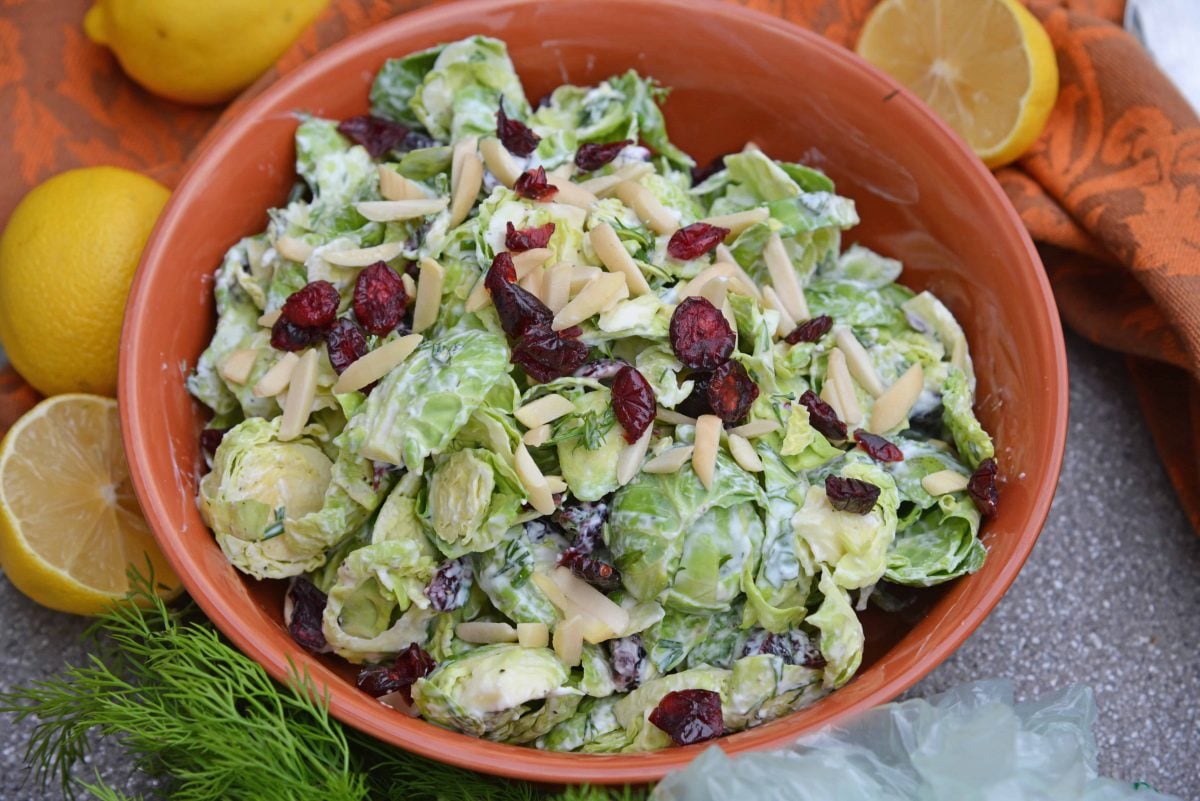 Cranberries can be swapped out for raisins or omitted, but I highly recommend adding back something a little sweet.
Here are the other items you'll need:
Plain Greek yogurt
Lemon
Chives
Dill
Fine sea salt
Black pepper
Dried cranberries
Almonds
Brussels sprouts
What You'll Need
Mandolin Slicer– Use this bad boy to make uniform slices of just about anything. Perfect scalloped potatoes, French fries, carrot slices and more.
Large Mixing Bowl– Use a mixing bowl a little larger than you think you'll need. There is less pressure to keep it in the bowl. You can always transfer it to a smaller serving bowl later. I personally look for ones with lids so I can cut down on plastic wrap and aluminum foil waste.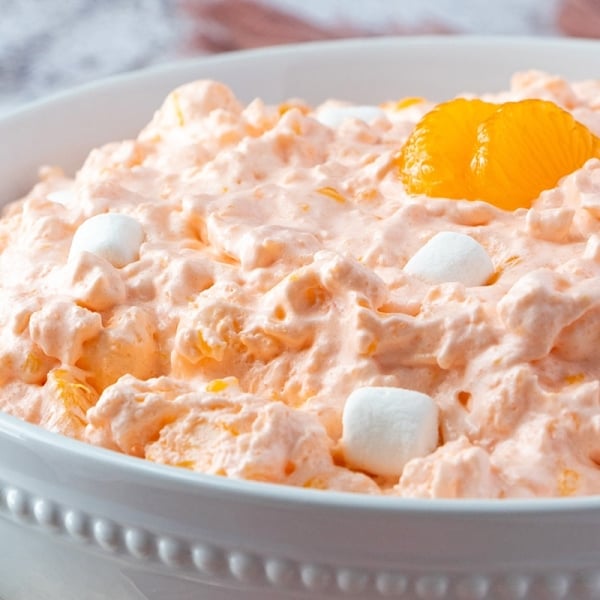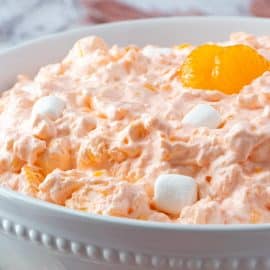 Orange Fluff Jello Salad
If you love easy and delicious desserts then you need to whip up this quick and nostalgic Orange Fluff Salad. Tasty, unique and fast!
View this recipe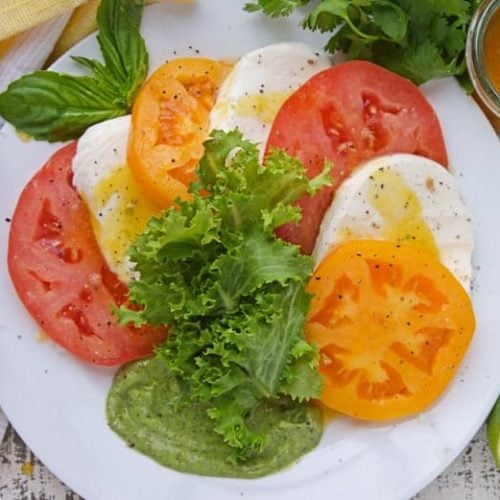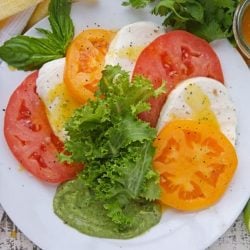 Passion Fruit Caprese Salad
Passion Fruit Caprese Salad, a summer salad offered by Omni Hotels & Resorts, combines a sweet and spicy serrano-passion fruit dressing and avocado spread with a traditional Caprese salad.
View this recipe
Green Curry Steak Salad
Green Curry Steak Salad uses a seared steak with a sweet and mildly spicy green curry sauce over Romaine lettuce and charred bell pepper and carrots. The perfect summer salad recipe!
View this recipe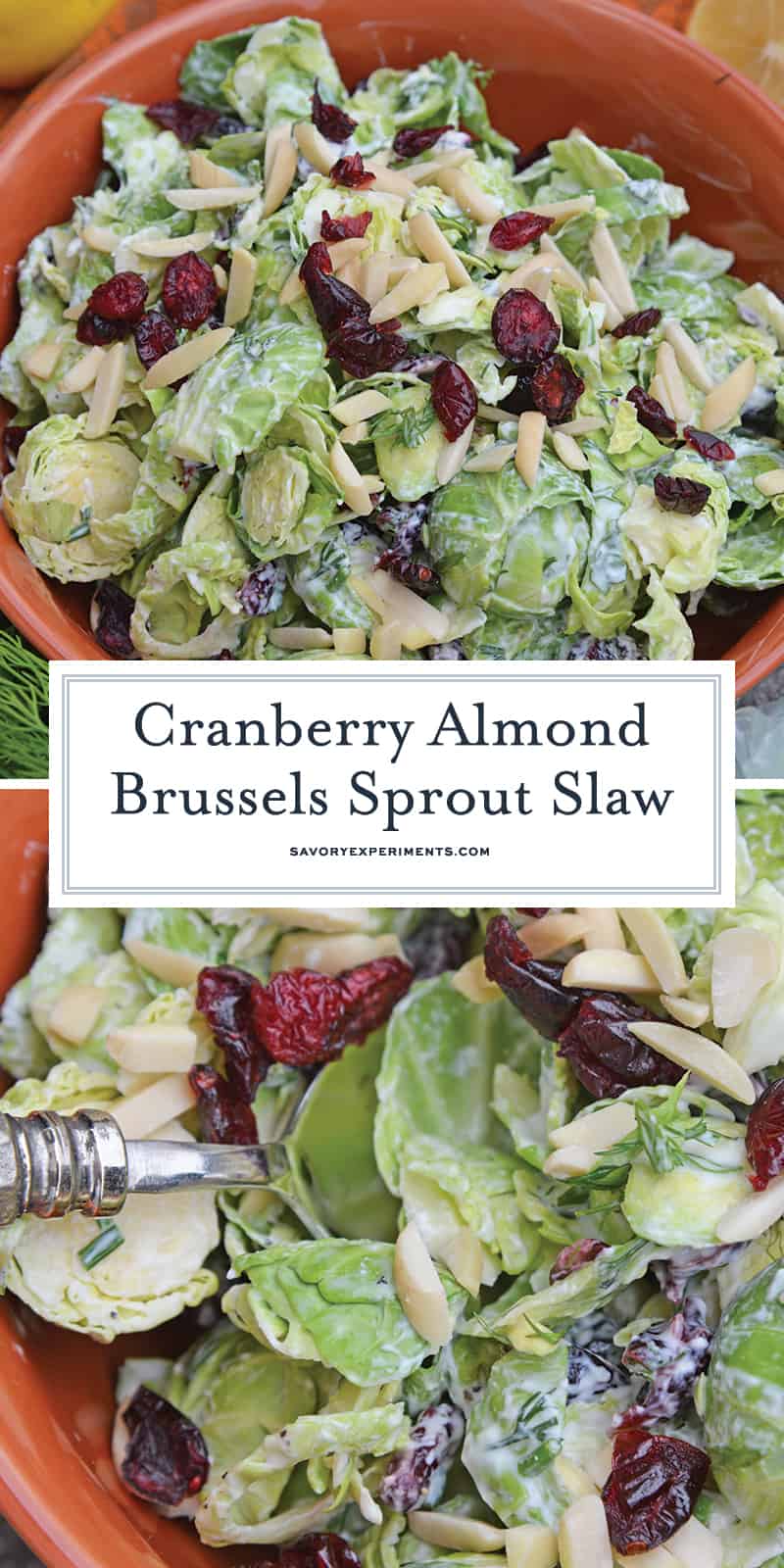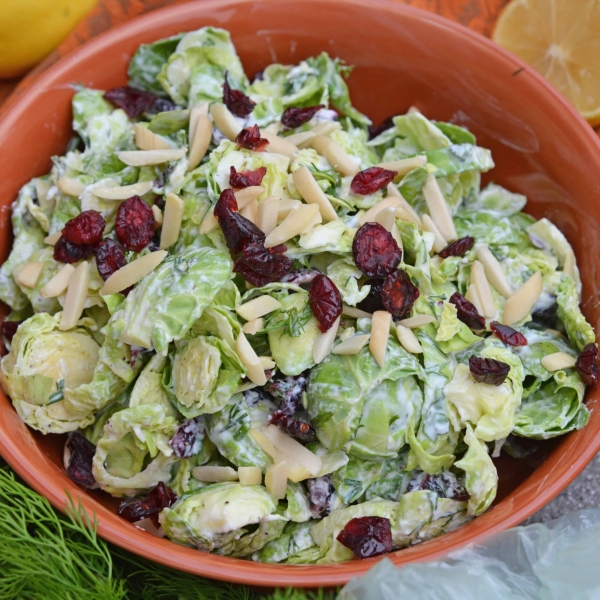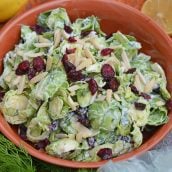 Cranberry Almond Brussels Sprout Slaw
Cranberry Almond Brussel Sprout Slaw is a healthy and delicious way to eat raw brussels sprouts. Mixed with yogurt, dill, cranberry and almond, it is packed with flavor!
Instructions
In a medium bowl, whisk together Greek yogurt through black pepper. Set aside.

Trim bad leaves off brussels sprouts. Cut off stem and then cut into thin vertical slices. If any pieces are large (too large to eat in a single bite), cut in half again. Place all in a large bowl.

Add cranberries and almonds. Toss with Greek yogurt mixture.

Cover and refrigerate until you are ready to eat. If it sits too long, you can add a little but more lemon juice and Greek yogurt to moisten it up.

If you've tried this recipe, come back and let us know how it was!
Notes
If you allow the slaw to sit in the fridge, add a little bit of lemon juice or Greek yogurt to moisten it back up.
Nutrition
Calories:
200
kcal
,
Carbohydrates:
30
g
,
Protein:
9
g
,
Fat:
6
g
,
Cholesterol:
1
mg
,
Sodium:
236
mg
,
Potassium:
594
mg
,
Fiber:
6
g
,
Sugar:
17
g
,
Vitamin A:
1080
IU
,
Vitamin C:
99
mg
,
Calcium:
122
mg
,
Iron:
2.3
mg
\