In cities like New York and Los Angeles, you'll start to see a heavy food trend using preserved lemons. Delicious citrus is submerged in a briny liquid for a month.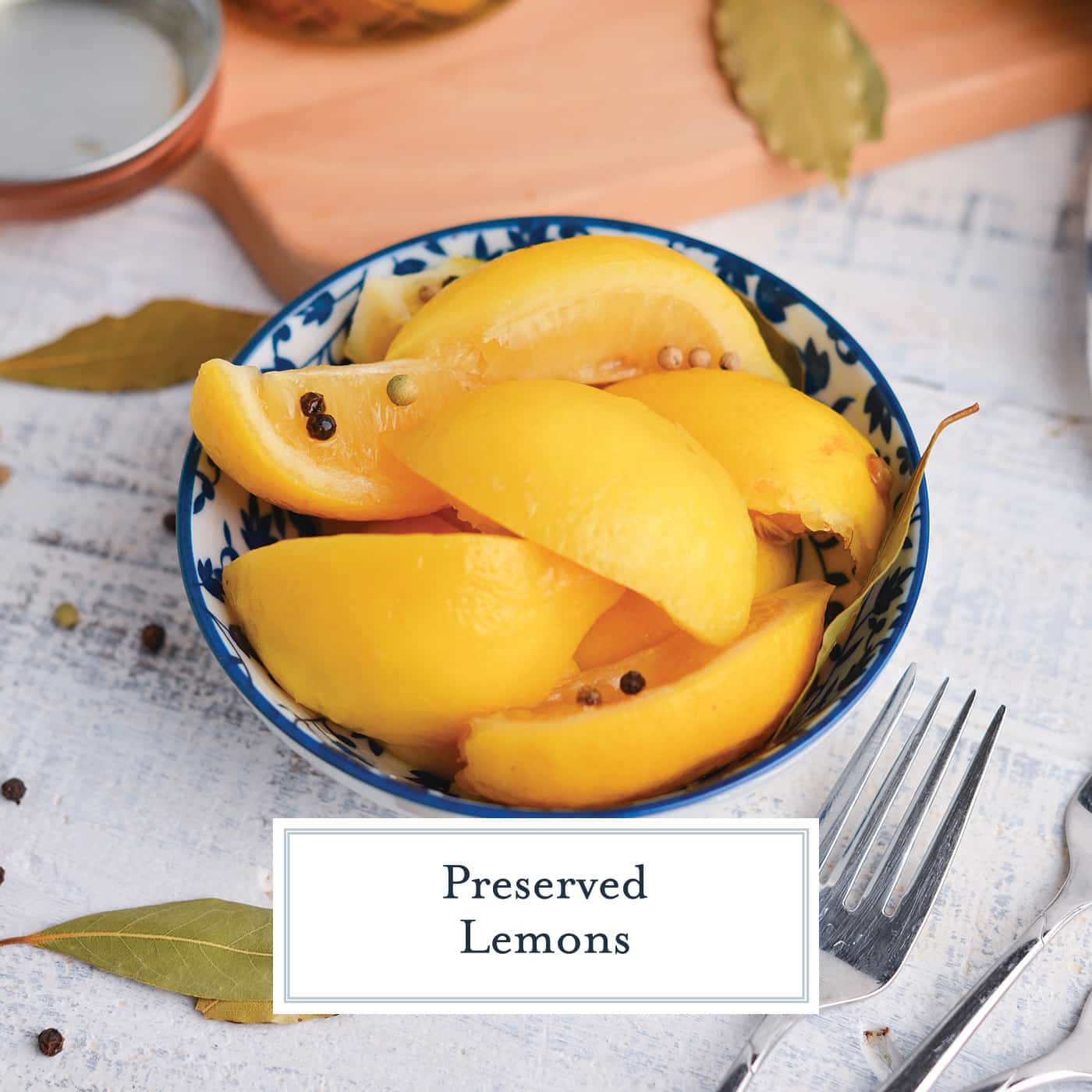 The rinds soften, the fibers disintegrate, and what you are left with is a new ingredient full of incredible flavor.
Deep History of Preserved Lemons
Preserving lemons is a centuries-old technique developed in Morocco. The process was created in order to store the lemons for long periods of time after their harvesting season had passed.
While it became a staple in North African cuisine, the tradition eventually spread and the ingredient became popular in Indian, Mediterranean, Asian, and Middle Eastern cuisine.
All that you'll need in order to make these lemons is a clean tool for scrubbing, a sharp knife for slicing, and a clean large mason jar for storing.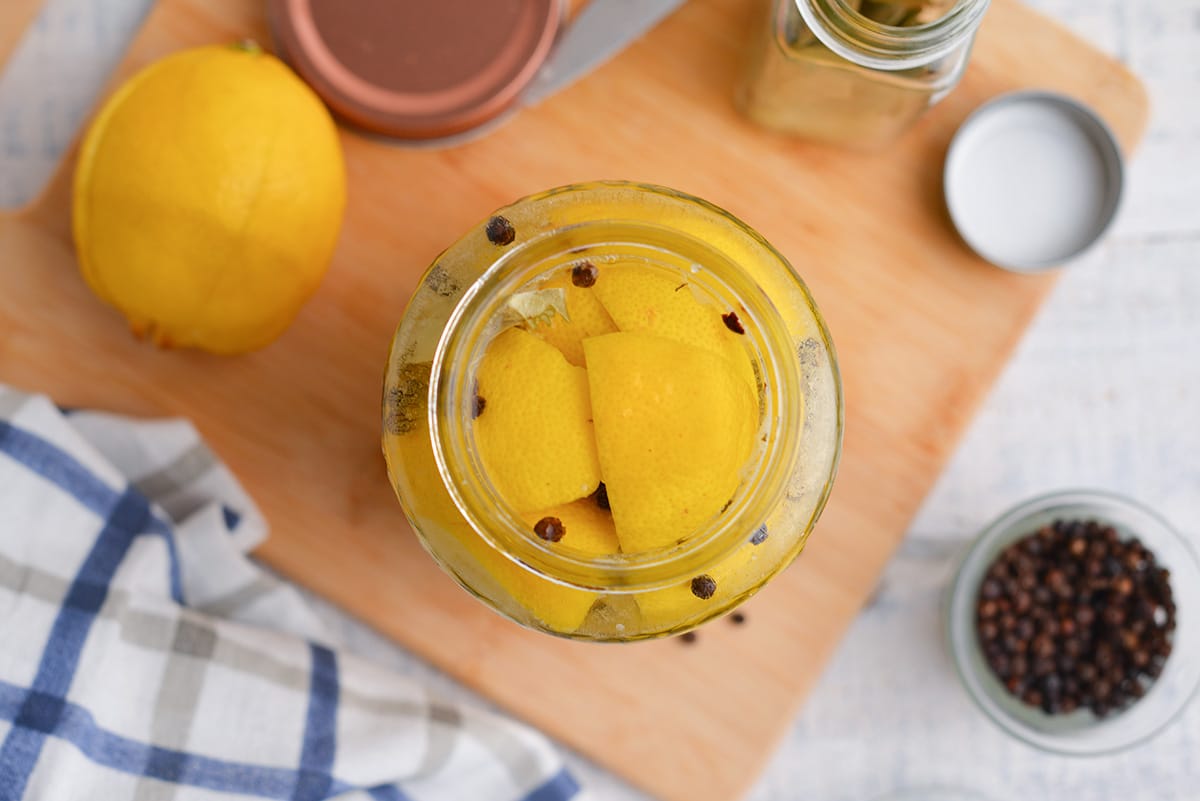 Preserved Lemon Ingredients
All you need is a handful of simple ingredients to preserve lemons.
Fresh lemons – This is the key ingredient, of course! You can use any kind of lemons (regular lemons found in most grocery stores like Lisbon lemons or Eurekas, Meyer lemons, etc.) but choose ones that are heavy (for their size) — ideally, the lemon rinds are thin, too.
Coarse Kosher salt – Salt helps to enhance the flavor and aroma of the lemons. A salty brine is key to the preservation process.
Sugar – Sugar is also crucial for preserving lemons and, similar to salt, brings out the flavor of the fruit. You can use any kind of salt that you like — we prefer to use sea salt.
Whole black peppercorns – The flavor of the pepper complements the lemons.
Bay leaves – Bay leaves impart an herbal undertone.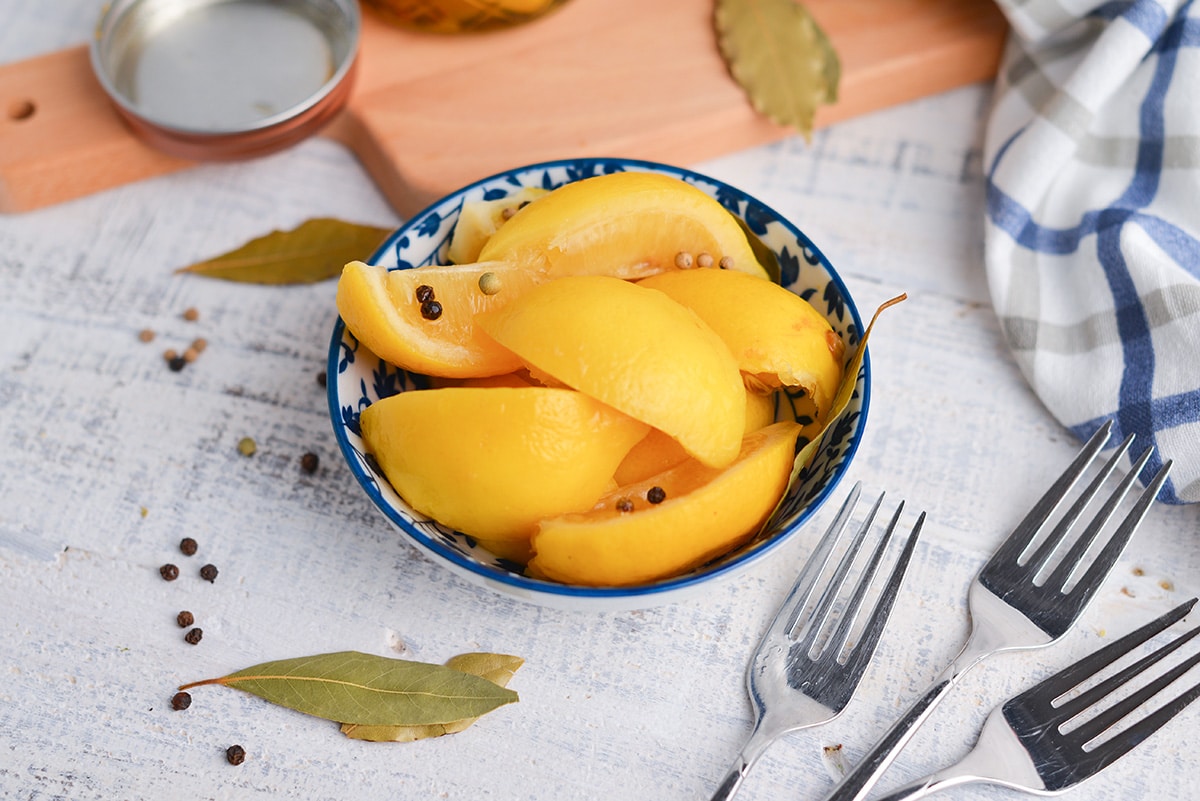 Herbs & Spices to Add
If you want to add even more flavor to your lemons, try using fresh herbs like rosemary, thyme, oregano, parsley, cilantro, and mint.
Or, incorporate additional spices like cinnamon (either ground or you can use a cinnamon stick), cloves, nutmeg, ginger, cumin, coriander seeds, chili powder, red pepper flakes, and black pepper.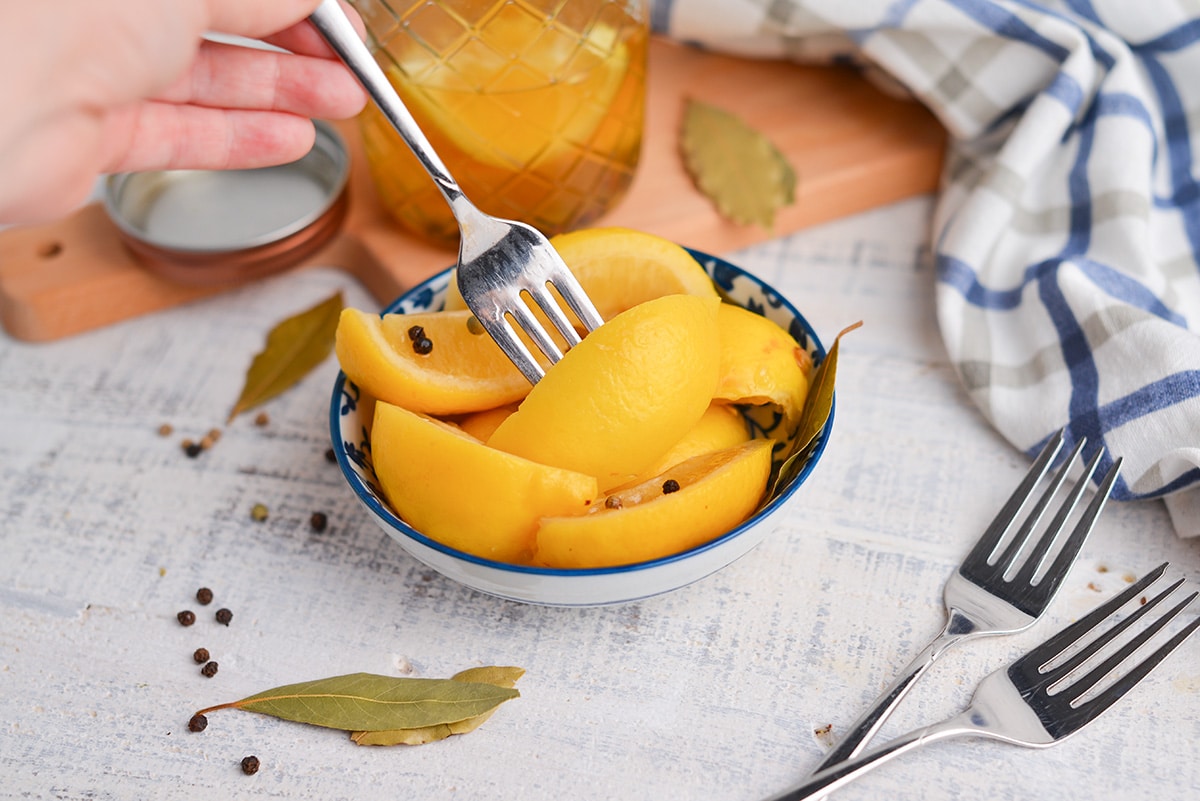 How to Use Preserved Lemons
North African cooking employs the use of preserved lemons in lots of different recipes from Moroccan chicken tagine to chutneys, marinades, and stews. Middle Eastern cooking incorporates the ingredient similarly in addition to adding it to traditional dishes like shakshuka and falafel.
There are many ways to use this fun and unique flavor, so make sure to experiment and let us know how you use them. Here are some of my favorite sweet and savory dishes to use them in.
Grain salads
Pasta sauces
Stirred into rice or couscous
Salad dressings
In yogurt
In desserts
Any recipe that calls for lemon zest (use the preserved lemon rind)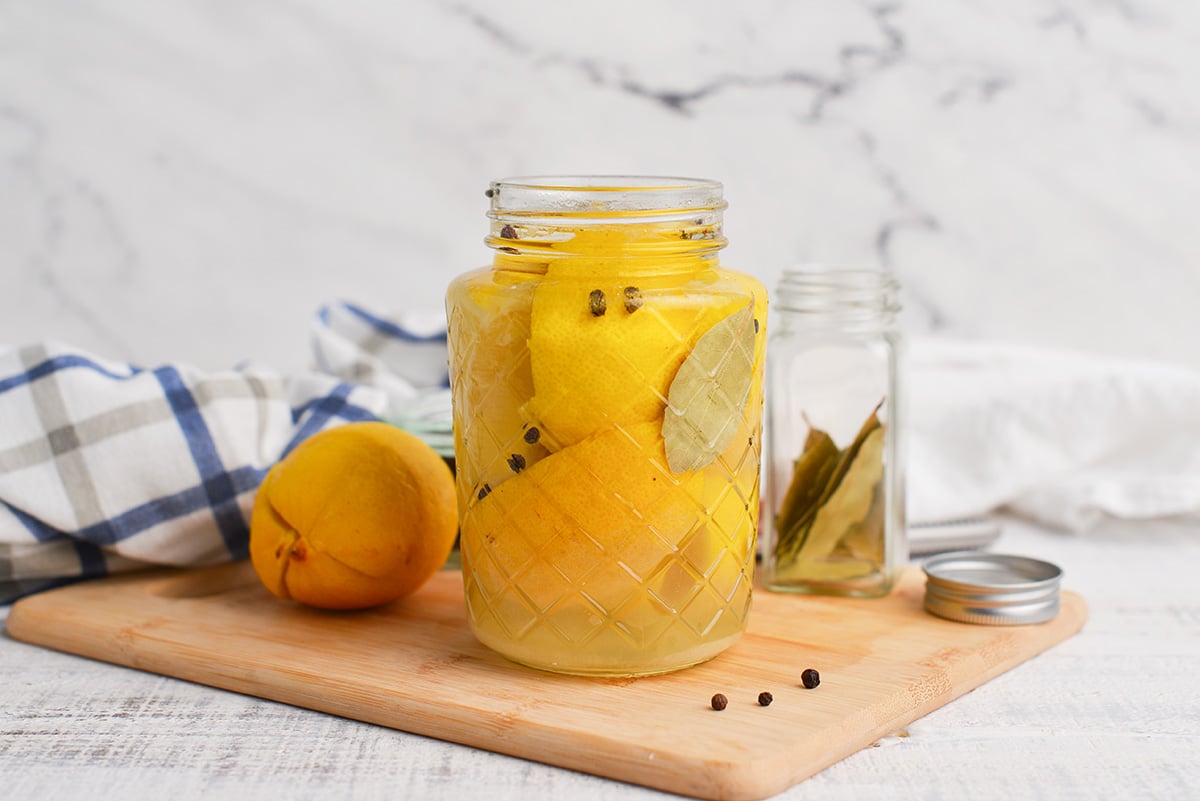 Why You'll Love Preserved Lemons
There are tons of reasons to love these lemons.
Easy – Making these lemons is quick and easy. The hardest part will be waiting the few weeks for them to be ready!
Unique – The flavor of the preserved lemons adds nuanced flavor to your dishes.
Versatile – These lemons can be used in so many different dishes.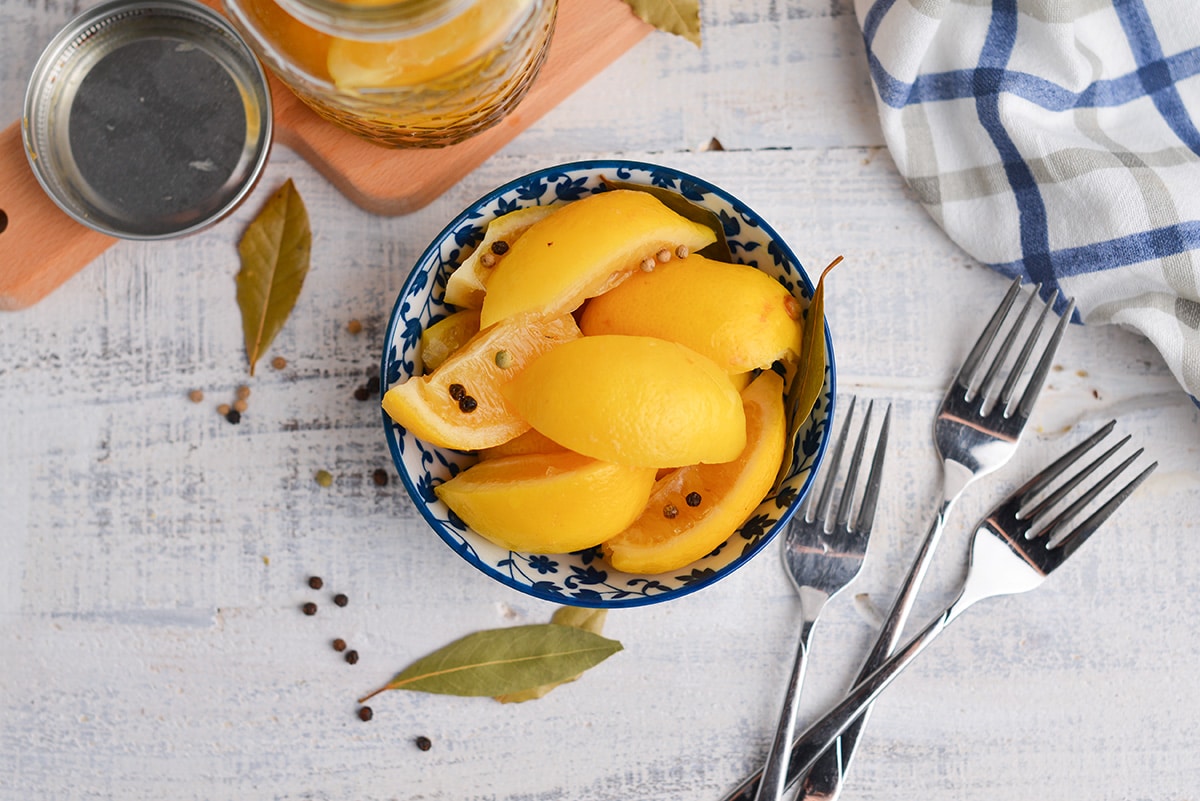 How to Preserve Lemons
It only takes a few minutes of hands-on prep time to make these delicious lemons.
Clean Lemons. After scrubbing and cleaning all of the lemons, slice each into quarters keeping the rind intact at the bottom.
Prepare Lemon Brine. Pour the salt and sugar into a large bowl.
Prepare Lemons. Add the lemons to the bowl and press the sugar mixture into the lemon flesh. Place the lemons into the clean jar, pressing them down so that they all fit.
Make Brine. Pour in the peppercorns and remaining sugar and salt mixture. Add the bay leaf. Fill the jar with water, covering the lemons completely.
Seal. Twist a tight-fitting lid securely on top of the jar and shake.
Store. Store in the refrigerator or in a dry and cool place at room temperature. Flip the jar over a couple of times per week.
Unseal. After nearly a month, the lemons will be ready to be used.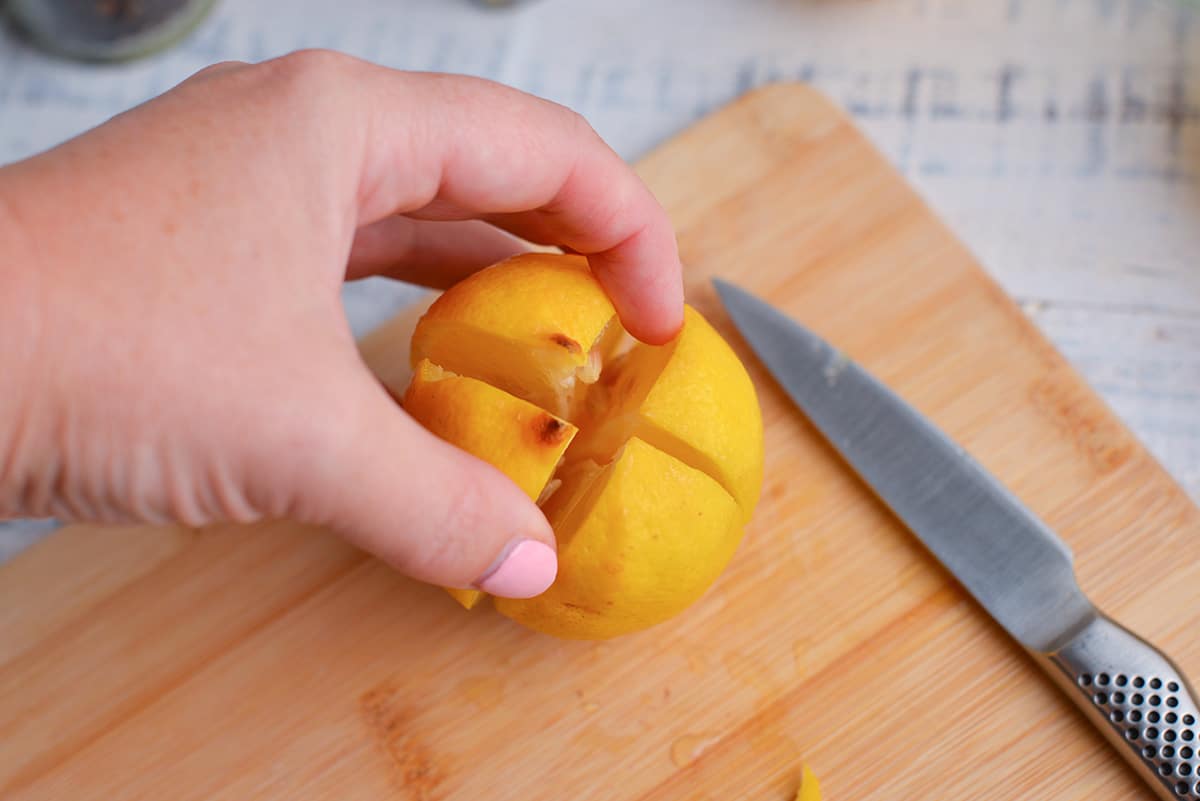 Storage and Freezing
Pro-tip: Store your preserved lemons in the back of the refrigerator where it's coolest so that they last longer.
Refrigerator: Store in an airtight container for up to 1 year in the fridge.
Freezer: Freeze lemon wedges in a freezer-safe container or freezer bag for as long as you like.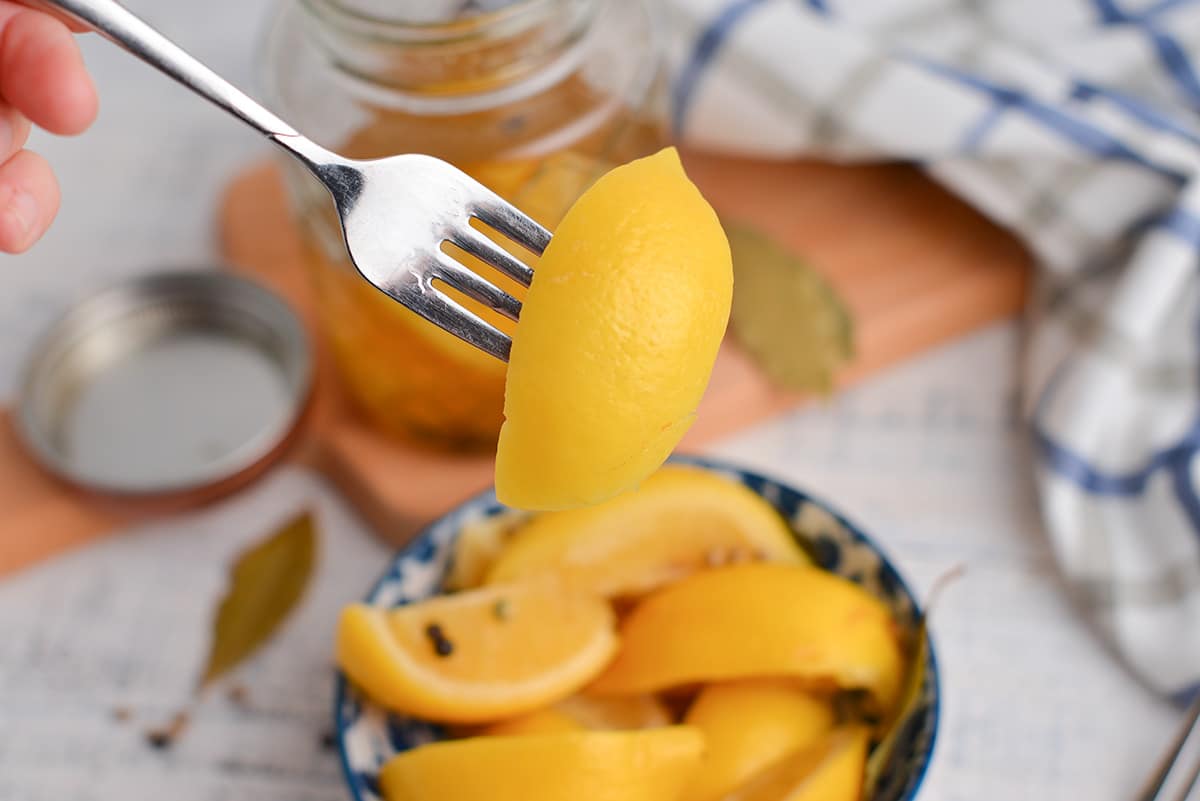 Common Questions About Preserved Lemons
What is the point of preserved lemons?
Preserved lemons bring bright flavor to dishes and help to balance particularly creamy dishes.
What do preserved lemons taste like?
Preserved lemons have a salty and tart flavor and add a concentrated lemon flavor to dishes.
How long do preserved lemons last?
Preserved lemons can be stored in the refrigerator for up to 1 year.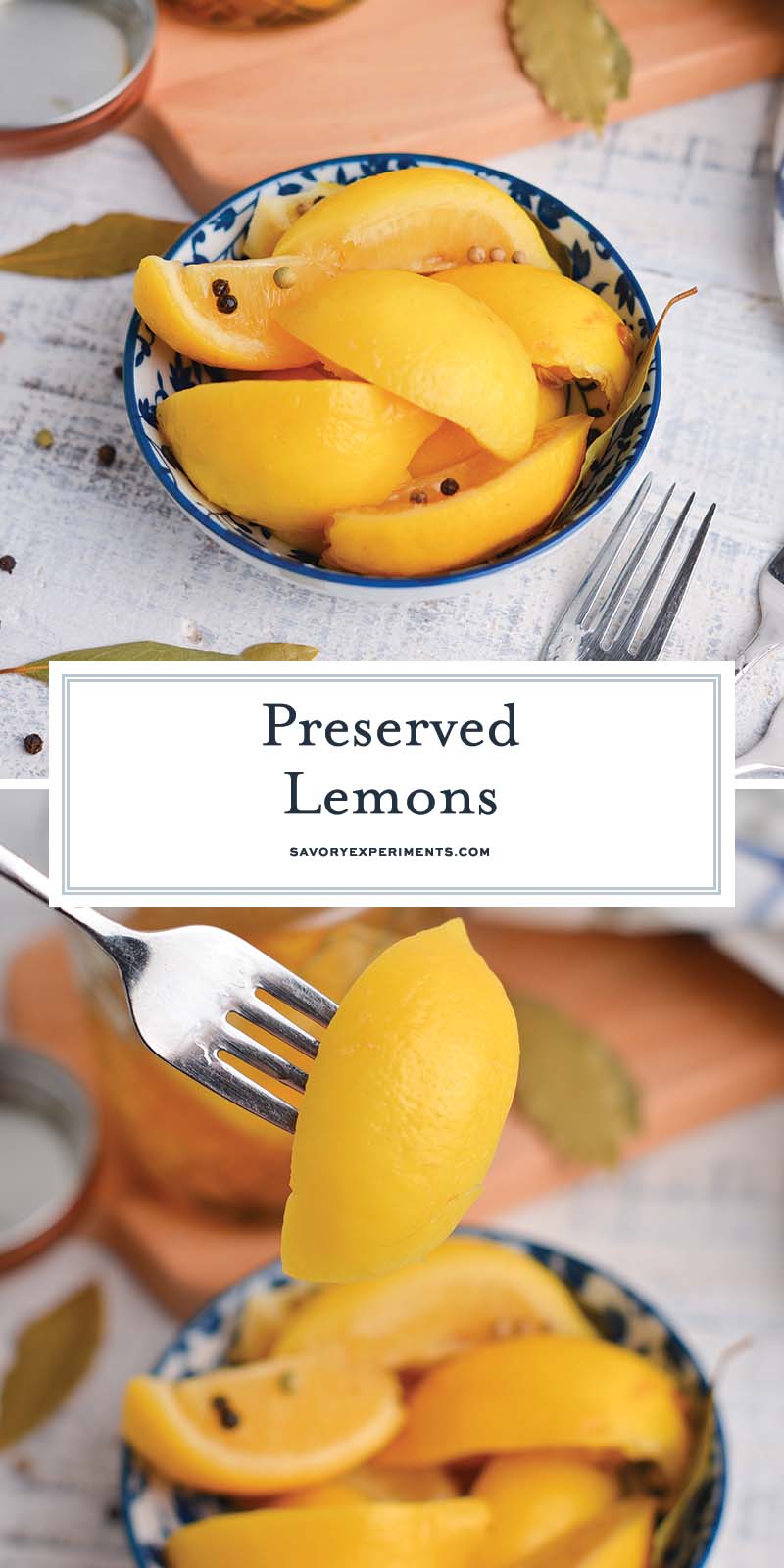 More Lemon-Based Recipes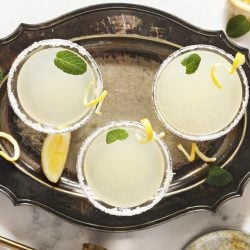 Lemon Drop Martini Recipe
A Lemon Drop Martini is the perfect balance of sweet and tart. Calling for just four ingredients, these easy to make martinis are easy to sip and include a lemon sugar rim.
See The Recipe!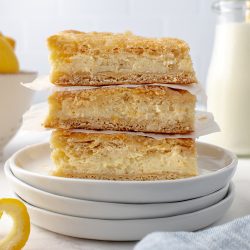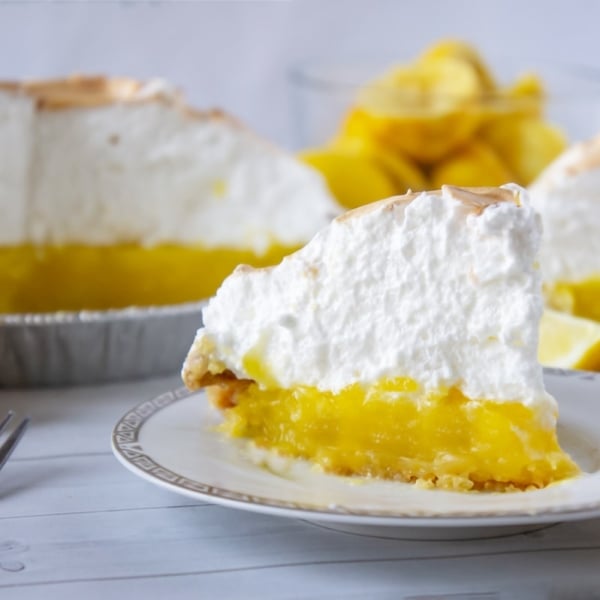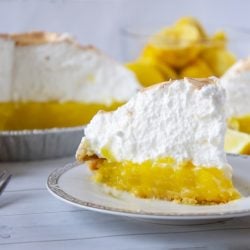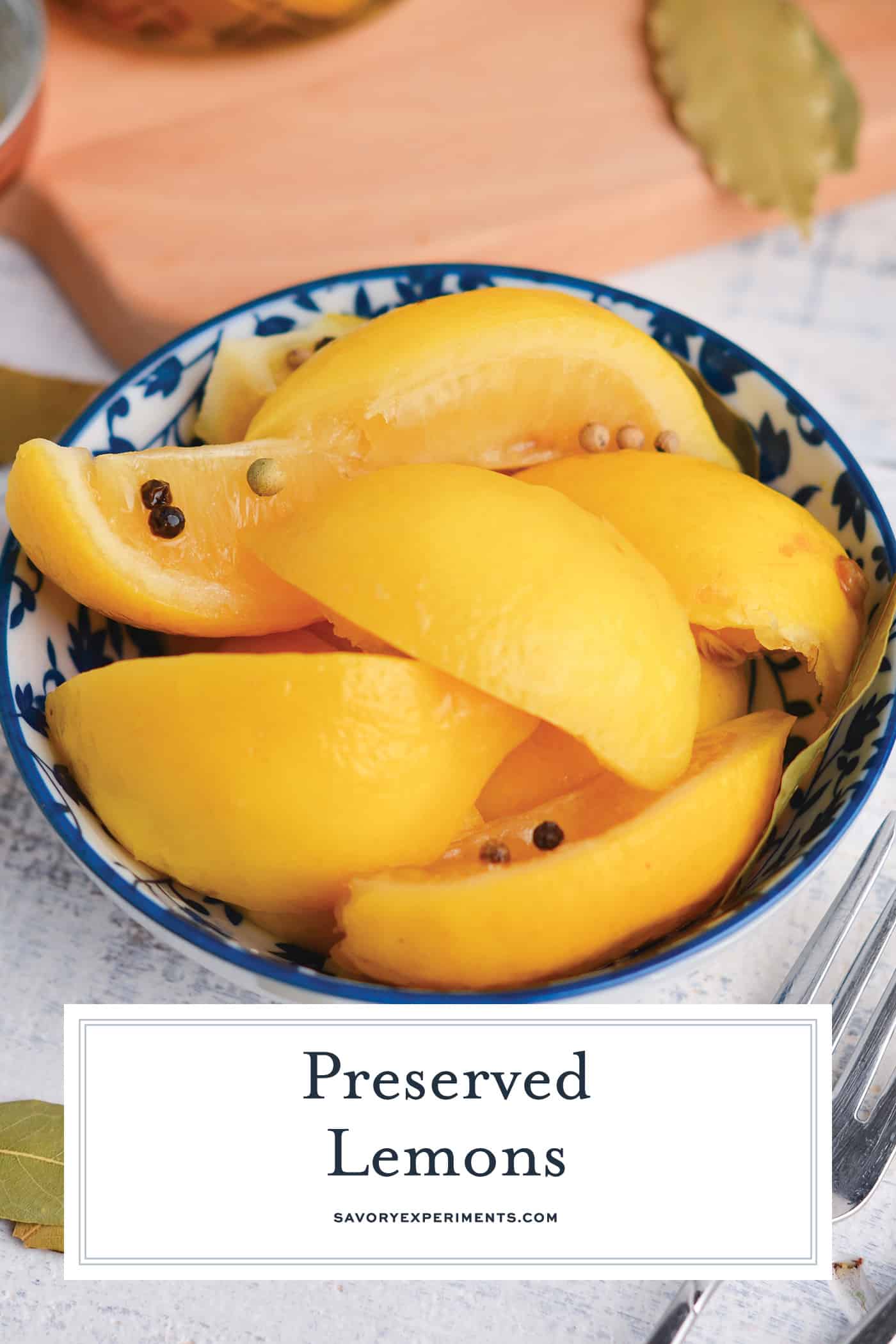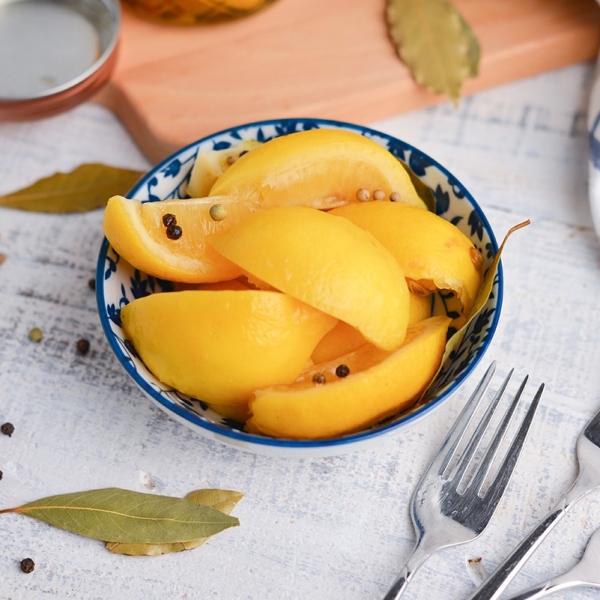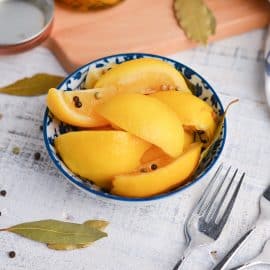 Preserved Lemon Recipe
These tart and sweet Preserved Lemons are the result of a centuries-old preservation technique. You can add them to tons of different dishes!
Instructions
Choose a large, wide-mouthed glass jar and make sure it is clean.

Scrub and clean all of the lemons

Cut each lemon into quarters, stopping just below the bottom, so they stay intact, but spread out like a star.

Place the salt and sugar into a bowl and place the lemons into the bowl, pressing the grainy mixture into the lemon flesh and grinding it in.

Transfer the lemons to the prepared jar. You may have to smoosh them in for them to fit.

Add the peppercorns, bay leaf and remaining salt and sugar mixture.

Fill the jar the rest of the way with water, enough to cover the top lemon.

Seal with the lid and shake a few times.

Place into the refrigerator or on a cool, dry counter. Flip upside down every 3-4 days.

After 3-4 weeks, open the jar and add your preserved lemons to your favorite dish.

If you've tried this recipe, come back and let us know how it was in the comments or star ratings.