I love vegetables, but sometimes I want a veggie dish that is dressed up a bit more than just being steamed or roasted. These broccoli fritters fit the bill.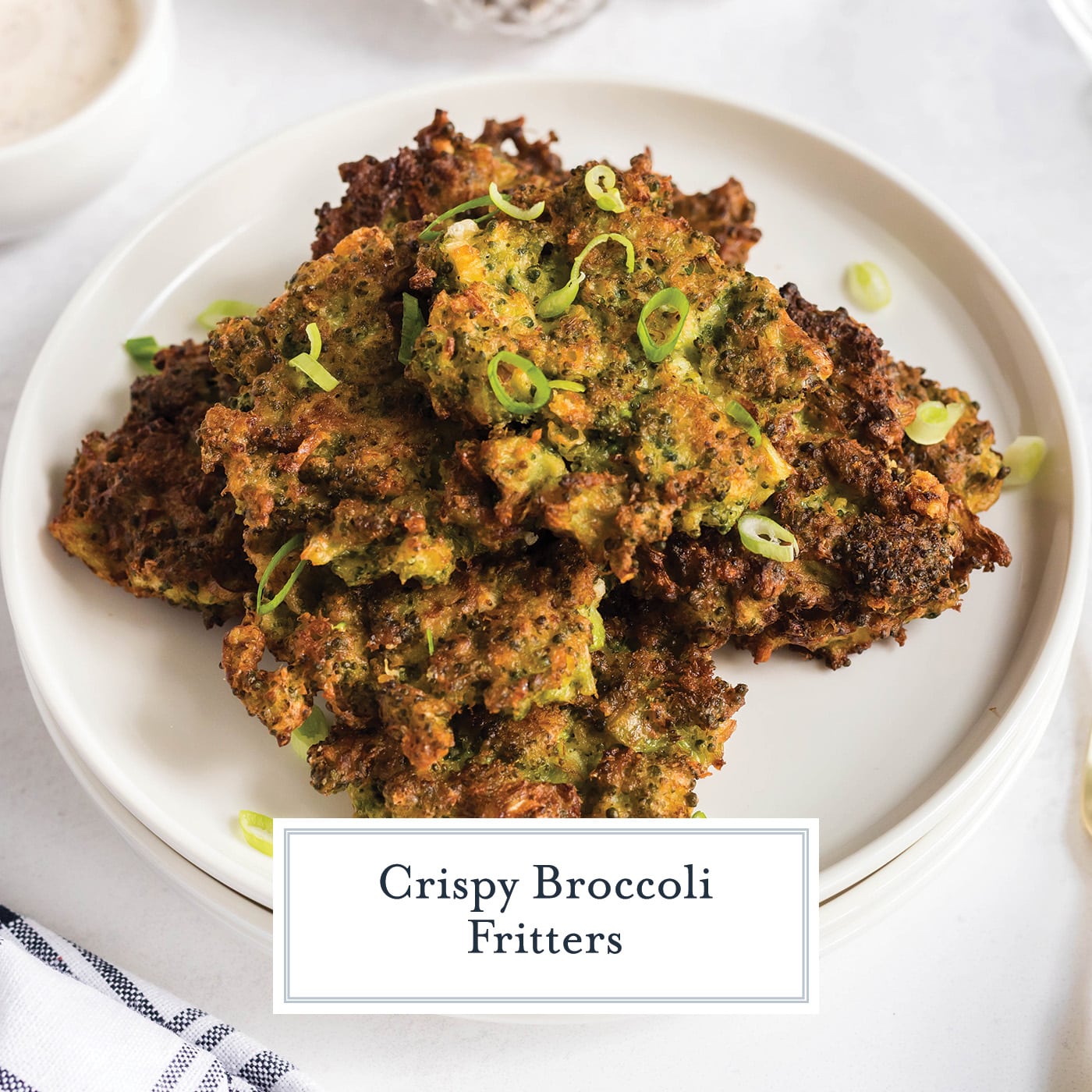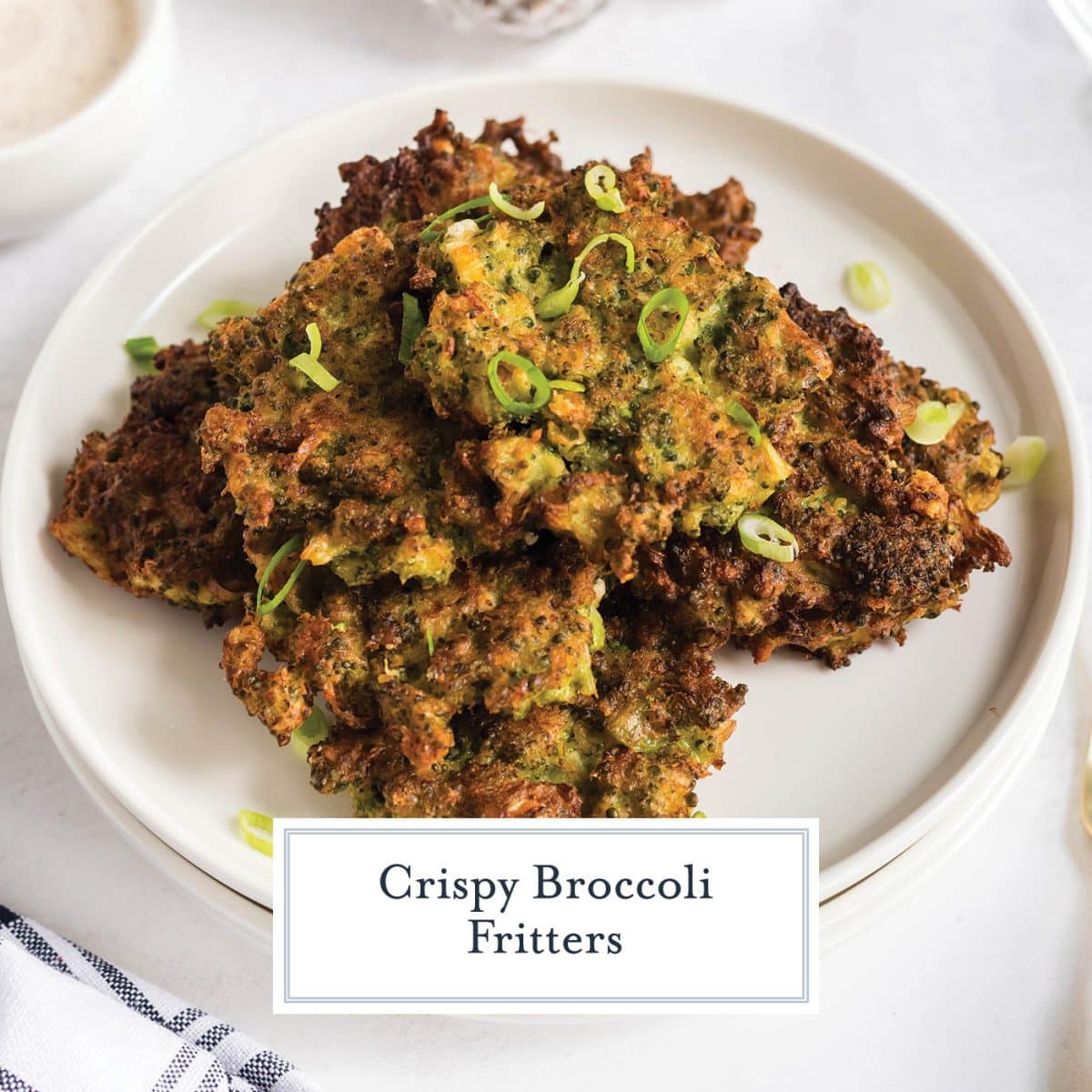 I could eat a plate of these cheesy broccoli fritters all on their own, but they are a great idea for a simple side dish. While your chicken or roast is cooking in the oven, you can quickly whip these up.
While I'd typically have these with my lunch or dinner, they make for a delicious breakfast, too. You can get those veggies in early in the day and everything's better with an egg on it, right?
You can also substitute other veggies for the broccoli. So the next time you have a bunch of leftover vegetables, just chop them, mix them into the batter and fry them up — it couldn't be easier!
Dipping Sauces
They're also a great vehicle for your favorite dipping sauce. I dip mine in spicy mayo or garlic aioli when I want some heat and tzatziki when I'm looking for something a little brighter, but you can mix up any dip you want with mayo, Greek yogurt, or sour cream. Here are a few more: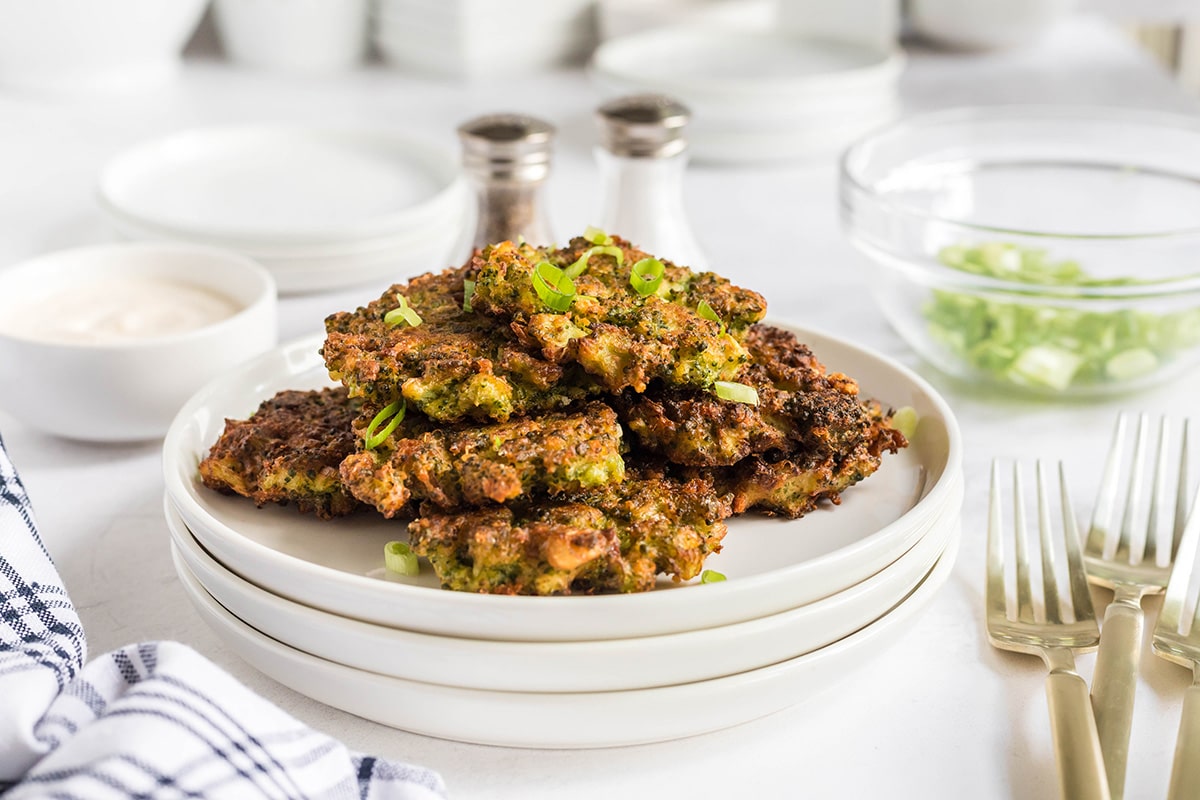 Why You'll Love Broccoli Fritters
They're quick to make – The batter takes just minutes to mix and they fry up quickly on the stove.
Sneak in those veggies – Even for non-broccoli fans or picky eaters, these are a tasty side dish that pack plenty of nutrients. Perfect for kids and picky eaters.
Super simple – With simple ingredients you likely already have in your kitchen, and only a few fast steps, this recipe makes it easy to get your meal on the table.
Make it your own – Change up the vegetables, add spices, and serve with any dip you like to customize this dish. This recipe is modeled after our zucchini fritters. We also love corn fritters and ricotta fritters.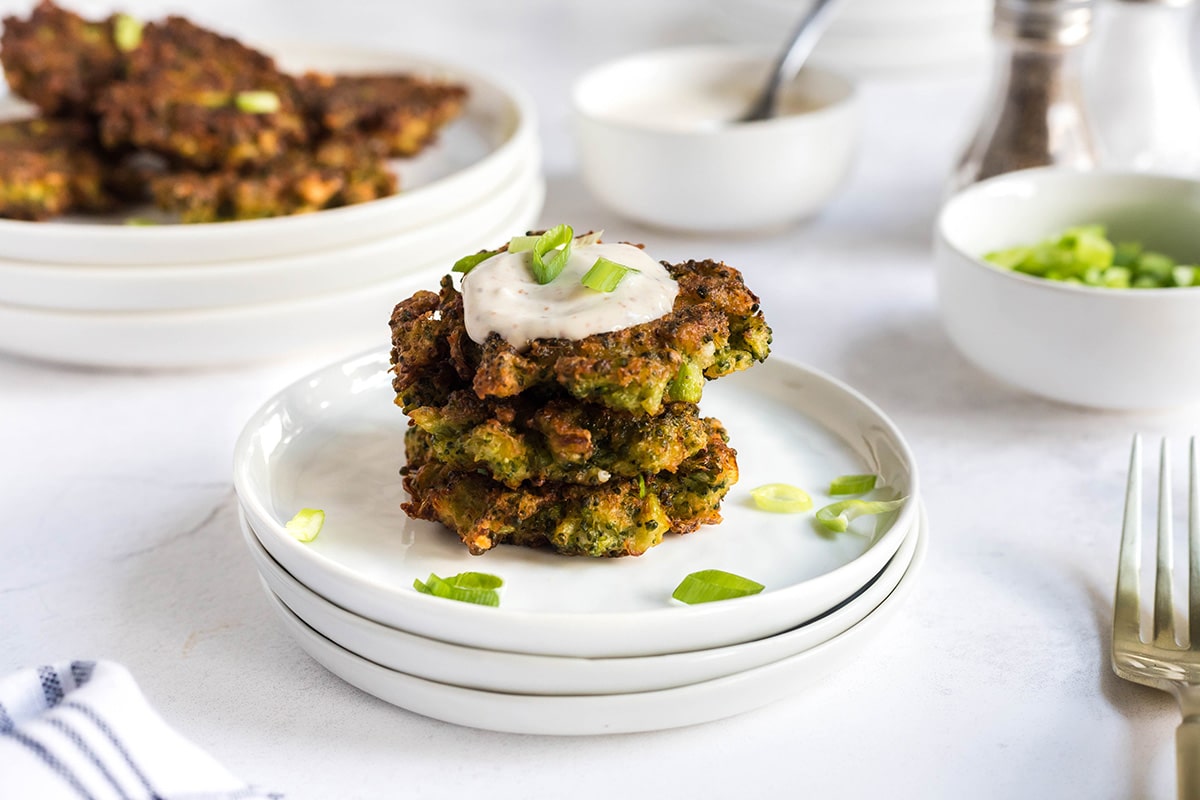 Ingredients
I know, I know, it looks like a long list, but much of it are kitchen staples.
Flour – All purpose flour will be the best to use for this but you can experiment with alternatives like chickpea flour for gluten free fritters.
Parmesan cheese – Grating the cheese from the block will help to impart more cheese flavor, but using grated cheese is an option as well.
Eggs – Make sure to use large eggs for this recipe.
Garlic powder – I use powder because it's easy, and for the smooth texture in the batter, but you can substitute minced garlic, too.
Onion powder – Using powder means that the onion flavor is more evenly dispersed throughout the broccoli fritters, but finely diced onions can be used as well.
Black pepper – Your typical table shaker will work, or you can freshly grind the pepper into the batter.
Steamed broccoli florets – While you can steam these on the stove in a steamer basket, you can also get the microwaveable bags from the frozen section at the grocery store. Once steamed, they'll need to be chopped into small pieces using a sharp knife, then blotted dry with a paper towel.
Scallions – While these are optional, I like the extra flavor they add to the fritters. If you choose to use them, slice them thinly.
Vegetable or canola oil – These oils are perfect for frying on the stovetop and their neutral flavors allow the fritters' own flavor to shine.
Maldon sea salt – Just a sprinkle of sea salt after frying helps to bring out all of the flavor of the fritters.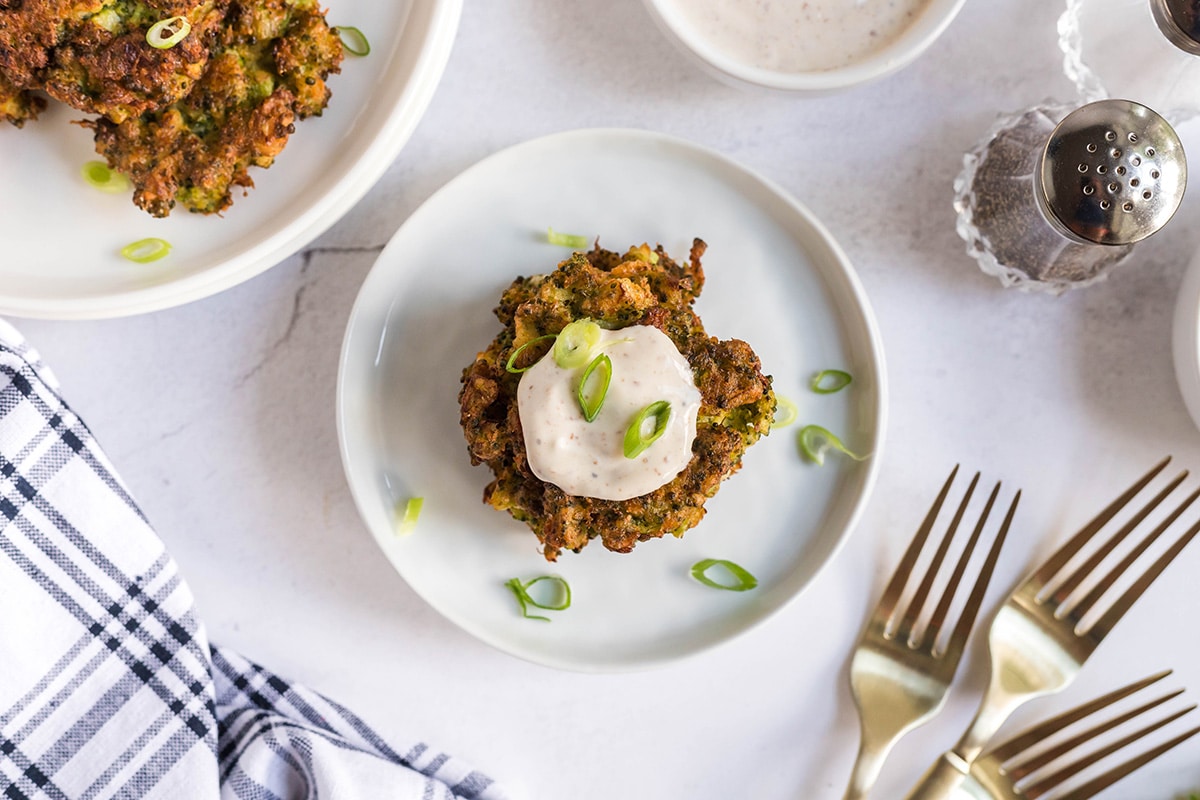 How To Make Broccoli Fritters
One thing to note is that the broccoli needs to be super dry and broccoli, by nature, is filled with water. Do your best to drain it, pat it dry and even wring it out.
Combine the seasonings. In a large mixing bowl or stand mixer fitted with a paddle attachment, combine flour and Parmesan cheese garlic powder, onion powder and black pepper. You can use a sifter to evenly distribute the dry ingredients if desired.
Add the eggs. Then, add the eggs. Mix on medium speed until ingredients are just combined. Avoid overmixing.
Fold in the broccoli. Using a spatula or large spoon, gently fold the broccoli and scallions into the batter, again until just combined.
Heat the oil in pan. Heat the oil in a heavy skillet over medium-high heat being sure to avoid overheating.
Add the batter to pan. Using a tablespoon, place the batter into the frying pan and allow the mixture to spread and flatten. If you want larger fritters, you can use an ice cream or cookie scoop or a measuring cup.
Cook until brown. Brown the broccoli patties. Once the first side is golden brown, turn to allow the other side to cook as well.
Let drain. When they are finished cooking, remove them from the pan. Place fritters on a wire rack so the oil can drip down onto a paper towel-lined plate or cookie sheet. This prevents steam from making the bottoms soggy. Aim for a single layer.
Add salt. While the fritters are cooling, sprinkle them with Maldon sea salt.

Variations
Brighten it up – Add a dash of lemon juice or lemon zest for some citrusy flavor.
Use different vegetables – Cauliflower fritters are delicious, too, but you can use any hearty vegetable you like. You can even make it with any sort of legume, like black bean or chickpea fritters.
Make it spicy – Add cayenne or red pepper flakes to turn up the heat.
Save time – Use broccoli rice from the freezer section (thawed and blotted) instead of using chopped broccoli.
Make keto fritters – Instead of regular flour, experiment with using almond flour or coconut flour for low carb keto broccoli fritters.
Change up the cheese – Use cheddar cheese or any other grated hard cheese that you like. You even make these fritters vegan by using a vegan cheese (and egg substitute).
Up the umami – Try adding a bit of nutritional yeast to impart umami (and make these fritters even healthier).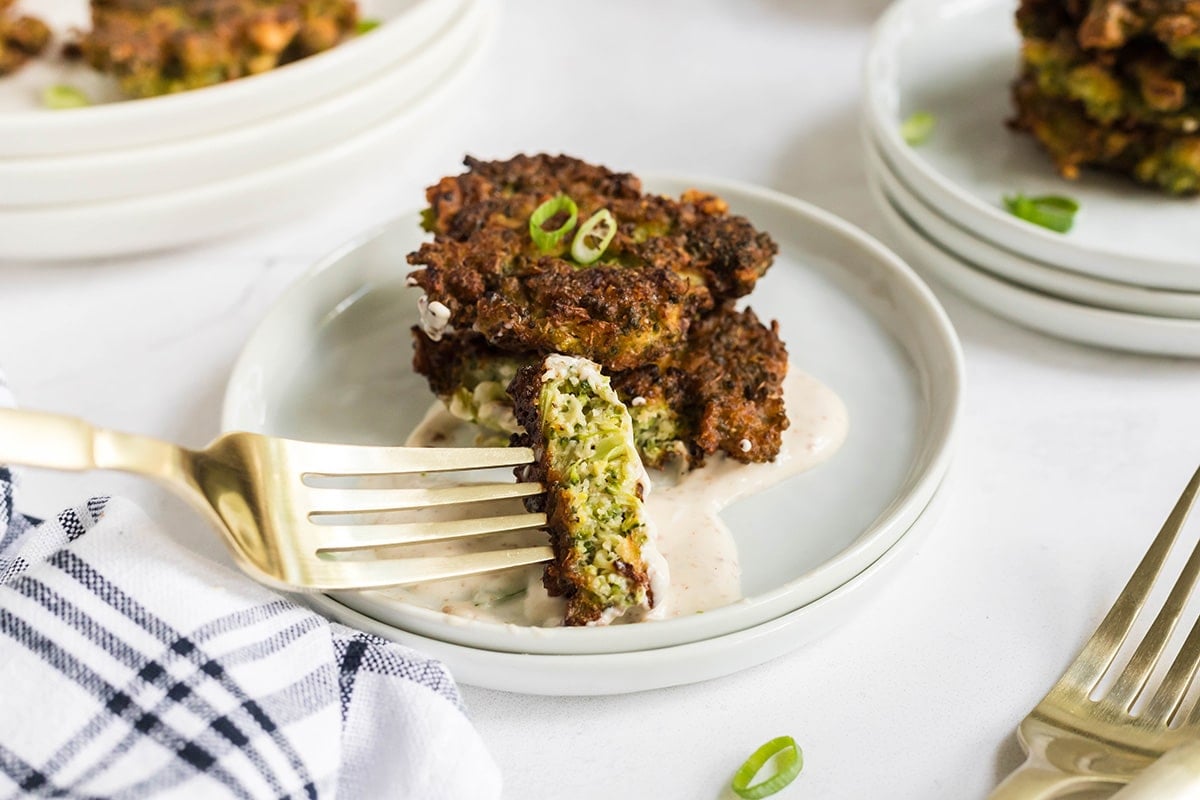 Storage & Freezing
To Store: Allow the broccoli fritters to cool completely. Then, store in an airtight container or plastic bag for up to 5 days.
To Reheat: Avoid microwaving because they will become chewy. Instead, for crispy fritters, reheat them in the oven at 300 for 10 minutes or in a little bit of oil in a frying pan.
To Freeze: Place cooked fritters in an airtight container and freeze for up to 3 months. Reheat by placing the frozen fritter in a frying pan with hot oil. There might be a bit of splattering. Heat until cooked and browned.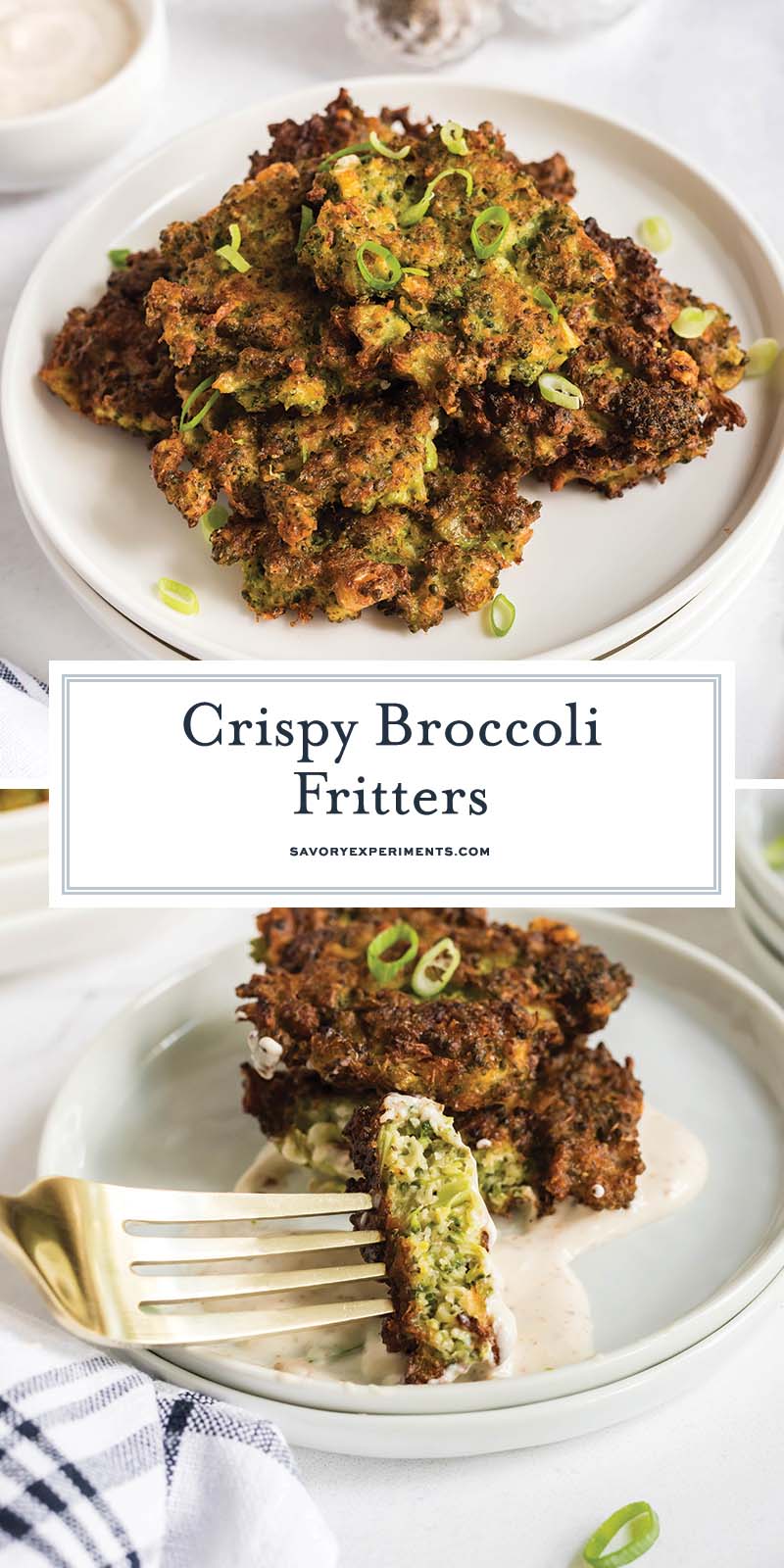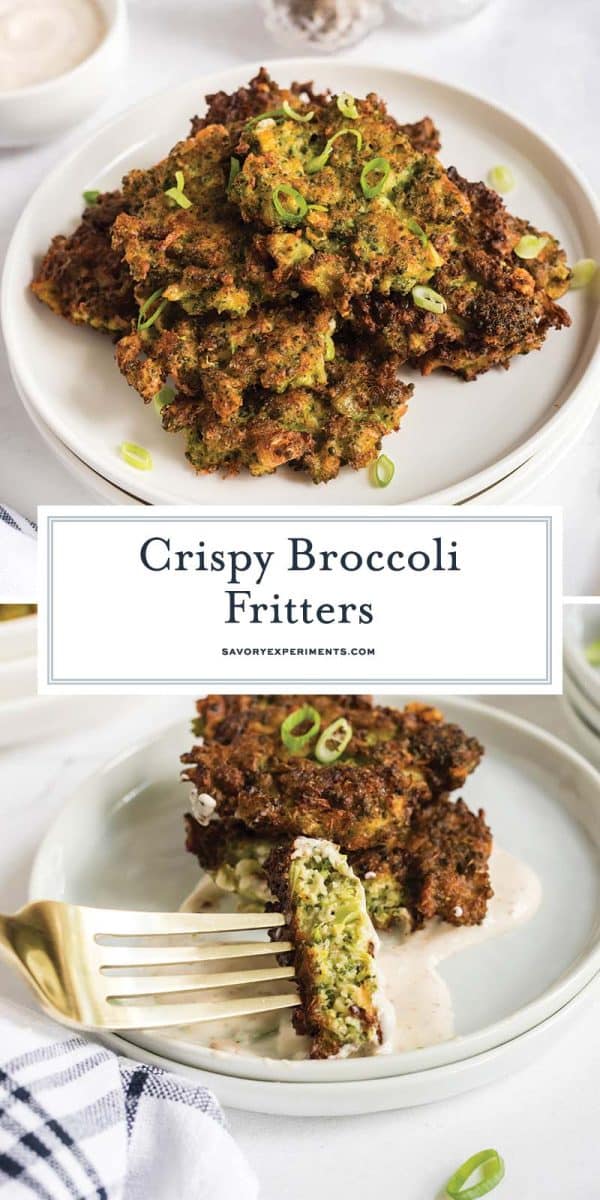 More Vegetable Side Dishes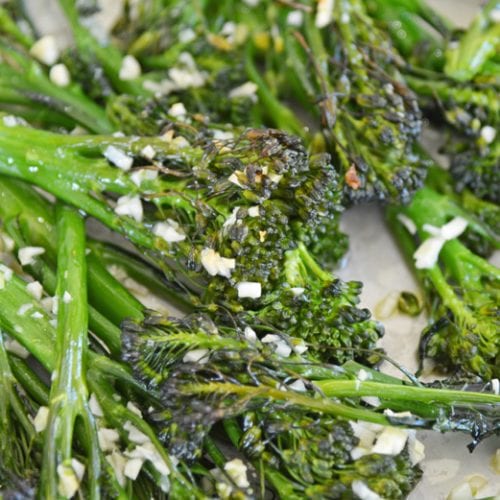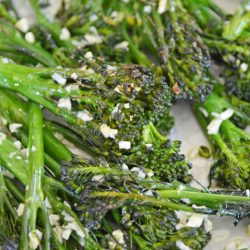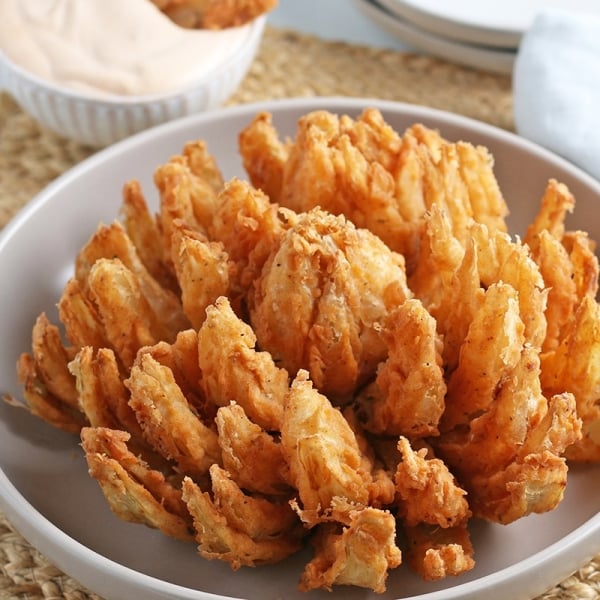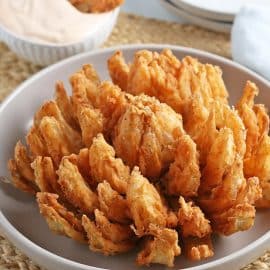 Bloomin Onion Recipe
Coated with a crispy, flavorful breading, this EASY Blooming Onion recipe can't be beat- just like Outback! Complete with a Bloomin' Onion sauce, too!
See The Recipe!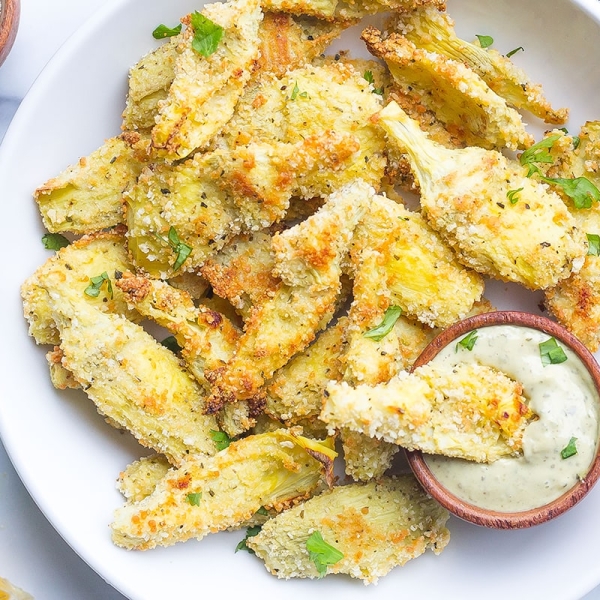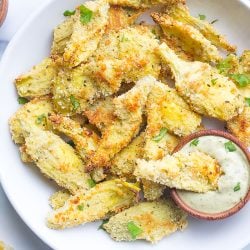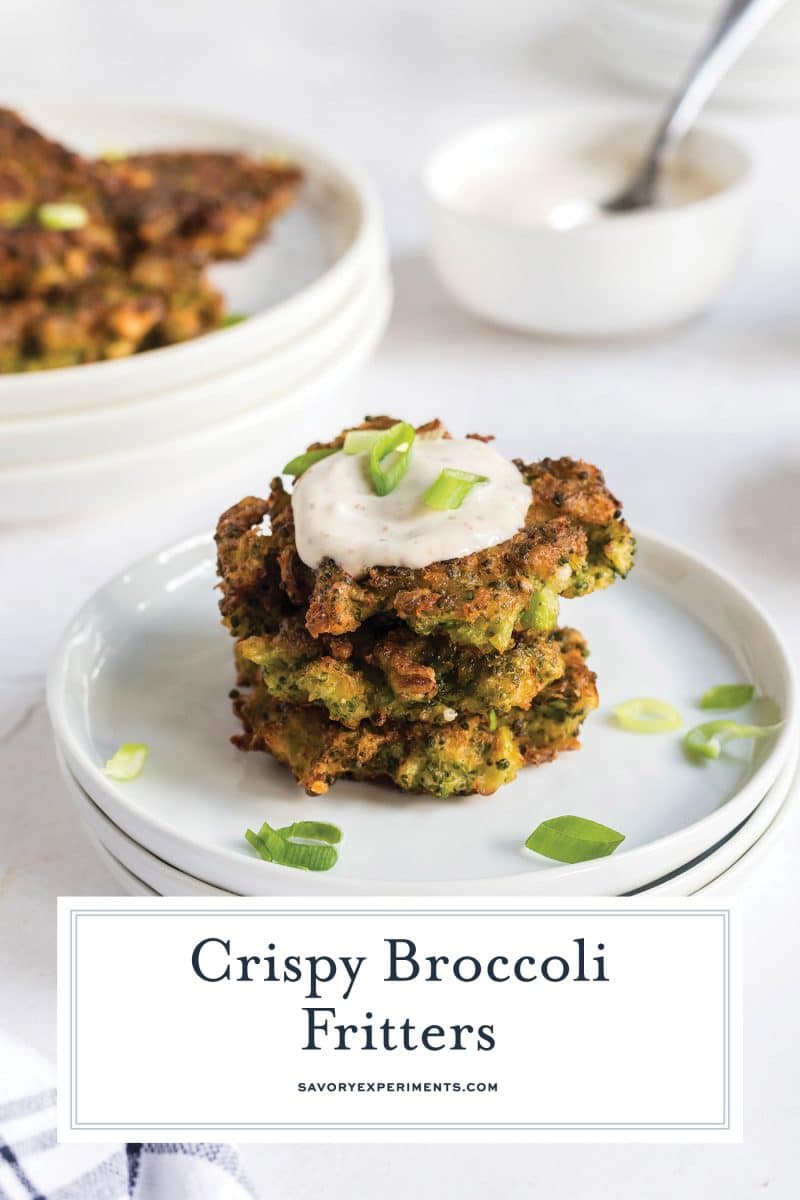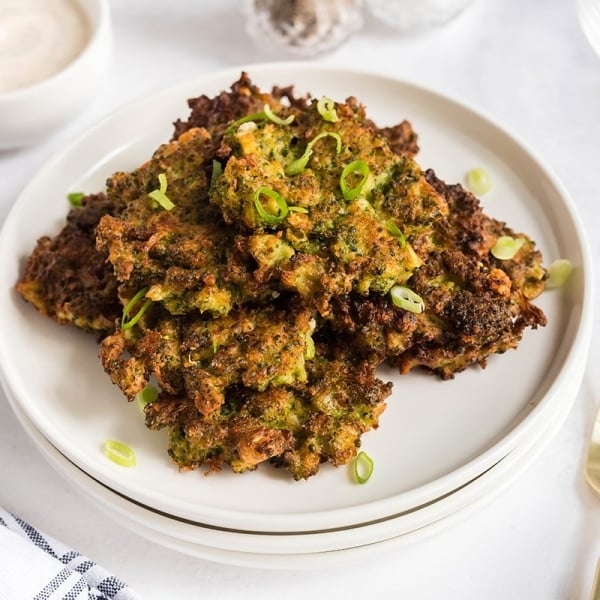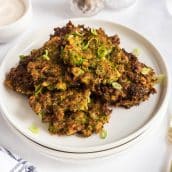 Broccoli Fritters
Crispy fried broccoli fritters perfect for appetizers or entrees. Dip you your favorite dipping sauces! Make ahead and freezer friendly!
Instructions
In a large mixing bowl or stand mixer fitted with a paddle attachment, combine the flour, Parmesan cheese, egg, garlic powder, onion powder and black pepper. Mix until just combined.

Add the broccoli and scallions, fold in by hand until just combined. Set in the refrigerator until skillet is ready.

Heat the oil in a large skillet over medium-high heat.

Using a tablespoon, place the batter into frying pan and allow to spread and flatten. Brown on each side, approximately 1-2 minutes each.

Remove and drain on a wire rack over a paper towel lined plate.

Sprinkle with Maldon sea salt.

If you tried this recipe, come back and let us know how it was in the comments or star ratings!
Nutrition
Calories:
597
kcal
,
Carbohydrates:
72
g
,
Protein:
39
g
,
Fat:
20
g
,
Saturated Fat:
9
g
,
Polyunsaturated Fat:
3
g
,
Monounsaturated Fat:
6
g
,
Trans Fat:
0.03
g
,
Cholesterol:
356
mg
,
Sodium:
865
mg
,
Potassium:
1779
mg
,
Fiber:
14
g
,
Sugar:
9
g
,
Vitamin A:
3774
IU
,
Vitamin C:
408
mg
,
Calcium:
591
mg
,
Iron:
8
mg