Grilling filet mignon doesn't have to be hard. This recipe will show you how to create a delicious Garlic Butter Steak using Brandy Garlic Butter in as little as 25 minutes!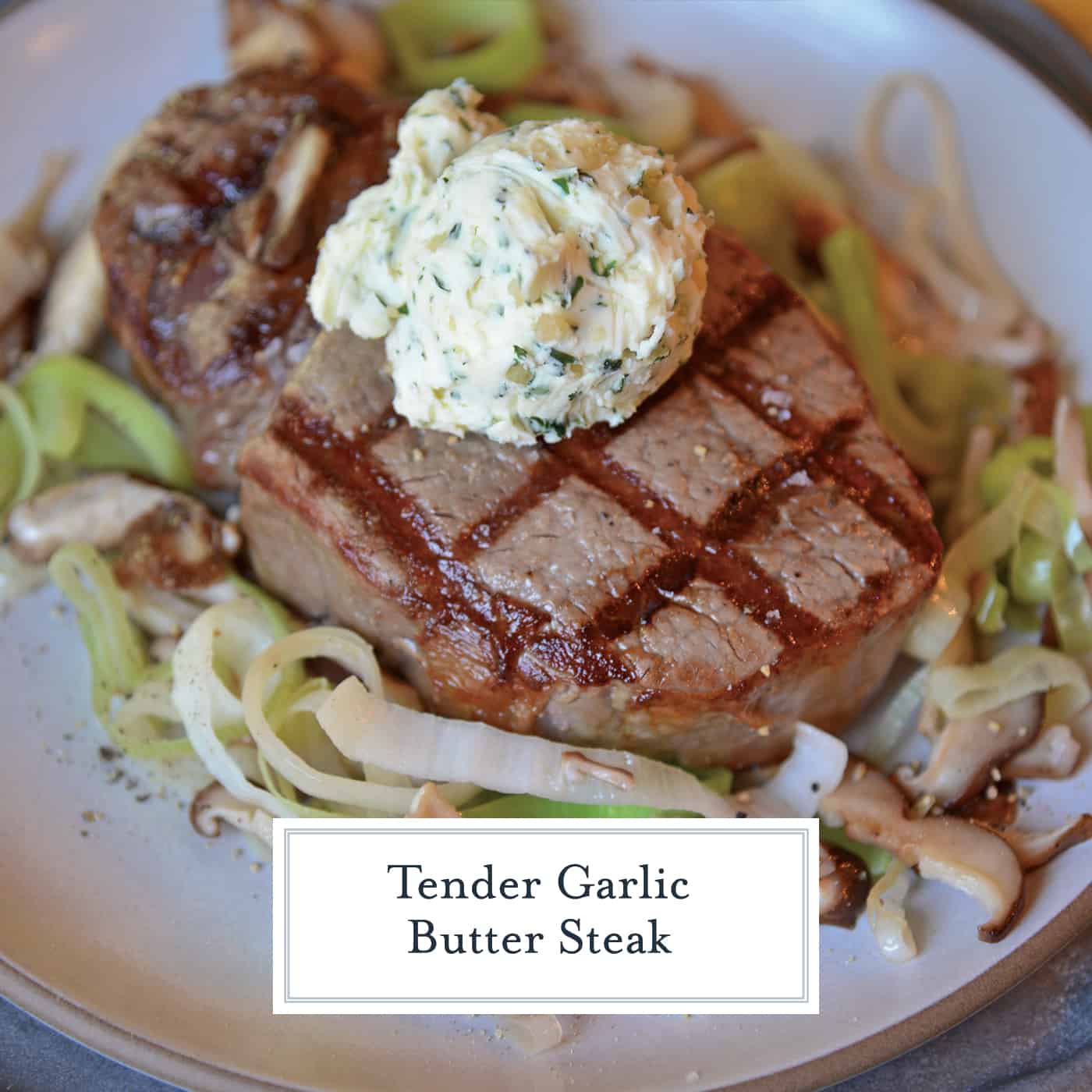 Garlic Butter Steak perfect for any occasion. It can work for a special date night or just for a typical weeknight meal!
This Grilled Filet Mignon is simple to prepare, but sophisticated enough for a special occasion, as are most steak recipes. A fork tender cut of beef lies atop a bed of mushrooms and leeks, dressed with tongue tingling brandy garlic butter. Garlic butter steak at its best.
I'm drooling just thinking about it. But let's be honest, I get all excited when I think about most steak recipes. If we are being totally honest, I also get all excited thinking about butter too.
PRO TIP: Use freshly minced garlic, not bottled garlic. They have distinctly different flavors.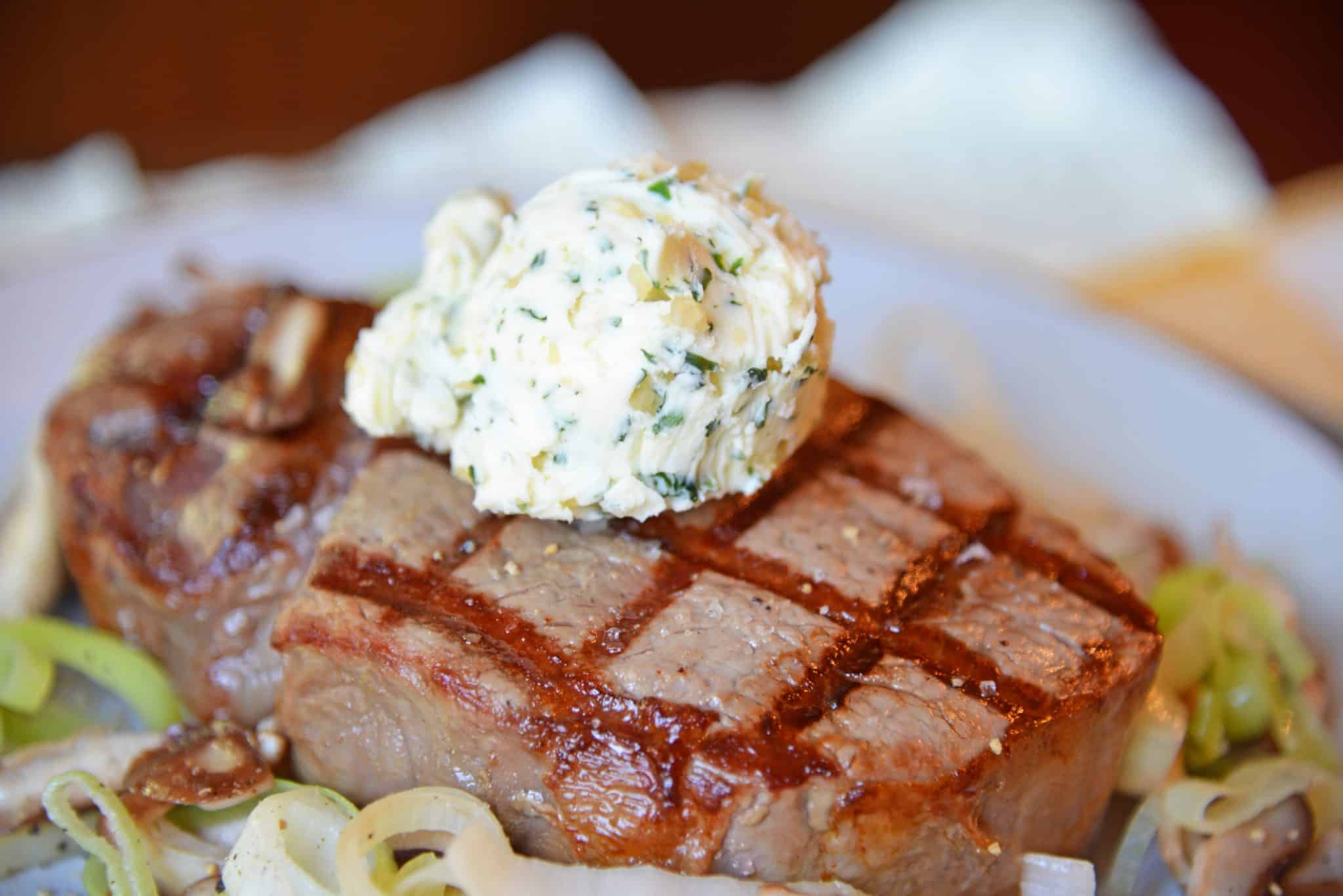 The highlight of this meal is by far the steak butter, known as persillade butter, or parsley butter, mashed with fresh garlic and brandy. Only 1 tablespoon of brandy spikes the butter dramatically.
PRO TIP: Any compound butter (just a fancy word for flavored butter) can be used as a steak butter. Check out my other flavors if brandy doesn't suit you!
Please note that the brandy is not cooked, so it will does have an alcohol content. Butter is placed atop a mound of beef as a finisher to slowly season as it melts continuing to tenderize your steak.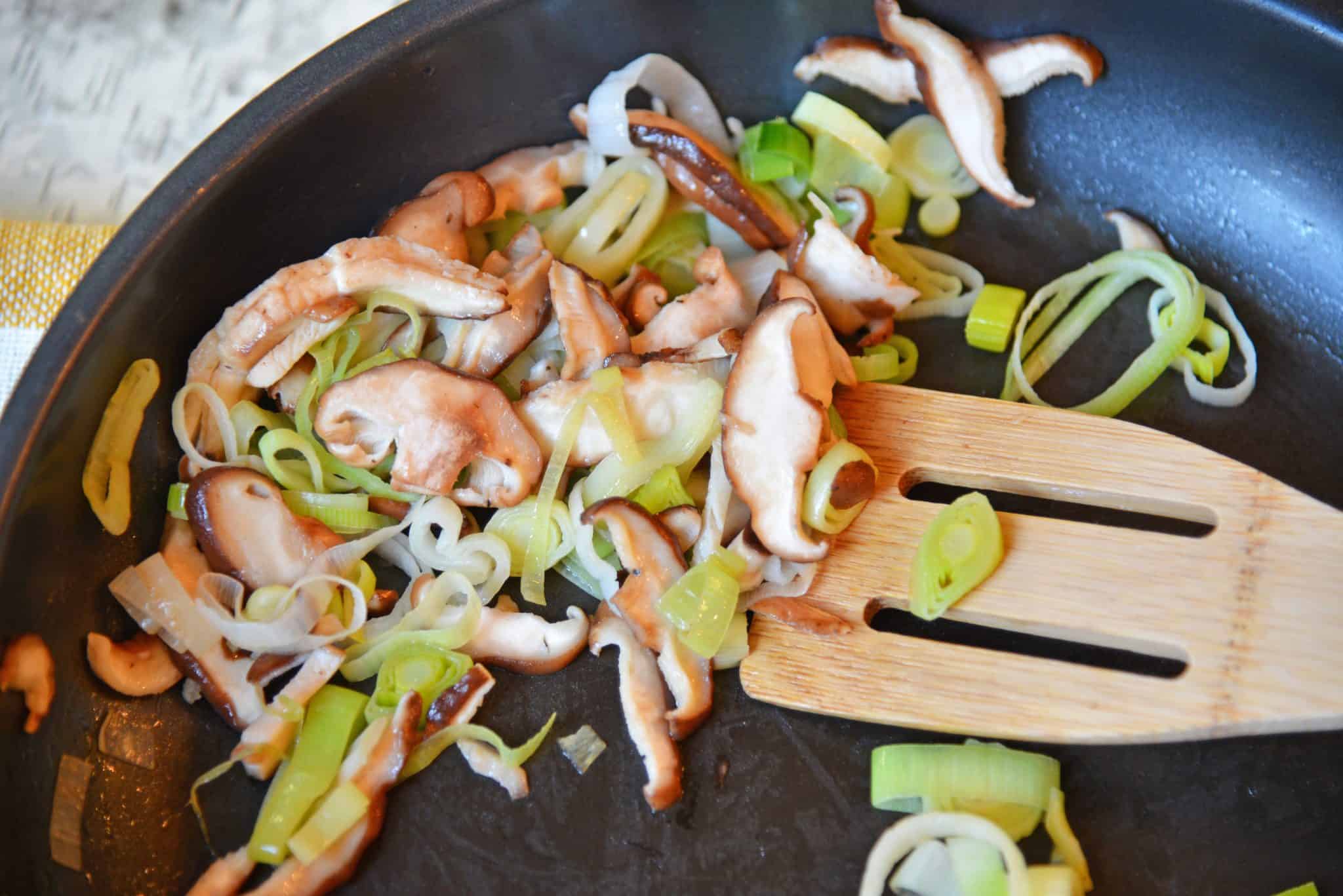 Make sure you get a little taste of the garlic butter before it melts, the taste is very different soft versus melted. We get our beef tenderloin whole from Costco.
Don't judge- it is delicious! Better than paying $15/pound at a specialty store.
Sasha says: "This is the best easy steak recipe I've ever used! The steak butter is AH-amazing, I even used it on garlic bread!"
I purchase a whole tenderloin for around $80-$100 and then slice it into individual portions. It usually yields 10-15 1-2 inch slices; only $8 per fillet.
That is a pretty good deal! Garlic butter steak can really be used with any cut of beef, so don't put too much emphasis on getting the right cut or finding it for a good deal.
PRO TIP: Even if you omit the brandy, you'll still have a tasty garlic butter steak.
What is compound butter? Well it's butter, obviously! Butter, but with savory ingredients added. It helps to enhance the flavor and helps to create a more delicious dish.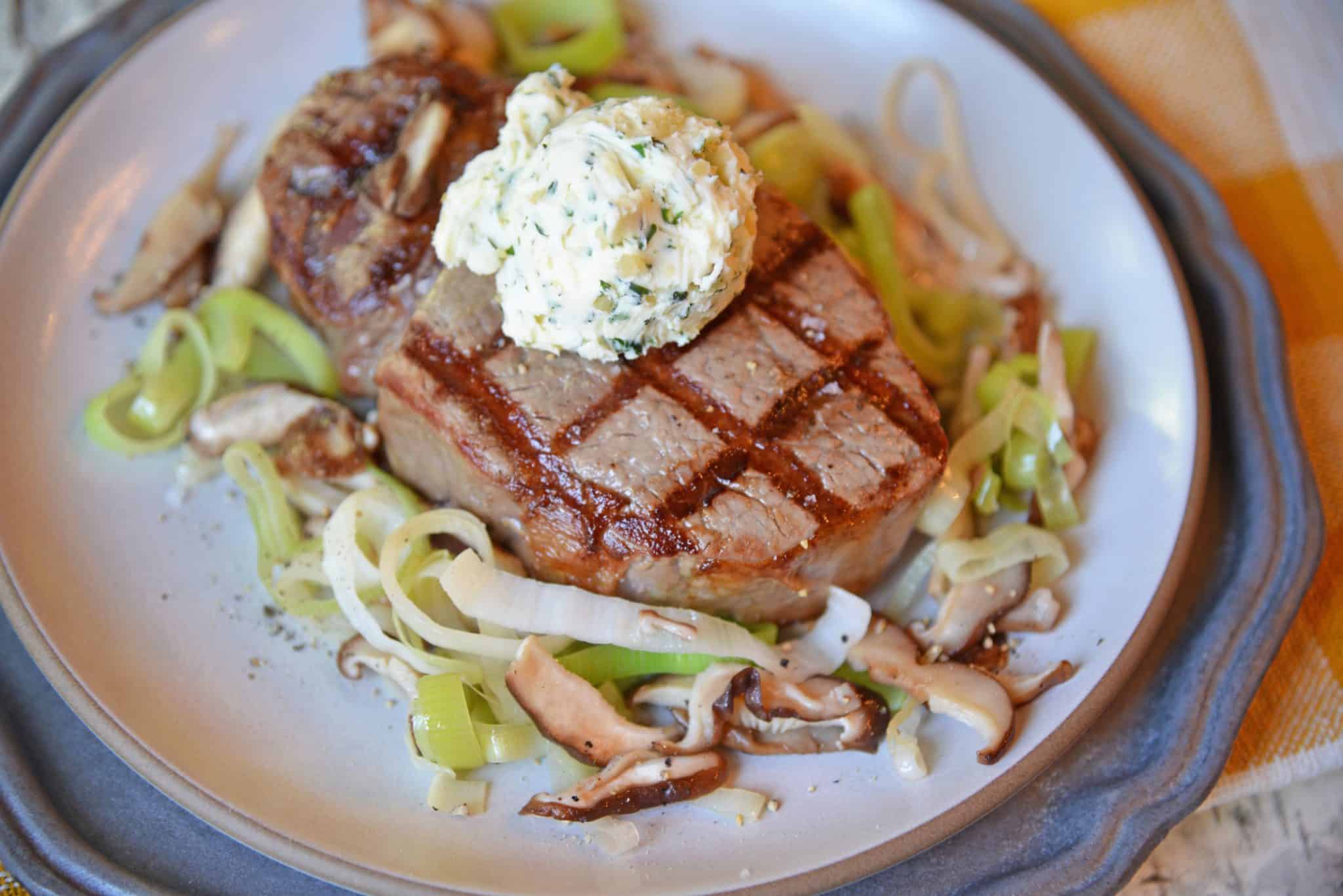 Another helpful tip I can give you would be how to grill filet mignon. Take your steak out of the fridge 45 minutes before cooking to come to room temperature.
PRO TIP: You don't want to shock the meat. If the center has some time to come to temperture, the whole steak will cook more uniformly. Salt and pepper both sides while waiting.
Let the grill heat and place the steaks when heated. Grill for 4-5 minutes each side, the internal temperature should read 130 degrees for rare and 155 for well done. This can vary greatly based on the thickness of your beef.

C
heck out these other easy steak recipes: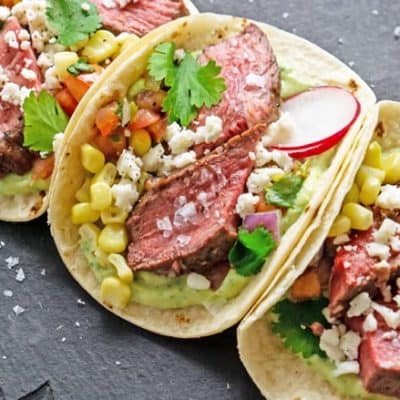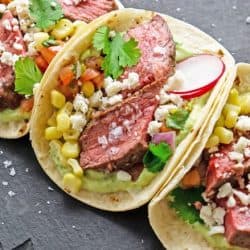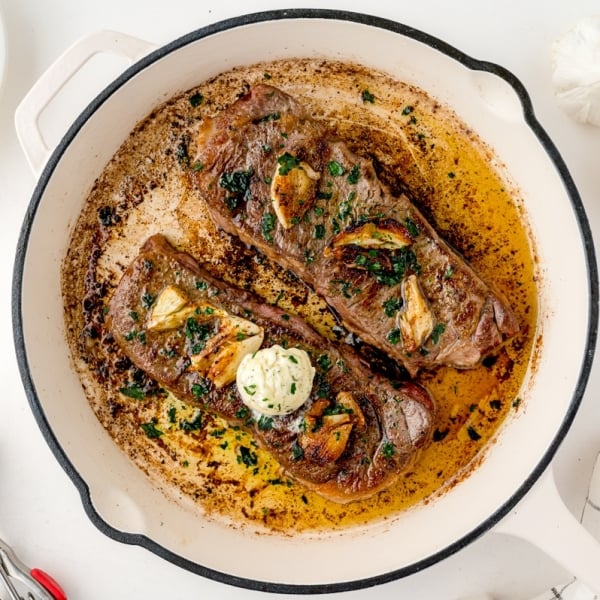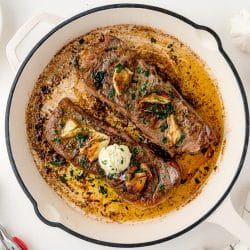 Pan Fried Steak
How to make a Pan Fried Steak at home is easier than you think with my step-by-step instructions and easy steak seasoning!
See The Recipe!
Tools for making Garlic Butter Steak:
Good Extra Virgin Olive Oil– A good olive oil will taste like, well, olives, while a poorly made one will taste like vegetable oil. Gross. While people tend to favor Italian and Greek olive oils, I prefer to buy mine domestically.
There are some great ones out there from all over the world, but the reporting of ingredients isn't always the same and you could find that your super expensive olive oil was actually cut with vegetable oil.
Grill Tools
– you are going to need these to make a grilled steak!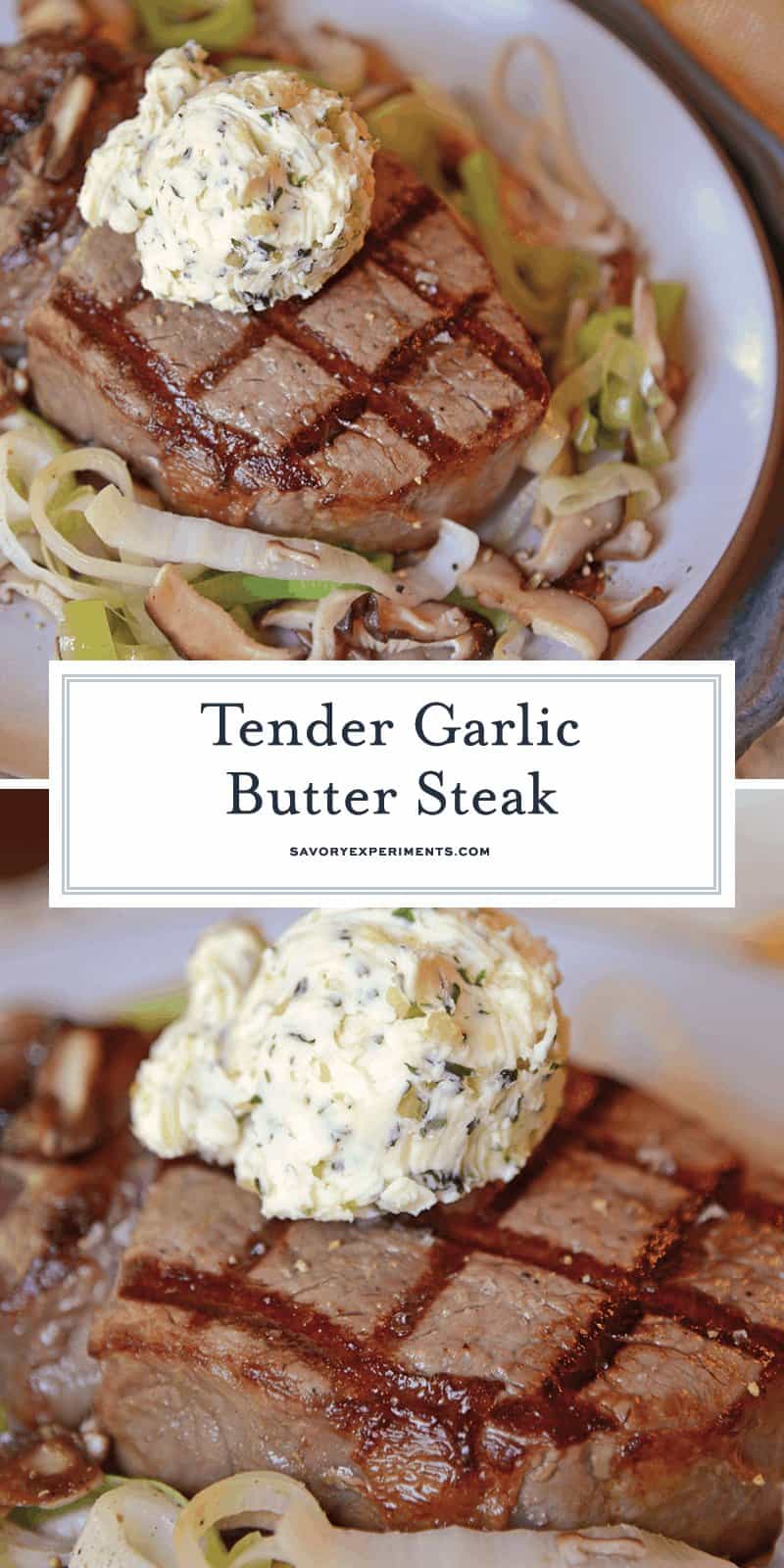 Questions you might have about how to make garlic butter steak:
Is it filet mignon or fillet mignon? The Ktchen says it best: "Filet is the alternative French spelling of fillet. .
However, its most common usage in the US is for a piece of steak cut from the beef tenderloin or other expensive cut of meat, with the filet mignon being a steak cut from the thickest part of the tenderloin." So the short answer is, both are correct!
Do I have to use filet mignon? Nope! Use whatever cut of beef you fancy! I find that people tend to prefer these cuts on the grill (descriptions provided by Certified Angus Beef ® ):
Filet Mignon: The most tender beef cut. Lean yet succulent and elegant. Melt-in-your-mouth texture, subtle flavor and compact shape.

New York Strip: Can be bone-in or boneless. This premium, lean, bone-in steak is a steakhouse classic, known for its marbling, tenderness and flavor.

Rib Eye: This boneless steak is rich, tender, juicy and full-flavored, with generous marbling throughout.

T-Bone: This well-marbled cut consists of two lean, tender steaks – the strip and tenderloin – connected by a telltale T-shaped bone. In a T-Bone, the tenderloin is between 1/2 and 1 1/4 inches in diameter.

Porterhouse: This well-marbled classic steakhouse cut consists of two tender steaks – the strip and tenderloin – connected by a telltale T-shaped bone. In a Porterhouse, the tenderloin is 1 1/4 inch or larger in diameter.
Can I make the butter ahead of time? Sure! Make the garlic butter up to 5 days in advance.
What is the best way to reheat steak? Of course you can use the microwave, but I prefer to sear it in a hot skillet, broil it or give a whirl on indirect heat on the grill. Whichever way you do it, it will always be a little more cooked that it was originally. That is unavoidable.
Do you prefer a charcoal grill or gas grill? This is really personal preference and availability. For me, gas is just easier, but there are some grill and beef enthusiasts that would say if you don't use charcoal, you aren't really grilling.
How do you get grill marks? When the grill is REALLY HOT, place steaks on direct heat and don't move them until they are good seared. Turn to make a diamond shape and repeat on both sides. You need high heat, about 500 degrees.
How long do I cook the steak? Grill time depends on the steak and thickness. The only way to really know the doneness of a cooked filet (or any cut) is to use a meat thermometer
.
Rare- 120 degrees
Medium-Rare- 126 degrees
Medium- 130 degrees
Medium Well- 145 degrees
Well Done- 160 degrees
Do I need to let the steak rest? Yes! Please let the steak sit for at least 5 minutes before you add the butter and serve.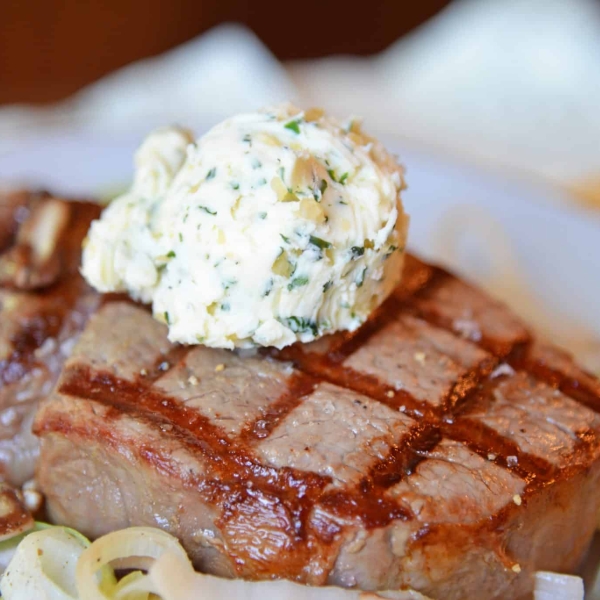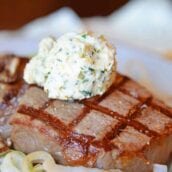 Garlic Butter Steak- Grilled Filet Mignon with Brandy Garlic Butter
Garlic Butter Steak is perfect for any occasion! Grilled filet mignon is perfect for a special date night or just for a typical weeknight meal!
Instructions
Start by preparing your fillets. Take out of the refrigerator and season with fine sea salt and freshly ground pepper on both sides. Allow to sit at room temperature while you heat the grill to medium-high heat.

Heat 1 tablespoon unsalted butter and 2 tablespoons extra virgin olive oil in large skillet. Add leeks, mushrooms and garlic. Saute until soft, approximately 5-10 minutes.

When the grill is heated, grill for 4-5 minutes on each side. Remove from the grill and allow to set for a minimum of 3 minutes.

To serve, spoon leeks and mushrooms on a plate, top with grilled beef fillet and top with a spoonful of brandy garlic butter.

If you've tried this recipe, make sure to come back and let us know how it was in the comments!
Notes
Leeks get a lot of dirt and grime stuck between the layers. After slicing, place in a bowl of water and gently push the rings apart. Rinse well to remove all muck.
Nutrition
Calories:
514
kcal
,
Carbohydrates:
11
g
,
Protein:
2
g
,
Fat:
25
g
,
Saturated Fat:
10
g
,
Cholesterol:
38
mg
,
Sodium:
117
mg
,
Potassium:
374
mg
,
Fiber:
1
g
,
Sugar:
3
g
,
Vitamin A:
1550
IU
,
Vitamin C:
8
mg
,
Calcium:
53
mg
,
Iron:
1.6
mg