Brussels Sprouts can get a bad rap, but this Brussels Sprout Salad recipe is bound to change the way you see this versatile veggie.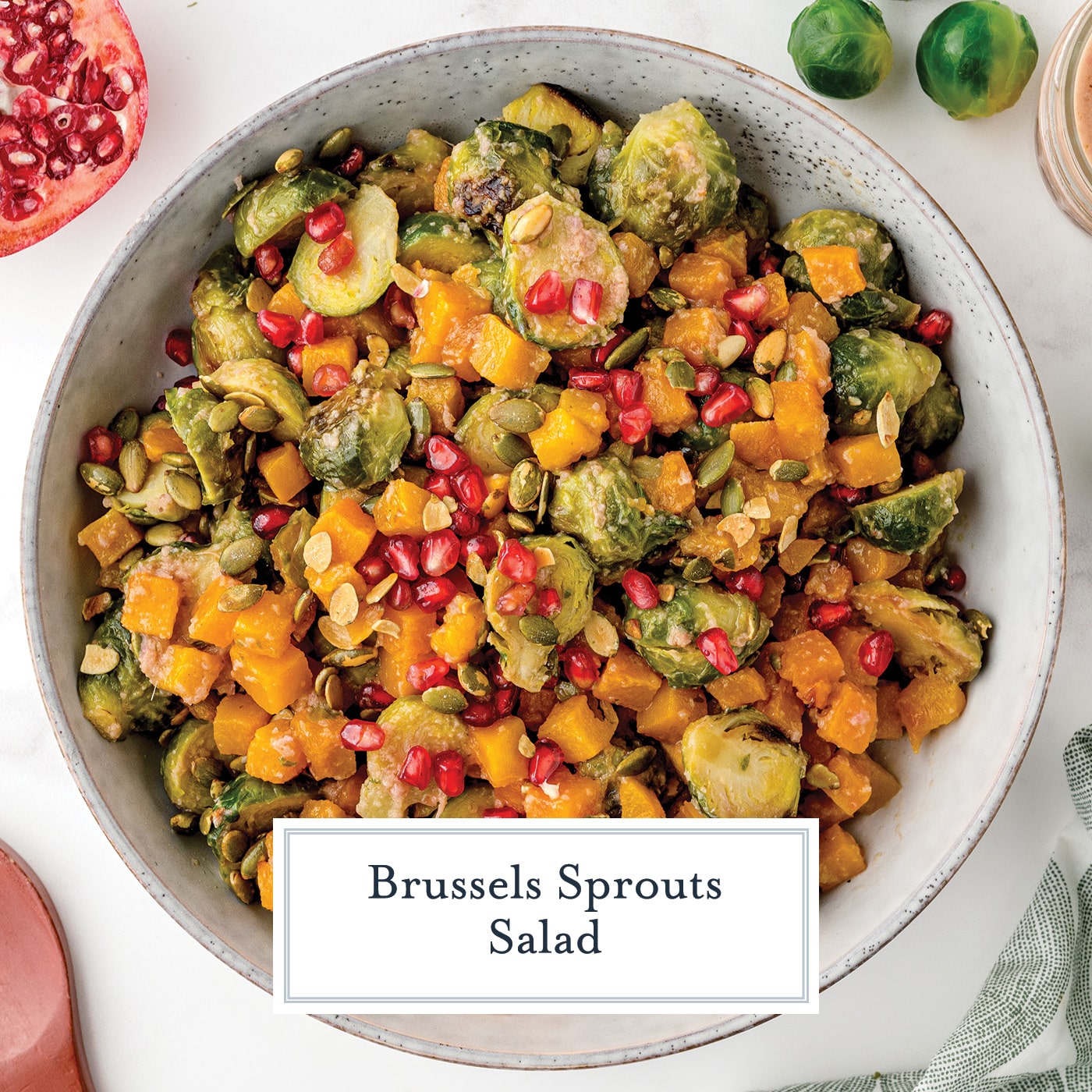 I recently visited Johnny Sanchez, a restaurant inside Baltimore's newest casino, and fell in love with two dishes. One of which I decided to try and recreate at home, Brussels Sprout Salad.
Origins of This Dish
Let me start by saying that the menu grossly under described the Brussels Sprout Salad, which is much more of a side dish or entrée than it is the traditional thing you see in your head when you think "salad."
As it was written on the menu, I thought it would be plain. I stand corrected. It was anything but and quite a ride for the tastebuds.
Actually, it was amazing. It was everything I ever wanted in a side dish. Sweet starchy goodness from the pumpkin, tart and bright pomegranate seeds that popped in my mouth, and crisp Brussels sprouts that were rounded out by salty, nutty pepitas.
Those ingredients alone were a flavor combination sure to wow, but adding my Roasted Jalapeno and Onion Dressing takes it to another level. Citrus and paired with savory and sweet veggies and fruit is out-of-this-world AH-mazing!
For my Brussels Sprout Salad, I used butternut squash instead of pumpkin. I have always preferred it and it doesn't take up as much space in the kitchen.
I nixed the sprinkling of queso fresco on the top, and instead, added more pomegranate seeds. If I am being honest, that was my favorite part.
Who said salads have to be boring and plain jane? Make sure you check out my tips for better salads before you starting chopping!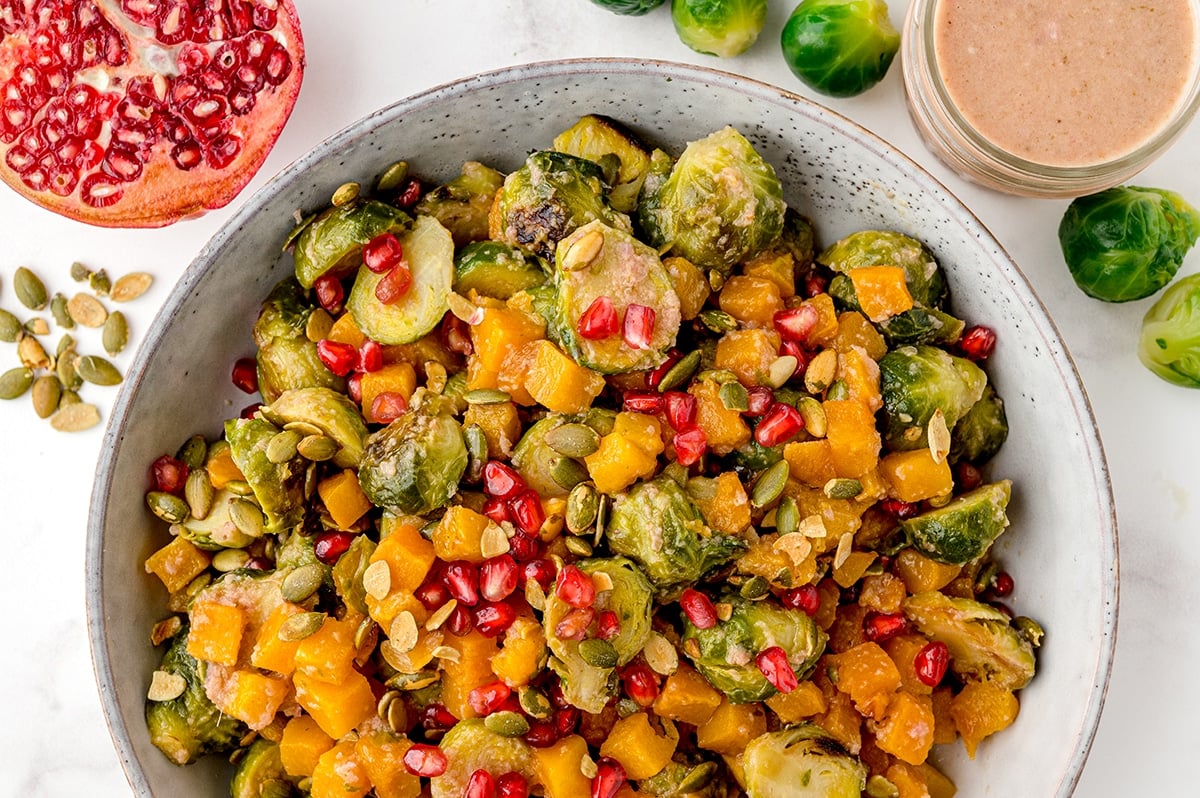 Brussels Sprout Salad Ingredients
The simple ingredients of this great salad is what makes it the best. But check out the section below for some ideas on how you can change it up and make it your own.
Brussel Sprouts – These should be raw brussels sprouts, as we are going to be roasting them along with the butternut squash giving them loads of browning flavor. Make sure they are trimmed and halved and roughly the same size so they cook at an even rate.
Butternut squash – This should also be raw. For quicker cooking and easier eating, cut it into 1 inch cubes. To do this, cut off each end with a sharp knife, peel and cube.
Pomegranate seeds – Pomegranate adds a nice color and flavor to this fall salad. The crunchy pop texture also adds another element to this shaved brussels sprouts salad recipe.
Salted pumpkin seeds – Sometimes called pepitas, it's the perfect way to add the best texture to your salad. Go one step further and roast your own seeds!
Dressing – My favorite way to dress this salad is with my Roasted Jalapeno and Onion Dressing. The dressing ingredients are simple and delicious, and it's easy to make.
Olive oil – When baking the raw sprouts and squash, you'll want to drizzle them with a little bit of extra virgin olive oil first to help soften them up a bit.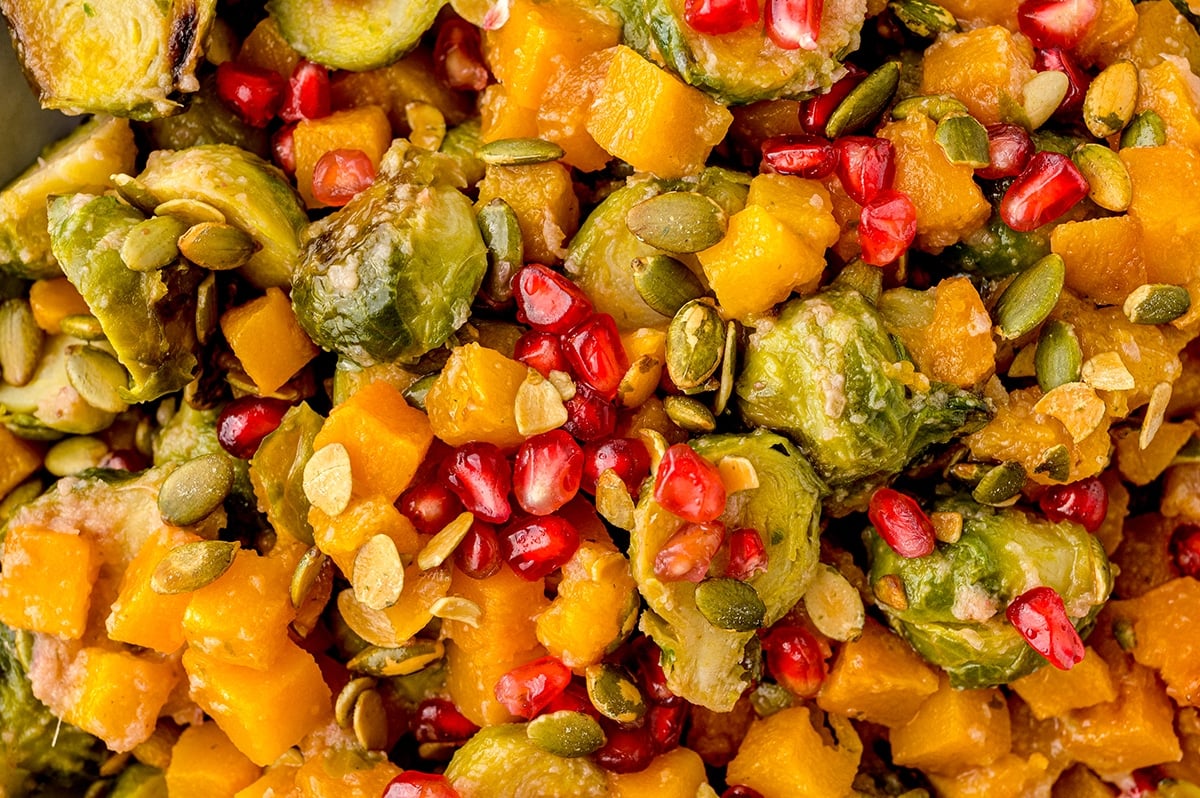 How to Make Brussels Sprout Salad
Prepare oven and pan. Preheat oven and cover a large rimmed baking sheet with aluminum foil.
Prepare sprouts and squash. Toss Brussels sprouts and butternut squash with just enough olive oil to lightly coat in a large bowl. Arrange on baking sheets in a single layer.
Bake. Bake for approximately until Brussels sprouts are a deep green and outer leaves are crispy and butternut squash is tender.
Finish it off. Toss with dressing. Top with pomegranate seeds and salted pumpkin seeds or pepitas.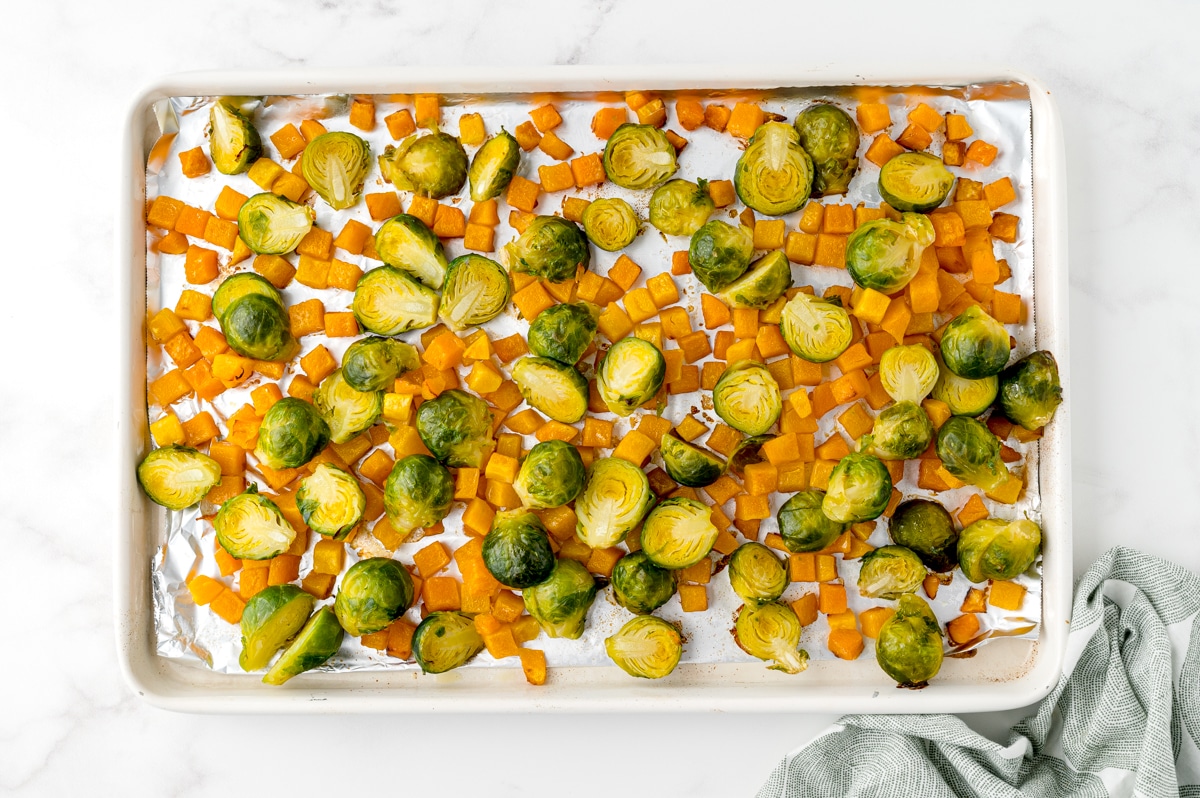 Variations
Fruit – Not a fan of pomegranates? You can still get that fruity element in other ways. Try adding some slices of sweet apples or dried cranberries or dried cherries.
Salad dressing – A squeeze of fresh lemon juice would be great on this salad. Actually, any dressing with fresh citrus juices would be a good idea. Alternatives include an apple cider vinaigrette, balsamic vinaigrette or a honey mustard dressing. Or even something spicy like honey chipotle dressing. A simple balsamic reduction is another good pick.
Cheese – I didn't choose to add cheese to this salad, but you certainly can! A few I would suggest would be fresh parmesan cheese, blue cheese or feta cheese.
Shaved brussel sprouts – If you'd like to make this more of a shaved brussels sprout salad recipe, you can add the shredding blade to your food processor and cut them more finely. They won't roast at the same rate of the squash, so cook them separately.
Toppings – I always like to mix up the toppings when making this salad for a holiday meal. Come of my favorites include red onion, crispy bacon, bell peppers, pine nuts or any other fresh produce that is in peak season.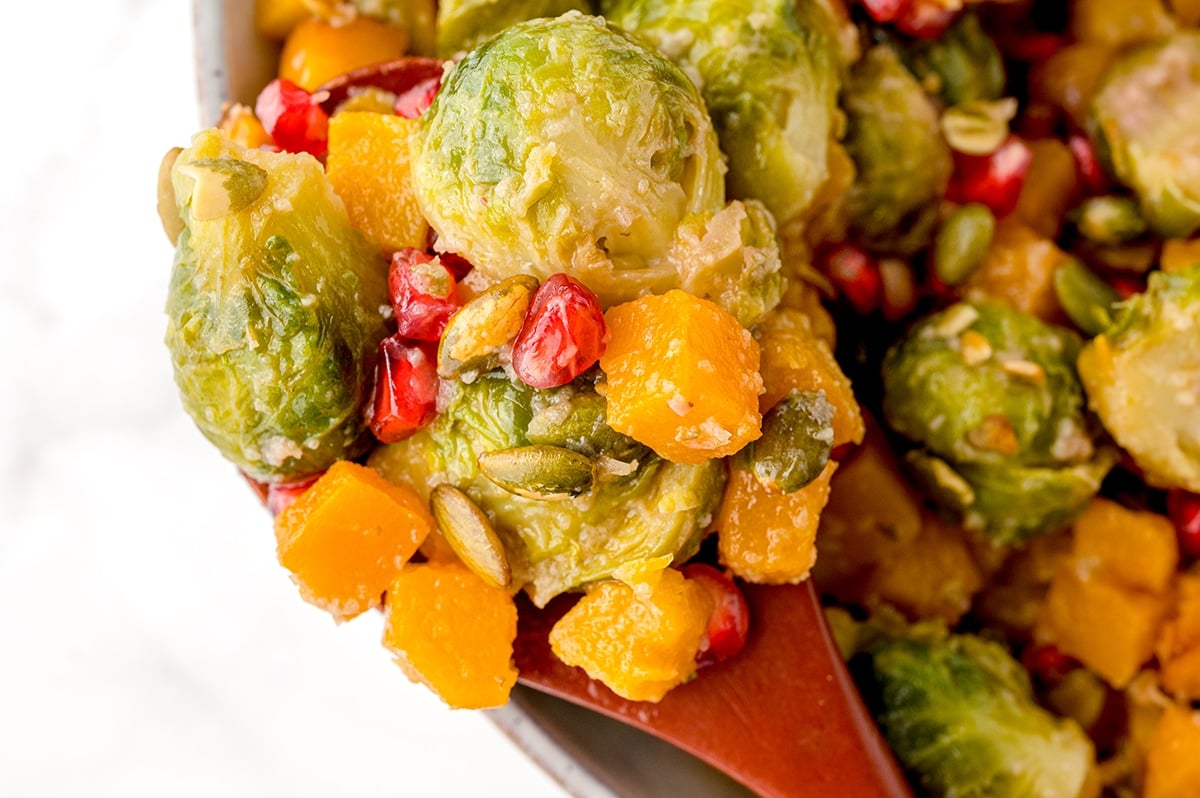 Storage and Freezing
Storage: As long as you haven't added the dressing yet, you can store any leftovers in an airtight container in the refrigerator for up to three days. The dressing tends to make it a bit soggy.
Freezing: Salad recipes don't tend to freeze well, this brussels sprout salad included.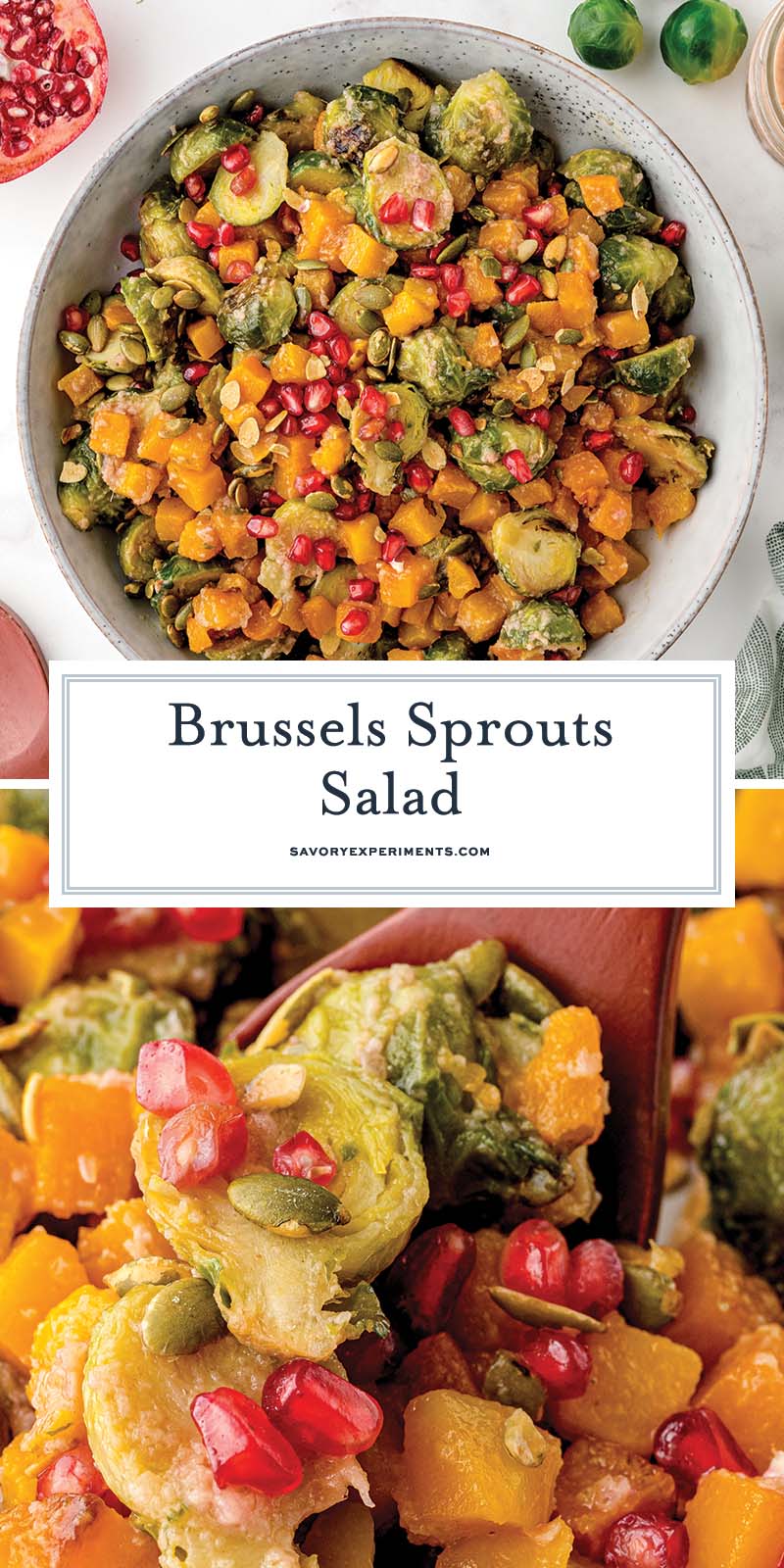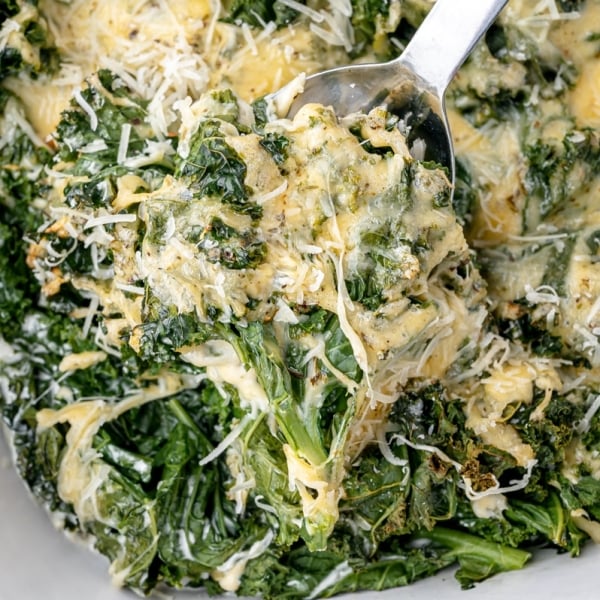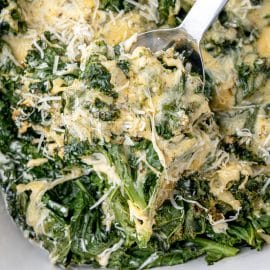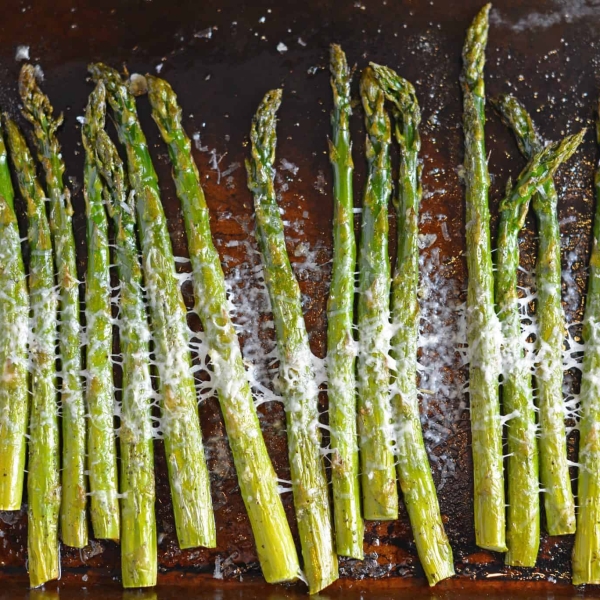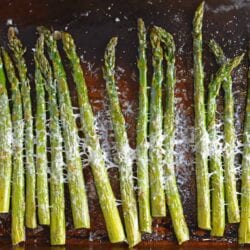 Asiago Asparagus
This delicious Asiago Asparagus is a quick and easy roasted asparagus recipe requiring only 4 ingredients and 15 minutes to prepare.
See The Recipe!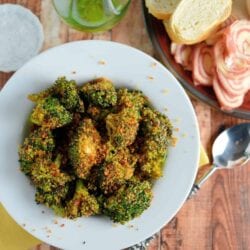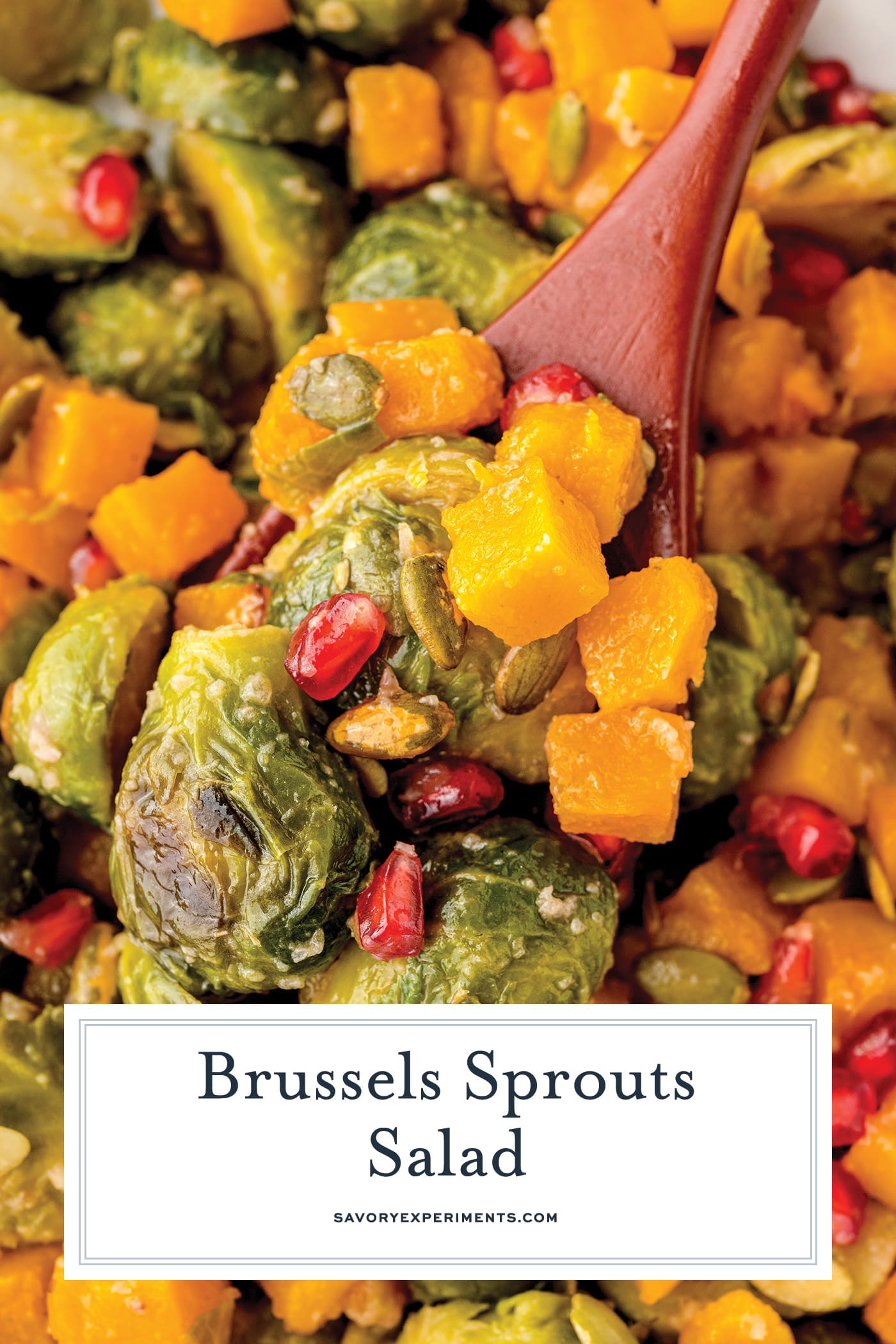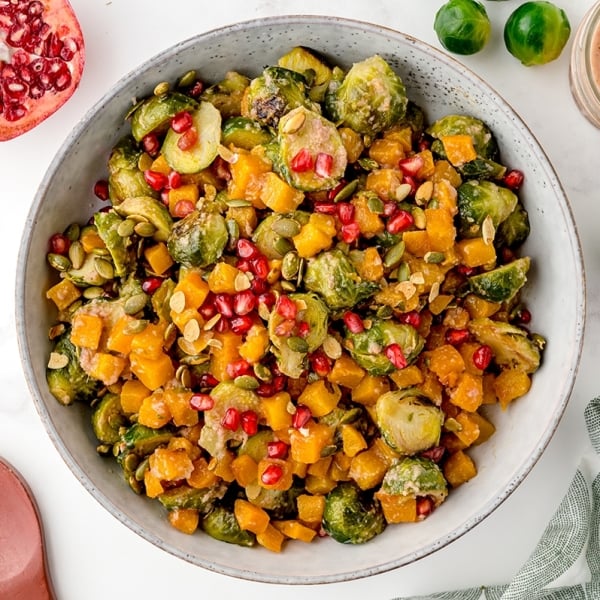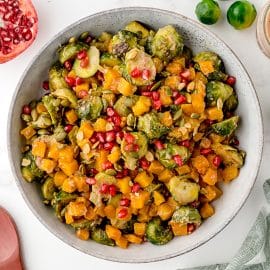 Brussels Sprout Salad Recipe
Brussels Sprout Salad Recipe is colorful and the perfect blend of sweet, salty, and savory. This dish is sure to have your guests going back for seconds.
Instructions
Preheat the oven to 350°F. Cover a large rimmed baking sheet (possibly two) with aluminum foil or parchment. Toss the Brussels sprouts and butternut squash with just enough olive oil to lightly coat. Arrange on baking sheets in a single layer.

Bake for approximately 30 minutes or until Brussels sprouts are a deep green and edges are crispy and butternut squash is tender.

Toss with the jalapeno and onion dressing.

Top with pomegranate seeds and pepitas and serve hot.

If you've tried this recipe, come back to let us know how it was in the comments or star ratings.
Nutrition
Calories:
187
kcal
,
Carbohydrates:
24
g
,
Protein:
5
g
,
Fat:
9
g
,
Saturated Fat:
1
g
,
Sodium:
315
mg
,
Potassium:
688
mg
,
Fiber:
5
g
,
Sugar:
10
g
,
Vitamin A:
8615
IU
,
Vitamin C:
82.9
mg
,
Calcium:
77
mg
,
Iron:
2.1
mg