I have a confession to make, I have never been much of an egg salad fan. Growing up there was something about that just didn't sit right with me. I couldn't quite put my finger on it.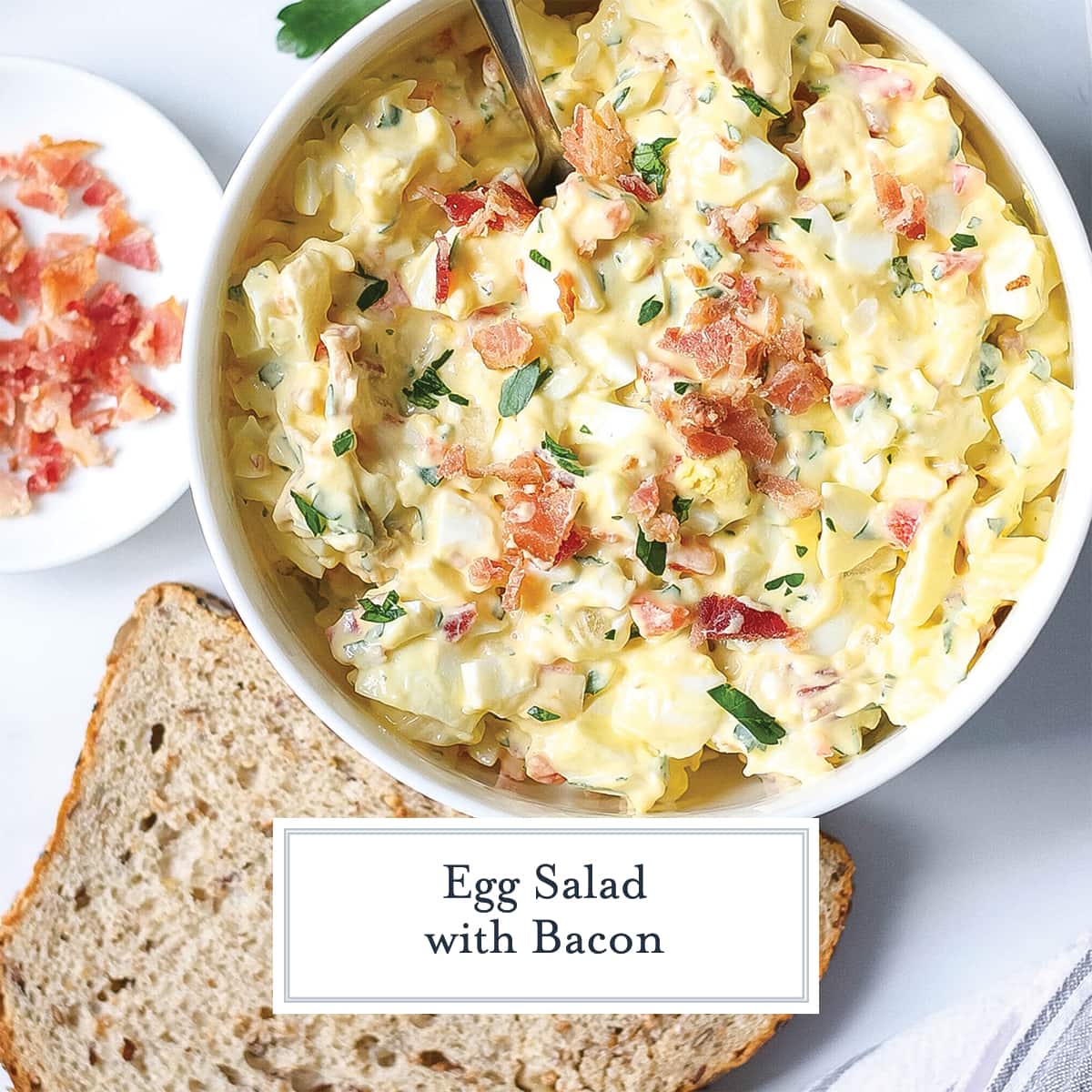 That all changed when I created this recipe for egg salad. One word: BACON! And a few other tricks I'll divulge to my foodie friends.
Best Egg Salad Recipe
Egg salad is pretty plain, with only 4 or so ingredients, and fairly monotone. A rich dish, sure, but one full of possibility. Perhaps the egg salad I was exposed to when I was younger simply wasn't good or sophisticated.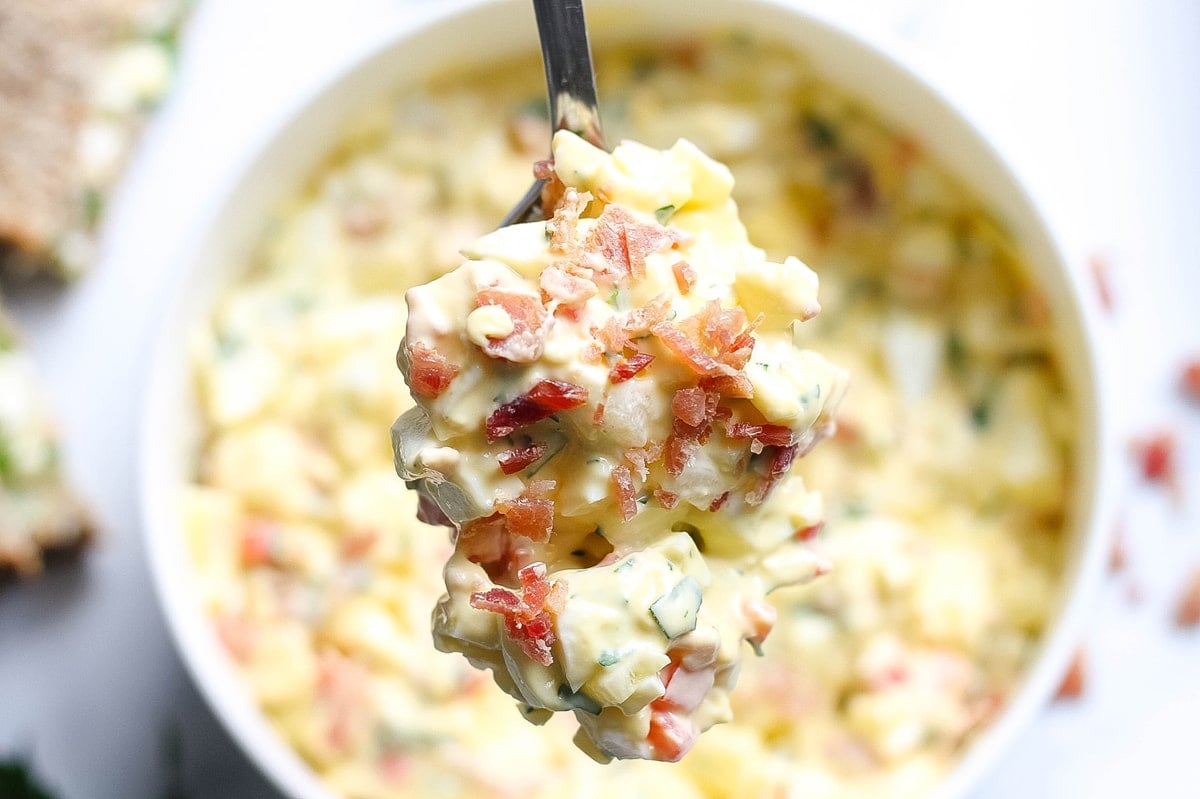 This recipe has a few highlights:
Bacon
Did I mention bacon?
Lemon juice and lemon zest
Bacon
Red bell pepper
Onion
Lemon serve as an acid that brightens all of the flavors while bell pepper and onion give a juicy crunch. I only use enough mayo to bind the whole thing together and then, BACON!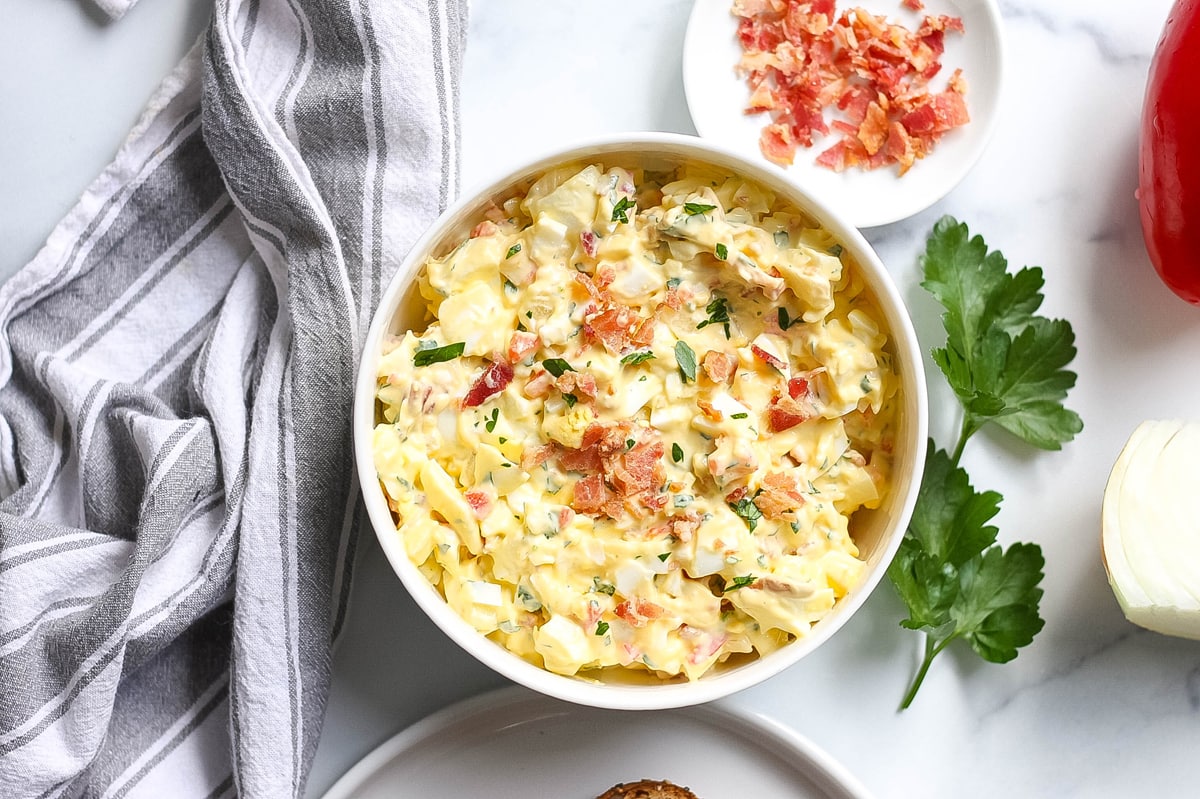 How to Make Eggs for Egg Salad
The star of the dish deserves some love. Eggs! Jammy eggs are usually my preferences, I love a nice gummy or runny yolk, but for egg salad you need something solid. The trick is not cooking them too long or you are left with greyish yolks.
Make sure your eggs are hard boiled, but no over boiled using the Air Fryer, Instant Pot or boil them on the stove the old fashioned way.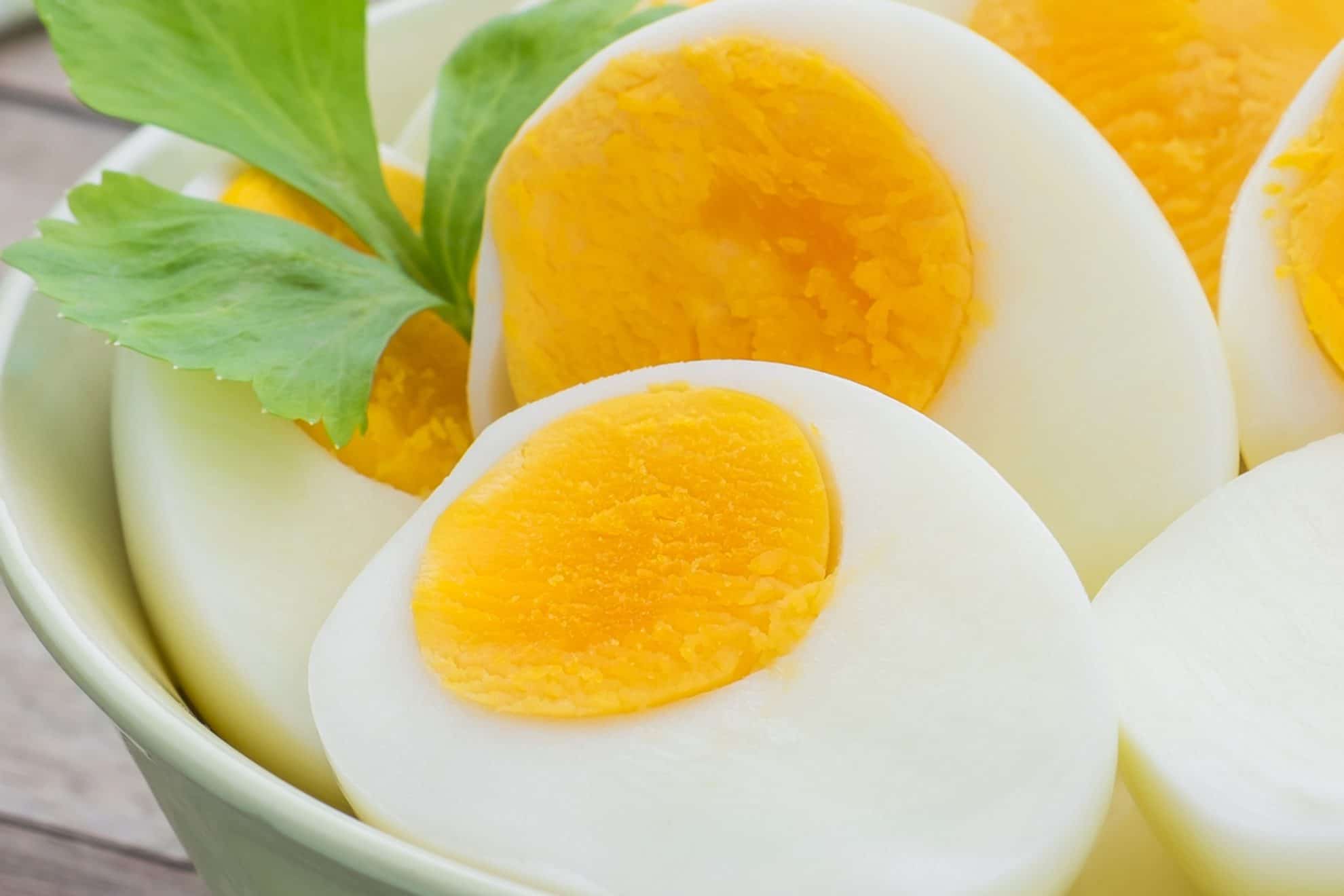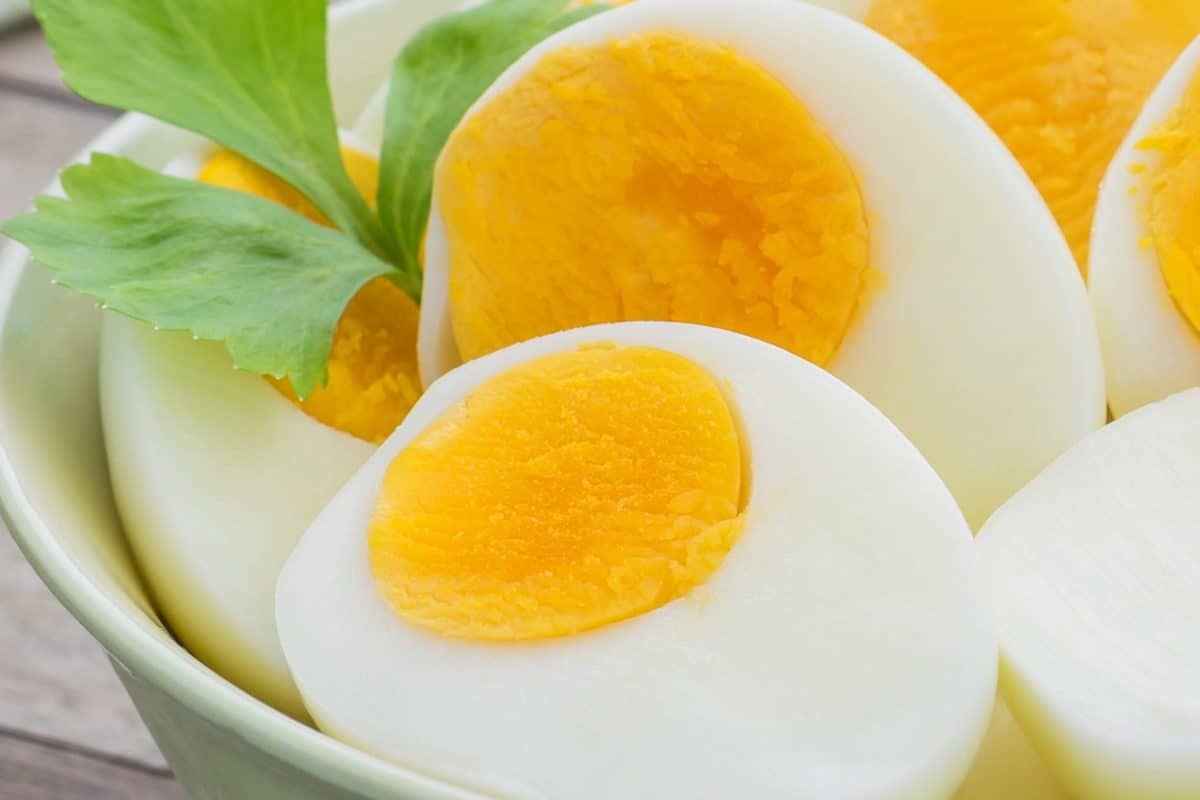 I'd be lying if I told you have I hadn't purchased a bag of boiled and peeled eggs at the store before. Totally acceptable time saving hack.
How to Make Egg Salad
The next big question is texture and people vary greatly. Some like it smooth, like a deviled egg filling, other want some chunks. You do need to have your eggs chopped somewhat coarsely, but then leave it that way or smooth it out.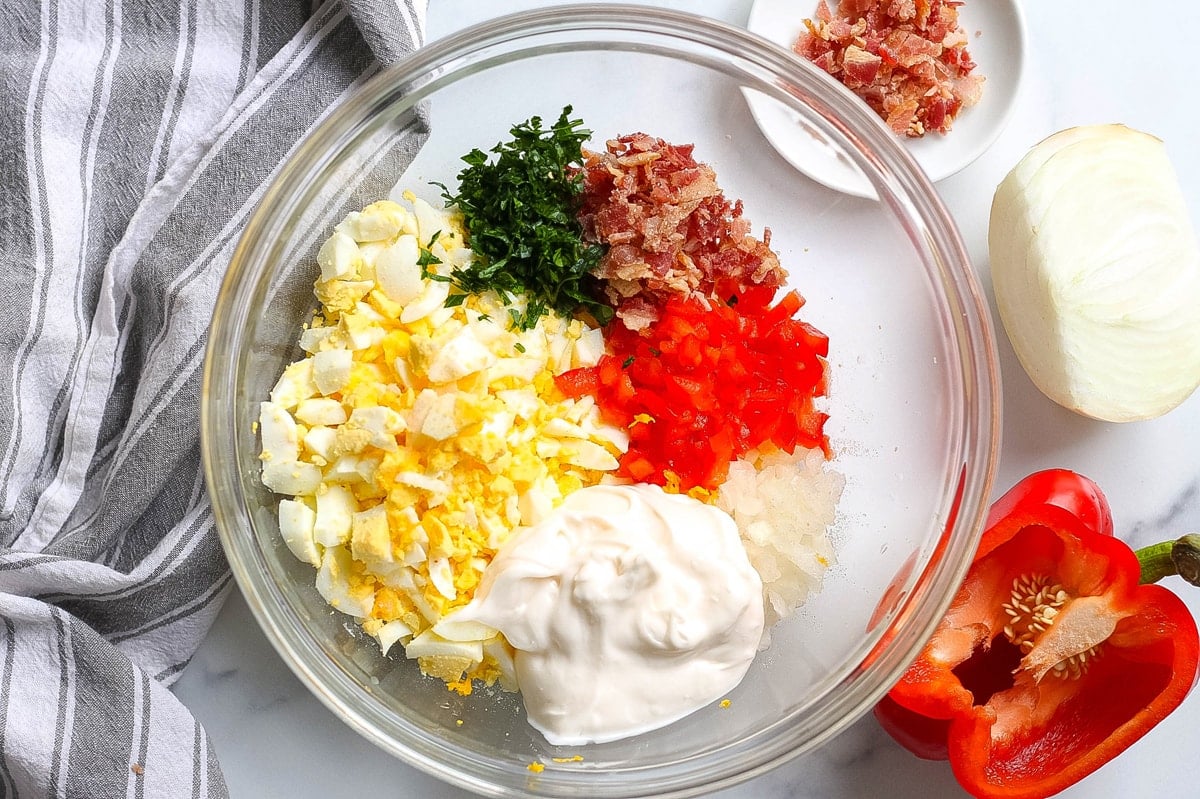 I like it in the middle and the only way I've found to achieve that is by hand mashing. Yep, get your clean hands in there and mash half the eggs before adding the rest. You can, of course, simply stir them or use a potato masher, even grater or ricer, but my hands are perfect!
Then fold in the rest of the ingredients, including:
Red bell pepper– finely chopped (or any other color)
Sweet onion- minced or grated so you get onion flavor without chunks, green onion (scallions) or red onion are also options
Salt and pepper
Bacon– cooked and crispy, or omit it for a vegetarian option
Parsley– use fresh flat leaf parsley, not curly parsley or dried parsley, dill and chives are other popular herbs
Lemon– Use both lemon zest and lemon juice, they serve different purposes
Mayonnaise– to bind it all together, I like a quality olive oil base, or substitute this for plain Greek yogurt to cut a few calories
Let it sit. Cover and chill it for at least an hour. The flavors need to marry and egg salad tastes best cold.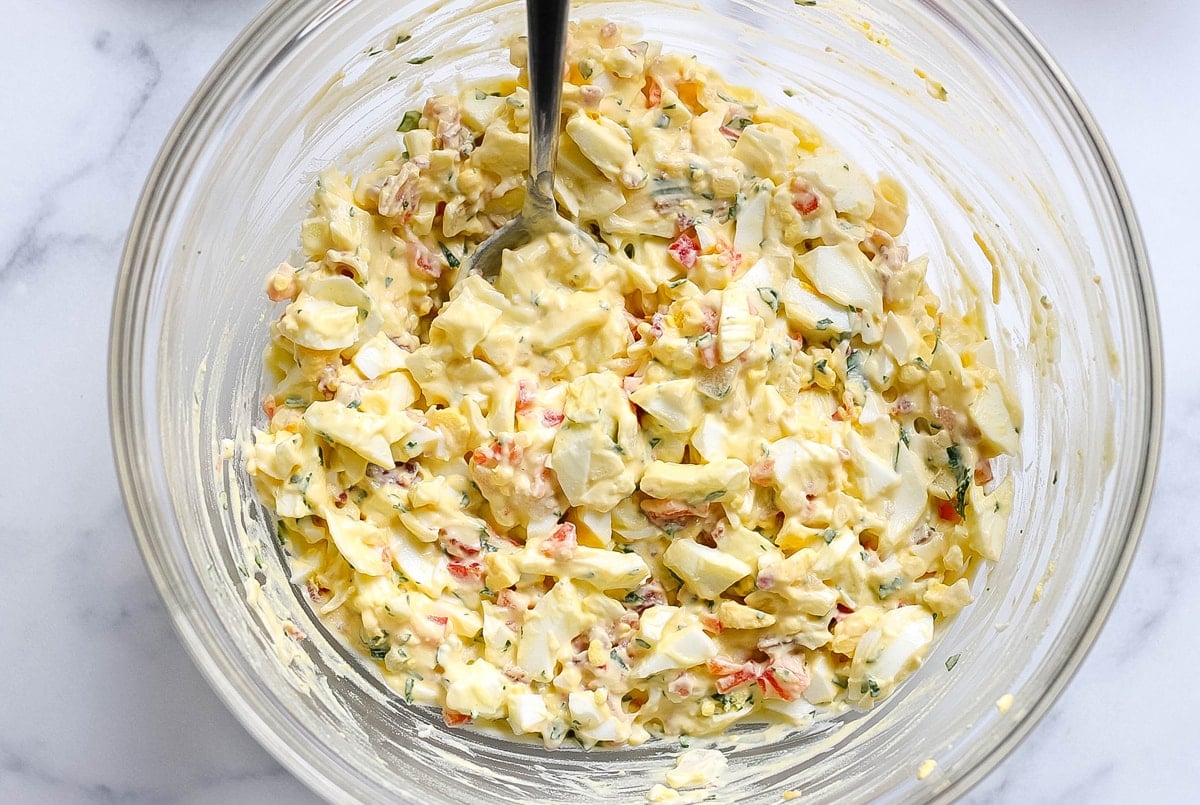 I don't add pickles, pickle juice, Dijon mustard or vinegar to mine because then it just tastes like a deviled egg.
How to Serve Egg Salad
Serve it as a protein-packed stand-alone or sandwich it between two slices of bread for an egg salad sandwich or egg salad salad.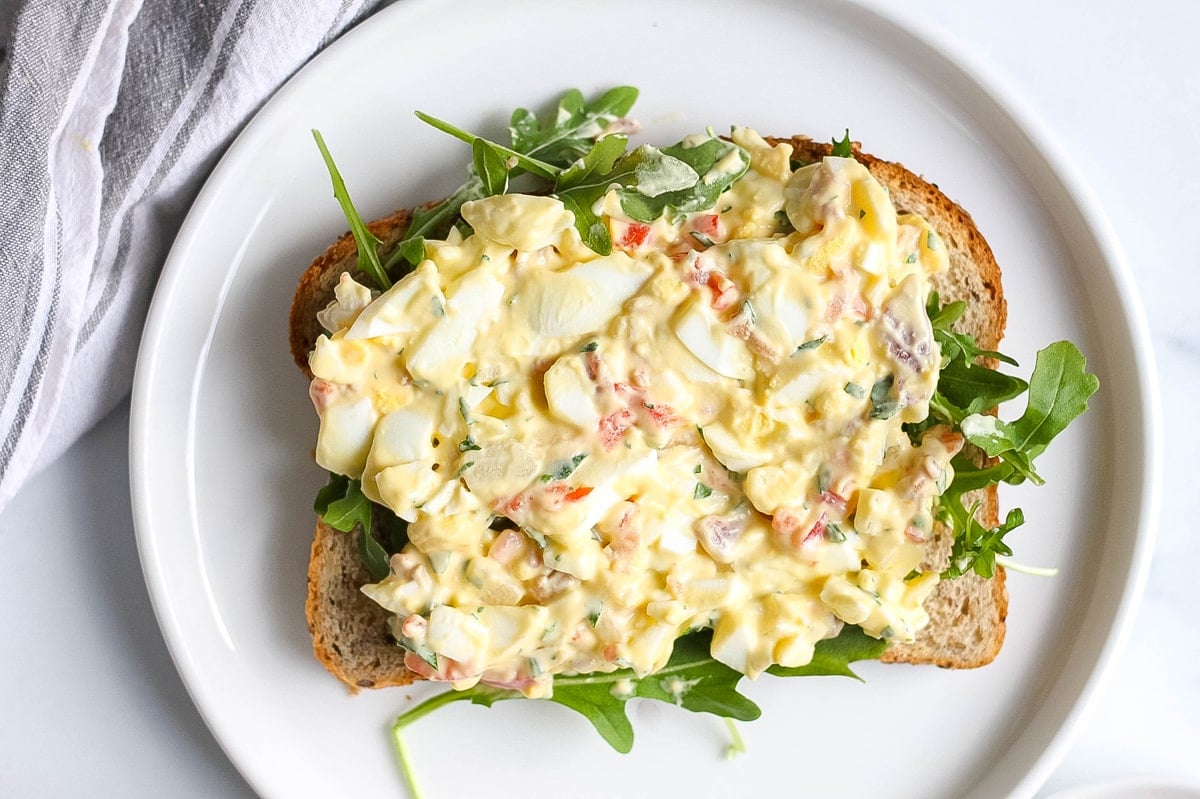 I personally like to toast some whole wheat or sourdough and then assemble my sandwich with juicy tomato slices and fresh Bibb lettuce or arugula and eat it open face. And I would be lying if I said a little hot sauce didn't find its way into the mix.
How Long Does Egg Salad Last
Start timing your egg salad life from when the eggs were boiled, not when you make it. From then, go no longer than 5 days. Store in the refrigerator, covered.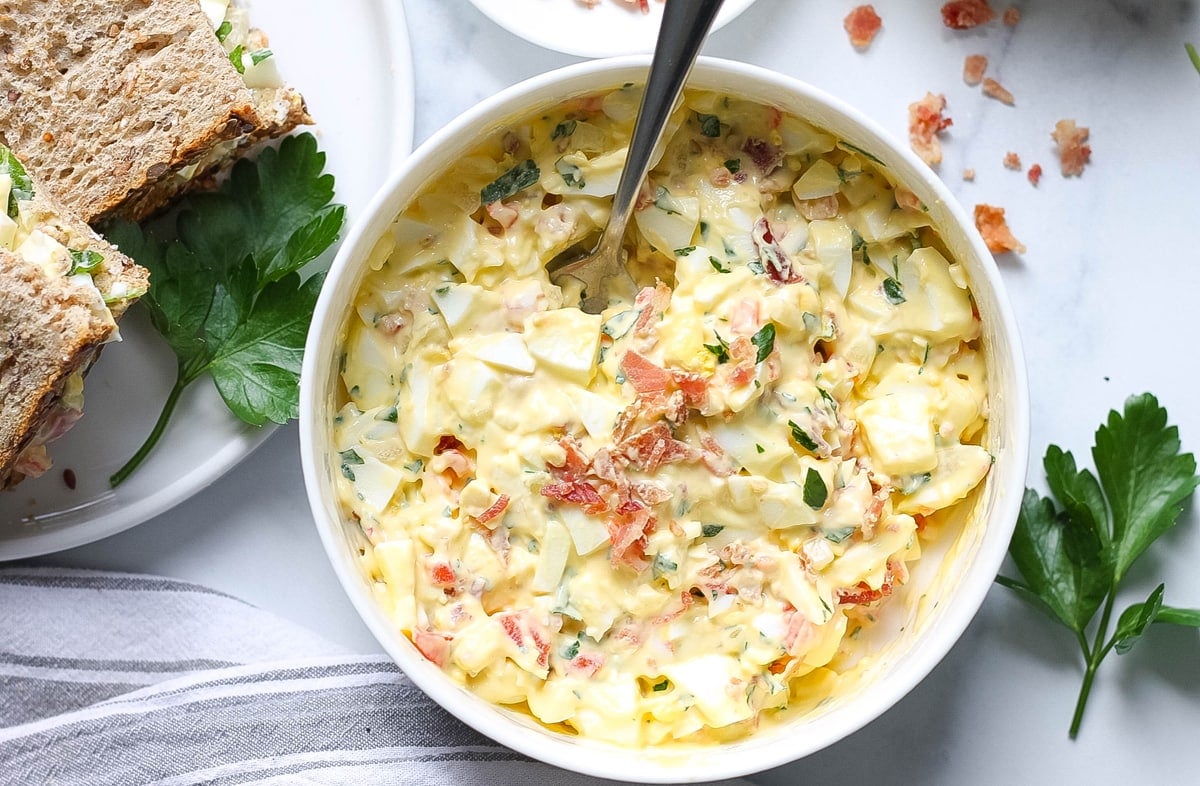 You can make it in advance and I suggest a minimum of an hour before serving for best results.
Egg salad is not freezer friendly due to the eggs, mayonnaise and veggies. Basically nothing in this salad does well in the freezer.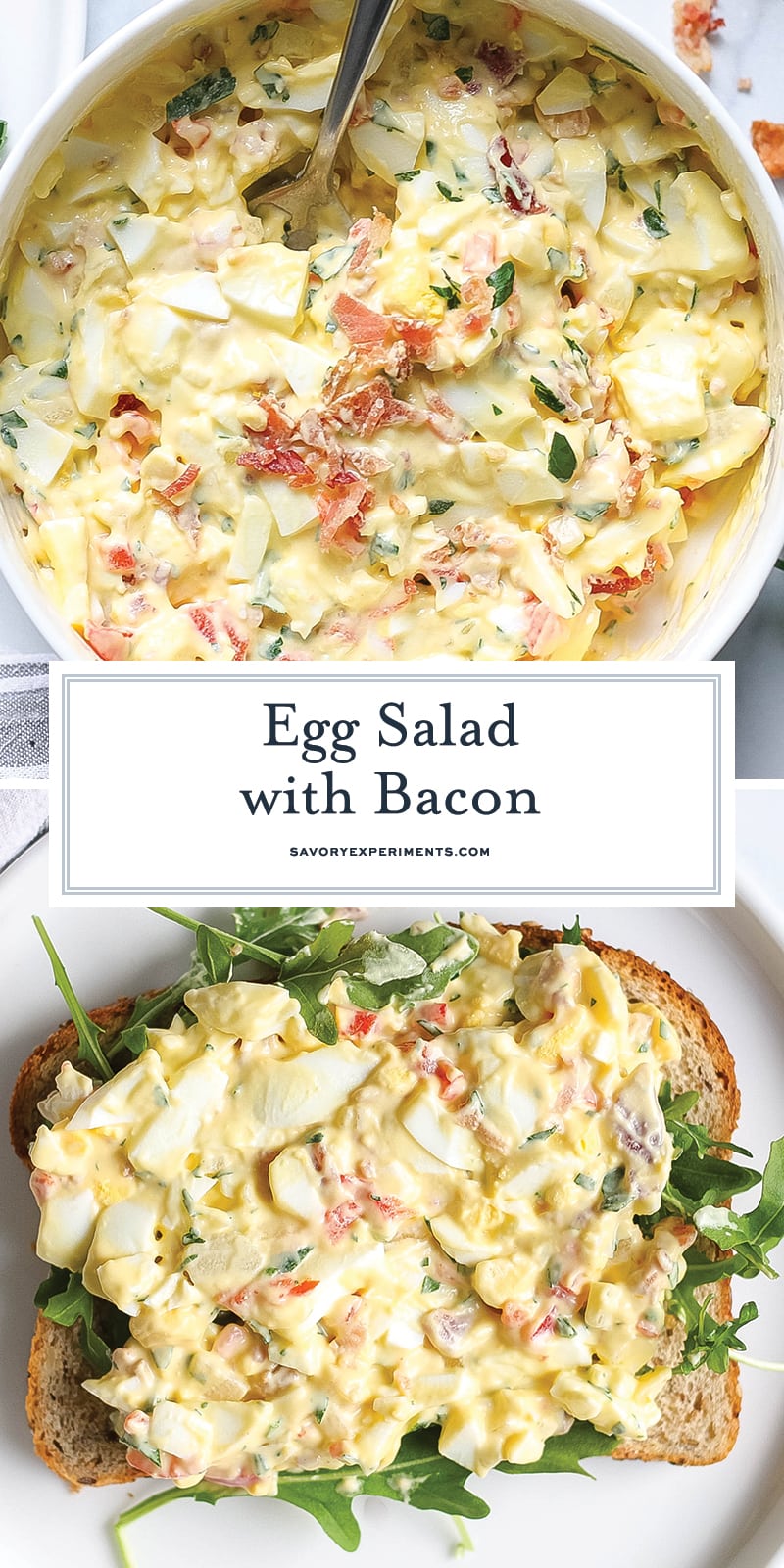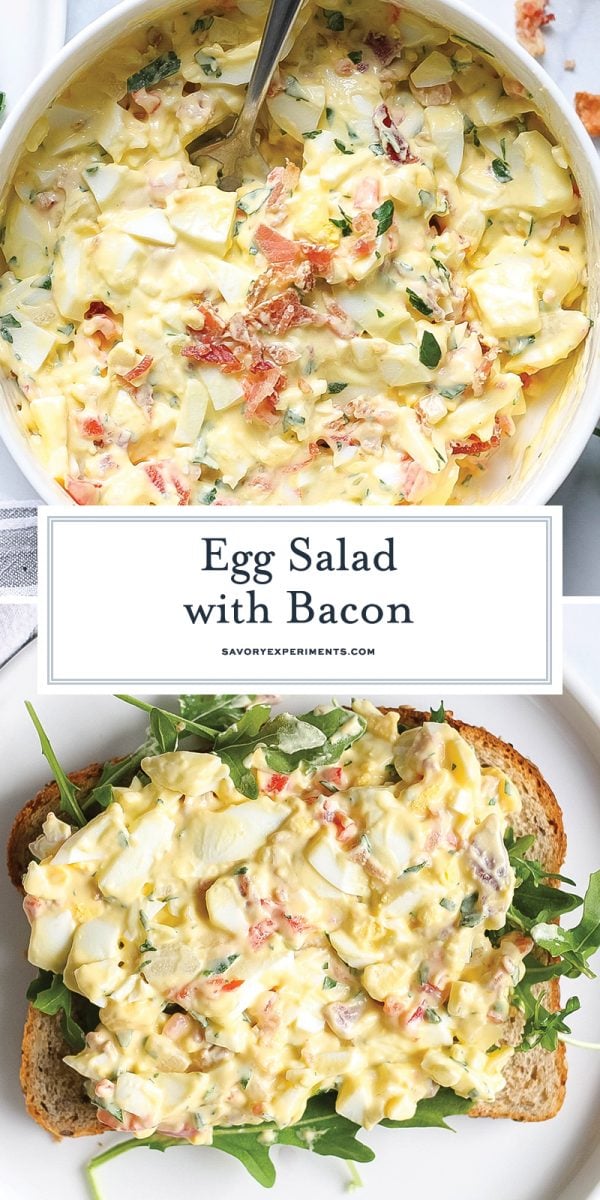 More light lunch options: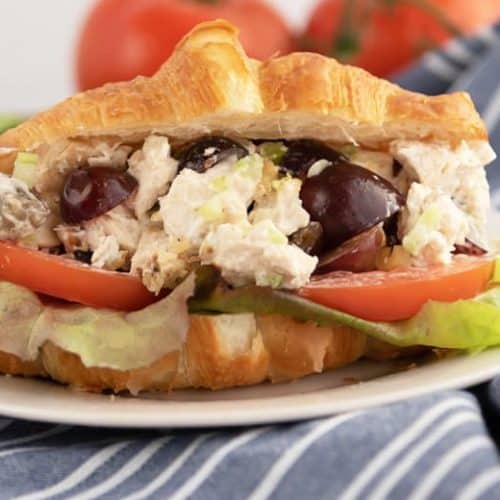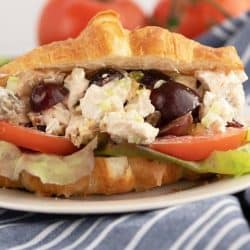 Chicken Salad with Grapes
I've finally made the best chicken salad recipe! With grapes, celery, onions and walnuts, this Classic Chicken Salad recipe is perfect for a light lunch.
View this recipe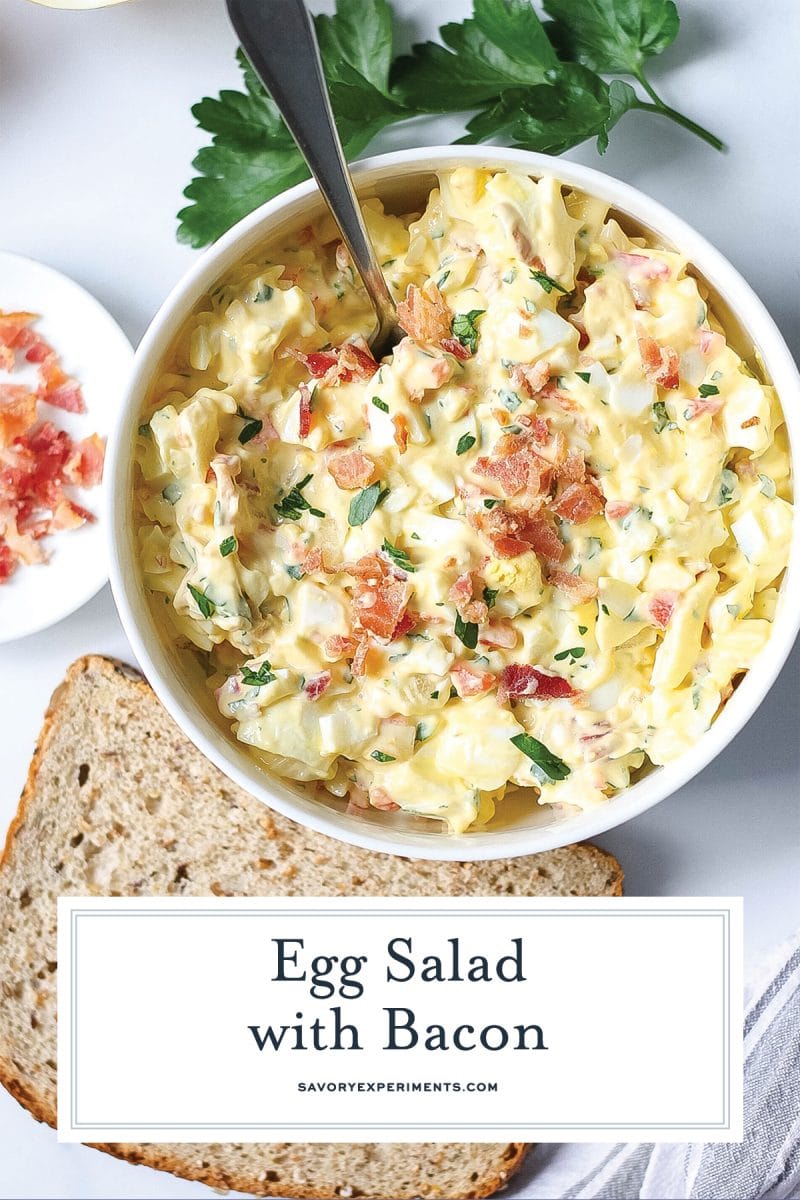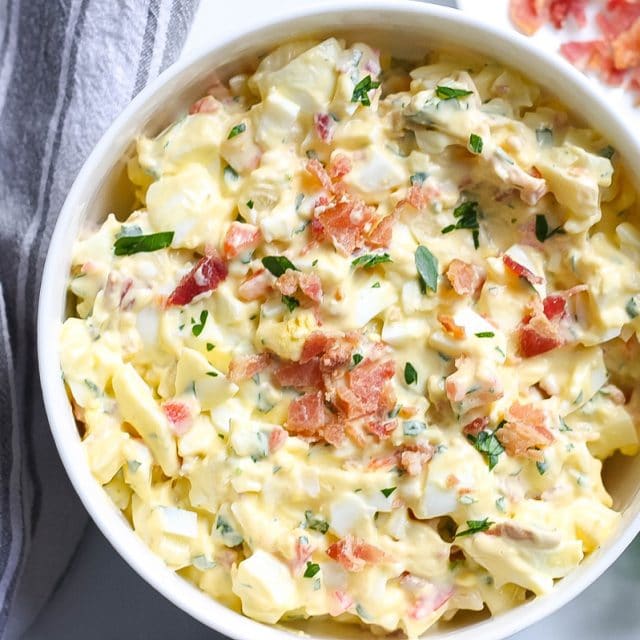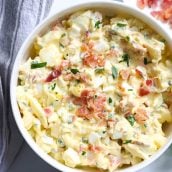 The Best Egg Salad
This is the freshest, best Egg Salad ever! Boiled Eggs mixed lightly with mayonnaise with sweet onion, red bell pepper, bacon and lemon juice!
Instructions
Place half of the eggs in a large mixing bowl, mash lightly to get yolks to smooth.

Gently fold in remaining chopped egg, onion, bell pepper, bacon, parsley, lemon juice and zest, mayonnaise and salt and pepper.

Serve as an egg salad sandwich or egg salad salad.

If you have tried this recipe, come back and let us know how it was in the comments or ratings.
Nutrition
Calories:
321
kcal
,
Carbohydrates:
2
g
,
Protein:
10
g
,
Fat:
29
g
,
Saturated Fat:
5
g
,
Cholesterol:
292
mg
,
Sodium:
575
mg
,
Potassium:
137
mg
,
Sugar:
2
g
,
Vitamin A:
870
IU
,
Vitamin C:
16.5
mg
,
Calcium:
40
mg
,
Iron:
1.1
mg