If you, like me, are not a big fan of the traditional honey glaze that comes with most hams, you have to try this Mustard Brown Sugar Baked Ham. It's one of the most flavorful spiral recipes you'll try!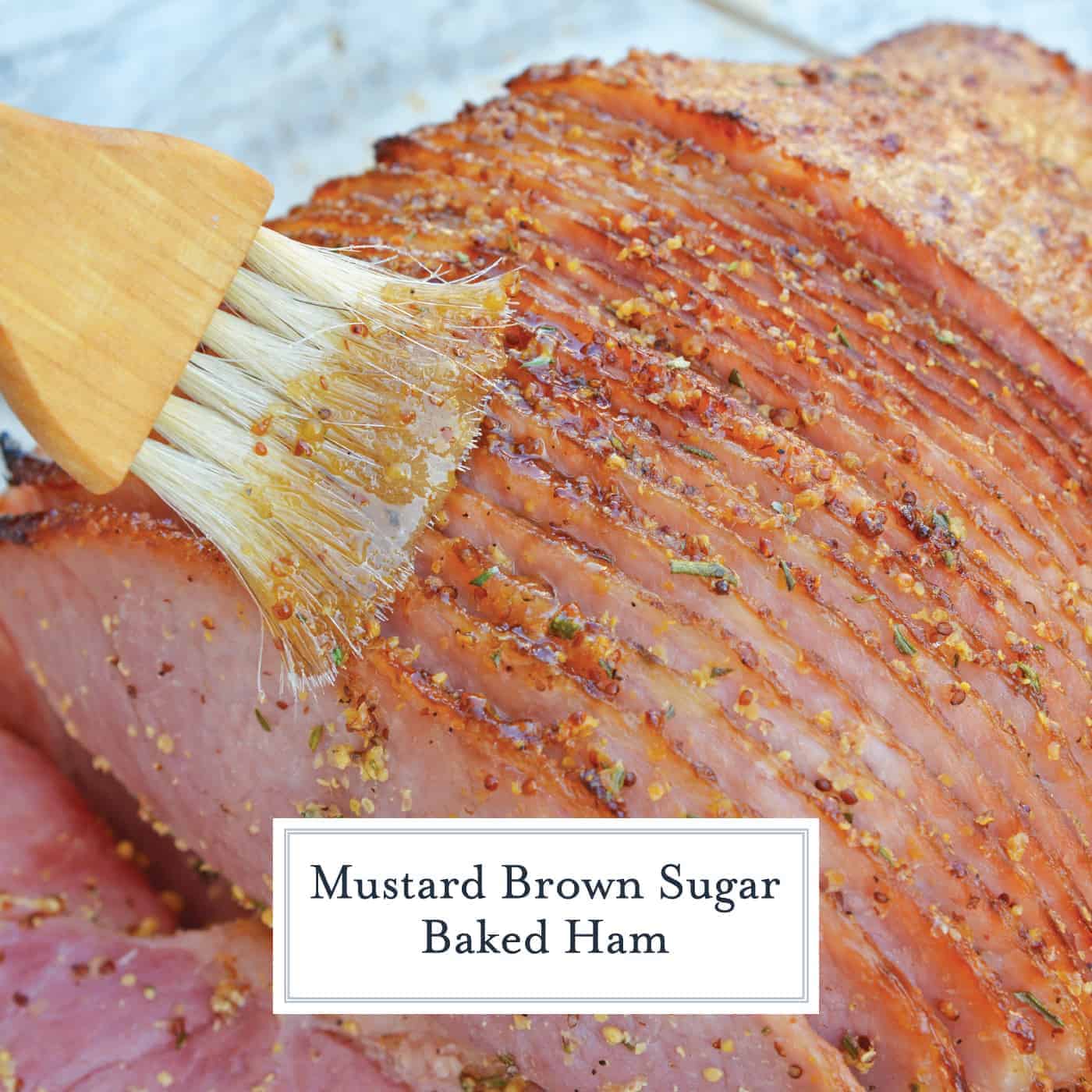 This Mustard Brown Sugar Baked Ham is an easy spiral ham recipe, complete with it's own tasty ham glaze recipe. It makes the perfect Christmas ham or Easter ham, though it's so good you may want to enjoy it throughout the year too!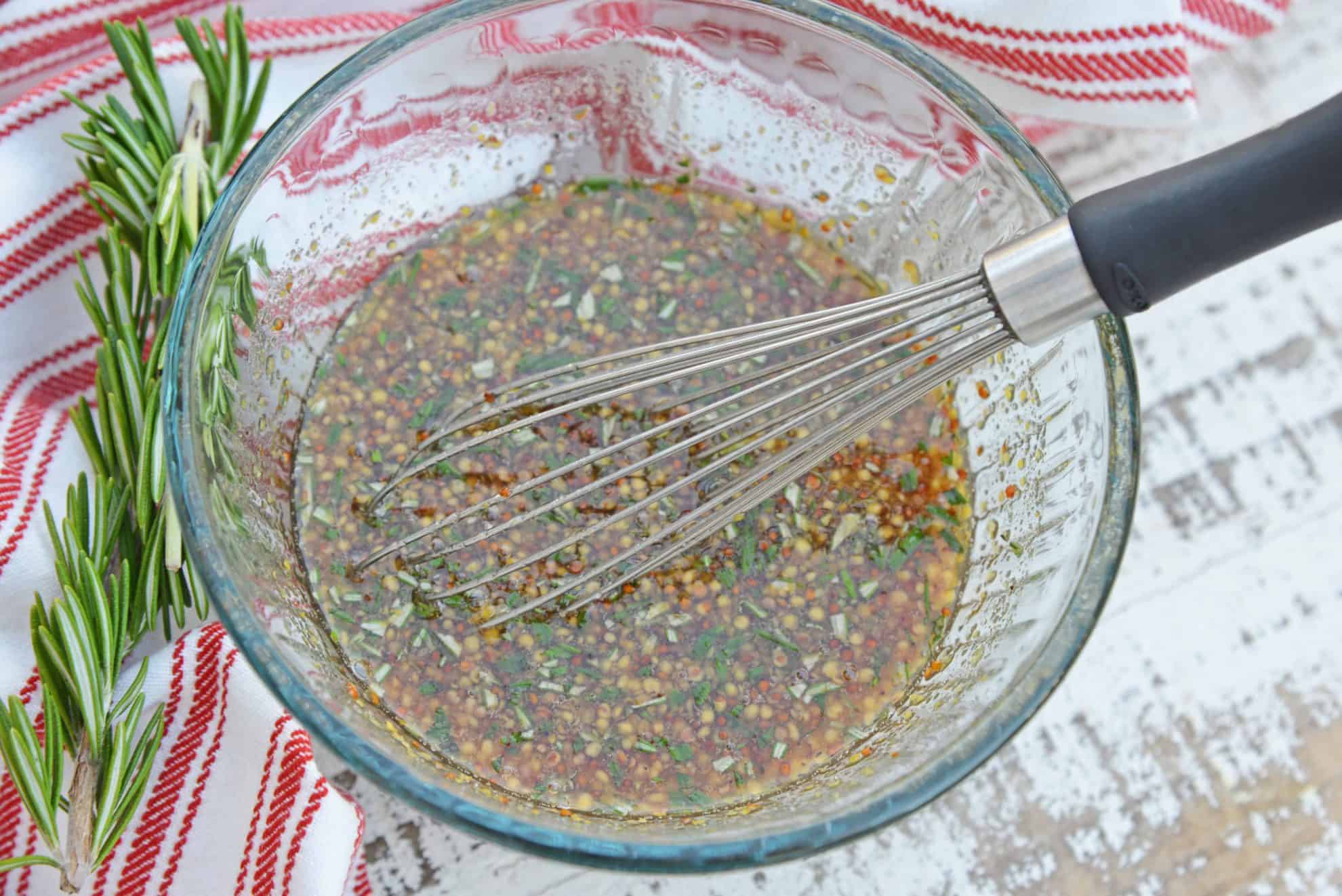 I find it challenging to find a Christmas ham or Easter ham that doesn't come with its own seasoning packet or honey glaze, so I generally buy one and then just throw it away or reserve it for baked chicken.
Throw that glaze on some chicken breasts with a few slices of pineapple and you'll be in heaven.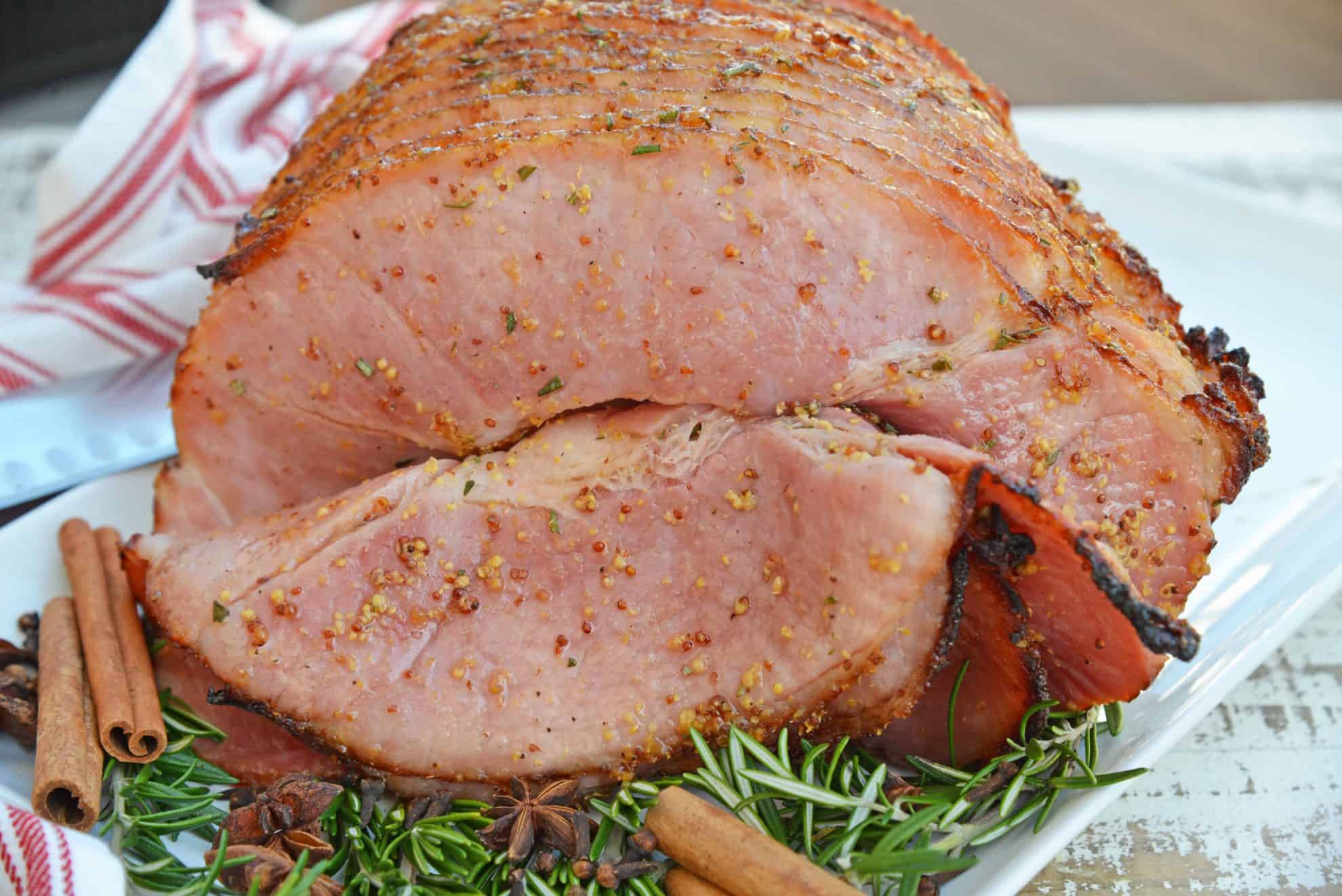 One time I even bought a ham that already had a brown sugar glaze on it and just rinsed the glaze off! Attention ham companies and grocery stores: NOT EVERYONE WANTS A PRE-BASTED HONEY BAKED HAM!
I do like buying spiral cut hams, more because I am lazy and it takes the work out of carving than anything else. But while baking, the slices tend to flop forward making those first few dry and rubbery.
So like you'd tie a beef roast or truss a turkey, I tie up my ham. Yep, see here, my silly ham tieing! But is works!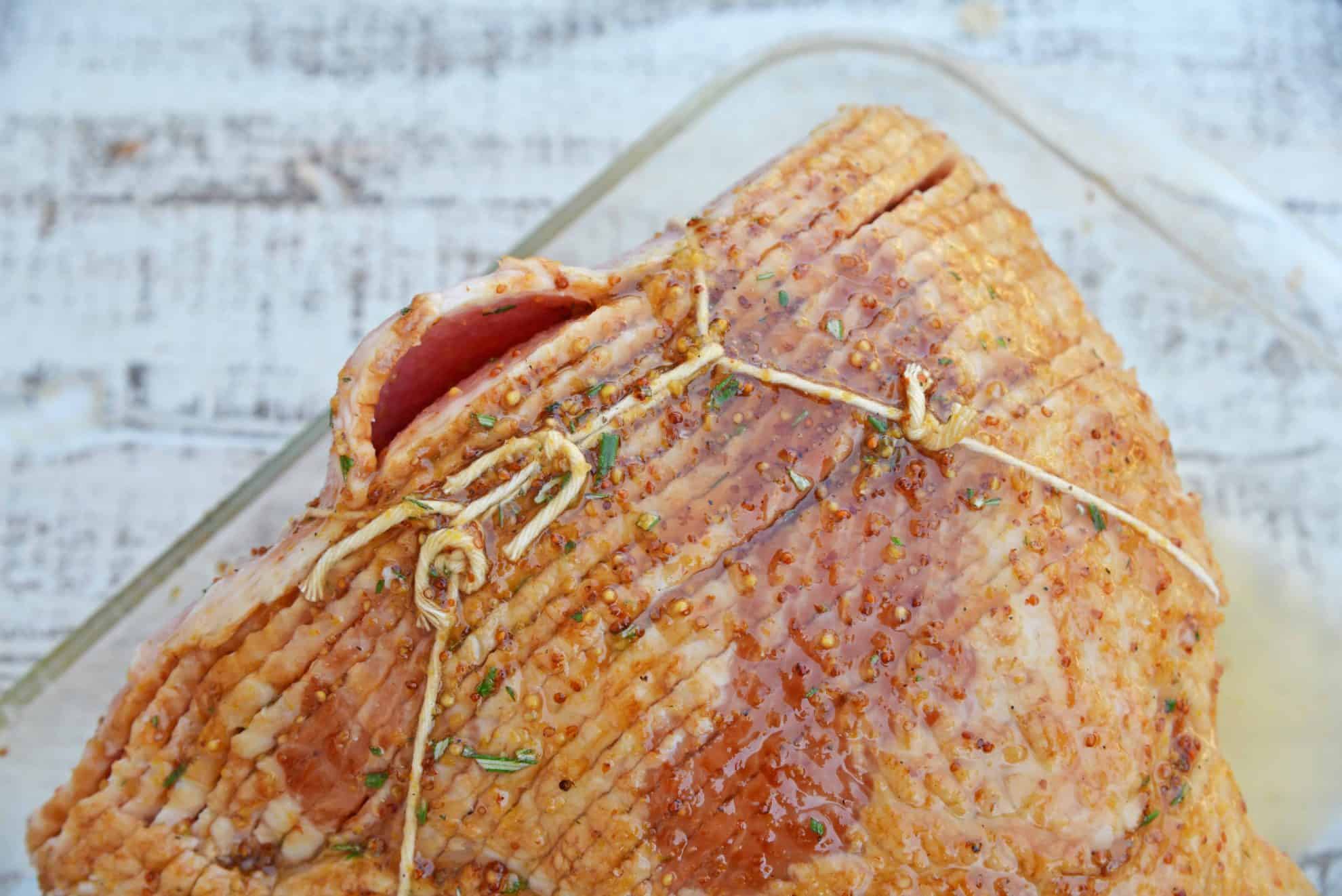 While most ham glaze recipes tell you to just pour the glaze over the ham, I like to meticulously baste to make sure I get every nook and cranny.
For the ladies that get their hair colored (not saying this isn't my natural color or anything), it is kind of like applying hair color. Peel it back, piece by piece, and gently apply down to the root with a basting brush so every little bit gets evenly covered.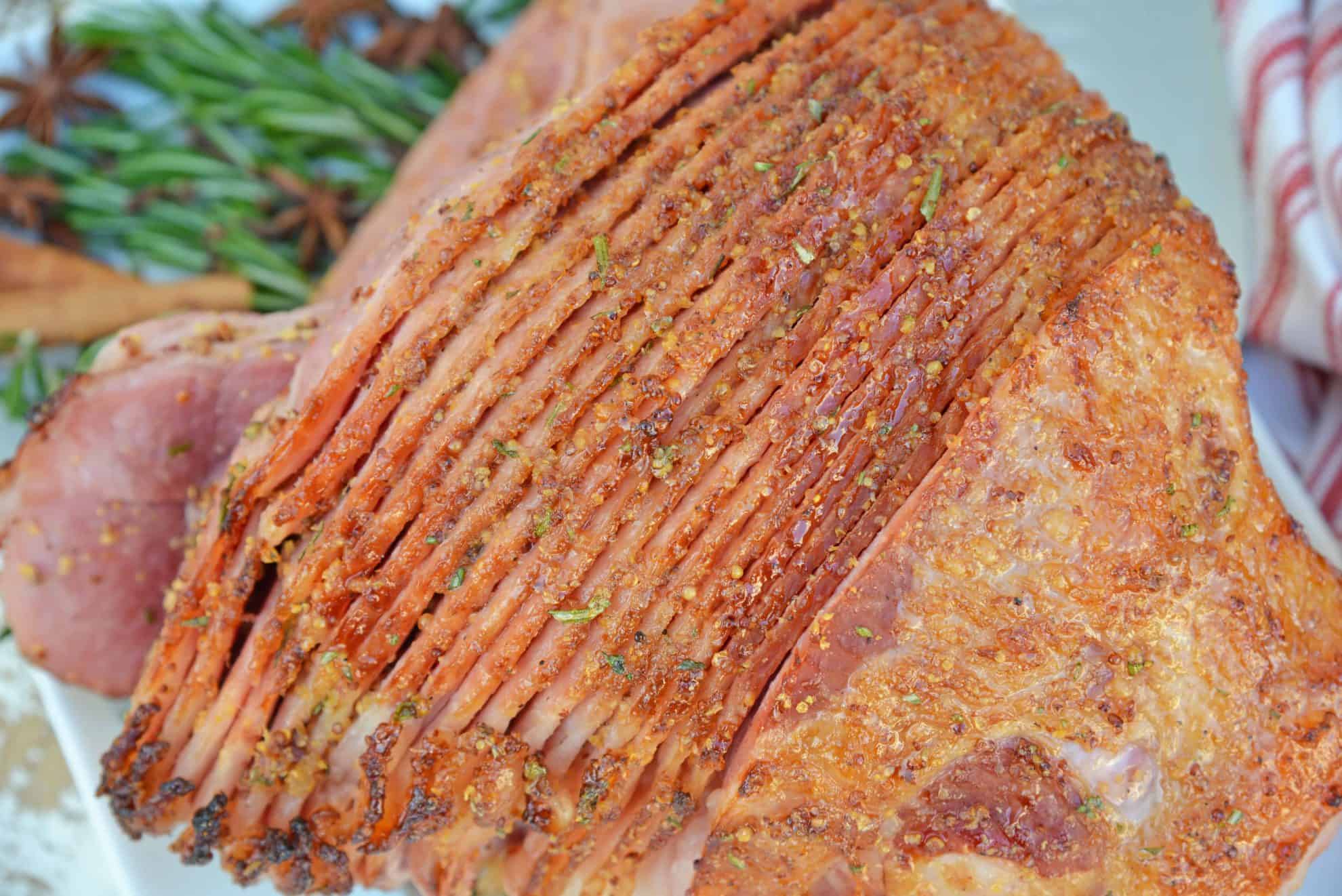 Then pop it in the oven and wait for the those crispy little edges to appear. Those are by far my favorite treat!
This Mustard Brown Sugar Baked Ham is one of my favorite spiral ham recipes. The ham glaze recipe is simple but so flavorful. The mustard and brown sugar mixture creates a sweet but not too sweet (like the typical honey ham glaze recipe) that really hits the spot.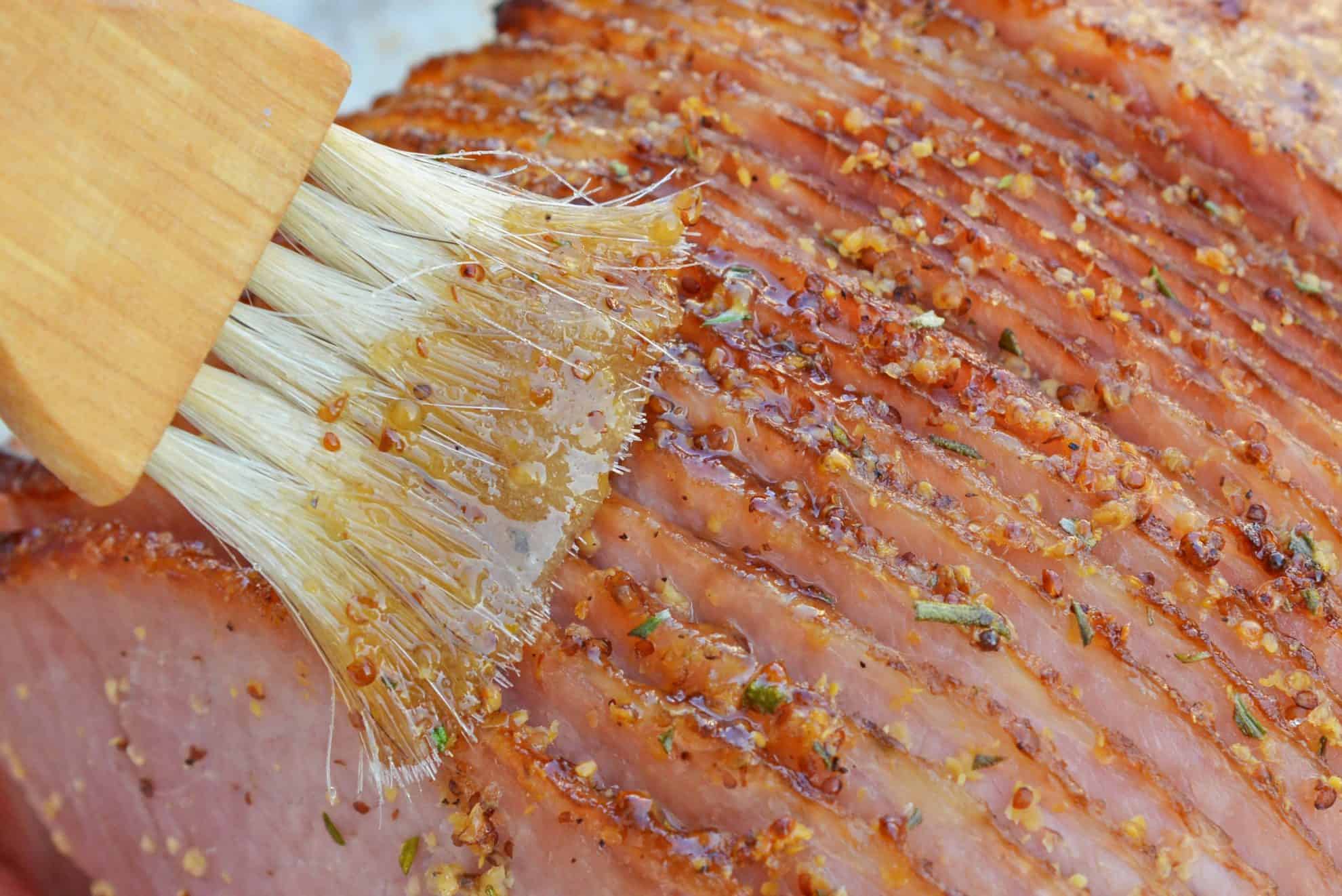 This is my go-to Easter ham and Christmas ham recipe and it's usually devoured in one meal. If there are any left, I love to use it in ham sandwiches the next day.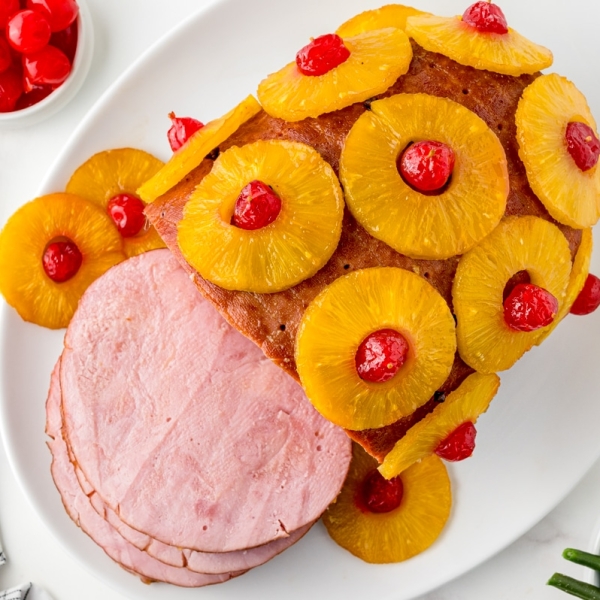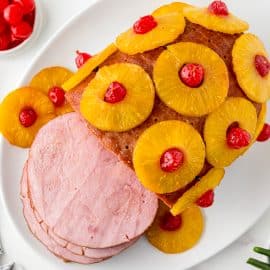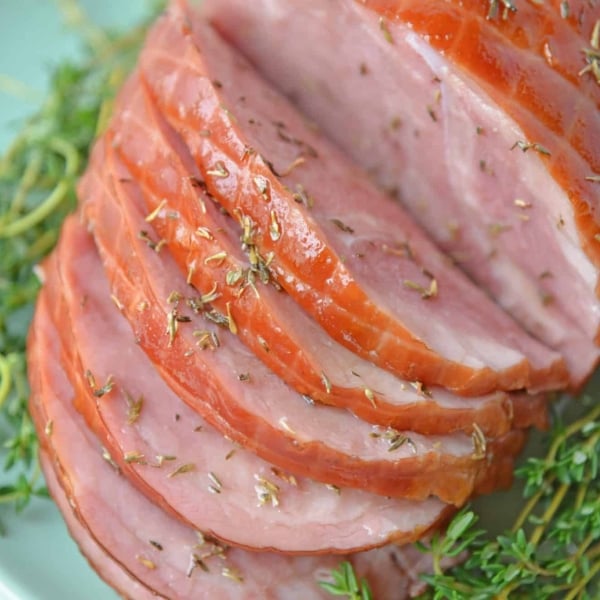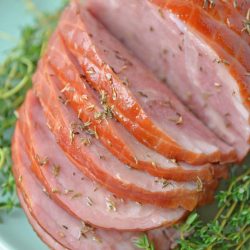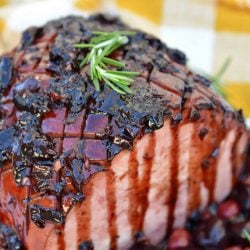 Balsamic Cherry Ham Glaze
Balsamic Cherry Ham Glaze is an easy ham glaze for your Christmas ham or any baked ham throughout the year. Tart cherries, balsamic vinegar and brown sugar lend bold flavors.
See The Recipe!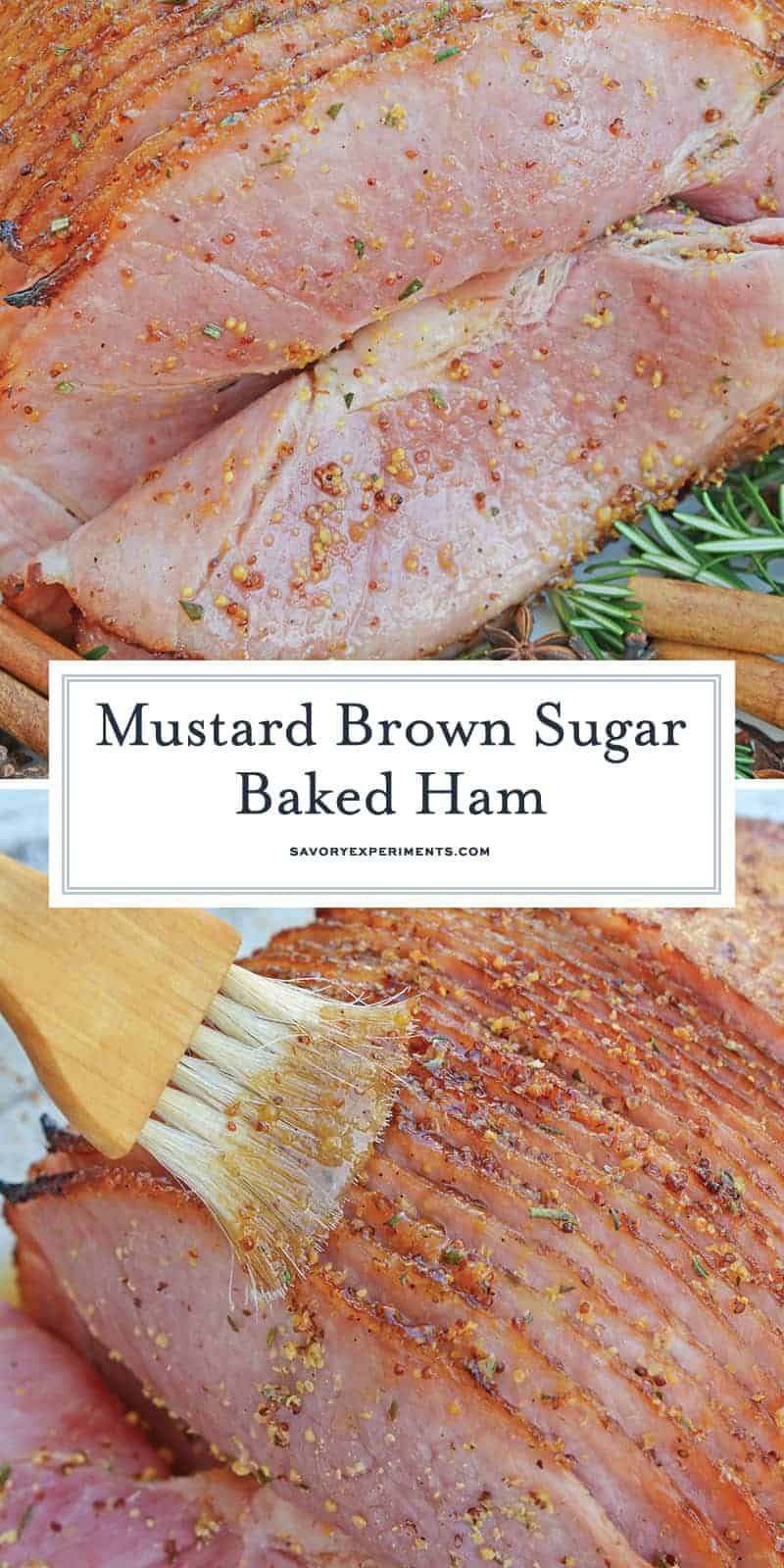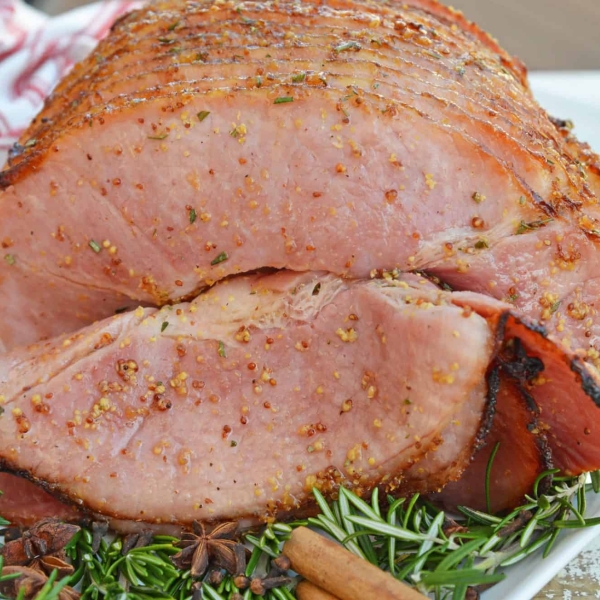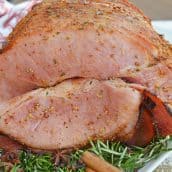 Mustard Brown Sugar Baked Ham
Mustard Brown Sugar Baked Ham is a ham glaze recipe that's perfect for a Christmas ham or an Easter ham. One of the best easy ham recipes!
Instructions
Preheat oven to 350 degrees.

Place ham in a large baking dish, cover with aluminum foil and bake for 30 minutes.

In a small mixing bowl, whisk together real maple syrup, brown sugar, coarse-grain mustard, fresh rosemary, Kosher salt and ground black pepper.

Remove and uncover. Baste between each ham slice and over the top with all basting liquid. If your ham slices are having trouble staying up see my tip above for tying your ham.

Return to oven, uncovered for 45 minutes.

Remove and serve immediately.

If you've tried this recipe, come back and let us know how it was!
Nutrition
Calories:
1123
kcal
,
Carbohydrates:
4
g
,
Protein:
98
g
,
Fat:
76
g
,
Saturated Fat:
27
g
,
Cholesterol:
281
mg
,
Sodium:
5740
mg
,
Potassium:
1311
mg
,
Sugar:
4
g
,
Vitamin A:
5
IU
,
Calcium:
39
mg
,
Iron:
4.1
mg