Can we be honest with one another for a second? Macaroni salads aren't much to look at, but holy moly are they delicious! And, in my humble opinion, I think this version featuring deviled egg filling is pretty dang delicious.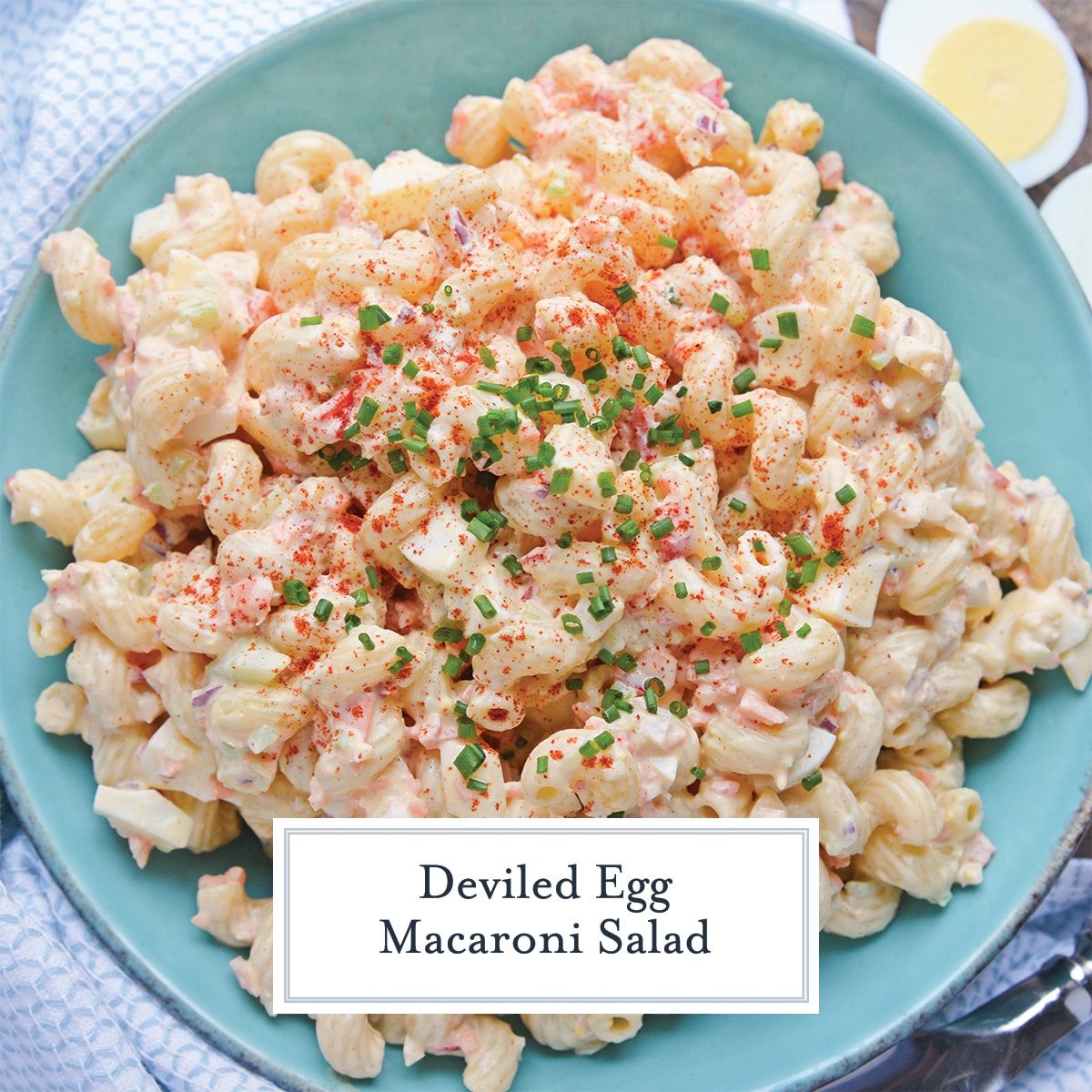 Deviled Egg Pasta Salad is a cold salad made with deviled egg filling, pasta, and finely minced vegetables. It is the perfect make-ahead side dish for parties, potlucks, or family dinners! So basically is mac salad and egg salad had a baby, this would be the outcome.
Macaroni Salad vs. Pasta Salad
Some folks use the terms macaroni salad and pasta salad interchangeably, but there is actually a difference.
Macaroni salad is made with a mayonnaise base and is generally sweet. Pasta salad is made with a vinegar or oil base and is generally a bit zesty from the vinegar. However, many folks refer to recipes just like this one as a deviled egg pasta salad or even egg pasta salad recipe.
Both, however, can use the same type and shape of noodles in both. You can even play around with noodle shapes based on what you have at the house or what seems fun at the store.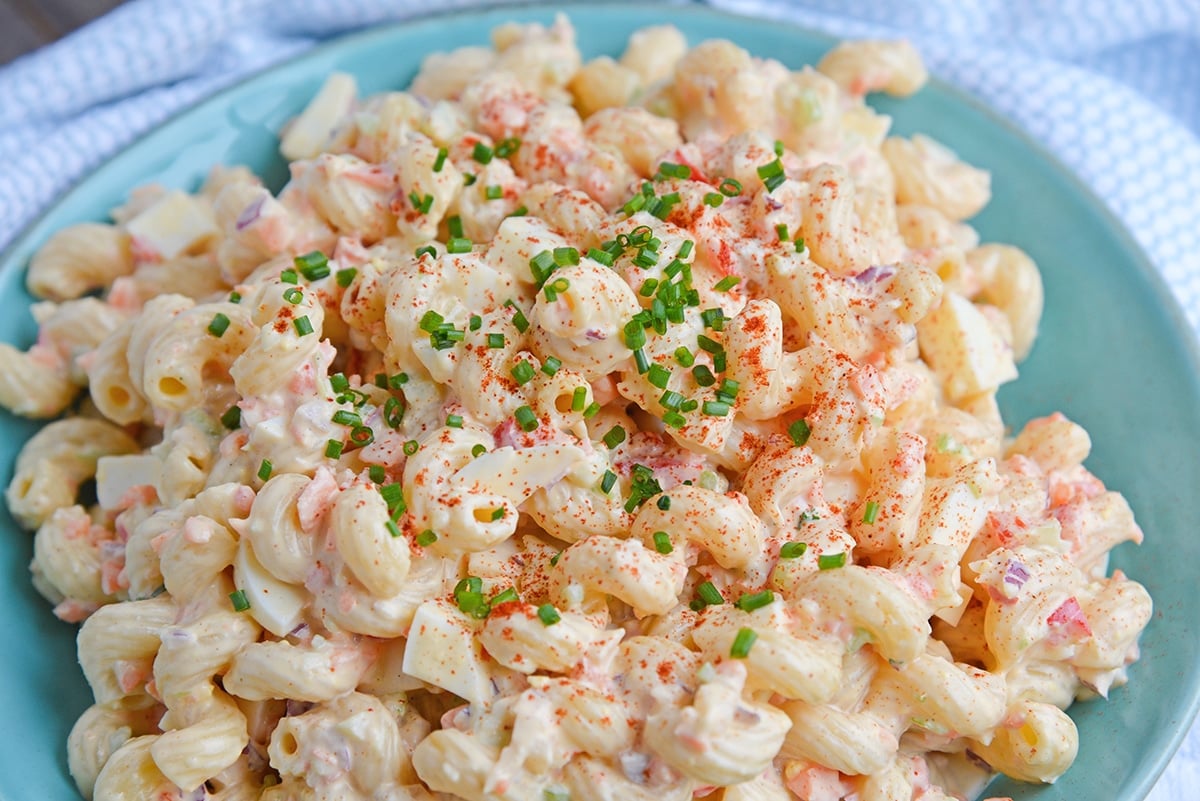 What is Deviled Egg Macaroni Salad?
The concept might seem odd at first, but trust me, you will be a convert soon enough. Macaroni salads are great with mayo alone. Right? Right.
But for this one, instead of just using mayonnaise with a little bit of seasoning, I use a mayo-based deviled egg filling to coat the pasta. Think egg, egg yolks, mustard, vinegar, and smoked paprika!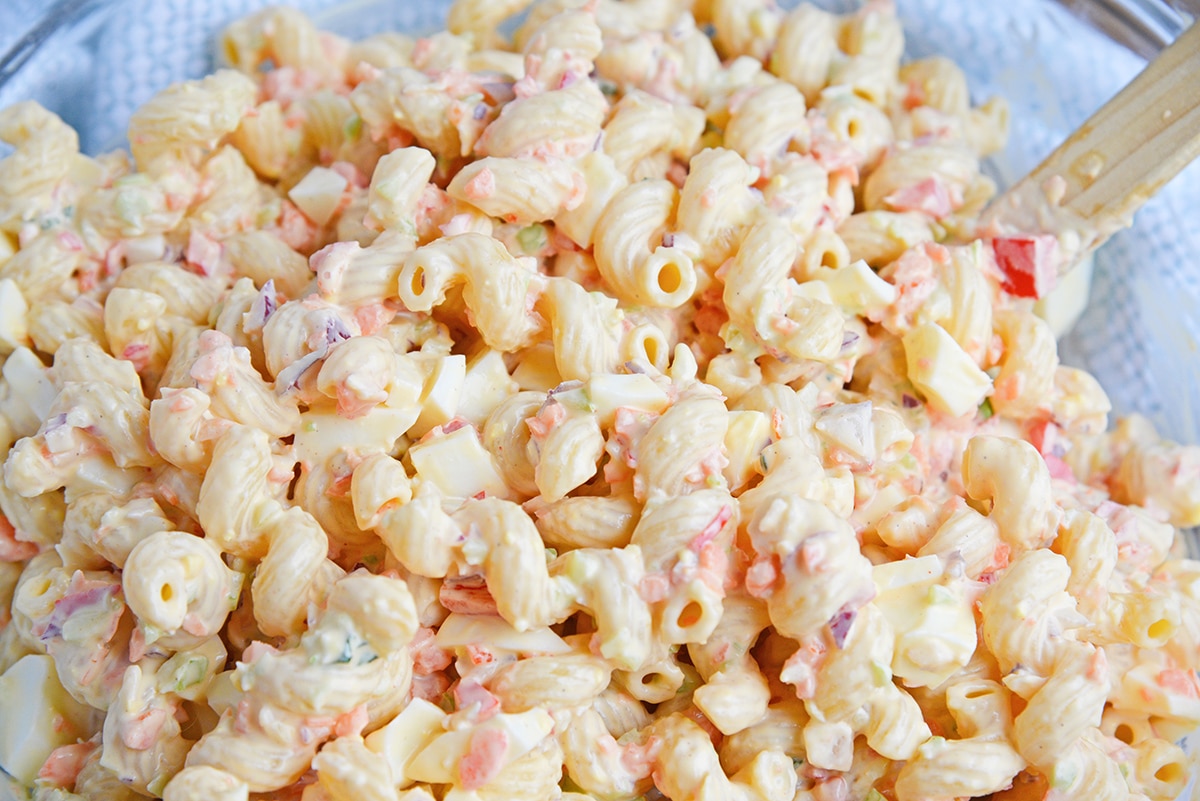 Why You'll Love This Macaroni Salad Recipe
Any love of deviled eggs or macaroni salad is sure to be keen on this recipe.
Make ahead – When you have people coming over, the last thing you need is something else on the to-do list the day they arrive. This dish can be made ahead and can hang out in the fridge until they arrive. Truth be told, time in the fridge is a good thing!
Simplicity – Cut some veg, boil some pasta, give it a mix – voila! A delectable dish.
Bonus – It is a great recipe to use up hard-boiled eggs after Easter or even a few leftover deviled eggs after a party.
Ingredients to Make Deviled Egg Macaroni Salad
This might look like a long list, but rest assured, they are all simple ingredients and a few kitchen hacks, this recipe comes together in no time.
Cavatappi Pasta – I love this pasta for this recipe, but there are a lot of pasta shapes that also work. You want something that is dried and has a shape that features nooks, crannies, or ridges so the mayonnaise base has something to stick to.
Eggs – You can easily hard boil and peel your own, but I like to go the pre-made hard-boiled eggs route and buy them from the store already cooked and peeled.
Mayonnaise – Choose your favorite brand or make your own mayonnaise! This is the fat that will carry the flavor of this dish.
White Vinegar – A classic ingredient in deviled egg filling, this is going to give the dressing some zing.
Dijon Mustard – Another deviled egg mainstay. I like the sophistication of dijon mustard over yellow mustard.
Ground White Pepper – A touch spicier than its black peppercorn counterpart. You can use black pepper if you wish.
Kosher Salt – Believe it or not, this is less "salty" than table salt and will help bring out the flavors in the other ingredients.
Smoked Paprika – Ground chilies that have been dried and smoked giving this spice a hint of smokiness and heat. Garnishing this dish with it also gives you that look of deviled eggs. Swapping this out with cayenne pepper will give it a nice kick!
Garlic Powder – This will absorb into the dressing without an overpowering garlic taste.
Carrots – Can't have macaroni salad without some crunch. These provide sweetness as well.
Crisp Celery – Another macaroni salad crunchy ingredient that also provides some an herbal aroma and salt.
Red Onion – This rounds out the crunchy ingredients and boasts an assertive onion flavor that will get toned down by the mayo. White onion or sweet onion are also options, but don't give you the confetti of color.
Red Bell Pepper – Added for color, sweetness, and a slightly citrusy note.
Chives – Not only do chives make every dish they are added to look better, but they also taste amazing. Very mild and almost sweet, onion flavor that is similar to leeks. You can also use green onions (scallions).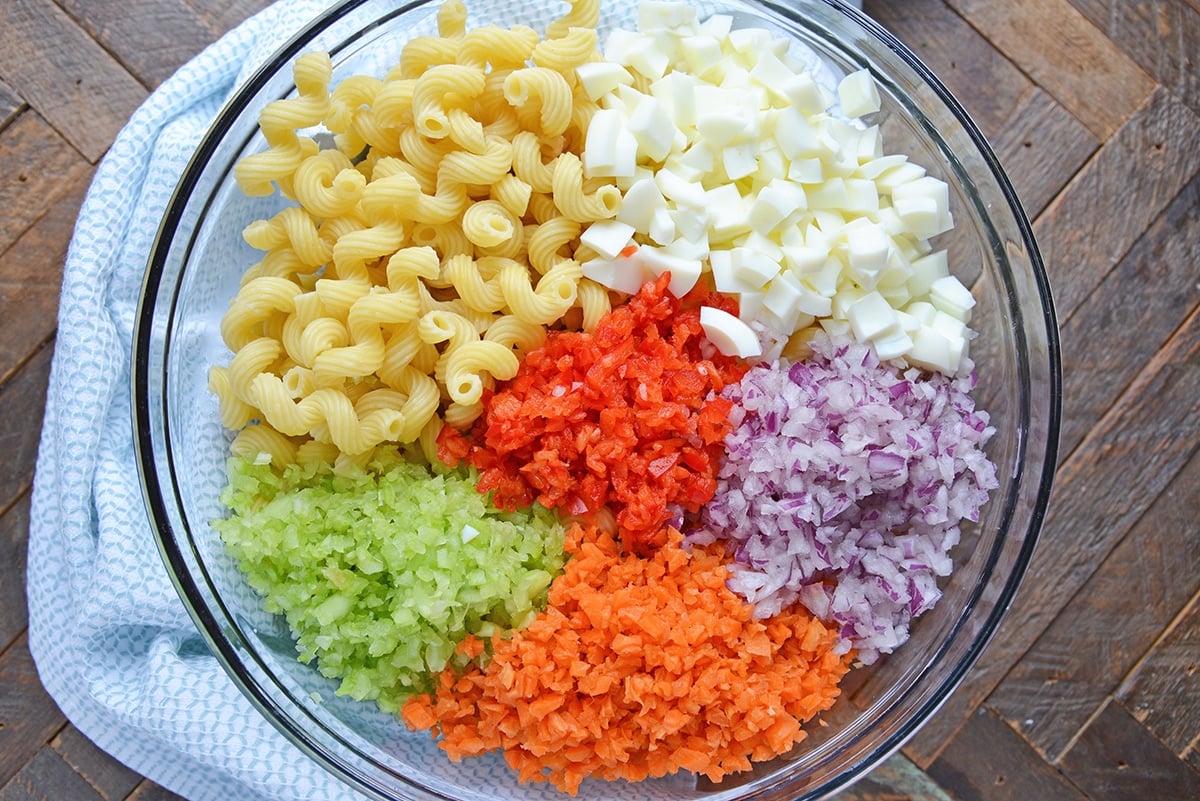 How to Make Delicious Macaroni Salad
The process is super easy and this perfect side dish recipe can be made ahead of time
Heat the water. Use a large pot, salt the water very well. As the pasta cooks, it will season from the inside out.
Boil the pasta. Cook one minute longer than the al dente instructions on the box.
Drain & chill. Rinsing pasta with cold water helps to halt the cooking process and then throwing it in the fridge for 30 minutes ensures that it is nice and cool. Skipping this step would make for soggy noodles AND it would run the risk of having pasta breakage. No one wants that!
Prep the eggs. Easy peasy – it is all about separating the whites from the yolks. Put the cooked egg yolks in a separate bowl large enough to make the dressing.
Make the creamy dressing. Work slowly and thoroughly to make sure each ingredient is fully incorporated and the mixture is even. Mixing the spices together before adding them to the large mix is a secret I like to use.
Chop the whites. Cut the egg whites into uniform pieces, but you don't have to be too precious about it either.
Mix everything together. Grab a bowl larger than what you think you need. Toss the creamy dressing with the pasta and chopped hard-cooked eggs. One of the most common mistakes is a heavy stir and then all the ingredients muddy together making for an unappetizing macaroni salad.
Garnish. Give that salad a bit of love with a few shakes of the smoked paprika.
Cover and chill. Store in an airtight container or covered large mixing bowl. Giving this salad some time in the fridge only helps the flavors to really marry and the whole thing to get nice and cold.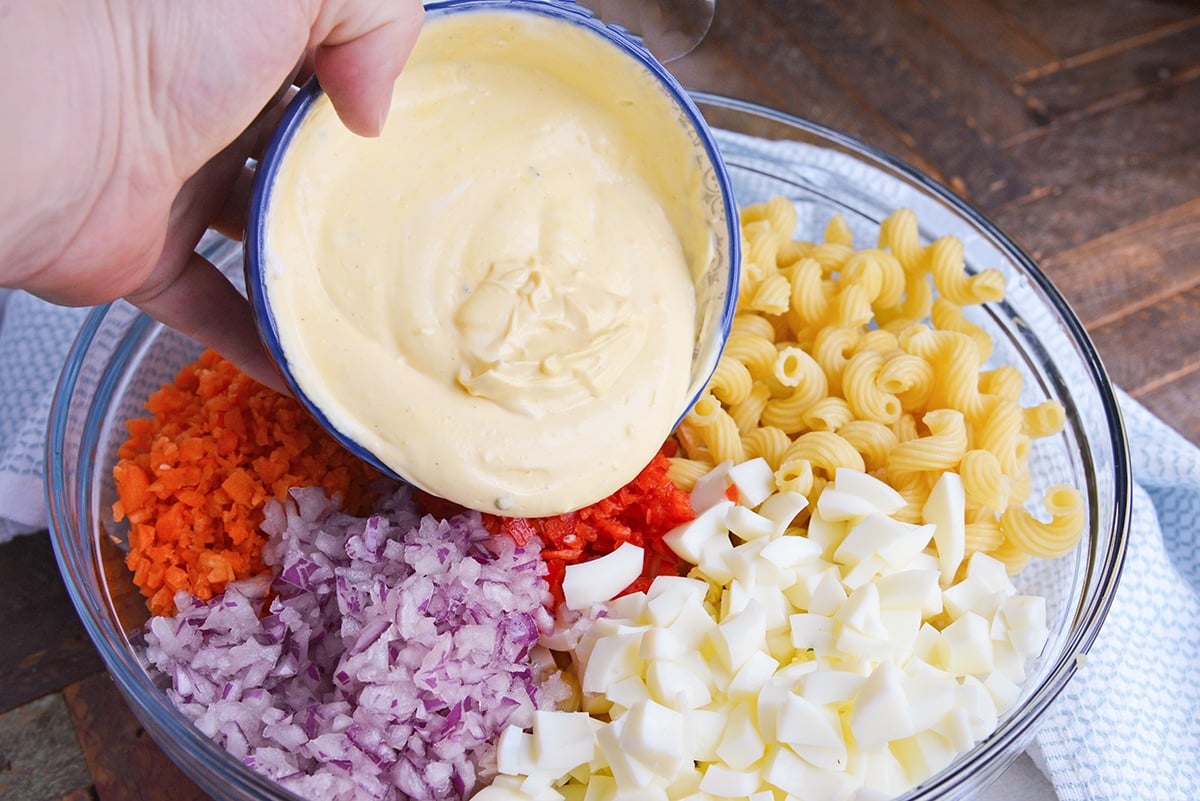 Bonus Prep Tip: Use a mini food processor to evenly cut your fresh veggies quickly.
How to Serve Deviled Egg Macaroni Salad
Macaroni salad is a delicious side dish for so many summer favorites. Try it with Instant Pot Pulled Pork, gourmet burgers, grilled chicken or a skirt steak.
It is also the perfect dish to grace your Easter holiday table with a classic pineapple ham, prime rib roast or lamb chops. Your whole family will love this unique twist on two comfort classics.
Variations on Deviled Egg Macaroni Salad
There are so many ways to make this recipe your own. Make sure to come back and let us know what you did in the comments!
Pasta Shape – Cavatappi is my favorite for this recipe but you have endless choices at the store. Some you might consider are farfalle, rotelle, the classic elbow macaroni, ditalini, etc.
Vegetables – I like to use a lot of vegetables in my cold macaroni salad. It adds color, flavor and texture to an otherwise monotone dish. This recipe features my favorites, but don't limit yourself.
Sub out the Mayo – If you aren't a huge fan of mayo, swap it for Greek Yogurt. Similarly tangy and creamy, it is a great swap for this recipe.
Mustard – Some people are diehard yellow mustard fans when it comes to deviled eggs. I like Dijon. Feel free to play around with your favorite mustard here.
Additions – There is lots of room to play with this one in terms of additions. Dill pickles, sweet pickle relish, pickle juice, mustard seed, black olives, celery seed and even some sour cream.
Leftover Deviled Egg Filling– Many folks ask themselves what to do with leftover deviled egg filling. It's delicious and no one wants to see it go to waste. Welp, skip making my tangy dressing and instead use your own egg filling and just ditch the chopped egg whites.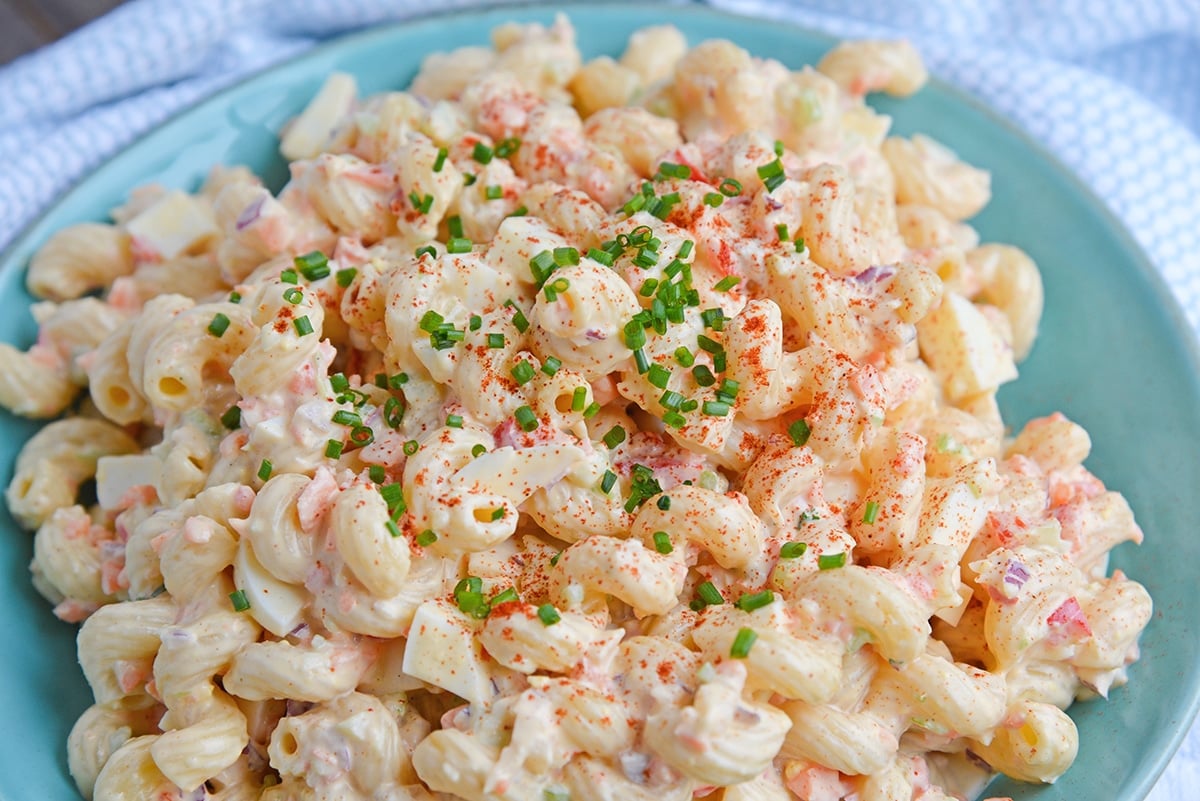 Tips for The Best Macaroni Salad
Choose a noodle with lots of body and shape.
Cook your macaroni noodles well, not al dente then drain and rinse with cold water to stop the cooking process.
Chill your noodles before combining.
Use a colorful mix of minced vegetables.
Mix the creamy mayonnaise base before adding it to the pasta.
Use a large bowl (bigger than you think you need) and then toss your homemade macaroni salad as opposed to stirring it.
Chill until ready to serve.
Correct the seasoning (salt and pepper) before serving.
Questions You Might Have About Macaroni Salad
What are the five mistakes to avoid when making pasta salad?
1. Not using a pasta shape that allows for the dressing to really stick to it.
2. Overcooking or undercooking the pasta. Not enough cooking and you've got pasta that is hard to eat. Too much cooking and you've got a gummy macaroni salad.
3. Not seasoning the pasta enough. Salting the water you cook the pasta in as well as seasoning the salad right before you serve it helps with this.
4. Stirring the macaroni salad instead of simply tossing it. Stirring it will make for a gummy mess.
5. Not giving it enough time to chill before you serve. This dish is make ahead for a reason. The time in the fridge makes it magic.
Should you rinse macaroni when making macaroni salad?
Yes! Rinsing it after cooking it not only cools it down and prevents it from overcooking, it washes away the starches that would make for a gummed up macaroni salad.
How do you get the vinegar taste out of macaroni salad?
You accidentally added to much vinegar. No sweat. You need to counterbalance that acidity aka sourness with it's opposite: sweetness. A touch of honey or agave can help to remedy the situation. Add a little at a time and completely mix in before you give it a taste. Keep adding until it tastes the way it should.
Storage and Freezing
Make ahead: You need time not only to allow the pasta noodles to cool but for the whole salad to cool and meld as well. Make this up to 24 hours before your serve. Keep it in a large bowl covered in plastic wrap until then.
Storage: This should be good in the fridge for about 5 days. Because it doesn't need to be warmed up, you can easily just pull it out and enjoy when the mood strikes.
Freezing: Sadly, this is one of those instances where freezing just isn't a good idea.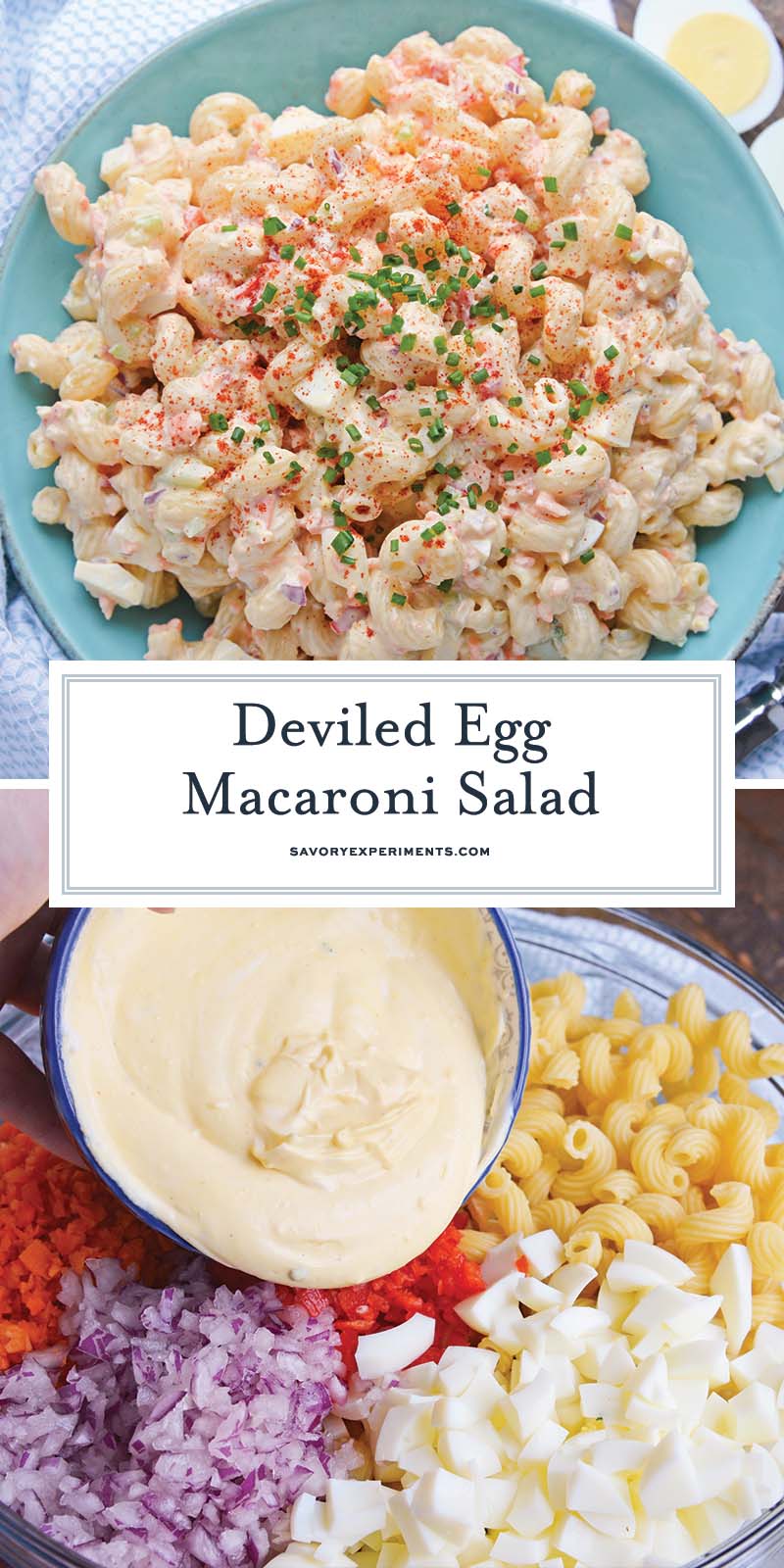 More Delicious Recipes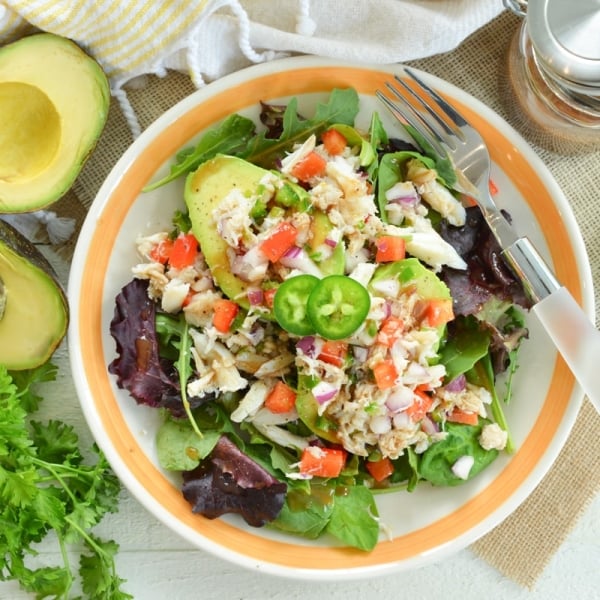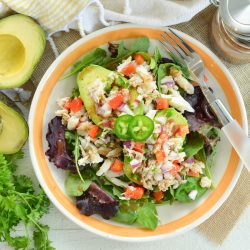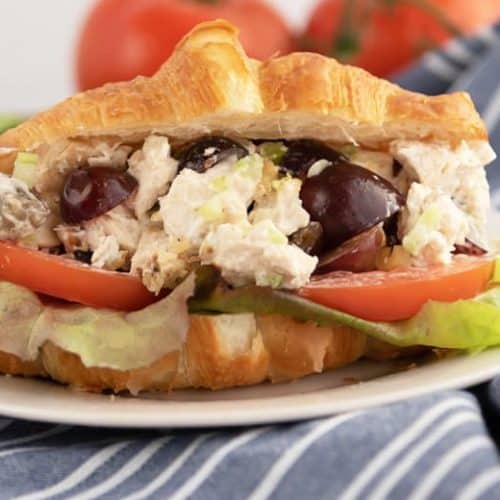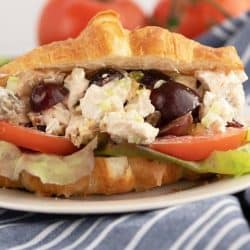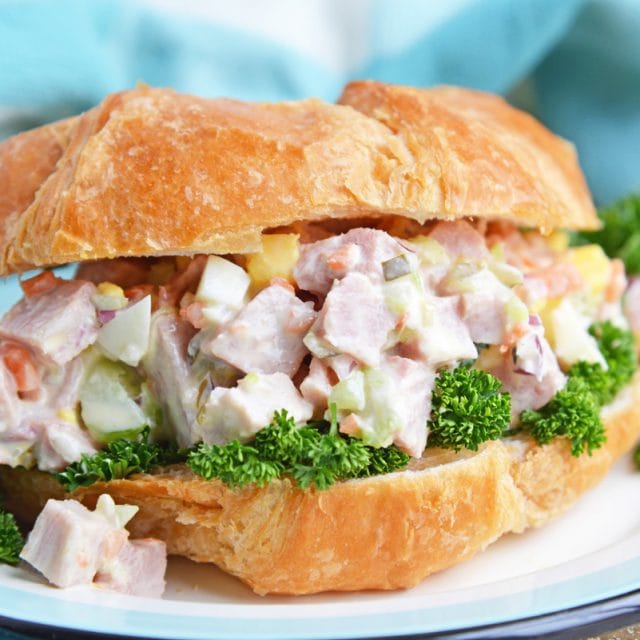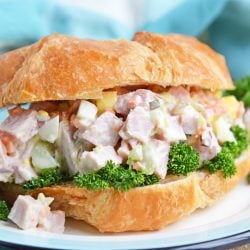 Ham Salad
The best Ham Salad Recipe using leftover ham, minced vegetables, hard boiled egg and a lightly seasoned creamy mayonnaise base. Serve with crackers or as a sandwich.
See The Recipe!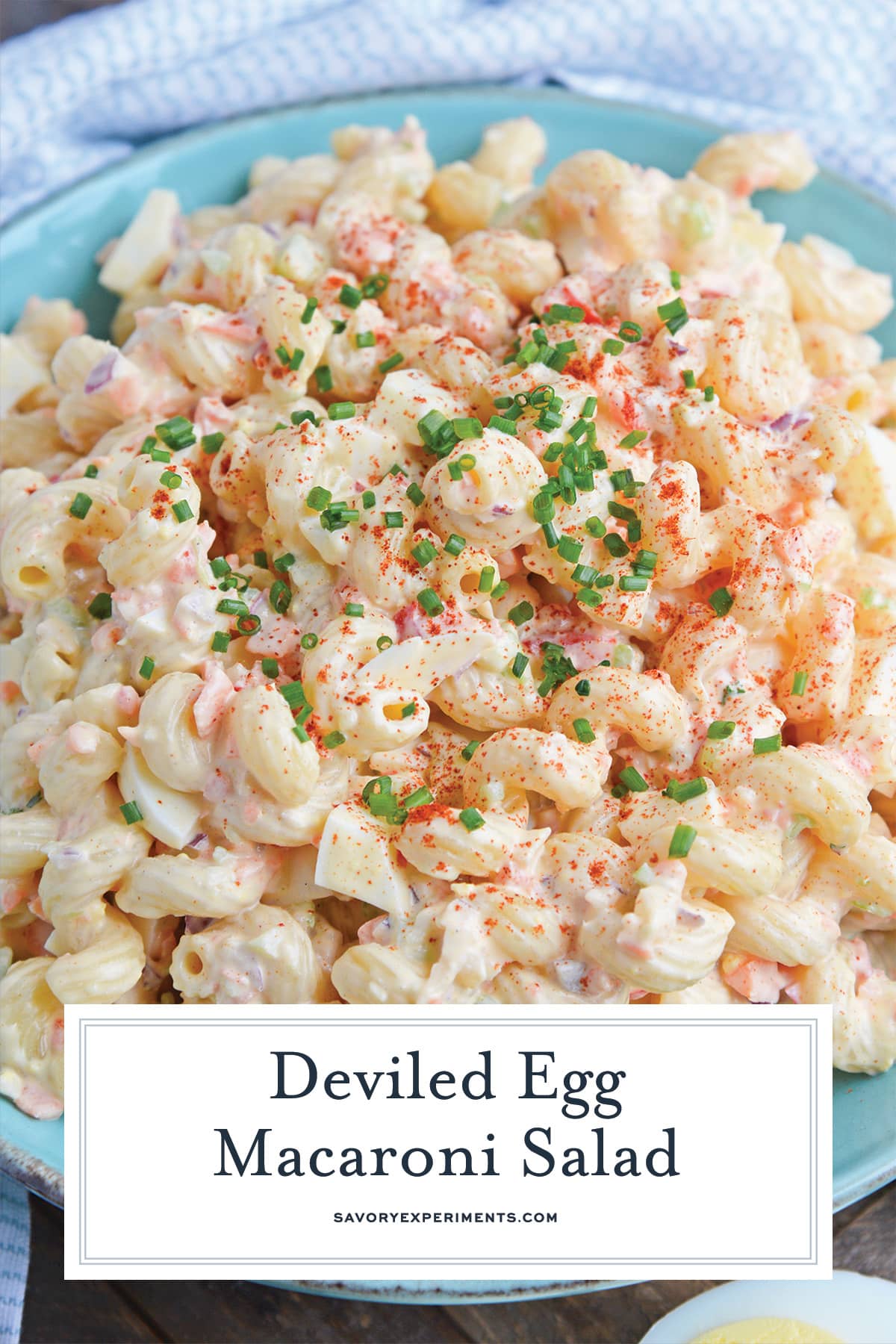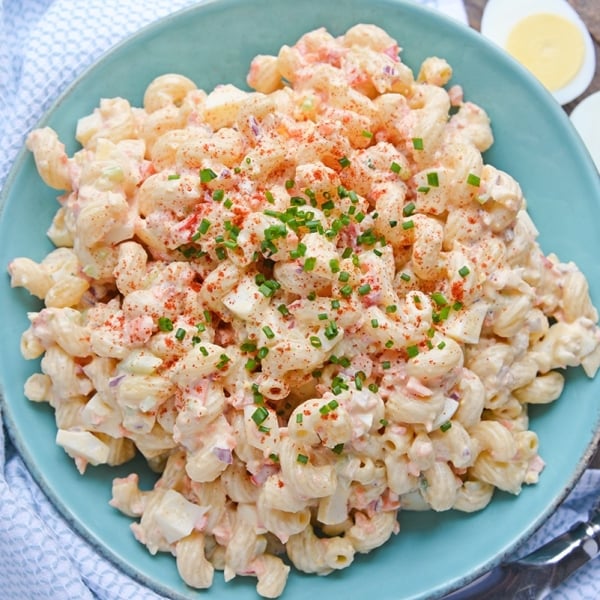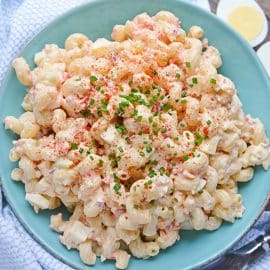 Deviled Egg Macaroni Salad
Deviled Egg Macaroni Salad is a cold macaroni salad using deviled egg filling, pasta and finely minced vegetables. The perfect make ahead side dish for parties and potlucks!
Instructions
Fill a large Dutch oven or pot 3/4 with water, salt well, and then bring to a boil.

Cook the pasta and cook according to package directions. Drain and rinse with cold water to stop the cooking process.

Drain the pasta well and refrigerate for 30 minutes.

Cut the hard boiled eggs in half, removing the yolks and setting the whites aside.

Using a grate or fork, mash the egg yolks in a small bowl until smooth.

Slowly add the mayonnaise, making a past. Then stir in the vinegar, Dijon mustard, ground white pepper, Kosher salt, smoked paprika and garlic powder.

Chop the egg whites into small pieces.

In a large mixing bowl, combine the chilled pasta, egg yolk mixture, chopped egg whites, minced carrot, celery, red onion, red bell pepper and chives.

Toss until just mixed, do not stir.

Top with additional smoked paprika or snipped chives, if desired.

Cover and chill until ready to serve.

If you've tried this recipe, come back and let us know how it was in the comments or star ratings.
Notes
*If you are using leftover hard boiled eggs, can use any number, just spoon the deviled egg filling into the dish and compensate with additional hard boiled egg yolk and mayonnaise until you have approximately 1 1/2 cups creamy base.
Nutrition
Calories:
304
kcal
,
Carbohydrates:
29
g
,
Protein:
8
g
,
Fat:
16
g
,
Saturated Fat:
2
g
,
Cholesterol:
89
mg
,
Sodium:
265
mg
,
Potassium:
149
mg
,
Fiber:
1
g
,
Sugar:
1
g
,
Vitamin A:
1140
IU
,
Vitamin C:
2.7
mg
,
Calcium:
25
mg
,
Iron:
1
mg