A creamy, sweet & savory sauce coats tender bites of chicken in this Curry Chicken Salad. Chunks of crisp apples and celery, chewy raisins, and crunchy cashews are in every bite!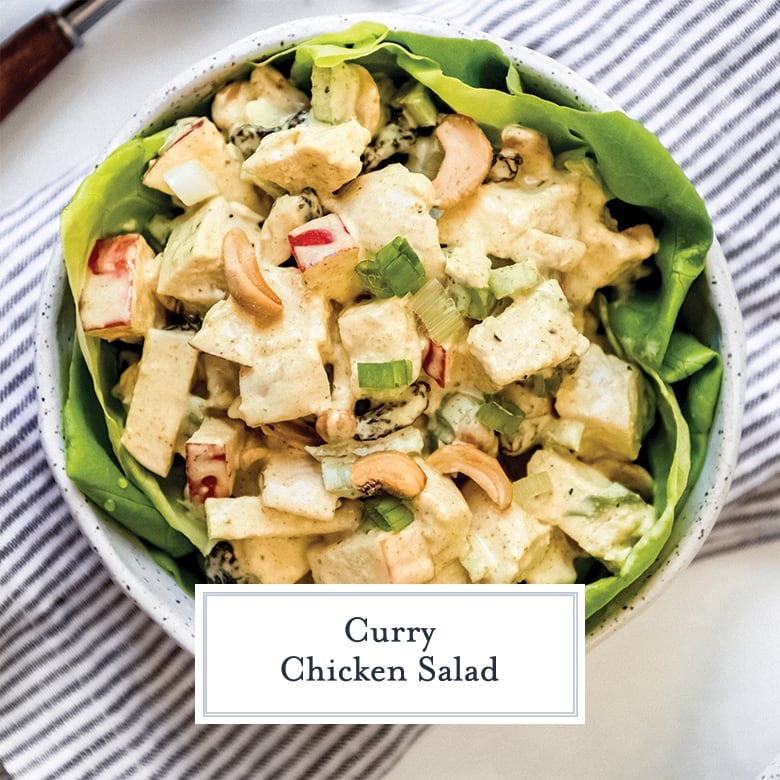 Creamy Salads
We live for cold salads in the summer and this curried chicken salad does not disappoint.
Curry chicken salad is a bold twist on a classic chicken salad recipe that I make with grapes and almonds. There are a few simple changes that have a big impact on the flavor. It's hard to say which is our favorite.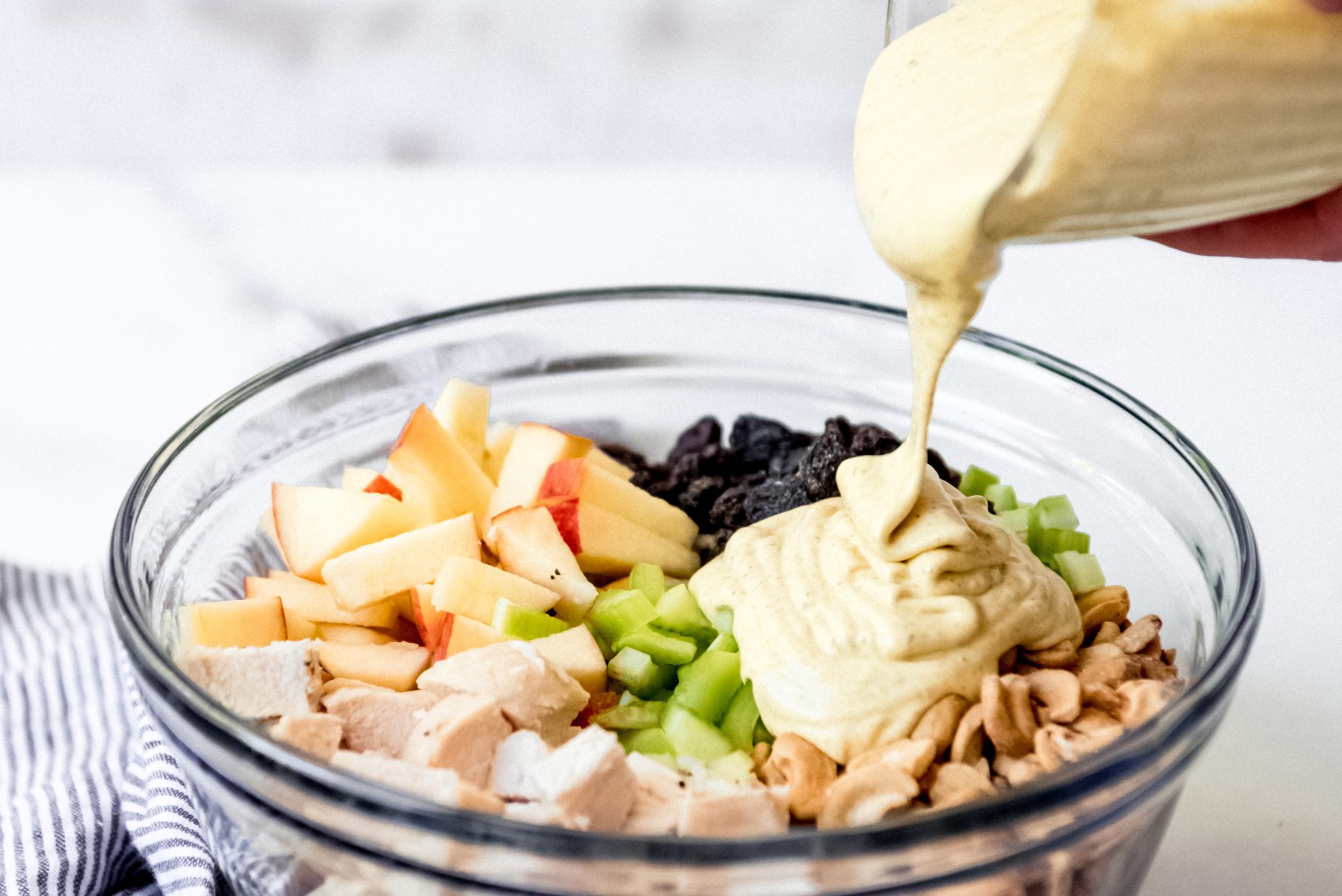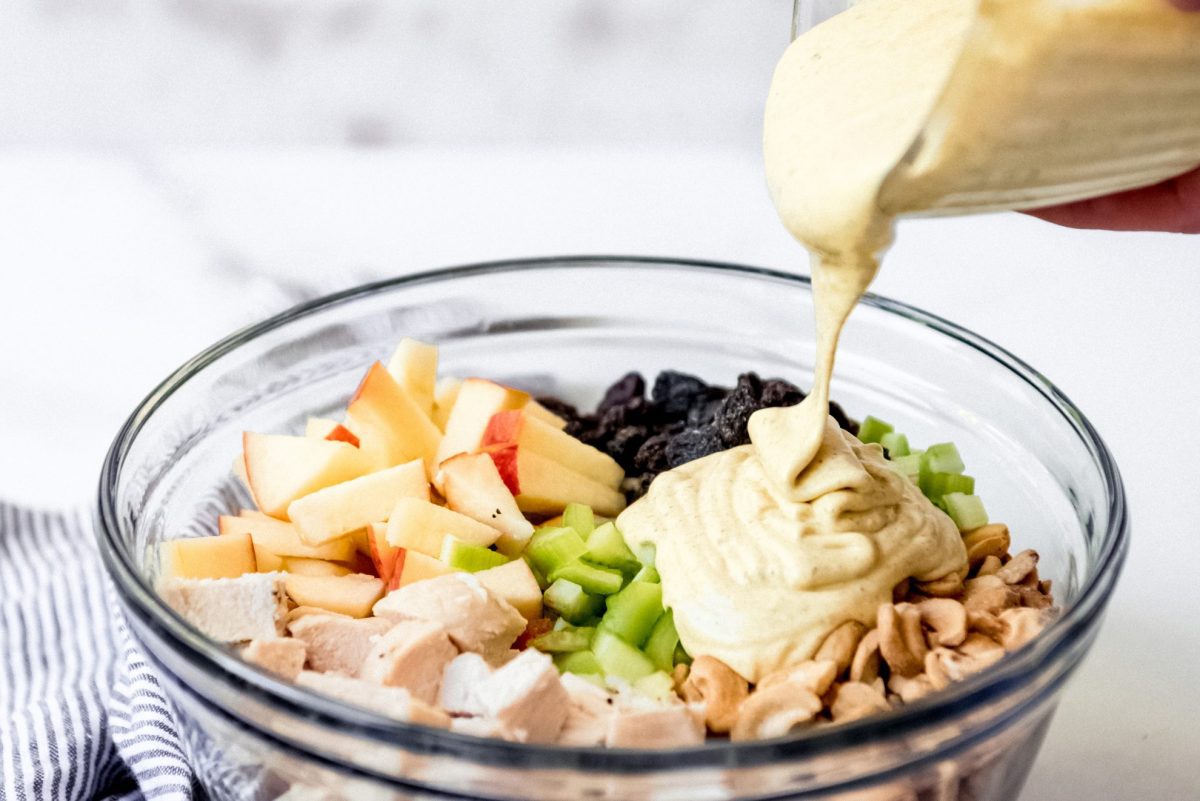 This one is slightly sweet and savory, without being spicy, so it's a great way to expose kids to different flavors.
Trader Joes, Pioneer Woman, and Ina Garten all have versions of this classic salad recipe. It saw huge popularity in the 1980's, then sort of disappeared for a while and has recently been making a comeback at specialty sandwich shops. Who doesn't love chicken recipes?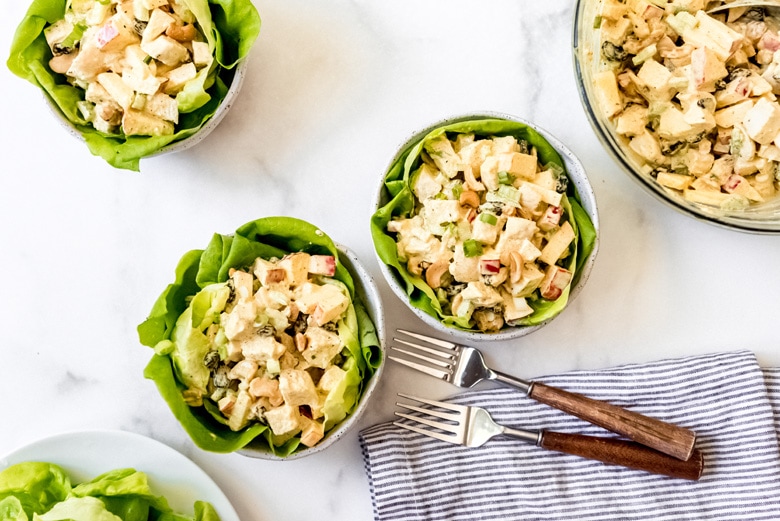 If you already have cooked chicken on hand, this homemade chicken salad takes all of about 15 minutes to throw together and makes a fantastic dinner or lunch that can be packed ahead for meal prep purposes. It's also a great way to use a rotisserie chicken or leftover grilled chicken breasts from a previous meal.
This dressing recipe can also be used in a tuna salad recipe.
Curry Chicken Salad Ingredients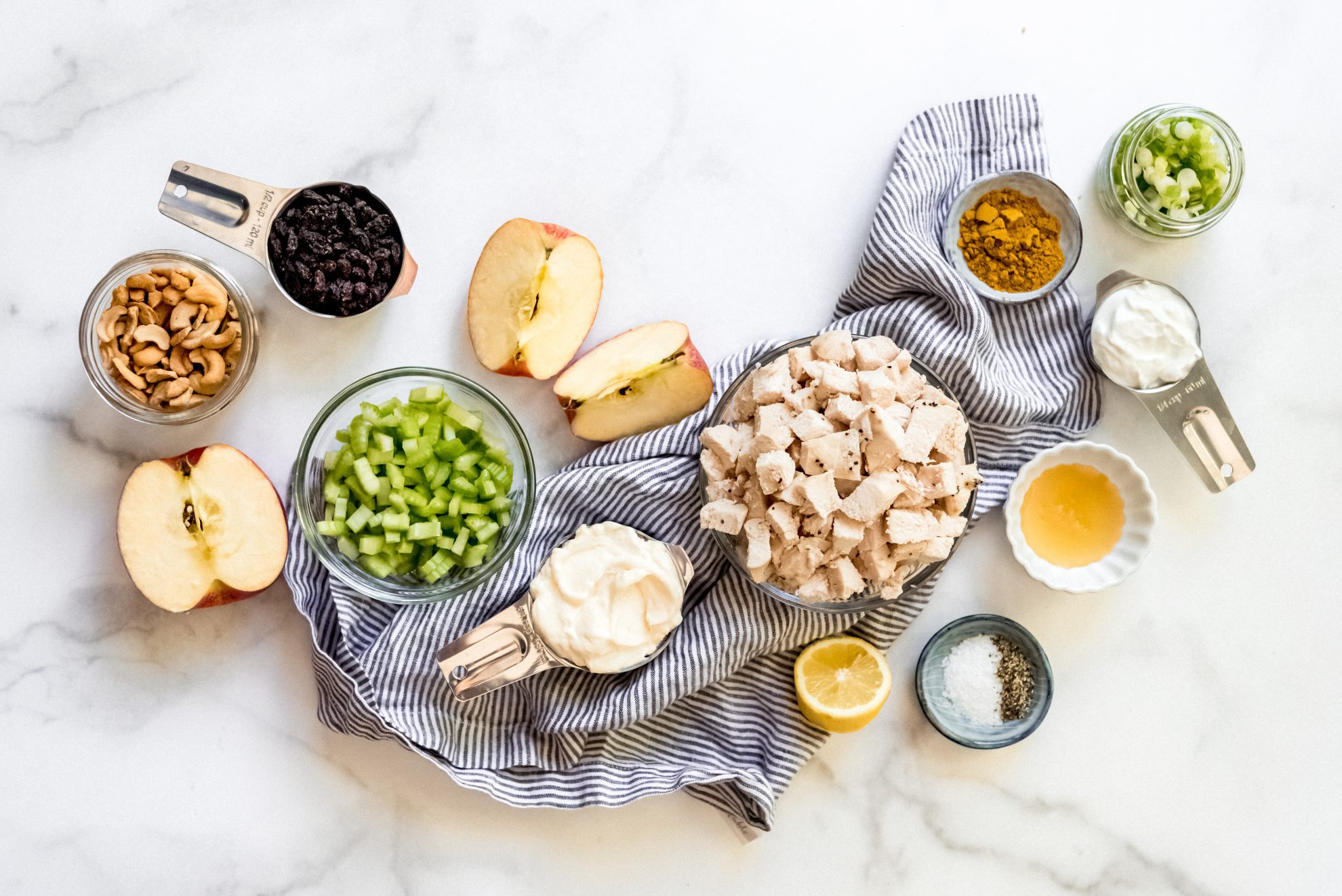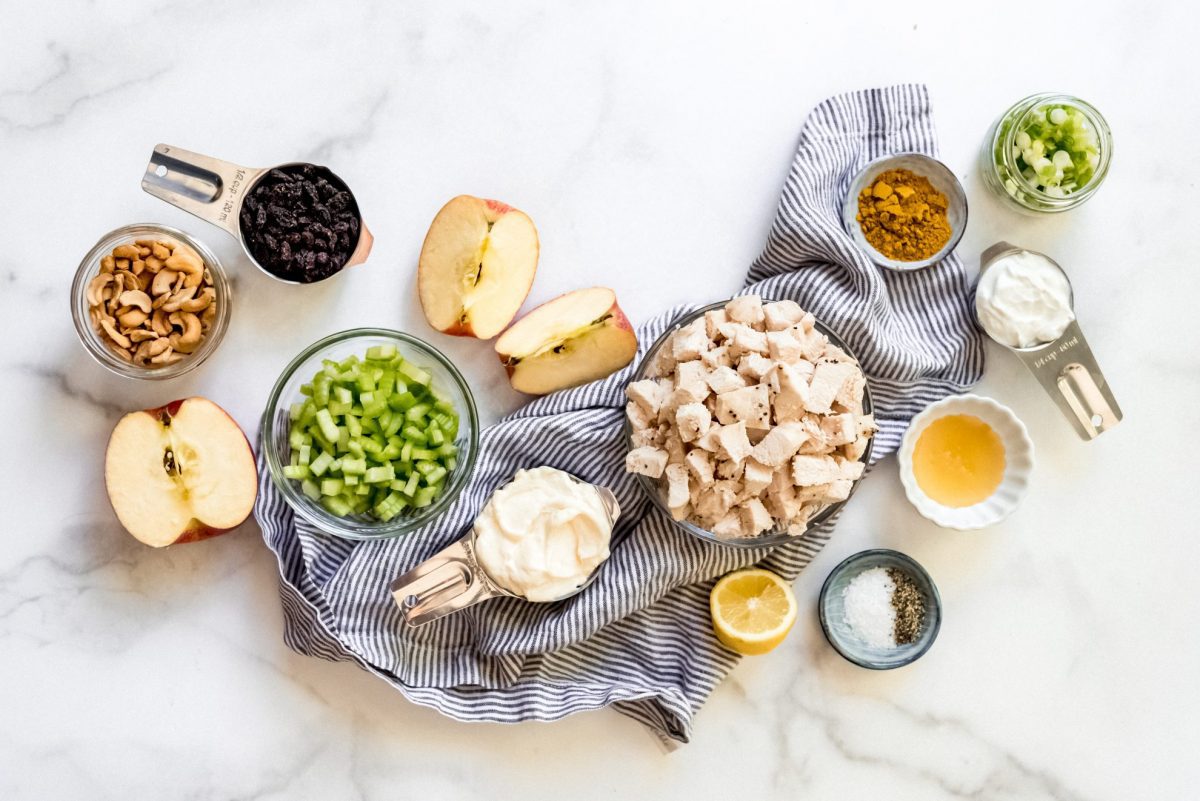 Cooked chicken: This is a great recipe for using leftover chicken or rotisserie chicken from the store. But if you need to cook boneless skinless chicken breasts specifically for this recipe, I recommend roasting them in the oven or poaching them on the stovetop.
Celery: Finely diced celery adds a good crunch and bright, clean flavor to this salad that lightens it up.
Apple: Chopped apple adds a wonderful fruity element and crunch that goes so well in chicken salad.
Raisins: The little bit of chewiness and burst of sweetness from the raisins is fantastic. Golden raisins or dried cranberries would work well too. Or just leave them out altogether or sub with red grapes if you hate raisins!
Roasted & salted cashews: Pecans are another good option if you don't have cashews on hand. Sliced almonds are another option.
Green onions: I love the mild bite of green onions in chicken salad, but diced red onions will work well in their place.
Mayo: If you want to make this dish a little healthier, you can replace half or all of the mayo with Greek yogurt.
Sour cream
Lemon juice
Honey
Curry powder: If you are hesitant about how strong the curry flavor will be, start with 1-2 teaspoons, then taste and add more until you reach the amount you like. I always use one full tablespoon of curry powder, but have even seen similar recipes with 2-3 tablespoons of curry powder. My personal preference is a middle-of-the-road approach that even my kids love. The curry flavor is strong without overpowering the other elements of the chicken salad.
Salt & pepper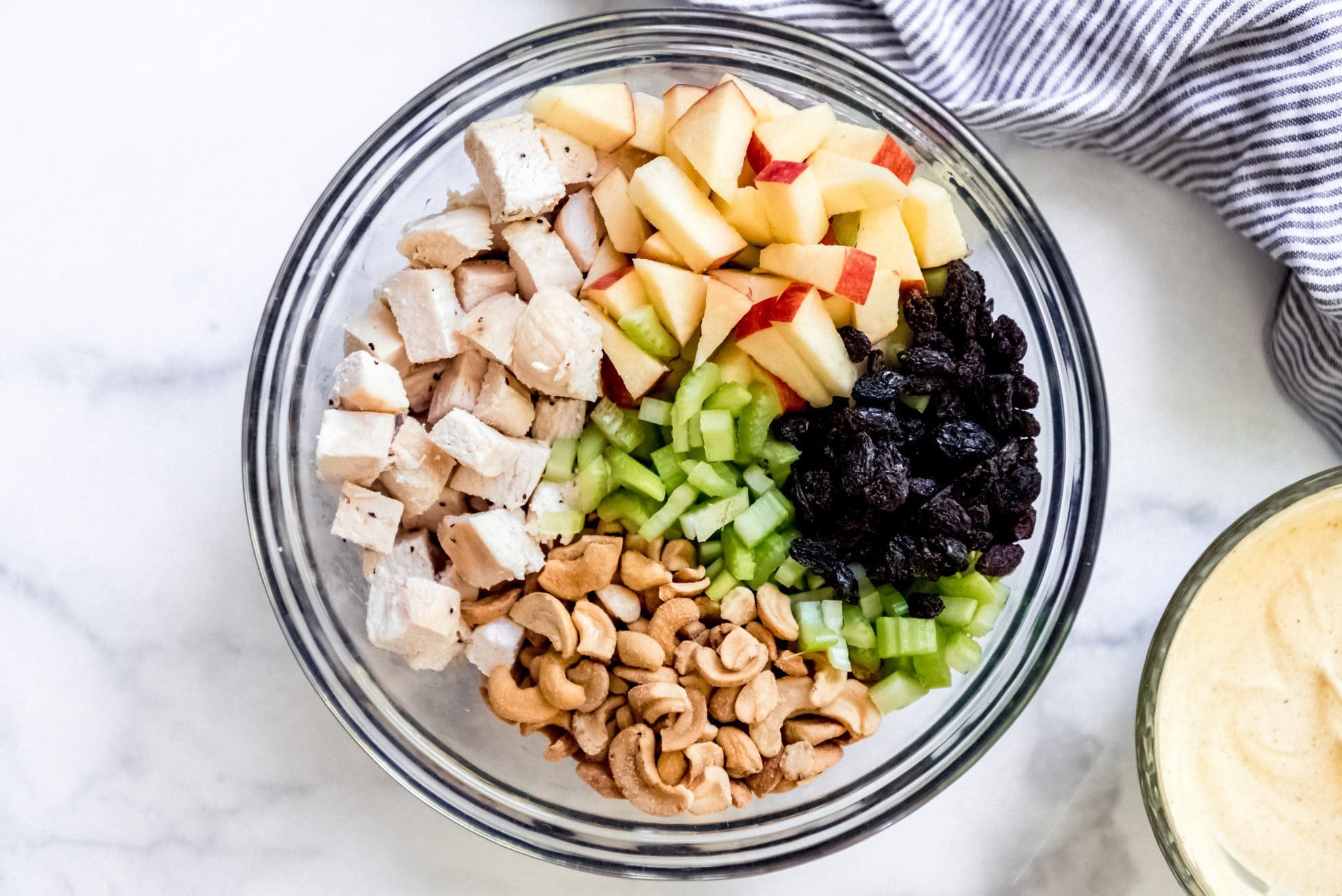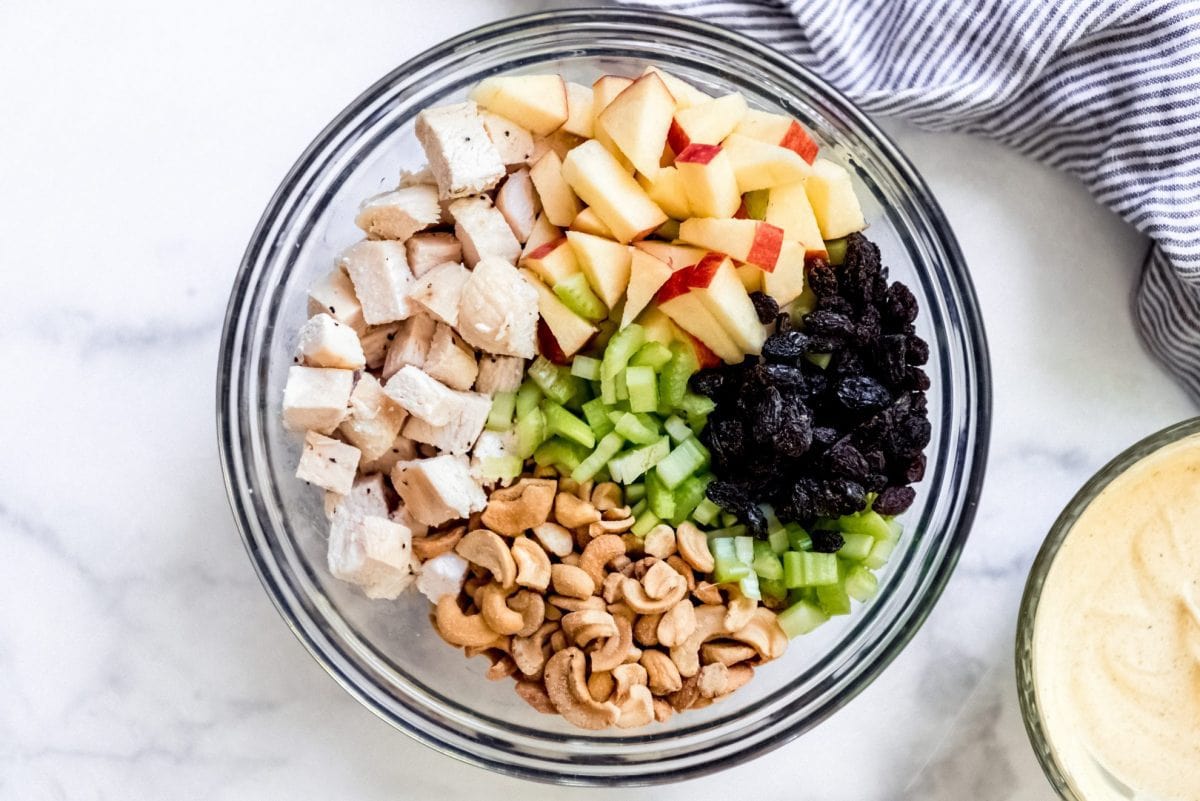 How to make curry chicken salad
Prep all of the ingredients: Cook and chop the chicken into bite-size pieces, slice and chop the apple, celery, and green onion.
Make the dressing: Combine the mayonnaise, sour cream, lemon juice, curry powder, salt, and pepper in a medium bowl and whisking together.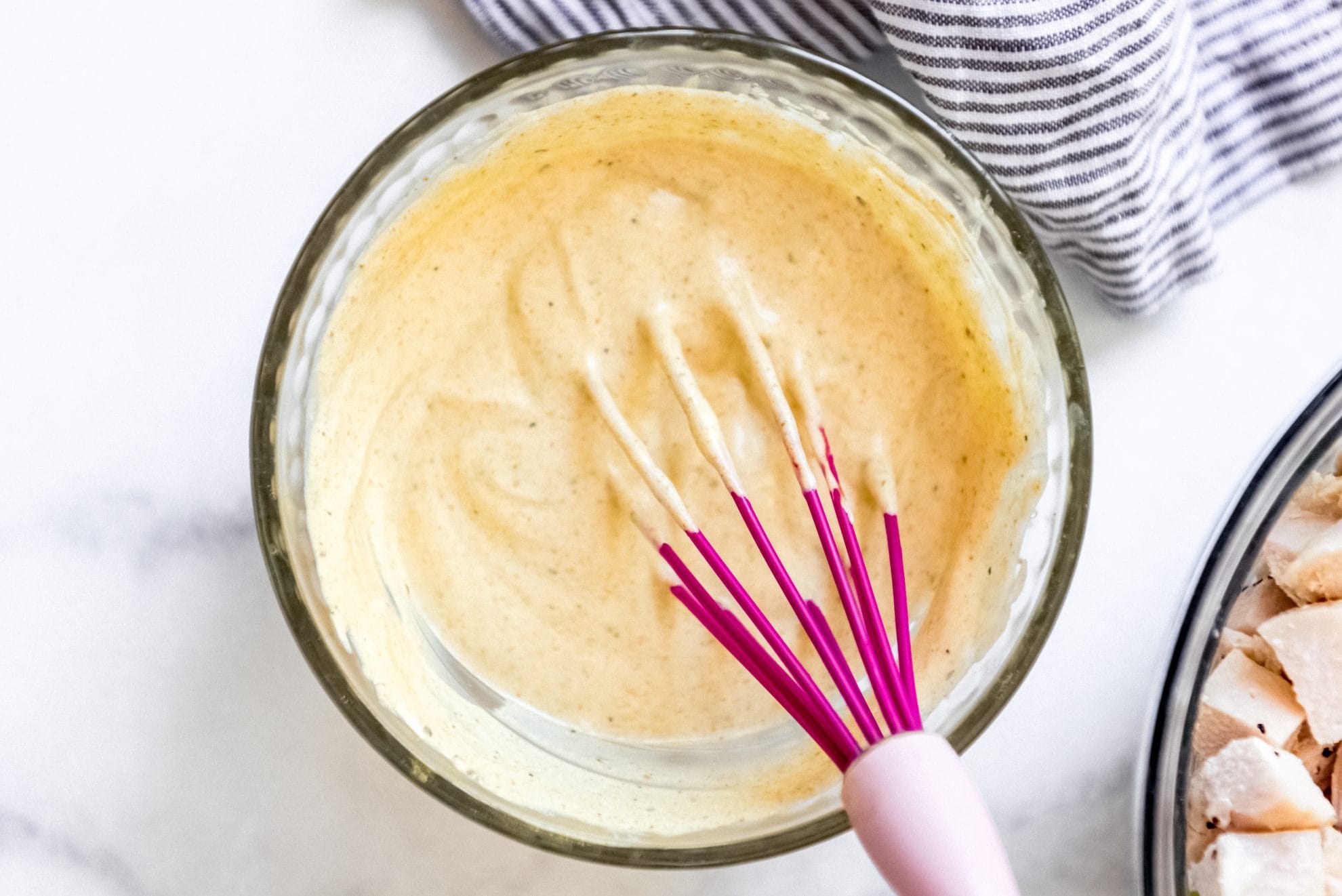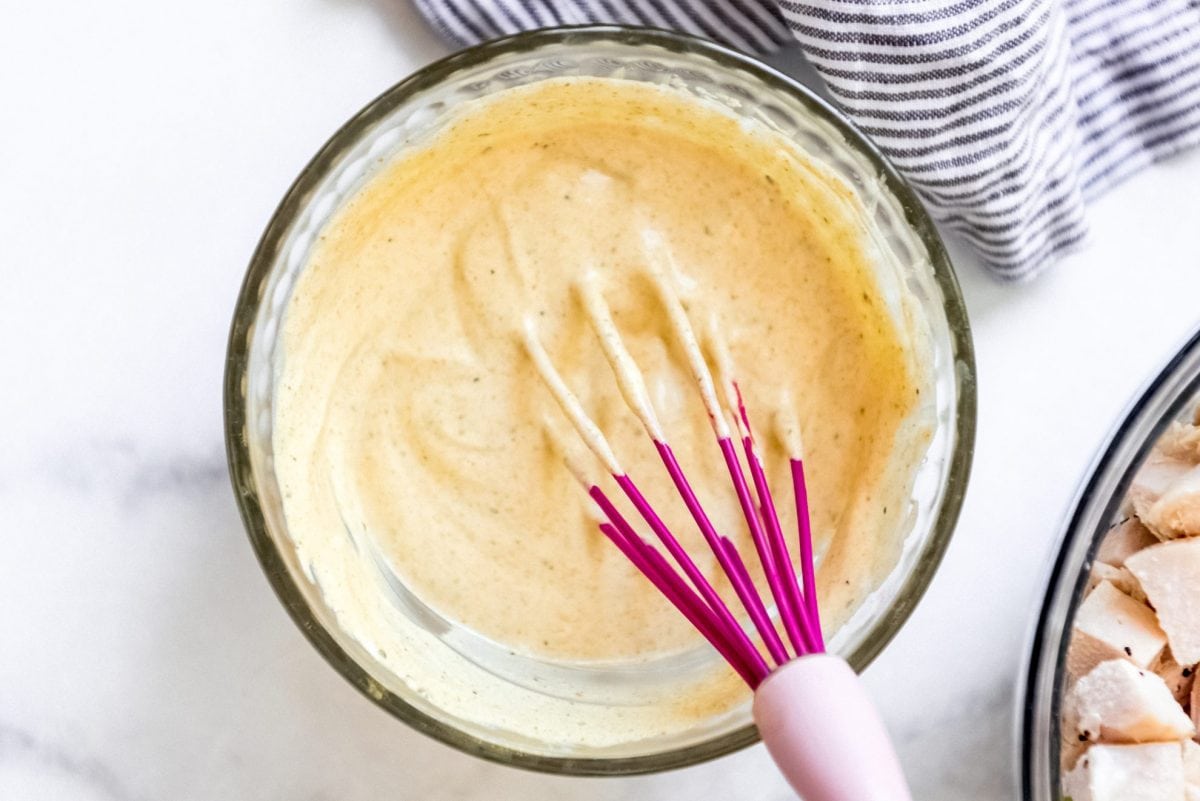 Make the salad: In a large bowl, combine the chicken, chopped apple, celery, raisins, and cashews. Pour the mayo-curry dressing over the top. Toss everything together until mixed and all of the chicken is coated in the sauce.
Chill in the fridge for at least 30 minutes until ready to serve.
Make ahead instructions
This curried chicken salad recipe is great to make for a party because it is so easy to make in advance, is served cold, and holds up well.
You can cook the chicken a day or two in advance and assemble the whole salad up to 4-5 days ahead since it keeps that long in the fridge. It's just as good on day 4 or 5 as it is on the first day.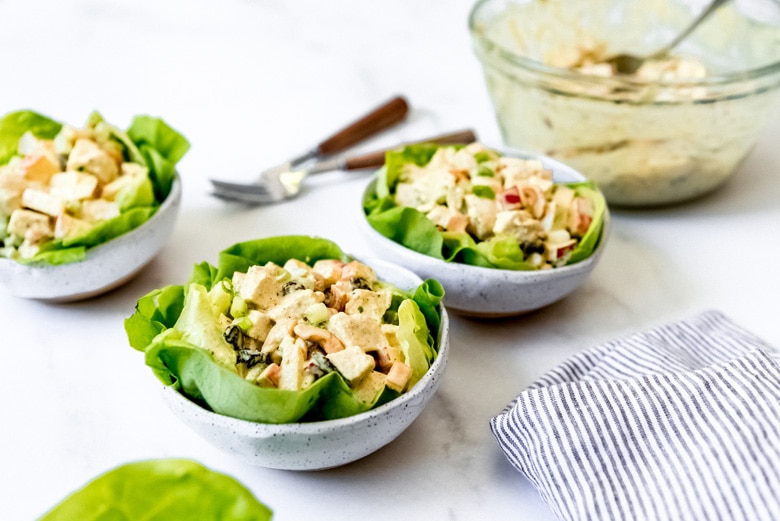 This salad doesn't freeze well, unfortunately. The dressing separates and the crunchy ingredients lose their crunch after being frozen and thawed.
Variations
Add some matchstick or grated carrots for extra veggies
Add red or green grapes that have been sliced in half. You can use these in addition to the apples or in place of them. Either way, lots of people love chicken salad with the sweet juiciness of grapes.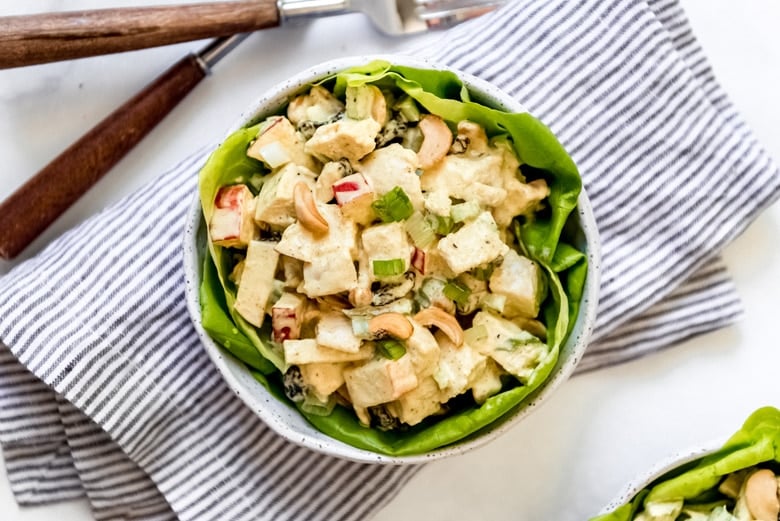 Try curried chicken salad with diced mango for a more tropical flavor!
If you don't like the flavor of celery but still want the crunchy textural element, try using jicama instead!
Healthy curry chicken salad
If you want to make a healthier version of this recipe, you can use homemade mayo or full-fat plain greek yogurt for all or part of the mayo and sour cream and leave out the honey.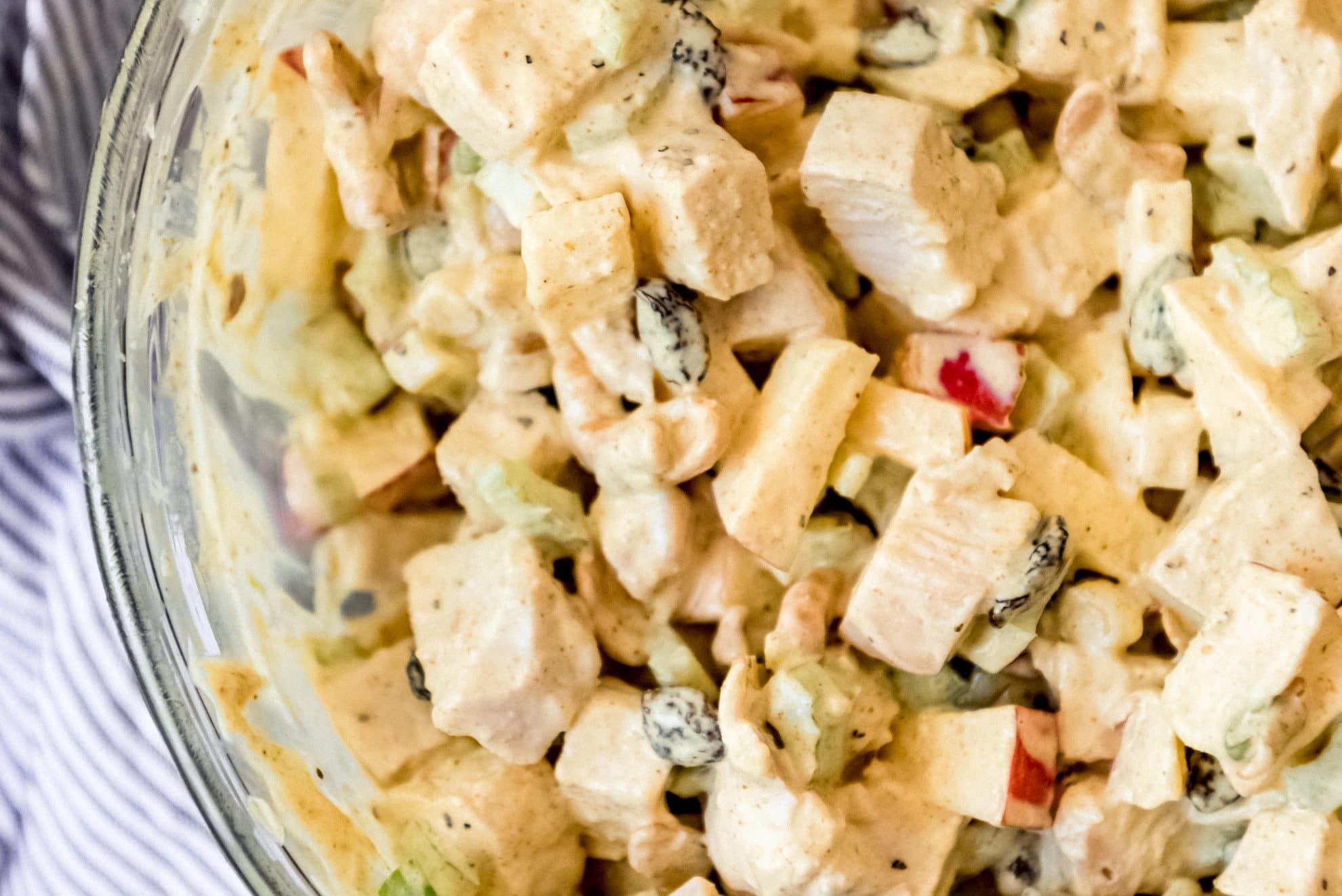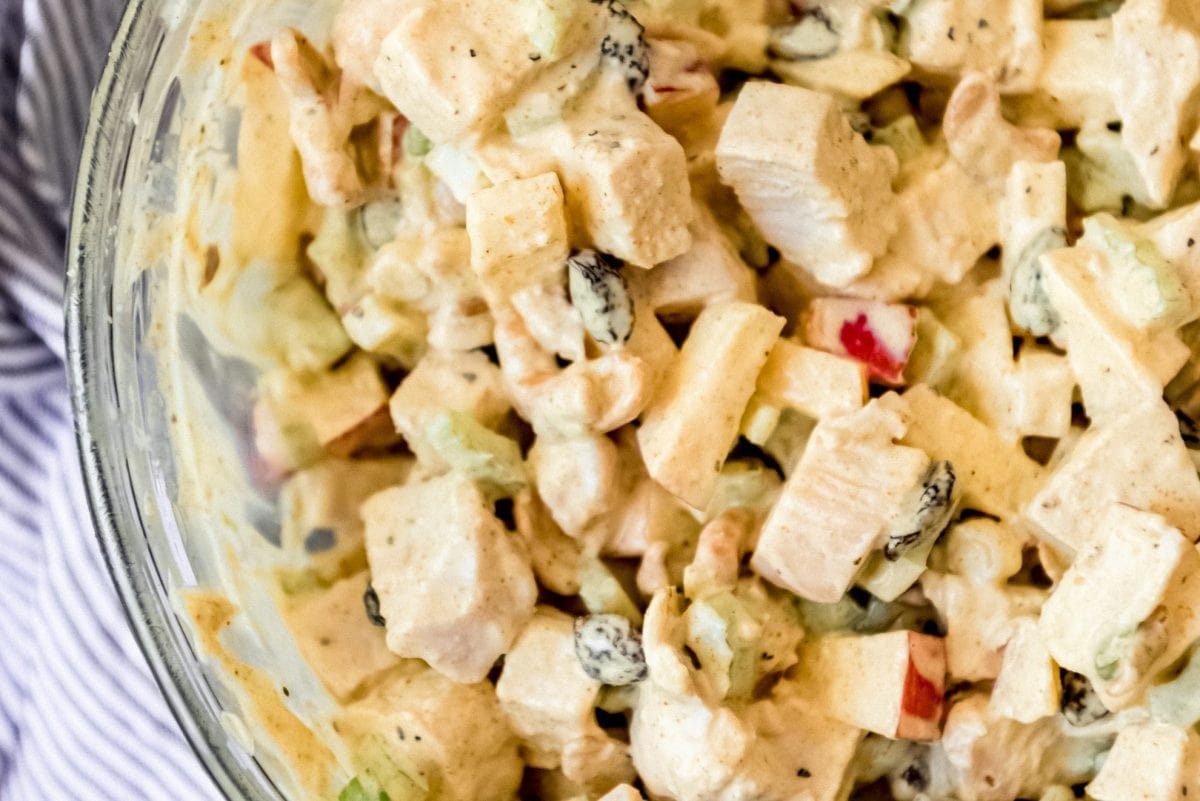 If you serve this on lettuce instead of bread, it's an easy low-carb, paleo, Whole 30, and Keto recipe.
What to serve with chicken salad
Our favorite way to serve this chicken salad is over green leaf or butter lettuce. The flavor and texture of the lettuce is the perfect backdrop for the bold curry flavor of the chicken salad. It also makes this dish naturally gluten-free.
You can also serve curried chicken salad as a sandwich by piling it between your favorite bread or croissants. Or get some flatbread or a tortilla and make a wrap with it.
It doesn't really need a side dish!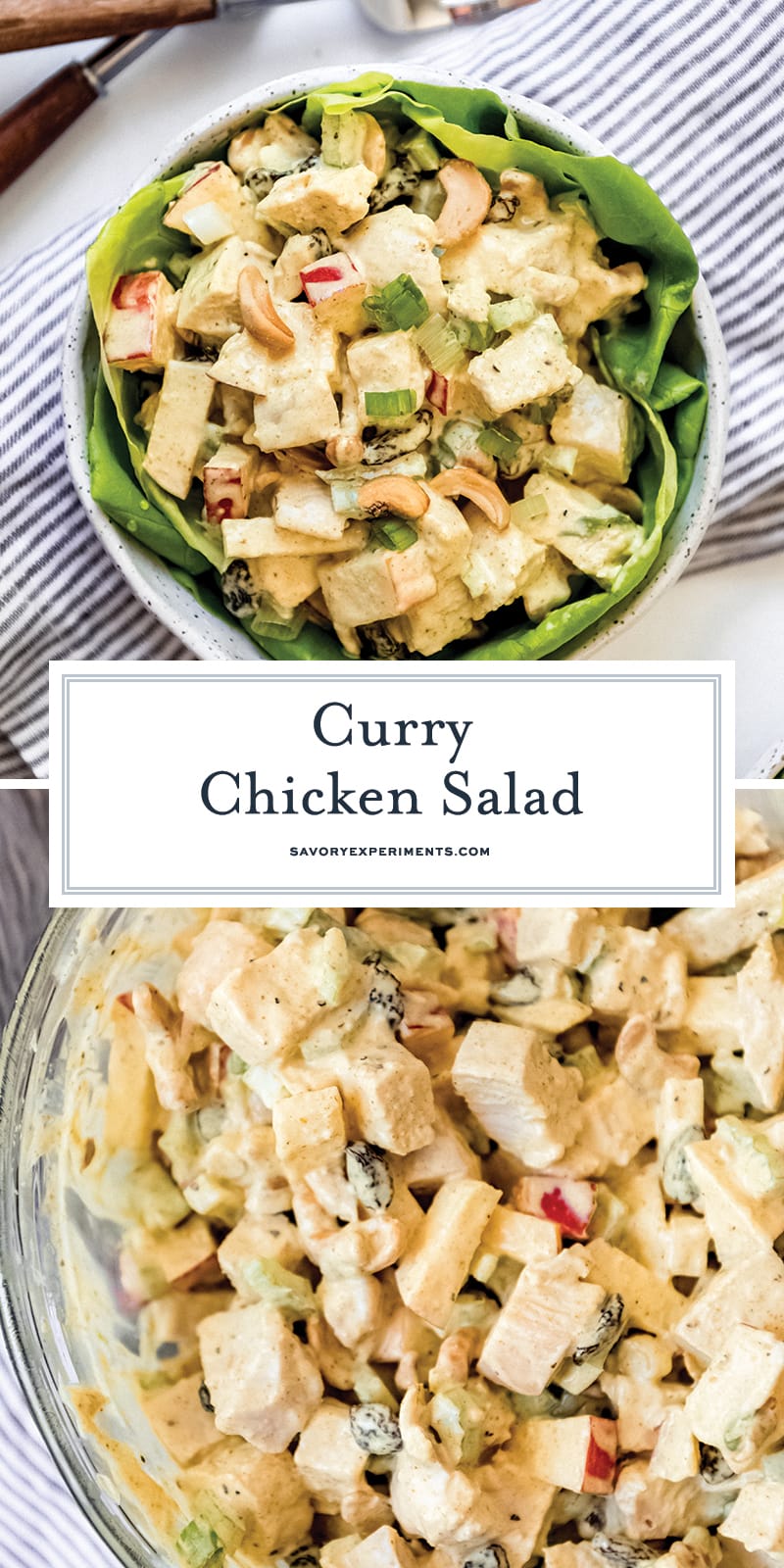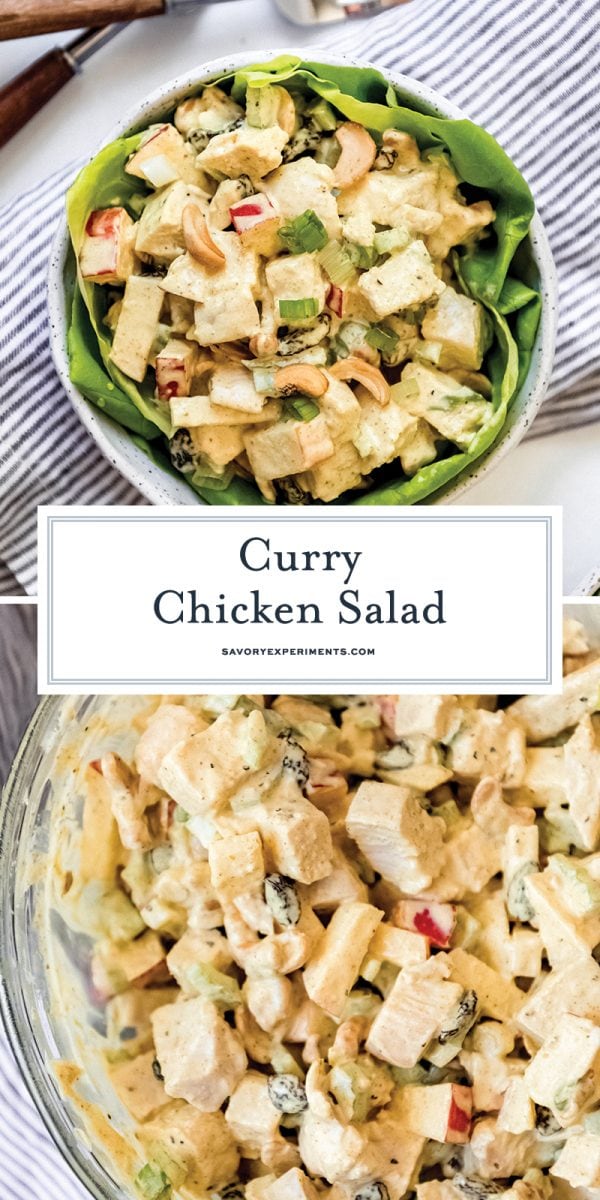 More chicken sandwich recipes you'll love: