When it comes to holiday dishes, it doesn't get more classic than a Pineapple Ham dotted with maraschino cherries!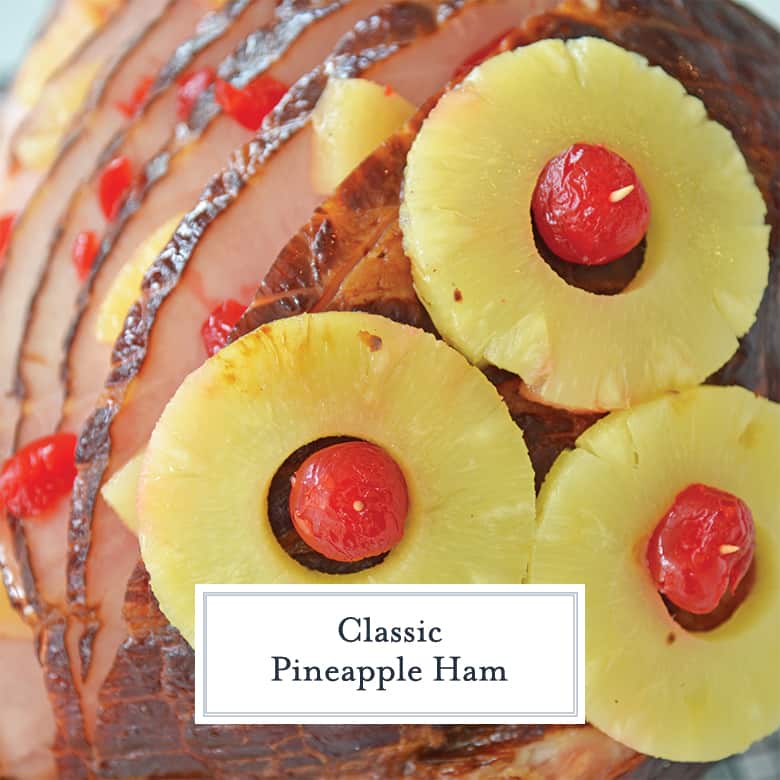 If you're looking for the perfect ham recipe for the holidays, look no further than this Pineapple Ham! Adorned with maraschino cherries and pineapple slices, it's a total show stopper!
Many folks have fond, nostalgic memories of the impressive pineapple ham dotted with fushia maraschino cherries. But it makes no sense!
Not the pairing of ham with pineapple, in fact, that makes perfect sense. Salty, cured ham needs something sweet to balance the flavors, which is why you commonly see it basted with brown sugar or some other syurpy liquid.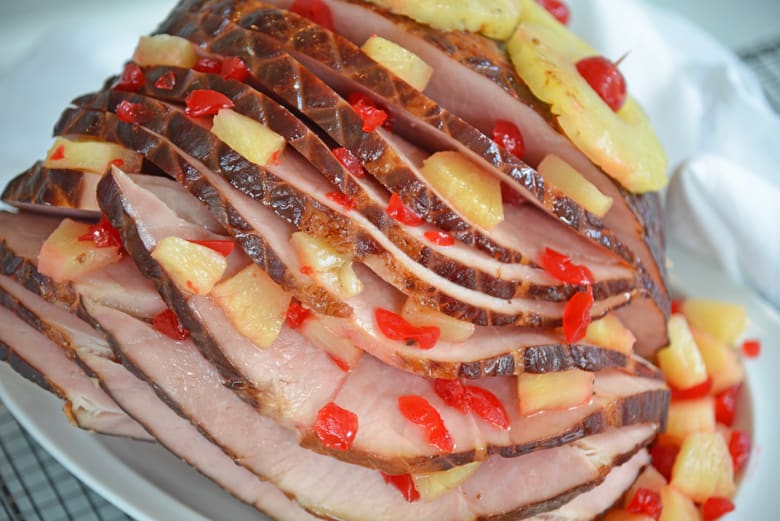 But why we put on all the adornments only to take them off before slicing and serving, that makes no sense. You bring the ham out to show off how pretty it is and then whisk it away to carve and deconstruct.
PRO TIP: Pineapple slices serve a purpose other than being pretty.
Well those pineapple rings protect the skin of the ham from burning and prevent it from getting rubbery. Much like a cheesecloth on a turkey or salt on a steak. They actually serve a purpose and that purpose isn't purely ornamental.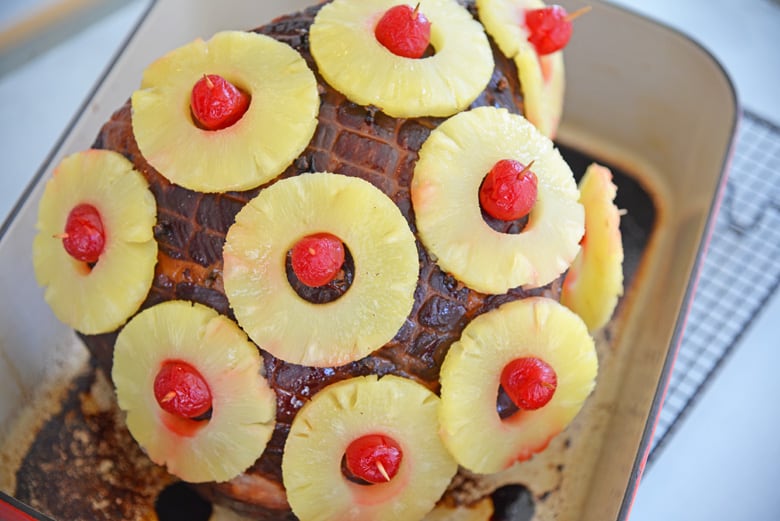 It provides a barrier from the heat while the large piece of cured pork warms. Hams are already cured and therefore cooked, so all we really need to do is season and reheat.
I used a pre scored ham, it saves a little time doing it myself. Scoring also serves a purpose other than leaving a pretty pattern.
Scoring cuts through the thick rind so the ham glaze and other flavors can reach the tender meat inside.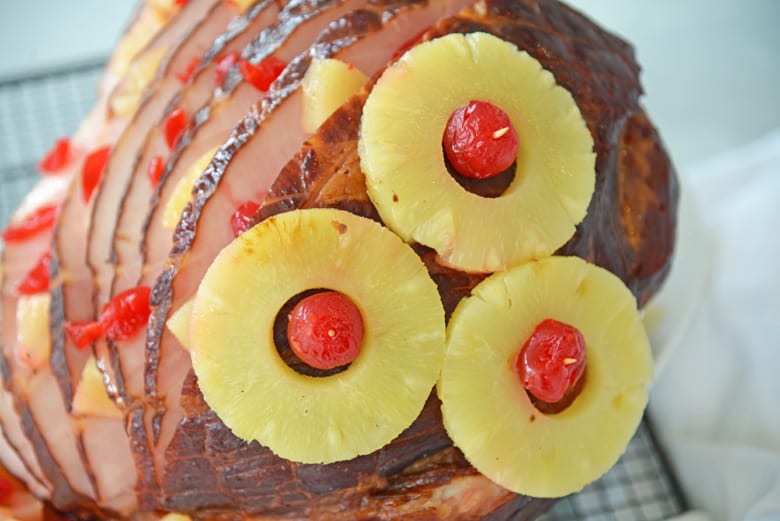 Cloves are a really old fashioned way of making a ham with pineapple. Some recipes call for up to 1/2 cup, which can be 1.5 ounces (3 small containers).
They ask you put a clove in every diamond. That is a lot of cloves!
I cut back on mine for several reasons. The first being that they don't add that much flavor when you insert them into the skin of a ham. – they typically go into the rind, not the actual meat.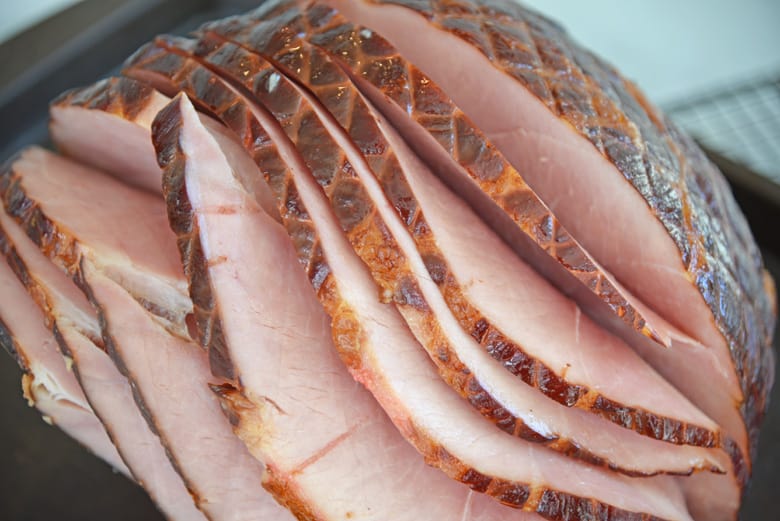 The second is that they are a pain to take out when eating. The little hard pines are edible, but not pleasant to chew and need to be removed before serving.
I use about 2 tablespoons, putting every other diamond and not stressing too much if I missed one. You can also omit the whole cloves all together and add 1/2 teaspoon of ground cloves to the basting liquid.
Want to cut even more corners? Buy a pre basted brown sugar ham or a ham that comes with that little packet of brown sugar mix. You can still whisk it with some Dijon mustard for acid.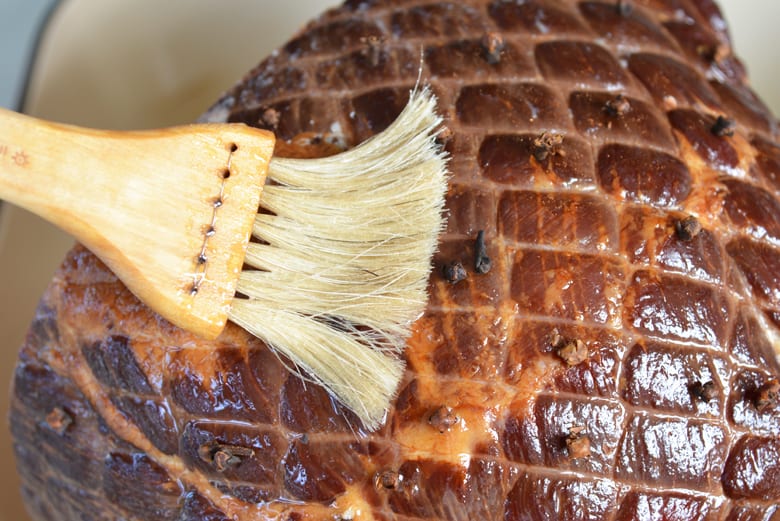 To make this pineapple ham, you want to start by soaking 12 toothpicks in a bowl of water for 30 minutes. While your toothpicks are soaking, preheat the oven to 350 degrees.
PRO TIP: Soak toothpicks so they don't burn while in the oven.
Next, place the bone-in ham into a large roasting pan. Poke the whole cloves into the ham, making sure they are spaced evenly.
Starting at the top of the ham, secure the pineapple slices to the ham with a cherry and a toothpick. Use the pineapple to cover the entire ham.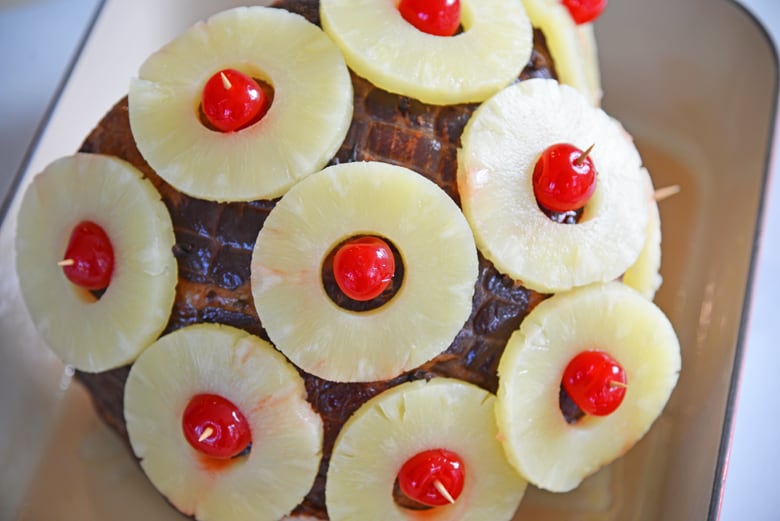 Then in a small bowl, whisk together the basting liquid, brown sugar and dijon mustard. Baste the outside of the ham with this mixture. It acts as a ham glaze!
PRO TIP: Using aluminum foil prevents the outside of the ham from getting dry and burnt while the inside heats to the optimal temperature.
Cover the ham with foil, and bake for 2 hours. After 2 hours, remove from the oven to take off the foil, baste again with the liquid, and return to the oven for an additional 30 minutes.
Remove the ham from the oven and take off the pineapple and cherries. Be sure to save those and set aside for later!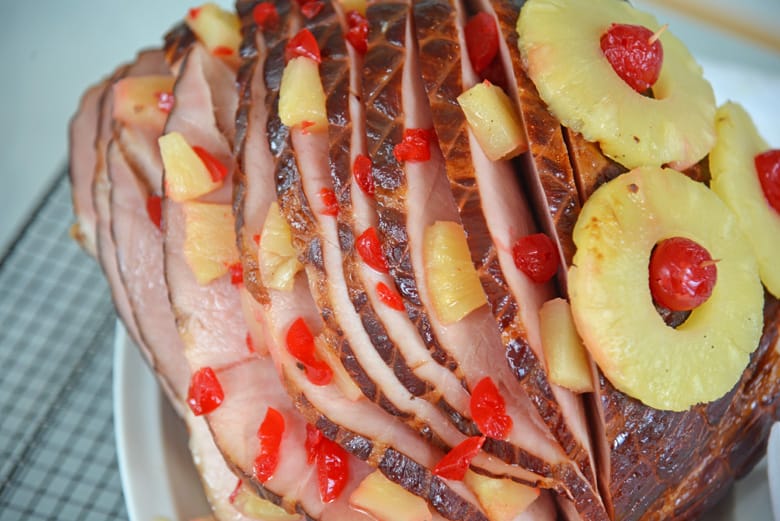 Next you need to slice the cooked ham and baste with the remaining basting liquid so there is plenty of flavor on all slices. Once basted, you can slice the pineapple slices and arrange them around the spiral cut ham on a serving platter.
And there you have it! A classic Christmas dinner dish that is both tasty and gorgeous!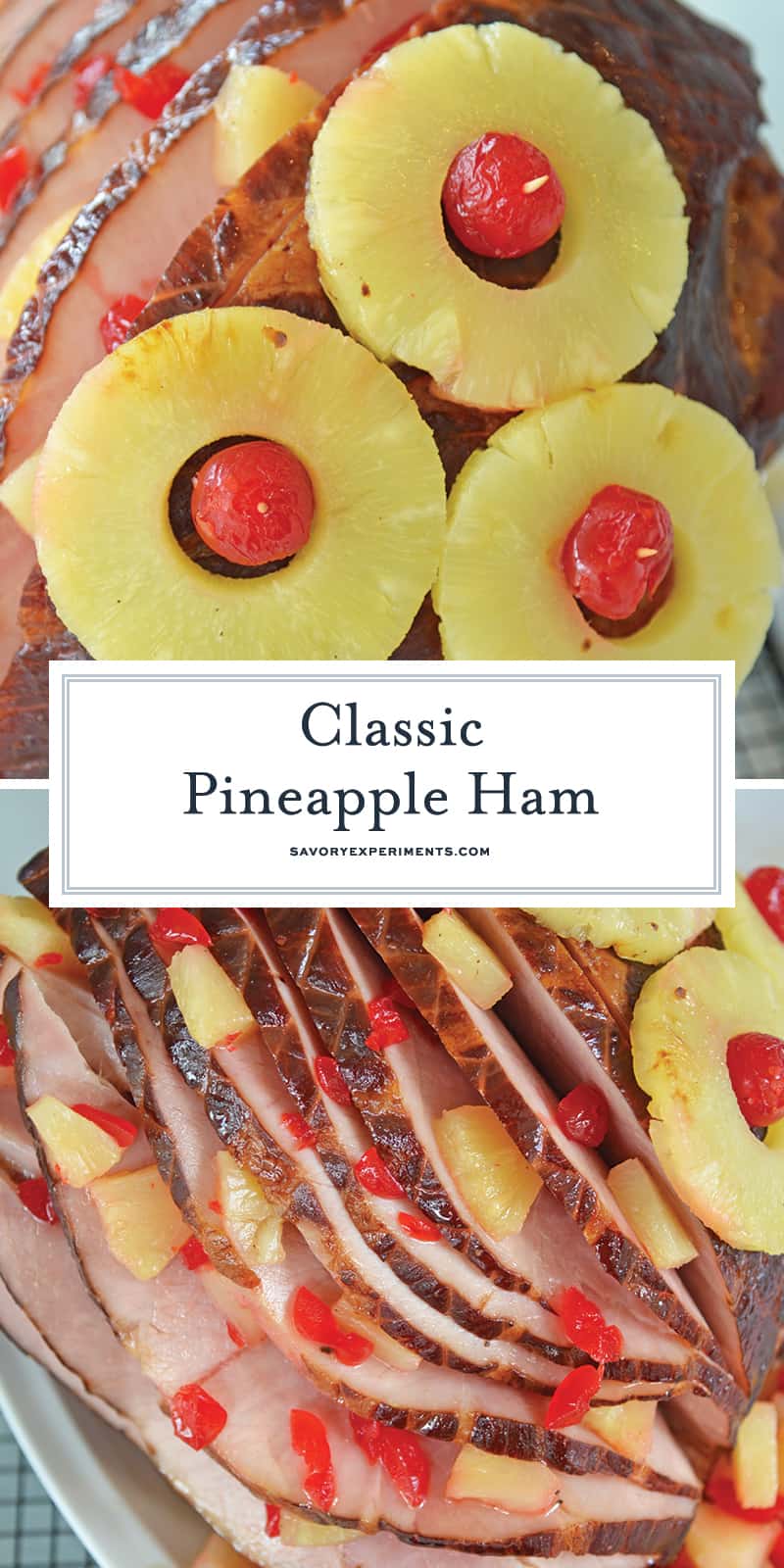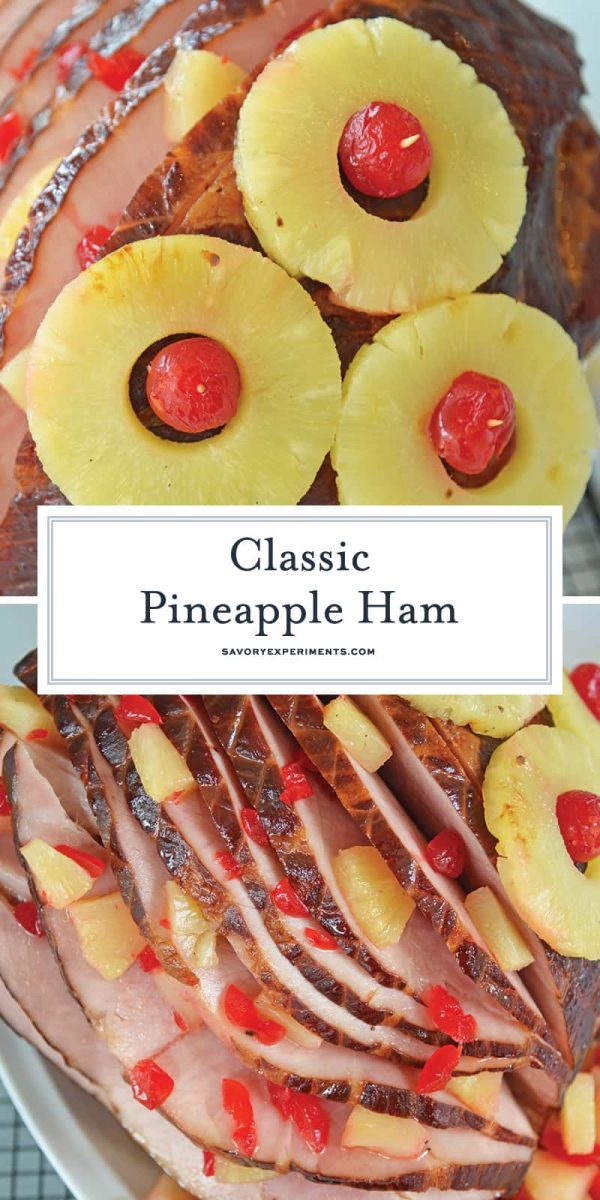 Questions you might have about how to make a pineapple ham:
Can I use this on a pre sliced ham? You sure can. The only reason I don't is because they tend to dry out fast since they are already sliced and pineapples and toothpicks don't stick too well to the thin slices.
I would suggest chopping up the pineapple slices and cherries and using them with the basting liquid instead of trying to attach them.
How do I reheat ham? It is easy! You can do it in the oven at 350, covered with aluminum foil, for about 15 minutes. It it is already sliced, as opposed to be a large chunk of meat like it was when you cooked it originally, it won't take nearly as long.
You can, of course, reheat it in the microwave, but any meat heated this way gets a little rubbery.
What to serve with pineapple ham? Pineapple ham is generally served around holidays like Christmas or Thanksgiving. Because of that, I usually serve mine with all the fixings!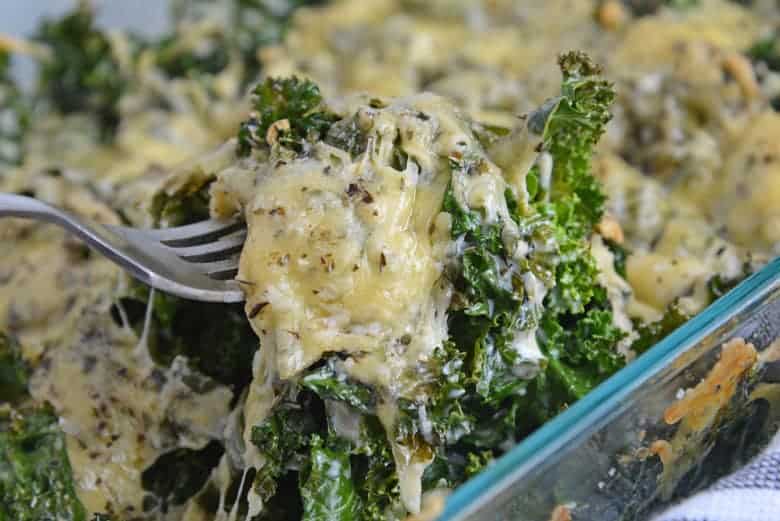 Do I need to add water to my ham? You might for other recipes to keep them moist, but not for this ham recipe.
Can I freeze pineapple ham? Yep! But word to the wise, the pineapple and cherries won't defrost as well as the actual ham. They are made up of a lot of water, so they thaw a little soggy and limp.
Why put pineapple on ham? Ham is usually served with some sort of sweet glaze like brown sugar for example. The sweetness from the pineapple helps to balance out the salt from the ham and provides a delicious flavor.
The benefit of putting actual pineapple slices on the outside rather than just making a pineapple glaze from the pineapple juice is to prevent the skin of the ham from burning.
CONNECT WITH SAVORY EXPERIMENTS!

Be sure to follow me on social media, so you never miss a post!

Facebook | Twitter | Youtube
Pinterest | Instagram

Get our FREE 8 Day E-Course on How to Be a Better Home Cook. Sign up HERE!