When it comes to holiday dishes, it doesn't get more classic than a ham with pineapple dotted with maraschino cherries. Easter, Christmas, Thanksgiving… just about any holiday is better with glazed ham.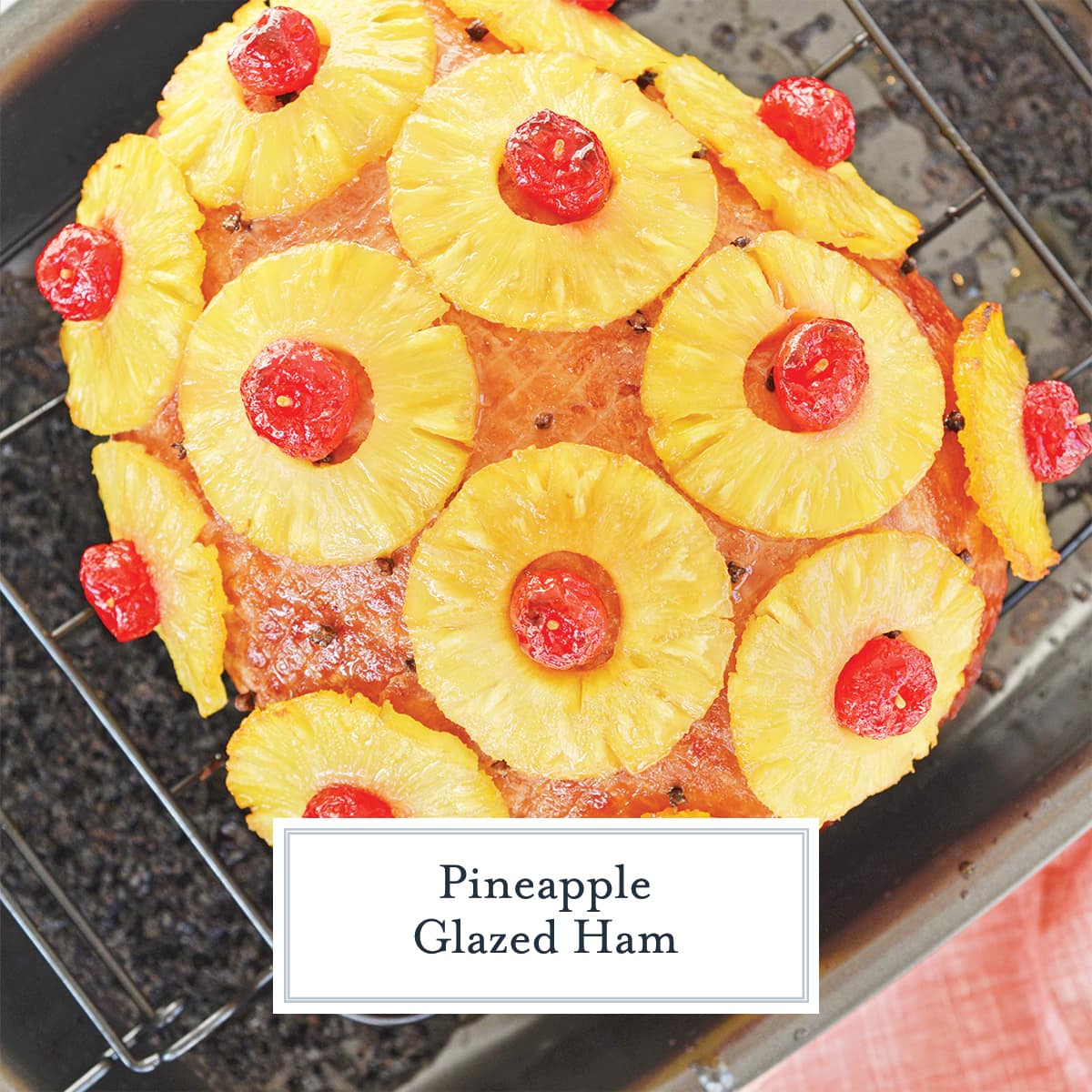 Ham in general is a traditional favorite, but pineapples and cherries really take it over the top. While initially it might sound like a funny combo, they make perfect sense.
Sweetness in fruit tones down the salty and briny flavors from cured ham and also adds vibrant color to the otherwise ho-him brown ultimately creating a centerpiece instead of just an entree.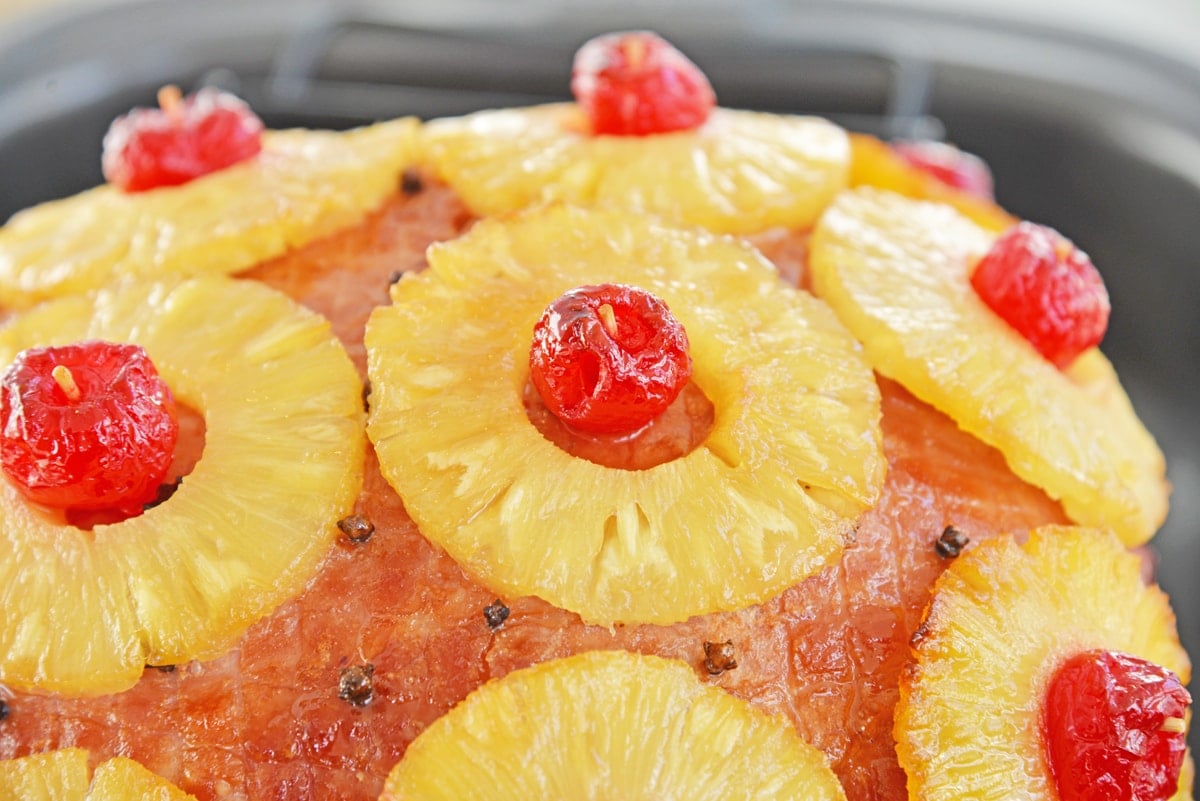 The Ham
Some tell me ham is ham and I am going to tell you that just isn't the case. Choosing the right ham for the recipe is in fact pretty important, although you can easily modify based on the cut you have.
What is ham? Ham is pork leg that has been cured, and sometimes smoked. Curing uses salt, resulting in the salty brine taste that it is known for. Some hams are whole, like a bone-in, and others are mechanically pressed to form a nice little package without bones. Ham is fully cooked.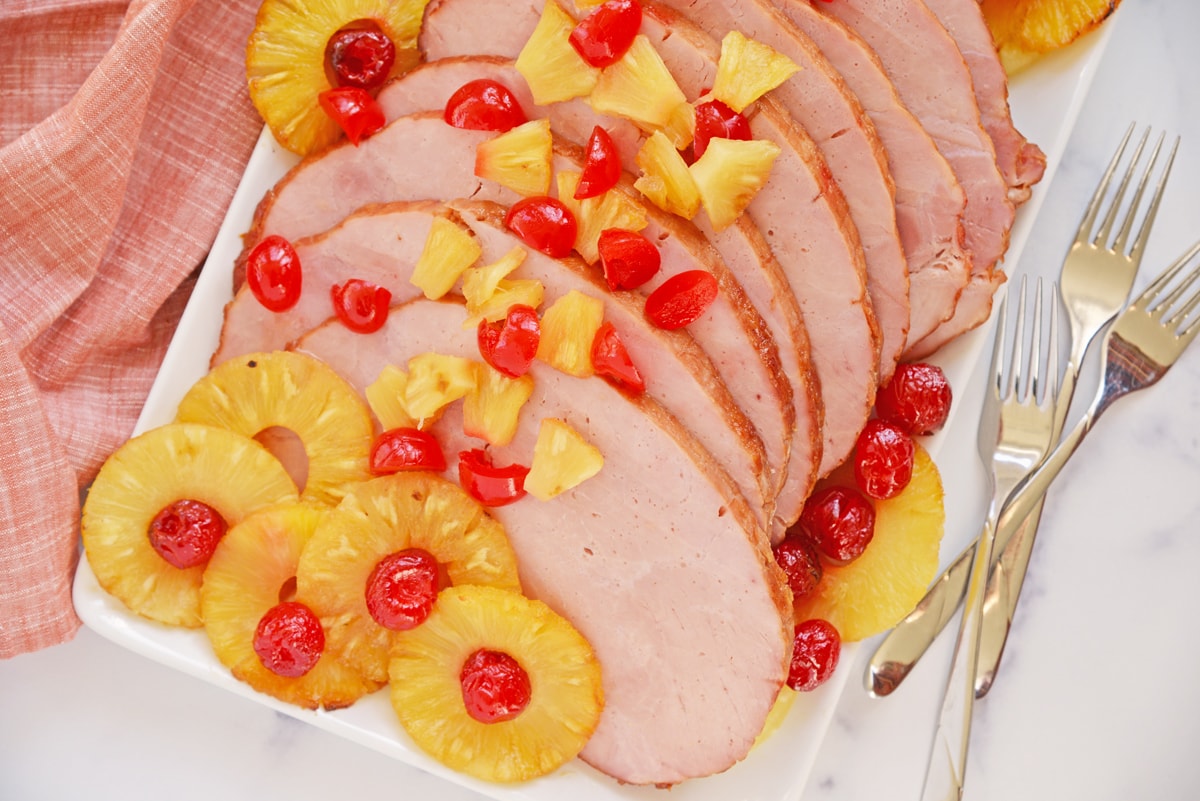 While bone-in looks more impressive, most folks will opt for a spiral cut ham to prevent from having to carve themselves. These are great, but a little more challenging to prepare for a baked ham recipe like this because the slices will literally start to fall off.
I used a boneless ham for this recipe. It isn't sliced, so it is nicely dotted with cloves, pineapple slices and cherries. It also has some fat removed so it is slightly leaner. Boneless makes it easy to carve. You can use a spiral ham, but it will be a little challenging and you might need to tie together the cut pieces with cooking twine.
Scoring
Many recipes will call for you to score the ham before cooking claiming that the glaze will penetrate the ham for flavor. LIES!
Scoring used to be used to cut through a thick fatty layer on the exterior. Now days, most don't have that. Scoring can also dry out your ham faster. The rind protects tender, juicy meat inside, but if you break through that the barrier is lost and now it has the tendency to dry out.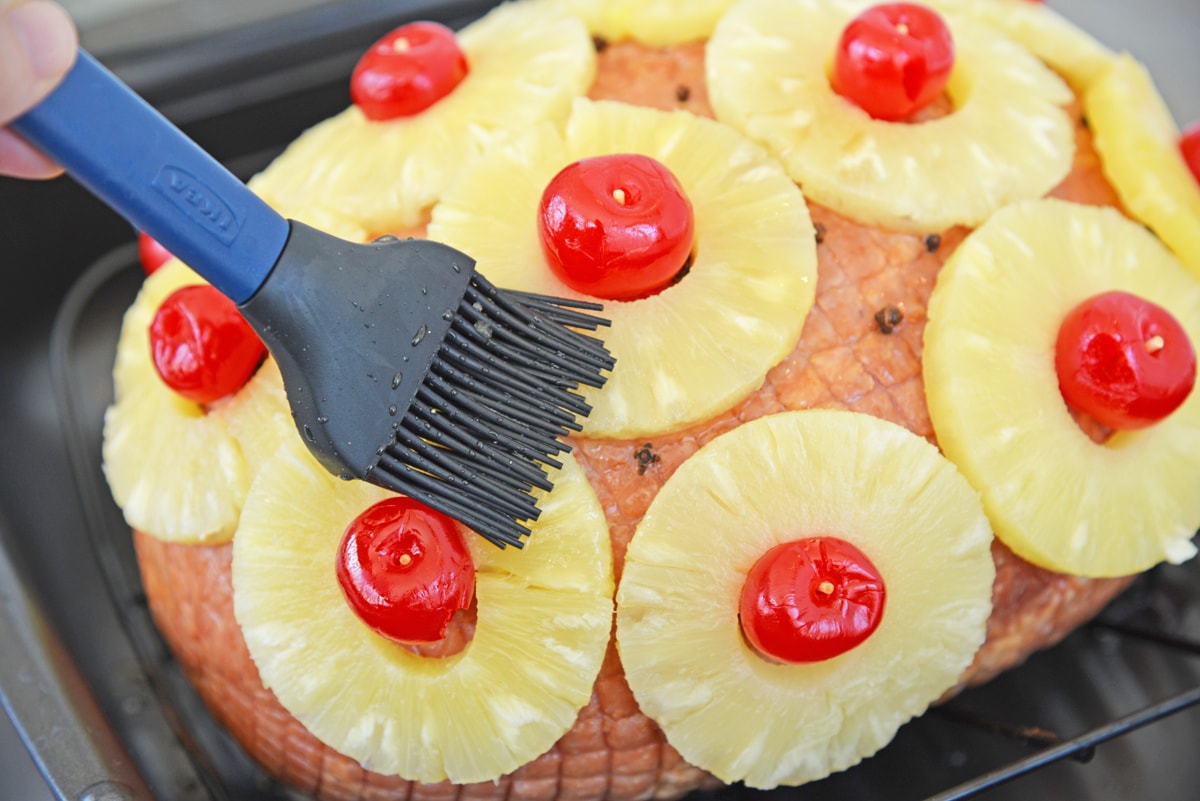 And as far as flavor, a ham is far too dense, thick and already cooked to be infused with that much flavor all the way through. The glaze is important and will give you a lovely crusty brown sugar taste, but never, will it ever reach the center, or even 1/2 inch into, a ham.
This is also why I reserve a portion of my glaze to be basted on after carving.
Some, like this one, will come with a diamond pattern on them from the packaging. This is different from scoring and isn't removable. But it does look pretty!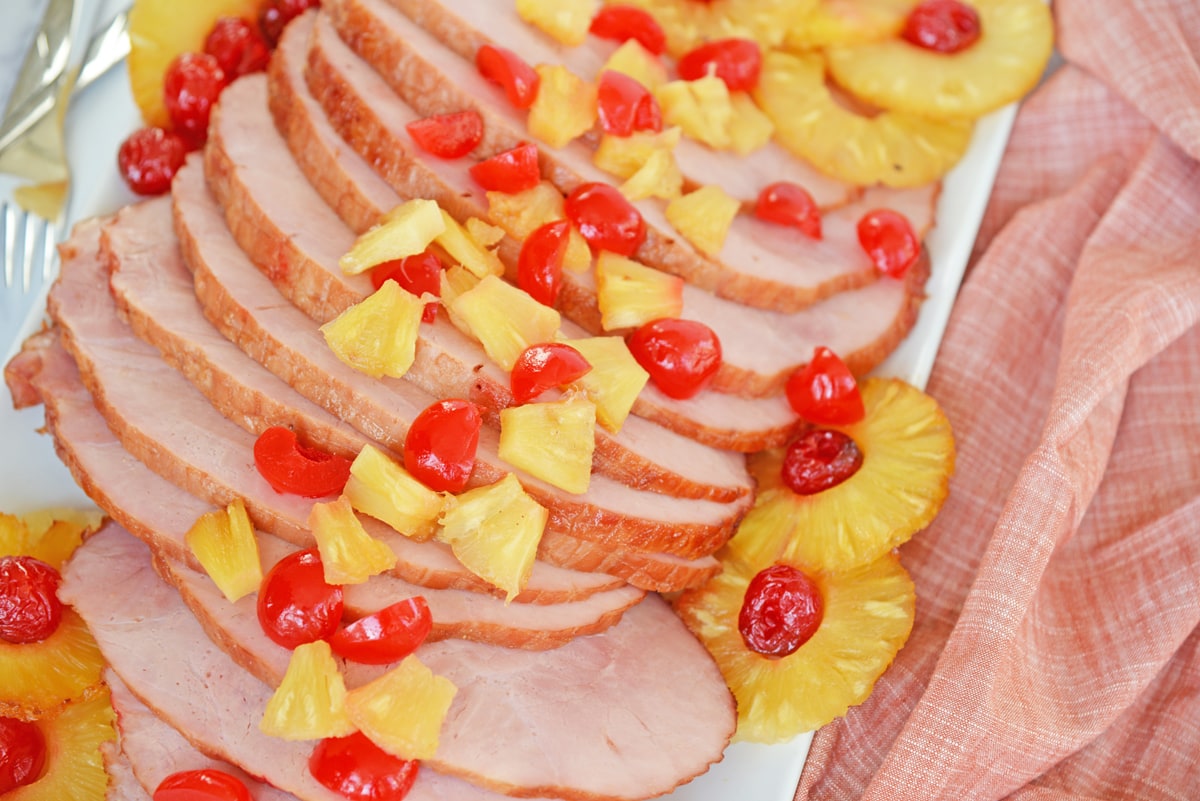 Why Put Cloves In Ham?
This is a fad that started in the 1950's along with JELLO molds and other odd culinary creations. But unlike some of those, this one stuck around.
The reason? It provided more than just an "unusual" flavor. Clove and ham complement each other. But like the glaze, sticking a few tiny cloves into a ham isn't going to penetrate flavor to the core.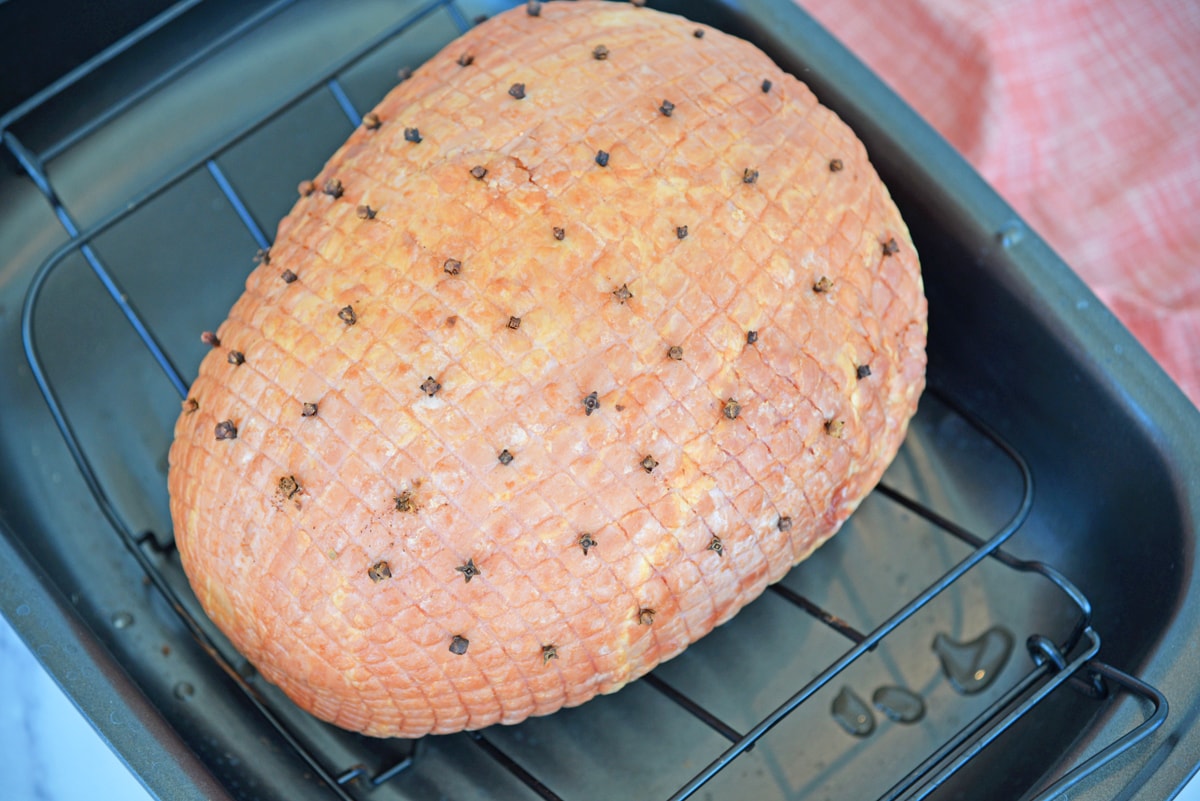 It does give off a lovely aroma while baking and gives some flavor to the glaze and fruit. They need to be removed before carving. While they won't hurt you if eaten, they aren't pleasant. Kinda like chewing on a fragrant twig.
Brown Sugar Glaze
One of the most important elements in the glaze recipe. Mine is made of only three in ingredients:
Pineapple juice- I use the juice from the can, just make sure your pineapples are packed in 100% juice. A 20 ounce can has approximately 3/4 cup liquid.
Brown sugar – light or dark work!
Dijon mustard – I go with a smooth mustard, but grainy can work too.
The perfect pineapple ham glaze is a mixture of sweet, savory and acidic to balance a salty cured ham.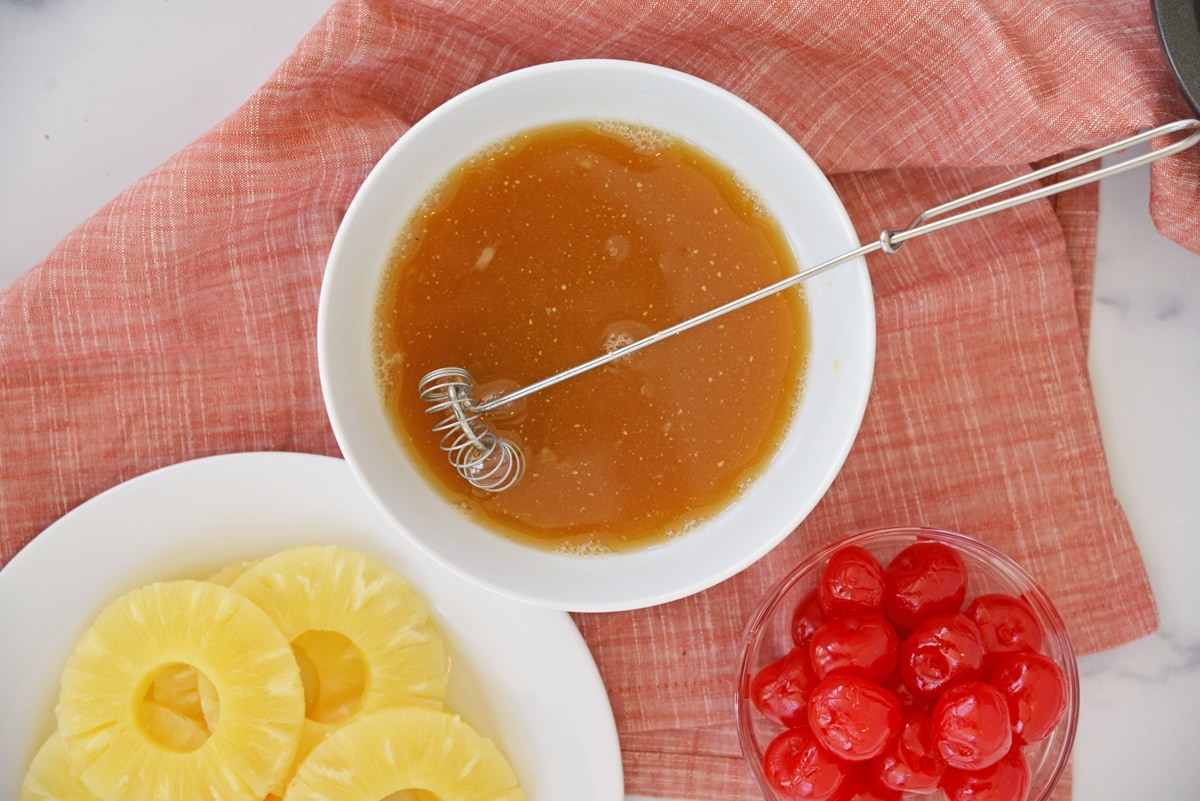 This glaze is a little watery, as I like to focus on the fruit rather than a sugary crunchy glaze. If that is what you are going for, double the amount of brown sugar.
I also reserve a small amount for basting after the ham has been sliced, this adds some flavor to the interior which otherwise doesn't get any of the sweet goodness.
If you don't want to use pineapple juice, opt for ginger ale, water, white wine or even maple syrup, but reduce the volume by half and know it will be super sweet.
Pineapple & Cherry
This process always seemed kind of silly to me. So we are going to make the ham all pretty, bake it and then present it in the pretty form to our friends and family before whisking it back into the kitchen, totally disassembling it, carving it, transforming it into an entirely different looking dish and then making it magically reappear?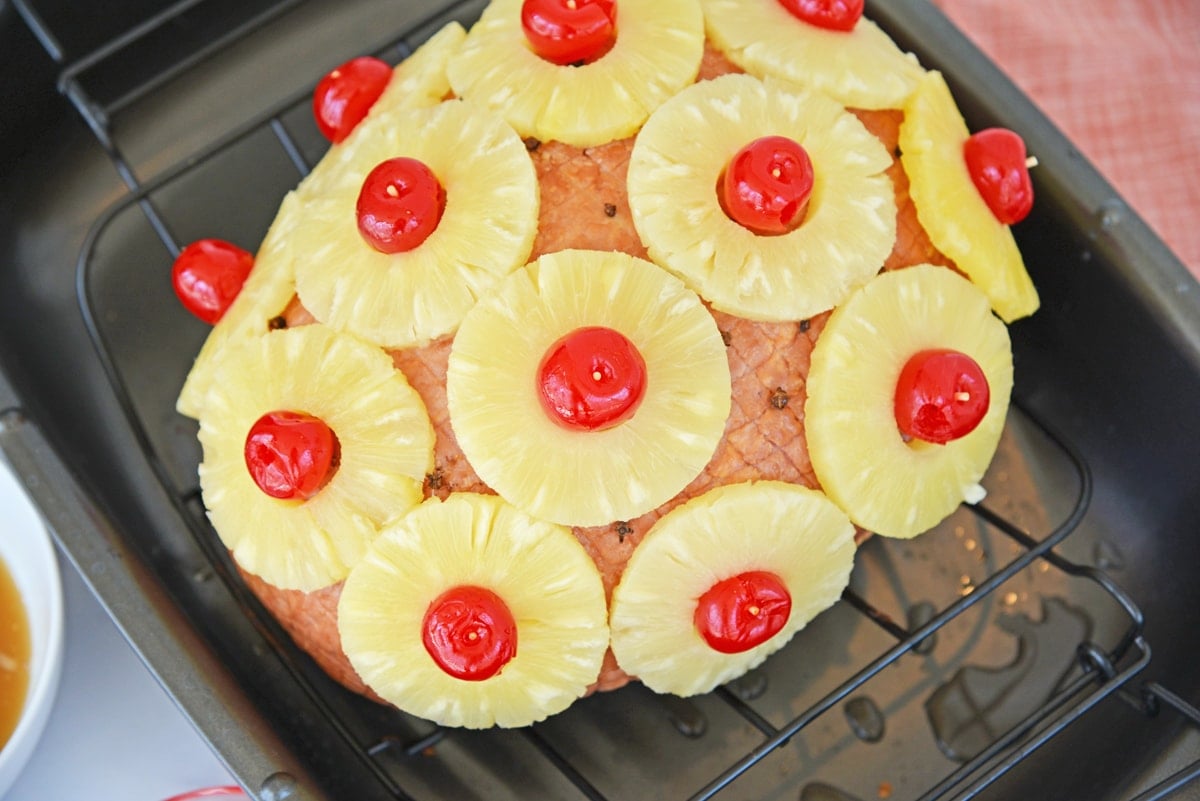 Pineapple rings actually protect the skin of the ham from burning and prevent it from getting rubbery. Much like a cheesecloth on a turkey or salt on a steak. Since hams are so thick, it takes a long time to heat it all the way through.
The are, of course, also ornamental and let me tell you, nothing beats the sticky flavor of a caramelized pineapple ring with a bite of glazed ham.
Maraschino cherries are real cherries, but have been pitted and then soaked in a heavy sugar syrup. Typically seen in cocktails and desserts, they are also perfect for hams.
While pineapple serves a practical purpose, cherries do not other than offering more color, flavor and making the perfect little ball for securing pineapple rings, so they are optional.
Reheating & Freezing
How do I reheat ham? It is easy! You can do it in the oven at 350, covered with aluminum foil, for about 15 minutes. It it is already sliced, as opposed to be a large chunk of meat like it was when you cooked it originally, it won't take nearly as long.
You can, of course, reheat it in the microwave, but any meat heated this way gets a little rubbery.
Can I freeze pineapple ham? Yep! But word to the wise, the pineapple and cherries won't defrost as well as the actual ham. They are made up of a lot of water, so they thaw a little soggy and limp.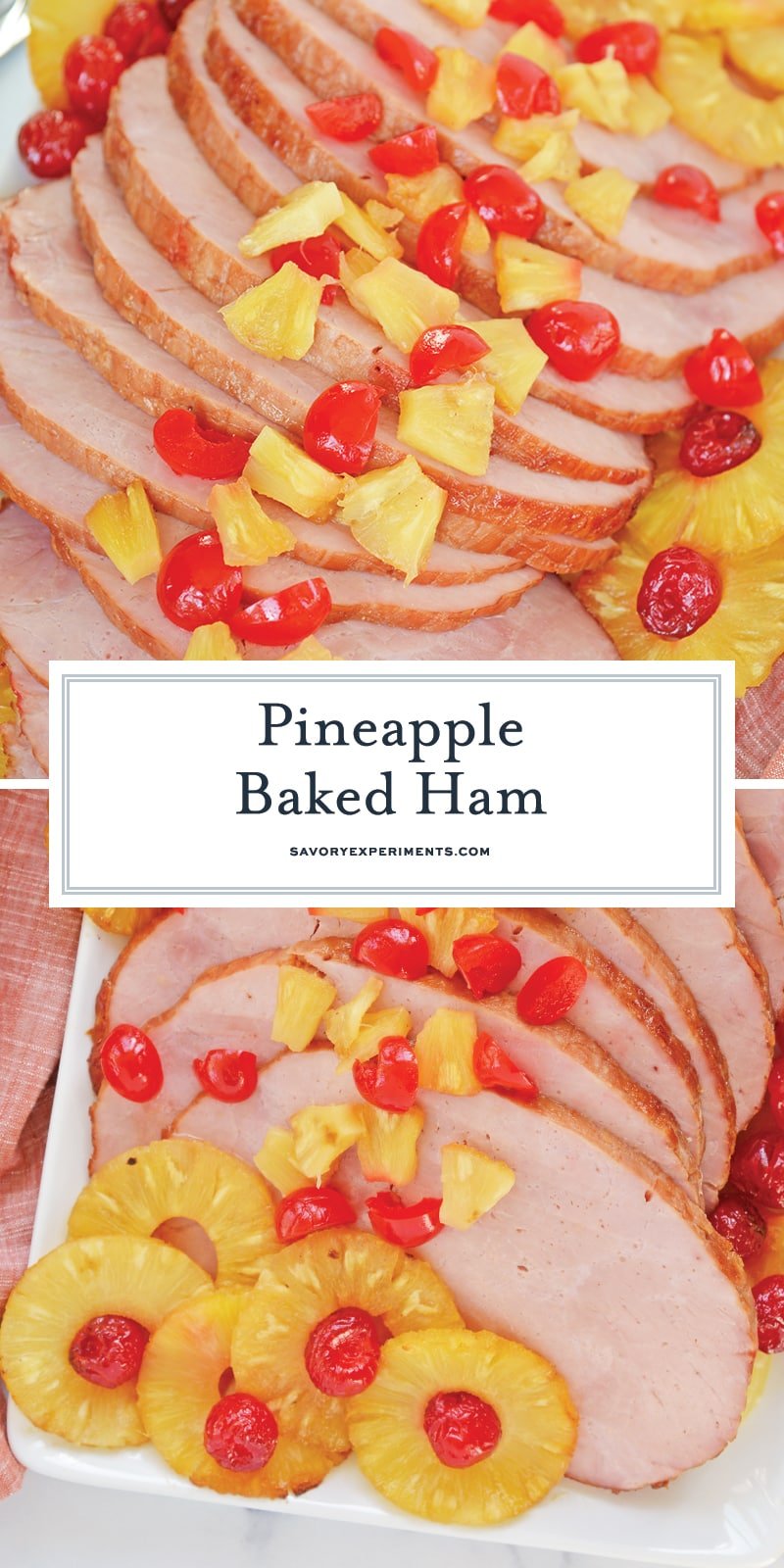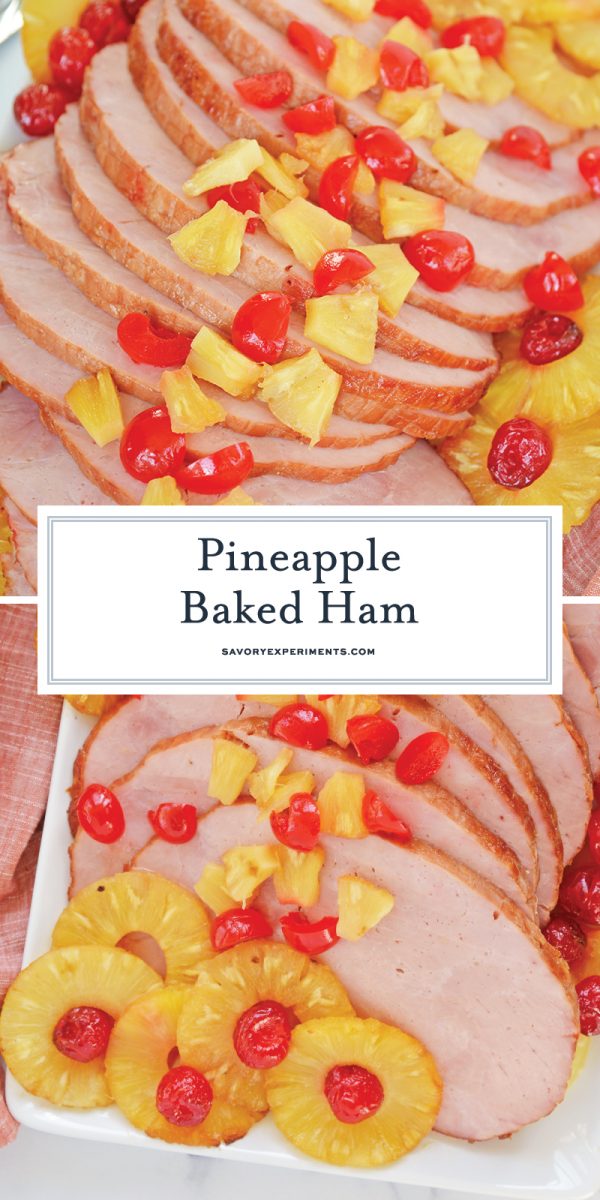 Thyme Honey Baked Ham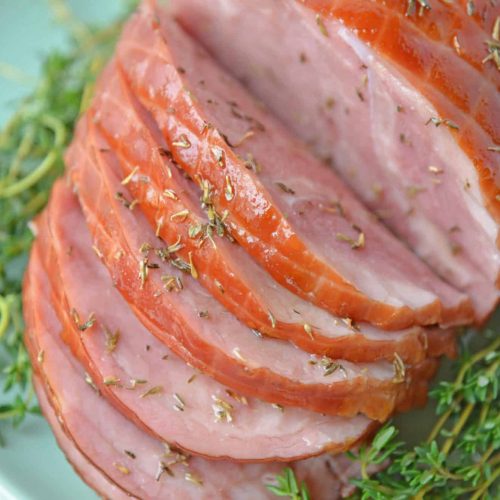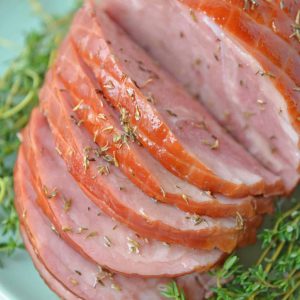 Thyme Honey Glazed Ham is a light and flavorful ham glaze recipe the whole family will enjoy. Simple to make and delicious to eat!
Mustard Brown Sugar Baked Ham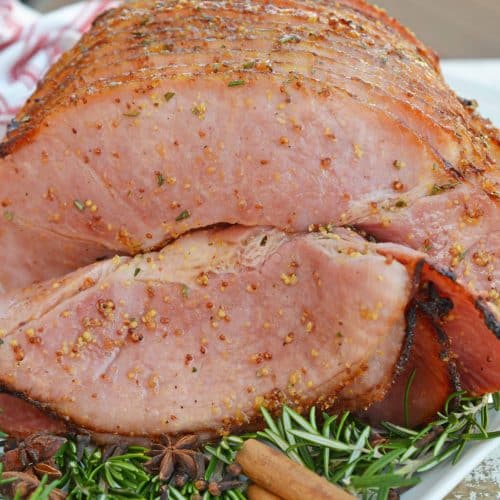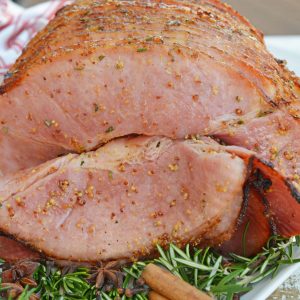 Mustard Brown Sugar Baked Ham is a ham glaze recipe that's perfect for a Christmas ham or an Easter ham. One of the best easy ham recipes!
Riesling Peach Glazed Ham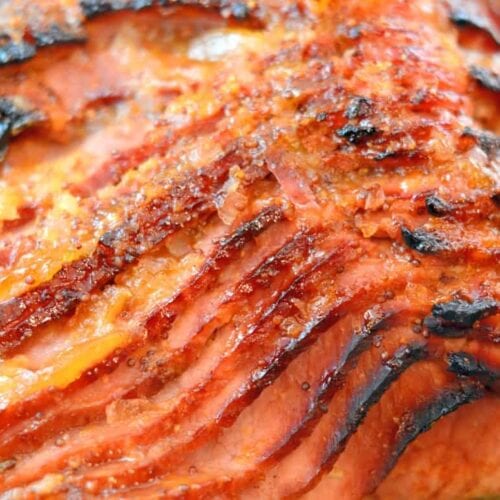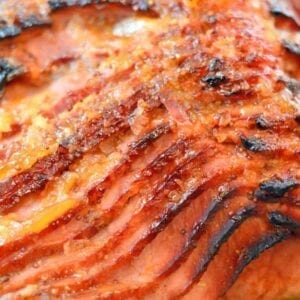 This Riesling Peach Glazed Ham Recipe is a beautifully caramelized baked ham with peach brown sugar glaze.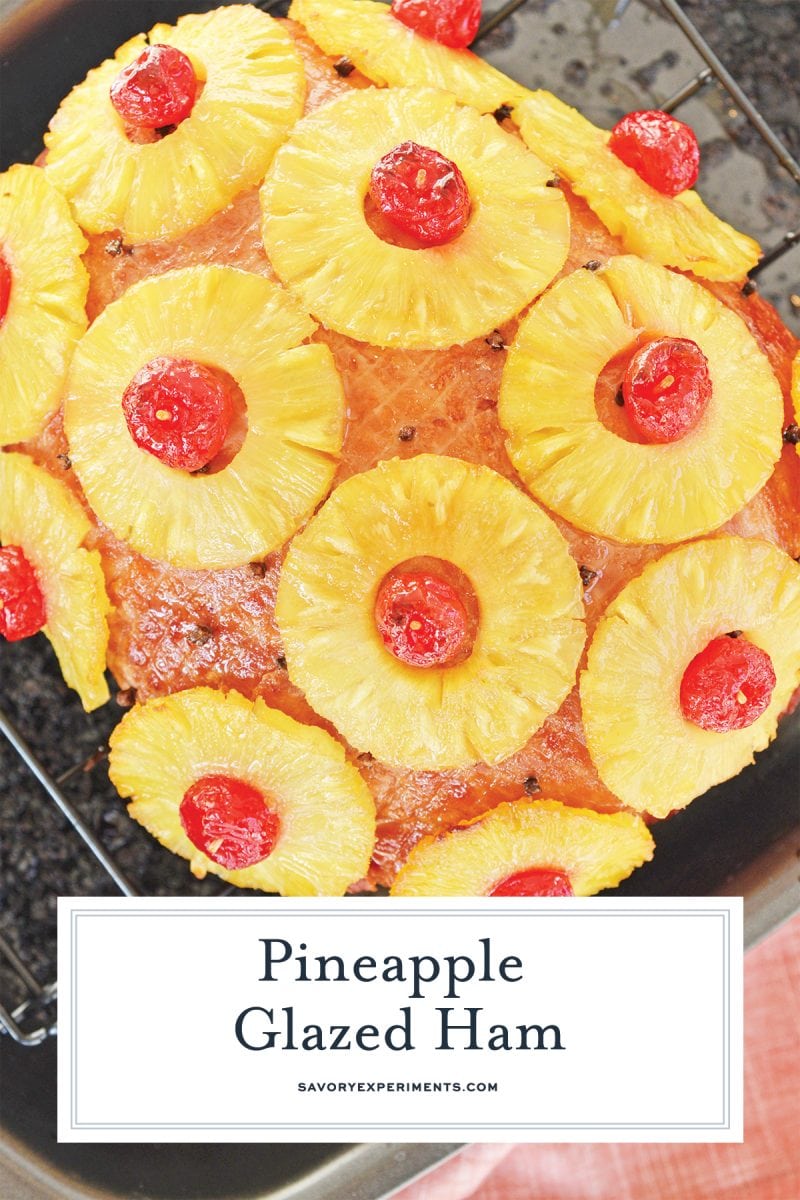 ---
Get our FREE 8 Day E-Course on How to Be a Better Home Cook. Sign up HERE!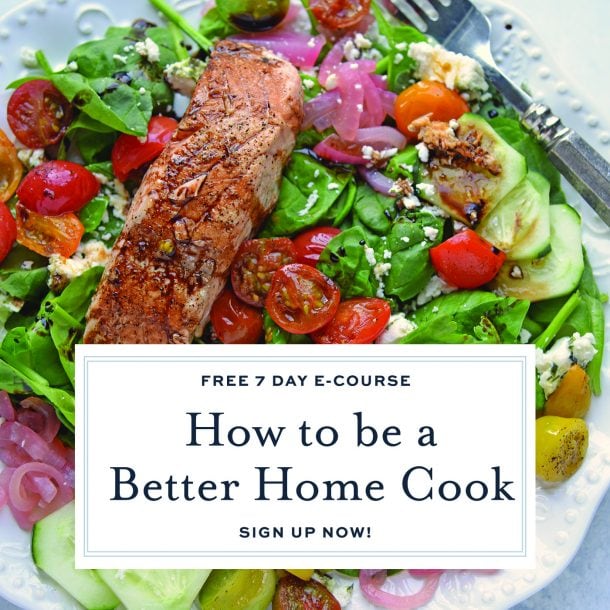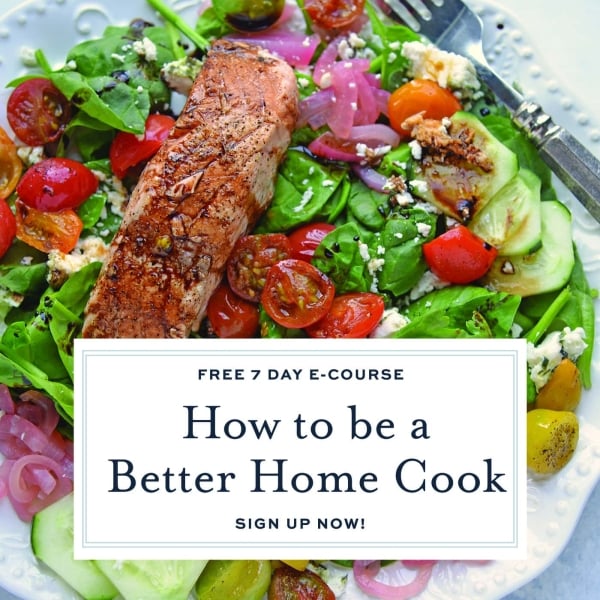 CONNECT WITH SAVORY EXPERIMENTS!

Be sure to follow me on social media, so you never miss a post!

Facebook | Twitter | Youtube 
 Pinterest | Instagram 
---
Brown Sugar Pineapple Ham
Brown sugar pineapple ham is a classic baked ham recipe using a mustard glaze with pineapples and cherries.
Instructions
Preheat oven to 300°F. Place ham in a large, high-sided roasting pan.

In a small bowl, whisk together the reserved pineapple juice, brown sugar and Dijon mustard. Set aside.

Baste once with liquid (you'll baste throughout cooking).

Bake uncovered for 2 hours and 30 minutes, basting every 20 minutes. Internal temperature should reach 145°F.

Remove from oven. At this time you can "display" your pretty ham or go ahead and prepare it for serving.

To prepare for serving, remove pineapple slices, cherries and all cloves. Discard cloves and toothpicks. Slice ham and baste slices with remaining basting liquid.

Chop pineapple rings and cherries. Arrange ham and fruit on a platter and serve.

If you've tried this recipe, come back and let us know how it was in the comments or ratings.
Nutrition
Calories:
234
kcal
|
Carbohydrates:
27
g
|
Protein:
10
g
|
Fat:
10
g
|
Saturated Fat:
34
g
|
Cholesterol:
102
mg
|
Sodium:
500
mg
|
Potassium:
478
mg
|
Fiber:
1
g
|
Sugar:
26
g
|
Vitamin A:
35
IU
|
Vitamin C:
7
mg
|
Calcium:
67
mg
|
Iron:
5
mg