This stuffed cod recipe is a mouth-watering, gourmet recipe that you can make right at home in the comfort of your kitchen. Spice up date night or make this amazing Lobster Stuffed Baked Cod recipe for a special occasion!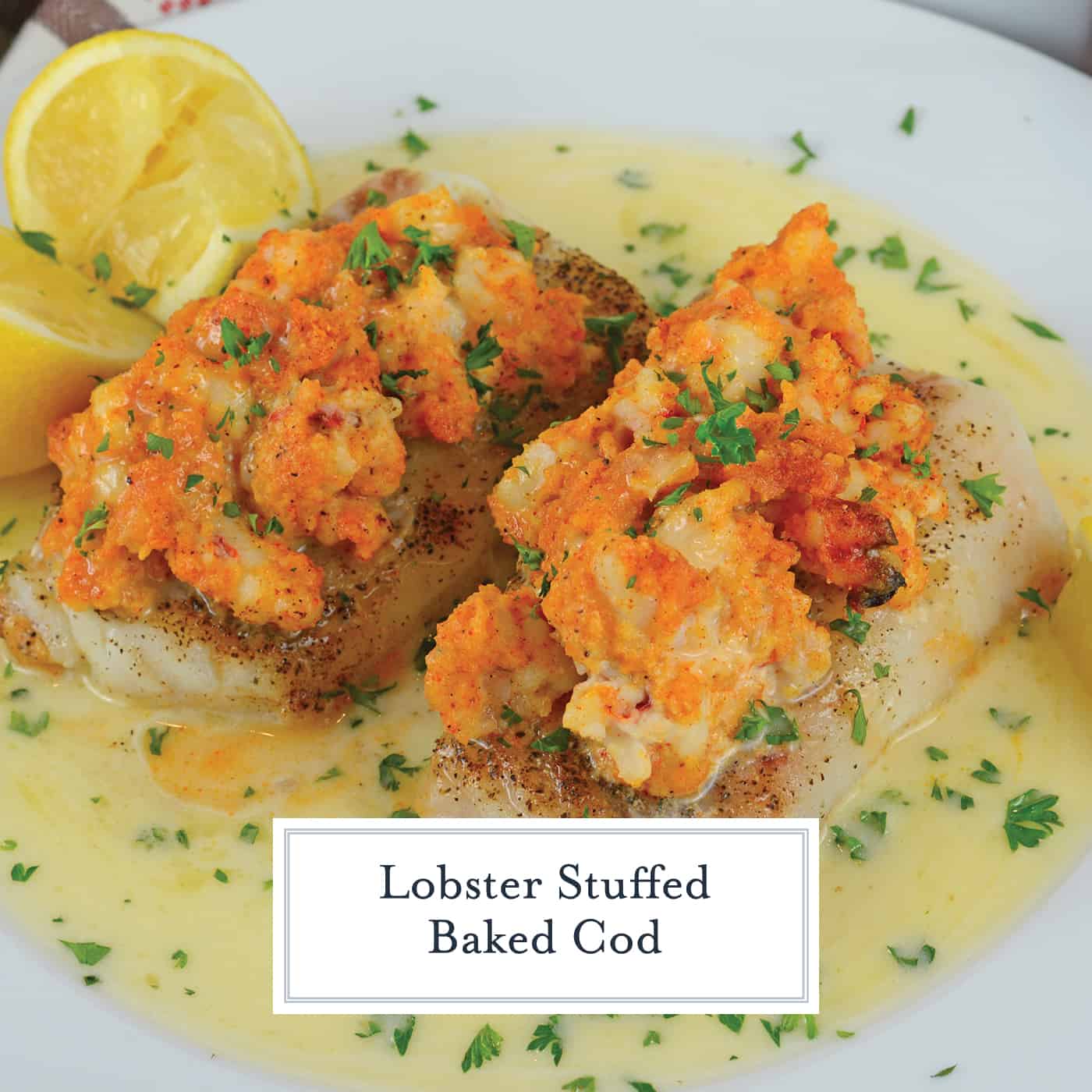 Lobster Stuffed Baked Cod is made from tender buttery cod topped with chunks of lobster meat and beurre blanc sauce. The perfect recipe for a special night!
You don't have to book a table and get all dressed up to have a restaurant-quality seafood dinner. Lobster Stuffed Baked Cod is the perfect meal for a special occasion.
Think about Valentine's Day dinner, birthdays, anniversaries or an unexpected "you're special" evening.
Buttery cod is topped with plump lobster meat and beurre blanc, a sauce also known as "white butter". This is considered a classic French sauce and is made by reducing vinegar and/or white wine with shallots and whisking in butter. It is decadent and rich.
As far as fish goes, cod is relatively inexpensive and more importantly, easy to find. Simply a fish for fish and chips or a fish fry it is not.
A thick, baked cod filet is flaky and fork-tender and not too strong in terms of flavor. (This is important if you are stuffing it with delicious lobster meat.)
You can grill, broil or easily bake cod with a little bit of lemon, salt, and pepper and be in for a wonderful meal. But you know what really takes the cake? Lobster Stuffed Baked Cod.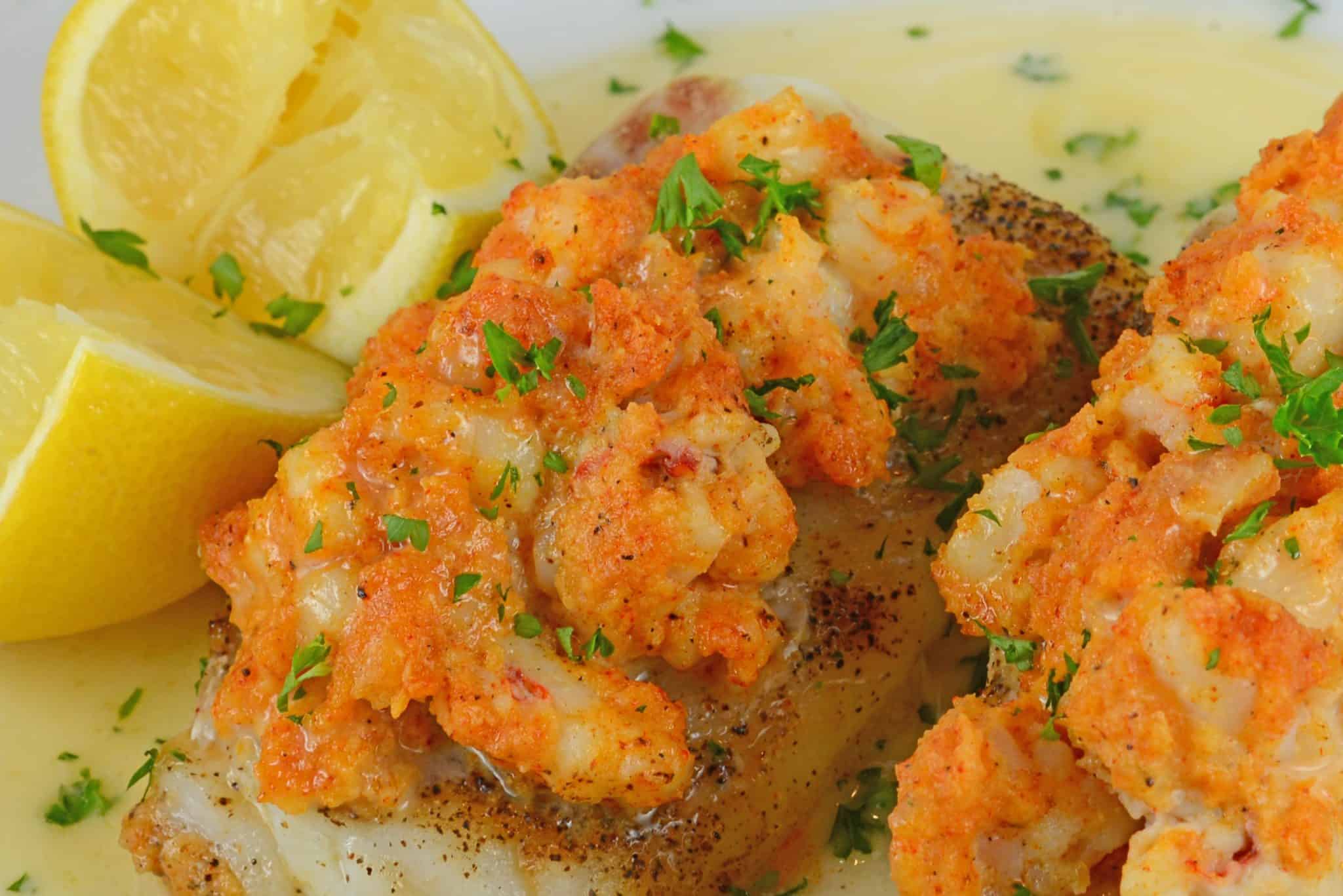 Lobster does have a tendency to increase the grocery bill just a little, but you only need one lobster tail for 4 fillets of cod.
And if lobster doesn't float your boat, you can use langoustines, jumbo shrimp, or even lump crab meat with this same recipe. All are similarly sweet like the lobster and have a tender texture.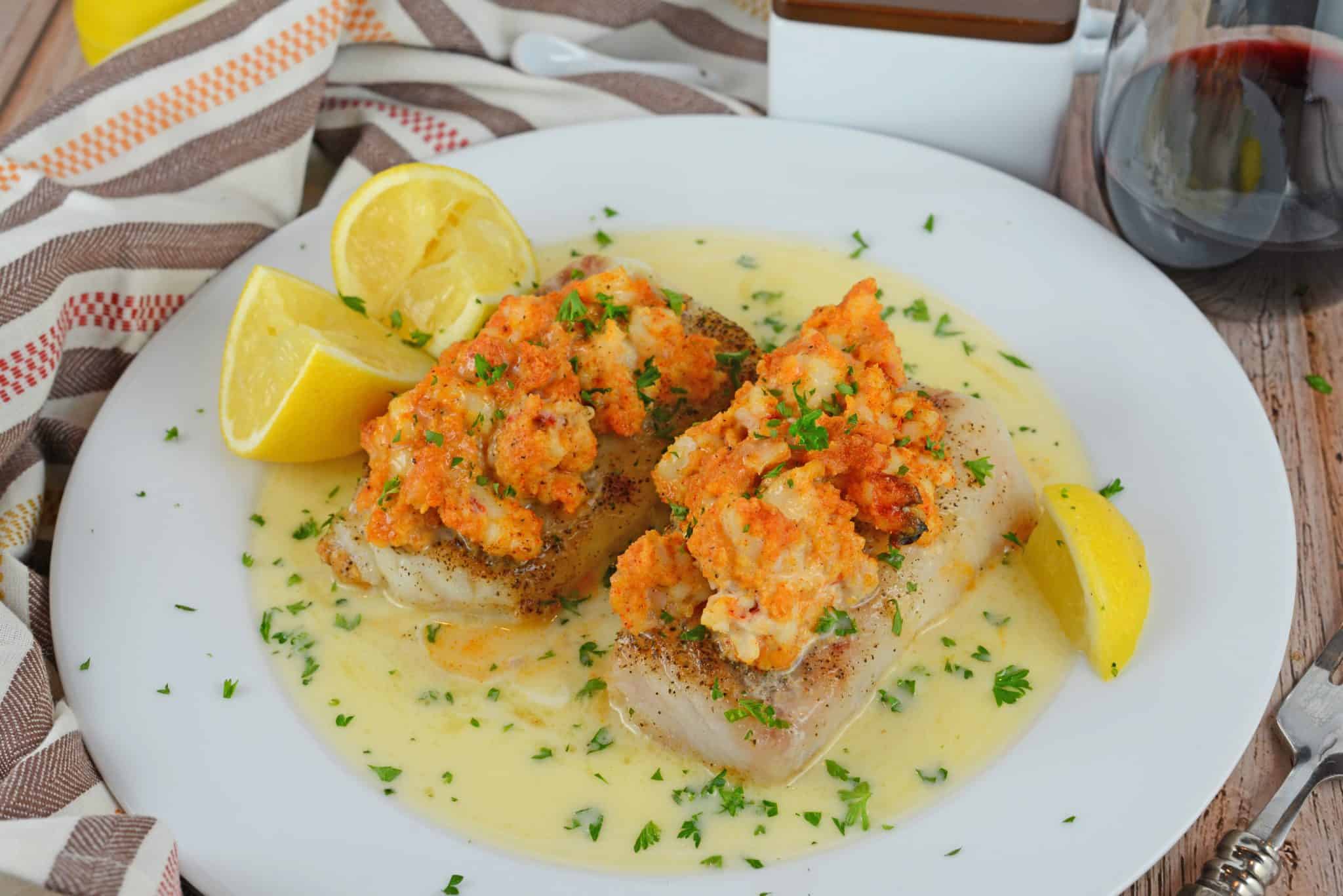 And if cod isn't your thing (and I can understand if that's the case), talk to your fishmonger. They might have a local fish that is similar to cod in flavor and texture that would work well. If not, halibut, tilapia, or sole work equally well.
The lobster meat is seasoned simply with salt and pepper and a touch of smoky paprika and mixed with the sour cream and bread crumbs to give it some structure.
Fun facts about lobster:
During Colonial times, lobster was considered to be the "poor man's food", a bottom feeding crustacean, it was fed to livestock.
Only Maine lobsters have claws, Caribbean lobsters called spiny lobsters, have no claws.
Lobsters can live as long as 100 years. They rarely get "sick" and die, they need to be preyed on.
Lobsters continue to grow through their life, so a lobster can grow up to 40 pounds! That puts your pricy 7 pound lobster to shame. Ha!
Lobsters are a great form of protein, omega 3 fatty acids and are low in fat and calories (until you add the butter….)
Lobster molt their shells through the lifecycle, also known as soft-shelled lobster, kind of like soft-shelled crab. They are plentiful from July-October.
Live lobsters aren't red, they are blue, yellow or brownish.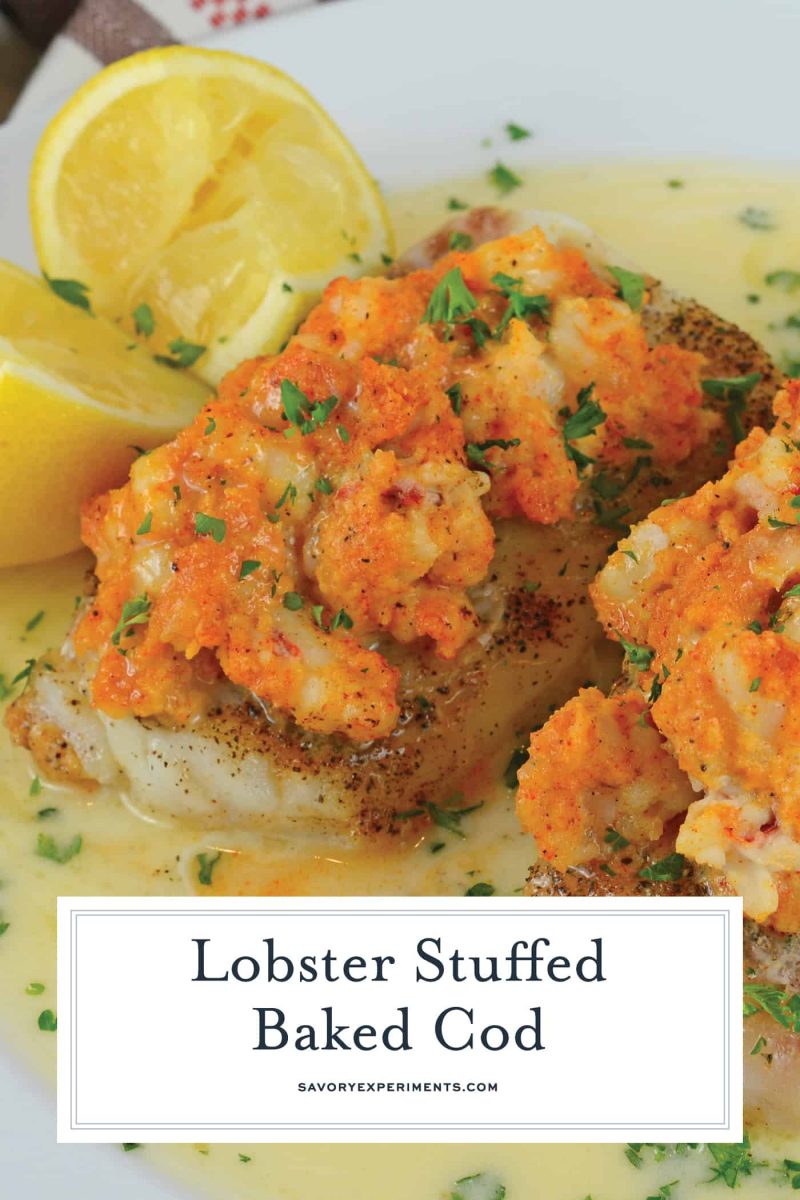 I originally saw a recipe similar to this one on Diners, Drive-Ins and Dives on a flight from Chicago to Baltimore. I can't even remember where they were located or the name of the restaurant, but I am going to take a guess it was up in New England towards Boston or Maine.
We served our Lobster Stuffed Baked Cod with Cheesy Twice Baked Potatoes and Burnt Carrots (don't judge, they are excellent).
If you loved this baked cod recipe, check out these easy seafood recipes:
Ranch Salmon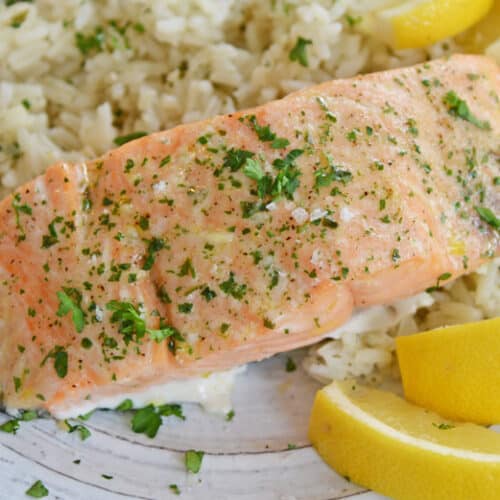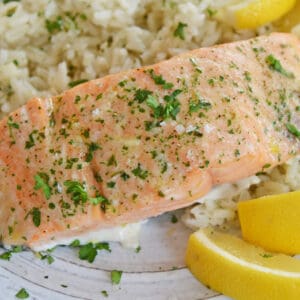 Looking for an simple weeknight meal with minimal ingredients? This easy Ranch Salmon is it!
Garlic Shrimp Kabobs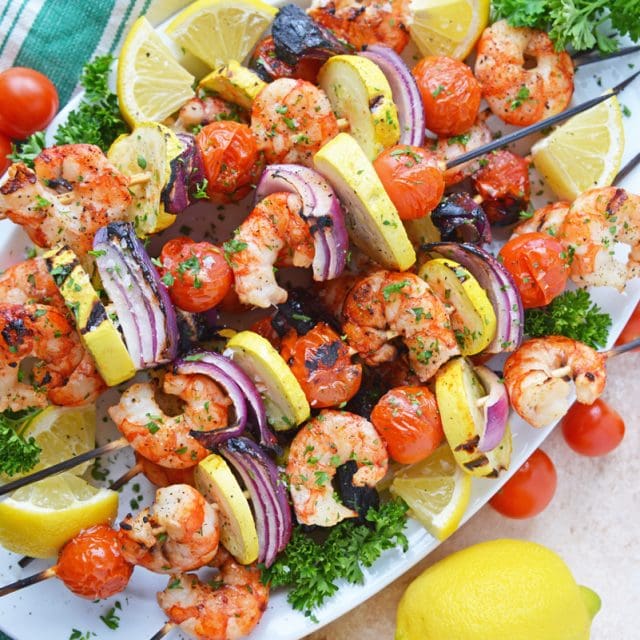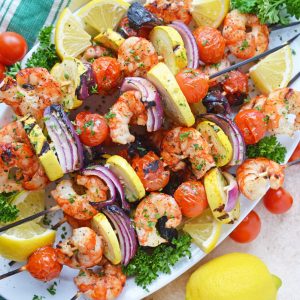 Looking for the perfect summer BBQ Recipe? Garlic Shrimp Kabobs with white cooking wine, garlic and fresh veggies are the perfect choice!
Grilled Lobster Tails
Succulent, tender lobster tails grilled to perfection with garlic, butter and parsley.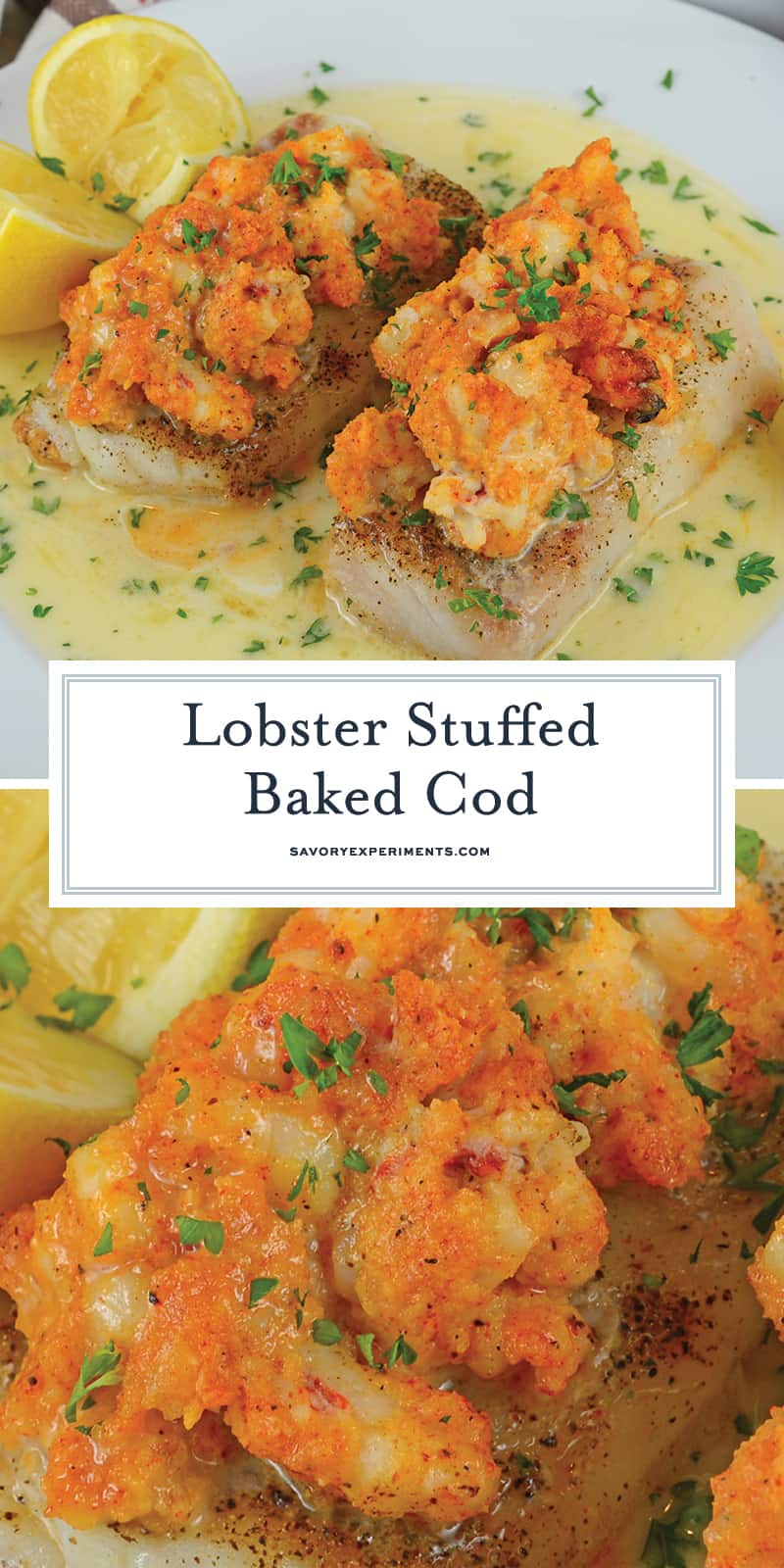 CONNECT WITH SAVORY EXPERIMENTS!

Be sure to follow me on social media, so you never miss a post!

Facebook | Twitter | Youtube
Pinterest | Instagram
Get our FREE 8 Day E-Course on How to Be a Better Home Cook. Sign up HERE!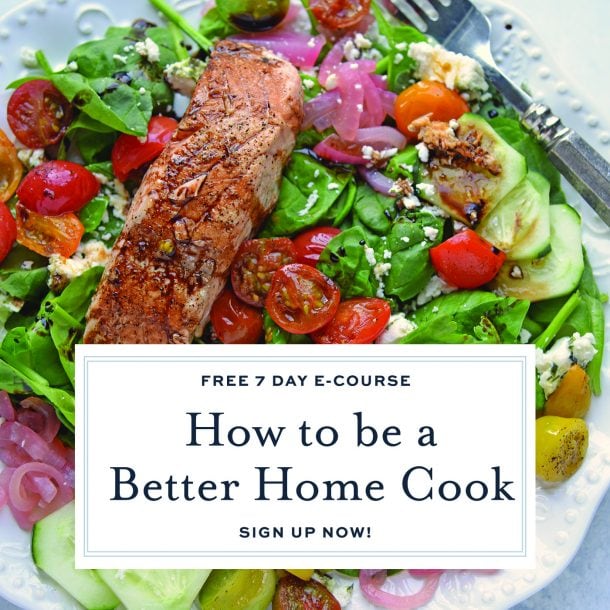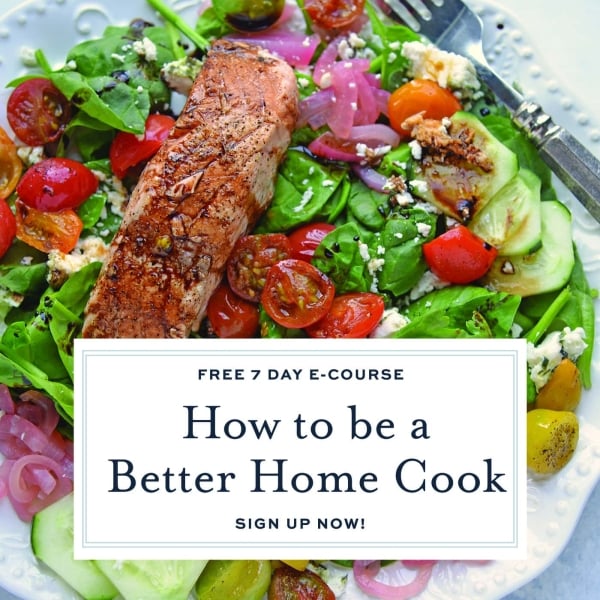 Lobster Stuffed Cod
Make Lobster Stuffed Cod for your next special occasion. Buttery cod topped with lump lobster meat and buerre blanc sauce.
Instructions
Preheat oven to 400 degrees.

In a small mixing bowl, combine chopped cooked lobster through sour cream.

Lay both cod filets on a baking sheet or in a baking pan. Season cod filets with fine sea salt and freshly ground pepper. Bake for 5 minutes.

Gently form lobster mix on top of cod filets. Return to the oven and bake for an additional 10 minutes or until top is browned.

Remove and top with beurre blanc sauce.

If you've tried this recipe, come back and let us know how it was!
Nutrition
Calories:
361
kcal
|
Carbohydrates:
10
g
|
Protein:
7
g
|
Fat:
32
g
|
Saturated Fat:
10
g
|
Cholesterol:
71
mg
|
Sodium:
938
mg
|
Potassium:
63
mg
|
Vitamin A:
160
IU
|
Calcium:
45
mg
|
Iron:
0.3
mg