If you're looking for an elegant yet easy dinner, this baked stuffed lobster recipe is for you! Made with simple pantry ingredients, it's sure to impress!
One of the most awe inspiring dishes ever to grave menus and come out of a kitchen is a whole baked lobster. They aren't magical or mystical, only stuffed with pricy ingredients and therefore reserved only for special occasions.
Baked Whole Stuffed Lobster
When you crave stuffed lobster you have the choice or doing just a tail or the whole darn lobster. Both are impressive and both make a statement.
Whole lobsters are a little more challenging because you will need to start with a live lobster while tails you can get frozen and just defrost. For some, the whole live lobster thing is off putting.
Seafood Stuffing
There are many recipes for lobster stuffing but the one thing all the top rated versions have in common: LOADS OF SEAFOOD.
What seafood mixture you ultimately toss into the mix is up to you. Popular options include:
From there, you'll need a binder. I used panko bread crumbs for these whole stuffed lobsters because I like their larger size for texture. They are like little flavor bombs that fill with liquid and keep your stuff from drying out. Other options are saltine cracker crumbs, regular seasoned bread crumbs or ground croutons.
After the bread and seafood are combined with onion and garlic, I use a small amount of liquid to make it into a paste before stuffing it on my lobster.
Other seasonings include blackened seasoning, Italian or smoked paprika. My new favorite seasoning aleppo pepper is also a winner if you liked a spicy, smoky mix.
Servings
One of the most popular questions we get it how many people one whole stuffed lobster will serve and the honest answer is that it depends on the size of the lobster and how hungry your diners are.
One standard 1 1/2 pound lobster is supposed to feed 2 people, but my husband would laugh at you. I typically pair it was a nice cut of beef like filet mignon or pan fried steak. The ultimate surf and turf.
The tail meat has the most weight, so judge how much you'll be eating on this and then add more seafood stuffing as needed. This recipe is a loose estimate, you can use more or less stuffing to fit your needs.
Prepping your Whole Stuffed Lobster
This is the nice way of saying you are going to have to kill the lobster and if you don't have the will to do this, I won't judge you, but it needs to happen.
There is a lot of discussion on how to humanely kill a lobster and when it comes down to it, there are 3 ways that are considered to be acceptable: boiling/steaming head first, sharp knife between the eyes and cutting off the tail.
First, let it be known that experts believe that lobsters do not feel pain, although they do sense changes in temperature. Their nervous system is purely skeletal and resembles that of an insect. They also have no brains. You can't be scared or feel pain without a place to process it.
They also do not have vocal chords, so the myth that they will scream when put in the pot is also false. There might be noise, but it is just spitting of the cold lobster going into a hot pot.
Whatever you do, keep your lobster cold in the fridge until you are ready to do it. This slows down their reflexes and keeps them calm. For this whole stuffed lobster recipe, you really only have one choice: knife behind the eyes.
You'll be splitting the body down the center lengthwise, but not fully cutting the two pieces apart so it butterflies out for the stuffing.
Knife Behind the Eyes
If you look at the back of a lobster, you'll see a little cross in the shell. Aim there with a chef's knife and stab in the middle. This disconnects the nervou system immediately. Some will say it is stabbing them in the brain, but they don't have a brain so that isn't possible.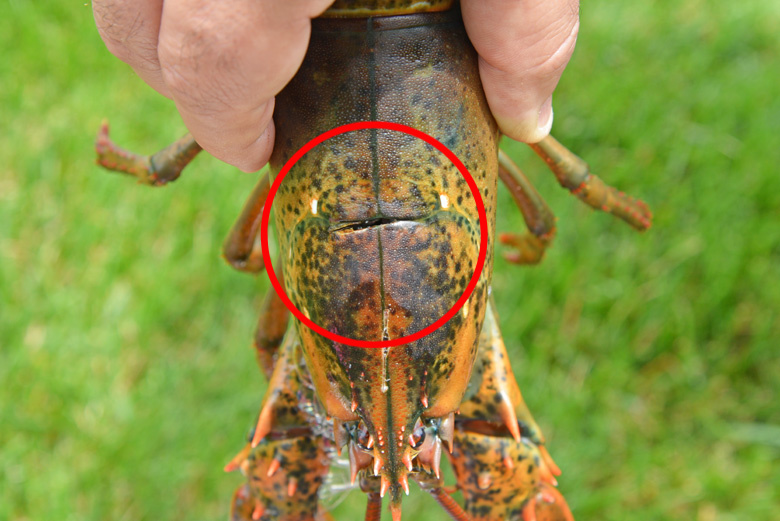 Their legs may move around a little, this is purely reflex. They are now dead. This part is hard, I know. It takes a little practice.
How To Make Stuffed Lobster
The process is really quite easy after you've done it once or twice. I suggest making the seafood stuffed first then tackling your lobster.
Cook finely chopped onion and garlic and cook for 2-3 minutes, or until opaque in melted butter. Add seafood of choice.
Add chopped parsley, panko and Kosher salt, browning lightly.
Form a paste using lemon juice and water. Cool slightly while preparing the lobster.
At this point, prep and broiled a halved lobster. Remove when cooked.
Mound on top of broiled lobster and top with remaining panko.
Bake for about 8 minutes, then switch over to broil for 1-2 minutes until crisp and golden. I like it when my stuffing is crisp.
Meanwhile, melt more butter for topping. Pour over cooked lobster with stuffing. You can season with salt, if desired.
Serve immediately with lemon wedges for spritzing and make sure to take lots of pictures to show all your friends on Facebook and Instagram the glory of your lobster!