Sweet lobster, creamy cheese and a crunchy panko topping come together to make the BEST Lobster Mac and Cheese recipe! Perfect for any special occasion or casual meal!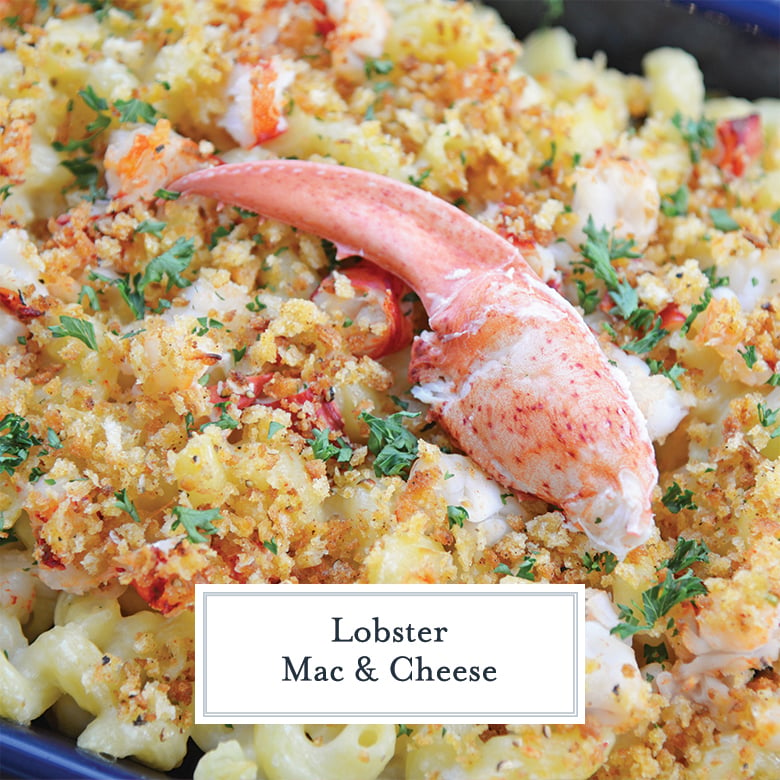 Who doesn't love mac and cheese? The variations are endless and it is the ultimate comfort food.
But after you've visited Ruth's Chris or Capital Grille and had a sizzling plate of Lobster Mac and Cheese, it is hard to go back to the simple stuff. But no worries, you can make your own award winning mac and cheese at home!
I can 100% guarantee you it will be flowing with way more lobster and will certainly taste better.
Lobster Mac and Cheese Recipe
Let's start off by saying that I am not digging in on my favorite steakhouses. I love them. And for many things, they are delicious, but not when it comes to the lobster mac.
It tastes great, but it almost always only comes with the tiniest 4-5 little lumps of lobster and that is all. When you factor in cost, it makes sense, actually. Lobster is quite pricey. But you can make your own at home and have total control over the lobster factor.
I also don't use too many additional spices or herbs. When you are paying that much for lobster why in the world would you over it up with a laundry list of garlic, onion and paprika? Just use a simple cheese that complements the flavors instead of covers them up.
I do add a little pizzazz in the crunchy panko topping, but that it all.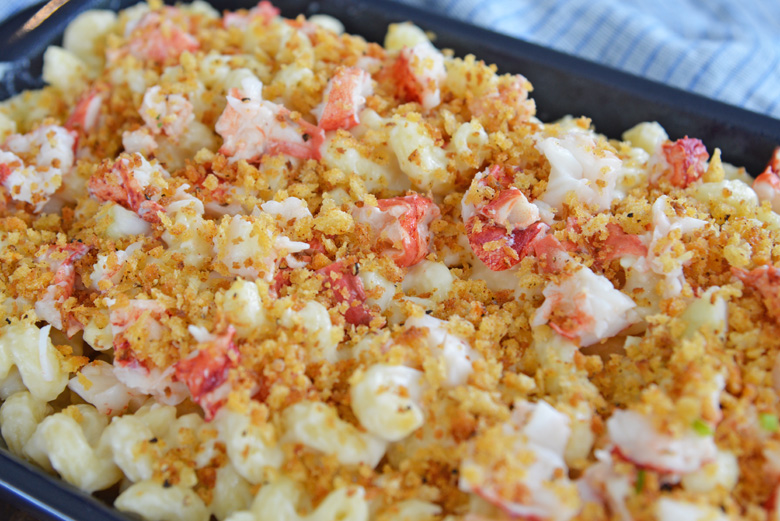 Ingredients
Elbow pasta – Cook the pasta according to box al dente before making this mac and cheese. You can really use any type of pasta that you have on hand.
Unsalted butter – I always prefer to use unsalted butter when cooking and baking. That way I am able to control the amount of salt that goes into the recipe.
Flour – All purpose flour is crucial for making the roux. This will be the base of our cheese sauce and also the thickening agent.
Milk – I like to use whole milk. This is what thins our cheese sauce out.
Cheese – I use two kinds of cheese: Swiss and aged gouda. Make sure to shred your own- pre-shredded cheese has an additive to prevent it from clumping. But it also prevents it from melting smoothly.
Lobster – The star of the show! We want this to be cooked and roughly chopped. Check the section below for picking out the best lobster and how to cook it.
Panko breadcrumbs – This is what we use to make that delicious crunchy topping. You can use Italian breadcrumbs if that's all you have on hand.
Olive oil – We need a little bit of olive oil to help bring our breadcrumb topping together.
Seasonings – To flavor our crunchy panko topping, we use a blend of smoked paprika, ground black pepper, kosher salt and garlic powder.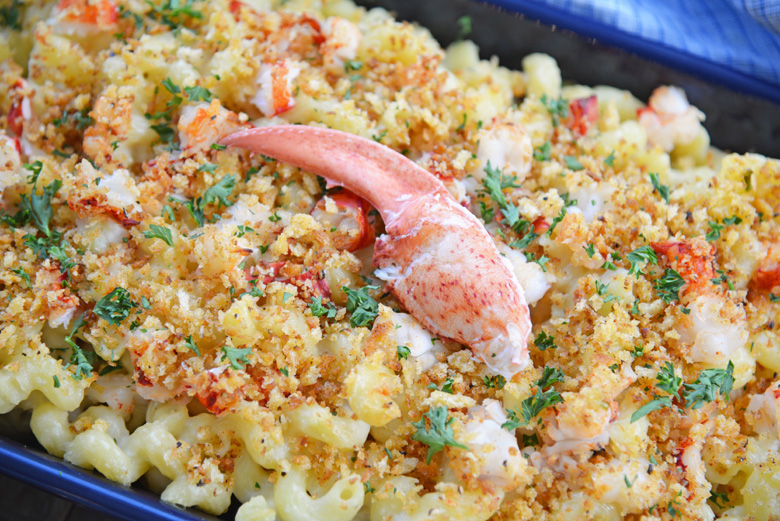 How To Make Lobster Mac and Cheese
I like to think of it in three parts and then the grand finale. None of the steps are particularly hard, but they do take time. No bones about it, this recipe does have some hands-on time, but it is totally worth it.
Cook and chop the lobster.
Make the mac and cheese.
Make the crunchy topping.
Bake it all together.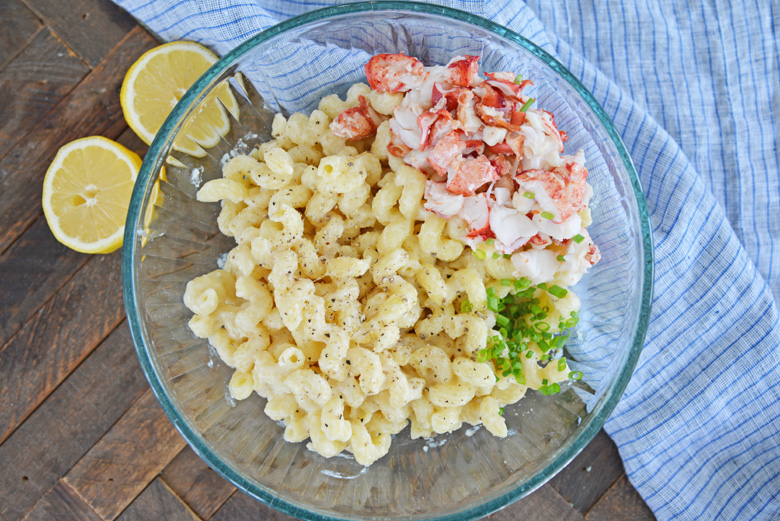 Cooking The Lobster
You have several options for your lobster mac and cheese recipe. Tails or whole lobster are the two main choices. Cold water lobsters (Maine lobster) are often more sweet than warm water (spiny lobster or Caribbean Lobster).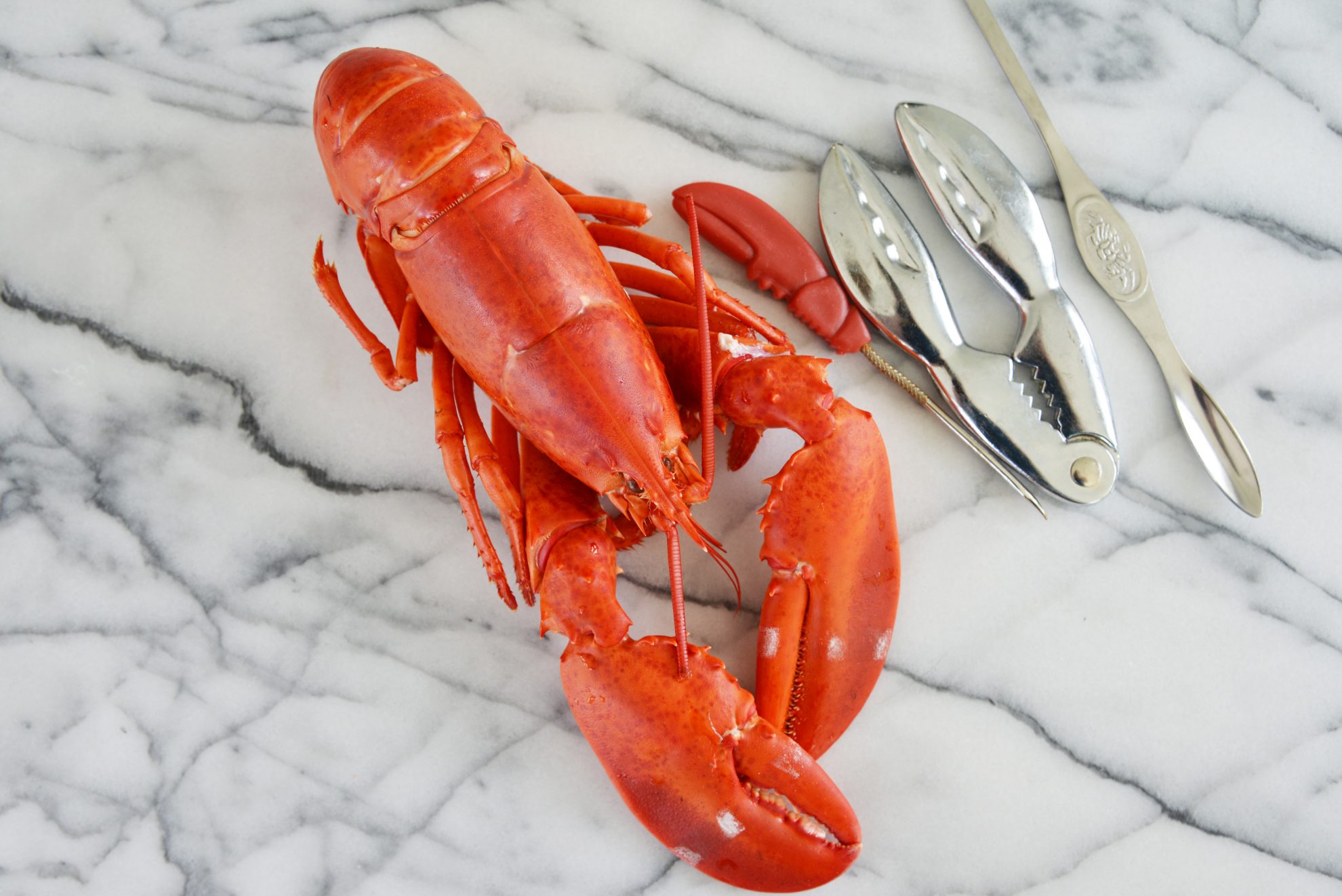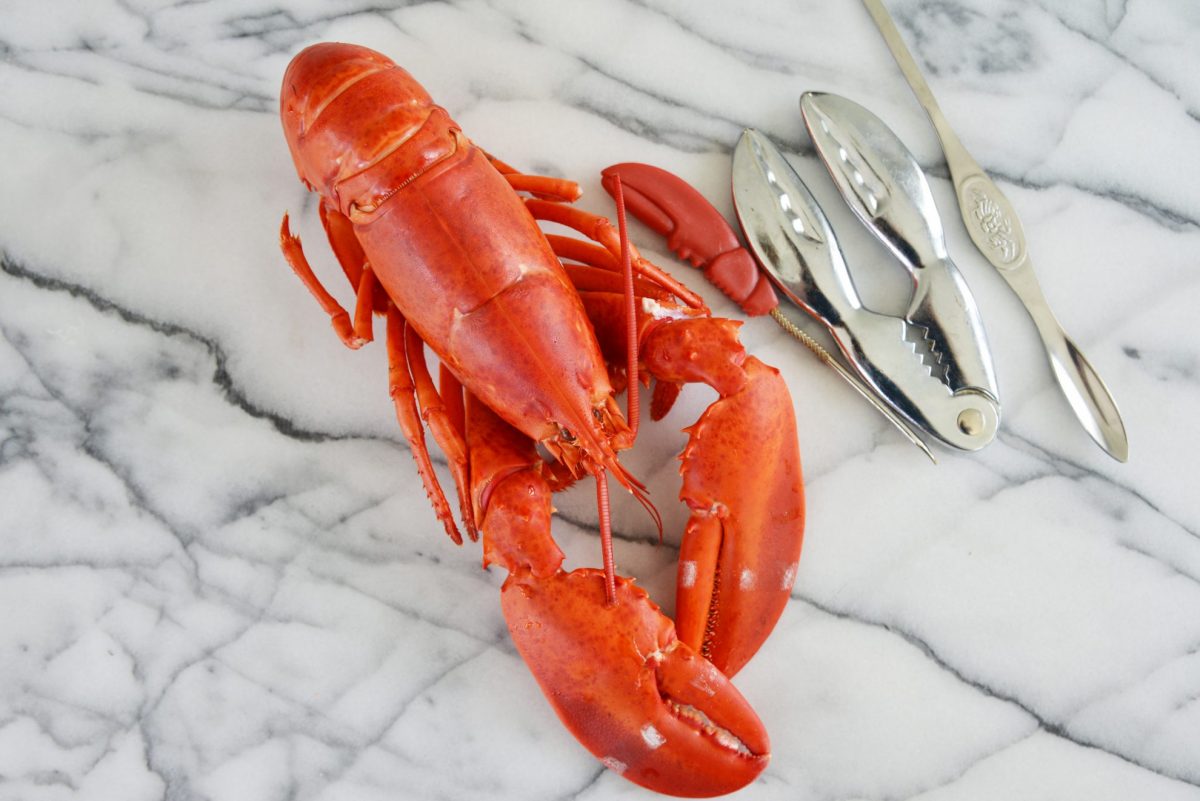 Lobster Tails– This is the simplest and least messy option.
You can grab some frozen lobster tails which is usually smaller and little less expensive. Let them thaw complete and then split out the meat, baking at 450 degrees for about 10-12 minutes (this depends on the size). The meat will be a pearly opaque, remove and roughly chop.
Fresh tails work the same way, but might be more expensive.
Whole Lobster– This lobster mac and cheese option can be less expensive, but will certainly require more work. They are less per pound and now you'll have tail and claw meat to work with and potentially some backfin. Either way, you are going to have to get the lobster meat out.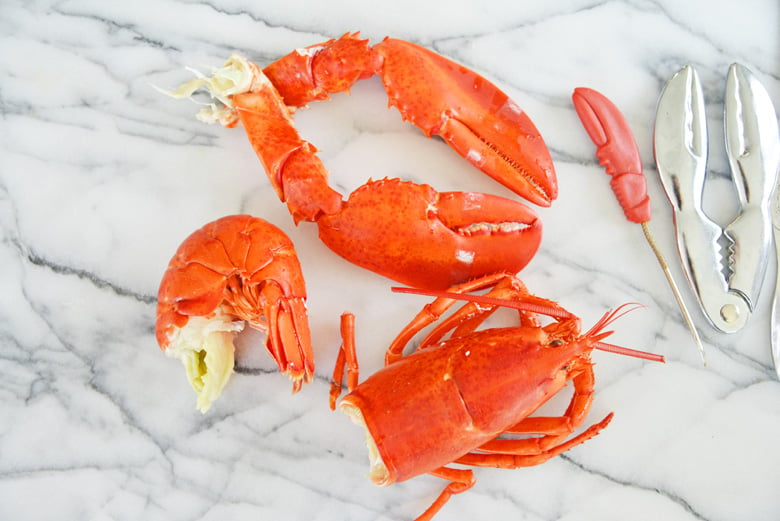 You can steam the lobster yourself or have the meat counter (or seafood monger) do it for you.
[mv_video doNotAutoplayNorOptimizePlacement="false" doNotOptimizePlacement="true" jsonLd="true" key="yb0rbjxoej83ykjriqoh" ratio="16:9″ thumbnail="https://mediavine-res.cloudinary.com/v1613077546/a5l0nxwgm4vn0djgx9dy.jpg" title="How to Eat a Lobster" volume="70″]
You can also use frozen langostinos. The term is Spanish for "tiny lobster" but they are actually not the same thing. They taste similar enough and even have a red tint to the meat. You can get it for much less money and already cooked, saving you time.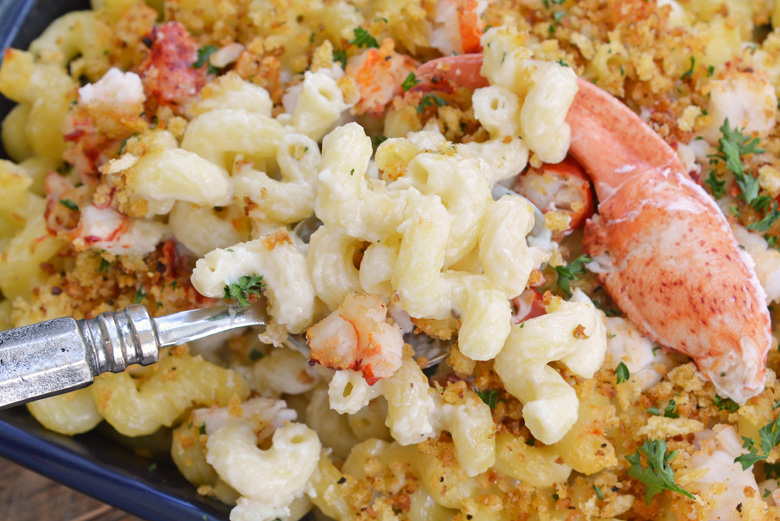 Homemade Mac and Cheese
Homemade mac and cheese takes only 5 minutes more than a box and is so much more respectable. You can pick your cheese and have sense of accomplishment when you look at the dish.
For my lobster mac and cheese, I make the pasta, which is always one with nooks and crannies to grab the sauce. Then I make a basic roux (butter and flour base), add milk and finally seasonings and freshly grated cheese.
PRO TIP: use freshly grated cheese, pre shredded cheese is coated with potato starch when makes it dry and gives it a mealy texture.
You can use any combo of cheeses you like. I love using Gouda. It is the perfect mild and melty cheese. For this recipe, I used a smoked gouda and swiss combo. I find that white sauces look best with seafood.
You can totally use cheddar cheese if your family prefers it. Or even a mixture of cheddar with Gouda and Swiss. It is the total amount that is important, not necessarily the quantities of each.
One of the things that makes a baked mac and cheese spectacular compared to a saucepan only version is the crunchy topping. And this is where I add the majority of seasoning.
It takes a few extra minutes, but they are SO worth it. Brown your panko bread crumbs in olive oil and then season with smoked paprika, pepper and salt. It is simple, but totally brings out all the flavors.
You can top it with scallions, parsley or chives. Even a drizzle of truffle oil will complement it well. Serve it immediately and hot!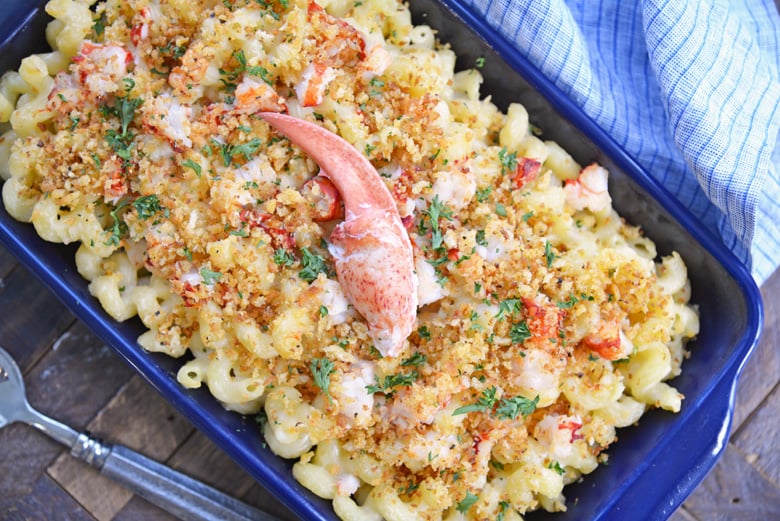 Variations
Seafood mac and cheese – The last option, if fresh lobster meat is breaking the bank, is to use a combination of seafood. Scallops shrimp, crab and other shellfish are often your best bets. Whatever you use, make sure it is fully cooked before adding it to the mix.
Pasta – Elbow macaroni is the obvious choice of pasta for macaroni and cheese. But any hollow pasta shape that is able to soak up that creamy cheese sauce will work here. Even a corkscrew shape.
Cheese – Experiment with different types of cheese. I used swiss and gouda, but sharp cheddar, gruyere cheese or any type of italian cheese would be the best cheese to use if you want to switch it up.
Seasoning – This southern mac already has amazing flavor, but feel free to make it your own. Old Bay seasoning would pair well with the buttery lobster. You could also add some cayenne pepper or onion powder if you'd like.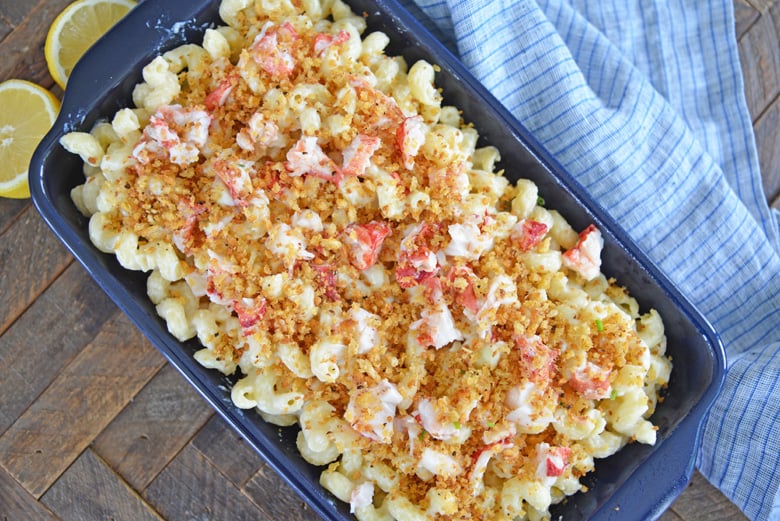 Storage, Make Ahead and Freezing
Storage: You can store any leftover lobster mac in the fridge in an airtight container for up to three days.
Make Ahead: You can make all of the elements of lobster mac and cheese and crunchy topping ahead of time and then bake it last. Alternately, you can bake it all and then reheat it. But anything with dairy has the potential to curdle and separate a little when reheated. Pasta can also absorb the cheese sauce, so it might not be as cheesy as it was the first time.
Freezing: I don't recommend freezing this recipe, the thawed result is just not as good as the original.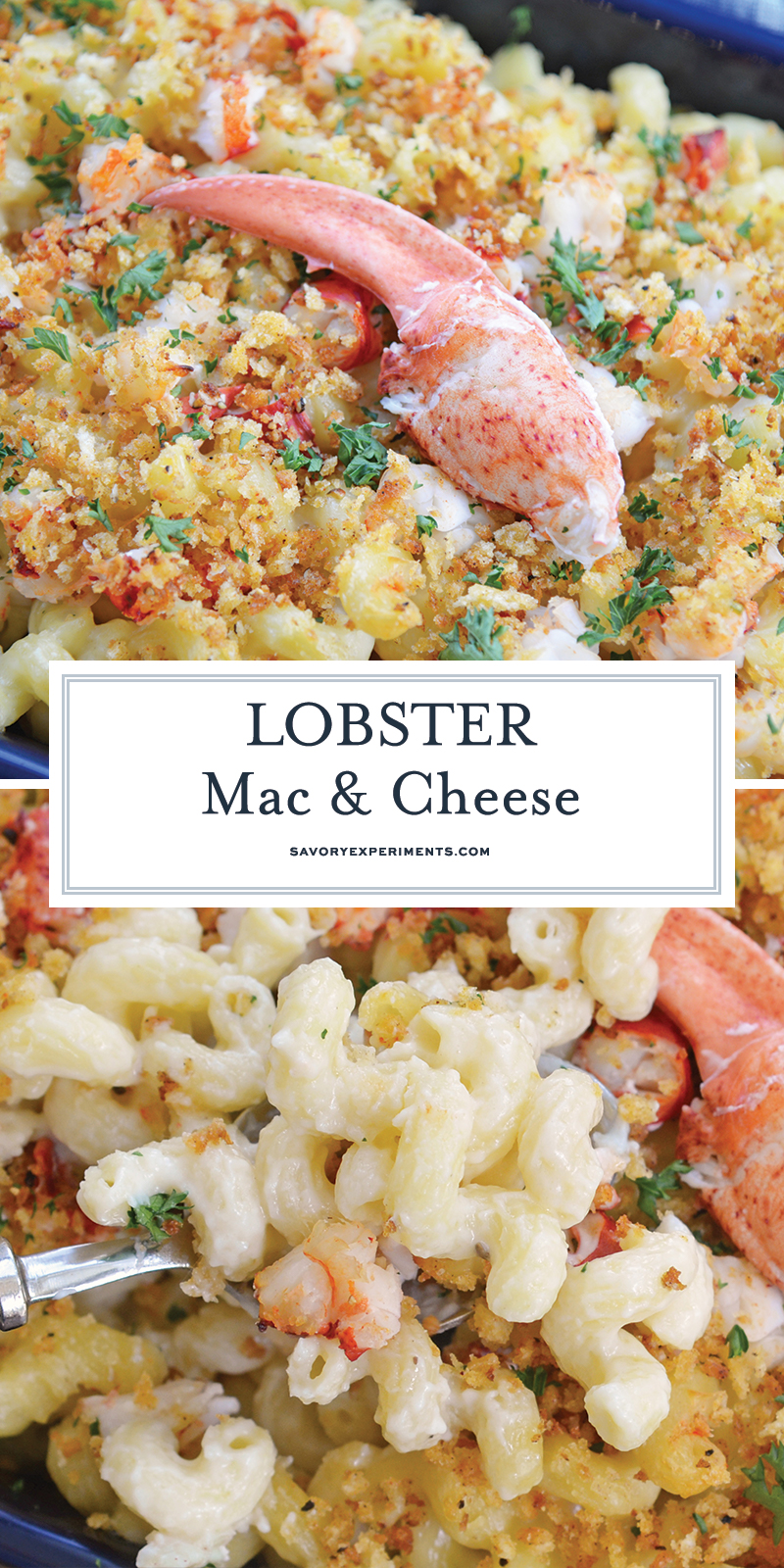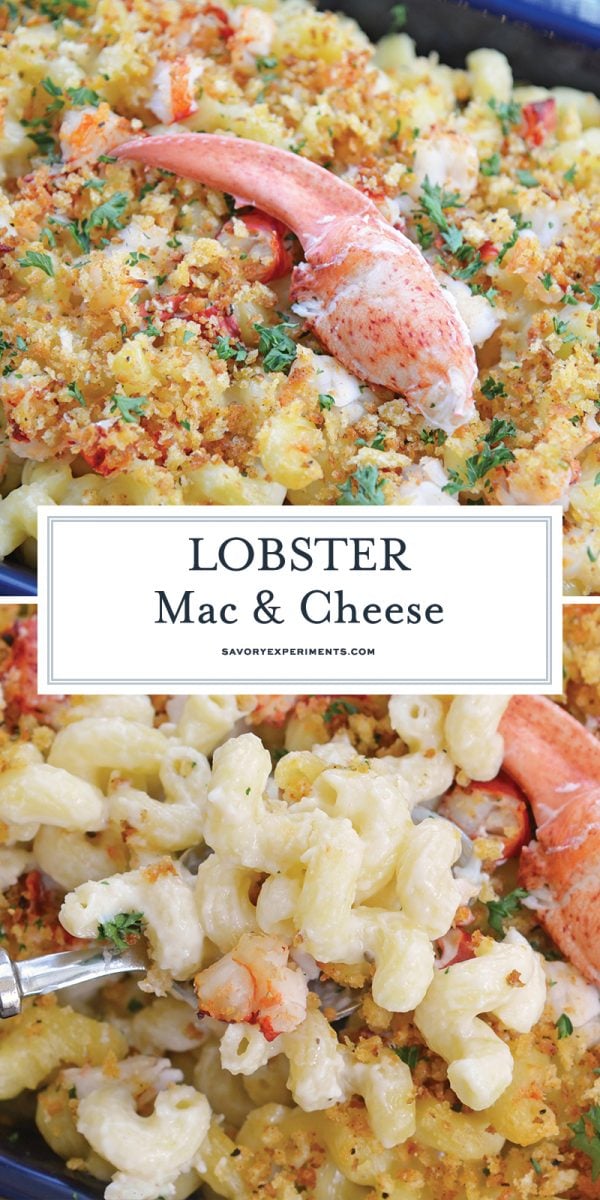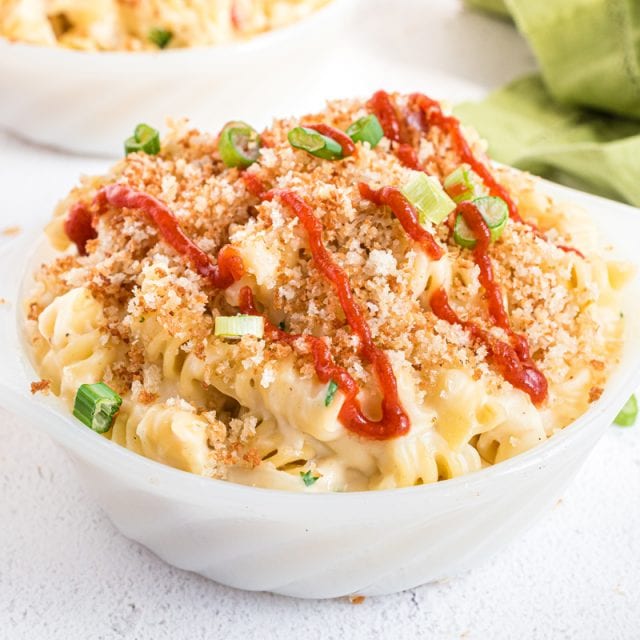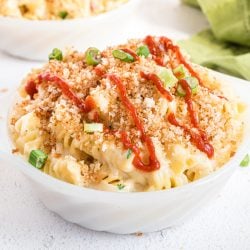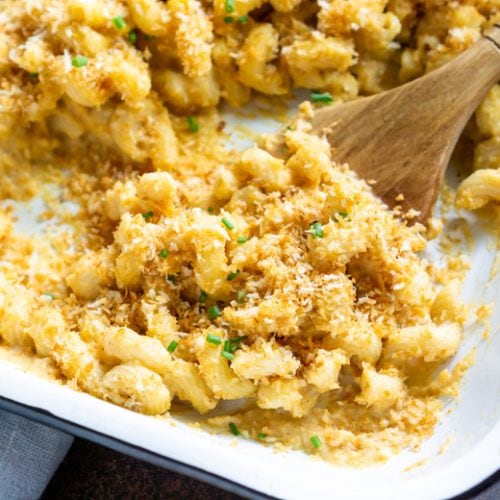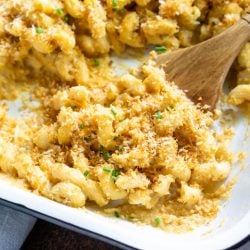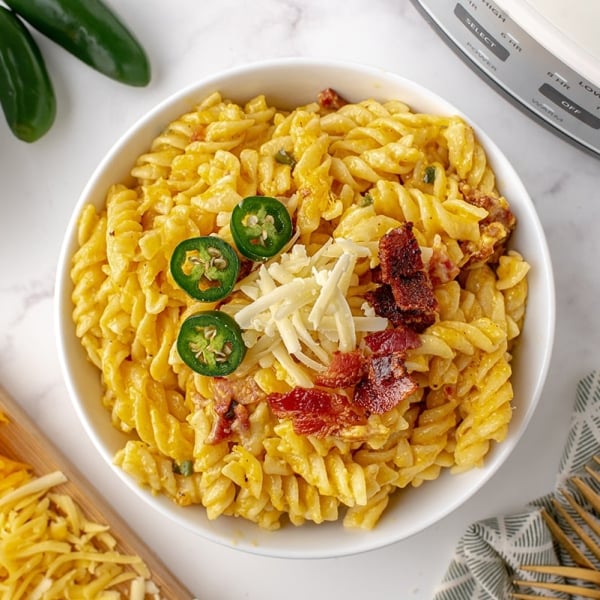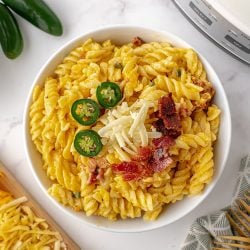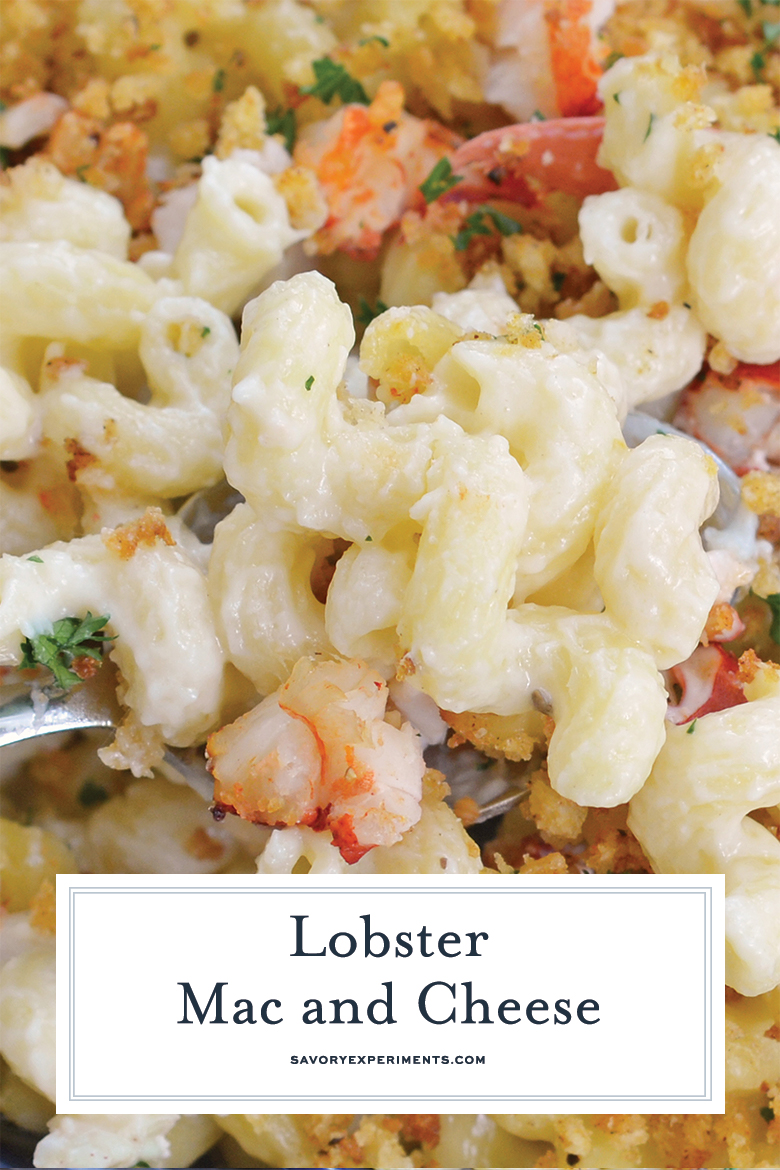 More lobster recipes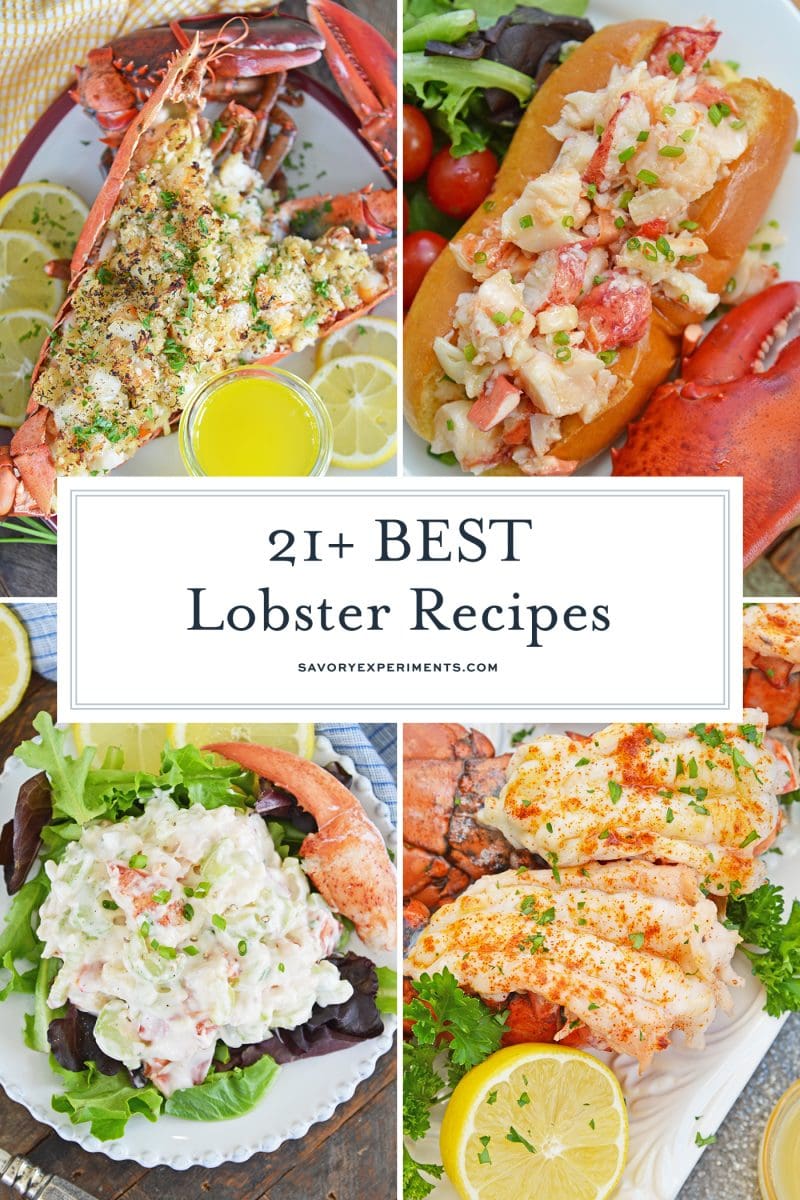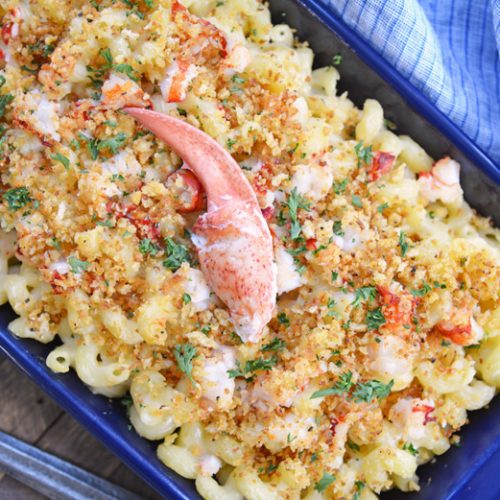 Lobster Mac and Cheese
Sweet lobster, creamy cheese & a crunchy panko topping come together to make the BEST Lobster Mac and Cheese recipe! Perfect for any elegant or casual meal!
Ingredients
Lobster Mac and Cheese:
1

pound

elbow pasta

, cooked according to box al dente

3

tablespoons

unsalted butter

3

tablespoons

flour

2

cups

milk

1

cup

Swiss cheese

, shredded

1/2

cup

aged gouda

, shredded

2

tablespoons

chives

, chopped

2

cups

lobster

, cooked and roughly chopped

kosher salt & freshly ground pepper
Instructions
Make the Topping:
In a small skillet, heat olive oil and add panko bread crumbs, Kosher salt, pepper, smoked paprika and garlic powder.

Heat and brown for 3-4 minutes until fragrant.

Remove from heat and set aside.
Lobster Mac and Cheese:
In a large, heavy bottom saucepan, melt butter. Whisk in flour until a paste forms.

Continue to cook on medium heat until paste turns a light brown.

Whisk in milk until smooth. Then add shredded cheeses, blending until smooth.

Using a pasta spoon, toss cooked pasta with cheese sauce.

Test for seasoning and then add Kosher salt or cracked pepper sparingly. This will vary based on how salty your cheese was.

Lightly toss with chopped lobster and chives, reserving a few pieces for topping at the very end.

Preheat oven to 350 degrees and coat a casserole dish with cooking spray.

Garnish with scallions, chives or parsley and reserved lobster chunks. Serve hot.

If you tried this recipe, come back and let us know how it was in the comments or ratings.
Notes
You can use any type of seafood you'd like, just make sure it totals 2 cups and it cooked. Crab, shrimp, scallops and other shellfish are all good options.
Nutrition
Calories:
474
kcal
,
Carbohydrates:
54
g
,
Protein:
21
g
,
Fat:
19
g
,
Saturated Fat:
10
g
,
Cholesterol:
67
mg
,
Sodium:
445
mg
,
Potassium:
282
mg
,
Fiber:
2
g
,
Sugar:
6
g
,
Vitamin A:
520
IU
,
Vitamin C:
1
mg
,
Calcium:
319
mg
,
Iron:
1
mg