Cold Lobster Rolls are a popular dish in New England. They only use a handful of ingredients.
Perfect for a light lunch or dinner, it is traditionally served on a split top hot dog bun. Lobster roll buns are very specific rolls that are a cross between white bread and a hot dog roll.
They are hard to find outside of New England, so just grab something with a split top. I like brioche.
Cold Lobster Roll
Lobsters are usually seen as a fancy meal, but lobster rolls are actually considered casual and lobster salad falls some place in the middle.
Cold lobster rolls are what is served anyplace north of Connecticut, where you'll get a hot lobster roll instead. Although, I will say, when in Boston, hot lobster rolls were the most popular.
These lumpy chilled sandwiches are served at nearly every restaurant in Maine and even roadside at picnic tables and gas stations!
Cold Lobster Rolls Ingredients
The actual ingredients for a Cold Lobster Rolls recipe are up for much debate. Every restaurant will claim to have "the best" and each have some minor variations. The most impotant rule of lobster salad is to NOT SKIMP ON THE LOBSTER.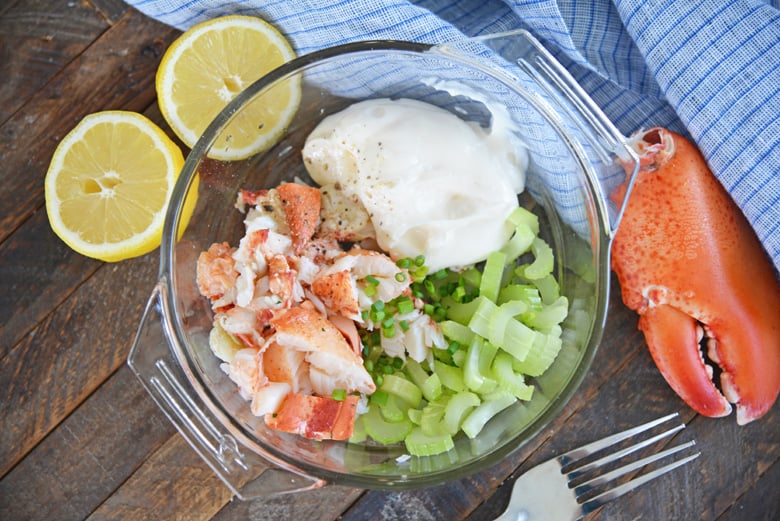 The most noticeable ingredient must be lumps of luscious lobster meat. Most salads use the meat from 1 whole lobster. Account for about 1 cup per 1 1/2 pound lobster.
For your cold lobster rolls, you will also need:
Celery– Celery isn't super flavorful but does add a fresh crunch to the mix. Some folks use cucumber instead.
Mayonnaise- Use a good quality mayo for this one. I like mine to be a little drier, but other likes a wet or "sloppy" lobster salad. If this is you, then add a tablespoon more. You can also sub mashed avocado or plain Greek yogurt.
Lemon Juice– Just a dab of lemon gives your cold lobster rolls acidity and brightens the whole lot. I do recommend using fresh versus bottled, it has a lot more citrus flavor. And you want a super lemon forward dish, add 1/2 teaspoon lemon zest to the mix.
Chives- Chives are usually seen to garnish, but I like the light onion essence in my actual salad too. Cut back omit these if you like. Alternatively, you can grate 1 tablespoon of sweet onion. Scallions are also an acceptable modification.
Kosher salt– the less salty of the salts, it brings out natural flavors and can be omitted.
Black Pepper– Some think pepper is sinful in this dish, but I like it. Make sure it is freshly ground to get the full benefit.
Other popular ingredients cold lobster rolls include: Dijon mustard, minced tarragon and vinegar based hot sauce. Many also include Bibb or butter lettuce on the buttered and toasted roll.
Lobster Meat
You can always buy lobster tails at the store and just steam them and then chop them up. Or better yet, you can get the fish monger (or meat counter guy) to steam them for you.
Or you can go the cheaper route, which is to steam a whole lobster on your own. But regardless of which you buy, you need to know how to pick the meat.
I used 1 cup of lobster meat in this cold lobster roll sandwich which came from a 1 1/2 pound lobster at $18/pound. Just to give some reference. You can get away with using 1 lobster for every 2 rolls, but then I would highly suggest using lettuce or something else to fill the bun.
How to Remove Meat From a Lobster
Before you get started, be aware that there will be water and there will be mess. Have some paper towels ready and be in a work space that can stand to get a little dirty, like a large cutting board.
Here are the steps I follow to getting the most meat out of my lobsters:
ONE. Twist off large claws, set aside.
TWO. Twist off the tail. It should remove easily with just a little wrist action- no special tools needed. You should now have 4 large pieces- the body, tail and two claws.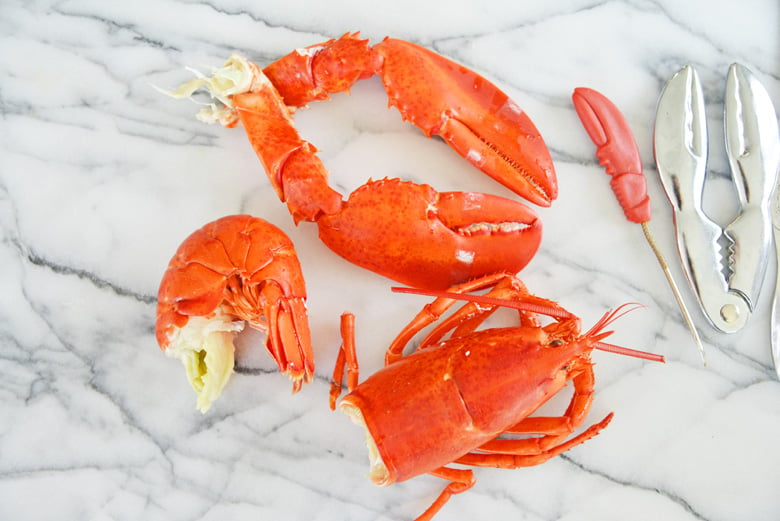 THREE. I like to start with the tail because this is the largest piece of whole meat (perfect for making your cold lobster rolls!) Place the tail with bottom side down, smooth, pretty side up. Using both hands, squish the bottom, thinner shell together. It will collapse easily and the top of the shell should easily remove from the meat leaving you will a whole piece of tail meat. If you notice a lot of black- that is the intestine and can be removed.
FOUR. Next, the claws, because they also carry a good amount of meat. Wiggle smaller hinged portion of each claw to separate. It usually comes out with a tendon and sometimes meat. Break open claws using a cracking tool, cracking 1 side and then flipping them to crack other side, and remove meat. You might need to use a pick, skewer or fork to get smaller pieces.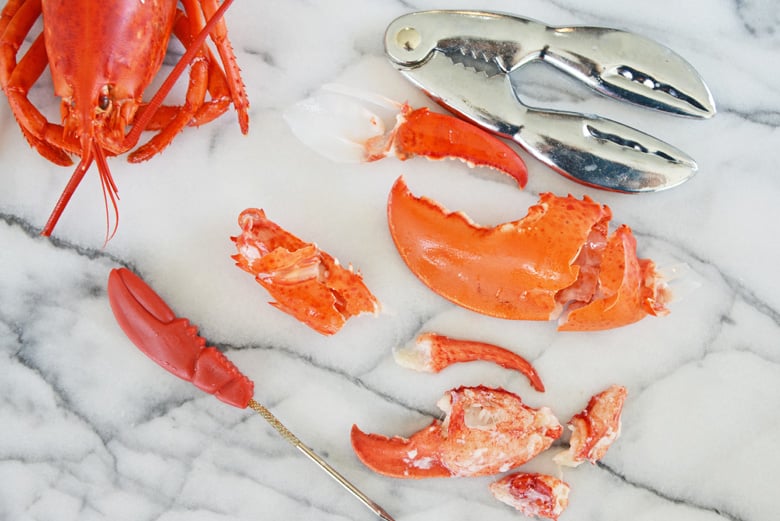 FIVE. Now, the legs. The least amount of meat is in the legs and some folks don't even bother, but real lobster lovers leave no meat behind. The larger legs that were attached to the claws have the most bang for your buck, so start there.
Break open each knuckle and wiggle out as much meat as you can, poking through with a skewer or seafood fork. If you are at home, you can roll smaller legs with a rolling pins and the meat will push out the end.
SIX. Lastly, the body. Many will toss the body aside and I don't blame you. Sometimes you'll hit the jackpot and other times you'll get nothing. The body is also great to keep if you plan to make a seafood stock.
This is kind of like picking blue crabs, avoid the feathery looking pieces on the side, these are the lungs and inedible. Looks between the little cartilage lined pieces on the side and you might find pockets of meat.
And that's it! All that's left to do is butter the rolls and throw together your Cold Lobster Rolls and enjoy!
More recipes that use lobster: