We've all seen whole fish at the seafood counter, but how many people actually purchase this item? Cooking a whole fish can be intimidating, but with my Grilled Red Snapper recipe, you'll be looking like a pro!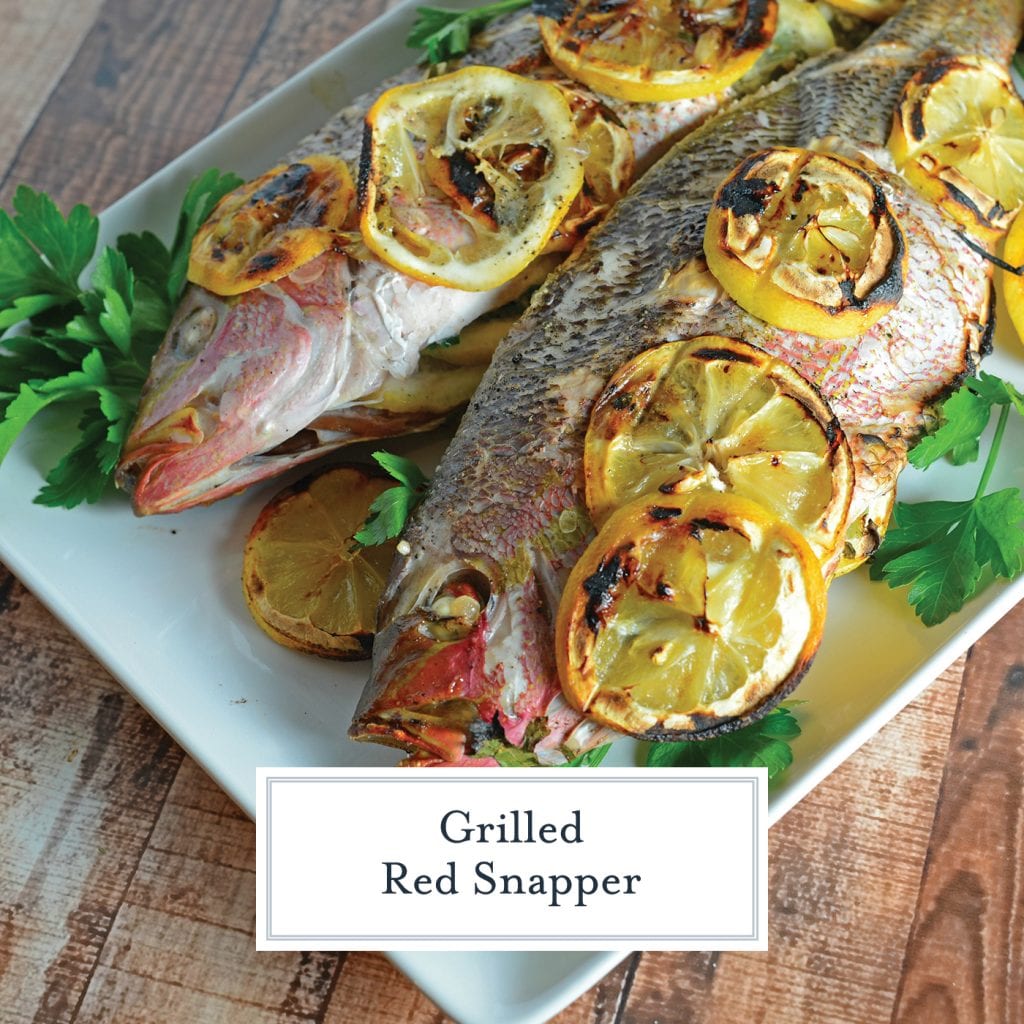 Learn how to prepare and grill whole fish with fresh herbs and lemon with my Grilled Red Snapper recipe. Mediterranean style fish at home! You won't believe how easy it is to cook whole fish!
You don't know where to start, how to season, and are scared to death you will mess it up and waste money.
I was one of those people, but then I realized how easy it was to make my own with Grilled Red Snapper.
The first step to cooking a whole fish is learning how to find the right fish to purchase. You want to look for a fish with bright, clear eyes, firm to the touch and no overwhelming fishy smell.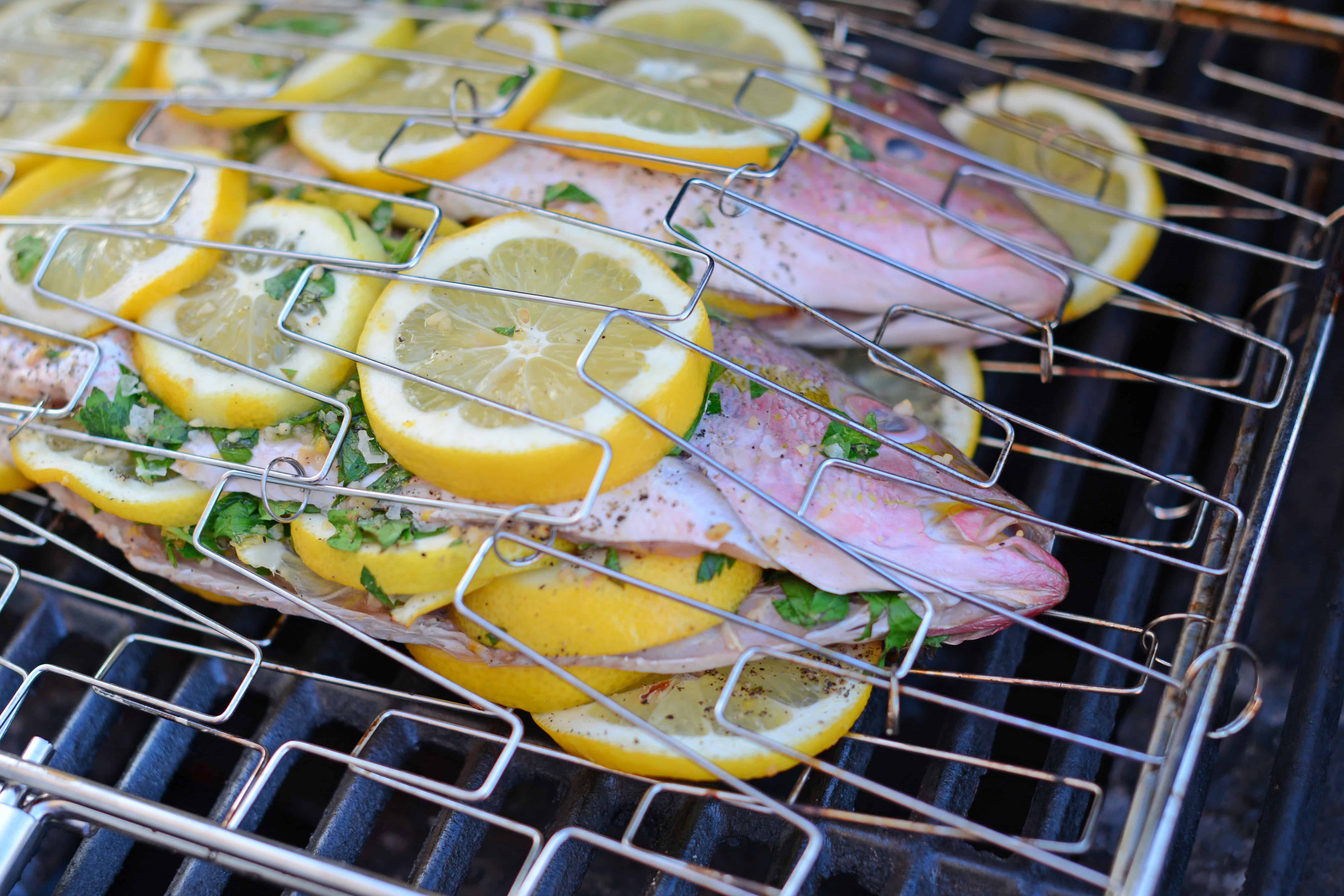 You can also check the gills to make sure they are a bright red. Next, ask your seafood counter attendant or fishmonger if they will gut, scale, de-gill and clean the fish.
Or… you can do it yourself!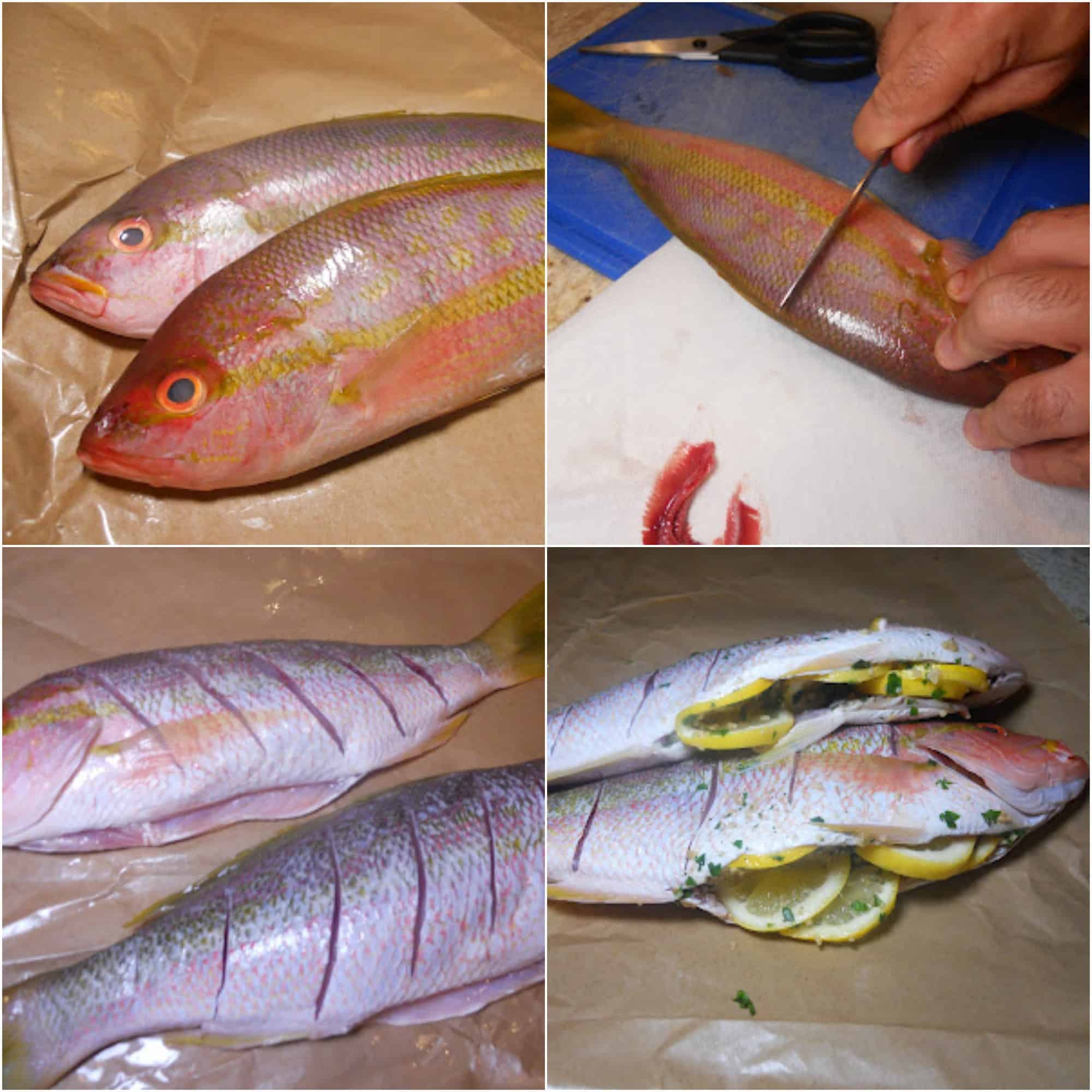 Although I know how to prepare my fish, asking the grocer to do it is SO much easier! Otherwise, see the images below on how to scale, score and stuff a whole fish.
Whether you are making red snapper or something else, the concepts for grilling whole fish remain the same.
ONE. First you must clean the fish. I highly recommend that you set up a workstation in an outside area or garage for this step. Cover your work surface in newspaper, wax paper or parchment paper. This will get messy.
TWO. Most fish will be gutted, but if not… cut a long slit down the center of the belly of the fish. Do not cut too deep, you don't want to pierce the organs, it will make them more difficult to remove.
Gently pull out the organs near the head and snip using kitchen shears to disengage from the body. Snip anything that is connected and remove. It will be pretty apparent what needs to stay and what needs to go.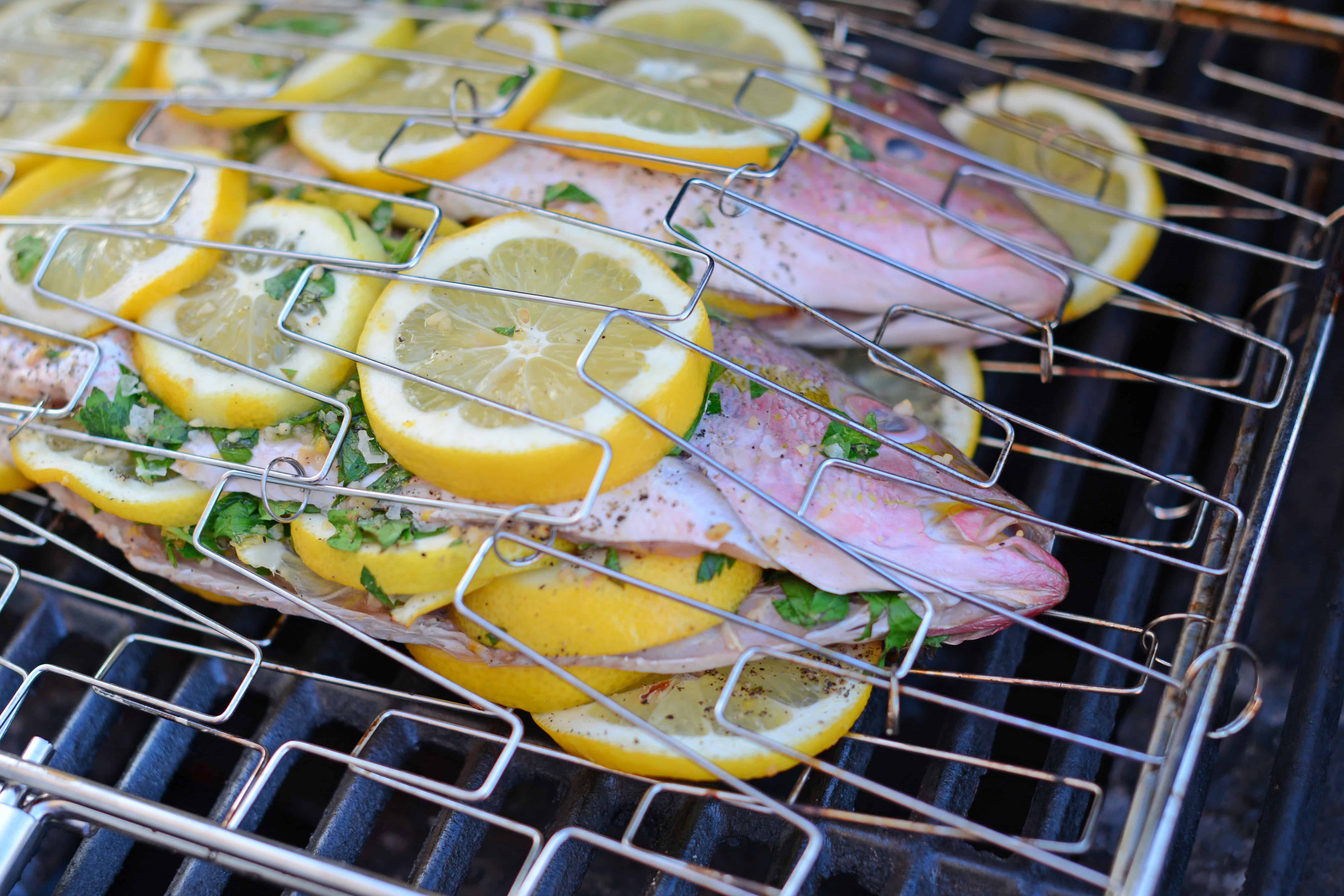 THREE. Lift up the small flaps on the both sides of the head and snip the gills out. Again, even if you haven't seen a set of gills, you will know as soon as you see them.
FOUR. De-scaling is by far the messiest part. You can purchase a scaler, but we used a butter knife and it seemed to work just fine. Run the knife in the opposite direction of the scales (it will feel rough) from the tail up to the head.
FIVE. When you think you are through rinse fish in cold water and run your hands up and down the fish to check for any lingering scales, especially near the belly cut, head and tail.
Scales will be flying! Remove all scales. You don't want to bite into one while eating.
SIX. I used a basic Mediterranean blend of herbs and lemon. Fresh, simple and not too flavorful as to cover up the taste of the fish.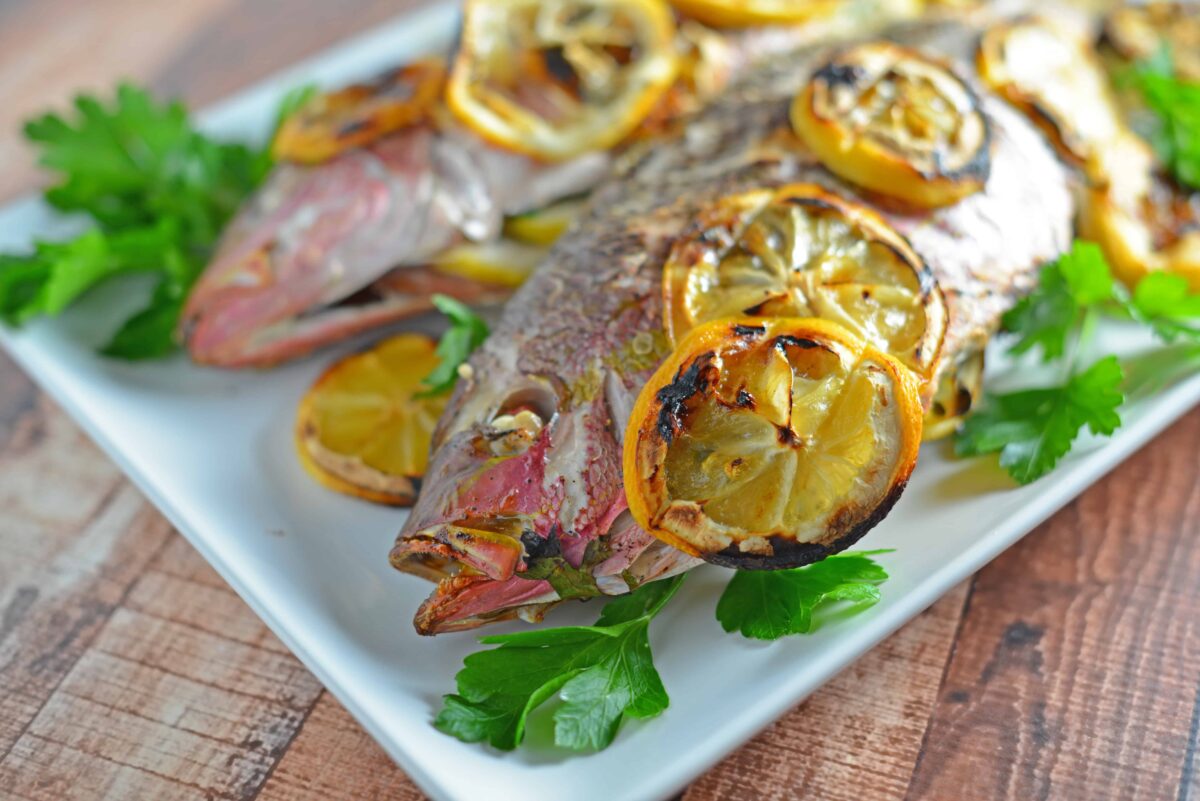 Let's review how to make grilled snapper:
Set up a workstation and clean the fish.
Gut the fish.
Scale the fish.
Rinse the fish.
Season the fish.
Cook the fish!
Enjoy your delicious grilled fish!
How to Season Red Snapper
Snapper fish is a white dish with a distinct flavor all it's own that is delicate and mild. Due to that, using flavor affinities that don't overpower are crucial. Some of my favorites are:
Fresh herbs- basil, parsley, sage, thyme, rosemary, dill, chives, tarargon
Lemon Zest & Lemon Juice
Fennel
Garlic
Ginger
Leeks
Lemongrass
Salt & pepper
White wine
What to Serve with Red Snapper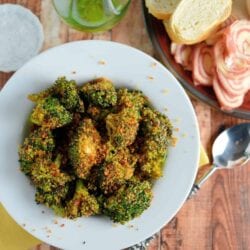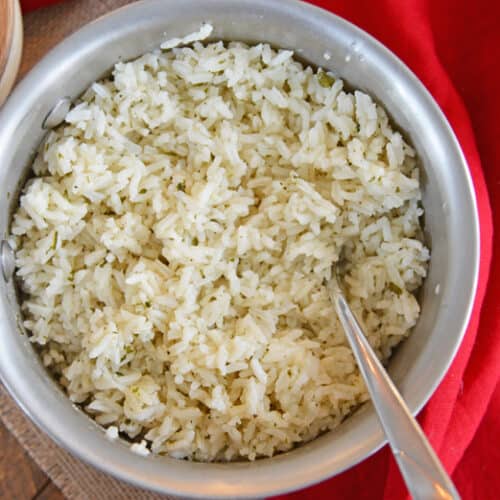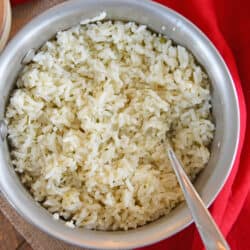 Ranch Rice
Calling all ranch fanatics! This Ranch Rice is super easy to make and adds fun flavor to your meals. No more boring rice recipes!
See The Recipe!
Tools for making a grilled whole fish:
Grilling Basket – I find this to be the best and easiest way to keep all your fixings on the fish. It will impart the most flavor to keep them up close and personal. It is also nice to have for this Grouper Recipe.
Scaler – in case you go the route of prepping your own fish.
Good knife – Global is my favorite! Trust me, especially for working with fish, have a very sharp knife with a good grip.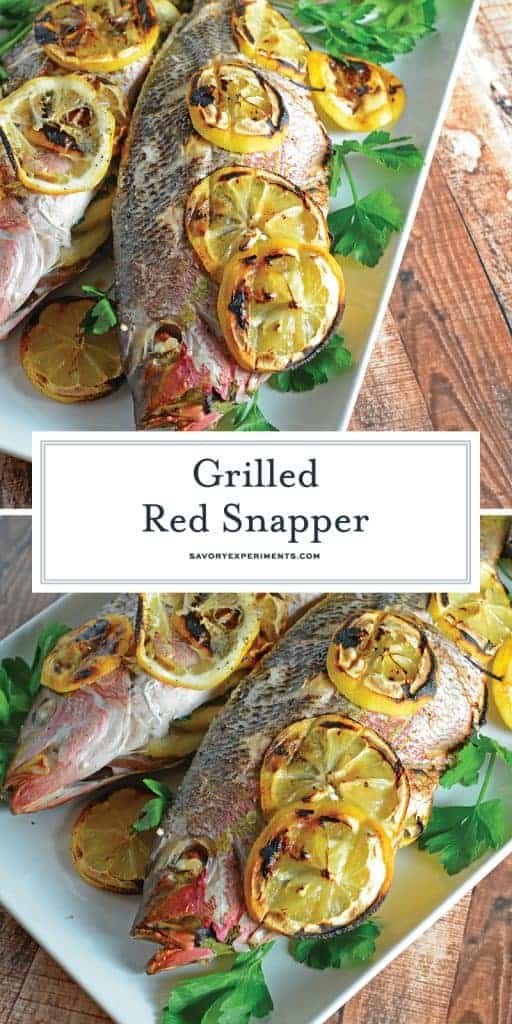 Questions you might have about how to make whole snapper:
Can I use this recipe with other fish recipes? Sure! The flavor profile is pretty flexible so it complements most fresh fishes.
Can I make snapper in the oven? Go for it! You won't get the flavor and char you will from grill grates, but fish in the oven still tastes great!
Do you leave the skin on snapper? For this recipe, yes. In fact, for most red snapper recipes, you probably will just because it is such a slender fish and removing it from the skin would be fairly difficult.
What does red snapper taste like? Snapper is a white-pinkish, mild flaky fish. Because it is delicate, you don't need to use strong flavors for seasoning.
Garlic, lemon (lemon juice, lemon slices or lemon zest), salt and pepper are among the most popular.
Can I use lime instead of lemon? In most recipes, citrus flavors are interchangable, but I still prefer lemon on fish.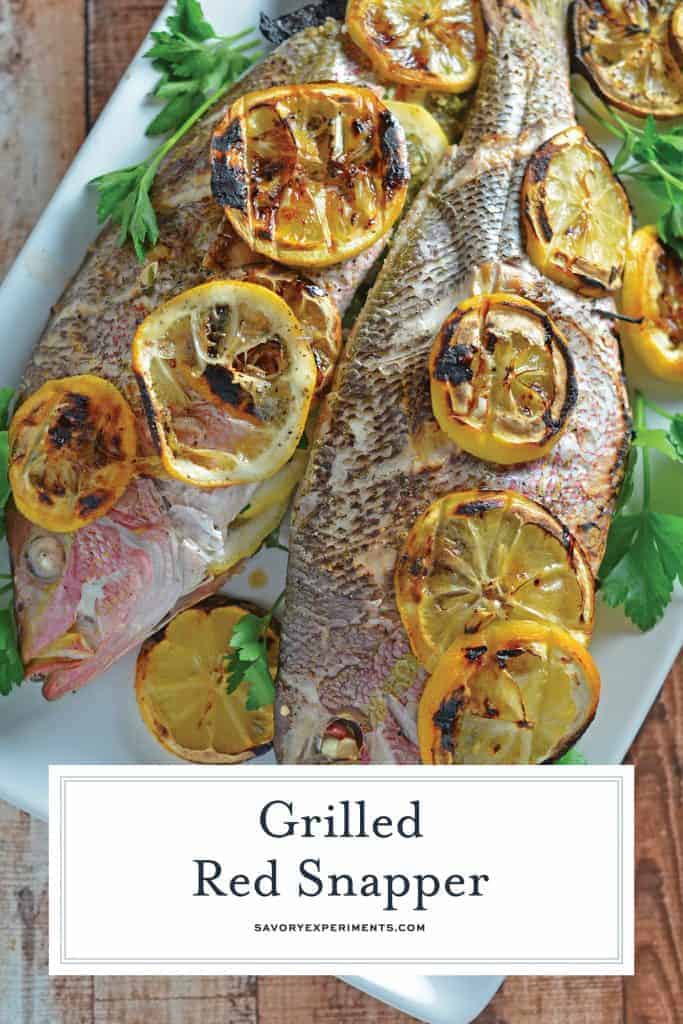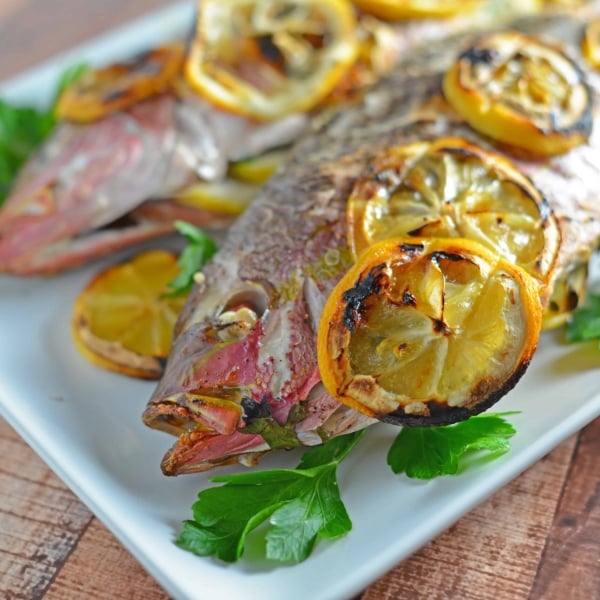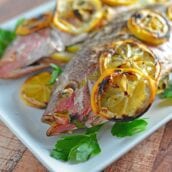 Grilled Red Snapper Recipe
Grilled Red Snapper- how to prepare and grill whole fish with fresh herbs and lemon, Mediterranean style fish at home! You won't believe how easy it is to make your own whole fish!
Instructions
Cut diagonal slits about 2 inches apart on both sides of each fish. This allows it to cook evenly while on the grill.

In a small bowl combine parsley, garlic, pepper, 1/2 teaspoon sea salt and lemon zest. Rub half of mixture onto the inside of each fish.

Stuff the inside of the fish with 5-6 lemon slices, fold slices in half if they have trouble fitting.

Rub extra virgin olive oil of the outside of each fish. Sprinkle remaining 2 tablespoons of salt over the outside of each fish.

To prepare the grilling basket, arrange a bed of lemon slices on one open side. Lie fish in a single layer over slices. Place remaining lemon slices over the tops of the fish. Close the basket.

Heat grill to medium heat. Grill for 10 minutes on each side or until fish slits look white and flaky. Skin will be slightly charred.

Remove from grilling basket and allow to sit for 5 minutes before serving. The skin is edible. Please be careful… fish has bones! Red snapper is very meaty, but you will find some.

If you've tried this recipe, please come back and let us know how you liked it!
Nutrition
Calories:
1008
kcal
,
Carbohydrates:
2
g
,
Protein:
185
g
,
Fat:
22
g
,
Saturated Fat:
4
g
,
Cholesterol:
333
mg
,
Sodium:
6312
mg
,
Potassium:
3818
mg
,
Vitamin A:
1585
IU
,
Vitamin C:
26.2
mg
,
Calcium:
309
mg
,
Iron:
2.2
mg