With tons of filling and cheese options, these 20+ Quesadilla Recipes are sure to satisfy your Mexican food craving! Plus learn tips and tricks for the perfect quesadilla.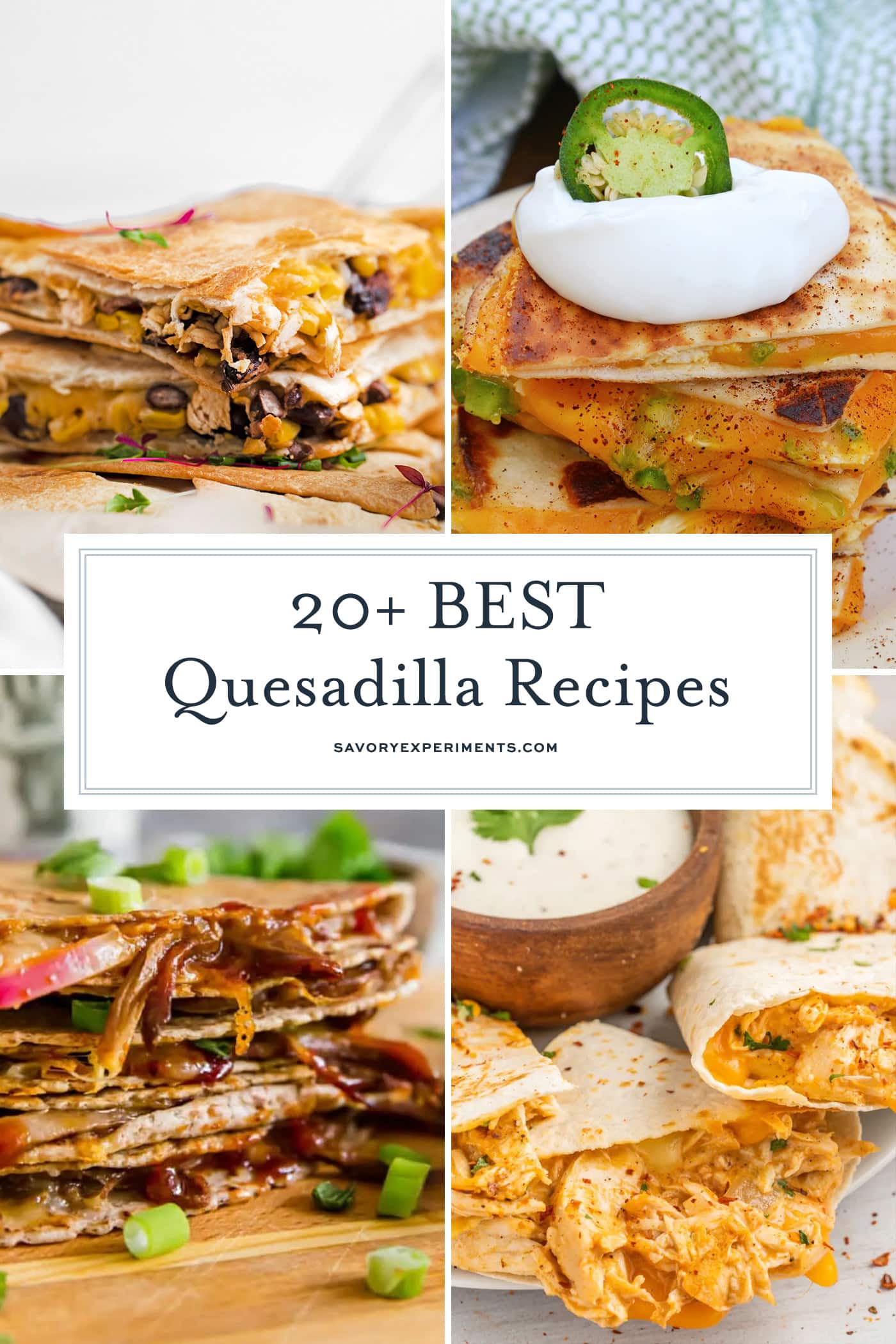 Any time I'm looking for an easy meal, especially one that's quick and with simple ingredients, a quesadilla comes to mind. They're easy to throw together, and you can really make them with any ingredients you have on hand.
Grab some scrambled eggs, bacon and cheese to make some quick breakfast quesadillas. Throw in some pico de gallo, mexican cheese, fresh cilantro and refried beans for the ultimate Mexican quesadilla.
The options are endless, but here is a list of popular quesadilla ingredients to get you started:
bell peppers
monterey jack cheese
sharp cheddar cheese
chihuahua cheese
avocado
steak
When it comes to the cheese in your quesadilla recipes, the best cheese to use is fresh off the block. Pre-shredded cheese has an additive that prevents the strand from sticking together; that additive also prevents the cheese from melting smoothly. Grating your own cheese ensures you will have ooey gooey cheese and the best results.
Another tip for the best quesadilla recipes is to use butter in your skillet rather than olive oil. This makes sure your grilled tortilla has the best buttery flavor, while also not sticking to the pan, but don't let it get too hot! Remember butter burns at 350°F.
Lastly, add some sauce- you know I like it saucy! Salsa, guacamole, quesadailla sauce, mexican crema or avocado crema are all great choices!
Corn Tortillas vs Flour Tortillas
Corn tortillas are generally smaller than flour tortillas, and they are made with, well, corn. They also tend to break apart a little easier, and for that reason they are mainly used for tacos and not things like burritos or quesadillas.
Flour tortillas on the other hand are usually larger. Because of their size, they're great for things like burritos and delicious quesadilla recipes because they have lots of room for the savory filling.
Quesadilla Recipes Toppings
Toppings for any type of food are, of course, up to personal preference. But take a quick look at this list before you hit the grocery store to get some other ideas.
sour cream
hot sauce
pico de gallo
salsa
avocado
queso
grated cheese
Best Quesadilla Recipes
More Mexican Dishes