The sun is out, puffy clouds gently dance across the sky and I am ready for a warm weather vacation! But that just isn't in my cards, so instead I have to settle for the tropical flavors of mango salsa and avocados.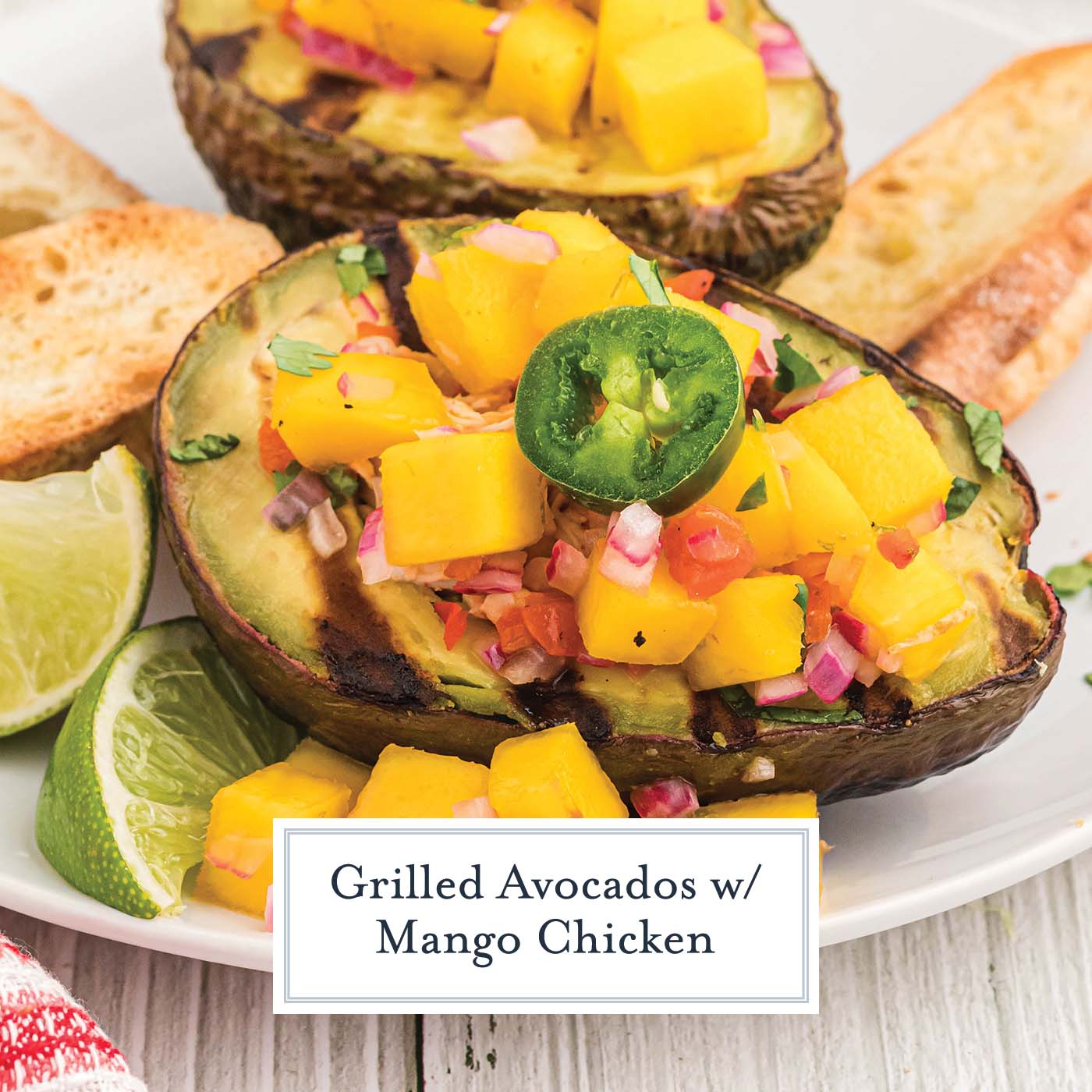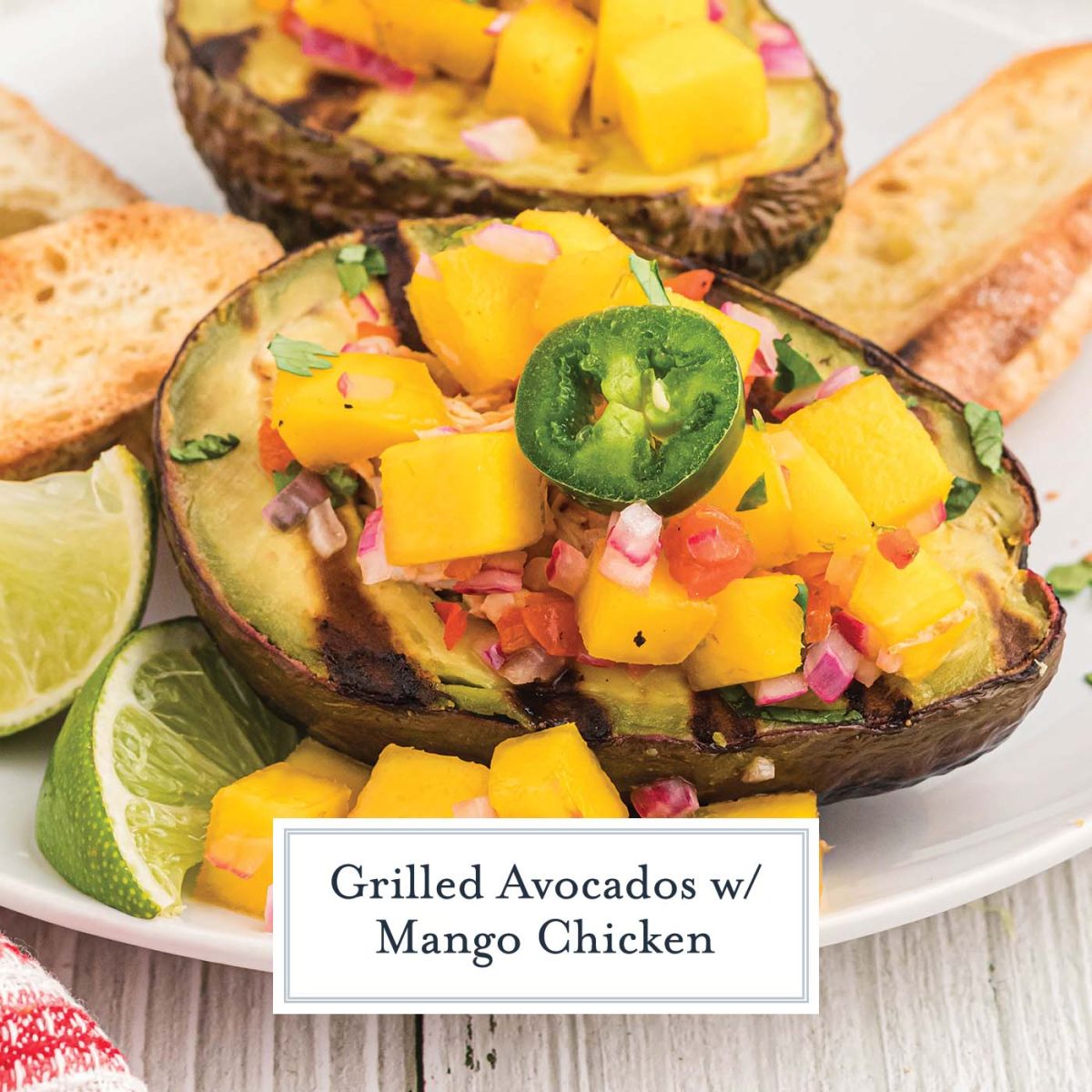 Gently charred avocado halves filled with tender chicken tossed in a flavorful lime and spice mix and topped with zesty and sweet mango salsa.
Grilled Avocados
Avocados were a food a put my nose up throughout most of my childhood. And then one day, it was like, BAM, I'm obsessed. Avocado toast, slathered on a sandwich, as a dip- count me in.
And much like other veggies and proteins, avocados can benefit from a quick sear on grill grates. They will soften slightly (which is great if the avocados aren't fully ripe) and this also brings out natural flavors.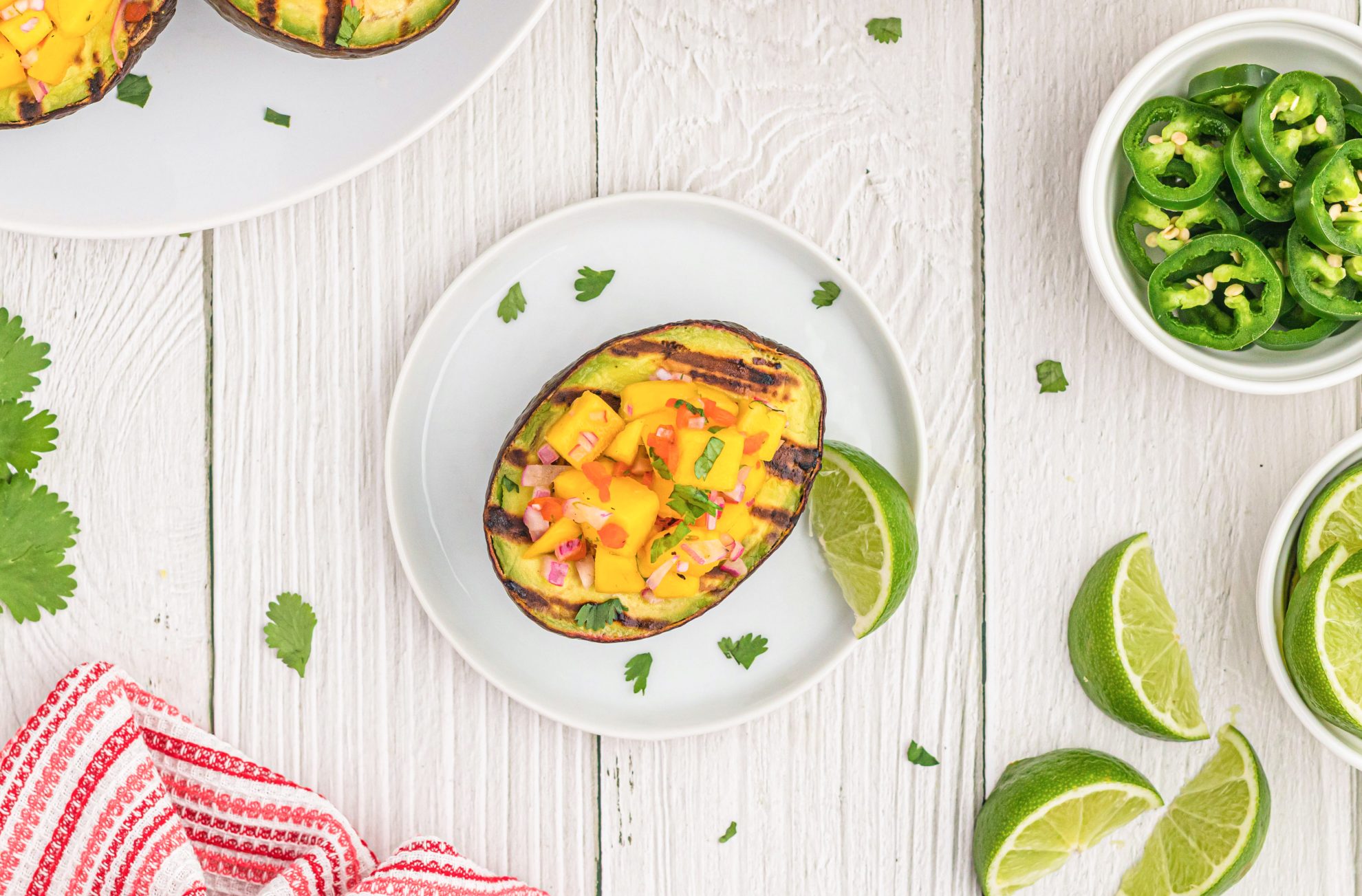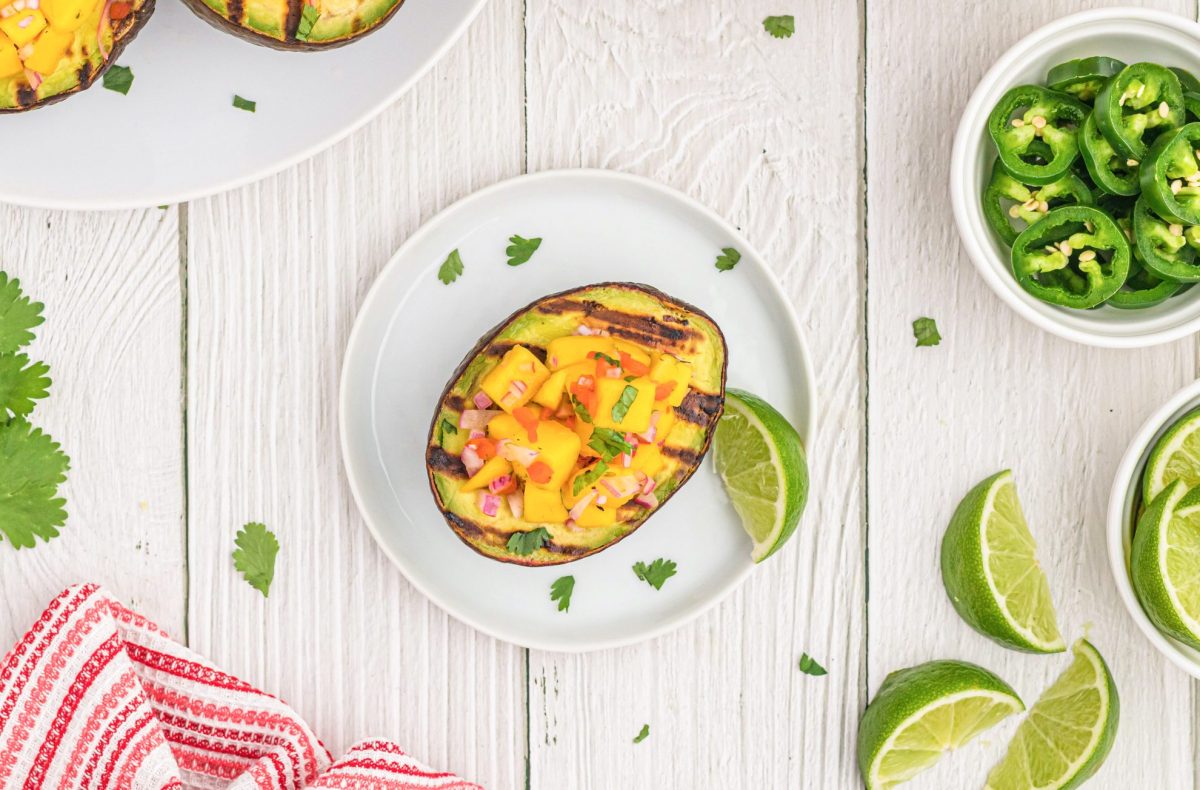 They are also a blank slate- you can literally stuff them with just about anything. Any kind of protein blend like taco meat, or shredded BBQ chicken. Or make them vegetarian with just mango salsa or Texas caviar.
But my favorite way to serve them is how I had them off of a food truck at a local equestrian event. They were Peruvian chicken avocados.
Peruvian Chicken Influence
What is Peruvian chicken? Typically, it is chicken slowly roasted with olive oil, lime juice, garlic and spices and hails from Peru. The charcoal roast along with aromatic spices creates a flavorful bark that is cravable, to say the least.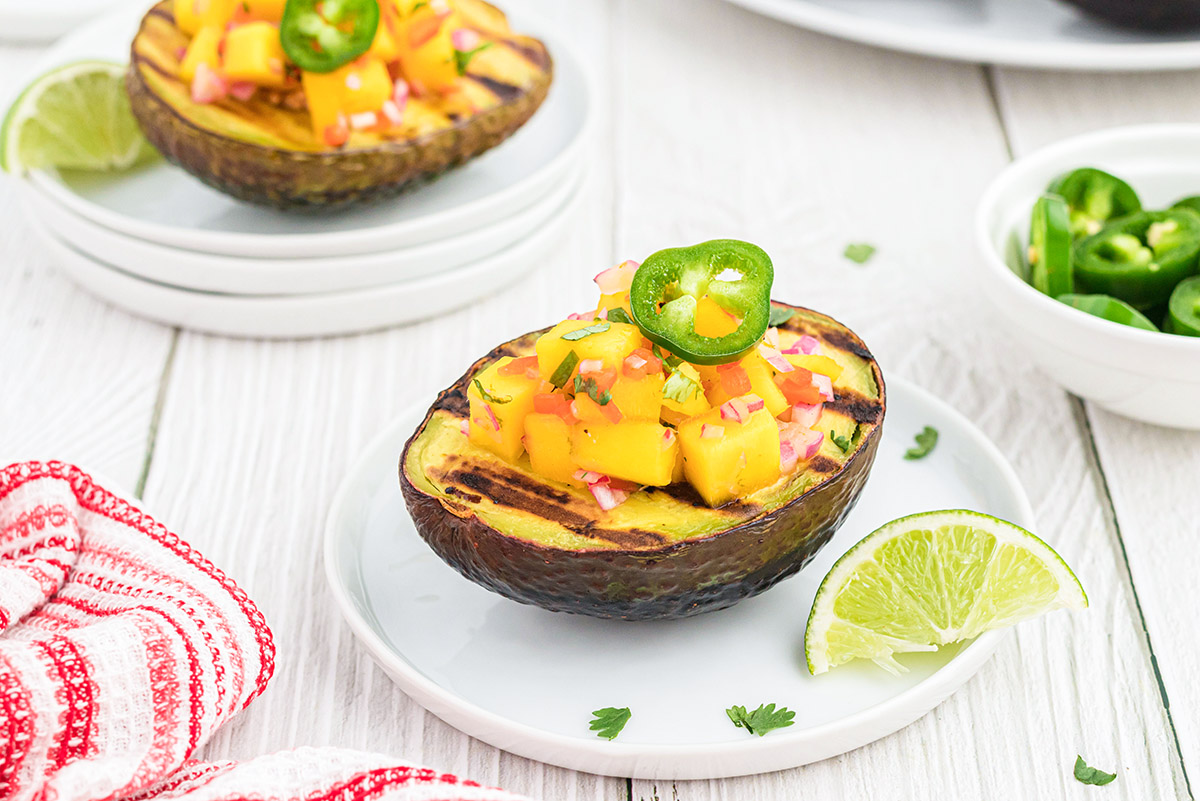 But I don't have all day to roast chicken on the spit and quite frankly (although I love them) store-bought rotisserie chicken just don't have the same robust crust. So I compromised.
I skip a few steps using pre-cooked chicken and just tossing it in the typical spice blend. Get the smokiness using a pre-cooked rotisserie chicken, leftover cubed chicken or even fully precooked chicken strips found in the frozen food section.
Most Peruvian chicken, also known as pollo a la brasa, is paired with aji amarillo, a thick yellow pepper paste. The mango salsa takes its place.
Top it with an easy and fresh mango salsa and you've got an award winning dish in a fraction of the time. A light meal that will have you back to the lawn games in time flat.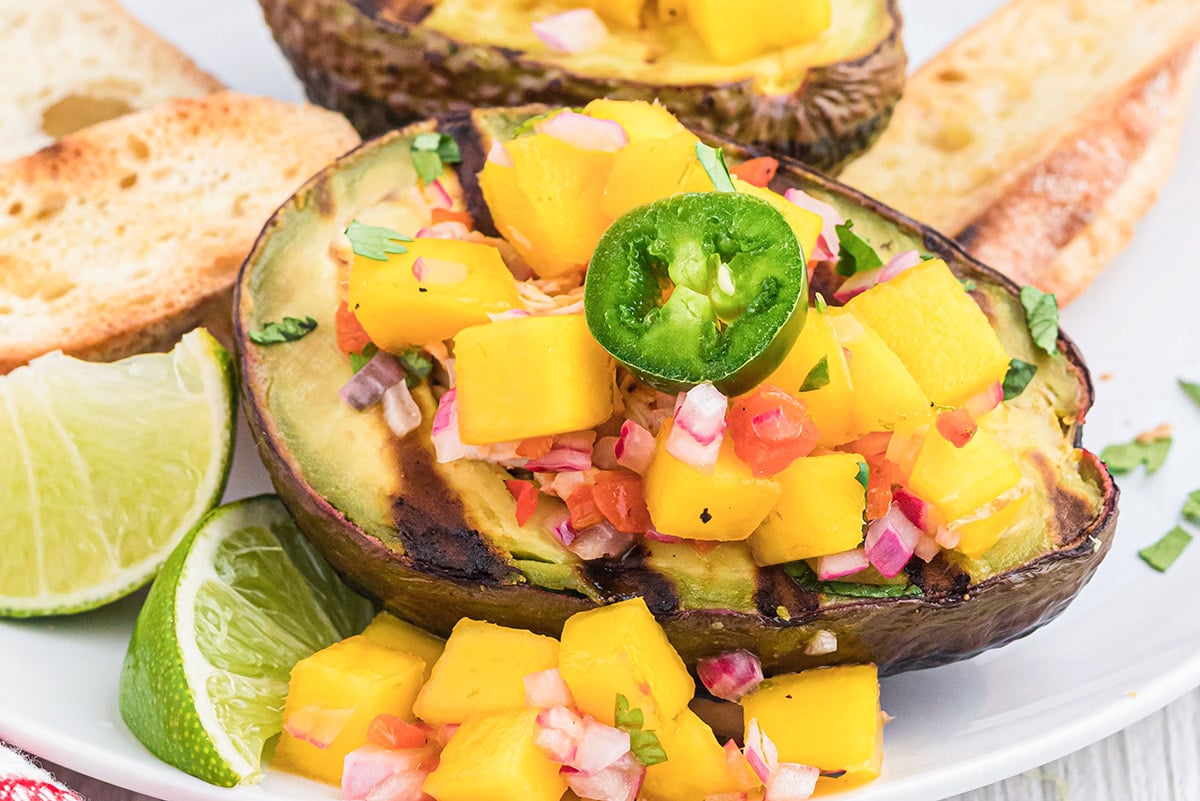 What You'll Need
Full of fresh and flavor filled ingredients.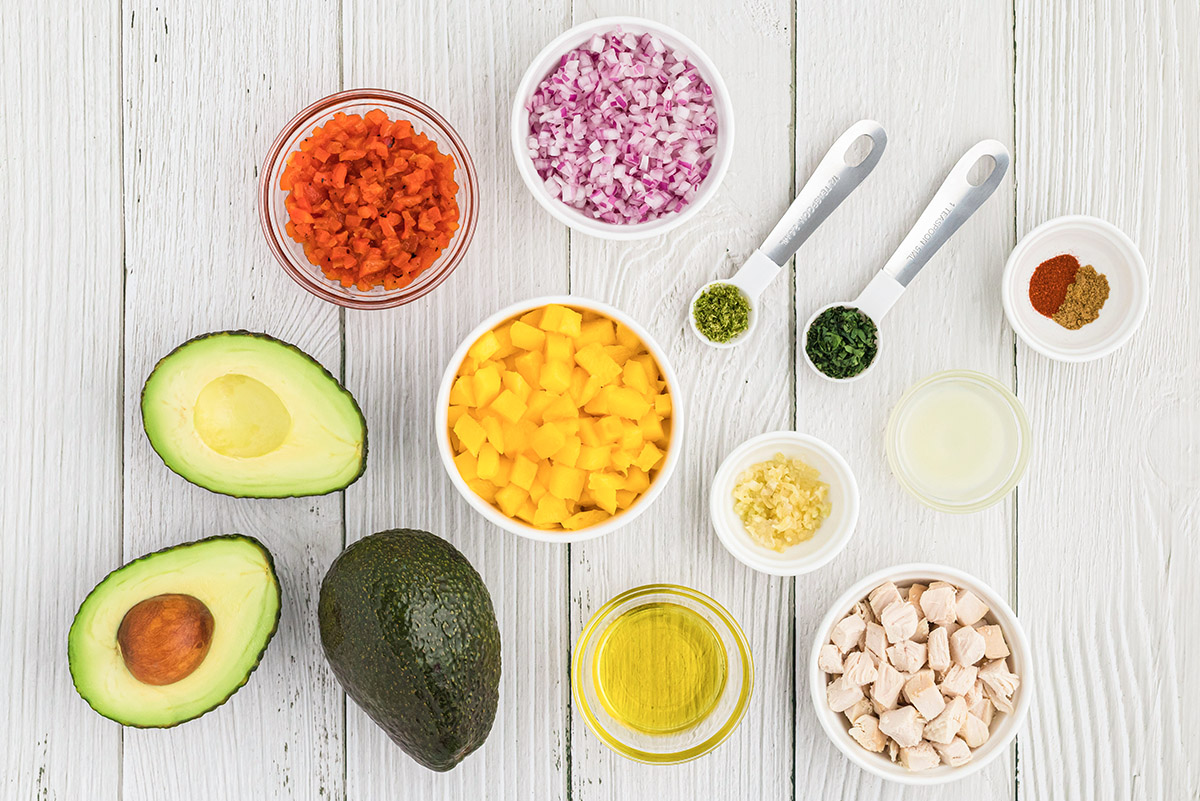 Fresh garlic– Fresh garlic packs the most garlicky flavors, but if you want a mild, sweet aftertaste, opt for jarred. Mincing or grating further amplifies the deep garlic flavors.
Fresh lime juice– This goes for any citrus, it is the freshest when it is initially squeezed. So bottled juices made from concentrates just don't have as much bite as a freshly squeezed wedge. Lime juice will also benefit the avocados by preventing them from oxidizing (turning brown).
Cumin & Smoked paprika– These two ingredients combined make for zesty combination. Smoked paprika will give that smoky flavor.
Cooked chicken– As noted above, chop up leftovers, grab frozen cooked strips or a rotisserie chicken from the store.
Ripe Avocados– I find using fairly firm avocados works best. When holding it, look for a little bit of spring, but not enough that you can make a dent with your finger. Don't pay too much attention to the green hue, but more to the texture.
Olive oil- A first press olive oil has flavor, but also a higher smoke point perfect for the grill. Use sparingly to just have enough to prevent sticking, but not so much that it drips and could cause a fire.
Mango salsa– A blend of sweet, juicy mangos, red onion, roasted red peppers, lime juice, cilantro and lime zest. Pico de gallo is another good option if your crew doesn't like mango.
While they don't require any garnish, a crunchy jalapeno slice or leafy cilantro looks so pretty. A dollop of sour cream, dabs of hot sauce or a drizzle of balsamic reduction is also fun. Serveit will a side of tortilla chips for salty crunch. And, of course, more lime wedges can't hurt.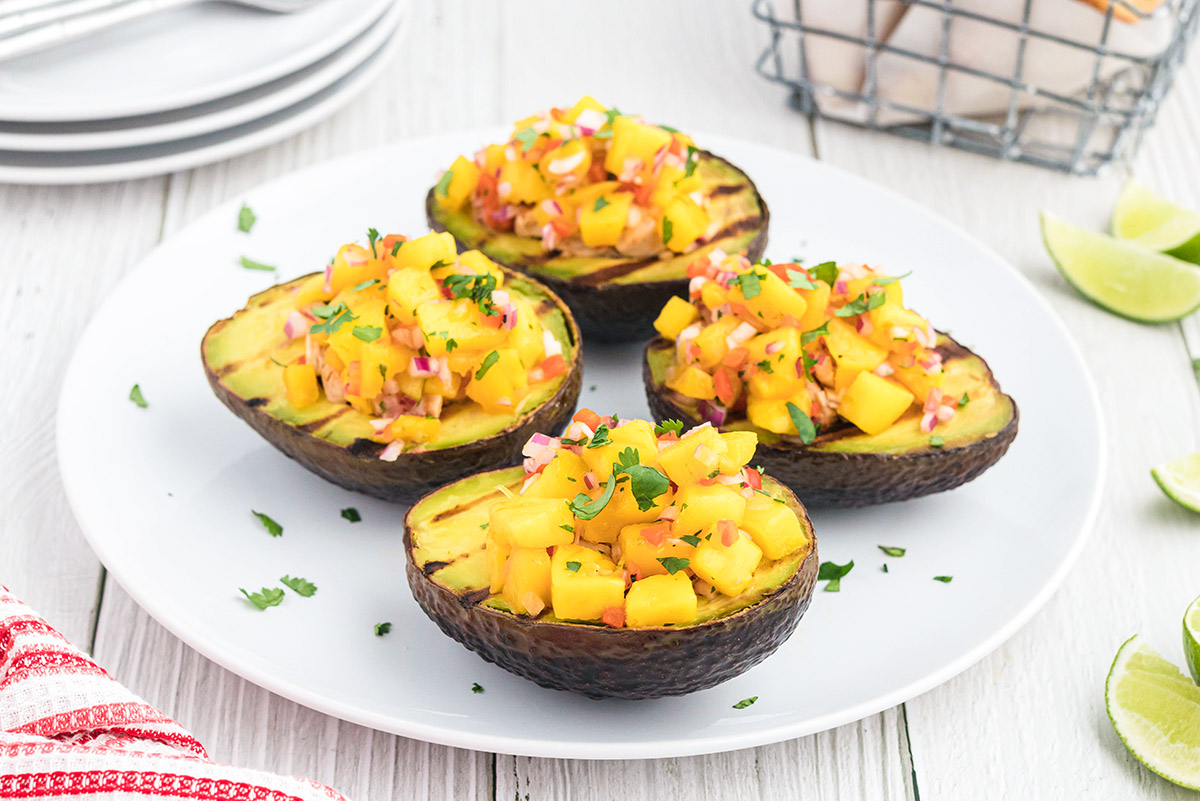 How to Make Grilled Avocados
In a medium bowl, whisk together the garlic, lime juice, cumin and paprika. Toss with the cooked chicken until fully coated. Chicken can be hot or cold, your choice!
Cut the avocados in half, removing the pit. Be careful to get it out safely and avoid the dreading "avocado hand". Brush each side with the olive oil, but make sure to not use too much, they should just be lubricated to prevent sticking, not dripping.
Heat the grill on medium-high. Place the cut side of the avocado directly onto the grate and allow to cook for 2-3 minutes on indirect heat or until grill marks form. Try to place it diagonally on grill grates and do not move it around, this will prevent those lovely marks from forming. Actual times will vary from grill to grill. Alternately, use a cast iron grill pan.
Remove them and top each avocado half with chicken mixture and then mango salsa.
I like to garnish mine with fresh jalapeno slices and more cilantro, but that is totally up to you.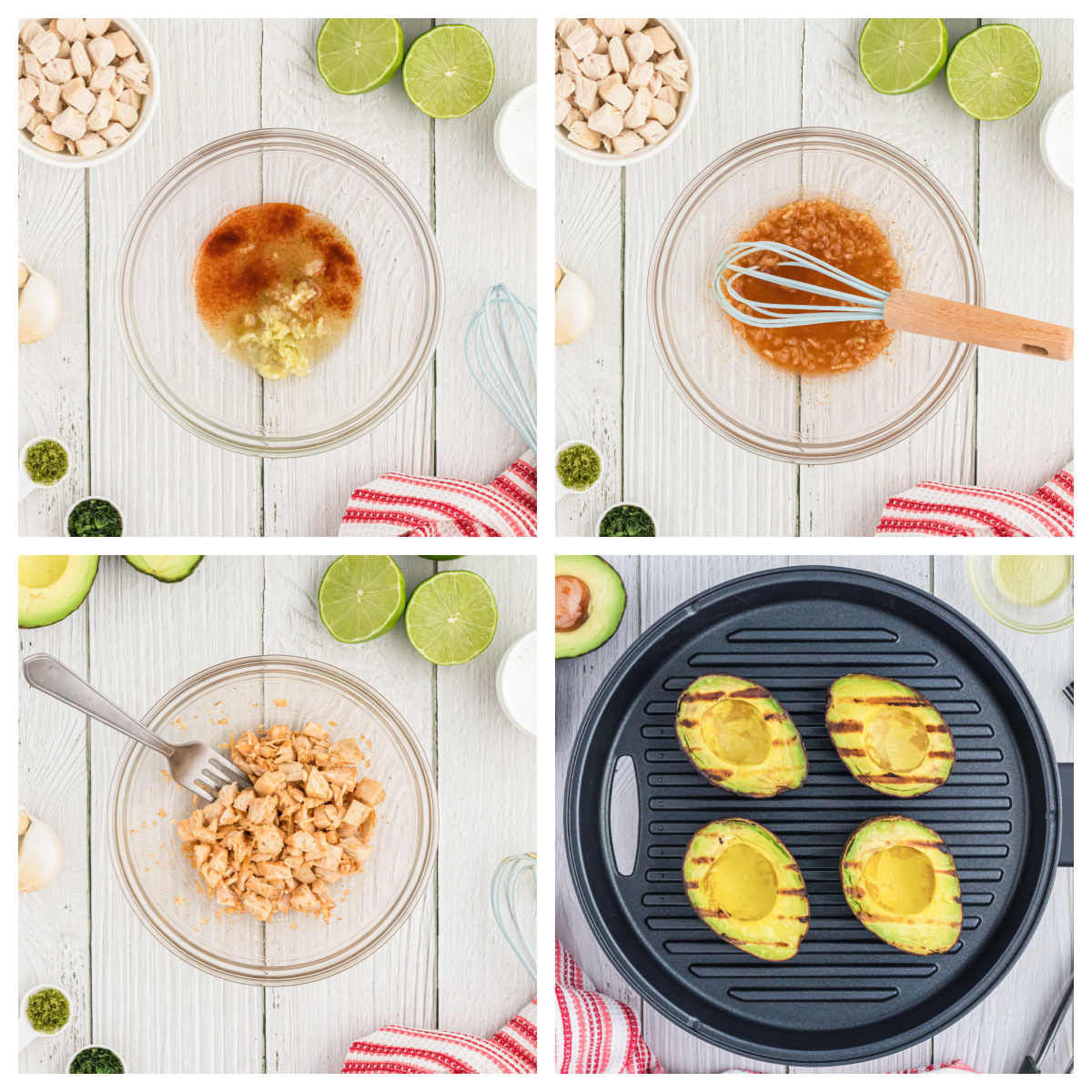 Storage & Make-Ahead
All of the individual elements can be made ahead of time. In fact, the chicken stuffing can even be served chilled like chicken salad. If you want to re-heat it, place the chicken blend in an aluminum pan and set on the side of the grill to heat while the avocados cook.
Leftover can be stored in an airtight container or wrapped tightly with plastic wrap and enjoyed chilled or reheated on the grill or in the microwave. Avocados might turn a little brown, which just means they are exposed to air, but still perfectly fine to eat. Using close fitting plastic wrap and spritzing with citrus can prevent this.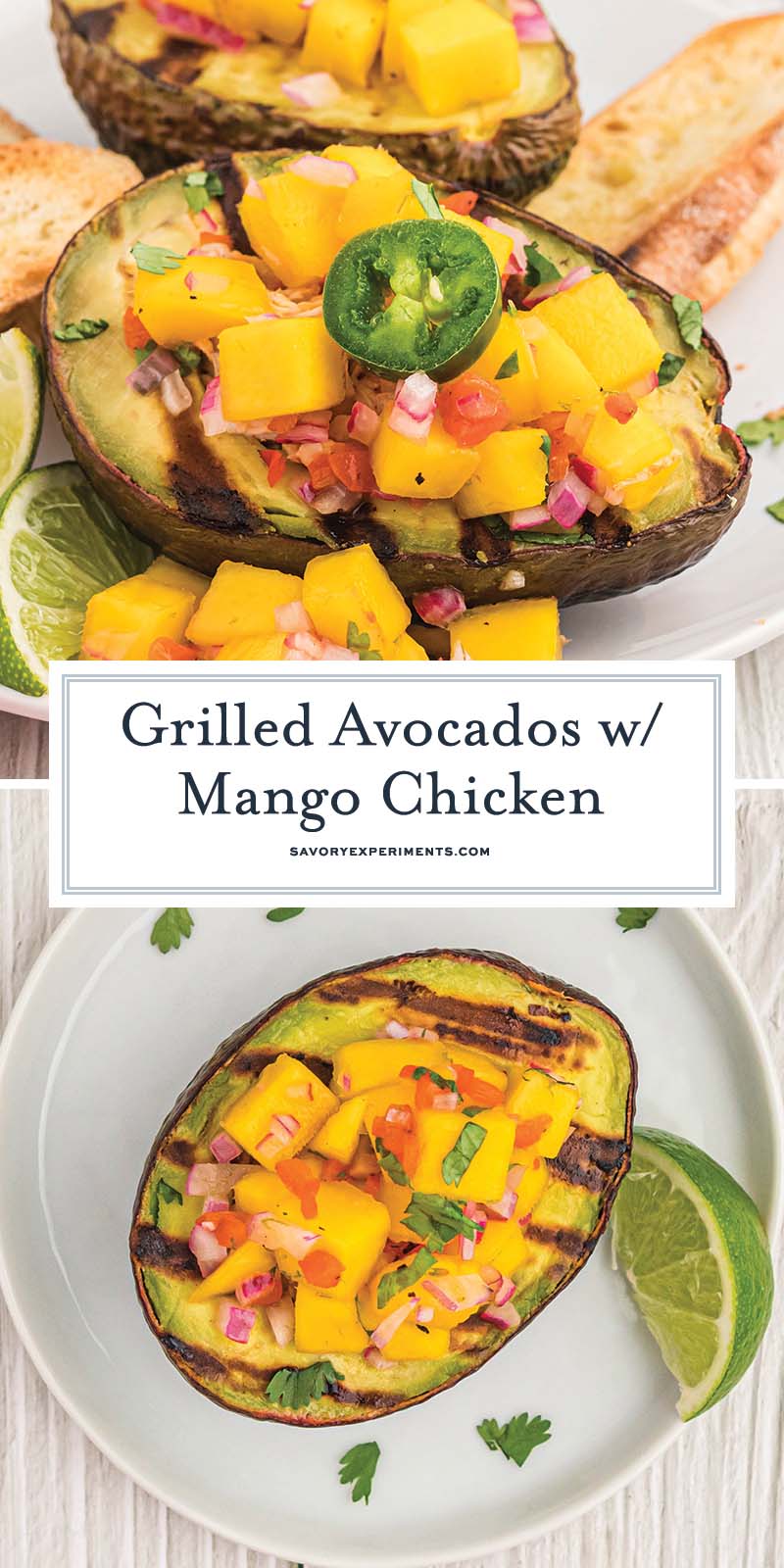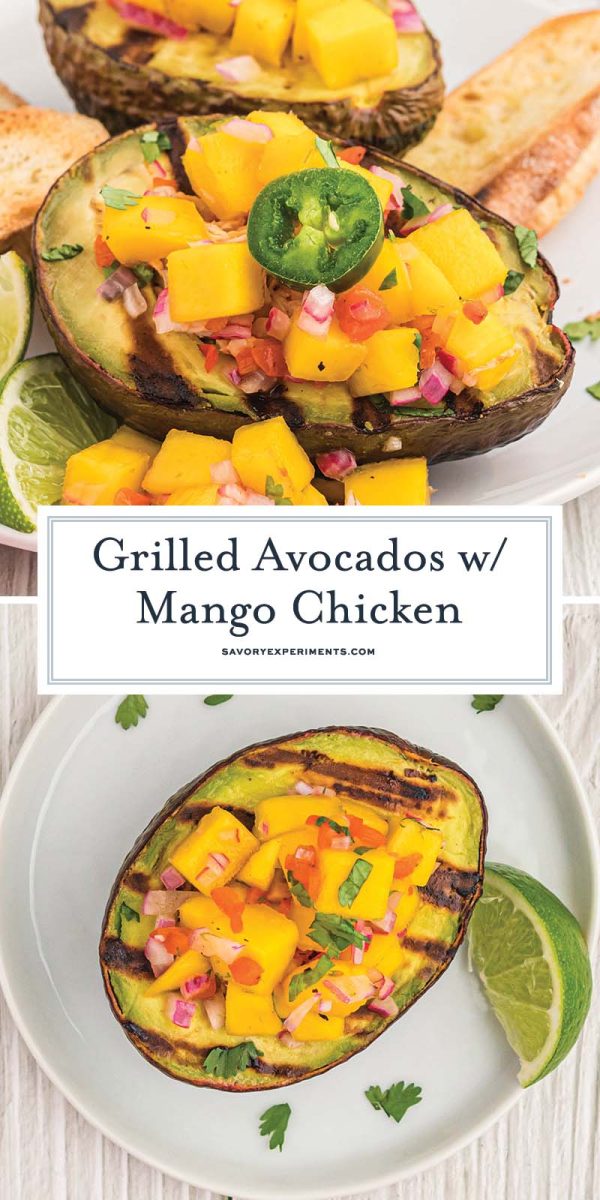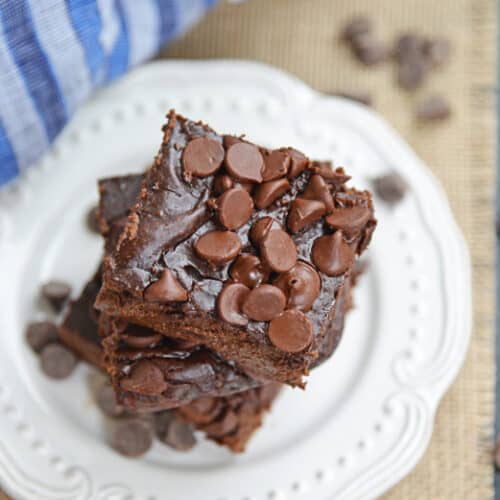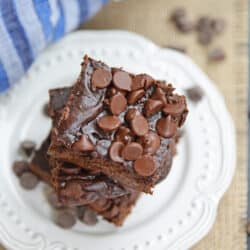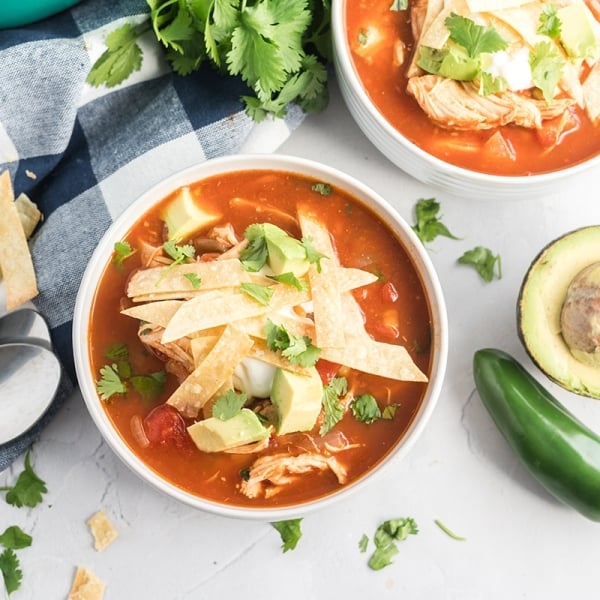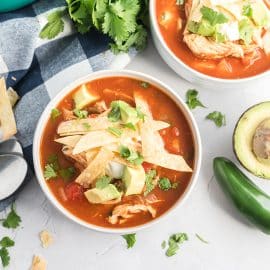 Easy Chicken Tortilla Soup
This is an easy chicken tortilla soup that can be on your table in less than an hour. A rich tomato broth with a bit of spice and large chunks of chicken make this a hearty and comforting meal!
See The Recipe!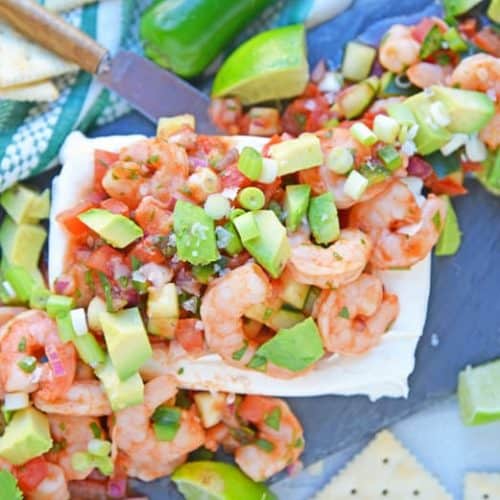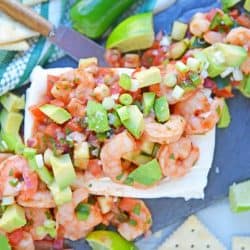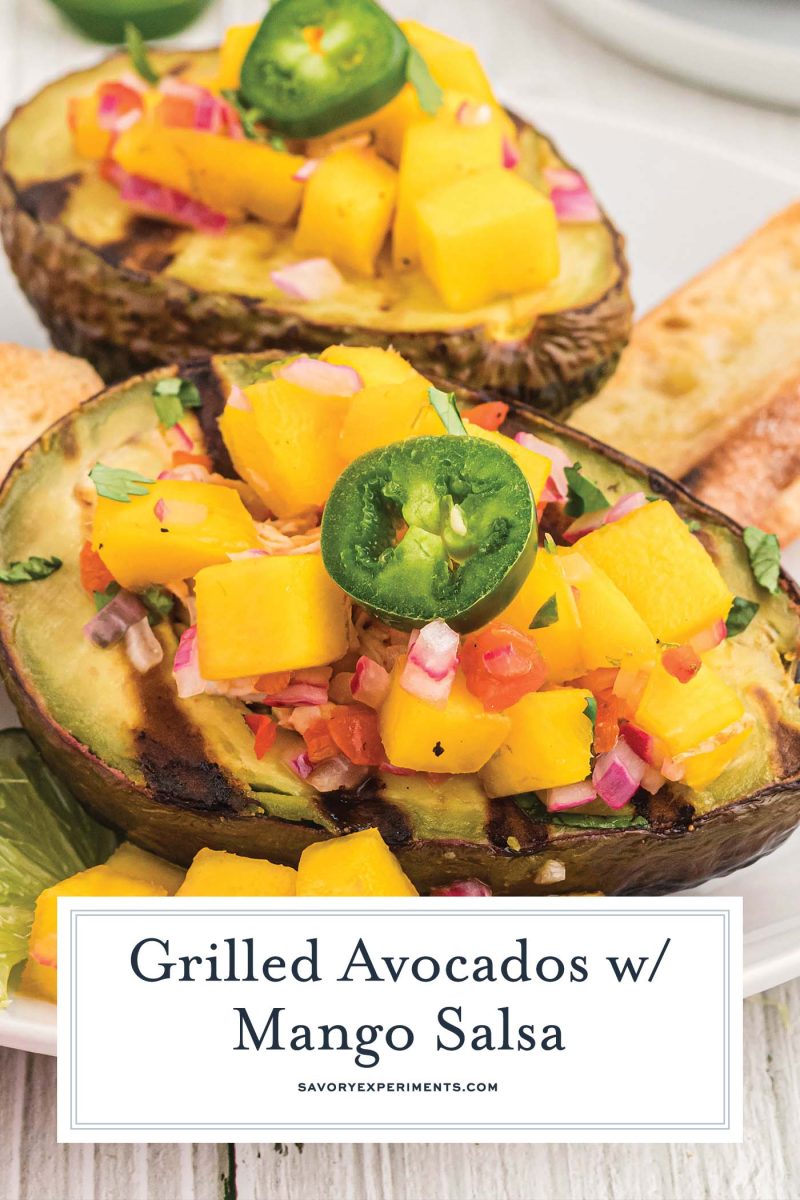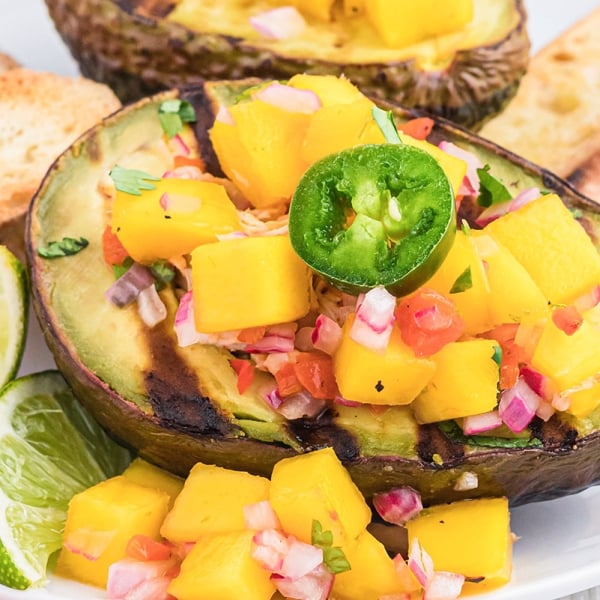 Grilled Avocados with Mango Chicken
Delicious grilled avocado topped with seasoned chicken and mango salsa will have you feeling like you are on a tropical vacation without leaving your backyard. Healthy and easy to make!
Instructions
Grilled Avocados:
In a medium bowl, whisk together the garlic, lime juice, cumin and paprika. Toss with the cooked chicken until fully coated, then set aside. Chicken can be hot or cold.

Cut the avocados in half, removing the pit. Brush each side with the olive oil.

Heat the grill on medium-high. Place cut side directly on the grate and allow to cook for 2-3 minutes or until char marks form and avocados are hot. This can vary from grill to grill.
Mango Salsa:
In a small bowl, stir together the mango, red onion, roasted red pepper, lime juice, cilantro and lime zest.

Top wach avocado halve with chicken mixture and mango salsa and other toppings you desire.

If you've tried this recipe, come back and let us know how it was in the comments or ratings section.
Notes
I use a plain rotisserie chicken from the grocery store for my shredded chicken. Since you only need a small amount. Consider making Buffalo Chicken Dip with the remainder.
Chicken can be served cold or hot.
Nutrition
Calories:
293
kcal
,
Carbohydrates:
17
g
,
Protein:
9
g
,
Fat:
22
g
,
Saturated Fat:
3
g
,
Cholesterol:
22
mg
,
Sodium:
269
mg
,
Potassium:
685
mg
,
Fiber:
8
g
,
Sugar:
7
g
,
Vitamin A:
795
IU
,
Vitamin C:
46.3
mg
,
Calcium:
27
mg
,
Iron:
1.2
mg