If you've got leftover chicken laying around and you're not sure what to do with it, try whipping up a batch of these BBQ Chicken Quesadillas! They make a great option when you need dinner in a hurry.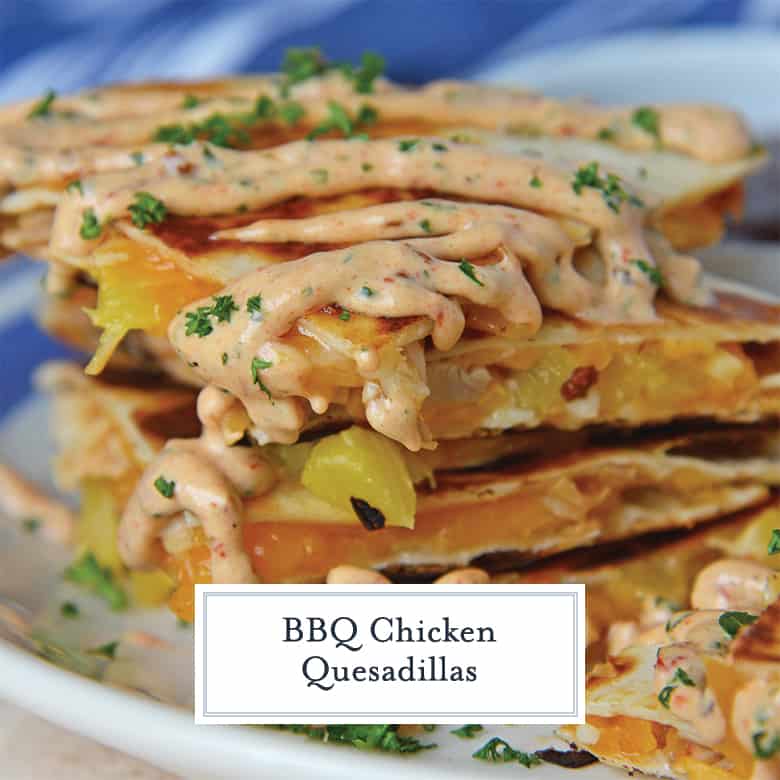 Made in only 10 minutes, these easy BBQ Chicken Quesadillas make for a quick and easy dinner idea! A great use for leftover BBQ chicken!
I am a firm believer that nearly anything leftover can be made into a quesadilla or nachos. Just find a complementing cheese and sauce and voila!
Leftover chicken (either shredded or grilled) is one of those versatile leftovers. You can incorporate it into so many dishes!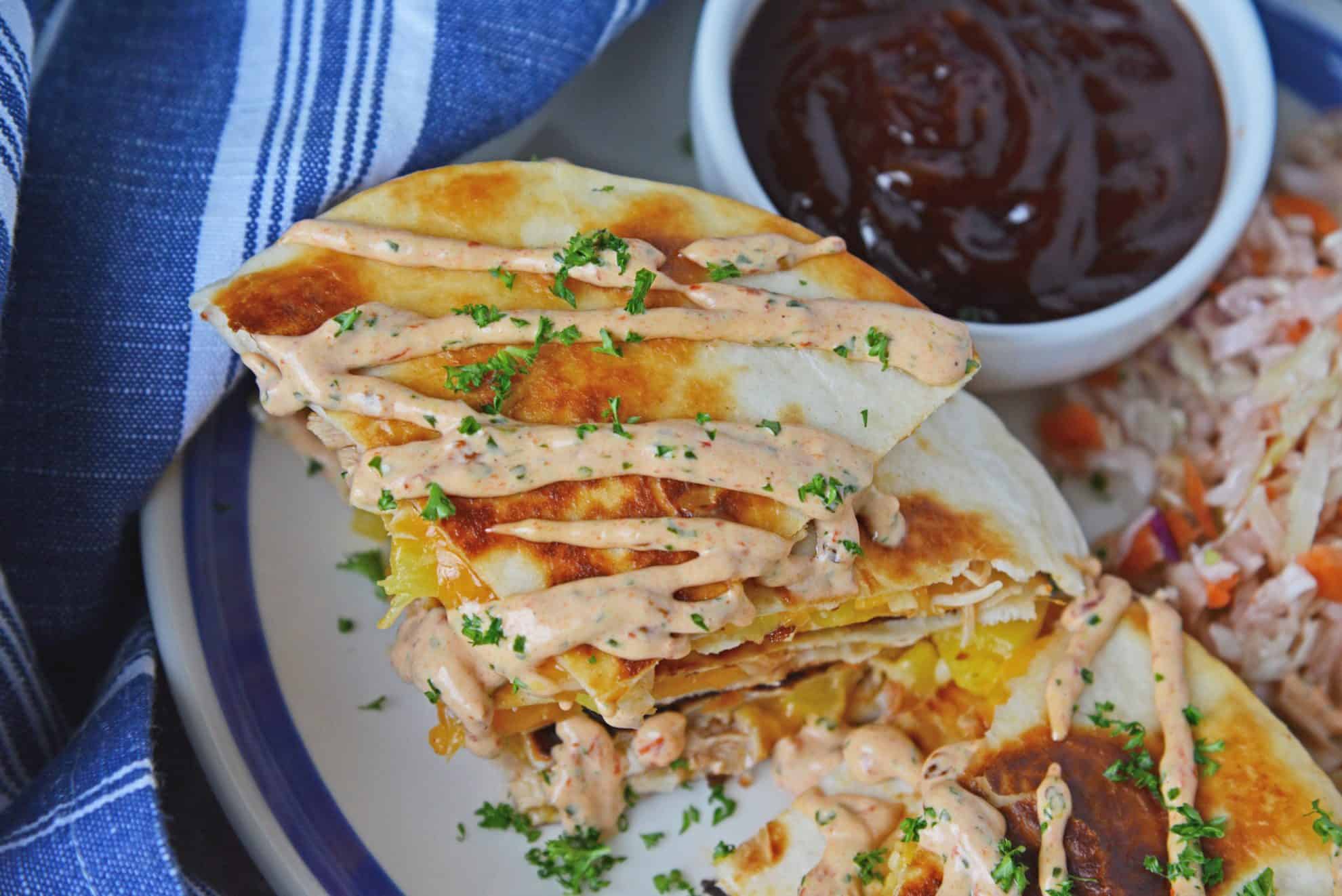 In this case, I had BBQ Chicken leftover from my Instant BBQ Chicken recipe. You can use your own, or even get a store bought rotisserie chicken and shred it instead of having to make a whole batch. You can even get the presauced kind at the store.
I also had a fair number of tortillas in the freezer, so the only logical next step was to turn the two into BBQ Chicken Quesadillas! They are so easy to throw together, it was really a no brainer.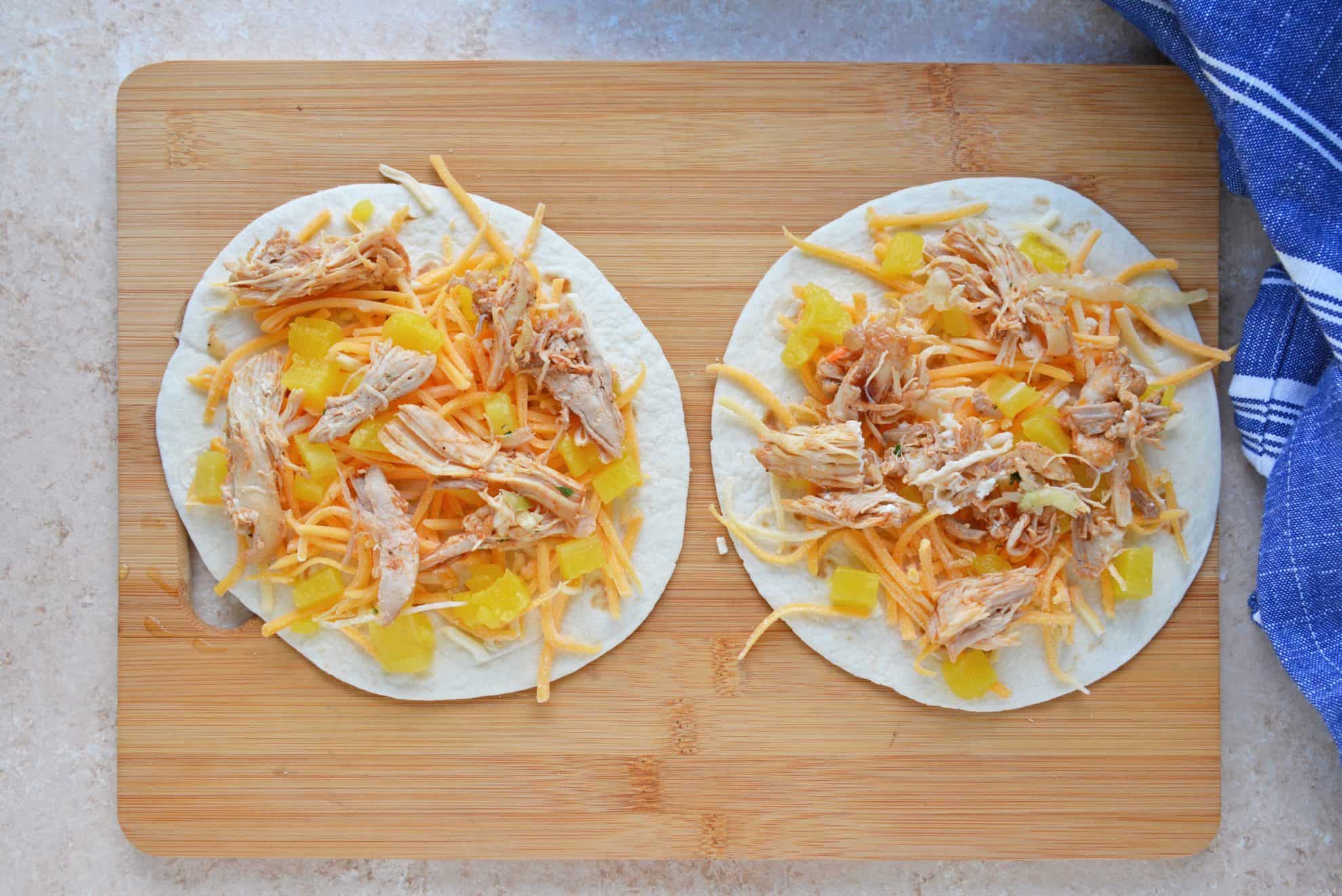 And just a side note, tortillas freeze really well. So buy a package next time they are on sale and freeze them for all of your quesadilla needs. You can add them right to the skillet frozen, as they defrost super quick.
PRO TIP: Pull apart and separate tortillas and then re-stack them before freezing. They will pop off each other easily when you are ready to use them.
These quesadillas were super easy to make. I simply added a little bit of vegetable oil (you can use olive oil if you prefer) to a large skillet and heated it to medium high heat.
Next simply add one flour tortilla to the skillet and top with desired toppings (in this case I used BBQ chicken, gouda and pineapple.)
Then top with another flour tortilla and cook until each side is lightly browned and the cheese is melted. You can even make them in the oven if you want.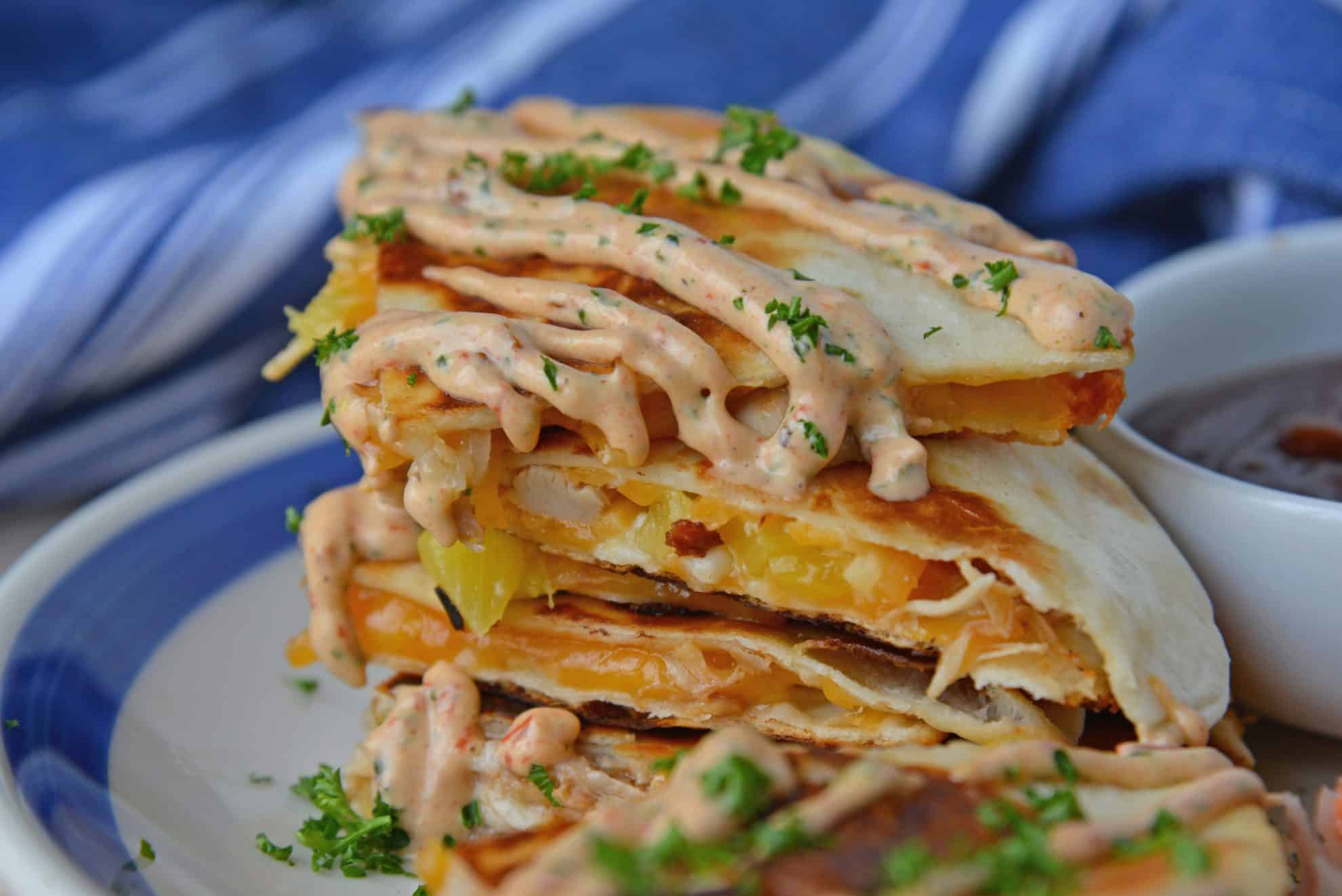 Even though I typically shy away from adding liquidy ingredients to the inside of a quesadilla, I do like adding pineapple to my BBQ chicken quesadillas. It adds to the "sweet" factor of the BBQ, and gives some more texture.
As for the cheese, I used a gouda blend; but if you prefer, you can use cheddar, pepper jack for a spicy quesadilla or any other cheese you desire.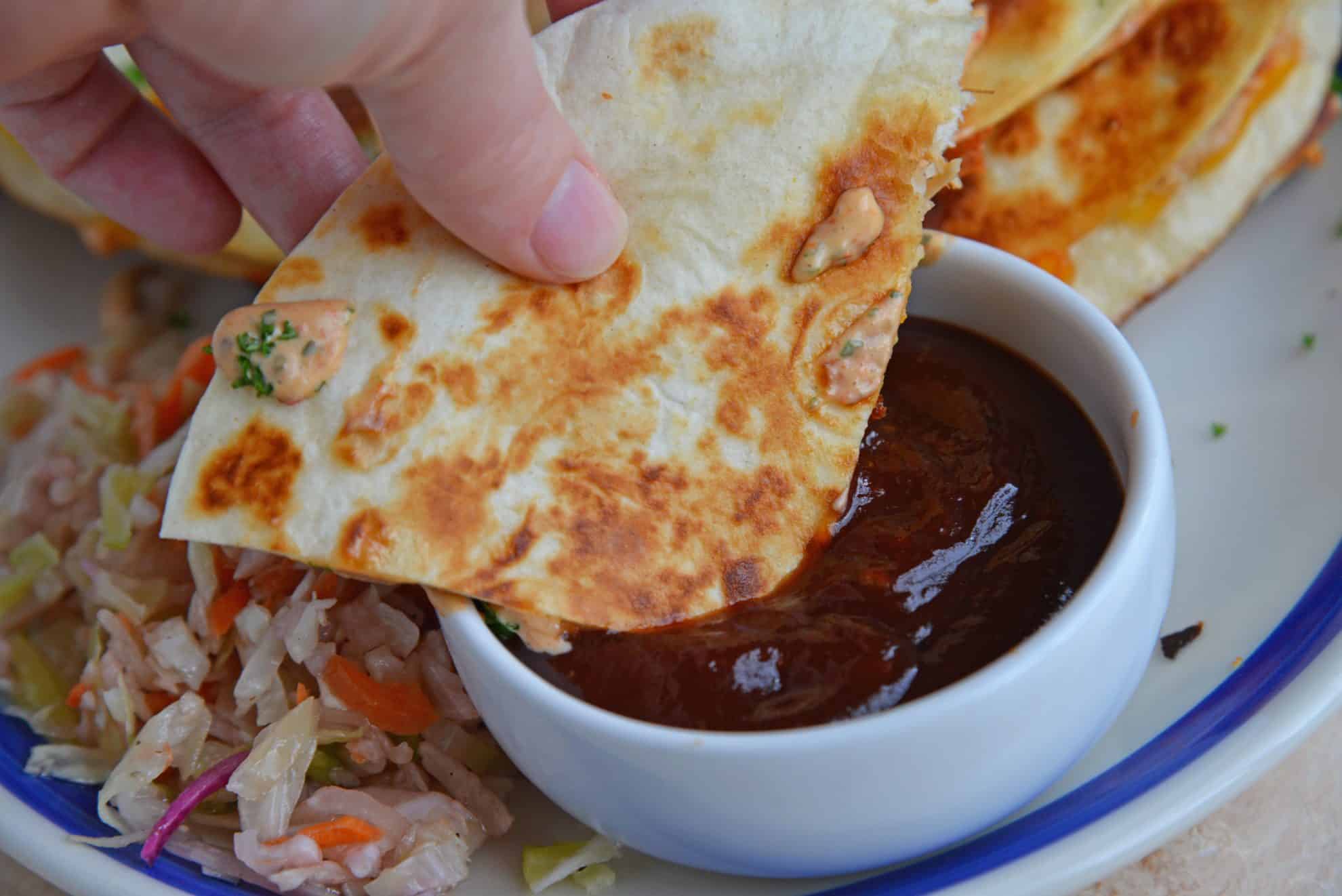 Now let's talk about what to dip these babies in, because the dip is almost as important as the quesadilla! Being that these are BBQ Chicken Quesadillas, BBQ sauce is an obvious option.
These are some of my favorite BBQ sauce recipes:
Another option for dipping or topping is chipotle aioli. You can amp it up by adding extra chipotle chiles to make it even spicier. It's perfect for dipping or even drizzling right on top of the quesadillas!
PRO TIP: Put your aioli in a plastic bag and snip the corner to create a makeshift pastry bag. Drizzle it on top or around the dish in an artful fashion! Now you have fancy quesadillas!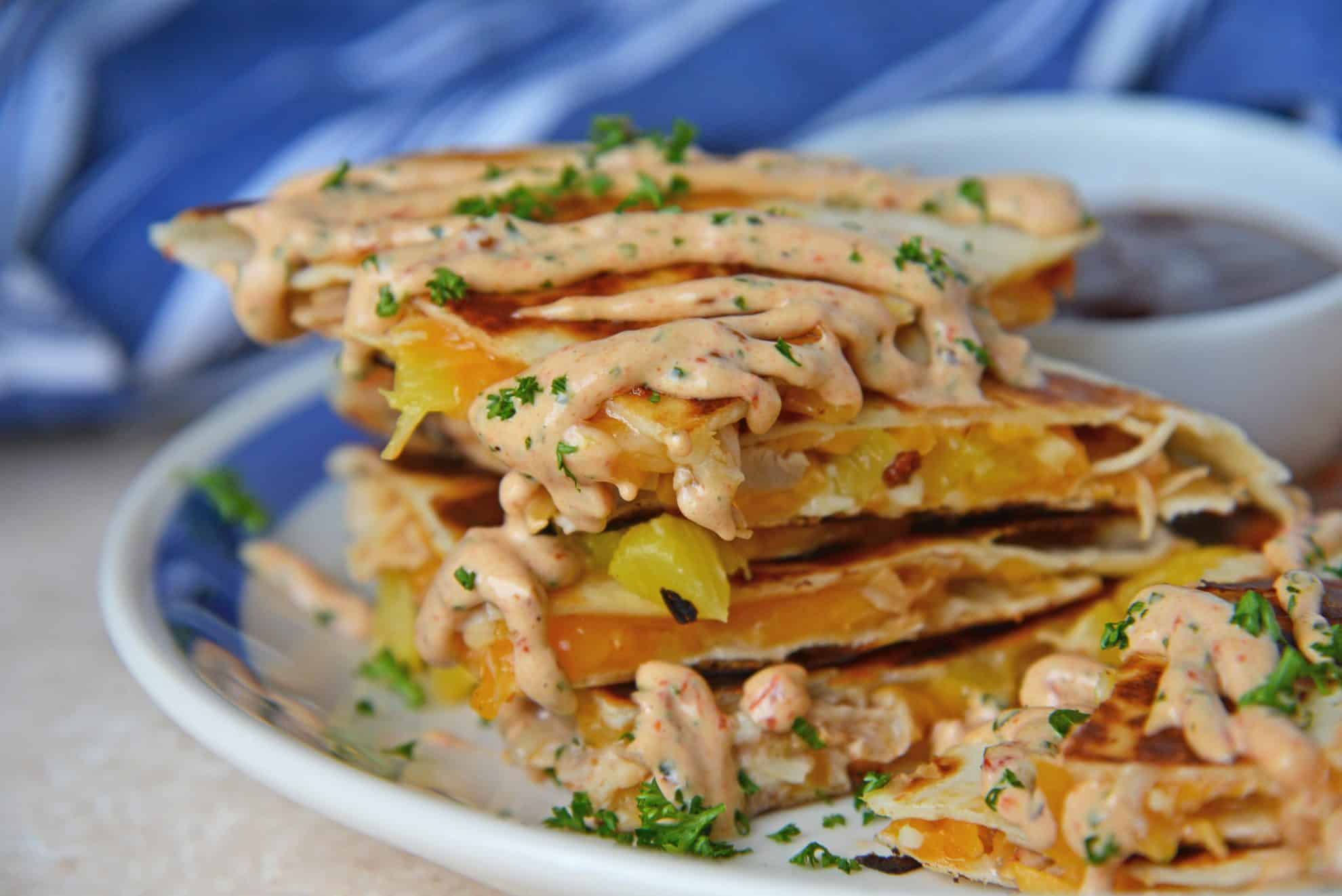 Questions you may have about BBQ Chicken Quesadillas:
What to serve with chicken quesadillas? It really depends how your chicken is seasoned. If your quesadilla has more of a traditional Mexican flavor, a good Restaurant Style Mexican Rice or even Mexican Refried Beans would be perfect.
However since I went with BBQ for these particular quesadillas, I like to serve it with coleslaw or even a Grilled Corn Salad or something similar.
BBQ Chicken pairs well with coleslaw, but since slaw can be a little liquidy, it is better served on the side instead of in the actual quesadilla. Otherwise you risk having a soggy tortilla. Here are my favorite coleslaw recipes:
What to put in chicken quesadillas? When it comes to quesadillas, anything goes in my opinion! Some type of cheese is a must. A protein like chicken or beef is always a good idea, but not necessary.
Throw in some veggies (or even fruit, like this recipe!) and you've got yourself a quesadilla!
What sauce is in chicken quesadillas? I don't really put a "sauce" per say in my quesadillas. The fewer things that make my quesadillas soggy, the better. I do, however, always add cheese. The melty cheese kind of holds everything together.
And when I add pineapple as I do in these BBQ Chicken Quesadillas, they usually hold enough liquid to make sure the quesadillas stay moist without the need for a sauce on the inside.

If you liked this chicken quesadilla recipe, check out these other ways to use leftover chicken:
Tools for making BBQ Chicken Quesadillas:
Heavy Bottom Frying Pan– this will be one of your most used kitchen tools. Having something that is heavy bottom will distribute heat better and prevent burning whether you are using an electric or gas range.
Wood cutting board – wood won't dull your knives like plastic and if treated properly, has natural antimicrobial properties.
Good knife – Global is my favorite! They are worth the price, I promise. I am kind of obsessed with them and store them tucked away so no one else can use them. Including hubby. Hands off my good stuff!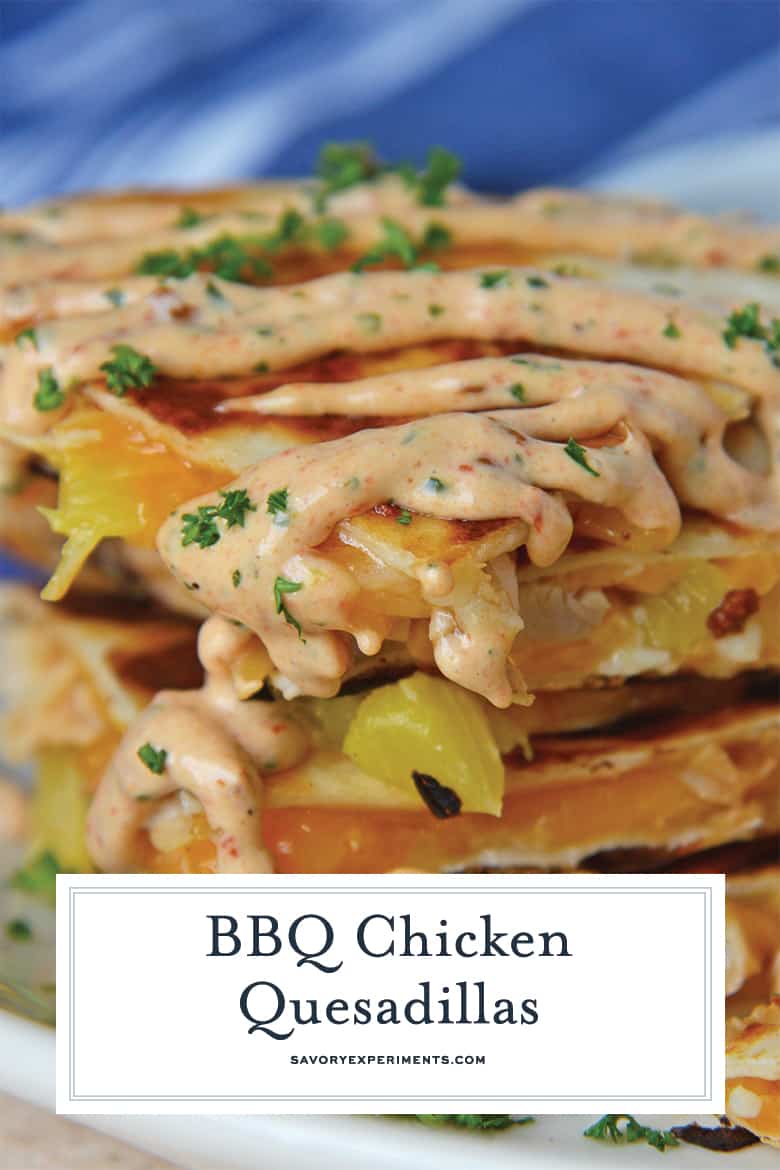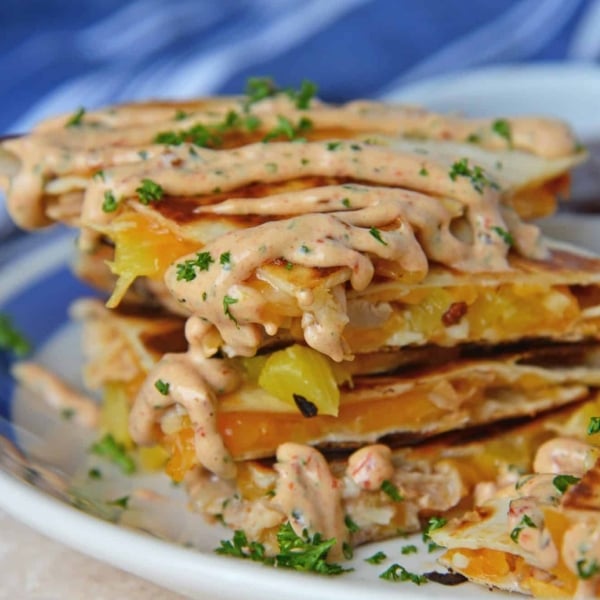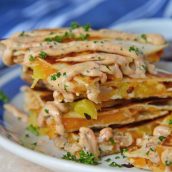 BBQ Chicken Quesadillas
Made in only 10 minutes, these easy BBQ Chicken Quesadillas make for a quick and easy dinner idea! A great use for leftover BBQ chicken!
Instructions
Heat 1 tablespoon vegetable oil in a large skillet over medium heat.

Add one tortilla, top with half of the BBQ chicken, shredded gouda and chunked pineapple.

Top with another tortilla. Cook until lightly browned and cheese starts to melt. Flip.

Repeat process with remaining ingredients.

Cut into triangles and enjoy!

If you've tried this recipe, come back and let us know how it was!
Nutrition
Calories:
516
kcal
,
Carbohydrates:
34
g
,
Protein:
20
g
,
Fat:
34
g
,
Saturated Fat:
22
g
,
Cholesterol:
67
mg
,
Sodium:
827
mg
,
Potassium:
196
mg
,
Fiber:
2
g
,
Sugar:
6
g
,
Vitamin A:
280
IU
,
Vitamin C:
1.4
mg
,
Calcium:
410
mg
,
Iron:
2.2
mg