With only 3 ingredients and 5 minutes to make, this Garlic Butter Sauce can't be beat. It's the perfect garlic sauce for pizza and breadsticks!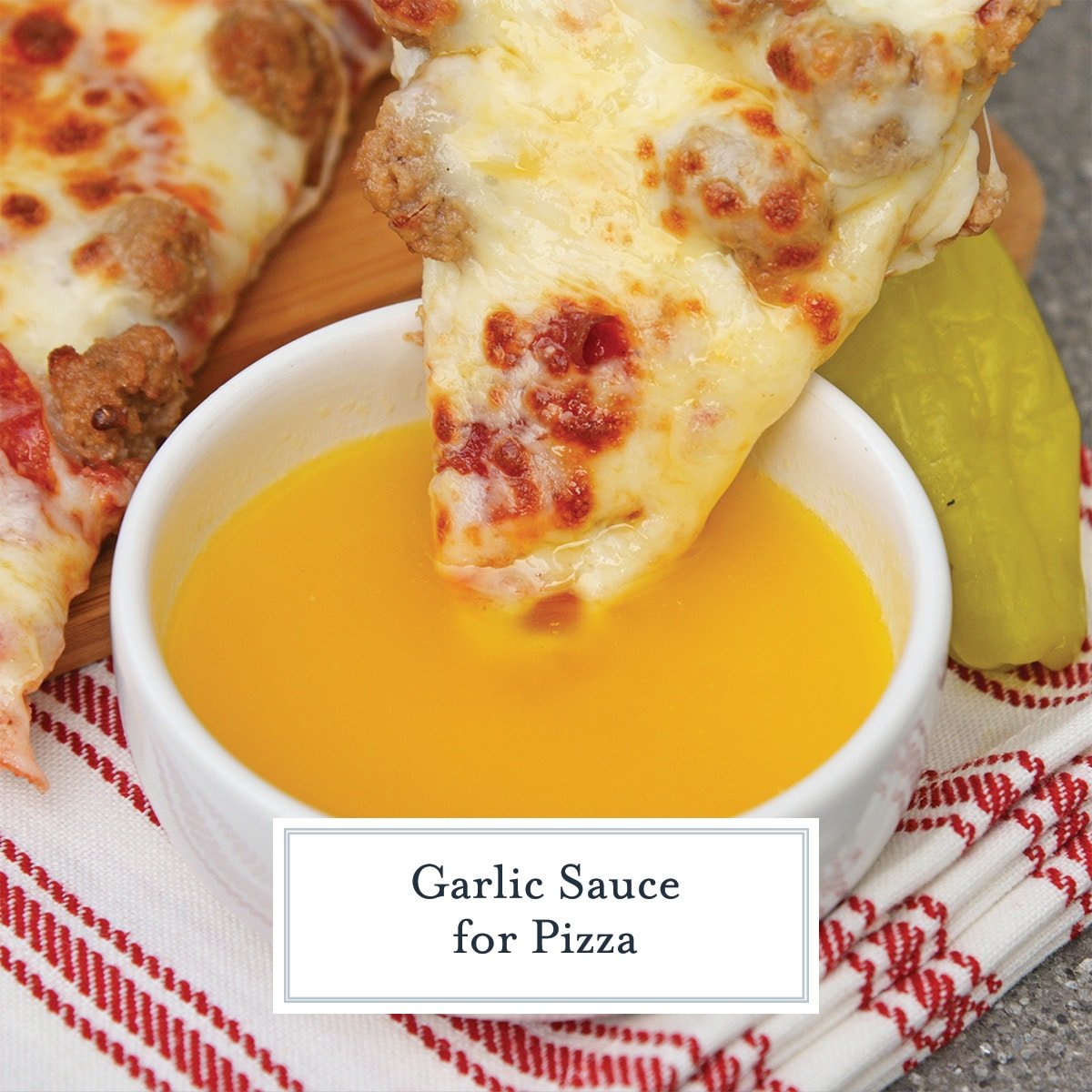 Pizza Dipping Sauce
What is your favorite part about ordering pizza? The obvious answers would be the ease of no cooking and little clean up, and being able to "indulge" in something cheesy and delicious.
But one of my favorite parts of ordering pizza are the breadsticks and pizza crust. More specifically, dipping said breadsticks into garlic sauce!
Inside scoop: Most pizza garlic butter sauces don't use fresh garlic.
Okay, it's the garlic dipping sauce I crave. I want ALL the garlic pizza sauce. You know my love affair with butter. The only problem is that most of the pizza joints don't use real butter. It's margarine. I know, mind blown! But mine, I used real butter.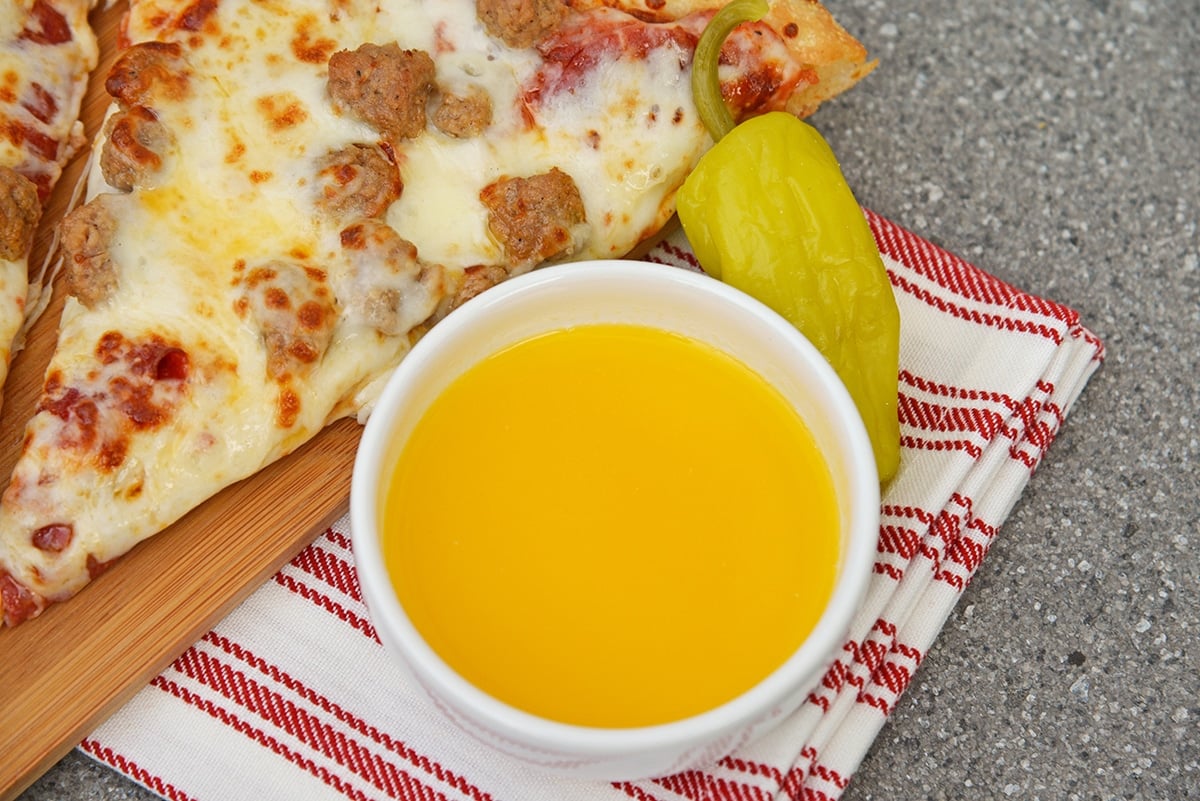 Uses for Garlic Sauce
Besides dipping, there are so many uses for this simple garlic sauce.
Baste on seafood or chicken
Drizzle on grilled veggies
Use to make garlic bread with a sprinkle of parmesan cheese
Baste onto pizza dough before baking
Use for omelettes or eggs
Use on hot dogs
As a garlic sauce for pasta
Dipping for wings or boneless wings
Stir 1 tablespoons with red sauce or tomato sauce
Quality of Butter
This sauce is one of those times when the quality of butter is important. This garlic sauce is such a simple recipe, that choosing quality ingredients is very important and not all butters are created equal.
While it is fine to just throw a stick of butter in the pan, consider using cultured or European butter for a tangy, robust flavor. You can also use clarified butter, butter with milk solids and water removed.
Wondering why yours is slightly "off" from Papa John's or Domino? Probably because they use margarine instead of real butter. This is, in part, why their sauces don't solidify like a real butter sauce will. A real copycat recipe of Papa John's garlic sauce would include that.
Some companies even supplement their butter sauces with vegetable oil or olive oil. To me, that is just greasy, so I stick with the basics.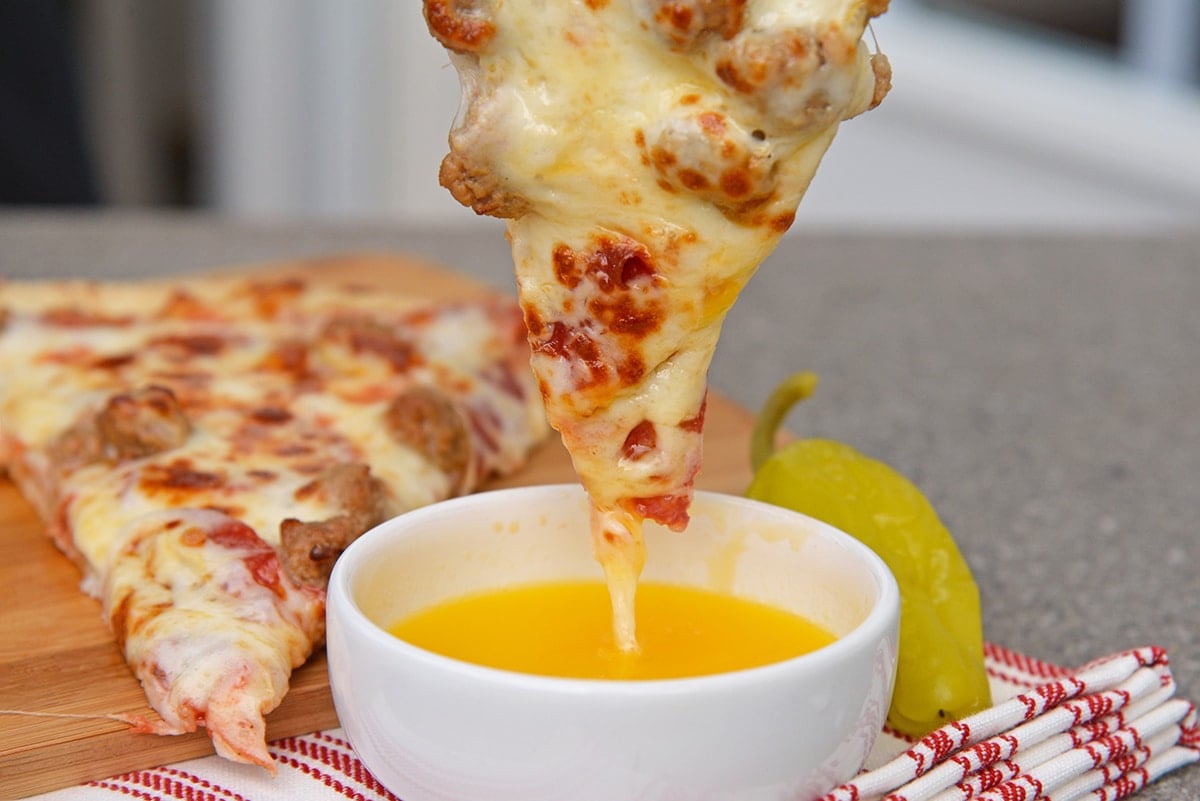 Butter Grades
Butter is required to have an 80% butterfat, but cheaper butters might also have more water.
American butter typically doesn't have as much flavor either. Grades, ranging from the best grade AA to grade B, are based on flavor, body, color and salt and water content.
For just bread and butter, or something where the dish is butter-forward with uncooked butter, splurge for the AA grade. If you plan to mix it, clarify it or use it minimally, opt for a lower grade. I keep 3 types of butter in my house.
The good stuff for bread, toast and bagels. It is typically already salted. A middle grade for basic cooking, also usually salted. And unsalted middle grade for baking.
Garlic Powder
The second trick is using garlic POWDER, not granulated garlic. Powder will absorb into the butter without being grainy. And please don't leave a hater comment about how stupid this recipe is- I'm literally just giving you what the pizza chains make. If you are looking for something else, here is a true garlic butter sauce.
Lastly, the sauce tastes best if it sits for a while to allow the flavors to marinate. Chances are the dipping sauce you got from the restaurant had a days… if not weeks to sit. It is one of the reasons they use margarine, it is much more stable and lasts longer.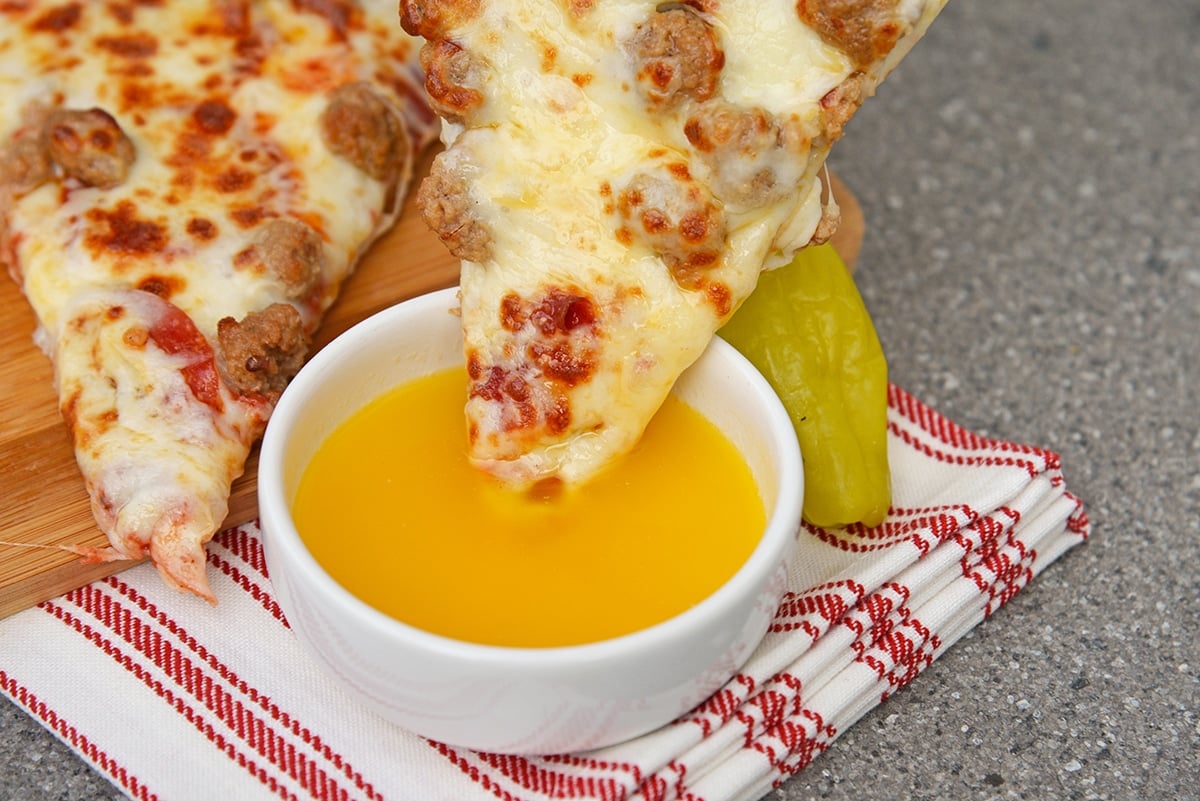 So the next time you're craving the garlic sauce from your favorite local pizza place, just take a few minutes to make your own. Your taste buds will thank you! Pizza also tastes great with homemade buffalo sauce or even ranch dressing.
You can also get super fancy and use my Truffle Butter or compound butter as the base!
How to Make
Making this sauce is easy! Heat and time are your friends to be get the best flavor and consistency.
Grab your simple ingredients, including unsalted butter, fine sea salt and garlic powder.
Combine them in a small saucepan and melt over medium heat, stirring continuously.
Turn off heat and allow to sit for 5-10 minutes.
Add a little heat to your homemade pizza night by adding crushed red pepper flakes. Make it a creamy sauce with a touch of heavy cream. Add black pepper for a peppery bite. Blue cheese crumbles in this sauce are great for chicken wings. Swap onion powder for the garlic powder for a fun new flavor. Or use one or two of these swaps for a totally custom blend.
Storage & Freezing
You can this sauce in an airtight container or covered tightly with a piece of plastic wrap in the fridge for up to 2 weeks, but remember it will solidify so you'll need to remelt it. Butter easily takes on other flavors of things around it, so make sure it is contained.
Can I freeze Garlic Sauce? You can freeze butter, but you want to make sure it is a high quality butter with little to no additional water. You'll see they are graded on the packaging. Clarified butter freezes better than straight butter with milk solids.
Some folks like to pour slightly cooked butter into ice cube trays, pop them out and then freeze them in airtight plastic bag. I like the silicone ones, they are easier to pop the cubes out.
Butter Stains… Yes I Just Went There
How do I remove butter sauce from clothes? We've all been there. A butter stain. Why it is so hard to get out???? For me, it is a job hazard. I get a lot of butter on my clothes and some stains are more difficult to get out than others. So there is what I do.
Rinse the stain immediately. Try to get out as much as you can before the stain really starts to set.
Pretreat! Spray the stain with a a stain remover. Let is sit and marinate for a little while. Wash in the highest heat possible.
Sometimes it takes more than one wash. To be totally transparent, some won't come out at all. But give it your best try!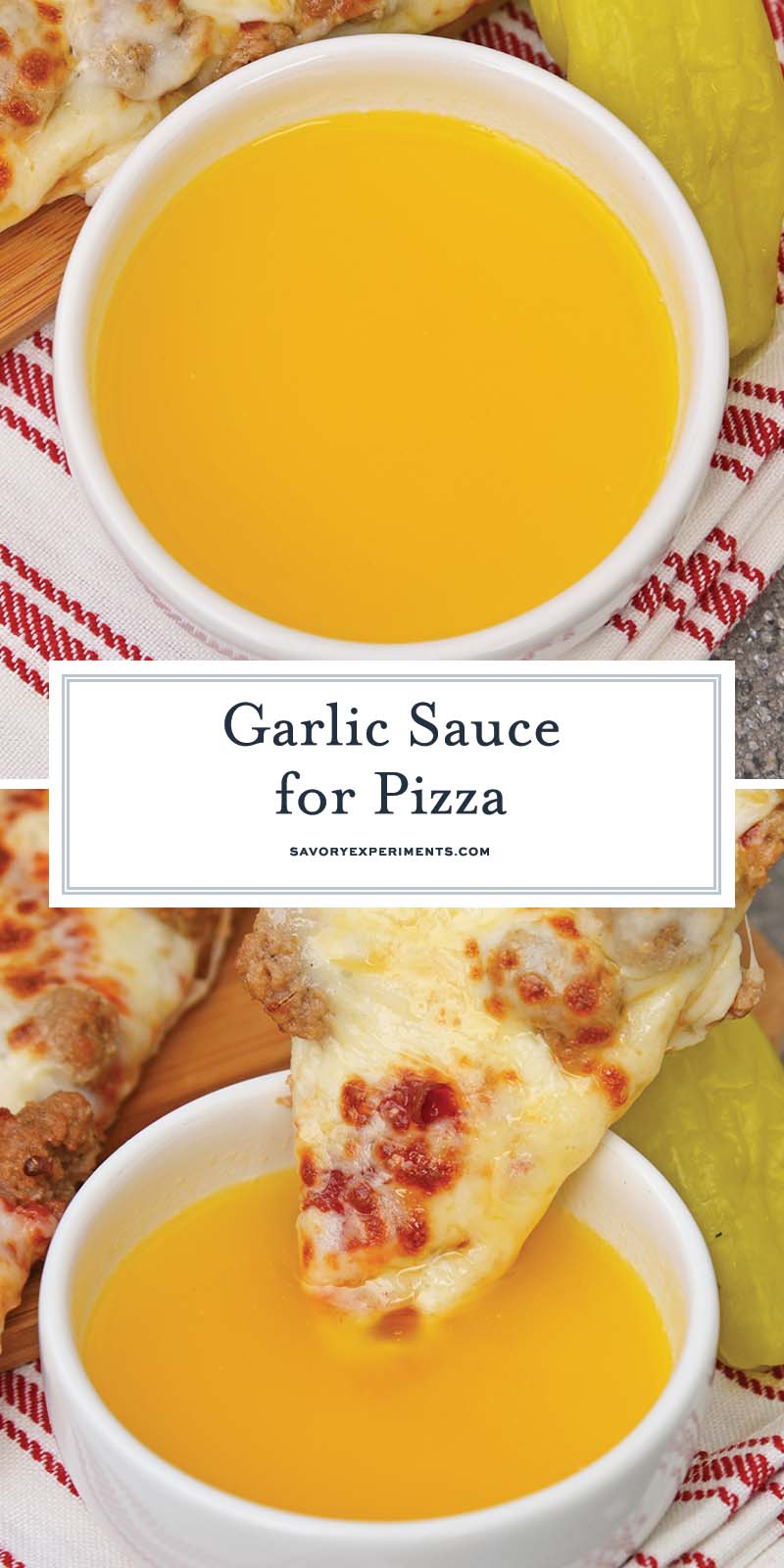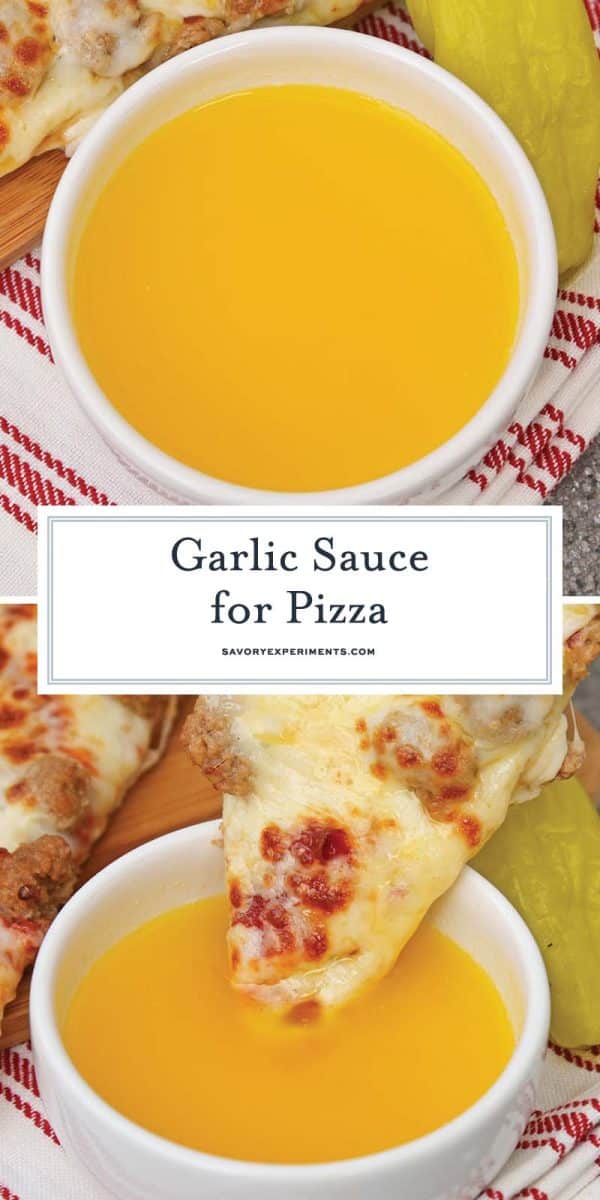 Homemade Pizza Ideas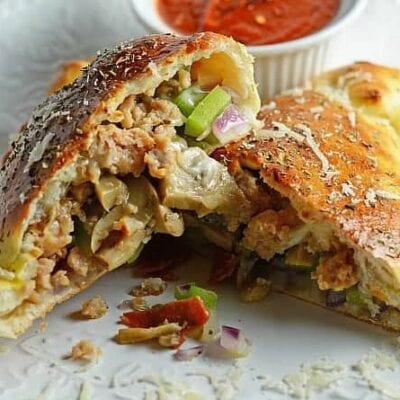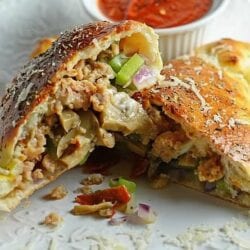 Easy Calzone Recipe
Easy Homemade Calzone Recipe- With just a handful of ingredients, you'll be devouring these calzones in no time! Create a "make your own calzone bar" for a crowd or kids party.
See The Recipe!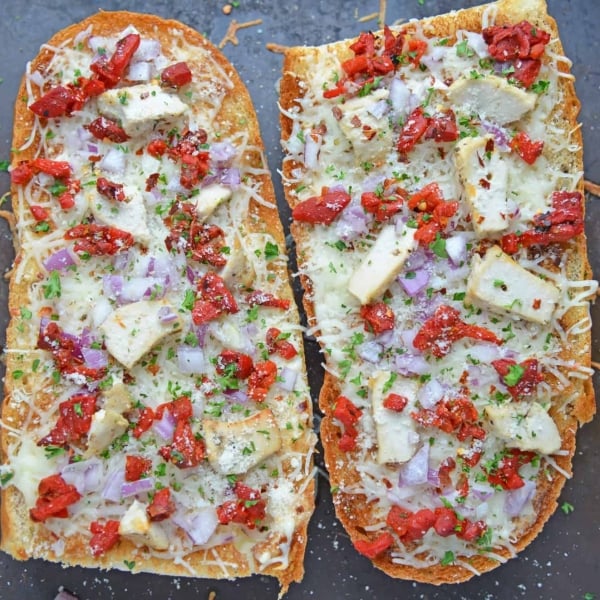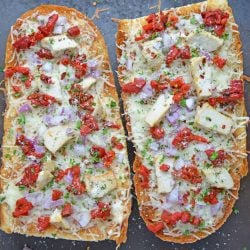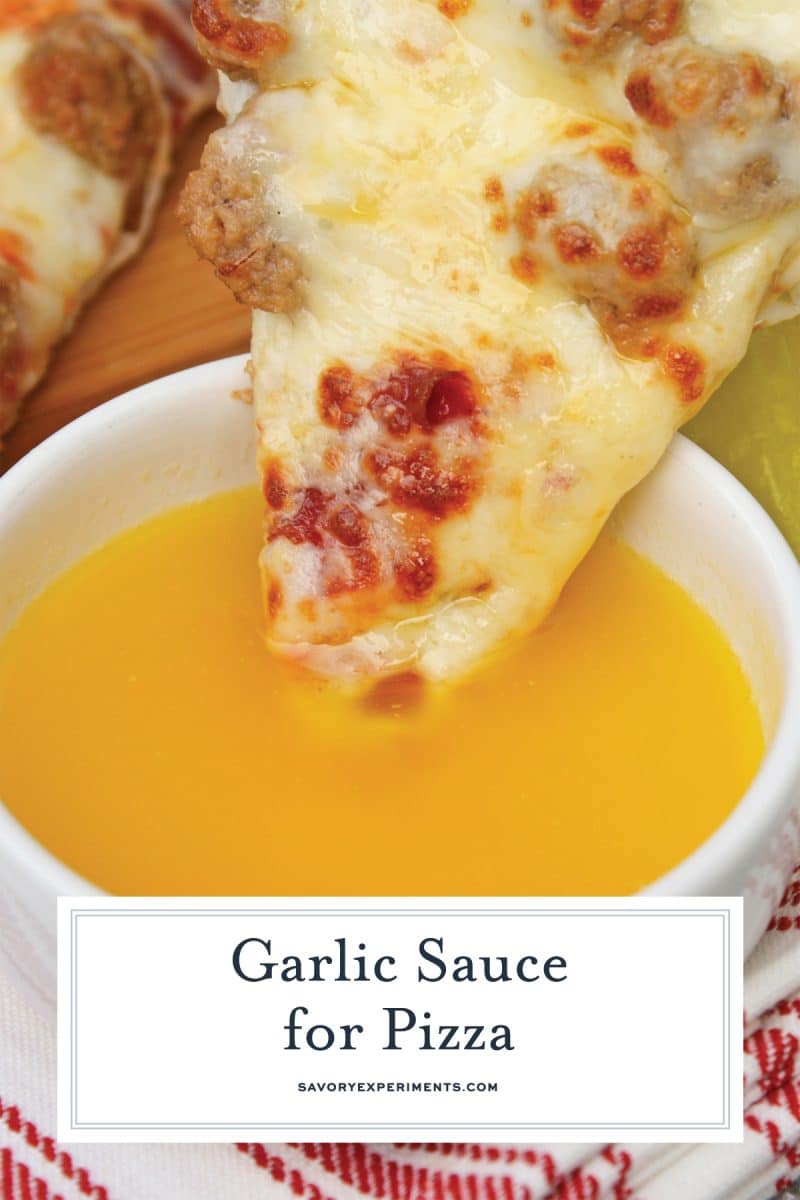 More Favorites from Savory Experiments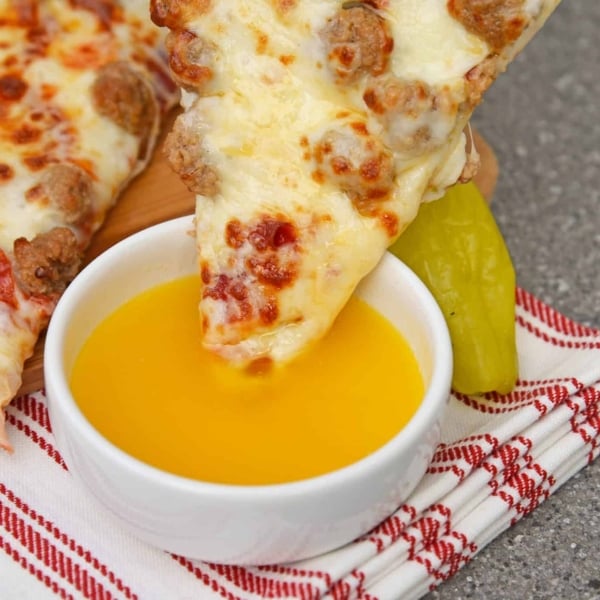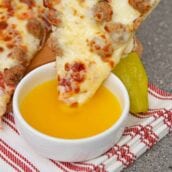 Garlic Sauce for Pizza
If you've ever wondered how to make garlic butter sauce for pizza, wonder no more. This recipe is just like the Papa John's dipping sauce for pizza or breadsticks!
Instructions
Combine the butter, garlic powder and fine sea salt in a small saucepan.

Stir and heat until melted. Serve.

If you've tried this recipe, please come back and let us know in the comments or star ratings!
Notes
*If you have the time, try using clarified butter instead of just a stick. It will give you the bright golden tone. Un-clarified butter might look a little more cloudy, but will taste the same.
Also see my notes about how restaurants use margarine instead of butter, which is why your garlic butter dipping sauce might taste "off".
Nutrition
Calories:
205
kcal
,
Fat:
23
g
,
Saturated Fat:
14
g
,
Cholesterol:
61
mg
,
Sodium:
203
mg
,
Potassium:
8
mg
,
Vitamin A:
710
IU
,
Calcium:
7
mg