With corn, black beans, chicken and loads of flavor, these EASY Sheet Pan Quesadillas will be your new go-to weeknight meal!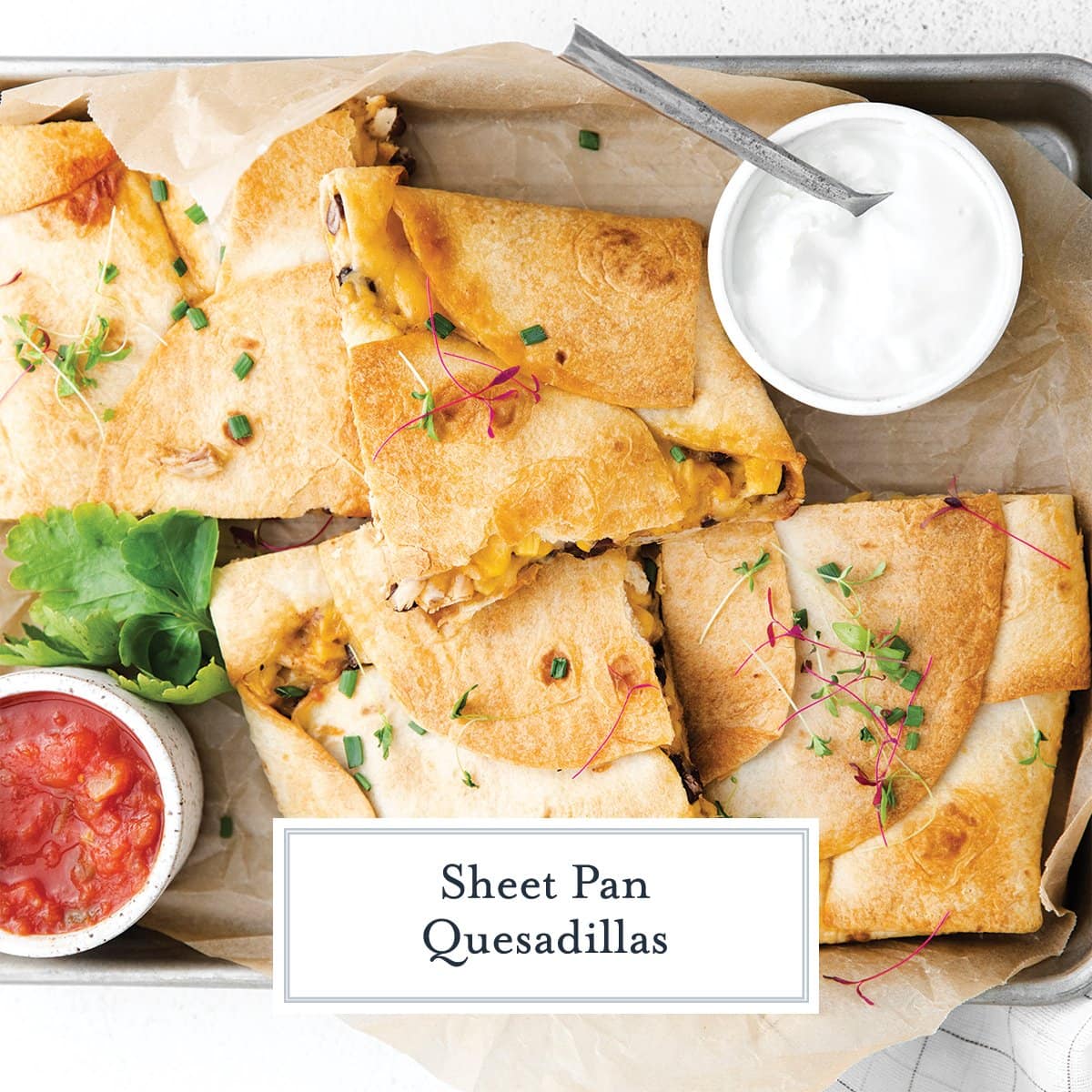 Quesadillas in the oven have never been easier. We all know I love a good quesadilla. Cheesy, tasty and totally dipped in sauce quesadillas.
Baked chicken quesadillas can be crunchy and cheesy without frying. I promise!
Quesadillas in the Oven
But that usually means frying in a skillet and if I am making them for several people, want to save a few calories or just not make a mess, the oven is a better bet.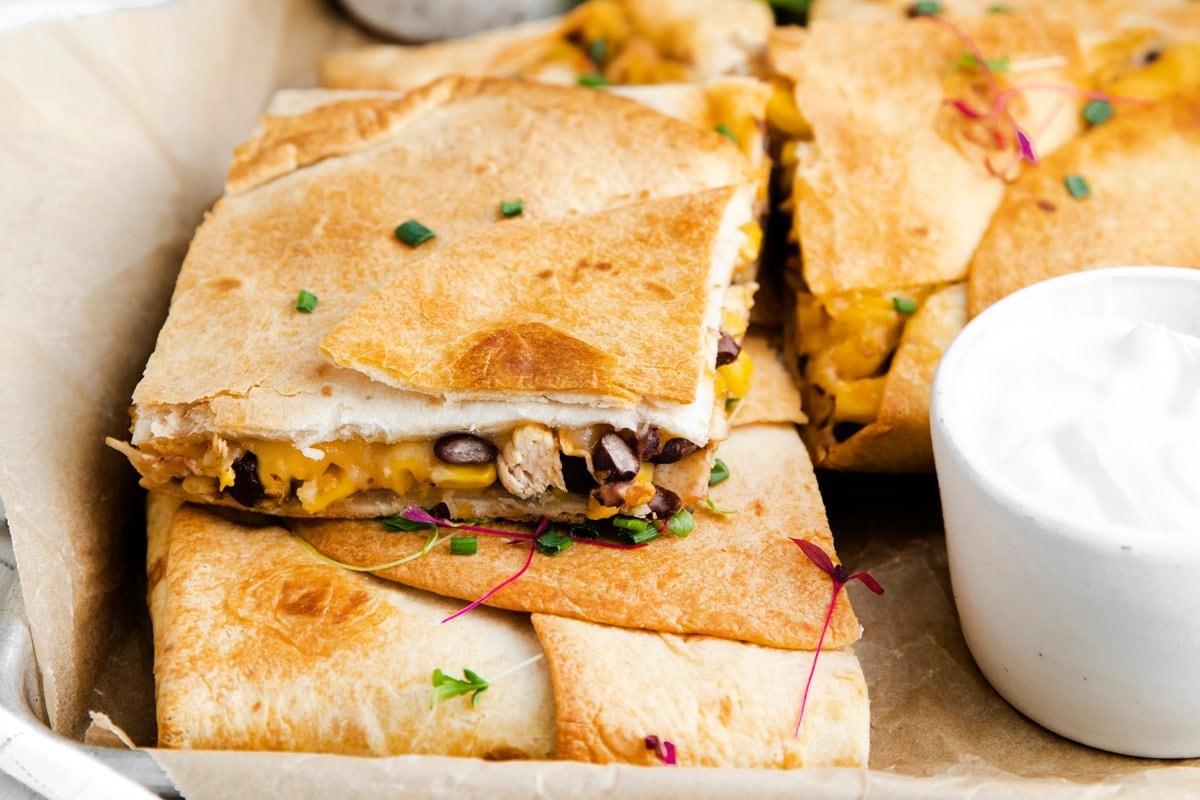 Can you make crispy quesadillas in the oven? YES! The trick is to press them down by stacking on sheet pan on top for the first part of cooking. Then remove it and let those bad boys brown.
Sheet Pan Quesadilla Fillings
These sheet pan quesadillas are filled with chicken, corn, beans and of course, cheese. ALL THE CHEESE. But you can make any variations you'd like and still end up with a fabulous creation.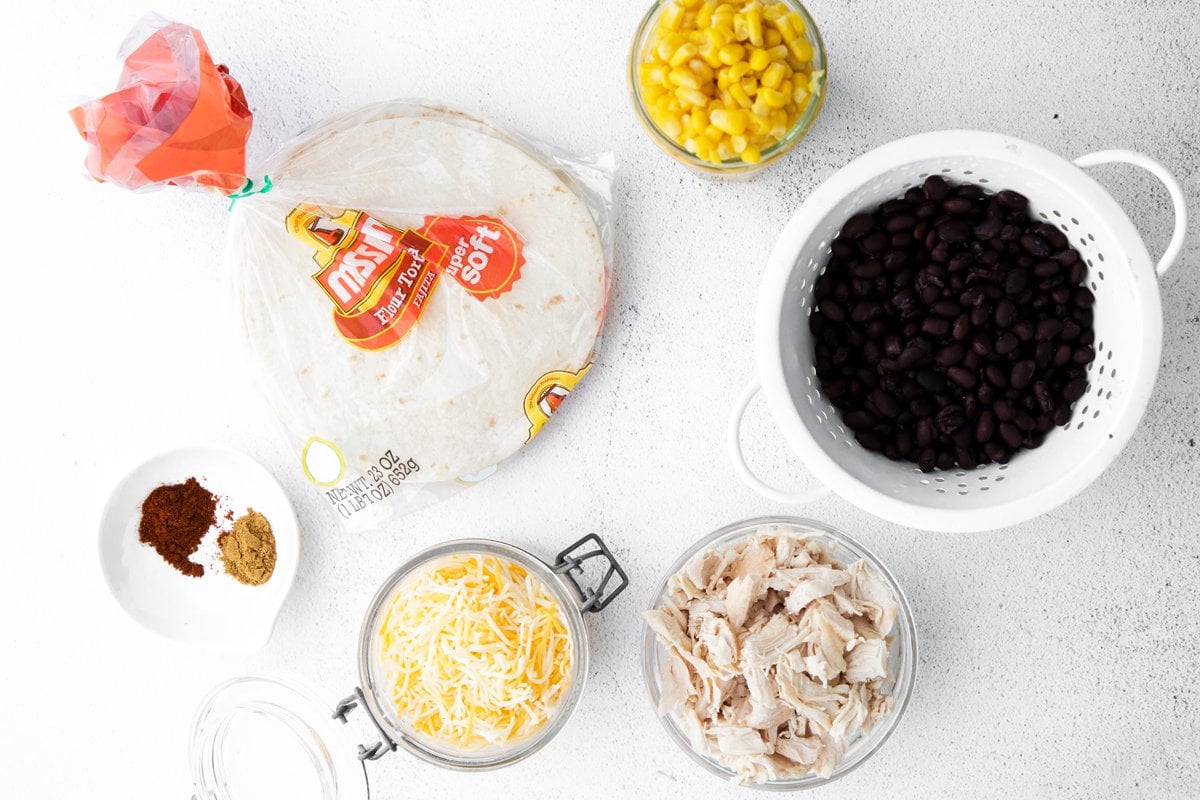 This version uses:
Cooked chicken- shredded or cubed
Corn
Black beans
Chili powder
Cumin
Flour tortillas
Cheese
Butter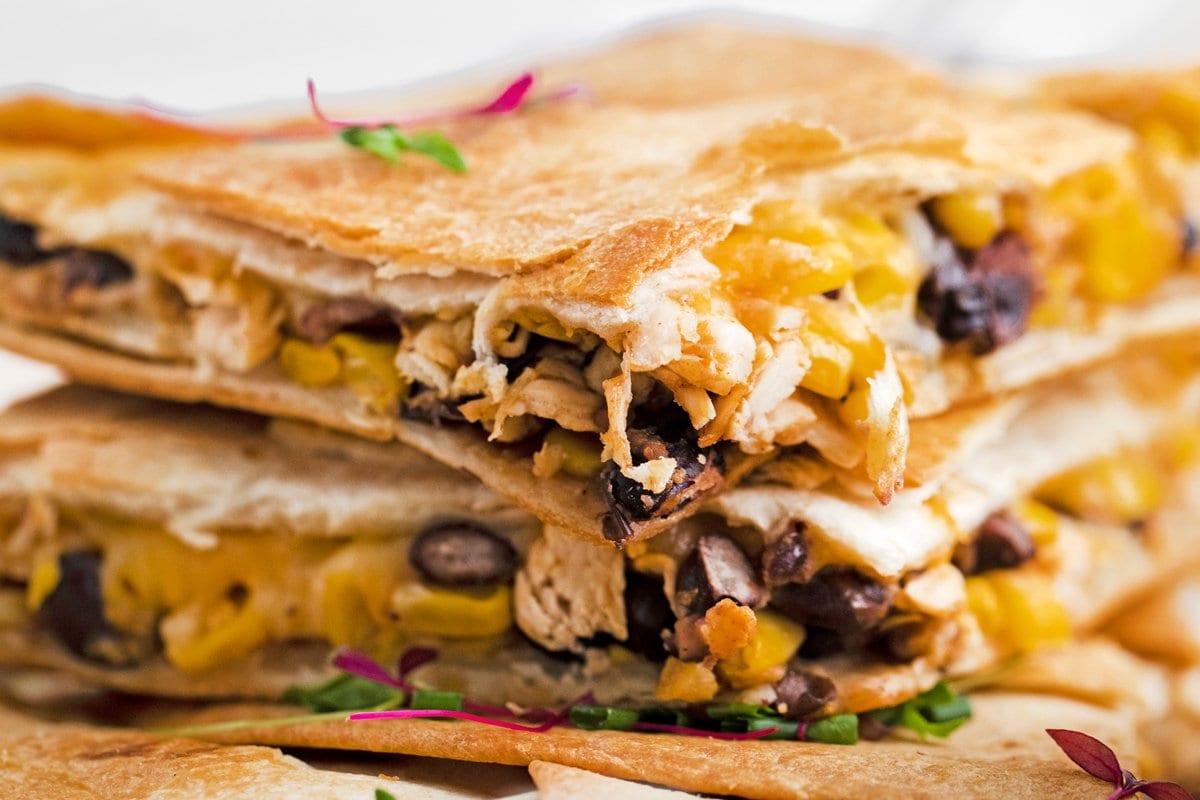 Don't skimp on the cheese though, it is the glue that holds a quesadilla together.
Variations
Chicken can be swapped for cooked ground beef, barbacoa, brisket , pulled pork, cooked bacon or sautéed mushrooms for a vegetarian option.
In addition to or as a swap for the beans and corn, also consider onions, garlic, jalapenos, bell pepper, tomatoes or squash. If you do use fresh veggies, make sure to saute them. Sweating out the excess liquid will prevent the filling from making tortillas soggy.
I used a Mexican blend of cheese but cheddar, Monterey jack, pepper jack or cotija work as well.
Pro Tip: For quick shredded chicken, grab a rotisserie chicken at the store or chop up leftover chicken from another meal.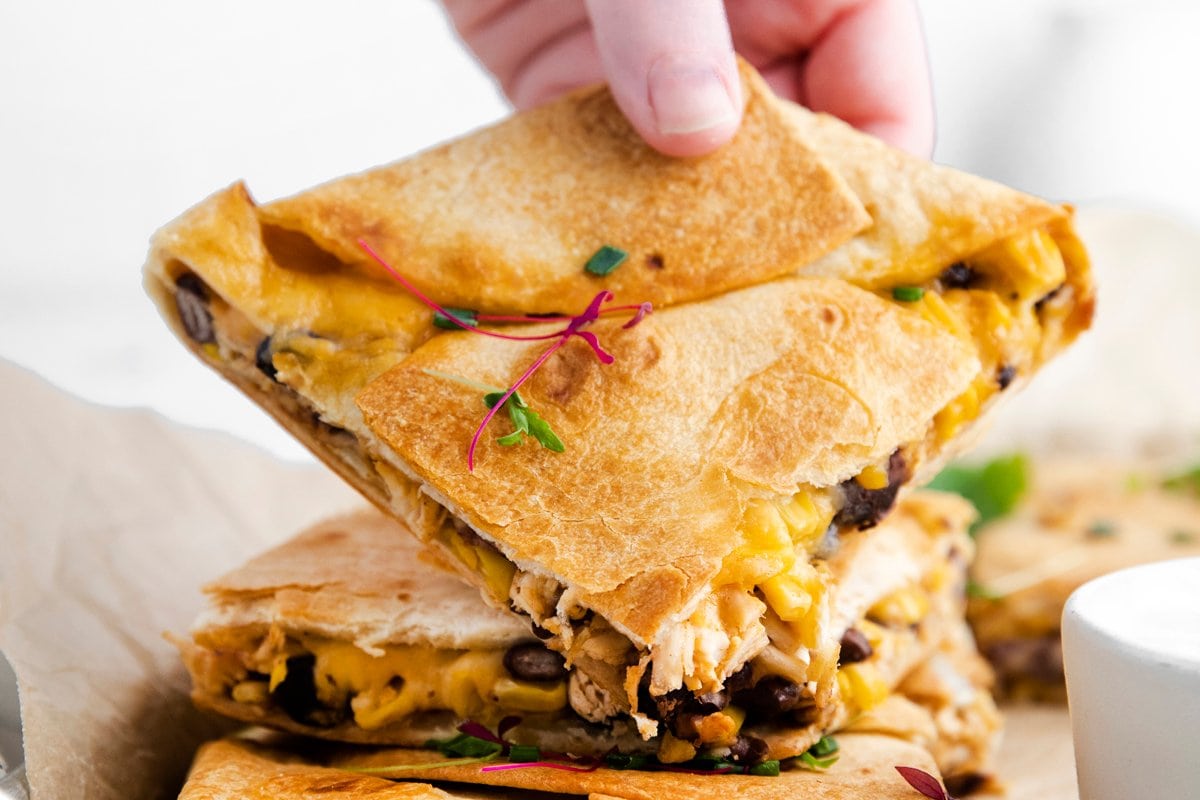 Sauces
You know I love my sauces! If it is a party, then I serve my sheet pan quesadillas with a variety of sauces. These are my favorite: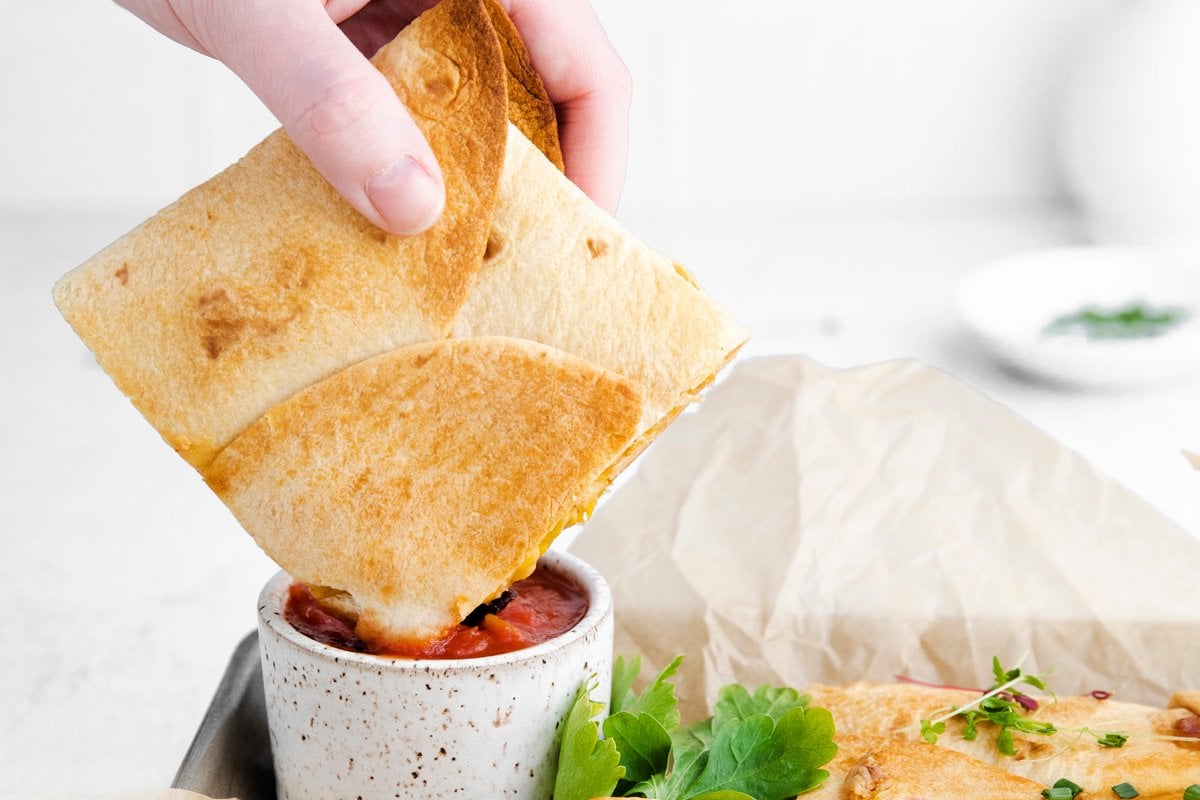 If you like it spicy- add chipotle peppers with adobo sauce, super hot salsa or fresh jalapenos slices.
How to Make Quesadillas in the Oven
Sheet pan quesadillas literally can not get any easier.
Preheat the oven and lightly grease a quarter sheet pan.
Combine your chosen fillings in a mixing bowl along with spices. Aim for about 3 cups of fillings and 2 cups of cheese. Freshly shredded cheese will melt better than pre-shredded cheese.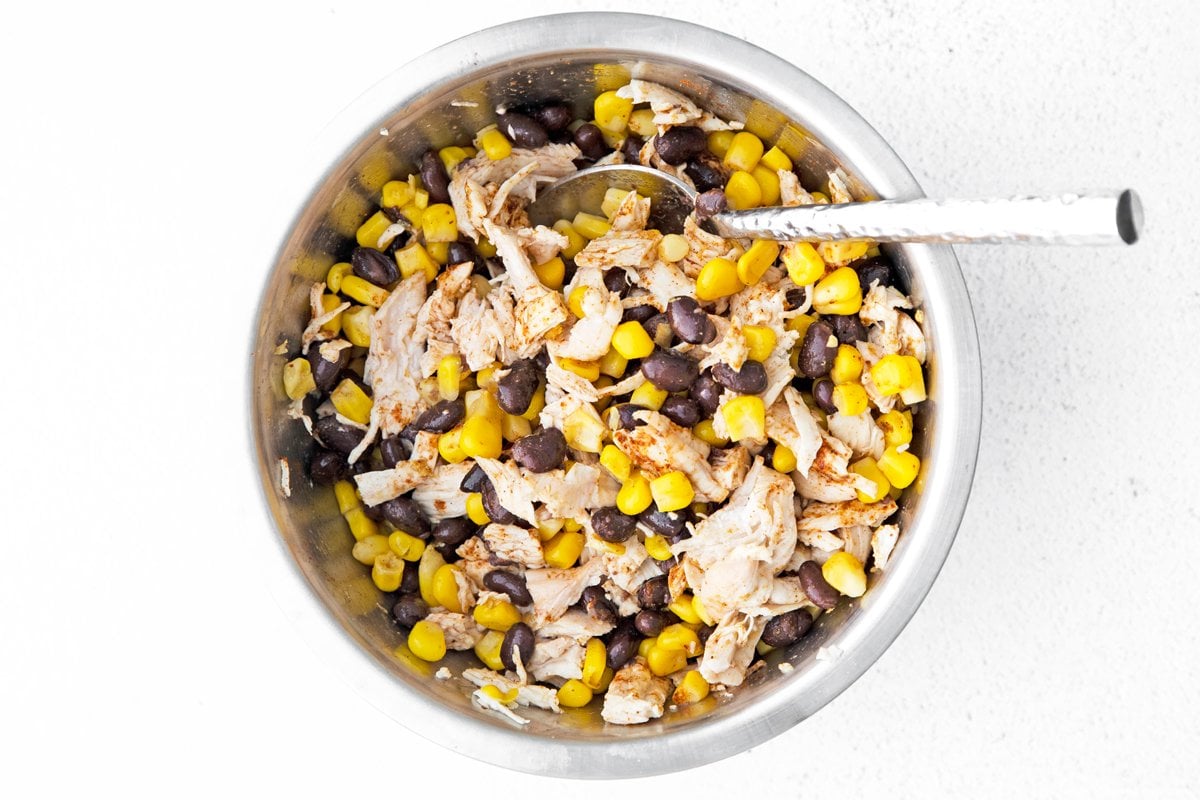 Line the sheet pan with the flour tortillas so that half of them hang off the sides. Depending on the size, you might need a few more to cover the top after folding over.
Spread out the filling mixture evenly onto the tortillas and top with the grated cheese.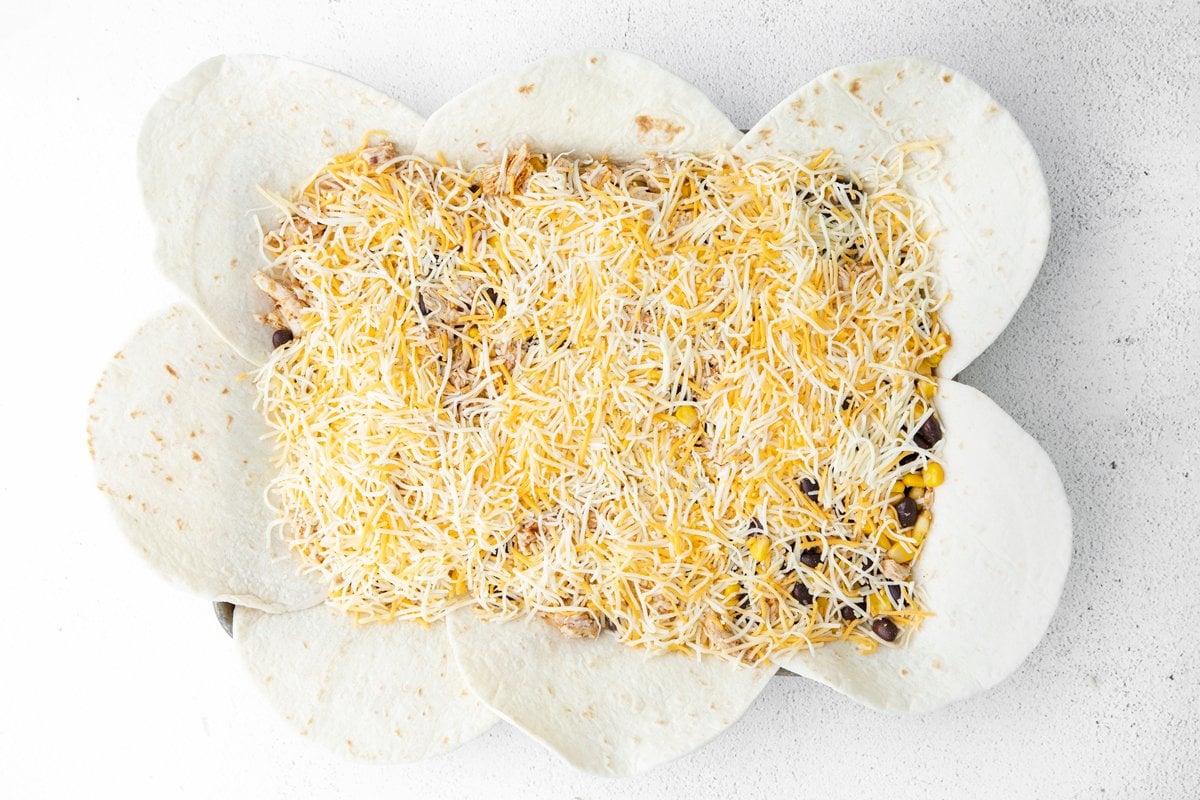 Fold the tortillas over the top and top with one or two more, if needed. Baste melted butter over the tops. This is optional, but will get them crispier than not using anything.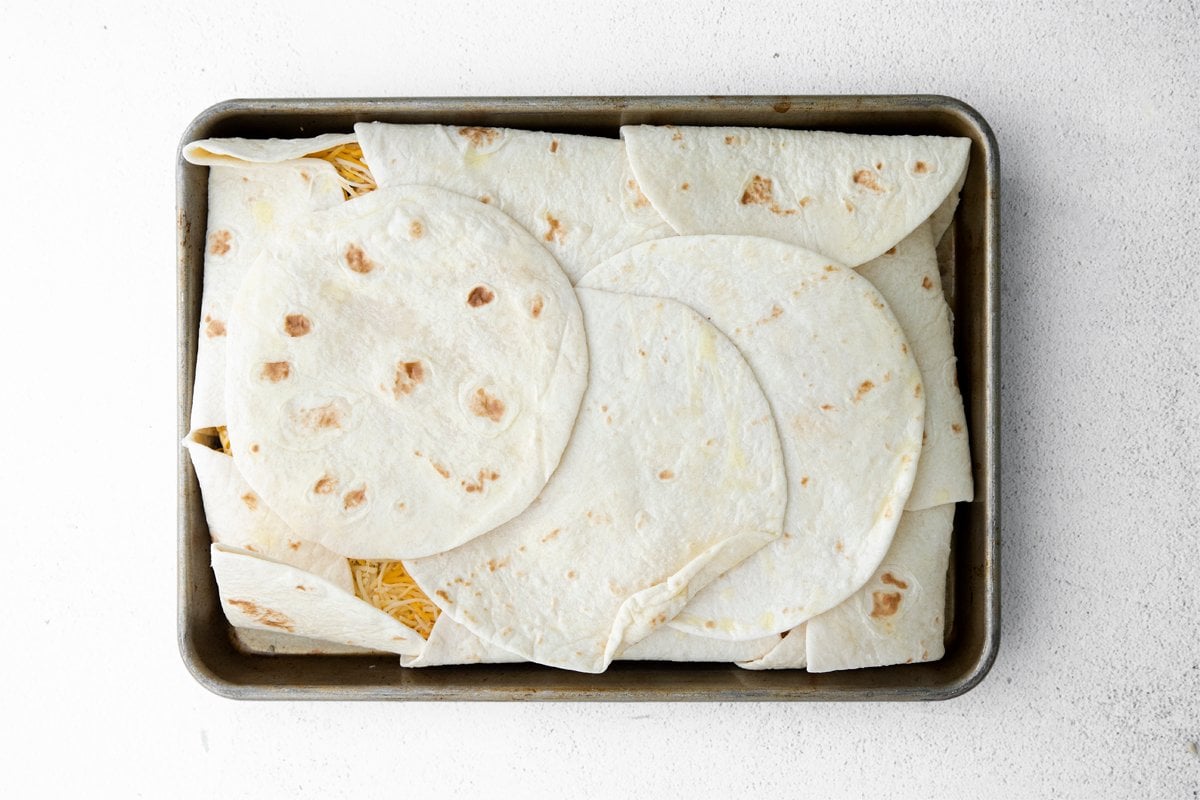 Place another sheet pan on top to press them down and in place for the first part of baking.
Cook for 20 minutes then remove the top sheet pan and cook the quesadillas uncovered for an additional 10-15 minutes so they brown and crispy up nicely.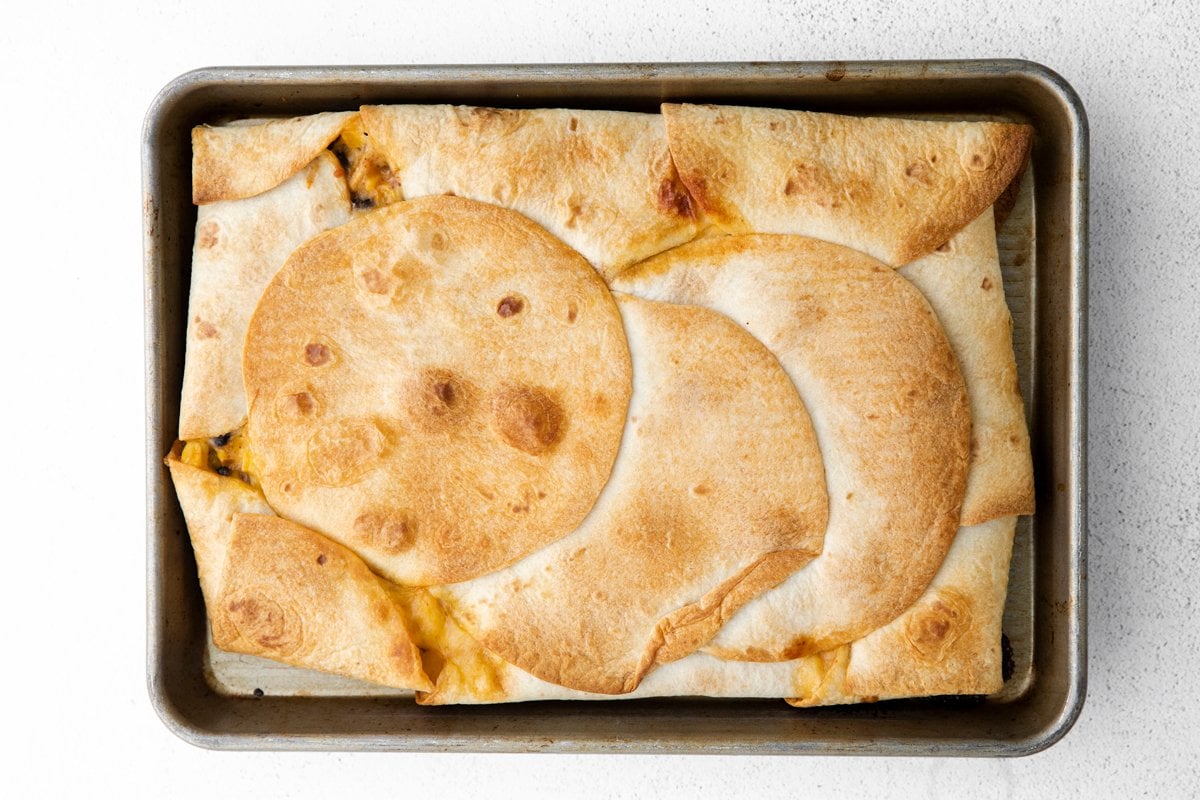 Remove from the oven and cut into squares or triangles. Serve with your favorite sauces.
Storage & Reheating Sheet Pan Quesadillas
This recipe is enough for a quarter sheet pan— you can double the recipe for a standard half sheet pan size and it will serve about 8.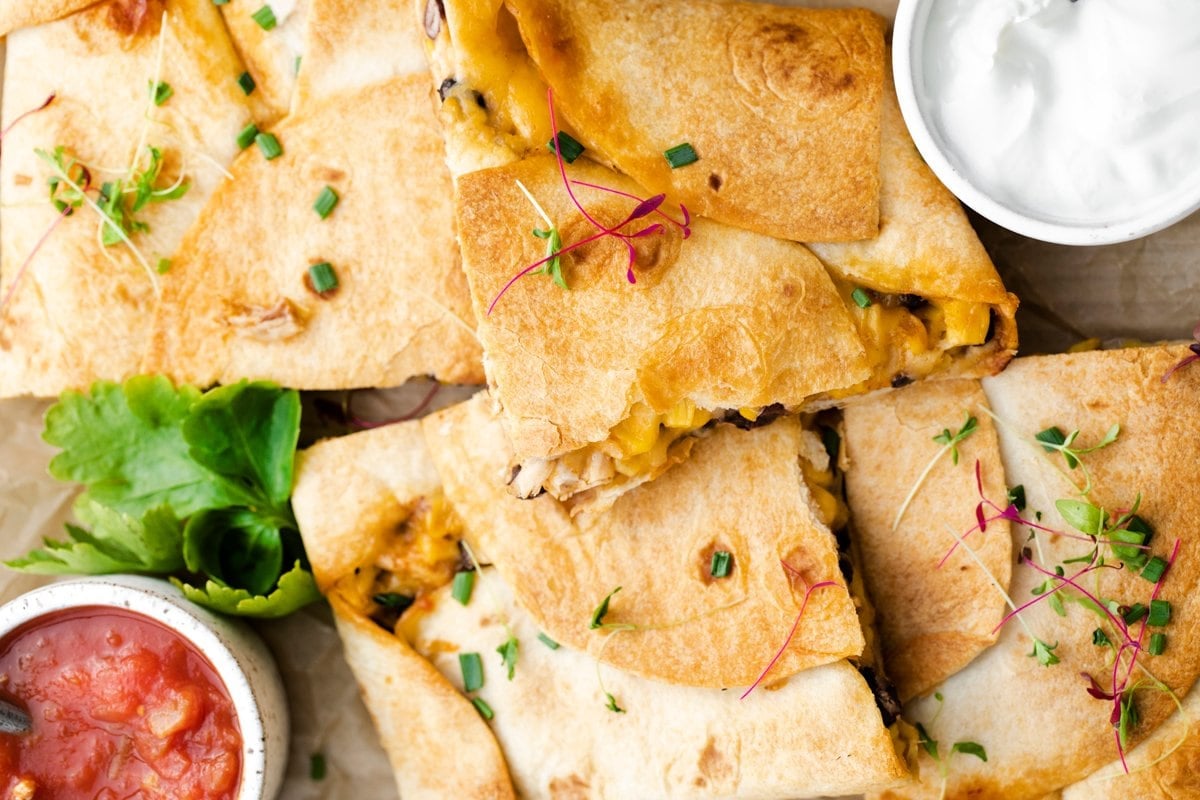 I don't advise making this recipe ahead of time, the tortillas will get soggy. You can prepare the filling and assembly right before popping in the oven.
Store leftovers refrigerated and covered for up to 3 days.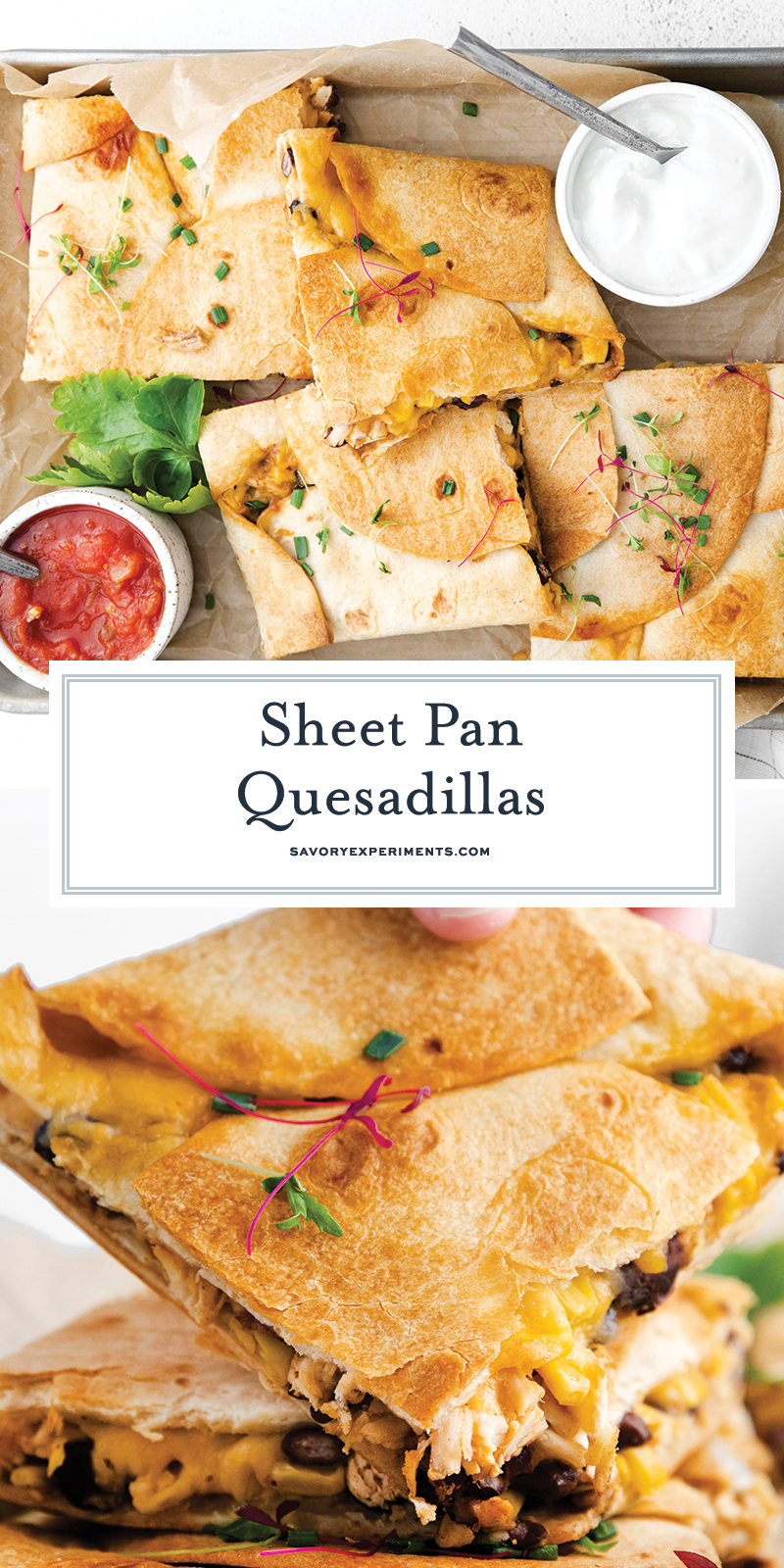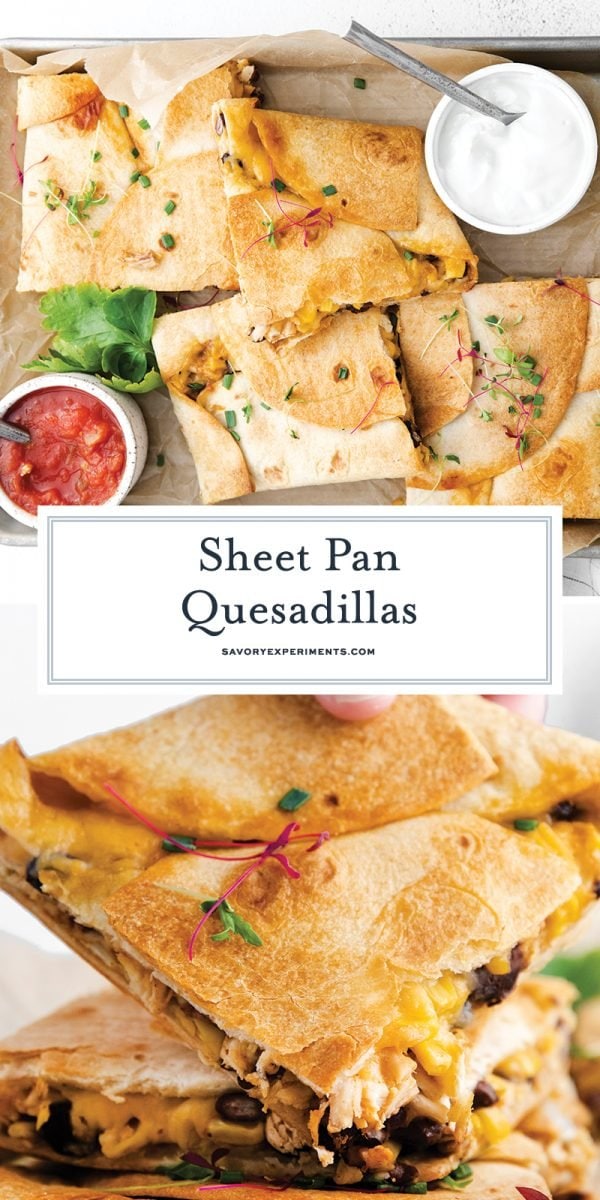 More quesadillas and burritos: