There is no side dish quite like Sauteed Mushrooms and Onions. I make them at least once a week because they are so versatile.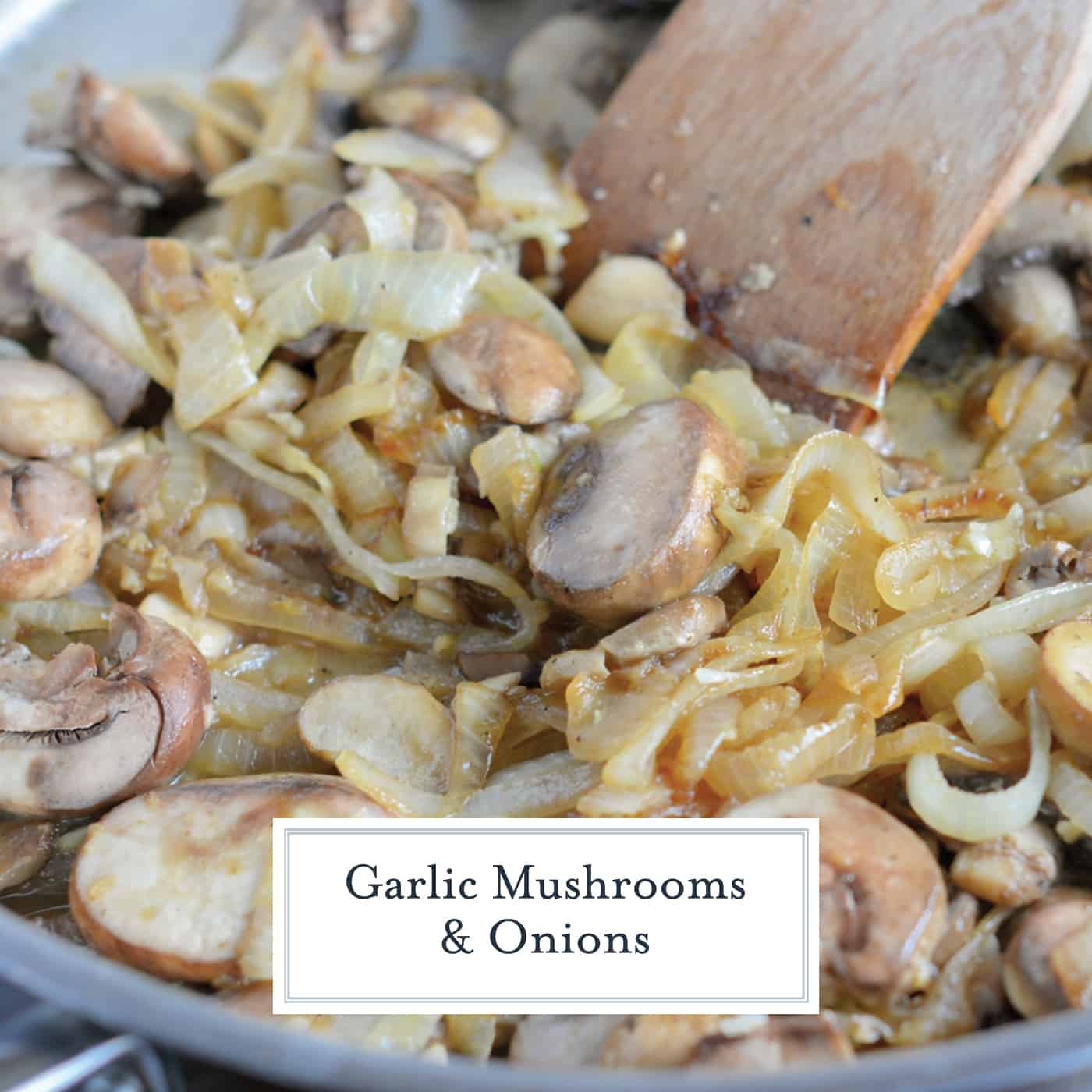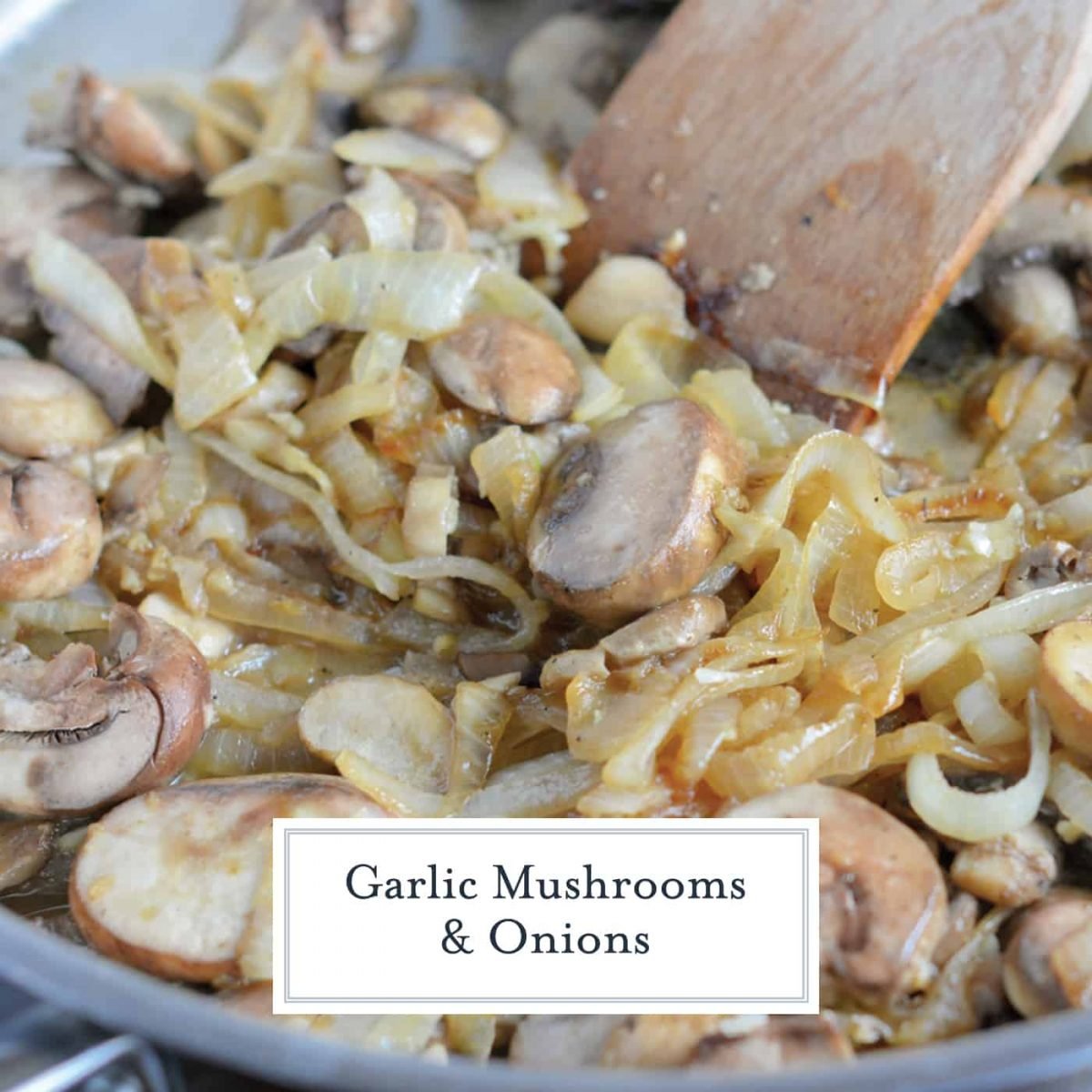 Garlic Mushrooms and Onions are a tasty side dish for any meal. Mushrooms and onions sauteed with fresh garlic and maitre d'hotel butter.
Do you have one or two side dishes that will accompany practically any meal? I might have closer to 20, but this one is always a favorite.
Whether you want mushroom and onions for steak or as a side dish for chicken, salmon or pork, this is your go-to easy recipe. And use them for a side dish or even incorporate them into something else. Even leftovers.
Toss them with rice or pasta. Top on a salad. Even a baked potato!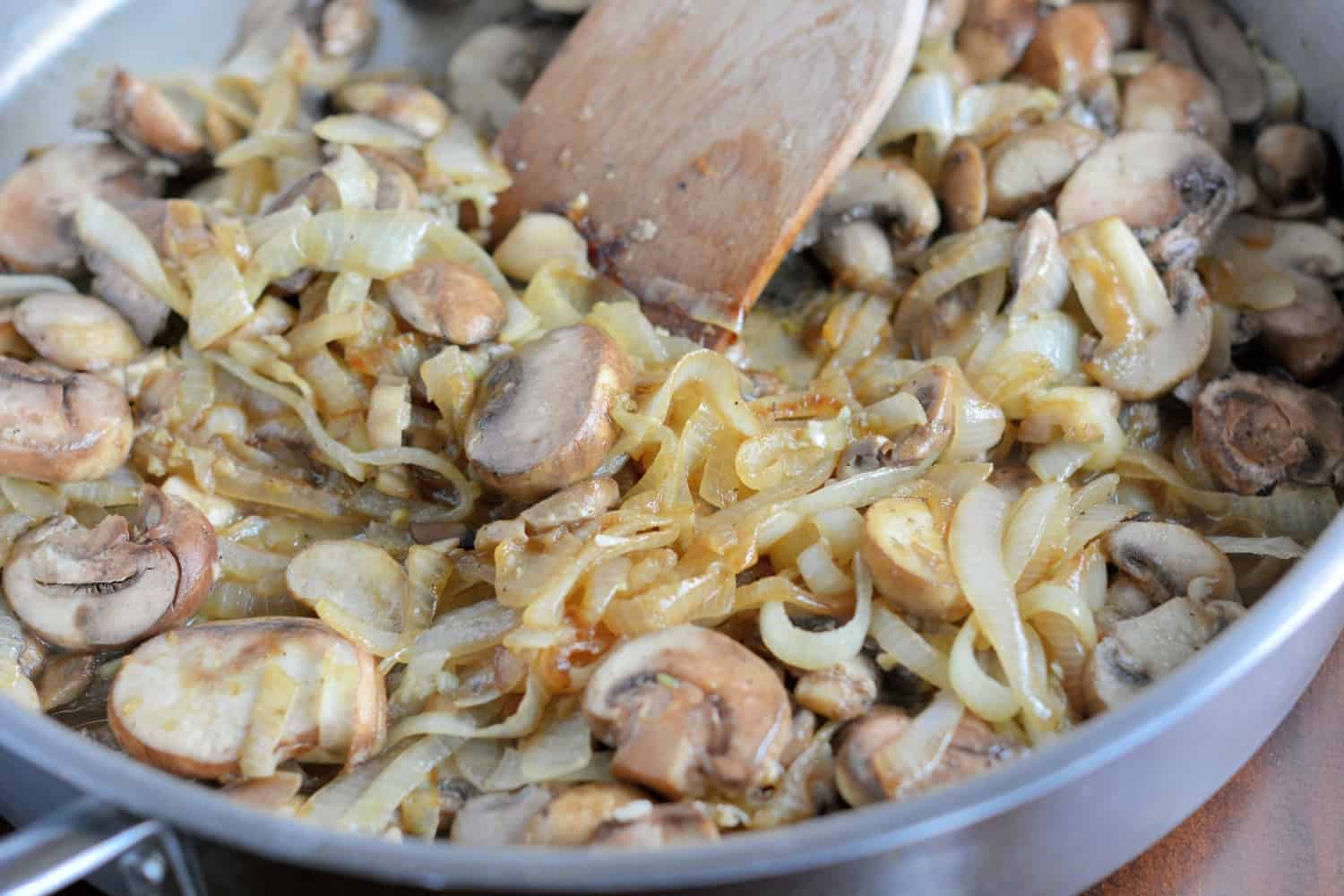 Using a variety of mushrooms and onions will drastically change the flavor profile, lending to a large array of dishes. Portabellas are rich and flavorful, criminis a milder portabella flavor.
Oyster and chanterelle have a mild flavor and unique textures, while porcino and shiitakes pack a punch.
PRO TIP: Use a variety of onions and mushrooms to make this simple dish even more sophsiticated!
Onions range from sweet to spicy. You can also use shallots or pearl onions. Don't just use one type of onion and mushroom, use a variety!
This beautiful skillet was headed straight toward a glorious steak rubbed with my Steakhouse Steak Rub and Maitre d'Hotel Butter for Steak Frites.
Questions you might have about how to make sauteed mushrooms and onions:
Can I freeze mushrooms and onions? You can, but both are made up of a good amount of water, so don't be surprised if they are a little limp when thawed.
Can I make mushrooms and onions ahead of time? You sure can! I would suggest undercooking them just a tad so they keep a little body when you reheat them.
They are best reheated in a skillet with a small amount of butter rather than in the microwave.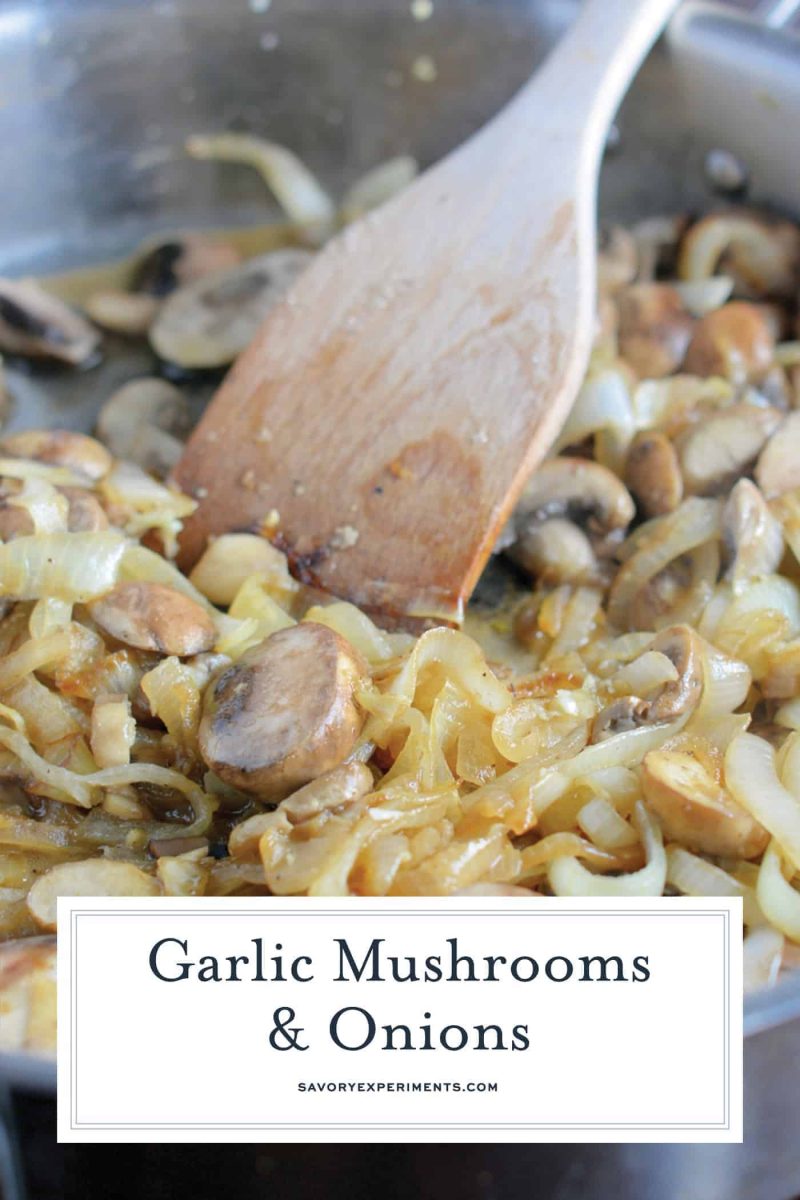 Can I use regular butter? Of course. Maitre d'hotel butter is delicious and adds a little flavor, but you'll be fine with just regular butter too. Try using a good quality butter, possible European and grass fed.
Can I use canola oil instead of butter? You can use canola, oil olive, basically any oil you want. Since you don't saute for a long time or at a high temperature, you don't need a particularly high smoke point.
Are mushrooms and onions good for you? The definition of healthy is different for everyone, so I hesitant to label anything as "good for you."
What I will say is that mushrooms have a lot of nutritional value. Mushrooms are rich in B vitamins such as riboflavin (B2), folate (B9), thiamine (B1), pantothenic acid (B5), and niacin B3).
Do I have to use the steak rub as seasoning? No, you don't. Salt and pepper work just fine.
Check these other versatile dishes out:
Garlic Grilled Broccoli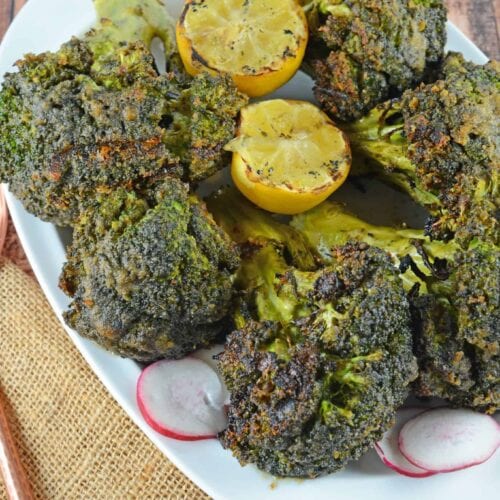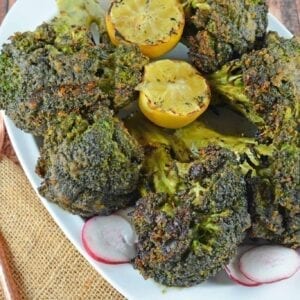 Garlic Grilled Broccoli is an excellent side dish for grilled meals. Marinate in a garlic and spice mix and then char on the grill for great flavor!
Crunchy Broccoli Slaw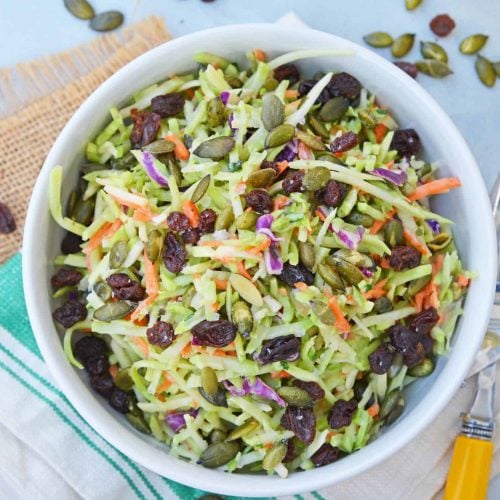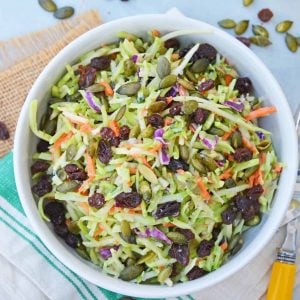 This Crunchy Broccoli Slaw Salad is made with a bagged broccoli slaw and a few extra ingredients for a quick, easy and tasty side salad!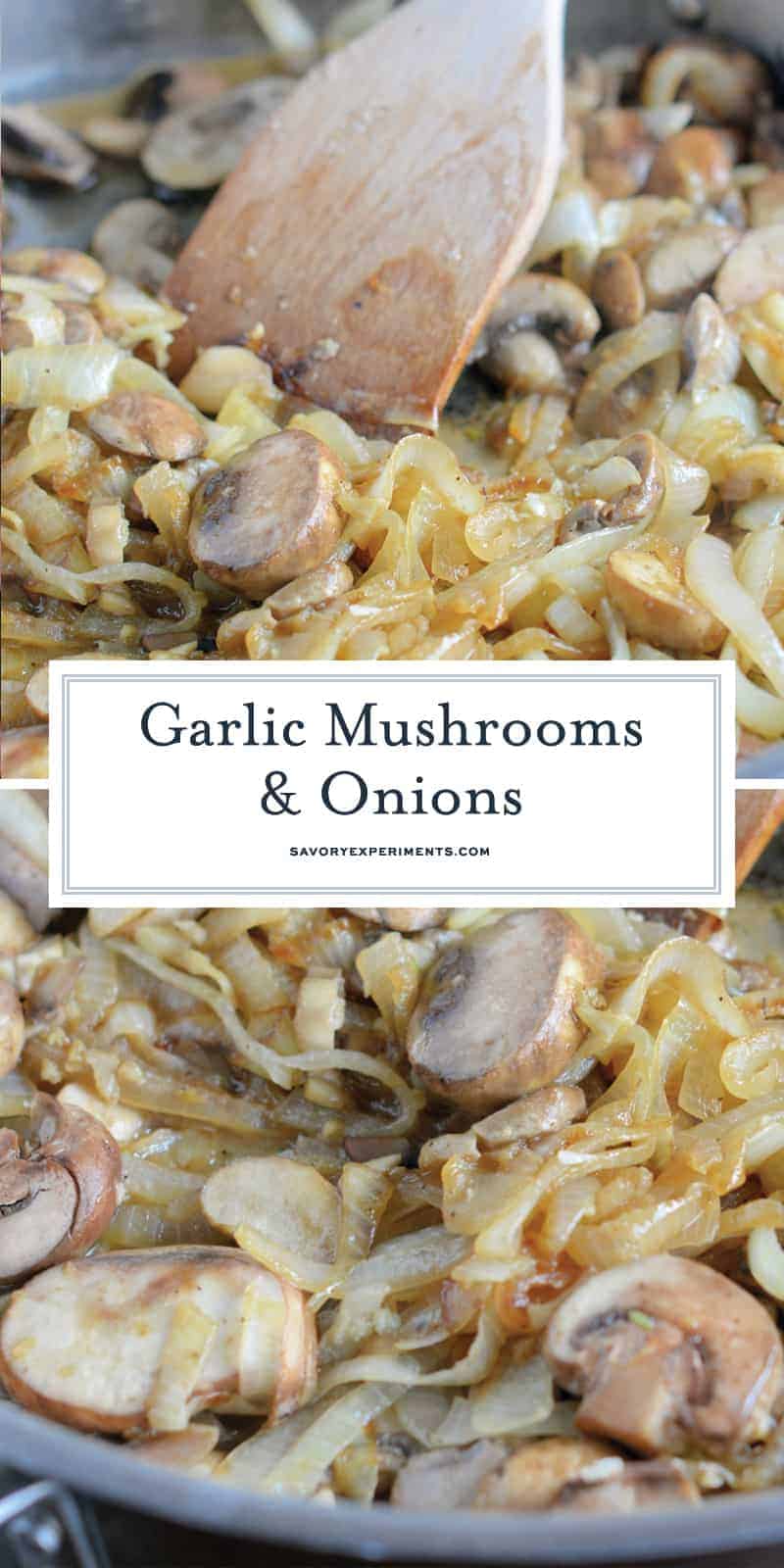 Tools for making sauteed mushrooms and onions:
Heavy Bottom Frying Pan– this will be one of your most used kitchen tools. Having something that is heavy bottom will distribute heat better and prevent burning whether you are using an electric or gas range.
Wood cutting board – wood won't dull your knives like plastic and if treated properly, has natural antimicrobial properties.
Good knife – Global is my favorite! They are worth the price, I promise. I am kind of obsessed with them and store them tucked away so no one else can use them. Including hubby. Hands off my good stuff!
Good Extra Virgin Olive Oil– A good olive oil will taste like, well, olives, while a poorly made one will taste like vegetable oil. Gross. While people tend to favor Italian and Greek olive oils, I prefer to buy mine domestically.
There are some great ones out there from all over the world, but the reporting of ingredients isn't always the same and you could find that your super expensive olive oil was actually cut with vegetable oil.
CONNECT WITH SAVORY EXPERIMENTS!

Be sure to follow me on social media, so you never miss a post!

Facebook | Twitter | Youtube
Pinterest | Instagram
Get our FREE 8 Day E-Course on How to Be a Better Home Cook. Sign up HERE!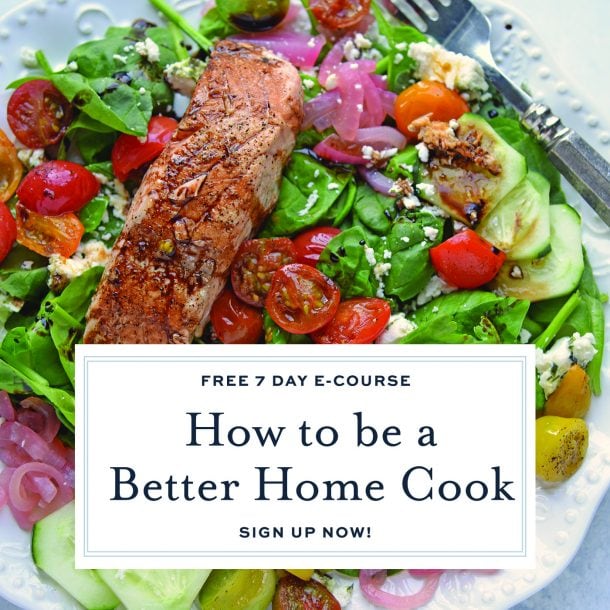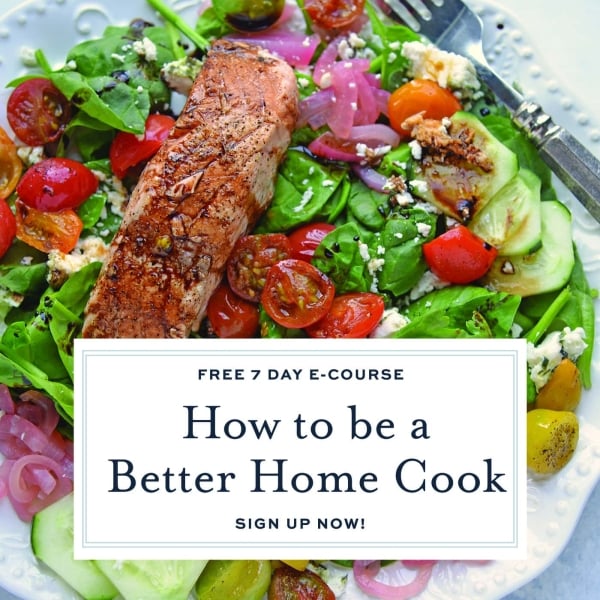 Sauteed Garlic Mushrooms and Onions
Garlic Mushrooms and Onions are a tasty side dish for any meal. Mushrooms and onions sauteed with fresh garlic and maitre d'hotel butter.
Instructions
Melt butter in a large skillet over medium heat.

Add onions, sauteing for 4-5 minutes, or until they start to soften and turn translucent.

Add mushrooms and garlic, tossing to coat with butter.

When mushrooms reduce in half their size, stir in Steakhouse Steak Rub and cook for an additional 1 minute.

If you've tried this recipe, come back and let us know how it was!
Nutrition
Calories:
66
kcal
|
Carbohydrates:
8
g
|
Protein:
2
g
|
Fat:
3
g
|
Saturated Fat:
1
g
|
Cholesterol:
7
mg
|
Sodium:
34
mg
|
Potassium:
278
mg
|
Fiber:
1
g
|
Sugar:
5
g
|
Vitamin A:
100
IU
|
Vitamin C:
5.4
mg
|
Calcium:
22
mg
|
Iron:
0.7
mg