A slow, red-wine braised brisket is the perfect dinner for an indulgent night with minimal effort. A prime cut of beef gets slowly roasted in a flavorful braising liquid until it's fall apart tender and served with silky sauce made from the same pot.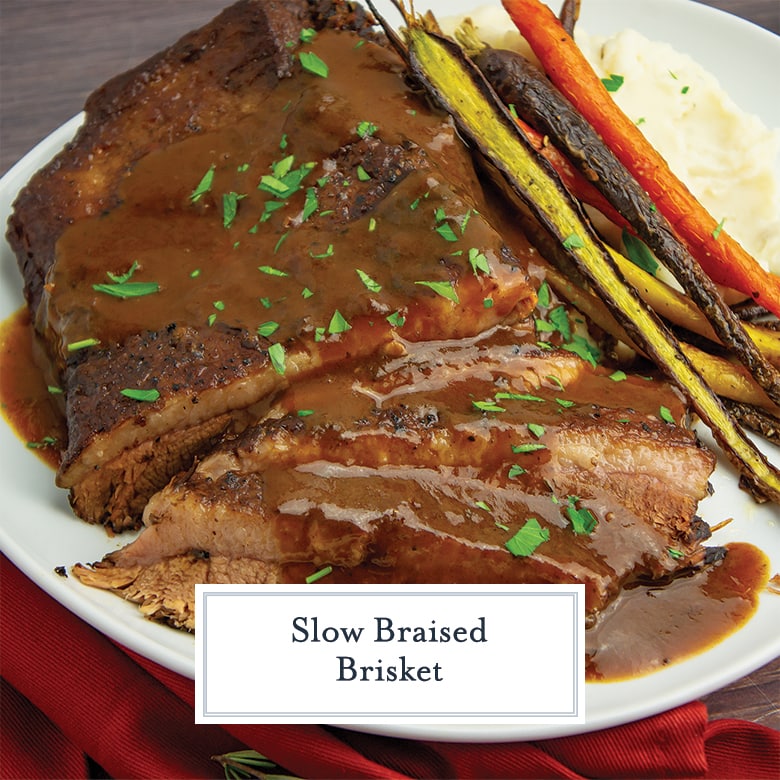 Best Braised Brisket
If I had to choose one cooking method to use forever, it would be the slow braise in my dutch oven. There's something so satisfying about building a flavorful liquid, nestling in a tough cut of meat, and pulling out tender perfection a few hours later.
All the magic happens in one pot. And the actual active time required of me is no more strenuous than a typical meal. With a little effort on the front and back end of a long slow cook in the oven, beef brisket becomes a succulent cut with a sauce built right in.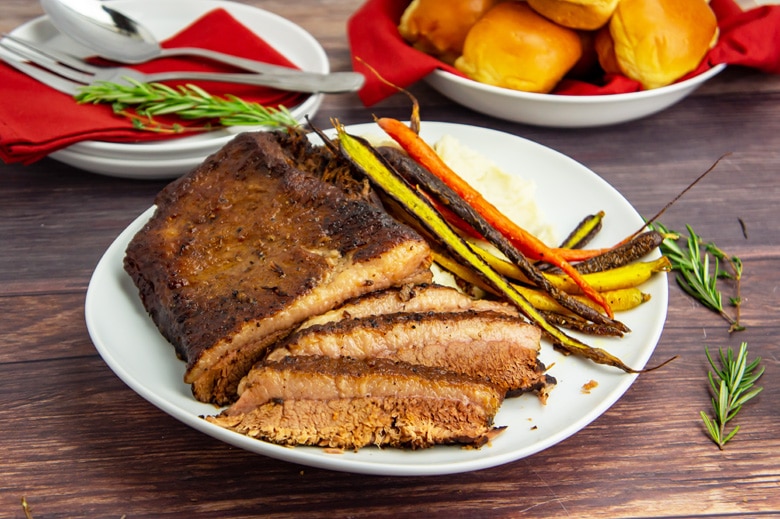 Choosing Your Brisket
This braised beef brisket recipe uses red wine, onion, and herbs to create a moist, tender brisket and red wine sauce all in one pot. Let your oven do most of the work, and enjoy a succulent beef dinner.
Braising any old cut of meat wouldn't work. A slow braise works best with the tough meat cuts that would otherwise be unpleasant to eat. Beef brisket is just the right cut for that.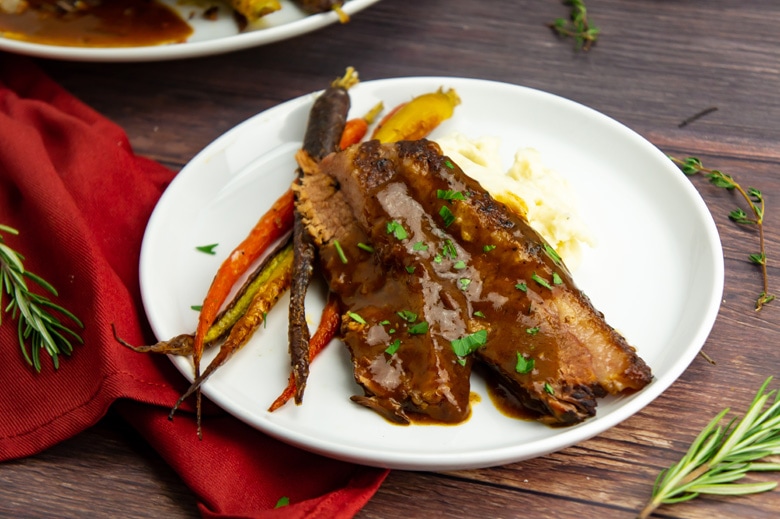 But what is beef brisket, where do you buy it, and what do you need to know to braise it just right?
Brisket is a cut of tough beef that comes from the cow's chest area. It's full of connective tissue and often has a fat cap on it. All of which will melt for tender braised beef.
There are two cuts – the first and second cut. The first and most common is the 'flat cut' which has tons of marbling for rich tender meat and slices nicely. The second is the 'pointcut' which has more fat and works beautifully in a braise. Either work for this recipe!
They're sold often in 3 to 5 pound cuts at many grocery stores, but you can also ask the grocery store butcher for a whole brisket and have them cut it for you.
It will shrink down when cooked, so plan for half a pound per person, or more just to have leftovers!
Fun Fact: Brisket is the same cut you make your St. Patrick's day corned beef with, after the brisket has been cured.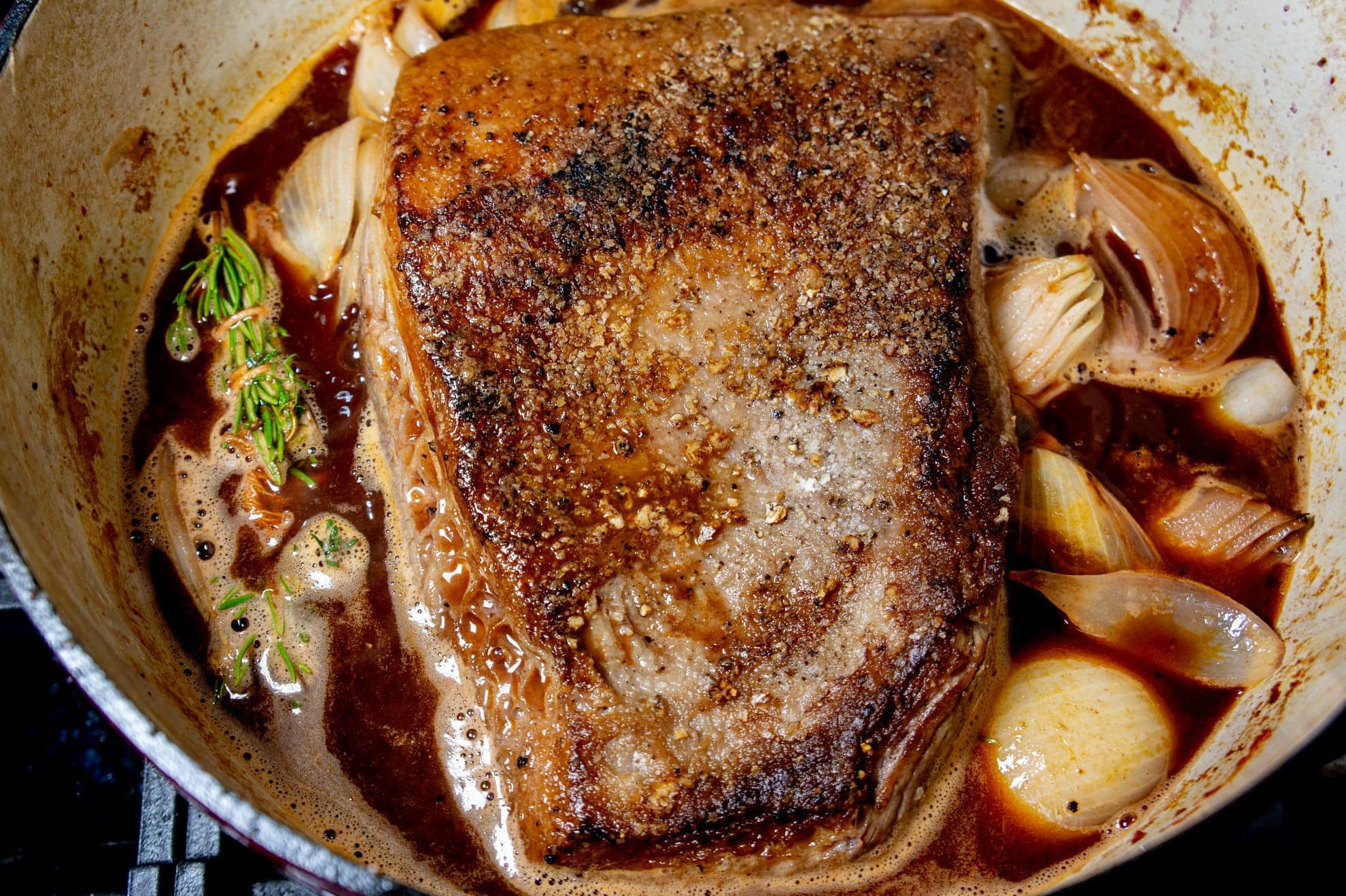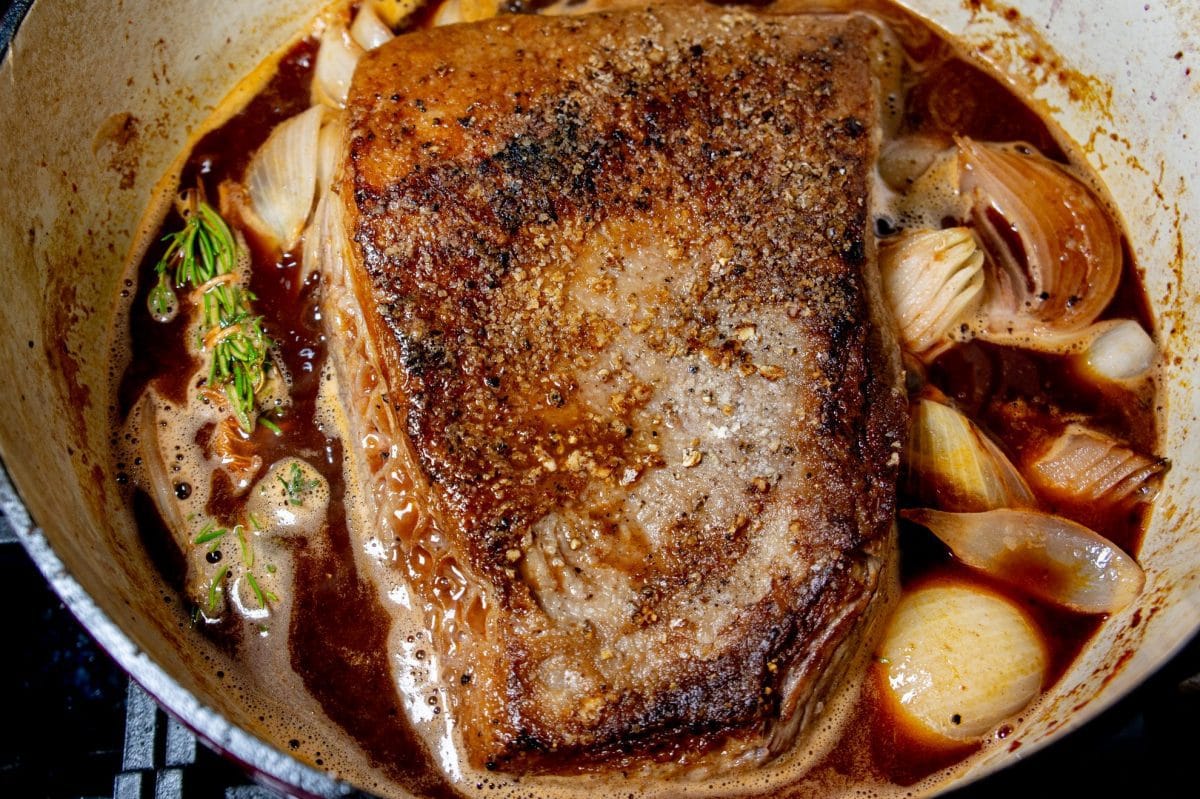 How to Make Braised Brisket
Once you have your beautiful brisket in hand, it's time to braise. A slow braise is not difficult, but there are some tips that can make your brisket come out perfectly every single time.
Start with room temperature beef. Pull it from the fridge 20 minutes before you intend to start cooking.
Take the 10 minutes to properly sear your meat. Just as you would first sear a steak in a hot pan, sear your brisket. It builds flavor, starts to render fat, and creates a crust that will last through the braise.
Take a second 10 minutes to build a flavorful braising liquid. Sure, you could just dump it in the pot and run, but taking a few minutes to caramelize onions and tomato paste adds another layer of flavor that you'll appreciate in the end.
Do not, and I mean never, submerge your meat in the liquid. A braise is not a stew. To properly braise any cut of meat, ensure the top half of the meat is out of the liquid. This is a key tip for how to keep brisket moist – allowing the fat on top to render and drip down the meat into the liquid creates moisture. Too high a liquid level will rob the meat of the fat.
Don't waste the liquid! By building either a roux or using cornstarch, transform that liquid you took the time to build into a rich silky sauce.
Bundle your herbs by tying them with kitchen twine and keep the onions in quarters so you can easily remove them to make the sauce later (trim off the root ends but leave intact so the onions hold together).
Keep it covered with a tight fitting lid. Steam is an essential tool in a successful braise.
Use a durable pot. Enameled cast iron is my favorite braising material, it holds heat and is built for long stints in the oven.
Braising Liquid
When you pull that lid off the braising pot you'll instantly smell the mouthwatering aroma of herbs, onions, and a rich red wine. It's an addictive smell that builds in your house as it cooks, building anticipation in everyone's appetite at the same time!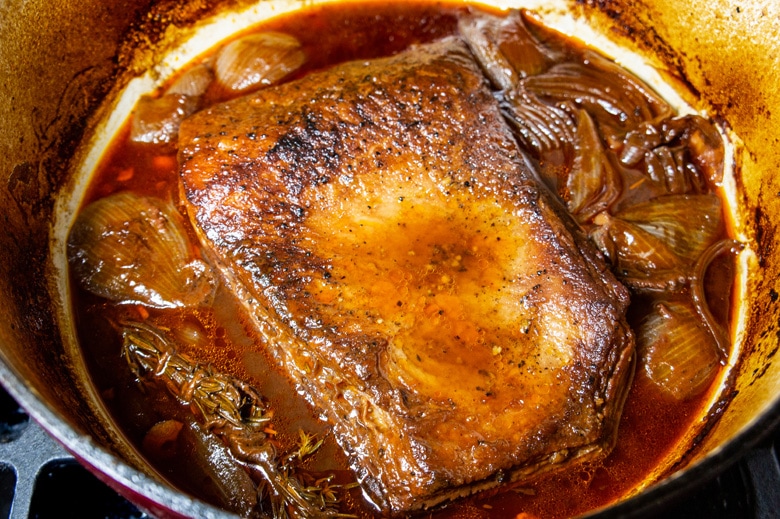 Choosing a red wine for your braised brisket can be something of a question for many home cooks. I always recommend first and foremost choosing a red wine you like to drink, that's a guaranteed way to ensure the braising liquid will taste right to you.
Pro Tip: A braise can't be rushed, especially with big tough cuts like brisket. Give yourself ample time to first build the sauce and then allow for 3 to 4 hours in the oven. I also recommend 15 minutes at the end to build a sauce before serving.
If you're not a wine drinker however, I recommend Barbara, Merlot, Sangiovese, or Grenache. These are all mellower red wines that won't overpower the beef. I used a favorite Barbara and a Merlot in testing and they were each beautiful.
Of course, what makes braising even more fun is the flexibility of it. While I'm providing my favorite red wine braising liquid for this beef brisket recipe, you really can make it your own.
Don't have or like red wine? Use a brown ale or other rich, but not too bitter, beer to change things up. Or, just stick with a good beef stock!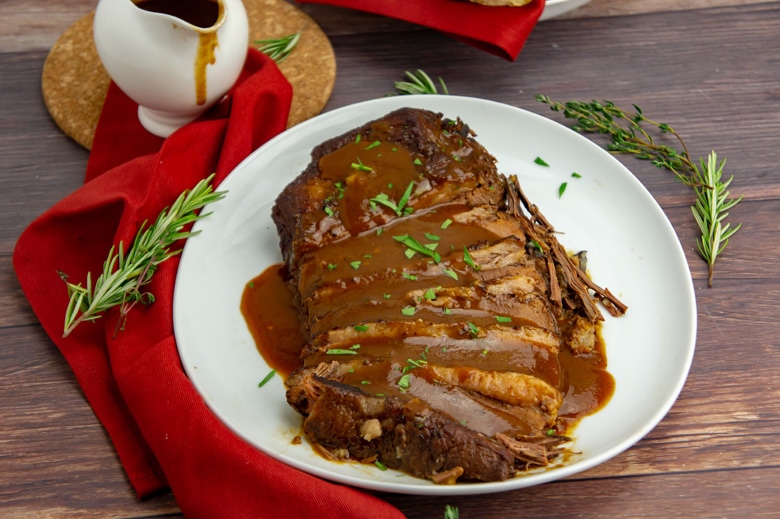 No matter what you choose it feels so good to get that brisket in the oven early in the day and know that come dinner time you'll be treated with something that feels a little gourmet. If you're a Crock Pot fan, this is for you, it's 'set it and forget it' with just a few added steps for true brisket perfection.
Changing the Temperature and Cut
Can you cook your braised brisket faster at a higher temperature for the same results? There's some flexibility 25°F in either direction. I recommend 300°F for 3 ½ hours, but if you're really crunched you can bring that up to 325°F for 3 hours.
It makes such a small difference in the overall time, I generally prefer lower and slower for the most tender meat possible. Don't go higher than that, or you'll lose the tenderness and have dry meat.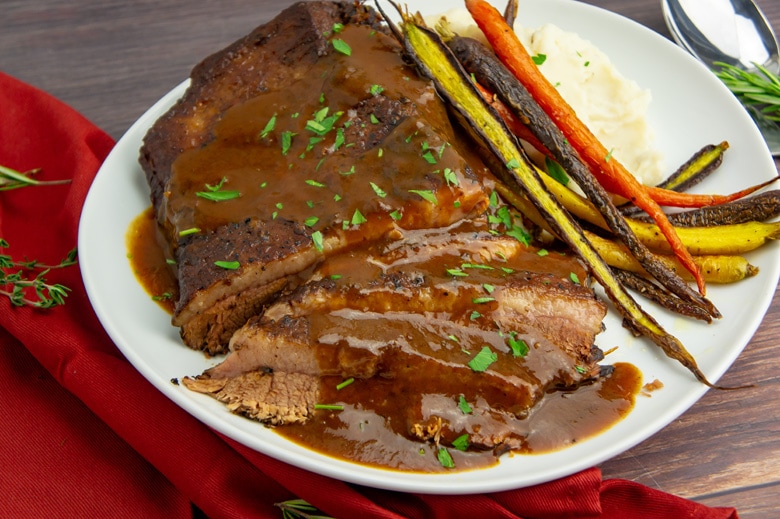 Of course, you can use a different cut too. Brisket is delicious but any tough cut of beef that has good fat or marbling would be a good substitute. Chuck roast or short ribs are great options.
Make Ahead and Storage of Braised Brisket
Yes! Braises are perfect for that. There are even some chefs that insist a proper braised brisket is one made 24 hours ahead of time, then reheated in the oven an hour before it's meant to be served.
You can store it in the pot (once cooled) in your fridge. Or, remove the brisket and store it in a few inches of the braising liquid and use the remaining liquid to make your sauce. Then, simply reheat your brisket, slice, and serve with reheated sauce.
As with any cooked beef, consume this within 4 days. You can also freeze it with the sauce for an easy dinner some other night.
How to Thicken the Roux
I like to utilize the fat already in the pan from the braised brisket. But if you prefer to use cornstarch, skip the addition of butter and flour in recipe steps 4 through 6. Instead add only 1 tablespoon of butter to the pan for the onions.
Then, simply make a slurry from 1 tablespoon cornstarch and 1 tablespoon cool water. Stir it rapidly into the braising liquid over medium heat after you've removed the cooked brisket, onions and herbs. It will thicken as it comes to a boil.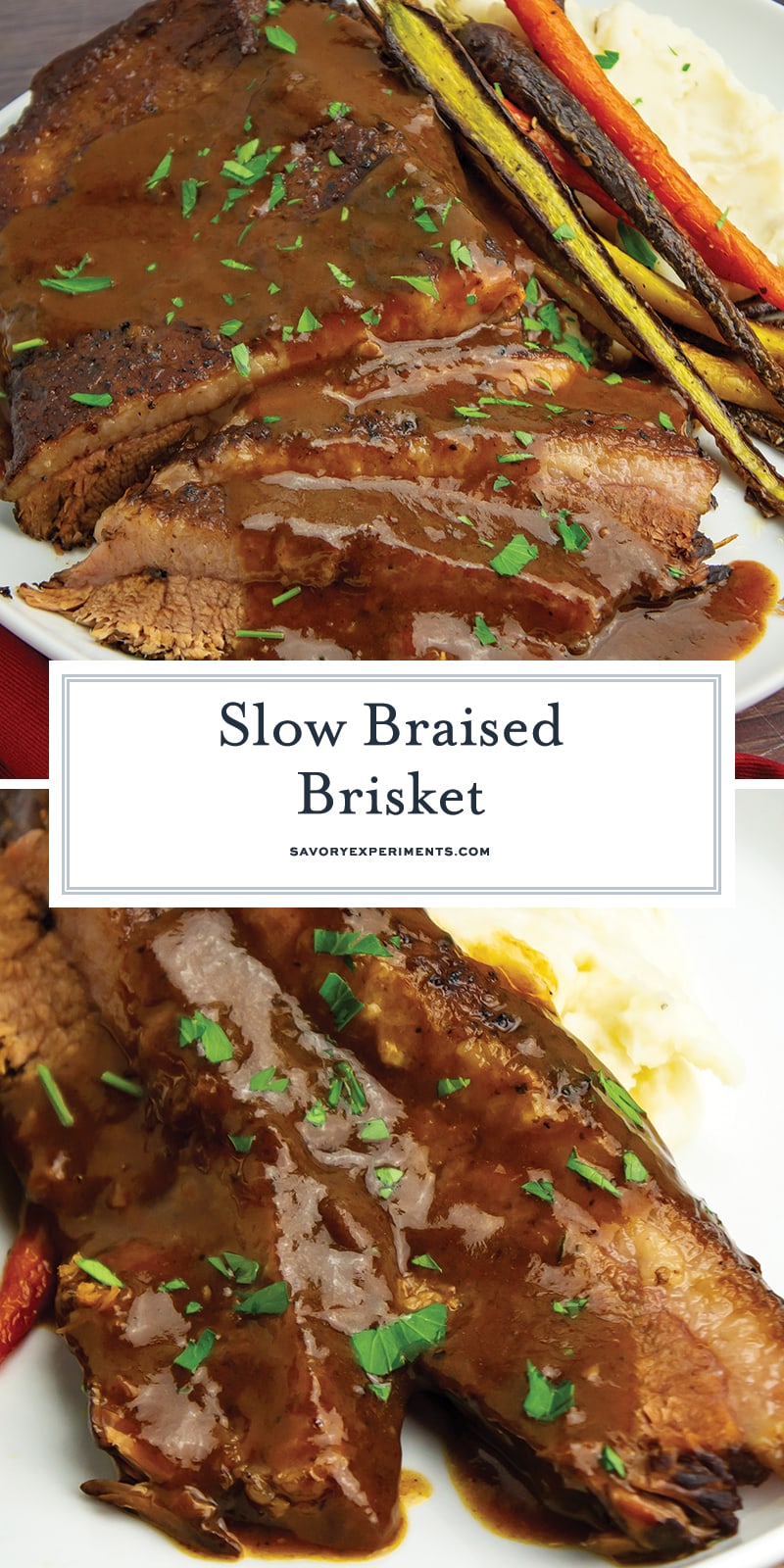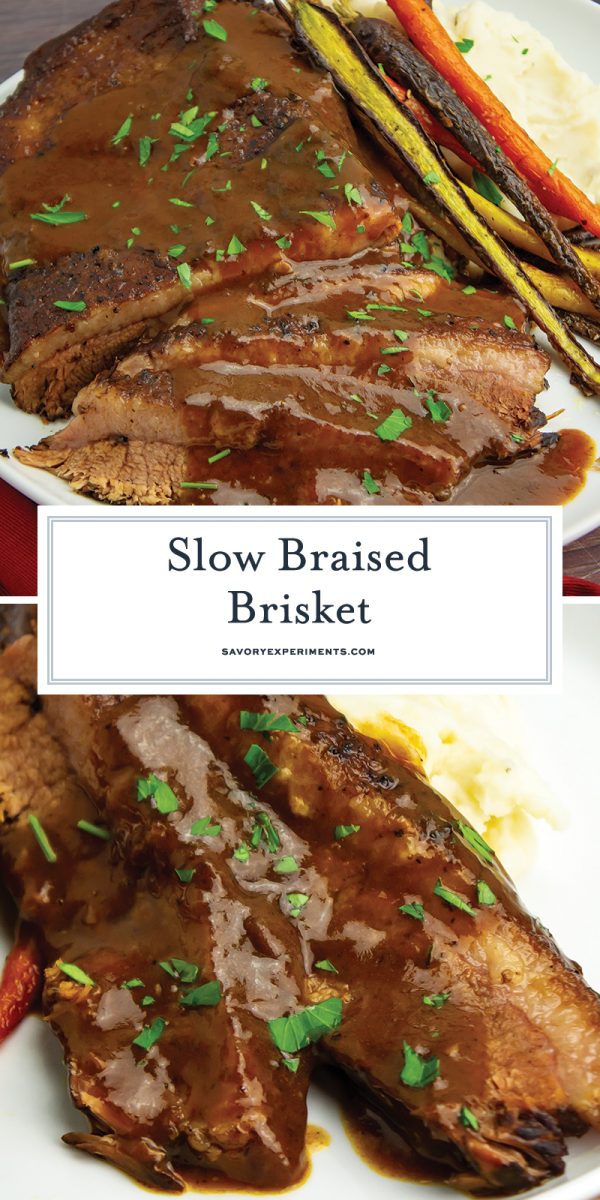 More slow cooked meat recipes: