Jam-packed with cheesy, jalapeno deliciousness, this Jalapeno Popper Pull Apart Bread will have your guests in awe of your skills in the kitchen. It's the perfect way to start a party!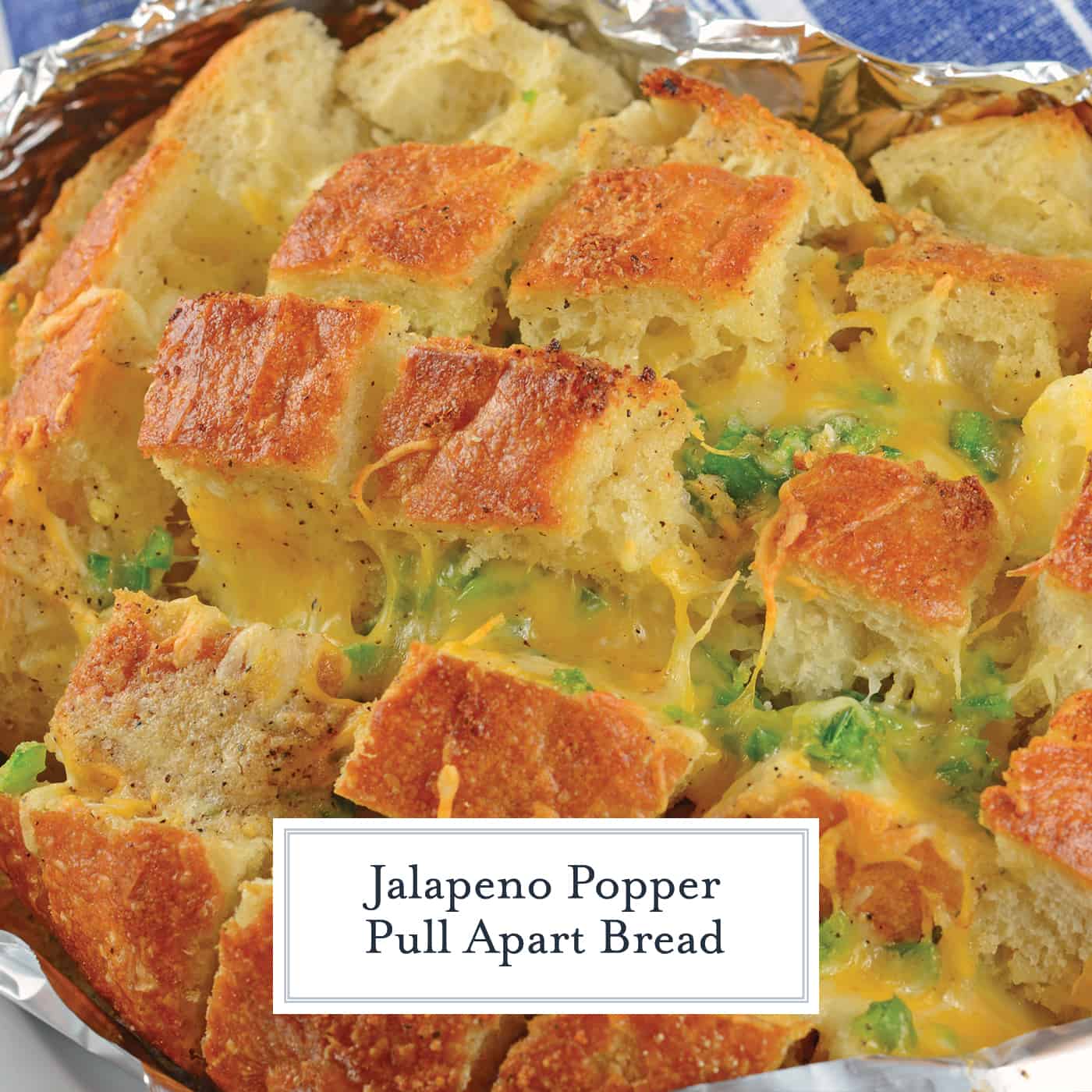 Jalapeno Popper Pull Apart Bread is spicy, cheesy, and perfect for any occasion. Use it as an appetizer, side dish or a snack!
If there were one recipe for every cheese and bread lover out there, this would be it. Imagine: every nook and cranny packed with a savory surprise.
PRO TIP: Use your favorite blend of cheese. I like pepper jack, monterey jack and cheddar cheese for this spicy bread! Some people prefer mozzarella cheese, which is also acceptable.
Dainty eaters step aside! This dish requires you and your guests to roll up your sleeves and get your hands dirty. No one will fault you for licking your fingers.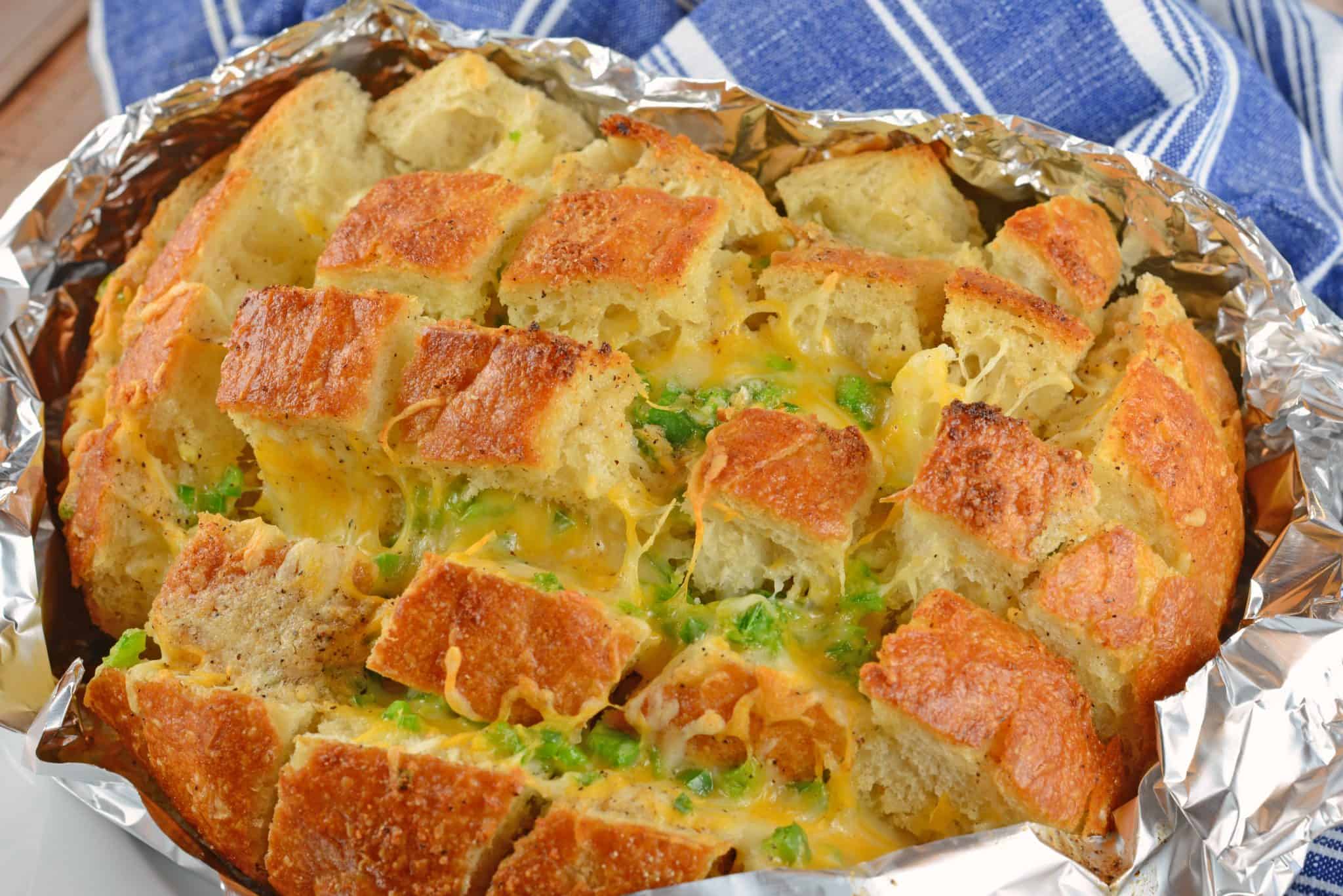 What may look challenging is actually really easy. By slicing the bread crosswise on top of the loaf and spreading it open, you are creating little crevices and nooks. Those are for the fillings to hide.
Simply take your shredded cheese with freshly minced jalapeno and stuff it in the grid. Pour melted butter over the top and bake until golden brown and melty.
PRO TIP: Don't slice all the way through. I've done this accidentally and then the fillings just melt through and you end up with traditional garlic bread slices. Not the worst thing in the world, but also not your objective.
Just 30 minutes in the kitchen and your friends will be texting and emailing nonstop for the recipe. Be careful, once you take that first bite, all bets are off.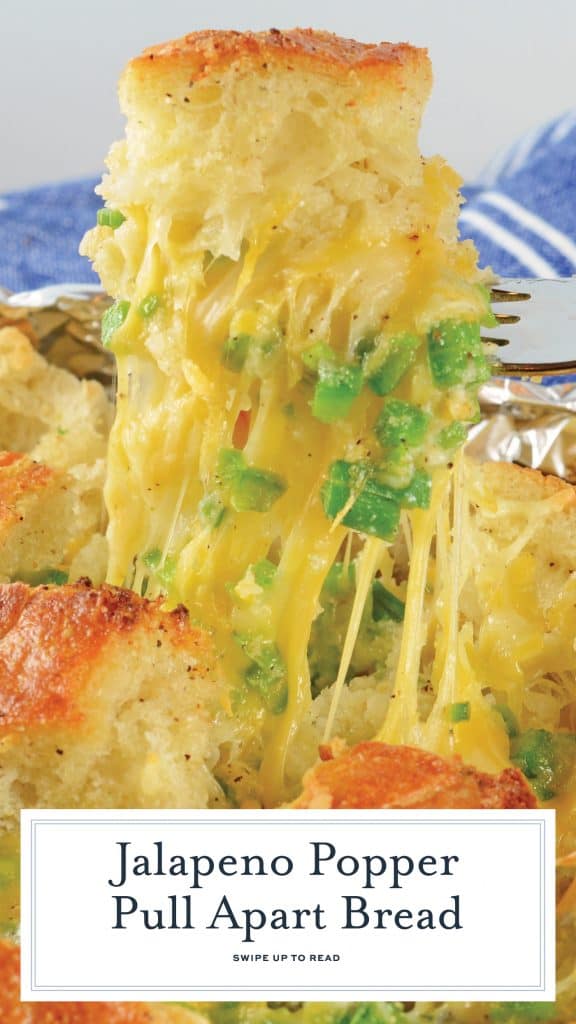 Just 30 minutes in the kitchen and your friends will be texting and emailing nonstop for the recipe. Be careful, once you take that first bite, all bets are off.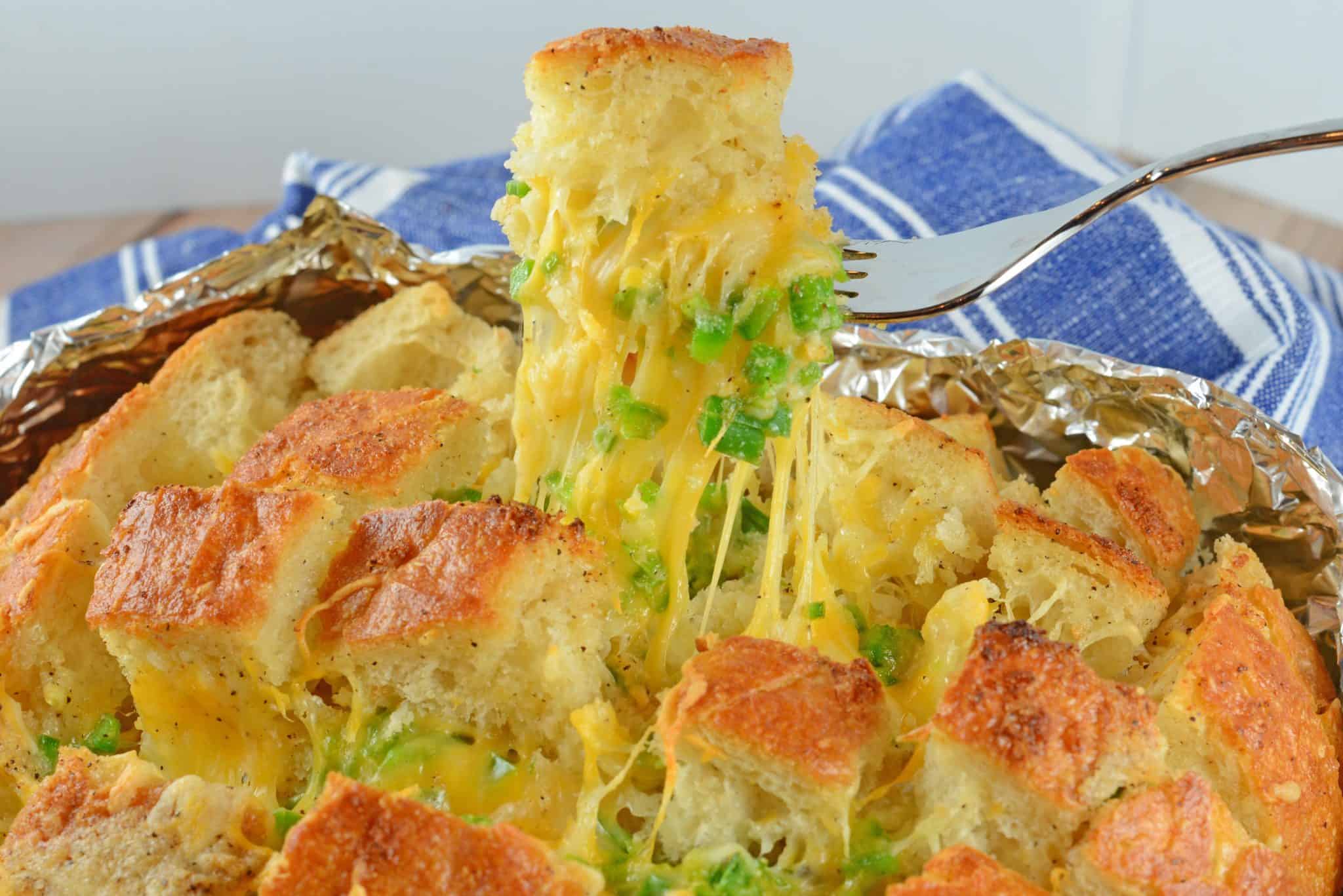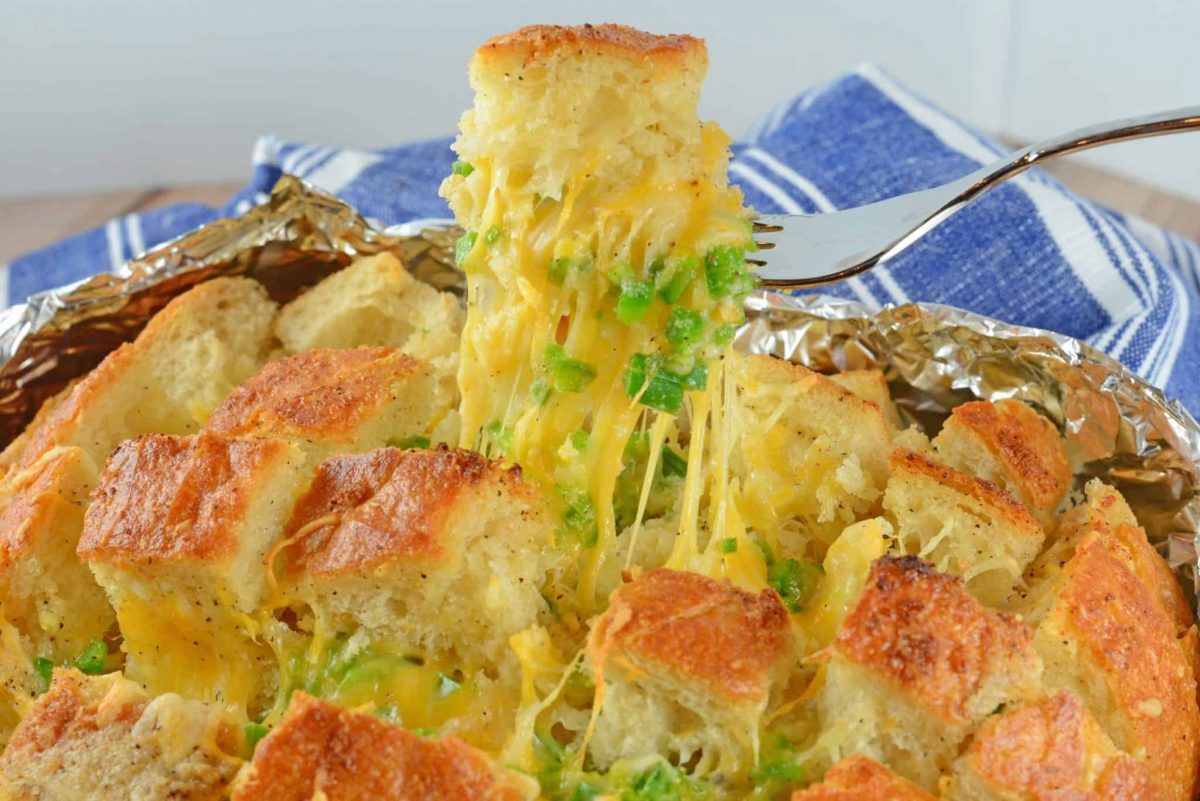 I like making it in a circular loaf just because it looks pretty, but one large loaf only tends to feed four people. Well… four of my friends. Ha!
PRO TIP: When chopping jalapenos, be mindful of the oils on the outside which can burn your skin. Wear powder-free latex gloves to prevent this from happening.
You can also use a standard loaf shape as well. Make sure to buy an intact loaf, not pre-sliced. Speaking from experience when I accidentally did that.
My store sells both a sourdough and French style bread in the round. Both taste good with this cheesy mixture. You can even use homemade bread if you are into baking your own!
PRO TIP: Shred your own cheese right off the block. It will melt better than pre shredded which is tossed in a starch mixture to prevent clumping.
Serve this loaf as an appetizer, a snack or a side dish. I like it alongside Black Bean and Green Chile Soup.
Jalapeno Lime Flank Steak Tacos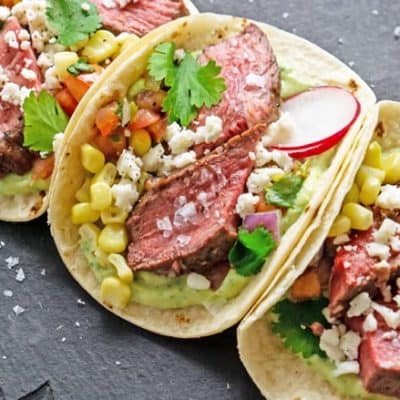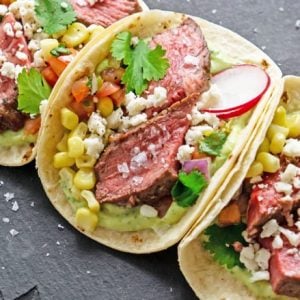 Flank Steak Tacos with a jalapeno lime marinade that will have you craving more. Made with few ingredients and lots of flavor, it's sure to become a family favorite!
Jalapeño-Pineapple Salsa on Mini Hot Dogs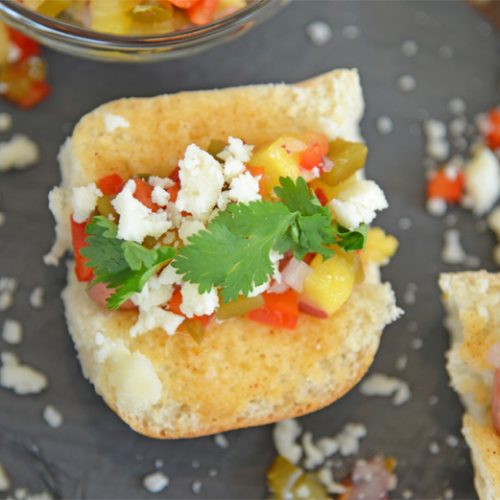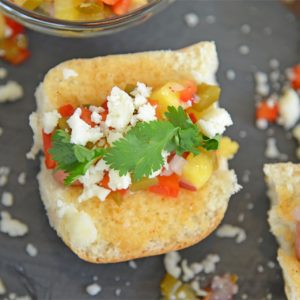 Jalapeño-Pineapple Salsa on Mini Hot Dogs is an easy and creative way to elevate your tailgating spread! Lush, sweet pineapple paired with spicy jalapenos and diced green chiles.
Tools for making this cheesy pull apart bread:
Wood cutting board – wood won't dull your knives like plastic and if treated properly, has natural antimicrobial properties.
Serrated Bread Knife- Serrated knives are much better for cutting bread and also tomatoes.

Questions you might have about how to make pull apart bread:
Can I freeze pull apart bread? You sure can! I would recommend freezing it when stuffed with cheese and jalapenos, but then do the butter when you are ready to heat it. Technically you can freeze it after baking, but it might come out a little weird when defrosted.
Why wear Non Powdered Latex Gloves ? Say what? Non powdered latex gloves are another one of my kitchen essentials. Anytime I chop a hot pepper (jalapeno, serrano, habanero), you risk the oils permeating your skin and it BURNS! Touch anything else, God forbid your eyes, and you will be in some real pain!
Avoid all of this by throwing on some latex gloves without powder. Unless you are allergic to latex, of course. And if you don't follow my advice and do end up with the burning skin, soak them in milk, the higher fat content the better!
Can I omit the jalapenos? You can do whatever you want! It won't be jalapeno bread, but it will still be delicious cheesy pull apart bread! apa
Can I add more toppings? You are the master of your own bread. You can even make a nacho bread. Olives, bell peppers, onion, bacon, shredded chicken, ground beef… the possibilities are endless!
Can I use garlic powder? You can use garlic powder in addition to onion powder or instead of.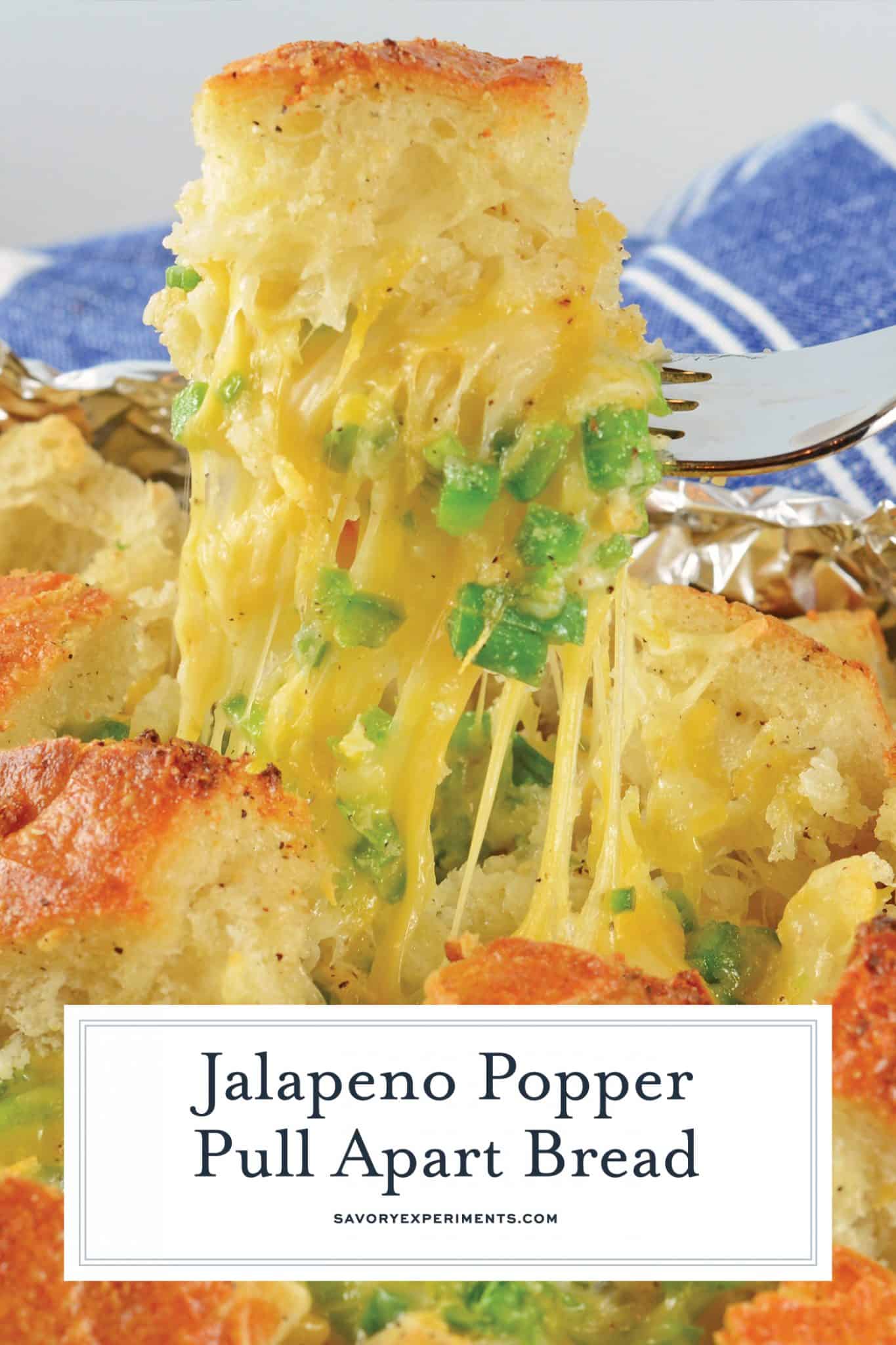 Jalapeno Popper Pull Apart Bread is spicy, cheesy and perfect for any dining occasion. Use it as an appetizer, side dish or a snack!
CONNECT WITH SAVORY EXPERIMENTS!

Be sure to follow me on social media, so you never miss a post!

Facebook | Twitter | Youtube
Pinterest | Instagram

Get our FREE 8 Day E-Course on How to Be a Better Home Cook. Sign up HERE!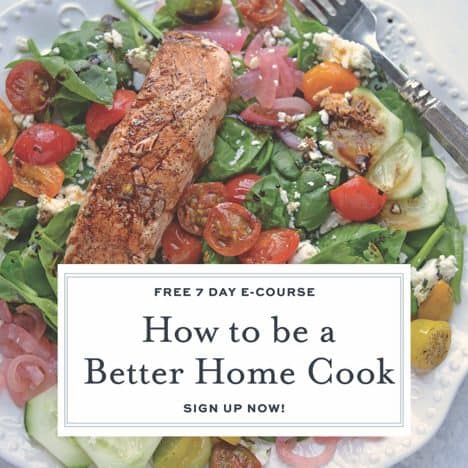 Jalapeno Popper Pull Apart Bread
Jalapeno Popper Pull Apart Bread – one seriously addictive cheesy, gooey, spicy bread!
Instructions
Preheat your oven to 350 degrees.

Score the bread loaf crosswise and lengthwise into 1-inch squares, cutting almost through to the bottom, but leaving it intact. The goal is to spread apart the bread pieces to "bloom", but be able to pass it around and gently pull a piece off.

In a small bowl combine cheese and jalapeno, mix. Stuff cheese blend evenly into all of the slits, nooks, and crannies. After stuffing all of the cheese it should be coming out the top- keep stuffing!

In another small bowl combine melted butter and remaining ingredients, whisk together. Spoon or pour mixture evenly over stuffed cheese slits.

Wrap entire bread loaf in heavy duty aluminum foil and place in the oven for 15 minutes. Remove loaf and open the top of the aluminum foil to expose the top of the bread. Bake for an additional 5-10 minutes or until cheese is melted and tops are nicely brown and crisp.

Remove from oven, allow to cool for several minutes before serving, you don't want your diners to burn their fingertips trying to get at this delicious bread! No serving utensils required. Enjoy your Jalapeno Popper Pull Apart Bread!
Nutrition
Calories:
366
kcal
|
Carbohydrates:
3
g
|
Protein:
10
g
|
Fat:
35
g
|
Saturated Fat:
21
g
|
Cholesterol:
100
mg
|
Sodium:
1077
mg
|
Potassium:
53
mg
|
Vitamin A:
1060
IU
|
Vitamin C:
8.3
mg
|
Calcium:
284
mg
|
Iron:
0.3
mg