Blooming Onion, Onion Bloom, Bloomin Onion (minus the "g"), Awesome Blossom, Awesome Petals, Blooming Petals – this golden brown onion has many names and several variations. One thing they all have in common: delicious.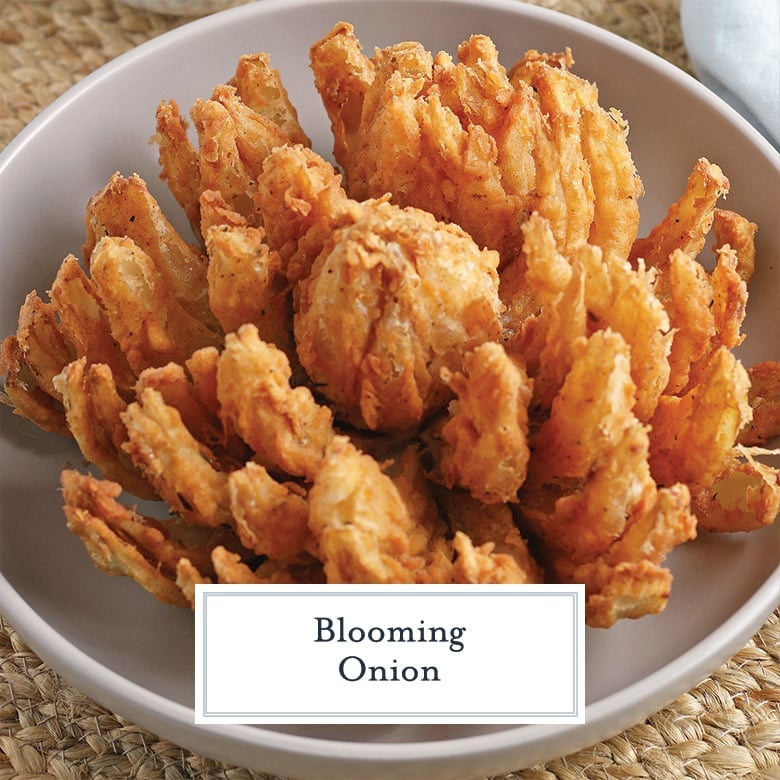 It is a favorite appetizer on game day, for parties or special occassions. Make a variety of dipping sauces and everyone will be impressed. Crispy perfection that everyone loves.
The Original Blooming Onion
Outback Steakhouse claims to be the originator of this culinary masterpiece, a whole onion carved like a blossom, battered, floured and then fried. Deep it in zingy sauce and there you have it.
Instead of just onions rings or onion straws, you batter and fry the whole gosh darn onion!
It is simple in theory, but the actual blooming onion recipe and prep intimidates many. I'm not sure if it is cutting the onion, battering for frying, but home cooks shy away.
There are two tricks here. The first is making sure the root stays intact so the onions doesn't fall apart while frying and the second is the trick of instead of making it all into one thick wet batter, you first wet batter and then dip in flour. This helps it stick without slinking off.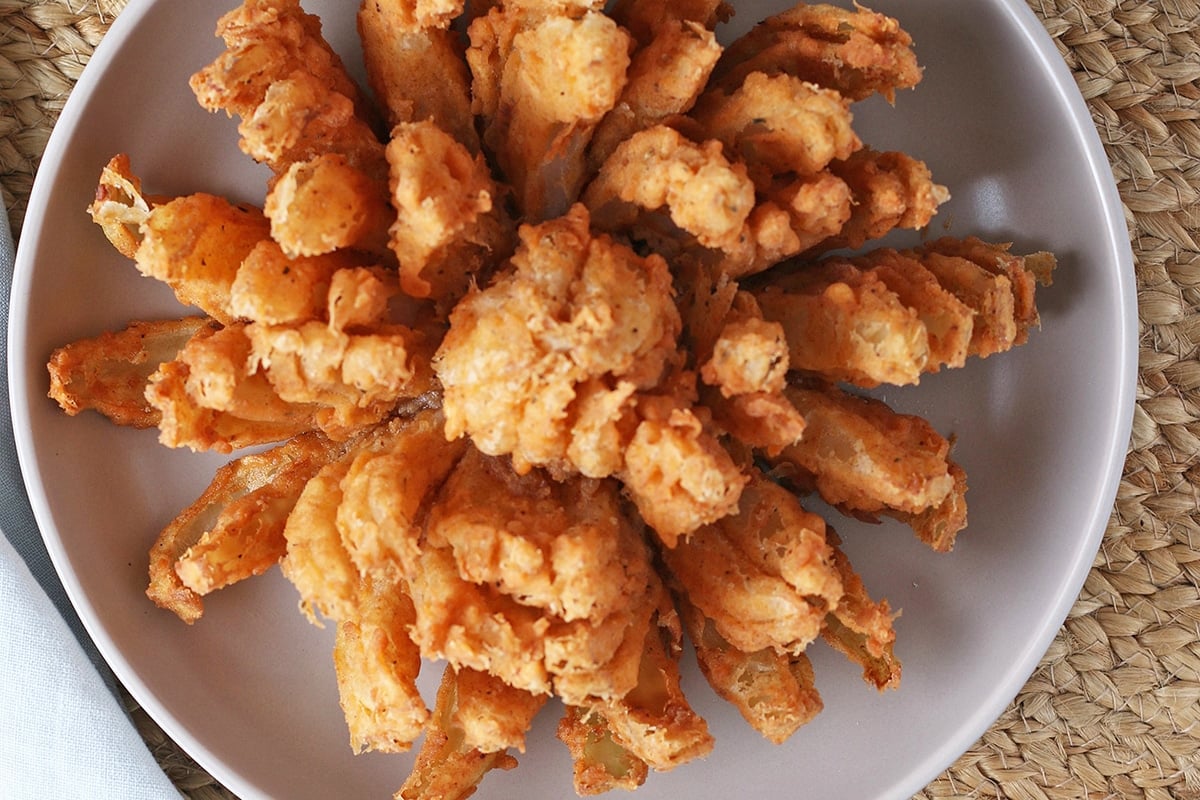 Blooming Onions Recipe Ingredients
The ingredients for a blooming onion are fairly simple and with the exception of onion (maybe) you probably already have them all. That means there are zero excuses for making blooming onions all the time.
Well, maybe that they should be consumed in moderation like all fried foods, but you get my drift.
Sweet onion – Honestly, you can use any type of large onion you wish. For the original, use a sweet onion like a Vidalia, white onions or yellow onion, but for a fun variation red onions are great too.
Flour – All purpose flour is best. I'm certain you can use a gluten-free alternative, this is for the purpose of sticking (like glue) instead of baking and providing structure.
Seasonings – paprika, cayenne pepper, ground cumin, dried thyme, dried oregano, Kosher salt and white pepper. You can use black pepper, garlic powder or onion powder too.
Eggs – Part of the glue.
Milk – Whenever I am cooking I prefer a whole milk, it has more body and structure, but skim or 2% will suffice.
Vegetable or Peanut Oil – or any other oil with a sufficient smoke point and neutral flavor.
Blooming Onion Sauce – make it from scratch (link below) or buy it at the store.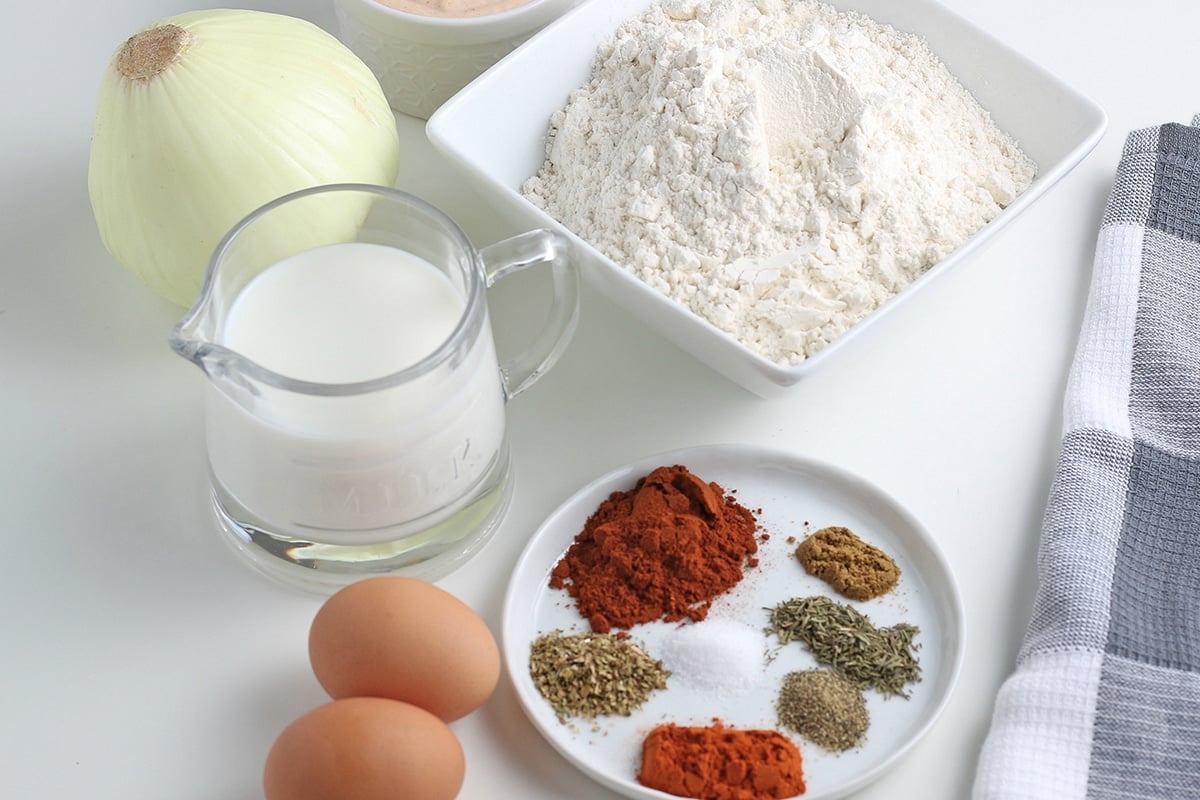 How to Cut a Blooming Onion
The cutting is easy as long as you keep the root intact. Don't cut all the way through! Try to keep the cuts similar in size so they cook evenly. The second is to soak it in cold water to let the petals bloom and separate on their own instead of forcing it.
Prep, Peel and Cut. Start by peeling your onion and then with a sharp knife, cut off the top so it is flat. Place the cut side down (flat part) onto your cutting board. Start about 1/2 of an inch from the root, and cut the onion into 4 even quarters. This is backwards of how you usually cut things, but the easiest way to not accidentally cut through the root. Then cut each quarter into 4 even pieces for a total of 16 evenly sized sections. You might want to do 3 sections for smaller onions.
Ice Bath. In a large bowl, soak the onion in ice water for 2 hours. This lets is separate naturally instead of forcing it and possibly breaking off the petals.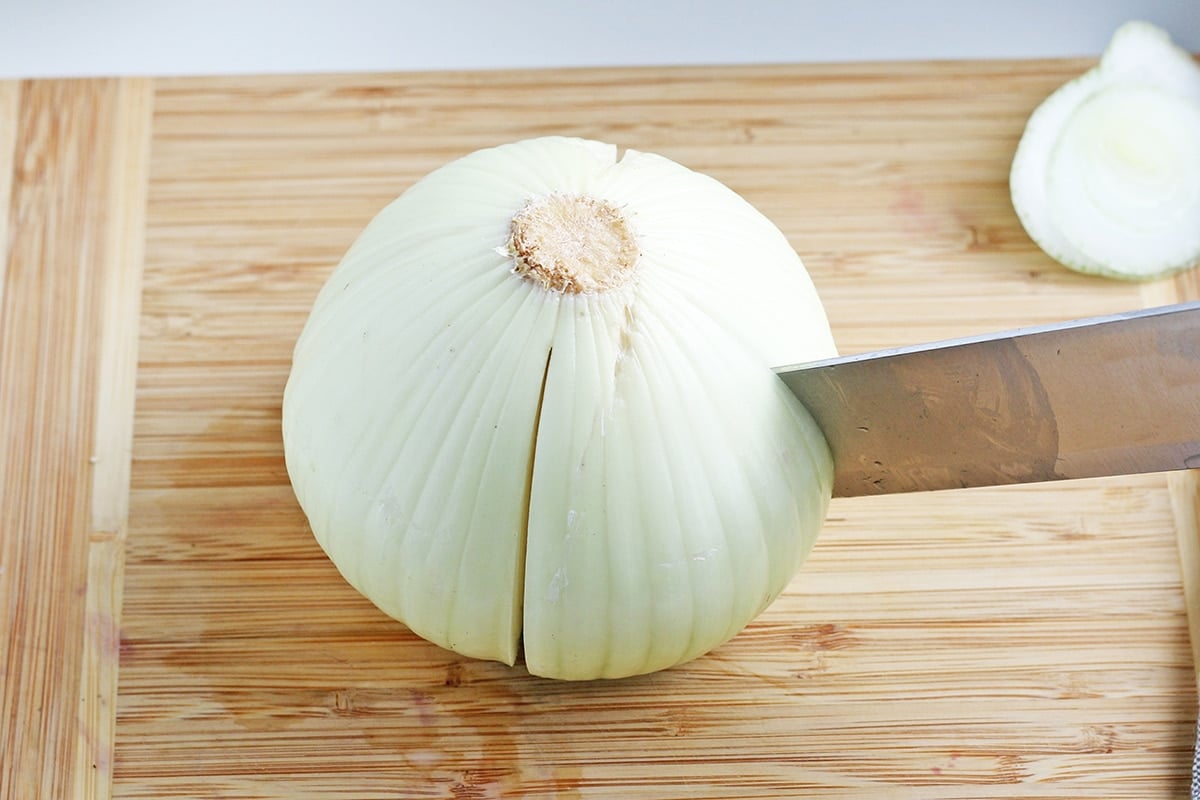 Or buy a blooming onion cutter. This allows you to core out the center even though it isn't necessary.
How to make a Blooming Onion
First prep your onion (instructions above) and then make your sauce. The blooming onion sauce is best if you let it sit for at least an hour to let the flavors marry.
Then…
Prep Dredges. Whisk together dry ingredients in one bowl and wet ingredients in a separate bowl.
Dredge Onion. Dab the bloomed onion dry and then in a clean bowl, cut-side up. Pour the dry flour mixture over the top, making sure to use a spoon to get between the onion petals. Turn the onion over and pat off the excess flour. Reserve the bowl of flour.
Dredge. Dip the onion, cut side down, into the egg mixture until fully coated. Remove and let the excess drip off, then transfer back into the reserved flour mixture.
Chill. Place onion into the refrigerator while you heat the oil. This helps it set and not just fall off when it hits the hot oil.
Fry. Shake any excess flour from the onion and using a wire skimmer, deep fry until golden brown- about 3 minutes on each side. If you don't have a deep fryer, we highly suggest using a candy or frying thermometer for best results. Too hot and it will burn, too low and you'll have soggy onion.
Drain. Remove and drain on paper towels and then serve hot with dipping sauce.
Onion Blossom Dipping Sauce
The classic dipping sauce goes by several names: Blooming Onion Sauce, Bloom Sauce and Comeback Sauce. They are all very similar using a mayo base with several tangy spices and other ingredients. Some use sour cream, which can be substituted.
It is simple, but best prepare ahead so the flavors have time to really marry each other.
You can also use Yum Yum Sauce, any other aioli like Mustard Aioli, Sriracha Aioli or Garlic Aioli. Just ketchup also works fine, as does hot sauce (according to my husband, but he puts it on just about everything except Cheerios).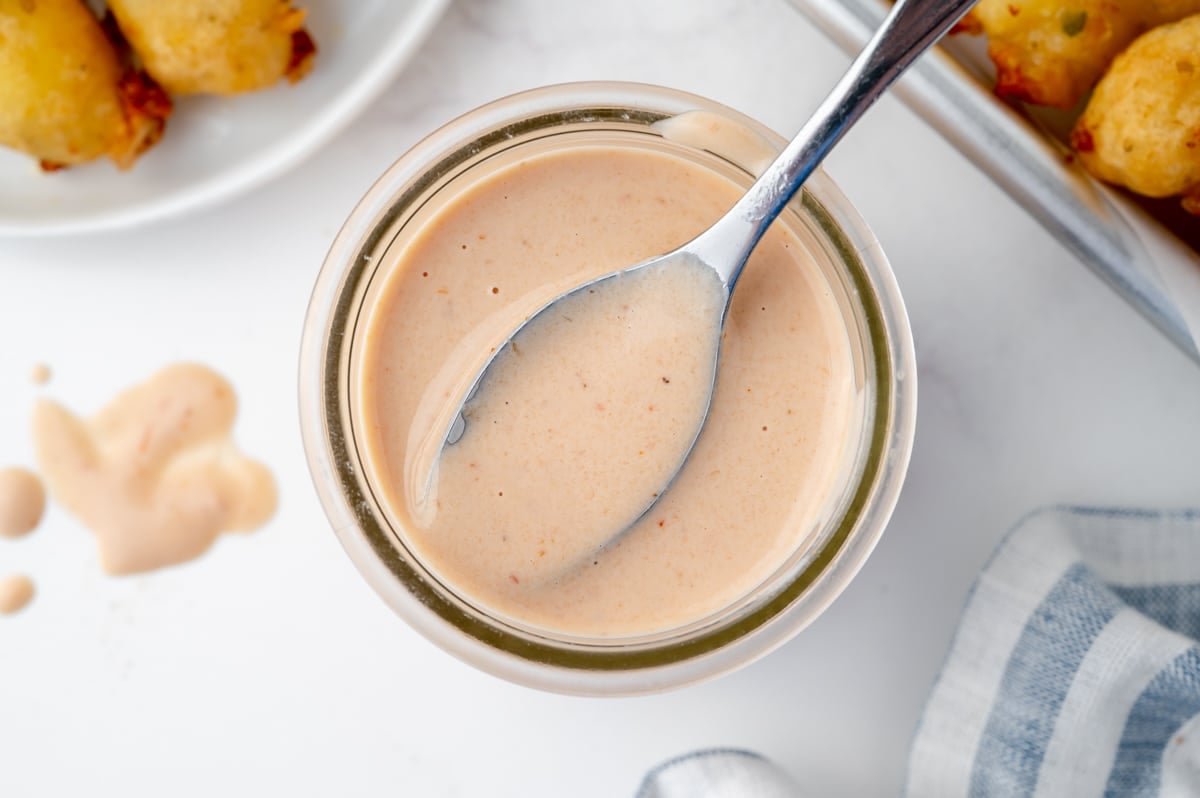 Bloomin Onion Recipe Bites or Petals
If cutting and frying a whole onion still seems intimidating, you can always make smaller pieces known as petals or bites.
Use the same recipe, but skip the part about soaking your onion since individual pieces don't need to bloom. Also make them into larger cuts, more like wedges. Larger pieces work best here.
Be mindful to try and shake off as much batter and flour as possible so they aren't clumpy. If there is too much, the onion won't cook and you'll just have batter on a raw onion bit.
Then fry. Frying time will reduce to about 4-5 minutes, turning while they get golden brown and crispy.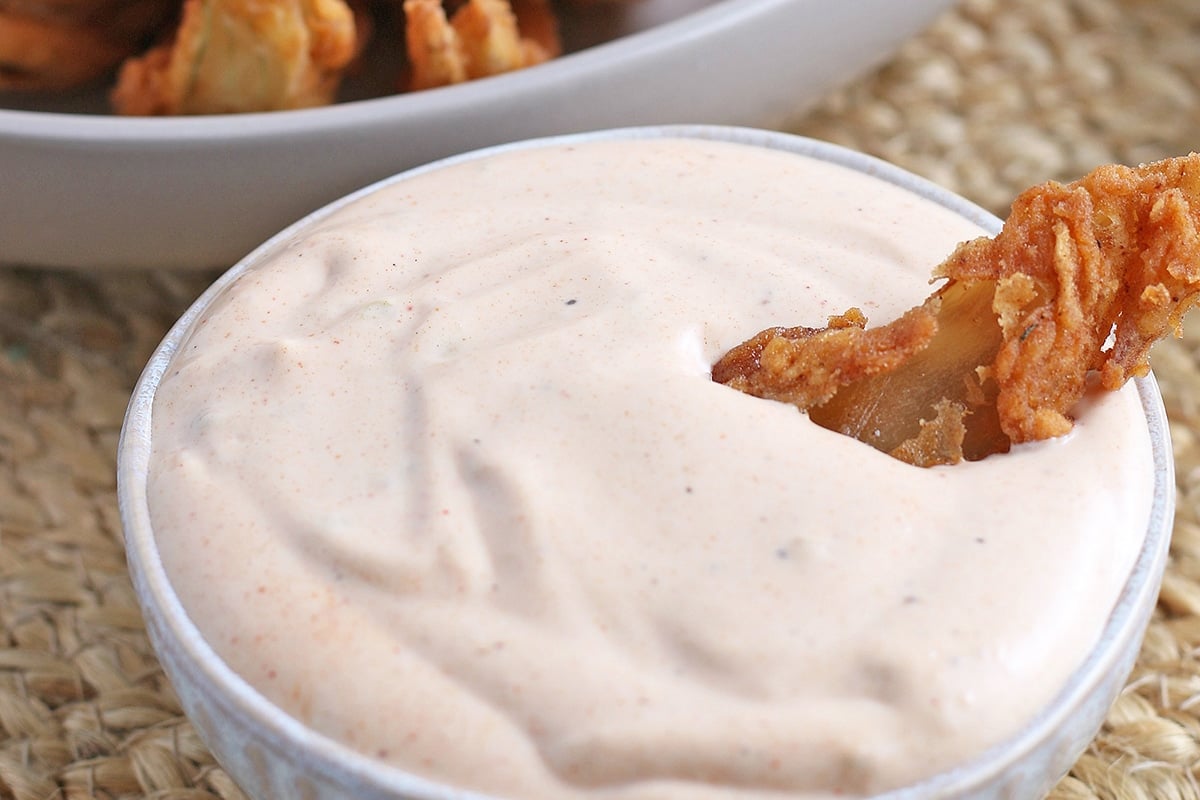 Air Fryer Blooming Onion Recipe
I usually shy away from anything battered in the Air Fryer because it has the tendency to just slide right off, but this batter sticks, so it works.
Follow all the same instructions, but instead of frying, spray the battered onion with cooking spray and then set root side down in the air fryer basket. Heat at 400°F for 9-10 minutes.
Actual cooking time varies from size and model of Air Fryer, so watch closely after about 5 minutes.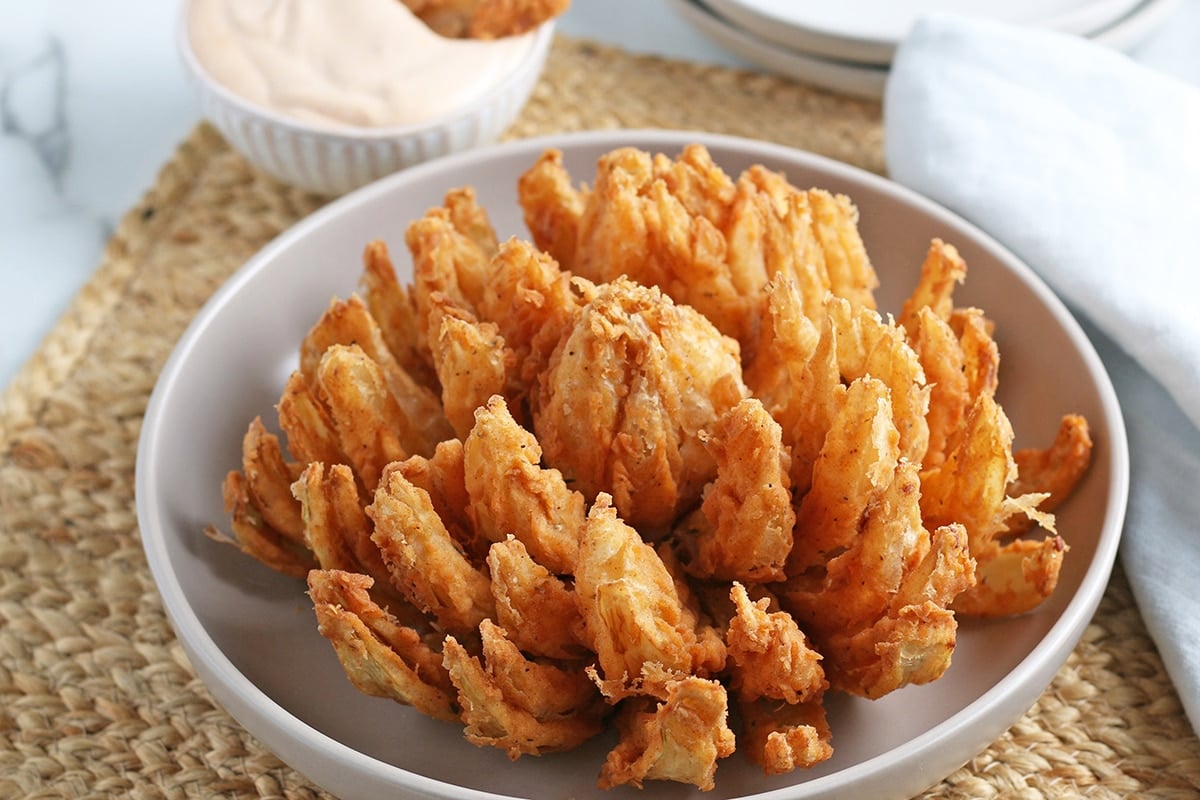 What to Serve with a Bloomin Onion
A blooming onion can be served as a shared appetizer or even as an entree.
If served as an appetizer, I like to serve it will a lighter meal like fish or chicken. Salmon patties, baked chicken thighs, baked halibut, marry me chicken are all good options.
As an entree, pair it with a leafy green salad or a hefty side of vegetables like parmesan cauliflower, garlic butter Brussels sprouts or pan fried broccolini.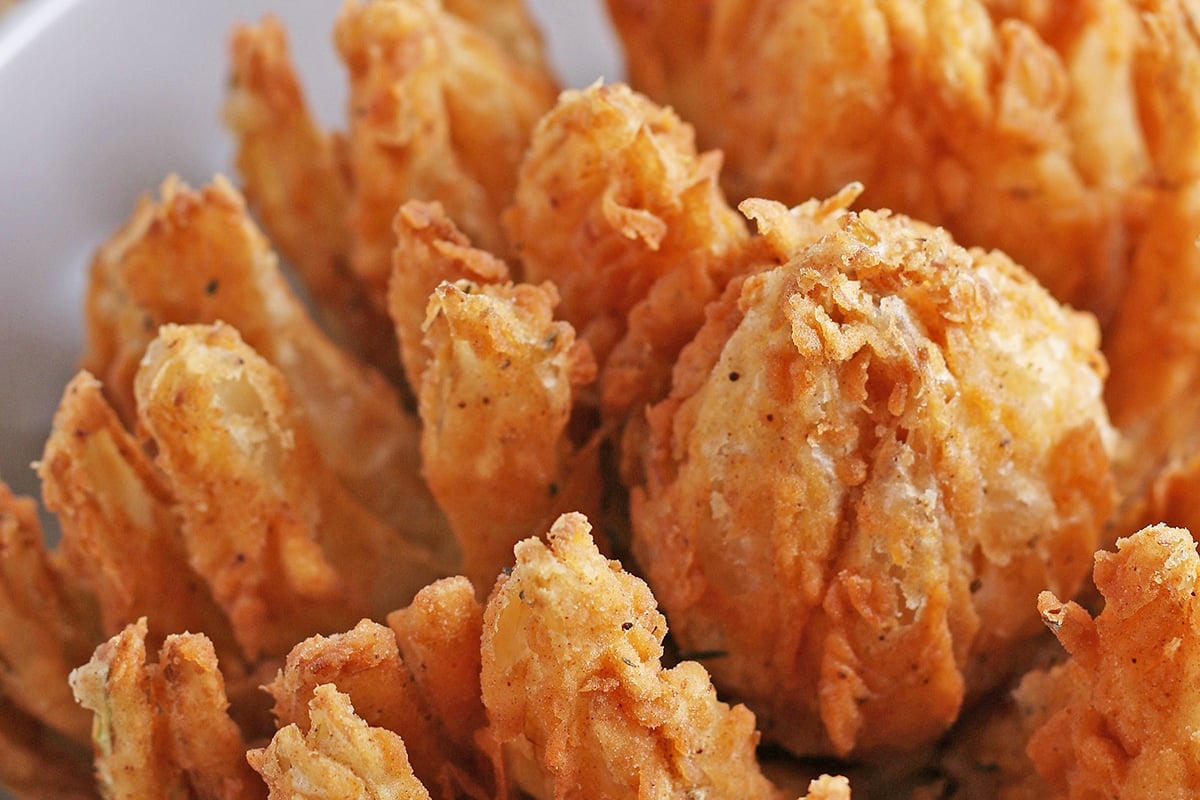 Blooming Onions Recipe storage
Storage: You can store any leftover bloomin onion in an airtight container in the refrigerator for up to three days.
Freezing: I do not recommend freezing this recipe. The crispy coating will no longer be crispy when thawed.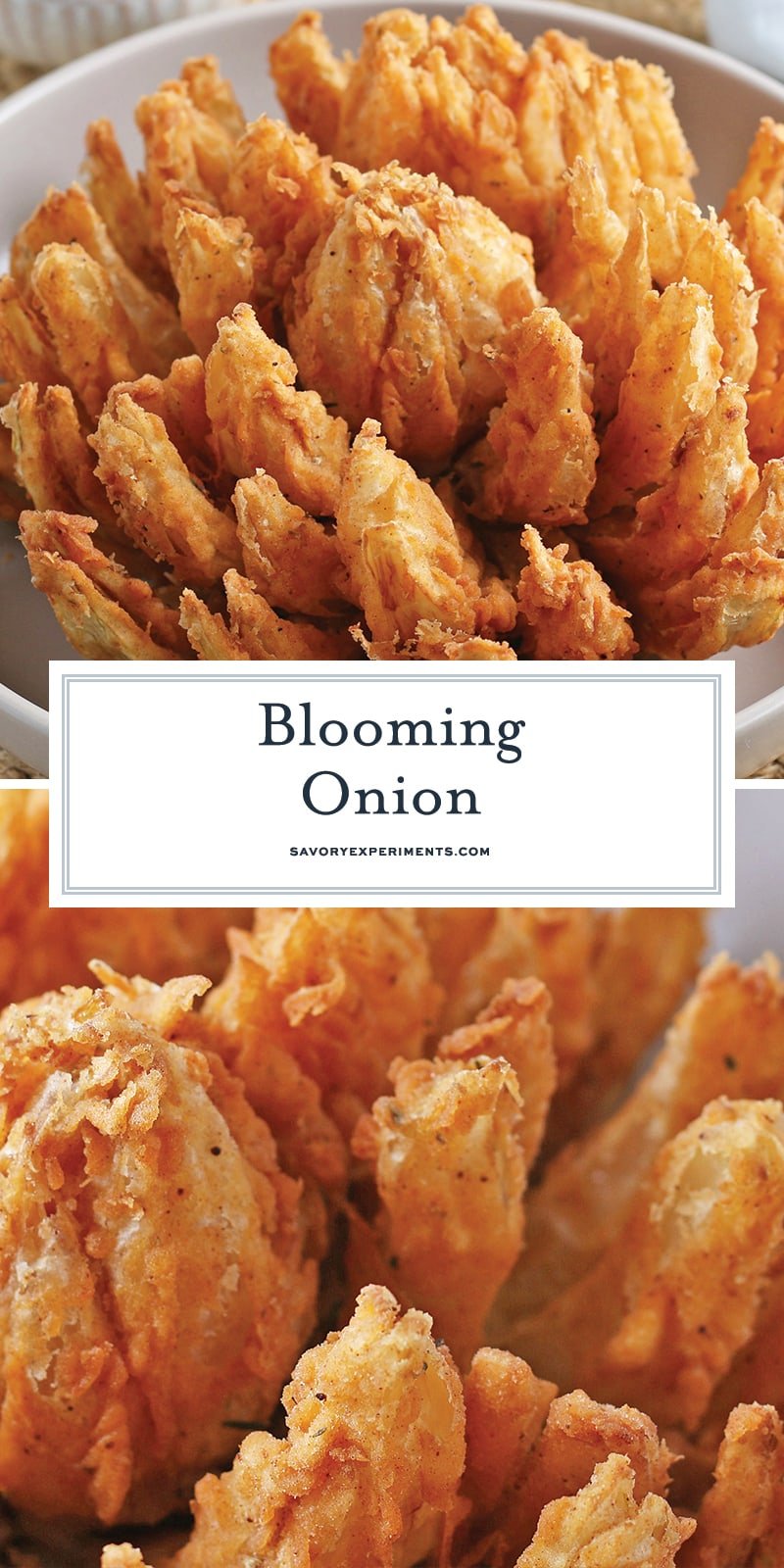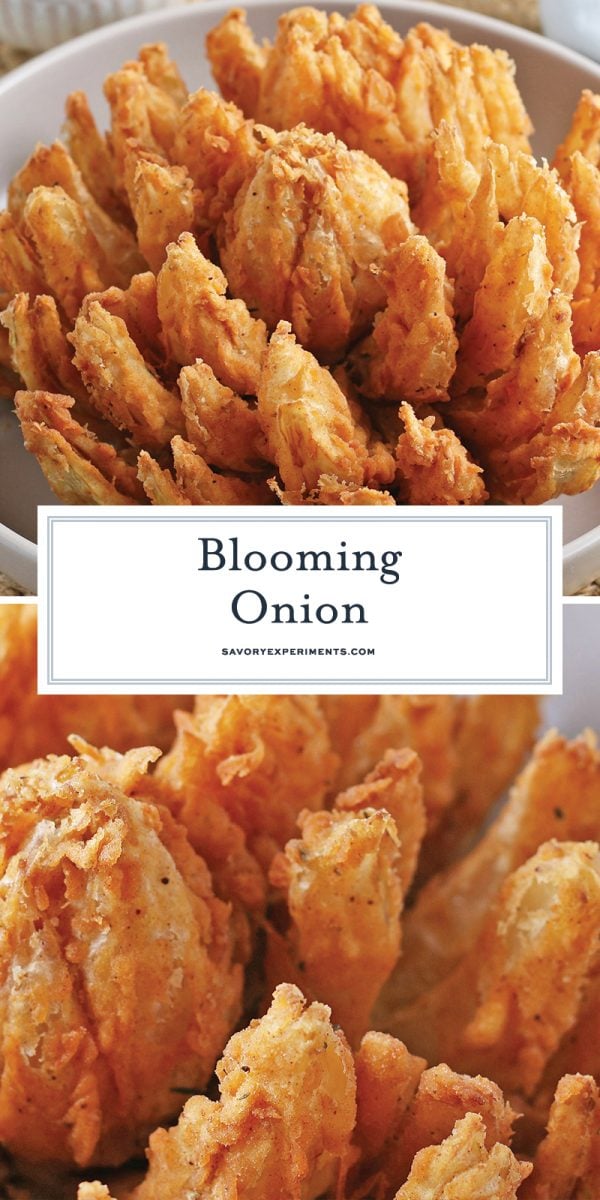 Bloomin Onion Recipe FAQs
Why does a wet paper towel help when cutting onions?
This handy trick only involves wetting a paper towel and setting it on the cutting board bear the onion. It is rumored to work by attracting the chemical syn-Propathanethial S-oxide, which is what causes tearing when it enters the nose or eyes.
I prefer to use onion goggles.
Why is it called a blooming onion?
It is called a blooming onion because it resembled a blooming flower when cut and feathered out.
More Copycat Recipes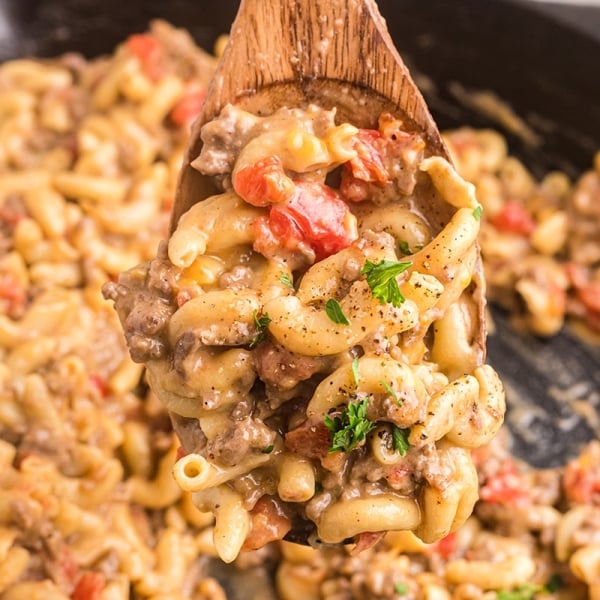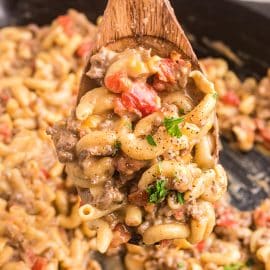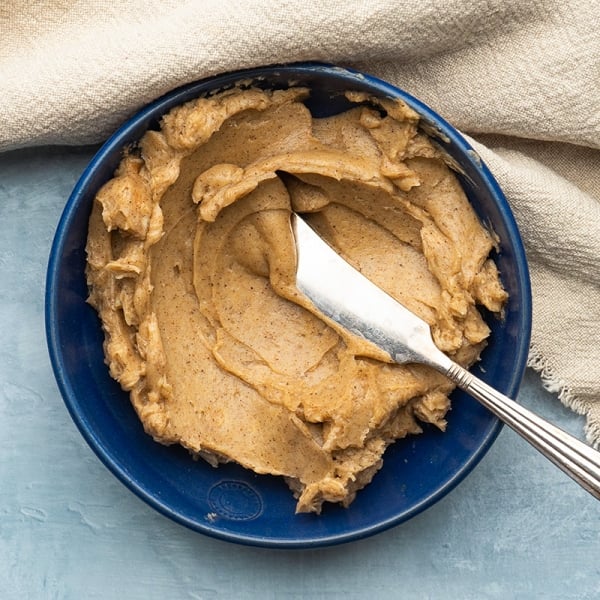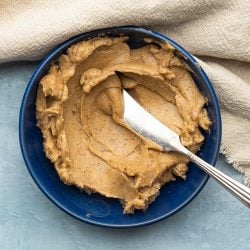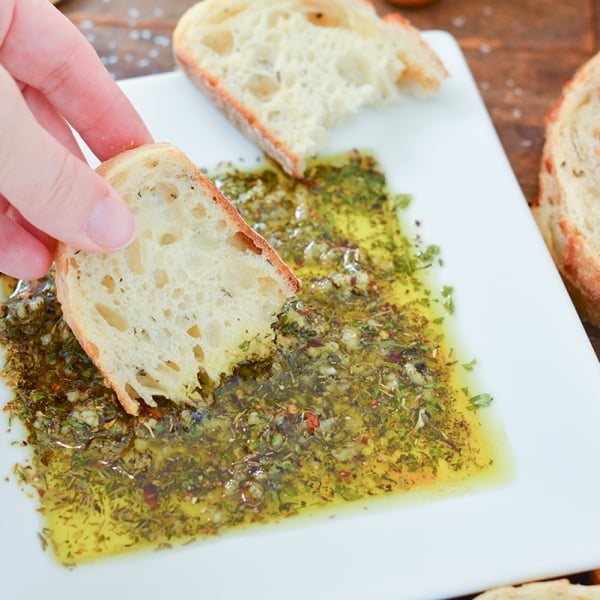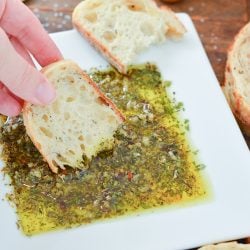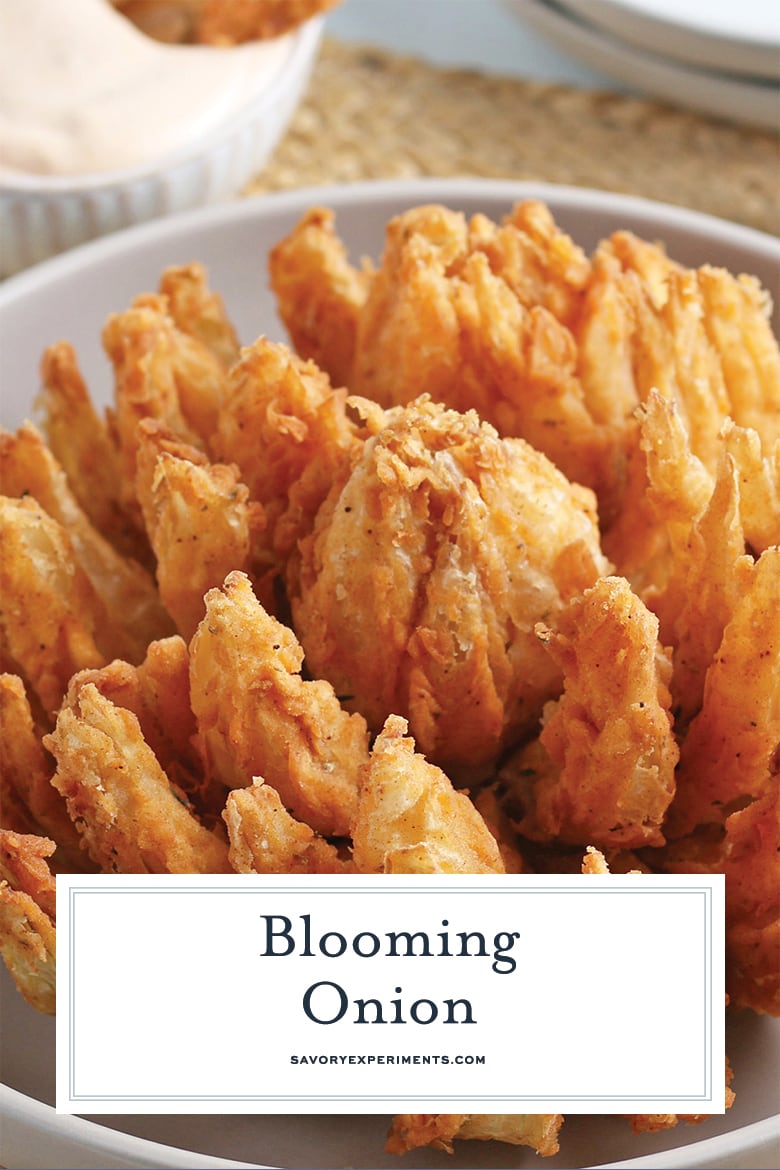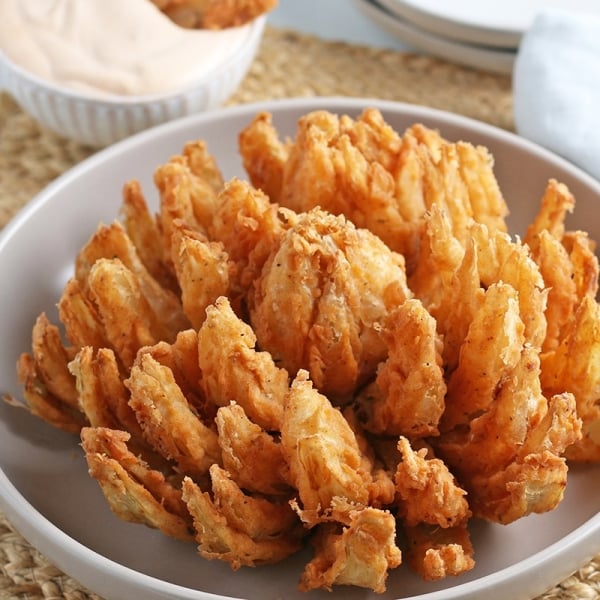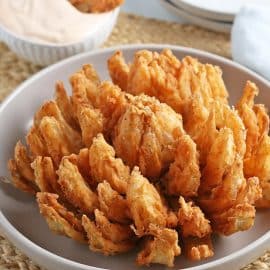 Bloomin Onion Recipe
Coated with a crispy, flavorful breading, this EASY Blooming Onion recipe can't be beat- just like Outback! Complete with a Bloomin' Onion sauce, too!
Instructions
Start by cutting off 1/2 inch from the top of the onion, then peel the outer skin from the onion.

Place the onion cut-side down. Starting about 1/2 inch from the root, make a downward cut all the way through to the board.

Repeat to make four evenly spaced cuts around the onion. Make 3 additional cuts between each section until you have 16 evenly spaced cuts.

Place the onion in a bowl of ice water, cut side down, for 2 hours.

In a mixing bowl, whisk flour, paprika, cayenne, cumin, thyme, oregano, Kosher salt and white pepper.

In a separate medium deep bowl, whisk together eggs, milk, and 1 cup water.

Place the onion in a clean bowl, cut-side up, spoon flour mixture over the onion being mindful to get in all the nooks and crannies. If parts re left bare, the wet batter won't stick. Tap off excess flour and reserve.

Cut side down, dredge floured onion in the wet ingredients, pull up and return to flouring mixing bowl, spooning flour over the top again.

Place the onion into the refrigerator for about 10 minutes to let is set. Meanwhile, prepare the frying oil.

In a high sided Dutch oven or deep fryer, heat vegetable or peanut oil to 400 degrees.

Remove the onion from the refrigerator and shake any excess flour from the onion (it will burn in the oil while frying).

Using a wire skimmer lower the onion, cut side down, into the oil. Oil temperature will fall, maintain at 350 degrees for duration of cooking.

Fry until golden brown, about 8-9 minutes, turning halfway through so the root side is down.

Remove onion using your wire skimmer and drain on paper towels.

Serve hot with dipping sauce.

If you've tried this recipe, come back and let us know how it was in the comments and ratings!
Notes
Nutrition does not account for dipping sauce.
Nutrition
Calories:
832
kcal
,
Carbohydrates:
64
g
,
Protein:
13
g
,
Fat:
60
g
,
Saturated Fat:
46
g
,
Cholesterol:
88
mg
,
Sodium:
352
mg
,
Potassium:
244
mg
,
Fiber:
3
g
,
Sugar:
4
g
,
Vitamin A:
1288
IU
,
Vitamin C:
1
mg
,
Calcium:
101
mg
,
Iron:
5
mg