Cheese Stuffed Garlic Knot Recipe
What's better than a simple, homemade bread flavored with Italian seasoning and stuffed with mozzarella cheese? Um, nothing. Which is why these Cheese Stuffed Garlic Rolls will fast become a family favorite.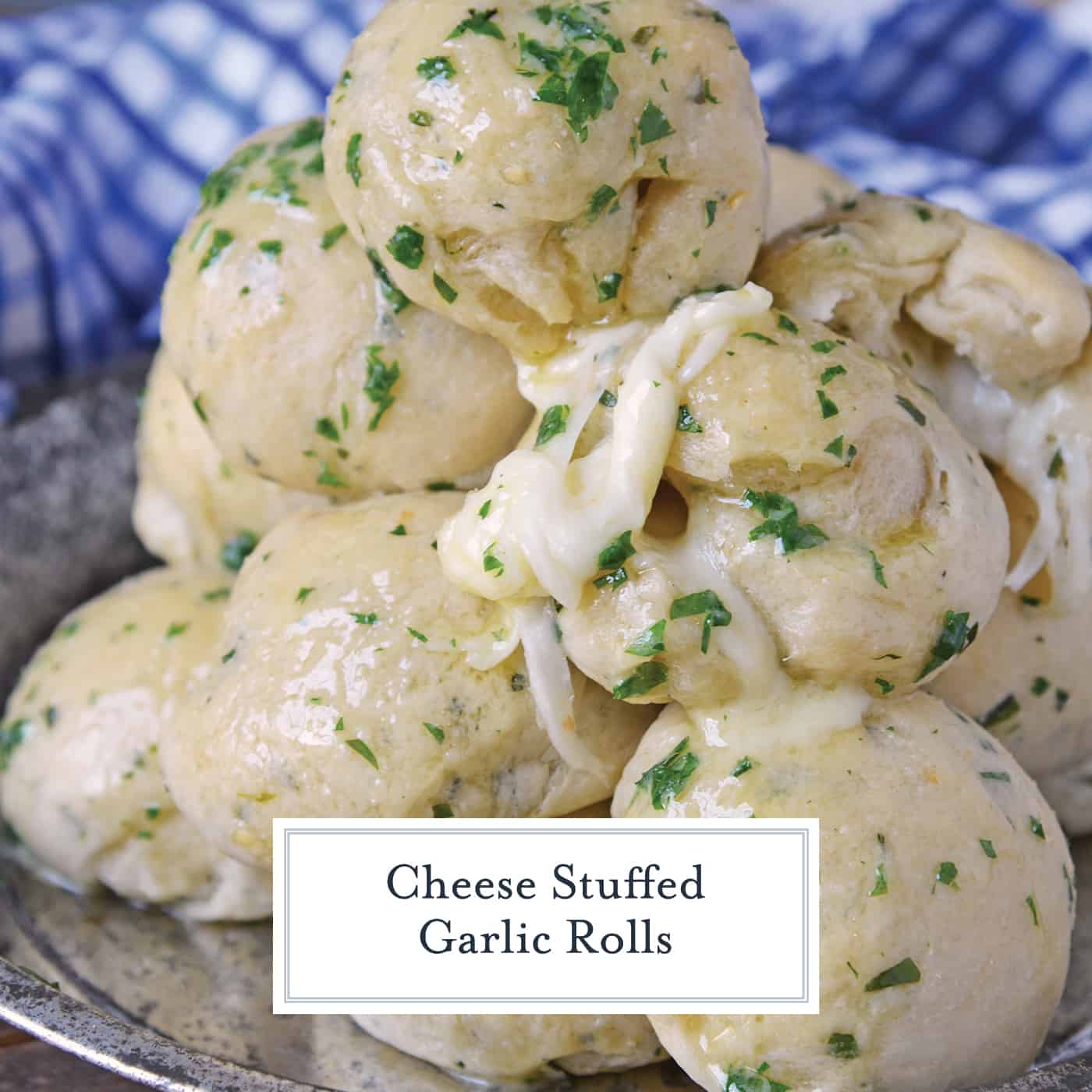 These Cheese Stuffed Garlic Rolls are delicious garlic and parsley rolls stuffed with gooey mozzarella cheese. Eat them plain or with a side of marinara.
I have a hard time eating any Italian food without some sort of bread. A good Italian bread, cheesy garlic bread or garlic knots seem to be my go-to. Clearly, Gooey garlic cheese bombs combine the best of all of these recipe and really rock my world!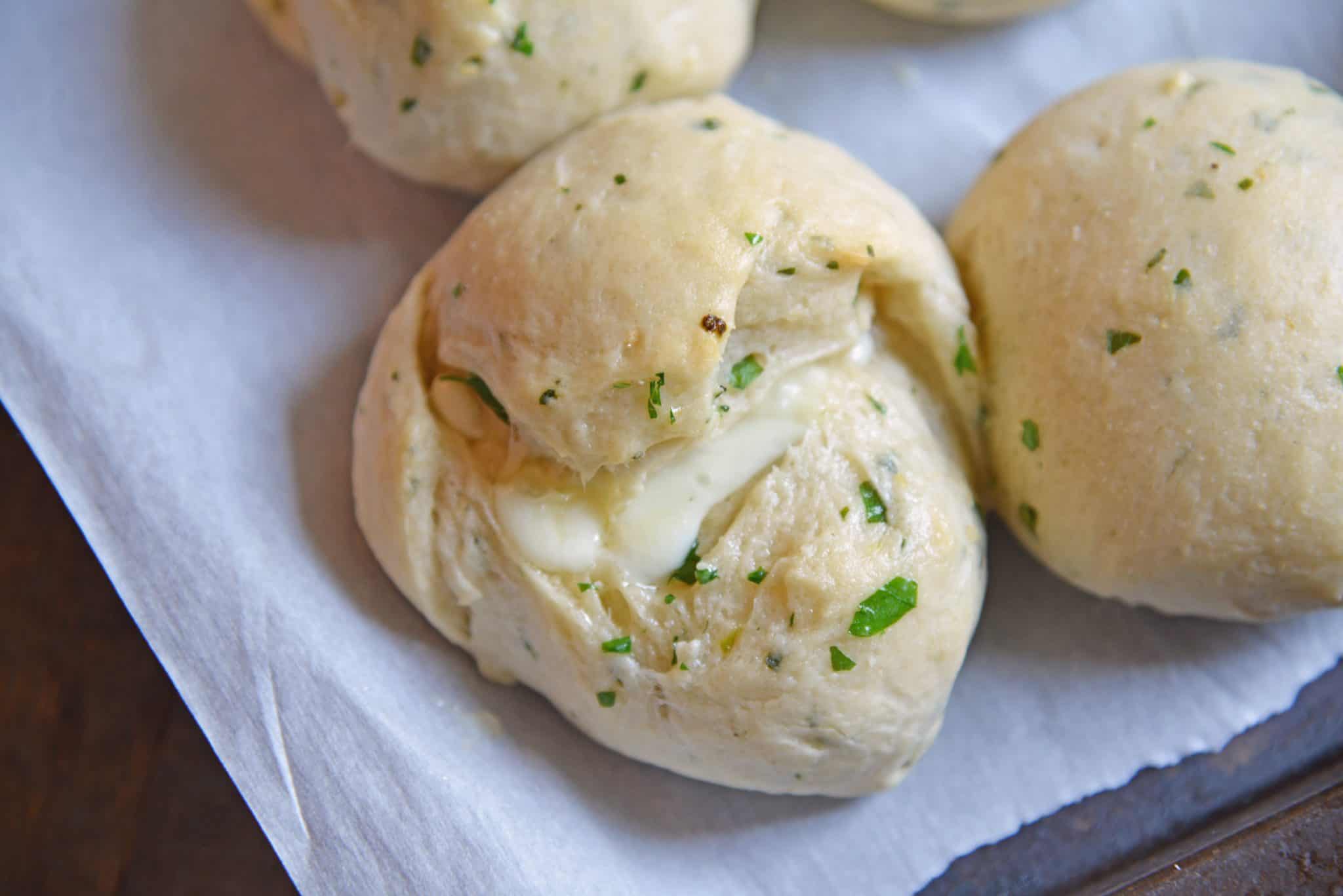 I'm not going to lie, making homemade bread does take a little bit of time, but the results are outstanding. I recommend using a stand mixer
for this recipe because you can let the mixer do the work. Or you can count it as your arm workout for the day!
Be sure to check the expiration date on your yeast. It is a living, breathing thing after all and it is what is going to give your bread life and allow to rise. The number one reason homemade bread fails is old yeast.
PRO TIP: Keep your yeast in the refrigerator to increase shelf life.
The second reason is that the water is too hot and kills the yeast or not hot enough to really get it going. Using hot tap water should be hot enough without going too far, which is inclined to happen if you microwave water to heat it.
If time is not on your side, you can make cheese stuffed bread with pre-made bread dough or even pizza dough, kneading in the garlic and the parsley as best you can. It is a little more challenging with premade doughs.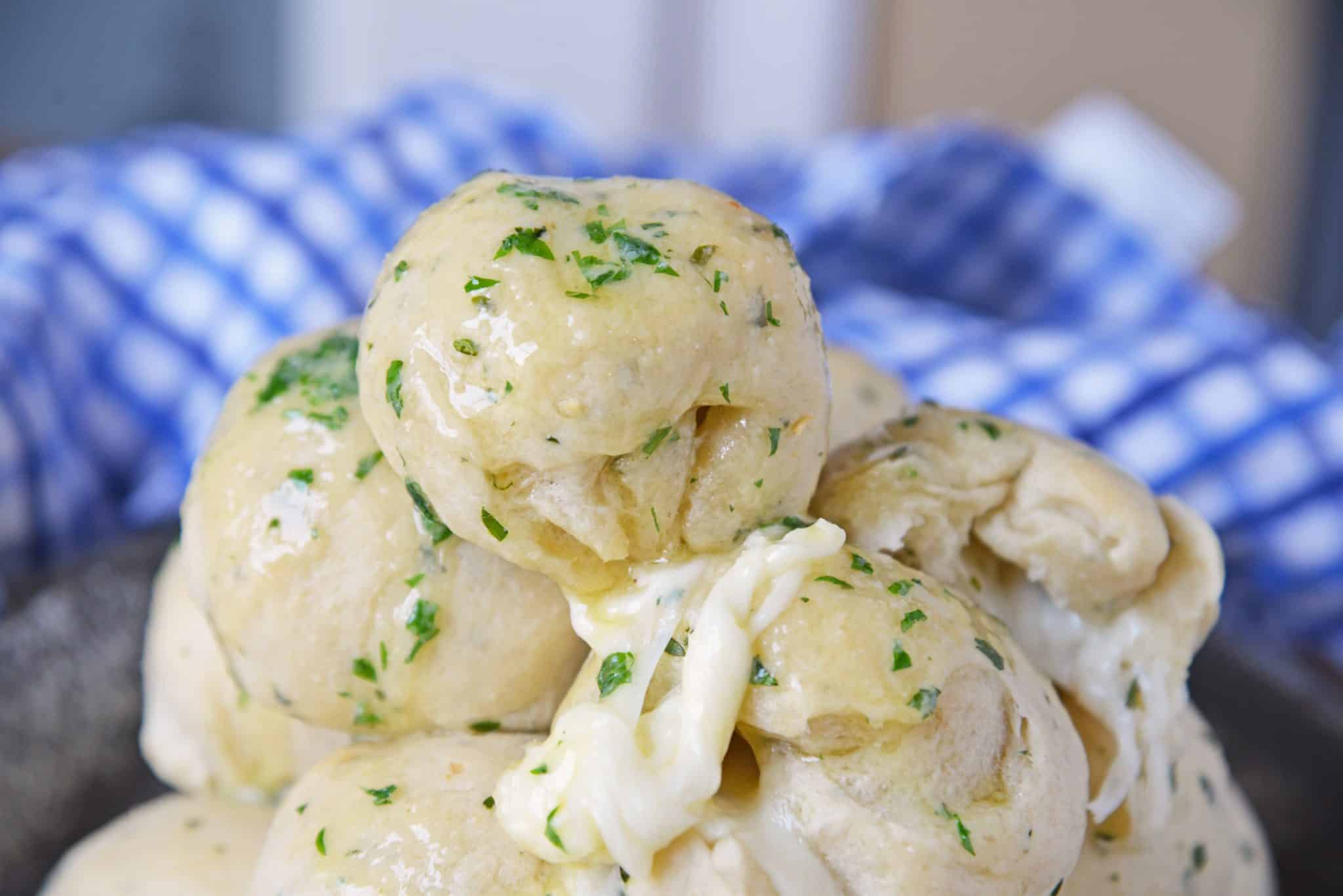 Be careful, when these babies come out of the oven, everyone in the house will be in the kitchen. The smell of freshly baked bread and garlic will draw a crowd.
PRO TIP: Use fresh garlic, not bottled garlic. They have a distinctly different taste. Bottled garlic is much sweeter and lacks spicy flavor you love from garlic. Garlic powder also has a distinctly different taste.
The last step might be the most important, at least in my eyes. It is the melted butter topping. This keeps the bread moist and adds even more flavor.
Perfect on their own or with pasta, pizza, or as an appetizer or snack, these little cheese bombs are absolute heaven. If you are feeling adventurous, dip them in a bit of marinara sauce.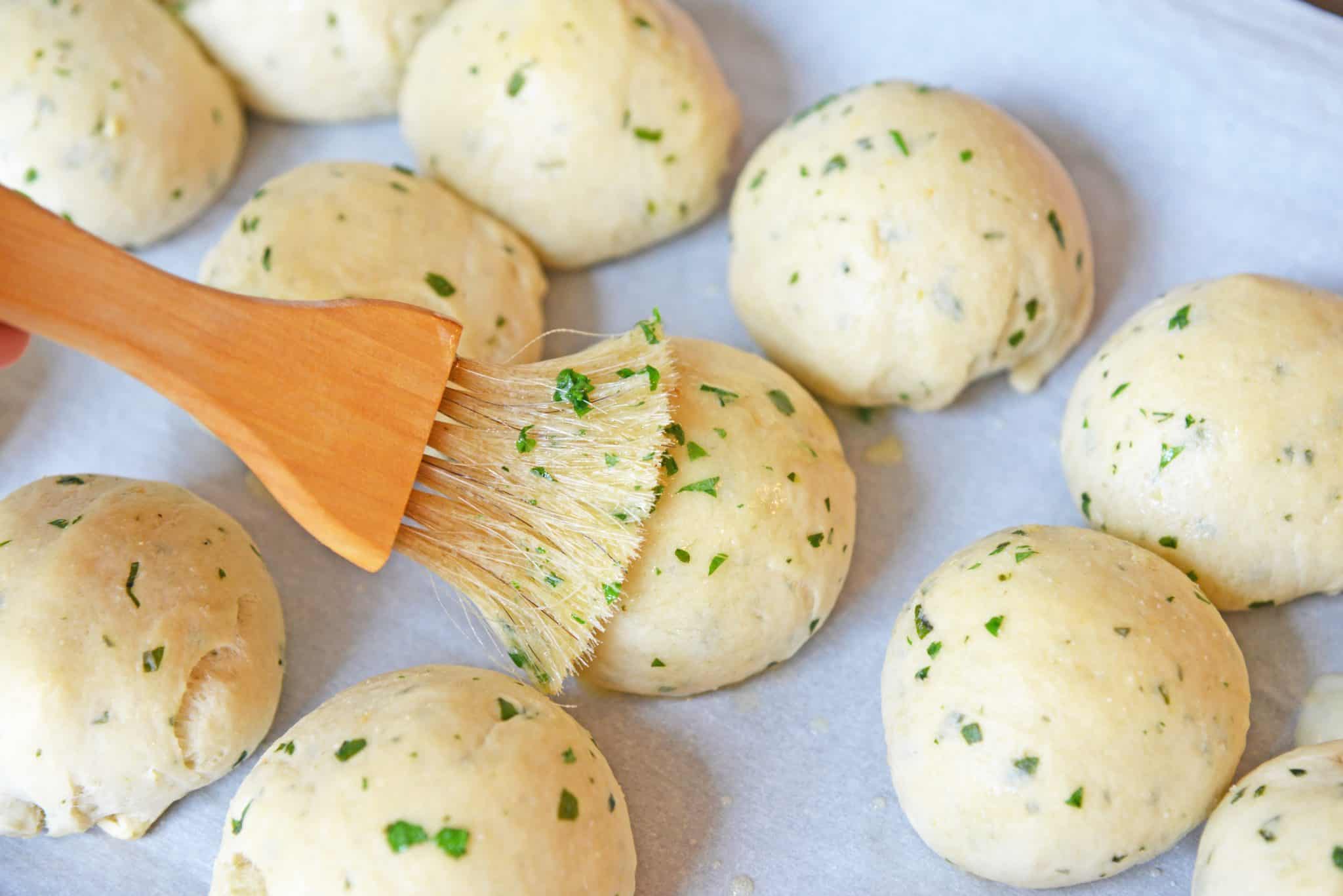 I have now made the same basic bread recipe into so many variations I can't even name them all! I'll be posting my version of Mexican Cheese Stuffed Garlic Rolls shortly.
Cheddar cheese, jalapenos and a garlicky butter basting. SO GOOD! I know bread isn't typically Mexican, but you'll want to serve it with every Mexican dish you make after you try these bad boys!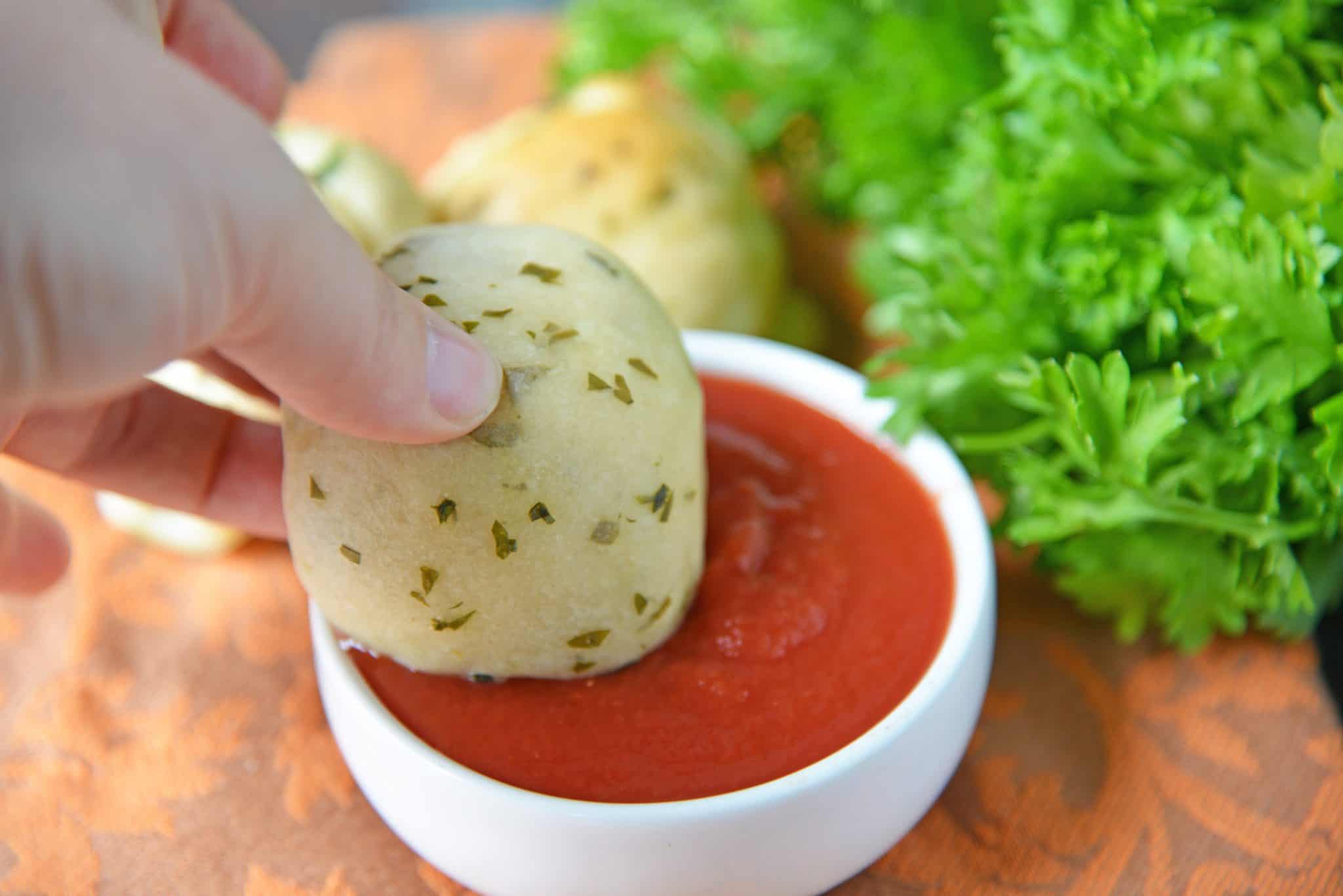 If and when you have time, try making your own mozzarella cheese! It is super simple with no additives, preservatives and you can control the salt. You won't believe you made your own CHEESE!
Most people will use store bought cheese and that is fine, but make sure it is a low moisture cheese. Reduced fat mozzarella string cheese sticks actually work the best. Cheese with high moisture will make your bread soggy when it melts.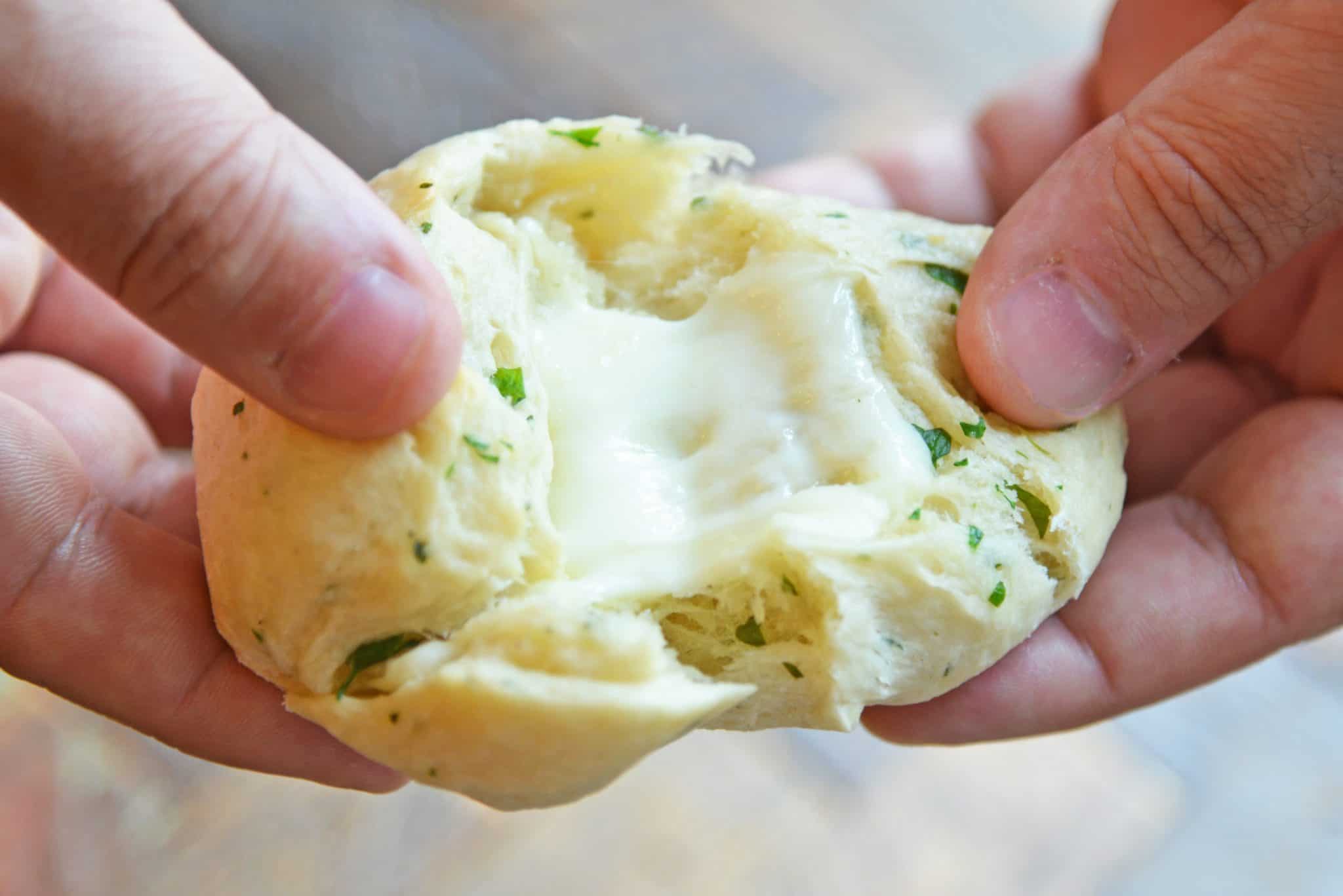 If you enjoy cheesy garlic bread like I do, here are a few easy Italian dishes to serve it with!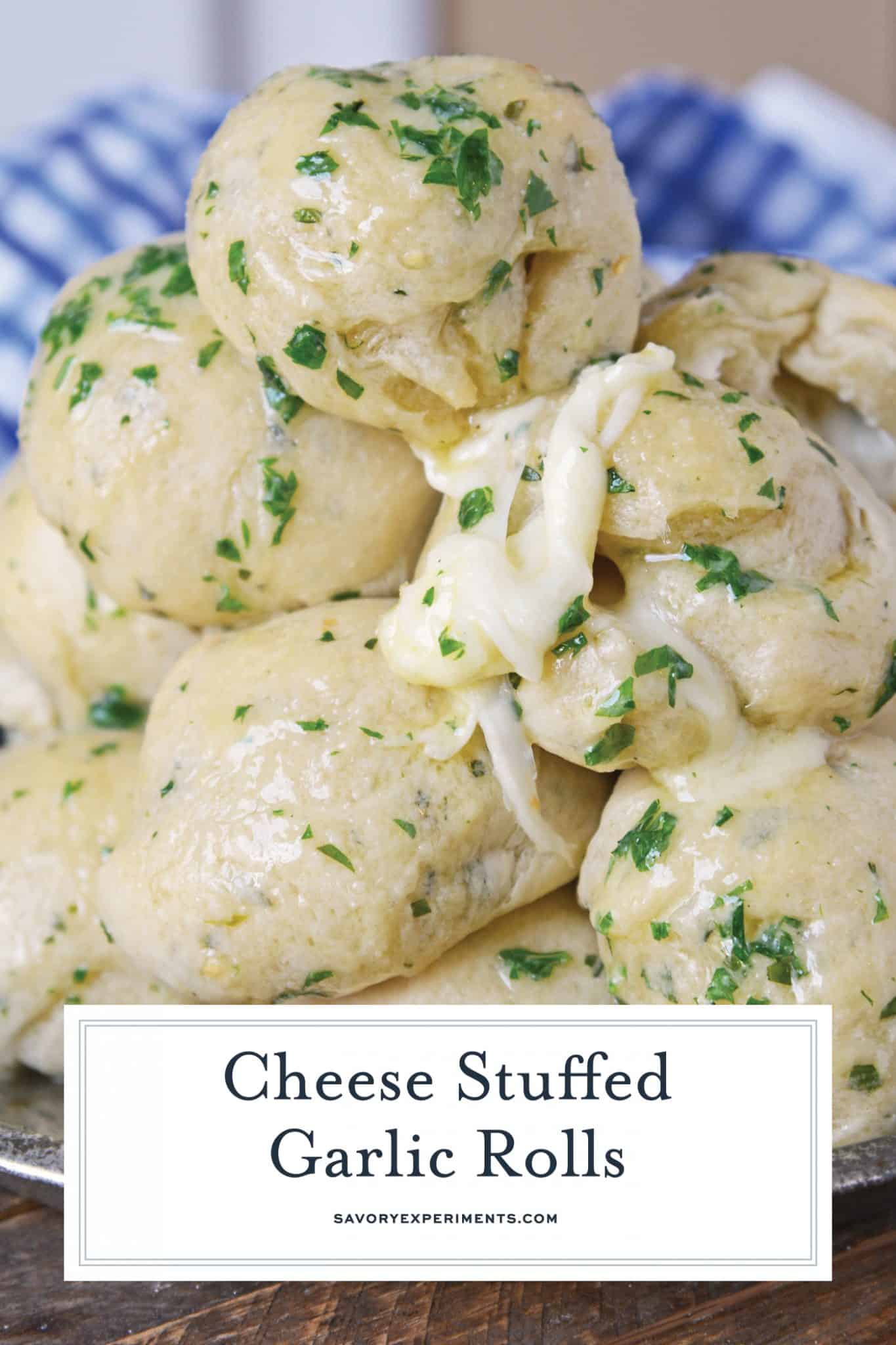 Tools for making Cheesy Garlic Bread Bombs:
Rolling Mat– For rolling out any dough or cookies or just protecting your counters and work space!
Rimmed Baking Sheet– another kitchen staple! You'll use this for prep work, roasting and much more. I have 7 at my house.
Stand Mixer- While this is an investment, I can guarantee you will use it more than you realize and will never regret the decision.

These Cheese Stuffed Garlic Rolls are delicious garlic and parsley rolls stuffed with gooey mozzarella cheese. Eat them plain or with a side of marinara.Click to Tweet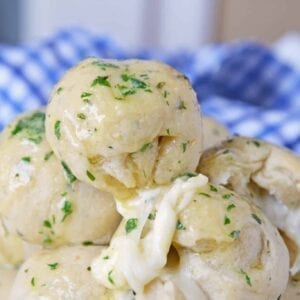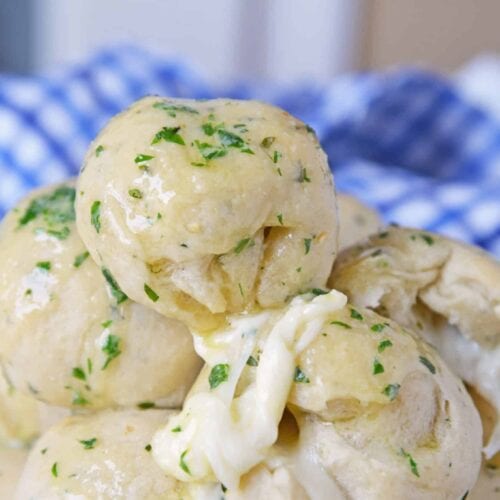 Cheese Stuffed Garlic Rolls
Garlic bread rolls stuffed with gooey cheese. Serve with marinara, if desired.
Cuisine:
American, Italian
Keyword:
best garlic bread, cheese stuffed bread
Ingredients
1

packet

active yeast

2

tablespoons

sugar

1

cup

warm water

3

garlic cloves,

pressed or finely minced

1/2

cup

butter,

melted and divided

1/4

cup

olive oil

3

cups

flour

2

teaspoons

salt

1/4

cup

fresh flat parsley,

chopped

7

ounces

mozzarella cheese,

14 cubes

1

teaspoon

garlic powder

Cooking spray
Instructions
Place yeast and sugar in the bowl of a stand mixer fitted with a bread hook. Mix and then pour in warm water. Allow to bloom for about 10 minutes, or until mixture becomes bubbly, swells, and is fragrant.

Blend in garlic, 1/4 cup melted butter (reserving the other 1/4 cup for basting the rolls at the very end), olive oil, flour, salt, and parsley. Blend with bread hook for 7-10 minutes, or until dough is elastic and pulls away from the side of the bowl.

Lightly coat a large mixing bowl with cooking spray. Turn dough into the bowl and flip one time to coat. This will prevent the dough from sticking to your bowl. Cover with a damp kitchen towel and place in a warm, draft-free place to rise for approximately 30 minutes.

When bread has risen, cut into half and then divide each half into 7 equal pieces. Flatten each piece with your palm, place a cheese chuck in the center and then cover, pinch and roll. Make sure there are no seams for the cheese to escape while baking. Repeat with for a total of 14 Cheese Stuffed Garlic Rolls. Place onto a baking sheet lightly coated with cooking spray.

Cover rolls with a damp kitchen towel and allow to rise again for 15-20 minutes. Preheat oven to 375 while you are waiting.

Bake for 11-13 minutes. Tap the top with the end of a wooden spoon, it should be hard and sounds hollow. Cheese Stuffed Garlic Rolls are a little difficult to judge and will be overcooked if you wait until they brown. By overcooked, I mean the cheese will escape and you don't want that!

While bread is baking, melt remaining 1/4 cup butter and mix with garlic powder. As soon as you remove your Cheese Stuffed Garlic Rolls from the oven, baste with butter and allow to sit for 2 minutes before serving. Please be careful, your Cheese Stuffed Garlic Rolls with be piping hot with melty cheese centers

If you've tried this recipe, come back and let us know how it was!
Nutrition Facts
Cheese Stuffed Garlic Rolls
Amount Per Serving
Calories 242
Calories from Fat 117
% Daily Value*
Total Fat 13g 20%
Cholesterol 28mg 9%
Sodium 481mg 20%
Potassium 55mg 2%
Total Carbohydrates 23g 8%
Protein 6g 12%
* Percent Daily Values are based on a 2000 calorie diet.