Pillowy soft and fluffy cloud bread made with cream cheese and herbs is easy to make, no fuss and a delicious recipe that takes only minutes to make. Wheat-free, gluten-free, and low carb, too!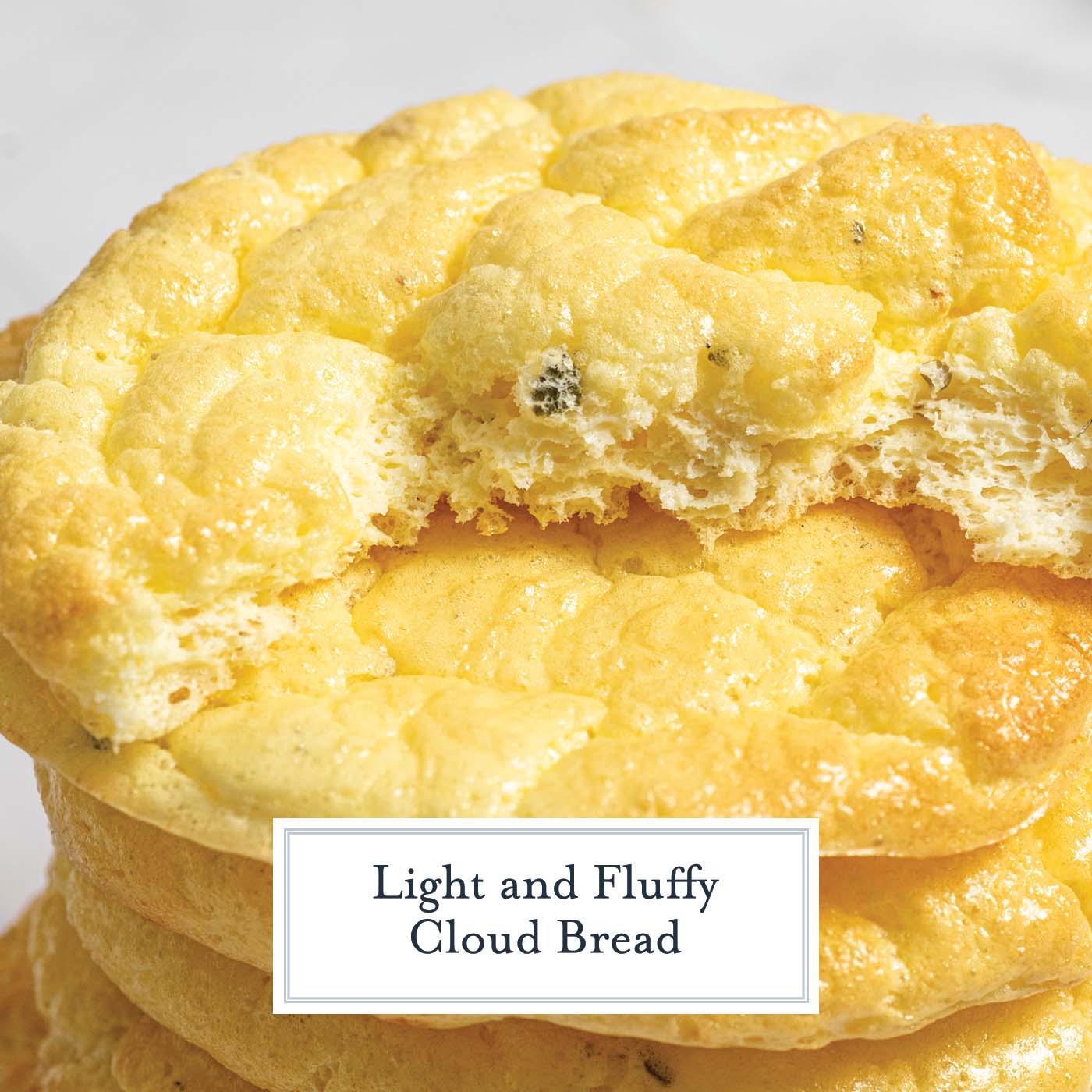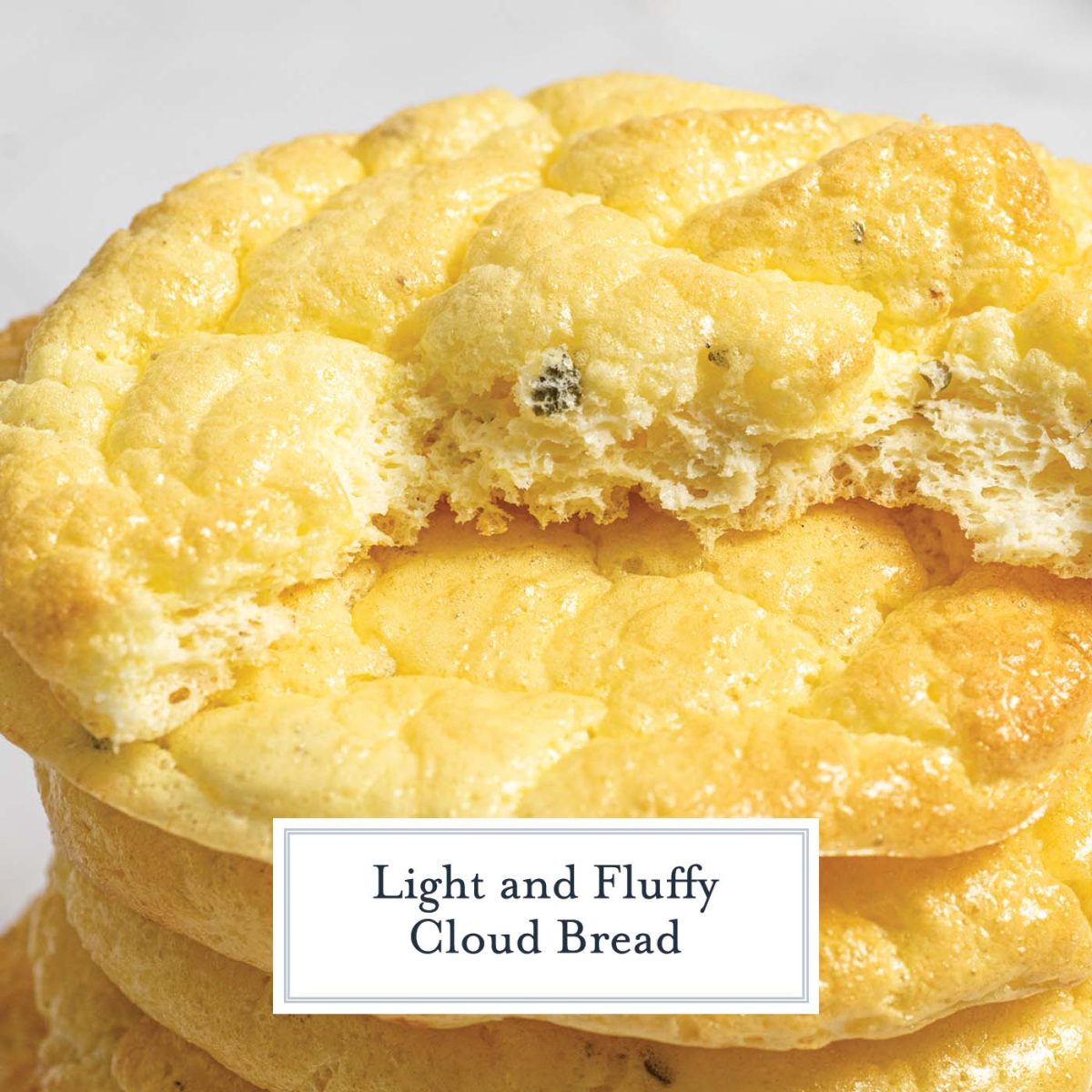 Cloud bread is one of those recipes that most people doubt… until they try it for themselves. Also called Oopsie bread, this recipe is much lighter than regular bread, lower in calorie, low carb, and high protein.
Although it's not actually bread, as it doesn't contain any flour or grains, this bread is a great substitute for toast. I like to use it as a light snack or to make sandwiches.
It is a soft, fluffy and extra light type of bread that looks a bit like pita bread. Usually, it's round in shape and about ½ inch thick. This makes it ideal to use instead of bread slices.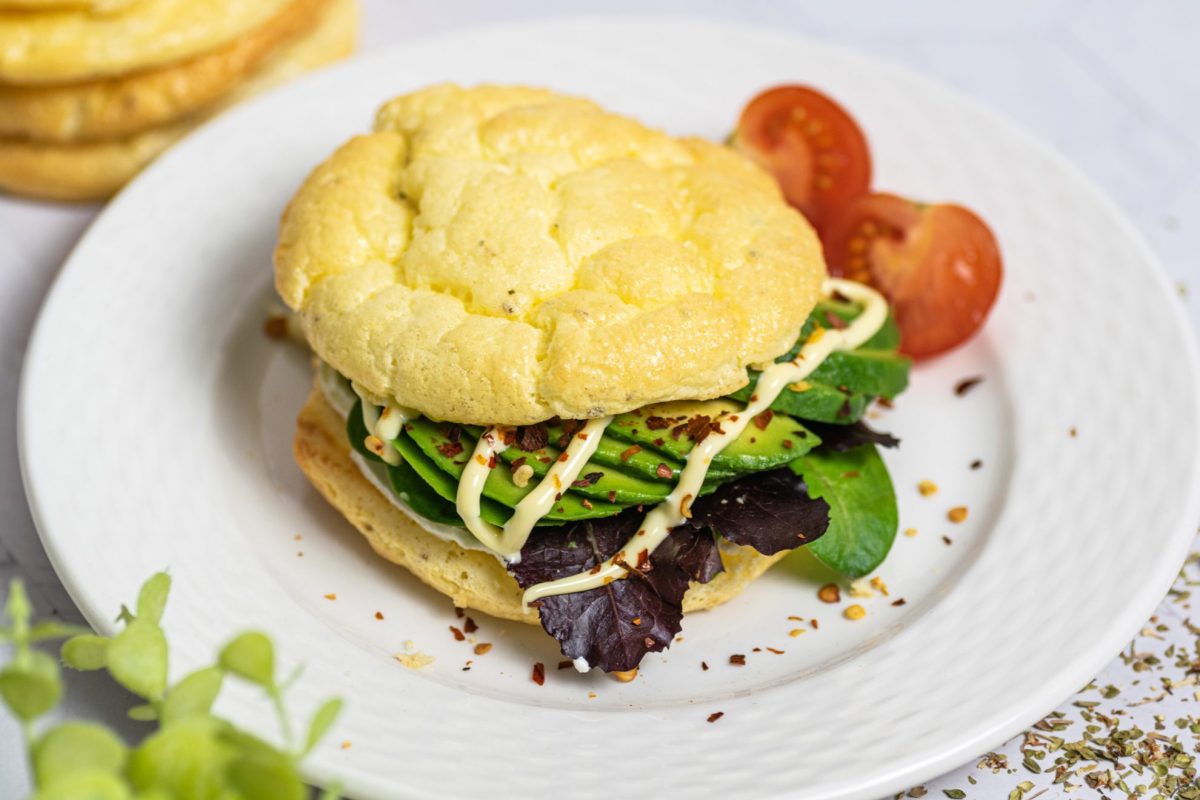 What is Cloud Bread
The two main ingredients in cloud bread are eggs and cream cheese. If made plain, cloud bread tastes a lot like cream cheese – milky with a hint of saltiness.
The egg whites are whipped into a meringue, which gives cloud bread its extra airy and light texture. I like to use more egg white than yolks, so the bread doesn't taste too eggy.
You can adjust the taste of your bread by adding different spices or herbs. Seasoning can make cloud bread go from good to WOW. Here are some of my favorites:
Oregano
Garlic powder
Paprika
Chilli flakes
Pink peppercorns
If you want to use cloud bread as a sweet snack, I recommend trying these flavors:
Ground cinnamon
Ground nutmeg
Cocoa powder
Vanilla bean paste
Freeze dried strawberry powder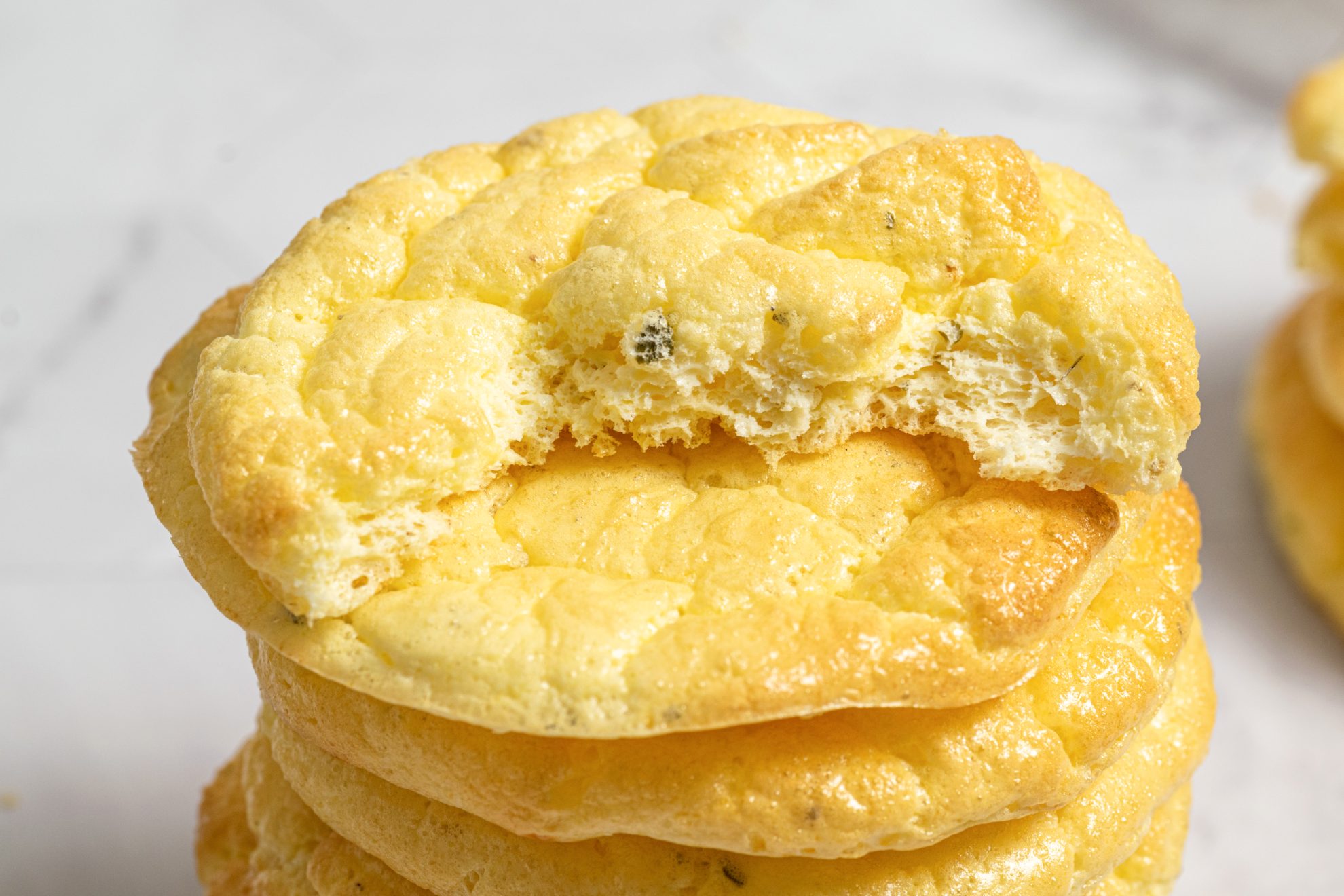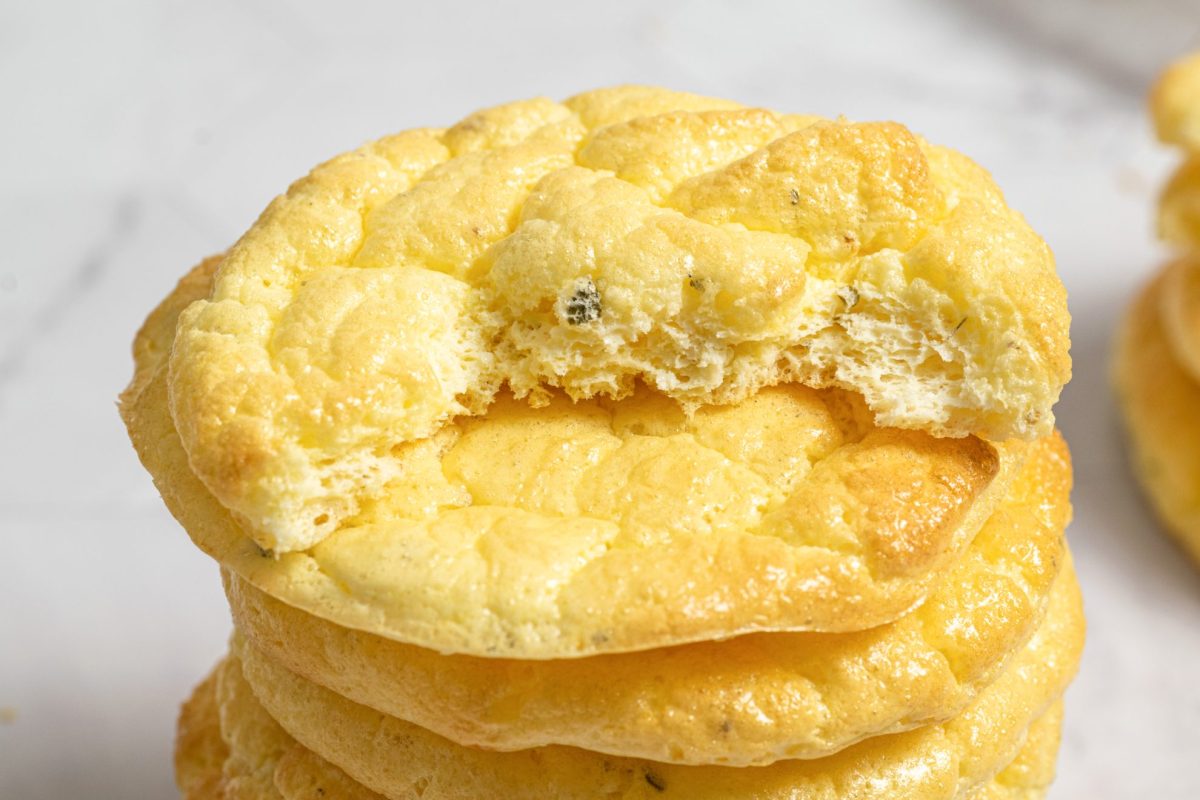 Why this Recipe is Great
Great for sandwiches: Cloud bread is the perfect shape and size to make sandwiches. Anything you can do with toast bread you can also do with cloud bread!
Easy to customize: You can add various spices and herbs to make cloud bread even more delicious. From Italian herbs to garlic powder and cinnamon, the possibilities are endless.
Quick & easy to make: This recipe takes only 5 minutes to prepare and 18 minutes to bake. From start to finish, it takes only 23 minutes to have freshly made cloud bread!
Low calorie: Cloud bread comes with all the perks of normal bread slices, minus the high calories. If you're careful with your calorie intake, cloud bread might just be the recipe for you.
Gluten-free: No wheat or other types of flour are used in making this recipe, so it's completely gluten-free.
No slicing needed: Cloud bread is baked in individual pieces, so no slicing is needed. This means you always have perfect and even slices of bread every time.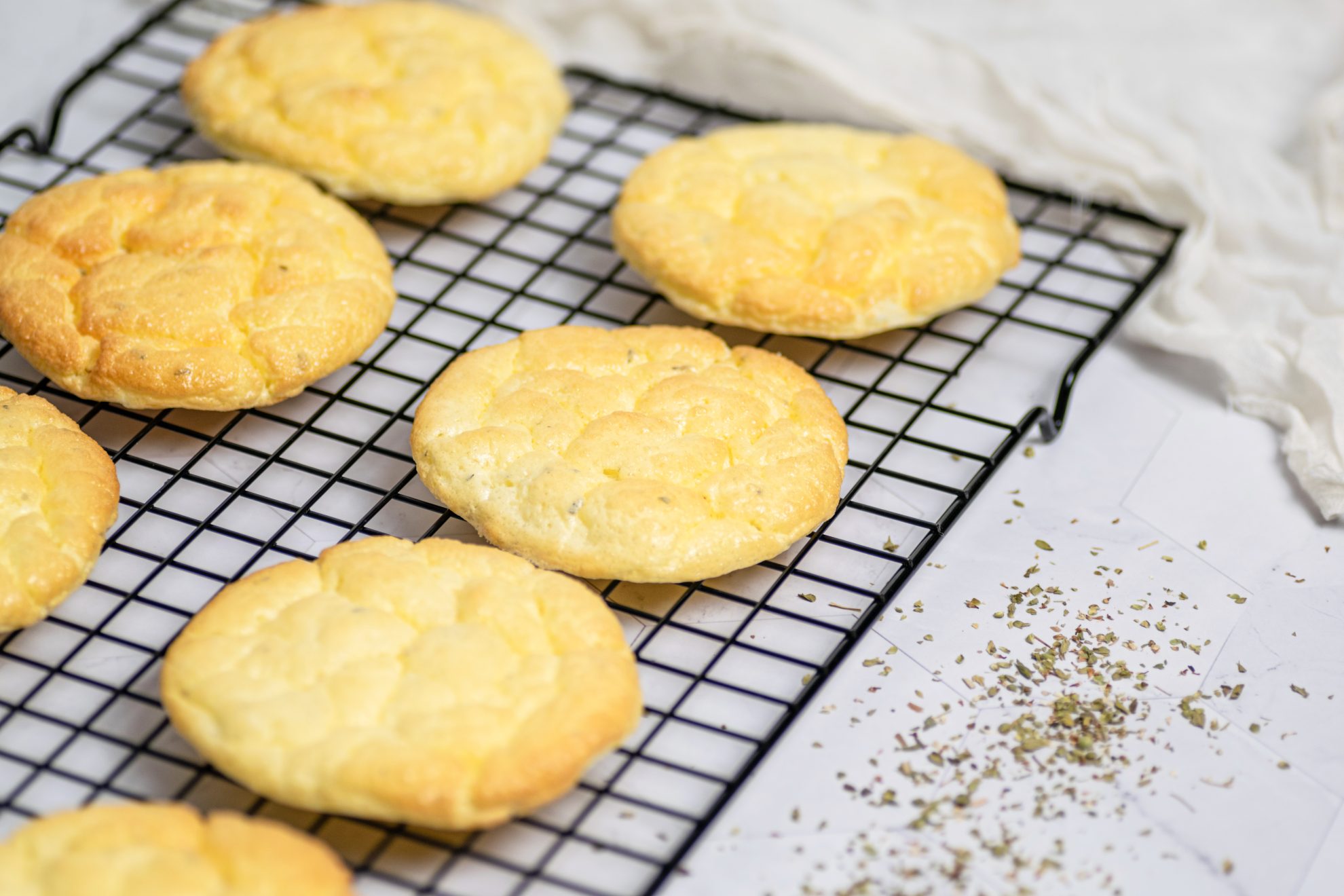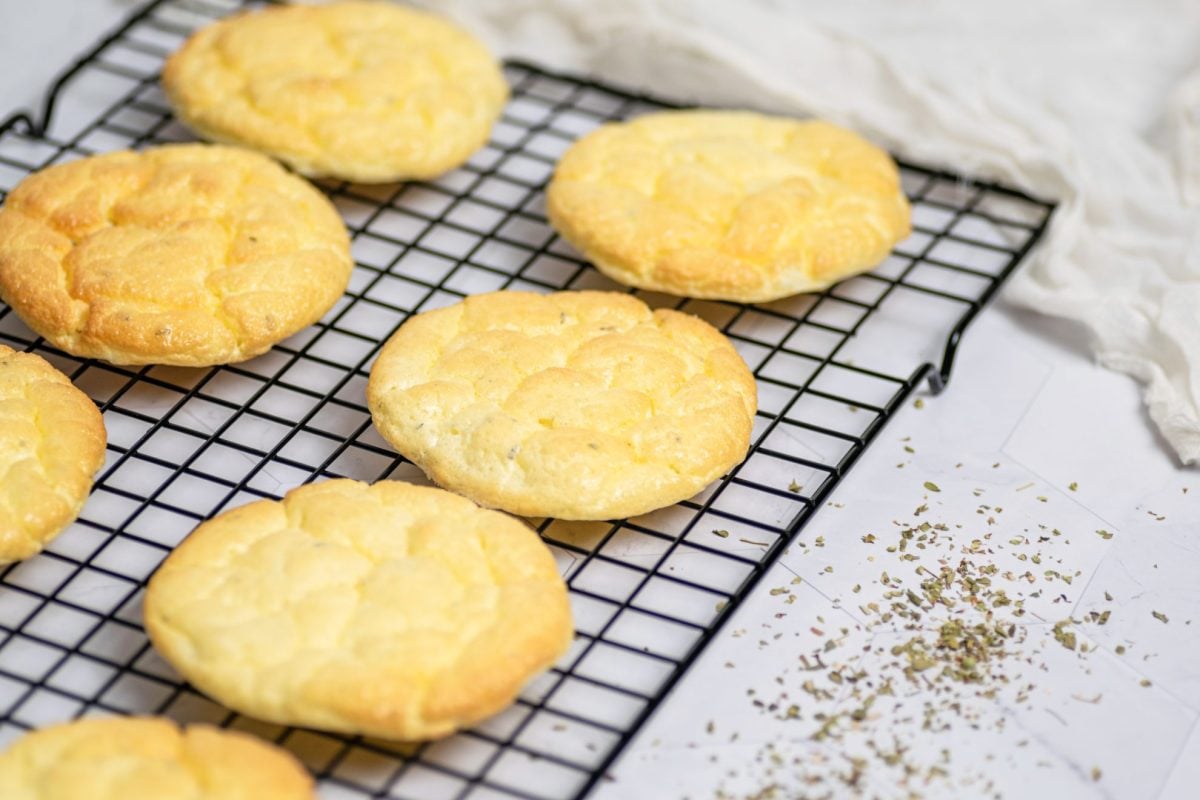 Cloud Bread Ingredients
All ingredients used in this recipe are simple and can be found in most households. Here's what's needed for this recipe:
Eggs – separated into egg whites and yolks. Make sure you leave them at room temperature for at least 2 hours before using.
Cream of tartar – this is probably the most unusual ingredient in this recipe. Cream of tartar is used as a stabilizer for the meringue, making egg whites fluff up more and better. If you don't have any, you can use some salt of 1 teaspoon of lemon juice when whipping the egg whites.
Cream cheese – essential for this recipe. I recommend using a full fat cream cheese, as low fat can be a little softer as they contain more water. You can substitute cream cheese with mascarpone cheese, which gives a silkier texture. Personally, I like the flavor of cream cheese better, but it's up to you.
Salt – fine sea salt of pink Himalayan salt work best. Although salt is optional, I recommend adding it to balance out the flavors.
Herbs & spices – I like to add dried oregano into my cloud bread because it gives a lovely fresh flavor. See the section above for more herb and spices suggestions.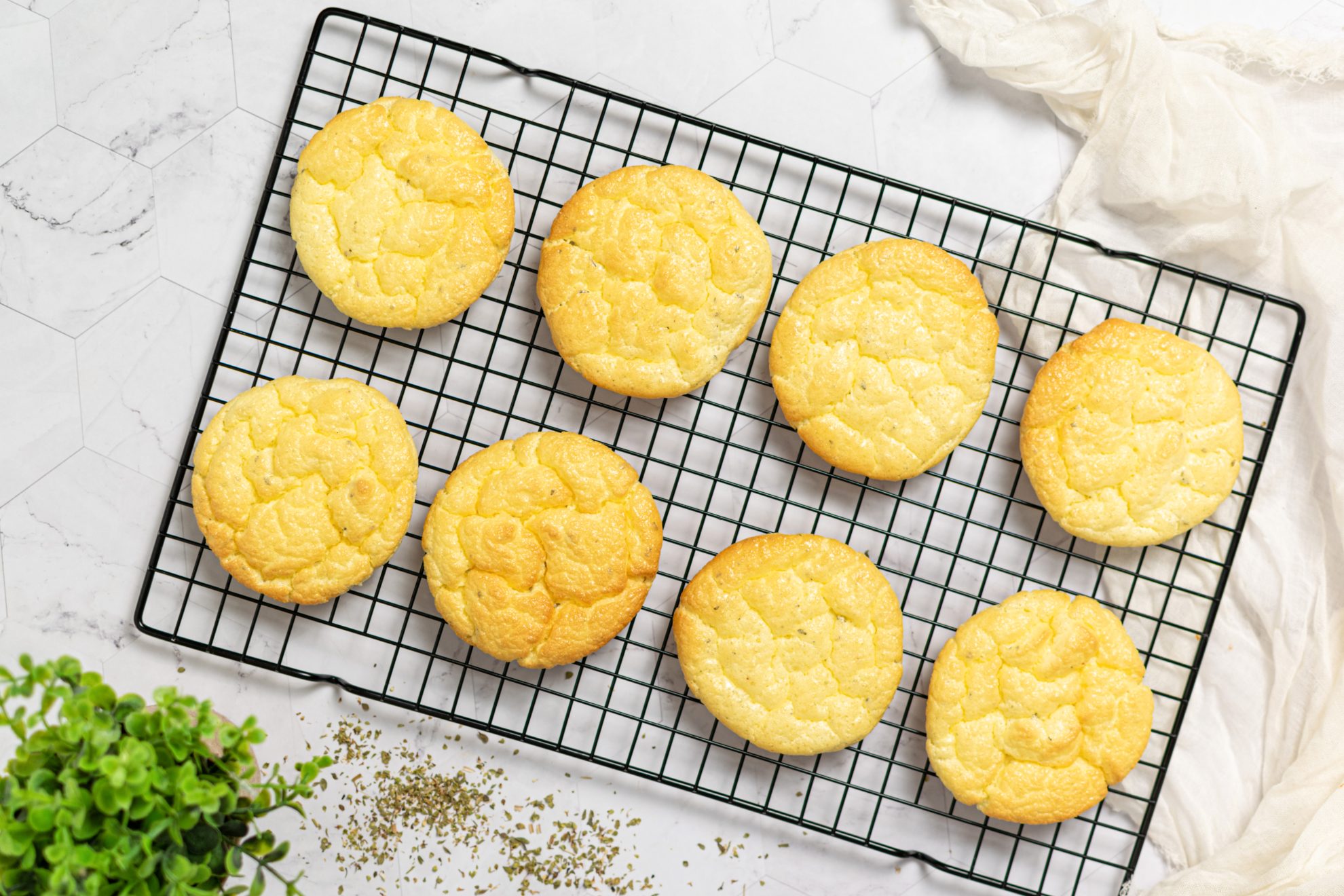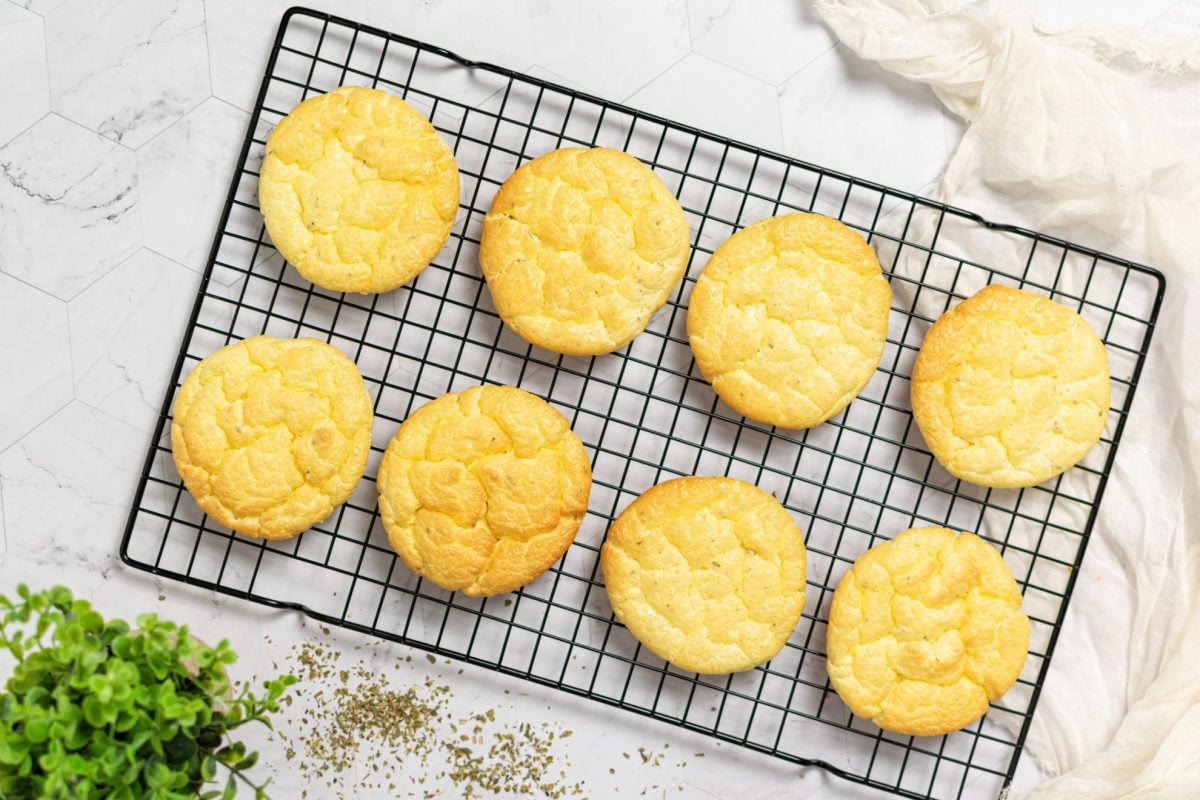 How to Make Cloud Bread
Making cloud bread is really easy and doesn't require any special techniques. It also takes just minutes to prepare the batter and it bakes very quickly too.
Using a hand mixer, whip up the egg whites and cream of tartar (or lemon juice) until stiff peaks.
Separately, mix the cream cheese, egg yolks and spices until pale in color.
Fold the egg white meringue into the cream cheese using a spatula. Be careful not to deflate the air, so go slow.
Scoop the batter into small discs onto a baking sheet. Bake until golden brown in color.

Ways to Enjoy
Sandwich – top with cream cheese, ham, avocado, or anything else you prefer. Cloud bread can be used exactly as you would use slices of toast.
Pizza – make mini pizzas by topping cloud bread with pepperoni and mozzarella.
As a side – I love having cloud bread with tomato soup or stews.
Quick snack – This works really well as a light snack in between meals. I like to have it with some homemade hummus or tzatziki sauce.
Light dessert – Top with whipped cream and berries for a guilt-free and delicious dessert.
Note: I do not recommend toasting this bread, as it can very easily burn. If you do toast it, keep a very close watch on it.
Storage & Freezing
Cloud bread can be stored in the fridge for up to 5 days in an airtight container. Place some parchment paper in between each cloud bread to prevent them from sticking together.
For longer term storage, you can also freeze it too. Place them in an airtight container with parchment paper in between each layer, then freeze for up to 3 months. Thaw in the fridge overnight.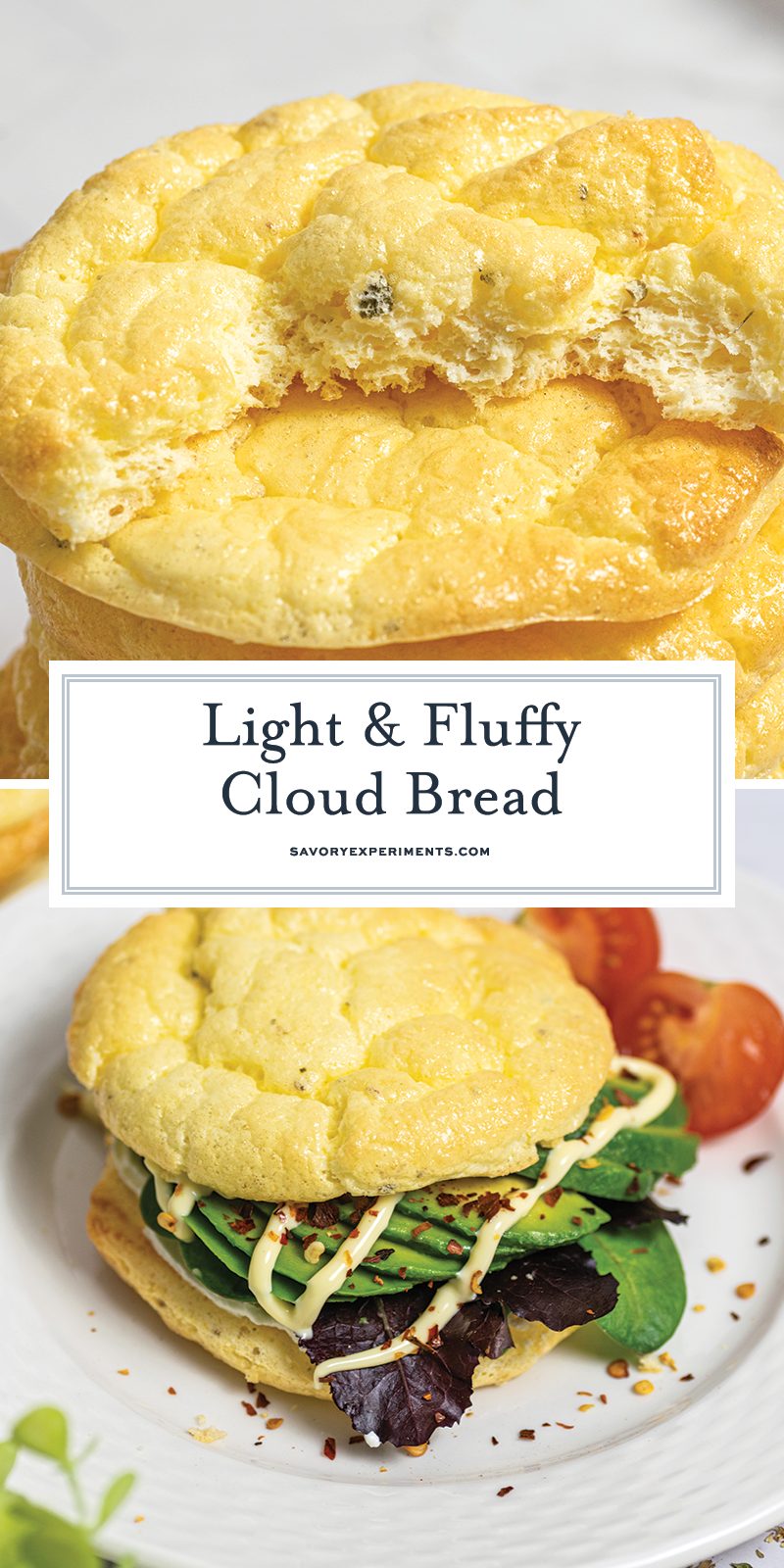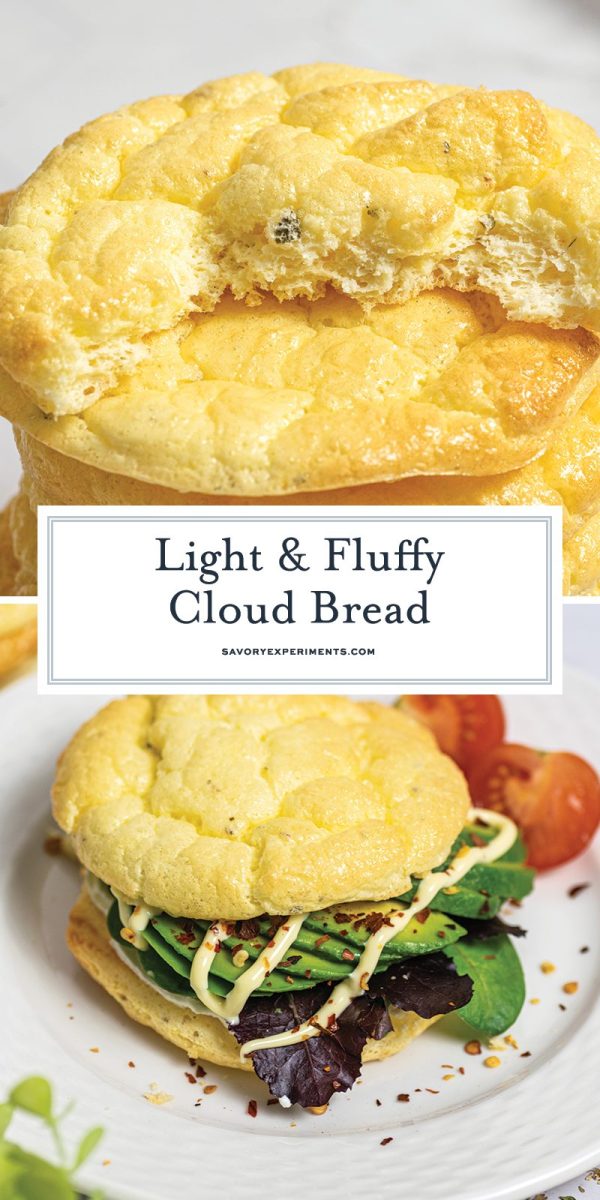 More homemade bread recipes: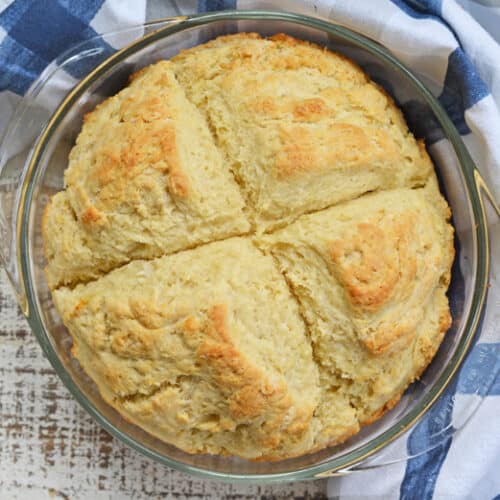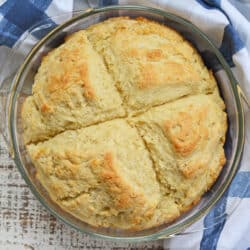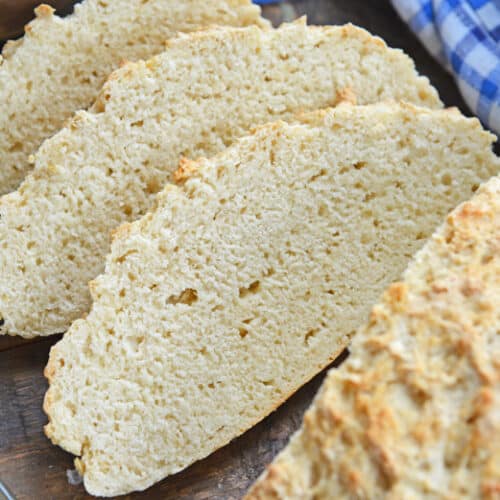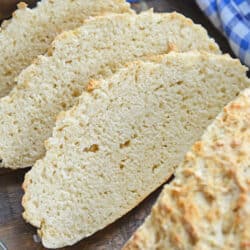 No Yeast Bread Recipe
This 2-Ingredient No Rise No Yeast Bread is perfect for those days when you need a loaf and can't get to the store. Just a few ingredients and 40 minutes to delicious homemade bread!
See The Recipe!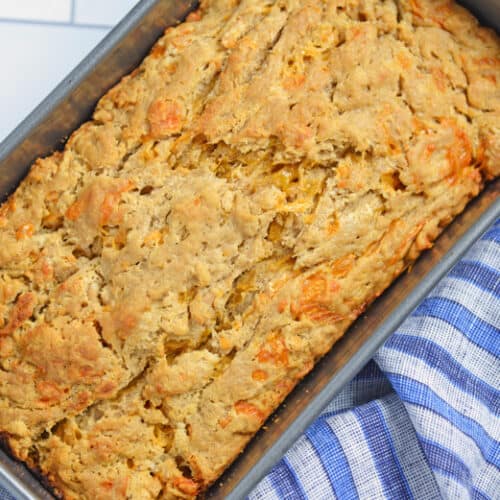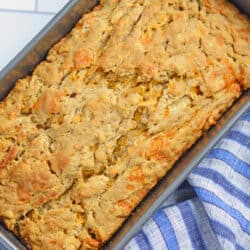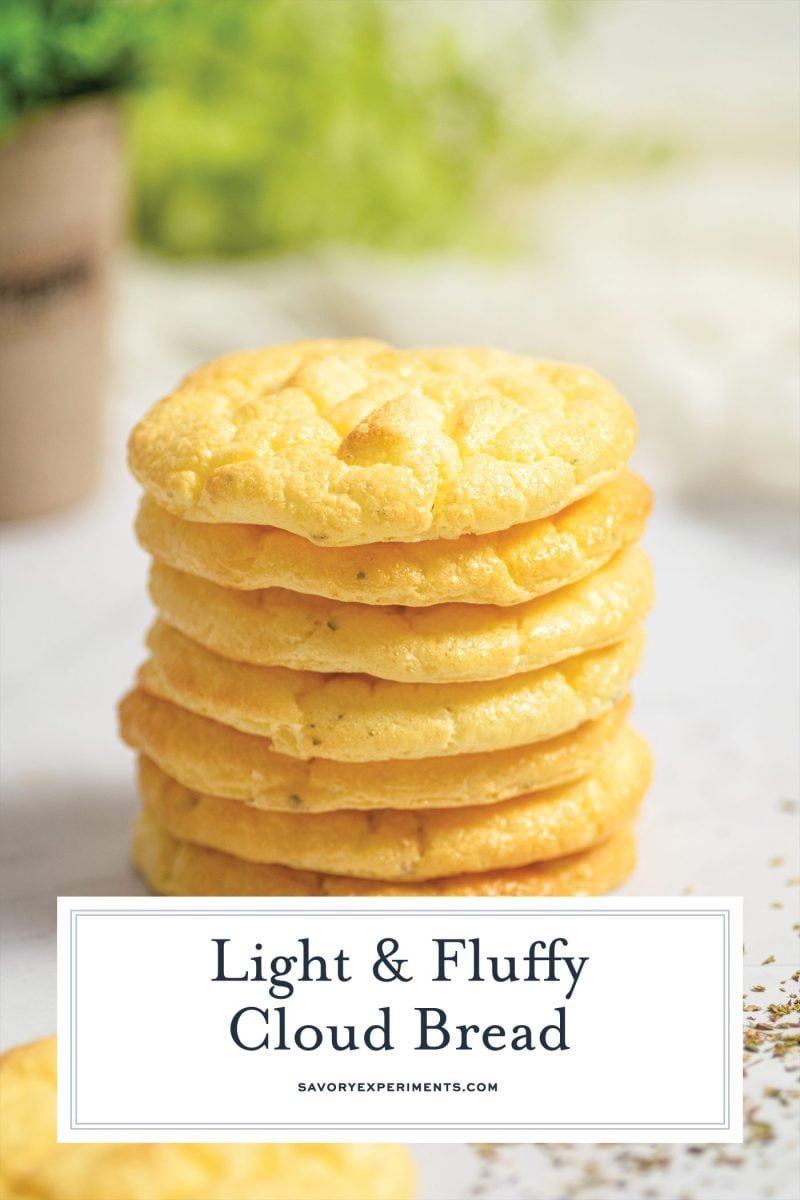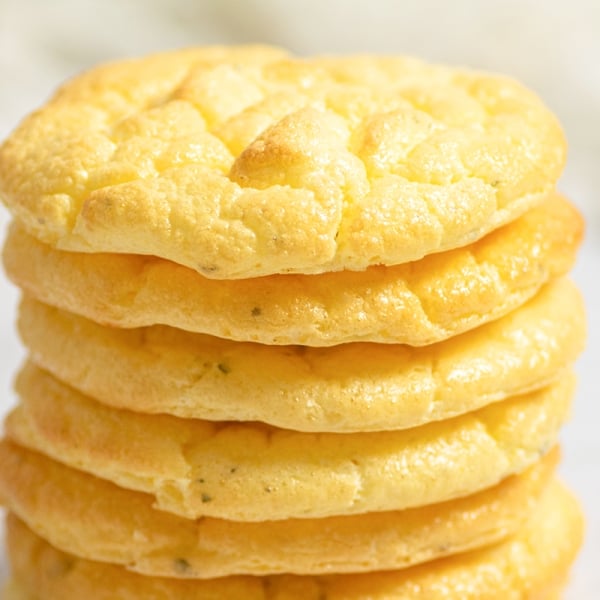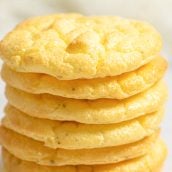 Cloud Bread
Soft & fluffy Cloud Bread made with cream cheese & herbs is easy to make and takes minutes to make. Wheat-free, gluten-free, and low carb!
Equipment
Heat Resistant Rubber Spatula
Instructions
Preheat the oven to 300°F and line a baking sheet with parchment paper.

Separate the egg whites and yolks. Place the egg whites and cream of tartar in a large bowl. Mix using a hand mixer or stand mixer on high speed for 2-3 minutes, or until stiff peaks are reached.

In a separate bowl add the cream cheese, garlic powder, salt and oregano. Mix until soft and creamy, then add in the egg yolks, combine well.

Using a spatula, fold in the egg white meringue into the cream cheese mixture. Do this gently, without deflating the air whipped into the eggs. The final mixture should be firm, not runny.

Scoop ¼ cup of mixture onto the baking sheet. Spread it into a 4-inch circle using the back of a spoon or a small spatula. Repeat for the remaining batter, leaving at least 3 inches between each cloud bread.

Bake for 15-18 minutes or until golden in color. To check if the cloud bread is ready, gently shake the baking sheet. If the center is no longer jiggly, the bread is ready.

Allow to cool before serving.

If you've tried this recipe, come back and let us know in the comments or star ratings!
Notes
Cream of tartar is optional, but highly recommended for a stable meringue. You can substitute it with 1 teaspoon of lemon juice.
Cream cheese can be substituted with mascarpone.
Store in an airtight container in the fridge for up to 5 days.
Nutrition
Calories:
45
kcal
,
Carbohydrates:
1
g
,
Protein:
3
g
,
Fat:
3
g
,
Saturated Fat:
2
g
,
Polyunsaturated Fat:
1
g
,
Monounsaturated Fat:
1
g
,
Cholesterol:
64
mg
,
Sodium:
157
mg
,
Potassium:
50
mg
,
Fiber:
1
g
,
Sugar:
1
g
,
Vitamin A:
157
IU
,
Vitamin C:
1
mg
,
Calcium:
17
mg
,
Iron:
1
mg