This is an easy bolognese sauce recipe! But just what is bolognese? It might not be what you think…
Read this mouth watering recipe and you will find out!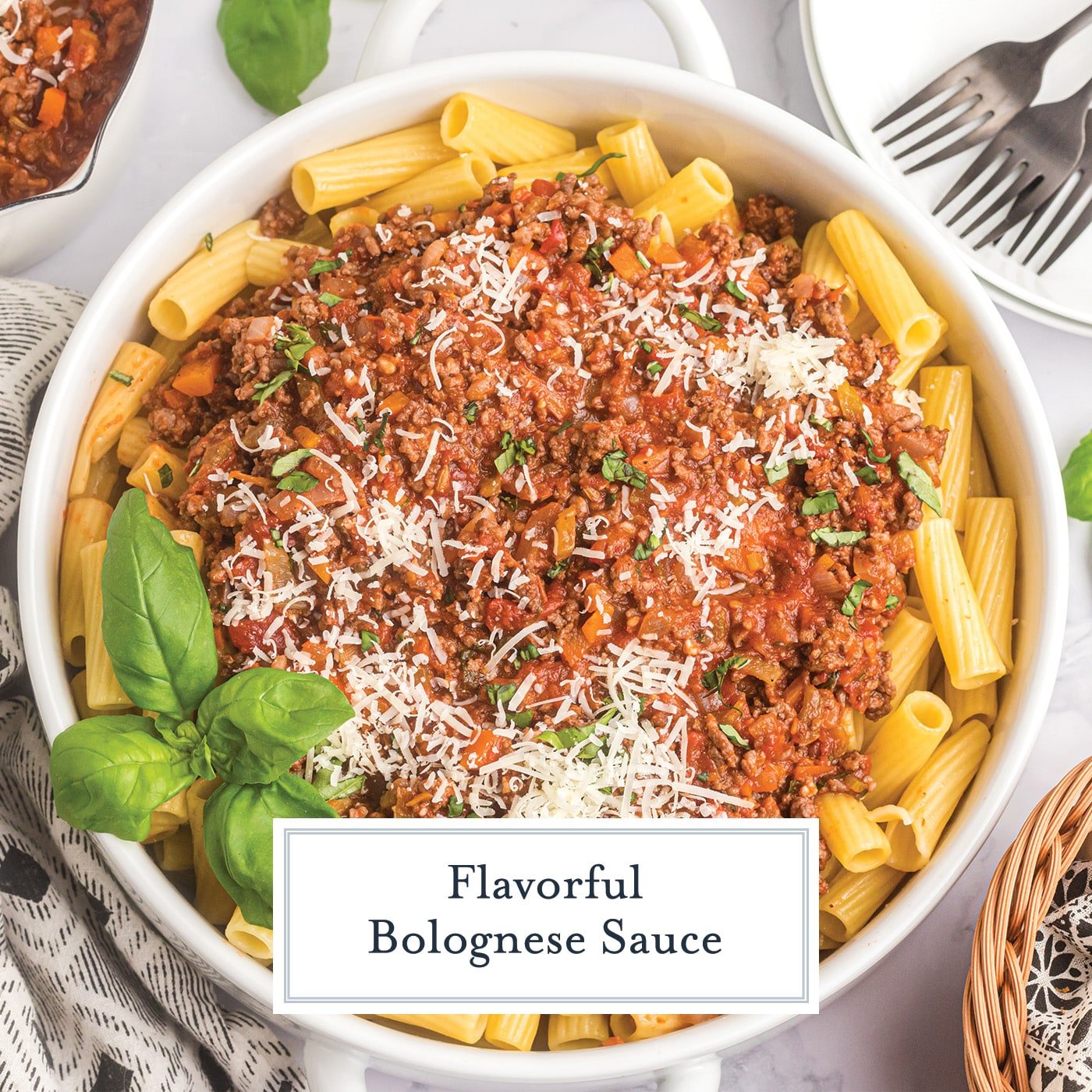 Take 50 minutes out of your day and you could have a delicious bolognese sauce that is to die for! It is just that good!
It will take your pasta night to the next level and is full of delicious flavor that the whole family is sure to enjoy. Check out just how easy it is to make.
What is Bolognese Sauce?
Did you know that the earliest record of bolognese comes from the late 1800s, from a town just outside of the Italian city of Bologna, yes the same place as the lunch meat.
Traditional preparation of a bolognese sauce starts with sweating the trinity of vegetables, carrots, onions and celery, in a large sauce pot. The addition of tomatoes, herbs, wine and milk (or cream) finishes off the sauce before ground meat is added, making it a traditional ragu.
While in a bolognese recipe ground beef is nearly always a main ingredient, ground pork, pancetta (or bacon) and veal are also commonly used. I like to add a few crumbled Italian sausages or even a chorizo link for smoky flavor and a little spice.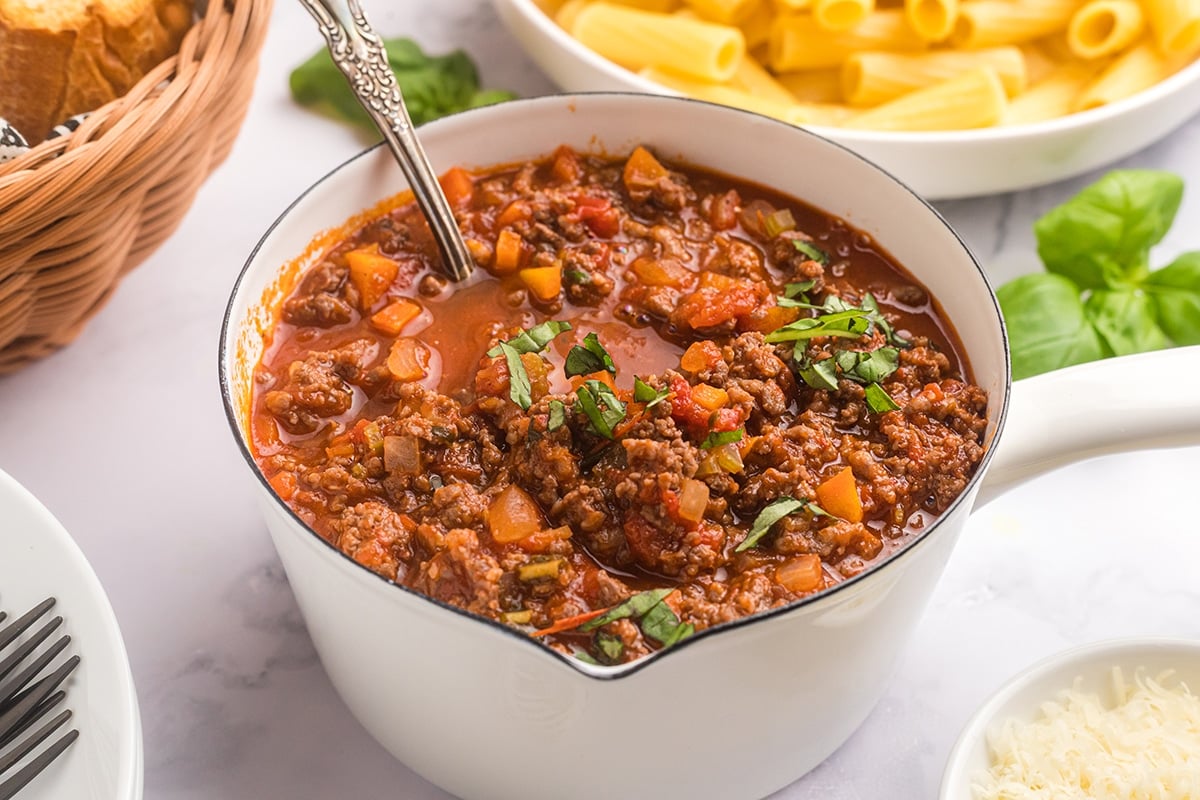 Garlic is also absent from the original versions of Bolognese Sauce, but I love garlic and can't fathom leaving it out. Garlic just shouts Italian food!
This bolognese sauce recipe is simplified, leaving out long hours of simmering that does build flavor, but takes a lot of time. I also omitted the milk that is a traditional ingredient and made wine optional.
Bolognese Sauce in the US is commonly seen on menus as "Spaghetti Bolognese" but rarely (never) served in Italy. In fact, it is forbidden to serve or even mention Bolognese Sauce being served over spaghetti within the limits of Bologna, the namesake city.
Instead, Bolognese Sauce serves best with wide, flat noodles such as tagliatelle or pappardelle or tube-shaped like penne or rigatoni. Also use it in lasagna or ladle over stuffed shells.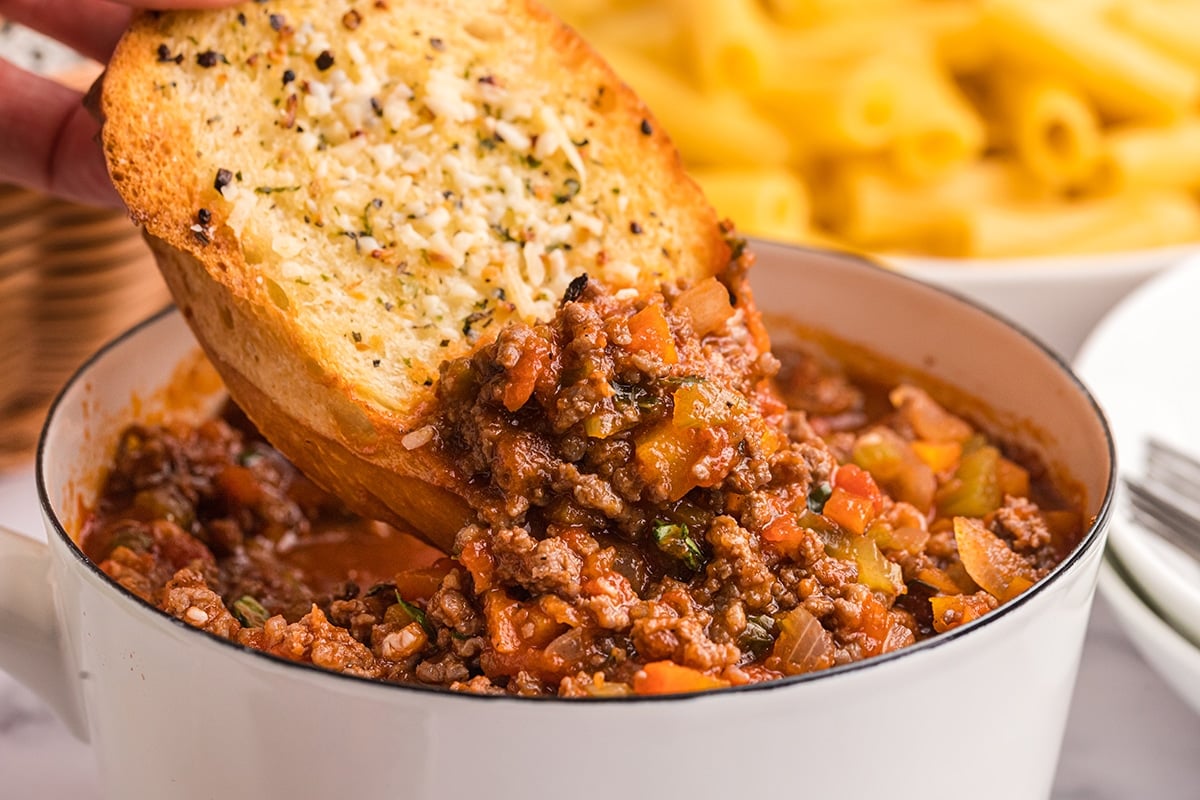 Why You'll Love This Bolognese Sauce
There are so many reasons to love this easy sauce, but here are a few of our favorites:
Quick and easy – Compared to some homemade sauces that are a labor of love, this sauce is made with only three steps and in under one hour.
Robust flavor – With ingredients like red wine, fresh basil and chopped vegetables, the flavor of this sauce is out of this world.
Versatile – This sauce doesn't have to be used only over your favorite pasta noodle. Use it as a layer in your lasagna too.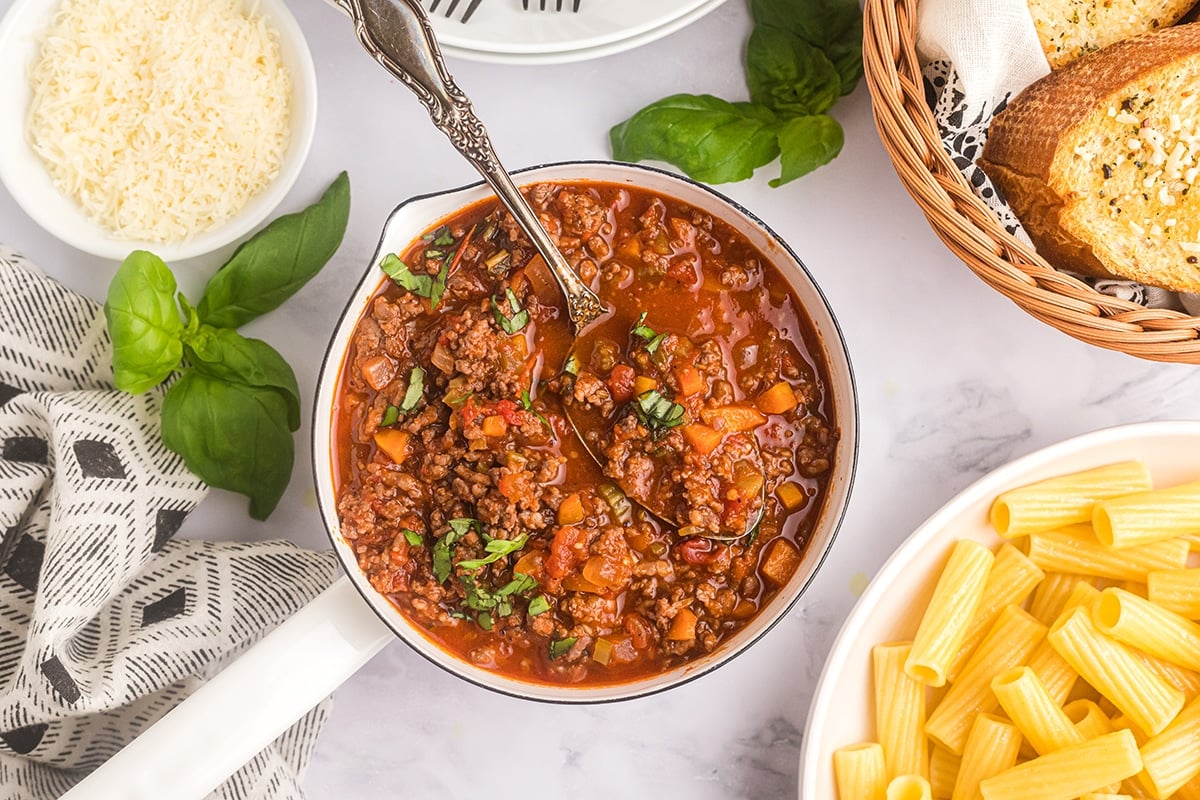 Ingredients
The fresh ingredients are what make this the absolute best bolognese sauce recipe. Some of them you might already have on hand, but anything you don't can easily be found in the grocery store.
Ground beef – I prefer to use the leanest ground beef that I can find. Because we're also using sausage, we don't need to worry about the fat content of the beef.
Hot Italian sausage – Make sure to remove the casing and crumble. I like to use hot sausage, but you can use mild if you don't want your sauce to be too spicy.
Extra virgin olive oil – This is what we'll be using to saute the vegetables. You can also use another neutral oil like vegetable oil if you wish.
Vegetables – I use a blend of white onion, large carrots and celery. This adds not only heartiness, but also flavor to this dish. You can use a food processor to chop them more finely if you'd like.
Garlic – I always prefer to use fresh garlic cloves rather than the pre-minced jarred version at the gorcery store. The result is a fresher, more pungent flavor when using fresh.
Crushed tomato – I like to use canned san marzano tomatoes to make it easier, but you could also use tomato paste or tomato puree if you don't want chunks of tomatoes.
Basil – Fresh basil makes all the difference in this recipe.
Red wine – This ingredients is optional, but highly recommended. The robust wine adds a delicious and distinct flavor to this authentic bolognese sauce that can't be beat.
Salt and pepper – I use a blend of sea salt and freshly ground black pepper. You can add these to taste.
Pasta – The pasta shape is really up to you, but I prefer something that can soak up all the deliciousness. Homemade pasta or fresh pasta from the grocery store have even better flavor and can really elevate the dish.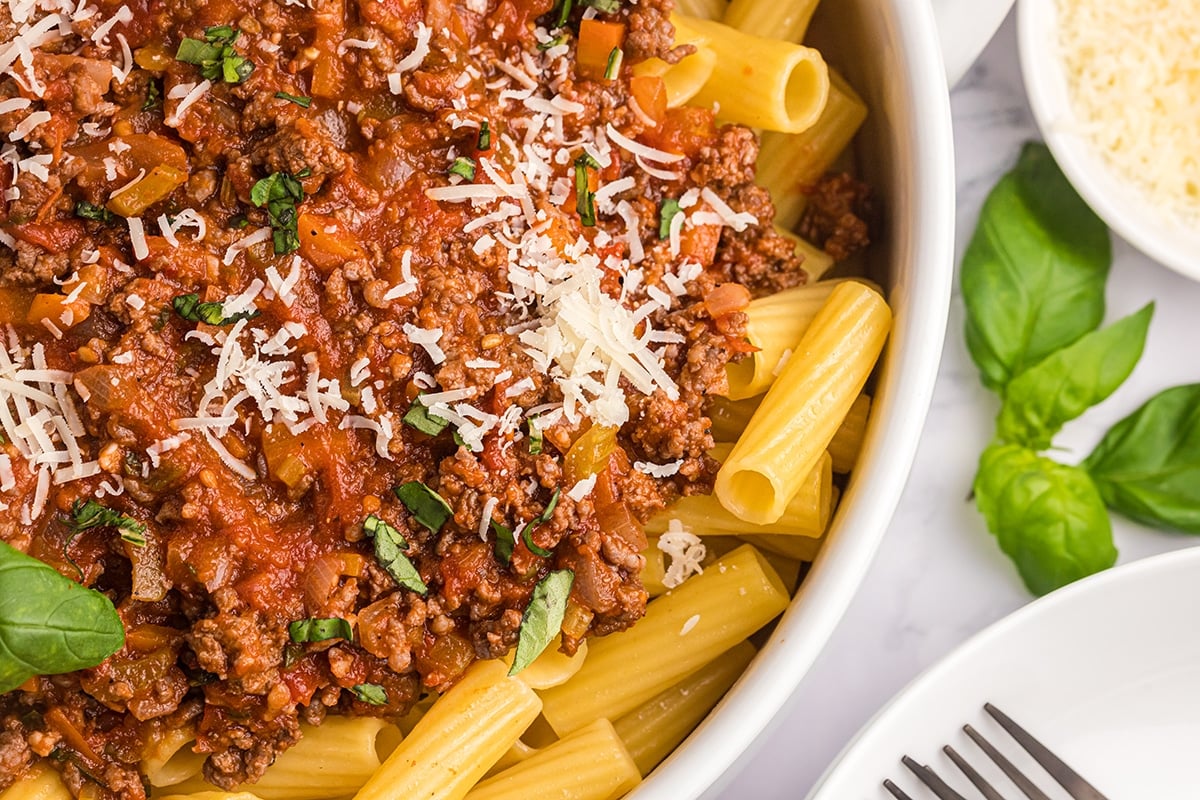 How to Make This Quick Bolognese Recipe
With all the flavor and deliciousness, you'd expect this sauce to take all day. You will be pleasantly surprised when you find out it takes less than one hour!
Cook meat. Heat a large Dutch oven or sauce pot over medium heat. Add ground beef and crumbled sausage. Continue to break apart and cook. Drain and set meat aside.
Cook veggies. In the same Dutch oven or sauce pot, heat extra virgin olive oil. Add chopped onion, celery, carrot and garlic and cook until soft. Add remaining ingredients, including cooked ground meat. Stir well.
Simmer. Simmer on low and serve over pasta of choice.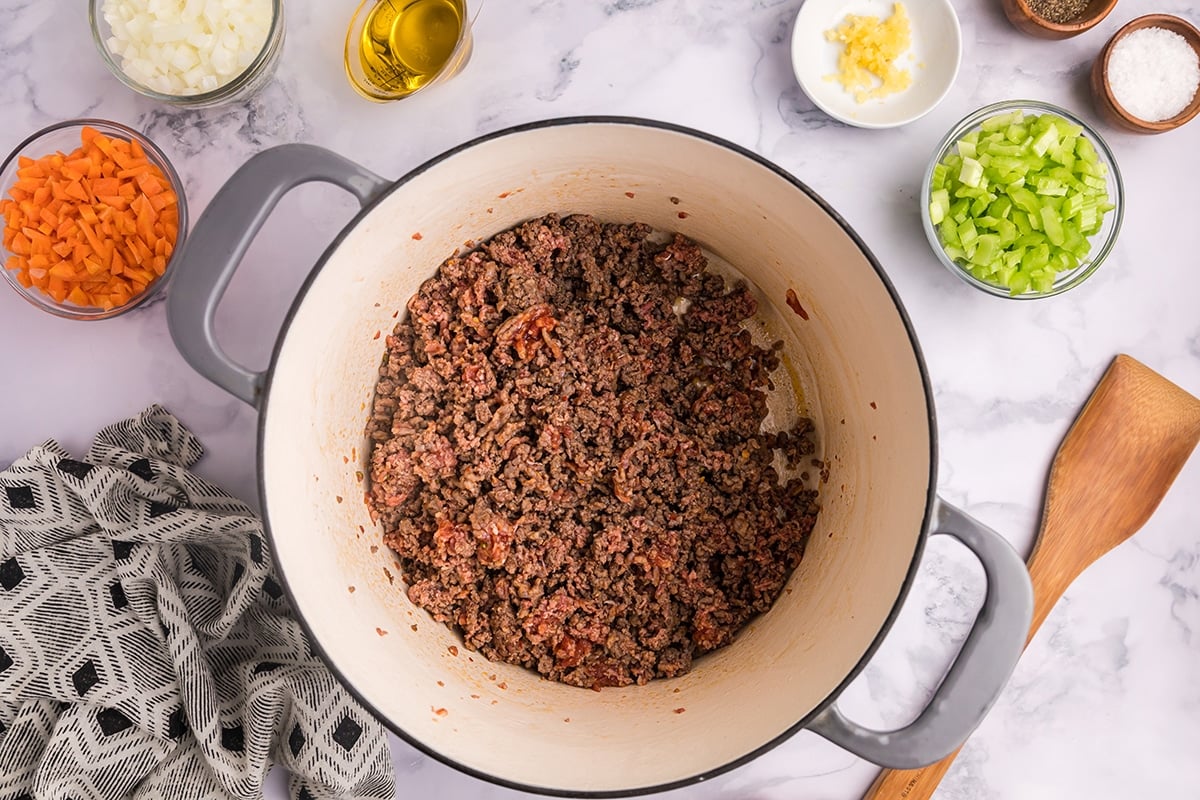 What to Serve with Bolognese Sauce
The most obvious way to use this sauce would be to make pasta bolognese. Served over your favorite pasta, this sauce is incredible.
You can also use this sauce when making lasagna. The hearty texture and robust flavor really will elevate your favorite pasta dish.
I always like to serve some homemade garlic bread and a fresh side salad to go along with any pasta I make.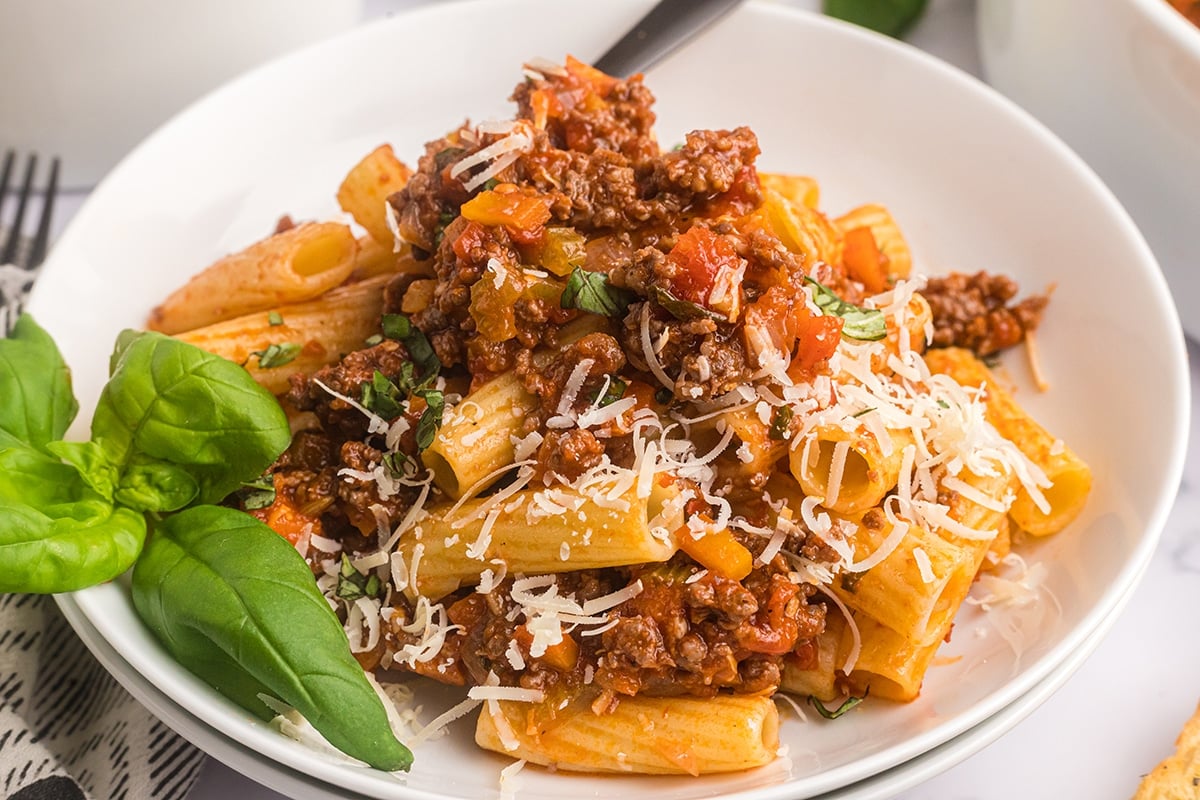 Variations
There are probably 100 ways to make a homemade bolognese sauce, this recipe just happens to be my favorite. But if you'd like to make it your own, here are a few suggestions:
Make it creamy – You can always throw in a splash of heavy cream or a little milk to make this pasta sauce even more decadent and delicious.
Lasagna bolognese – Besides just tossing with regular pasta, you could totally use this rich sauce to layer into lasagna. The result is a heartier version of your favorite pasta.
Spice it up – If you like your classic bolognese sauce a little on the spicier side, try adding some red pepper flakes into the mix. You can also serve them on the side so that each person can spice it to their liking.
White wine – While the flavor won't be as robust as using red wine, you could certainly use white wine instead.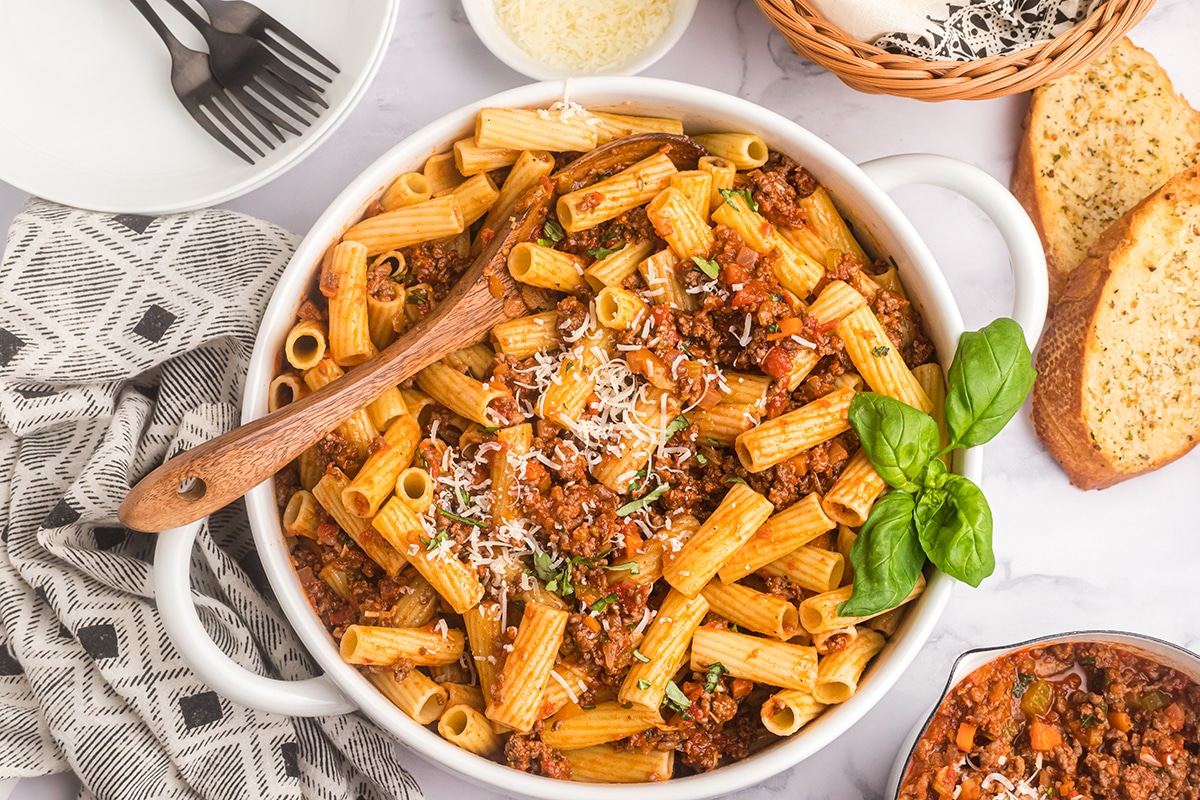 Storage and Freezing
Storage: You can store any leftover sauce in an airtight container in the refrigerator for up to four days.
Freezing: This thick meat sauce also freezes well. Store in a freezer plastic bag or other airtight container for up to three months.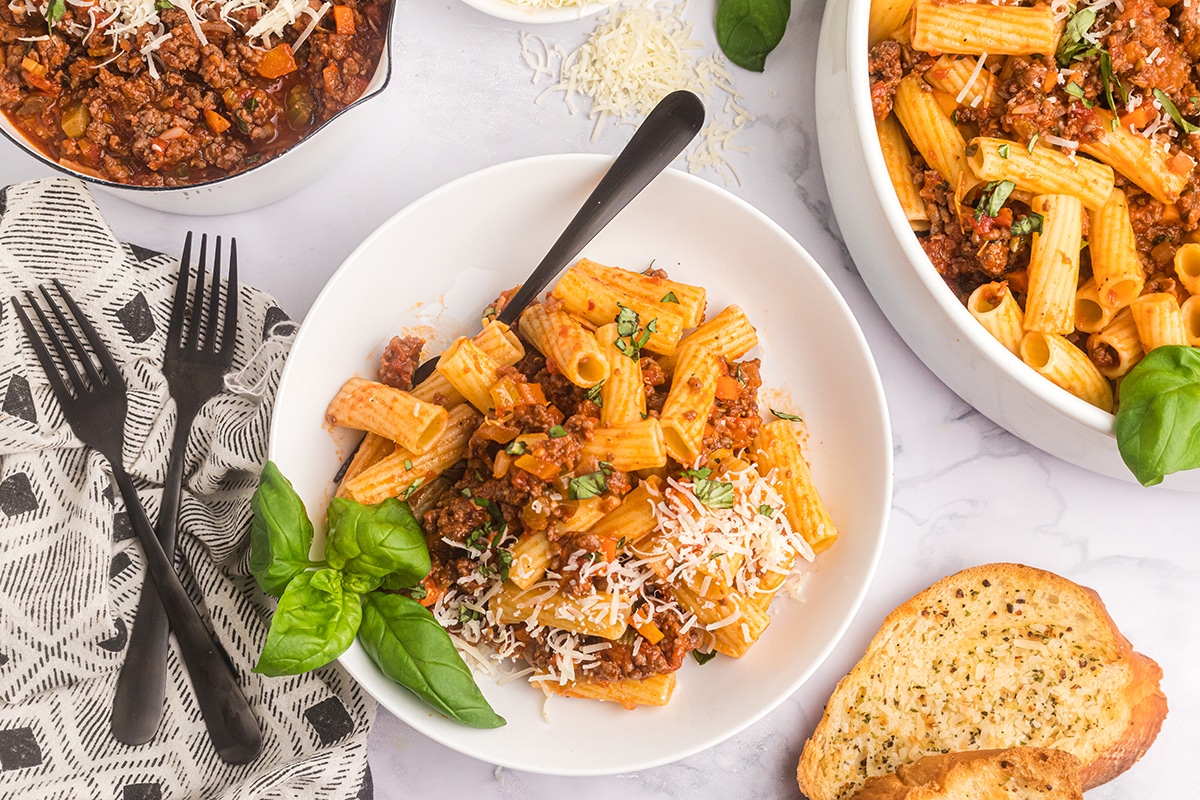 Frequently Asked Questions
What is the difference between Bolognese sauce and spaghetti sauce?
There is actually a big difference between the two sauces. A bolognese sauce always has meat, while traditional spaghetti sauce does not. Most bolognese recipes are also creamy, where spaghetti sauce is not.
Is marinara sauce the same as Bolognese sauce?
They are not the same. They usually use different types of tomatoes, herbs and spices, require different preparation time, and have different textures, flavor, and usage. Bolognese sauce is thicker and has meat, while marinara sauce is thinner and does not.
Why is meat sauce called bolognese?
Not all meat sauce is considered a bolognese, but all bolognese sauces have meat. Bolognese is actually more of a ragu than the traditional meat sauce that you think of.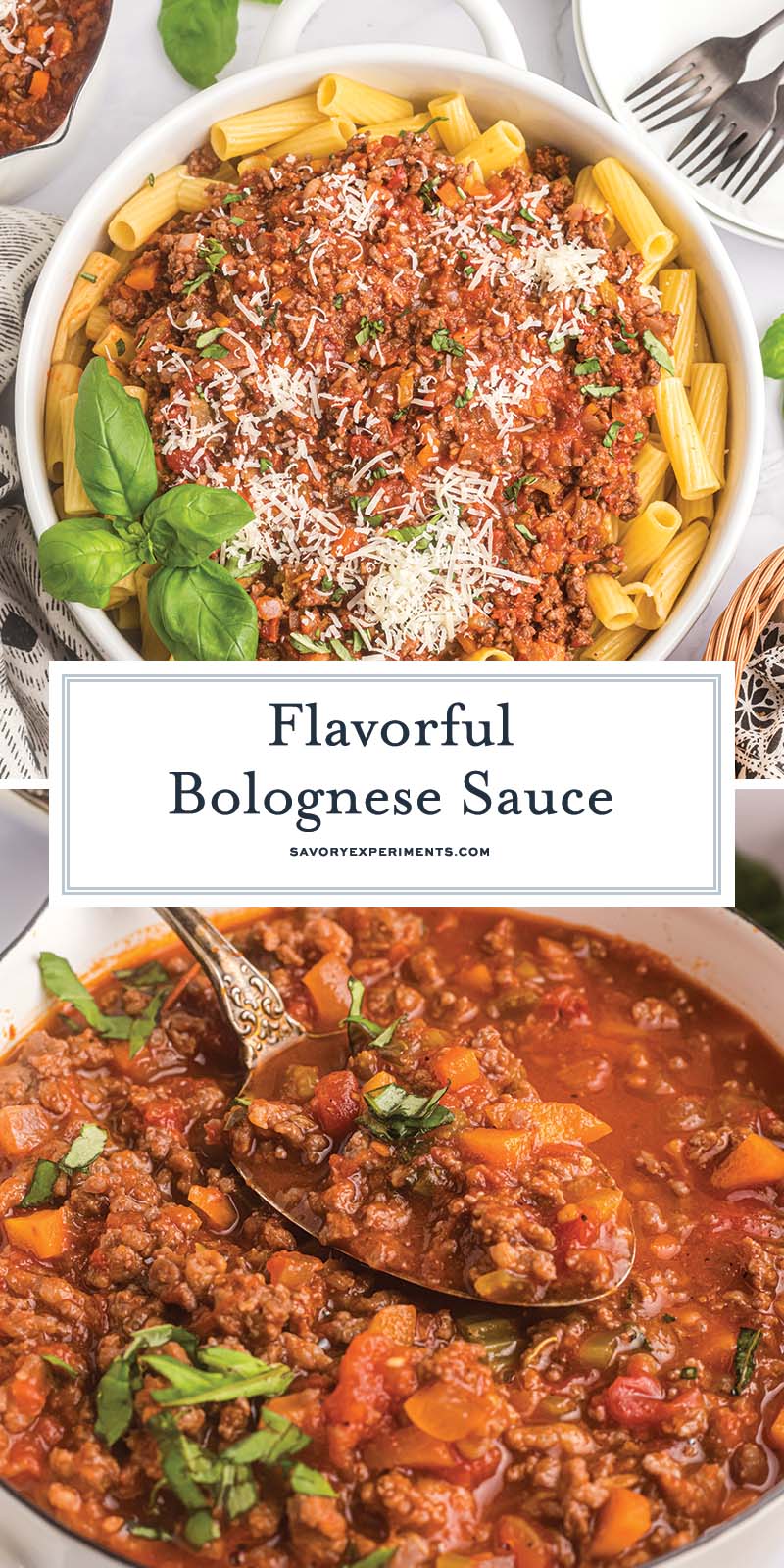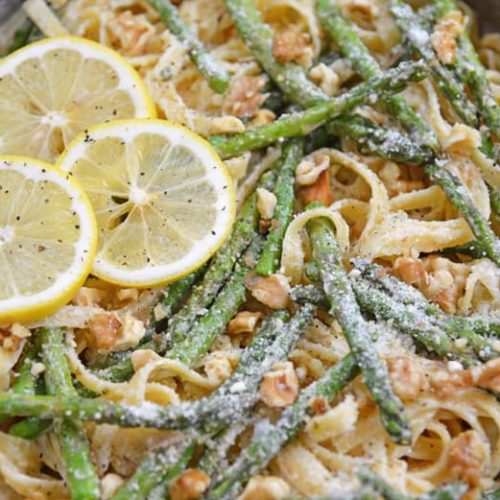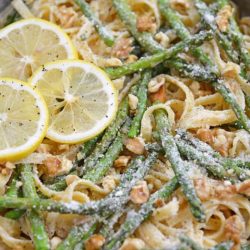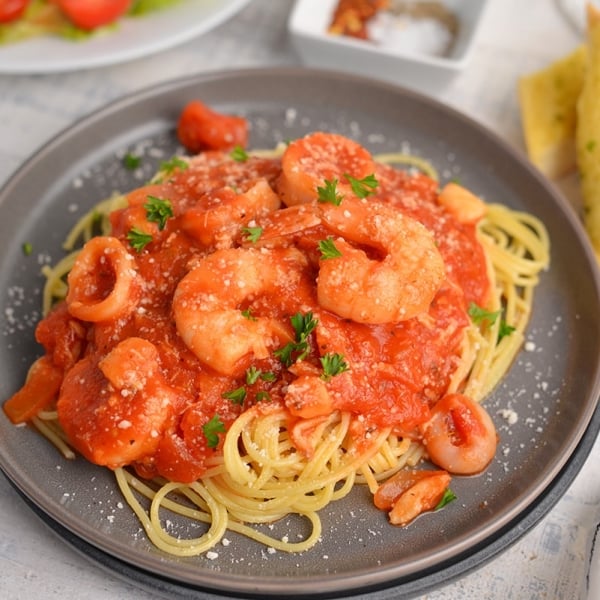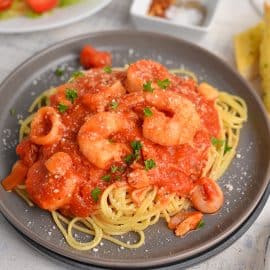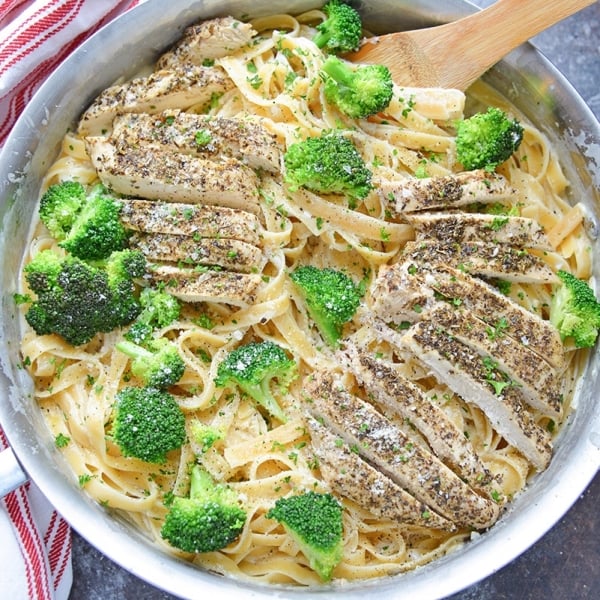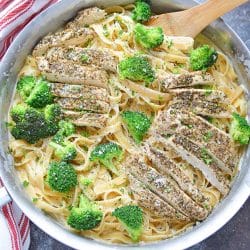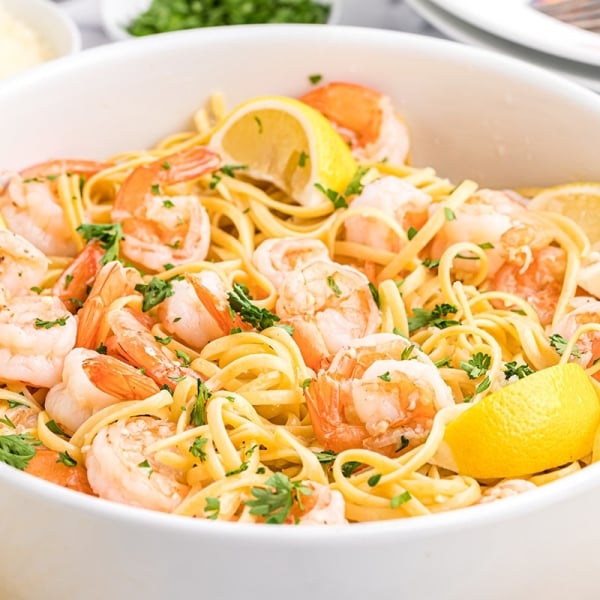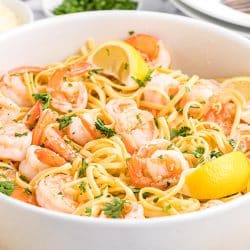 Shrimp Scampi
Shrimp Scampi is a traditional Italian dish made with a garlic butter sauce and shrimp with al dente pasta and fresh lemon juice.
See The Recipe!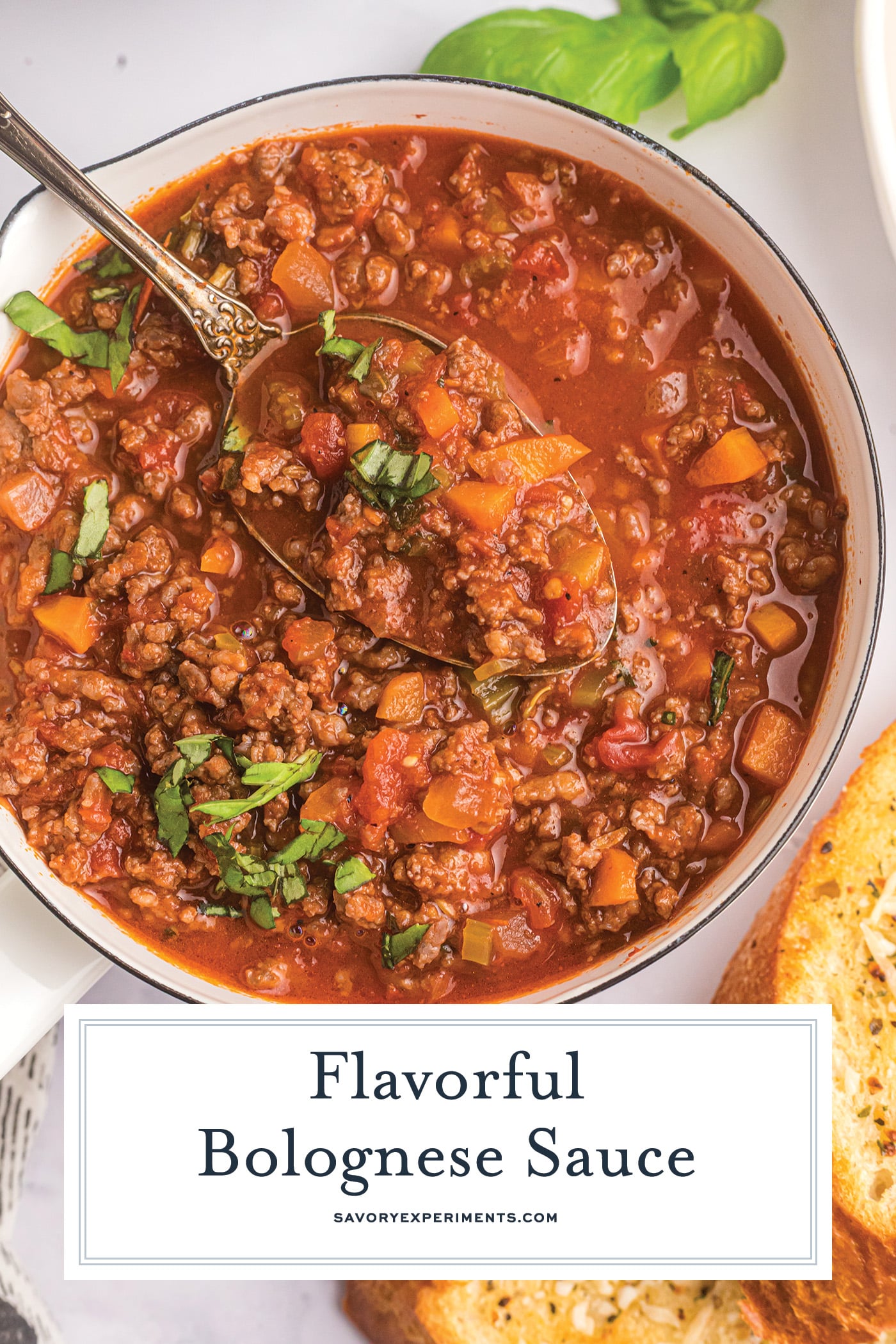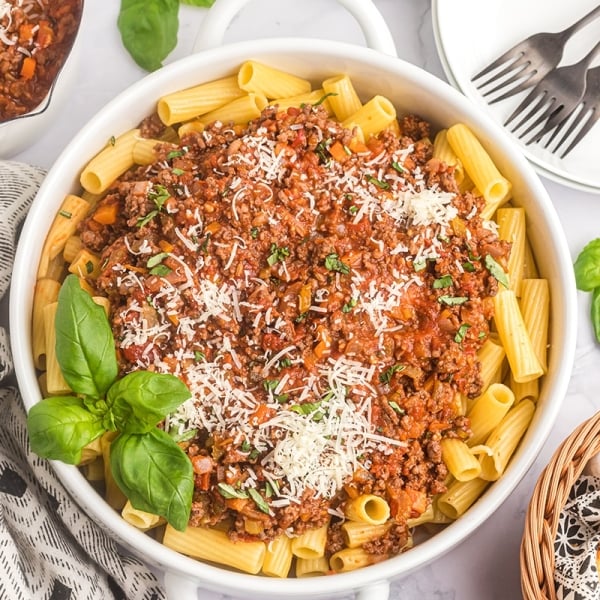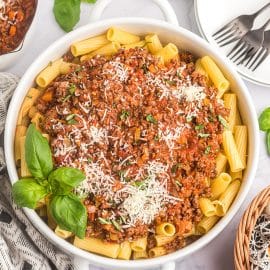 Bolognese Sauce
Bolognese Sauce is a classic Italian sauce. Ground meat and coarsely chopped vegetables give this Bolognese recipe a rich and hearty taste that serves well over pasta and in lasagna.
Instructions
Heat a large Dutch oven or sauce pot over medium heat. Add ground beef and crumbled sausage. Continue to break apart and cook for approximately 10 minutes. Drain and set meat aside.

In the same Dutch oven or sauce pot,heat extra virgin olive oil. Add chopped onion, celery, carrot and garlic. Sweat for 4-5 minutes, or until soft. Add remaining ingredients, including cooked ground meat. Stir well.

Simmer on low for 30 minutes and serve over pasta of choice.
Nutrition
Calories:
719
kcal
,
Carbohydrates:
22
g
,
Protein:
31
g
,
Fat:
54
g
,
Saturated Fat:
16
g
,
Cholesterol:
123
mg
,
Sodium:
1356
mg
,
Potassium:
1221
mg
,
Fiber:
5
g
,
Sugar:
11
g
,
Vitamin A:
3195
IU
,
Vitamin C:
24.6
mg
,
Calcium:
123
mg
,
Iron:
5.8
mg