Deep Fried Cheese Curds have been a favorite at State Fairs and festivals, as well as recognized staples on menus throughout Wisconsin and Canada, but you can also make them at home!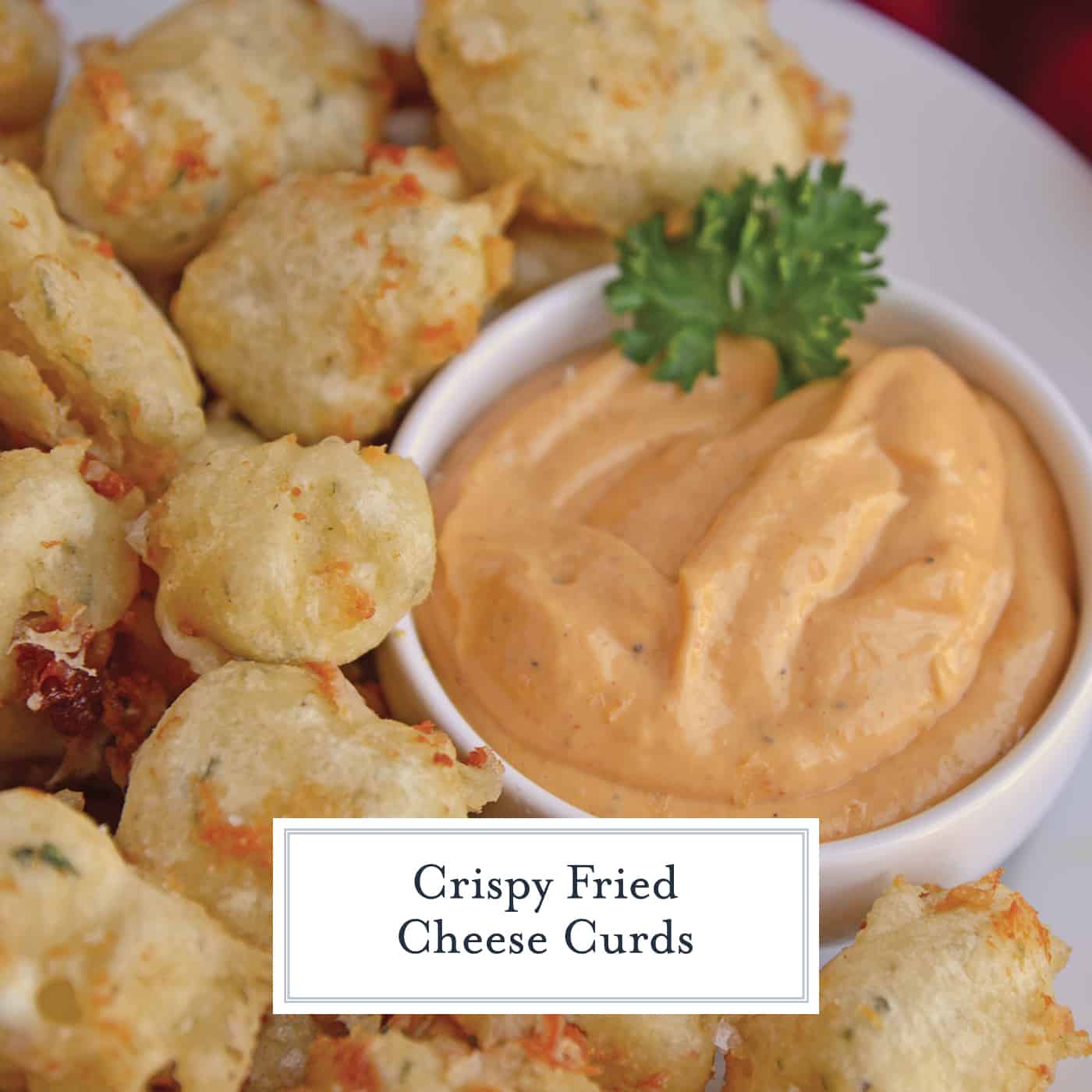 Fried Cheese Curds, also known as Beer Battered Cheese Curds, are the perfect fried cheese balls! Crunchy, gooey little nuggets paired with a tangy dipping sauce served as an easy appetizer.
Lightly fluffy beer batter engulfs sweet little nuggets of gooey cheese, make the perfect appetizer similar to mozzarella sticks. Who doesn't love fried cheese?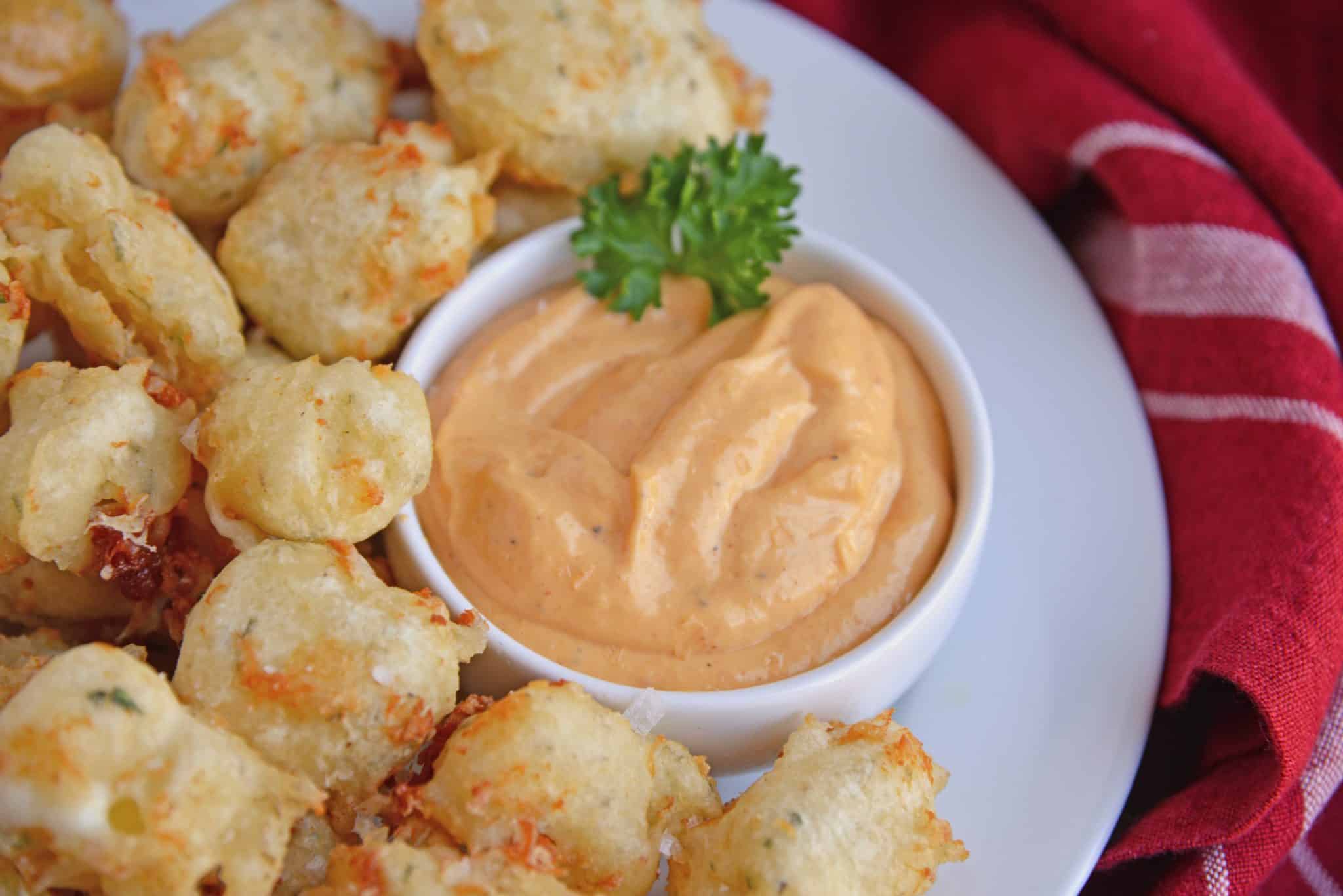 If you follow me on Twitter, you are aware of my recent realization that:

A. I like cheese curds

B. my "like" has turned into obsession.
This all started when I was prompted to make Poutine and I needed cheese curds. The name alone sounds a little gross, or at least not deliciously appetizing, I like it is the curd part. But holy cow they are good!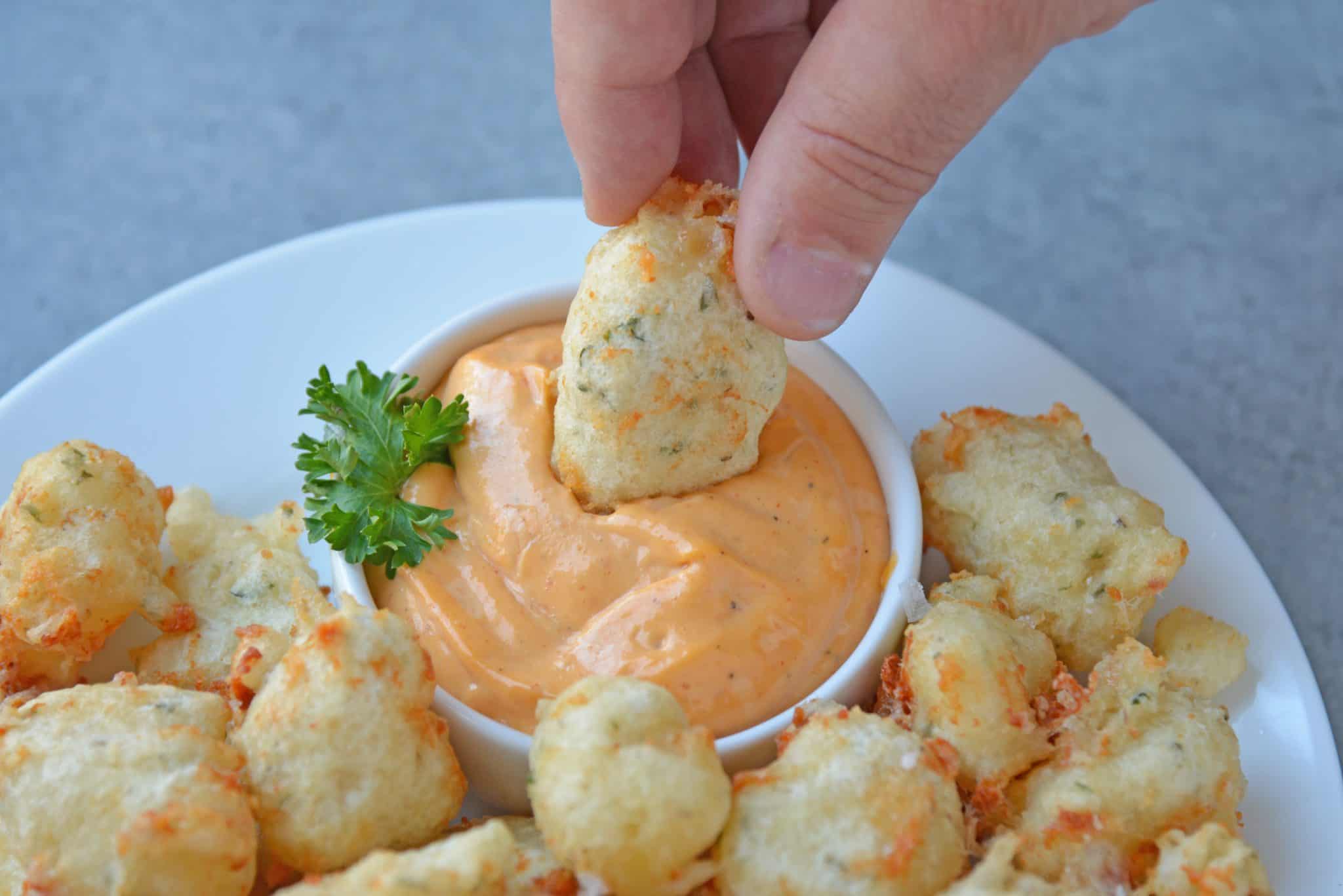 What are cheese curds?
Cheese curds are a baby cheese, if you will. During the cheese making process, milk is curdled using a combination of acid, rennet and bacterial cultures (yummy, huh?).
Don't dis it until you try it. I had to make my own cheese curds recipe.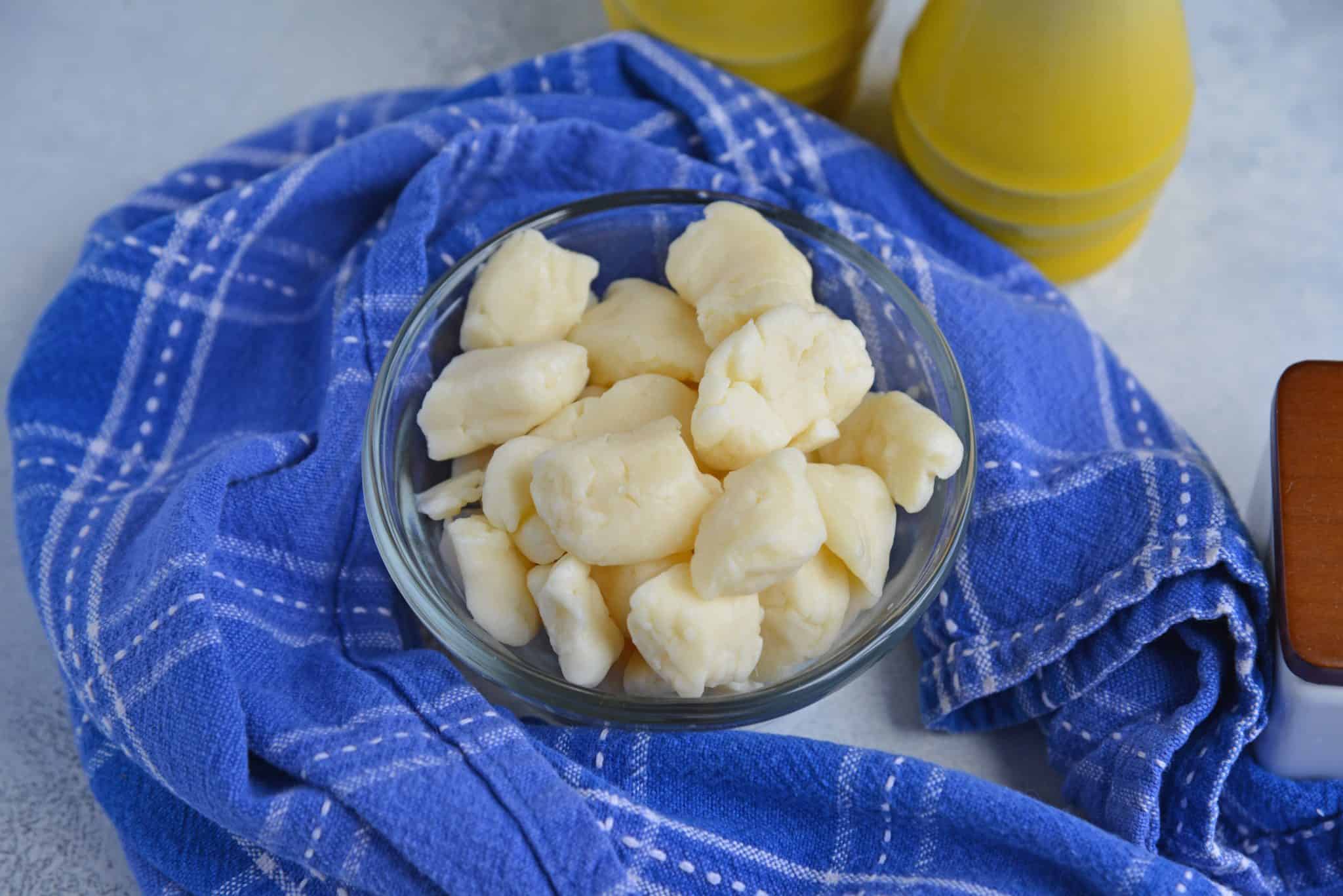 Fresh curds are pasteurized milk solids prior to being put into molds and allowed to age, resulting in various tastes and textures of cheese. They have a salty, milky taste and are famous for squeaking when eaten, thus earning their nickname of "squeaky cheese".
Cheese curds are best fresh, but most of us will be purchasing them packaged and preserved. Look in your specialty cheese department, they are usually in a bag. You can even make your own cheese curds at home, if you prefer.
However it takes a lot of dairy to make 1 pound of cheese curds since here is little milk solid leftover from each batch of fresh cheese. In fact, it can take up to 10 pounds of dairy to make 1 pound of cheese curds!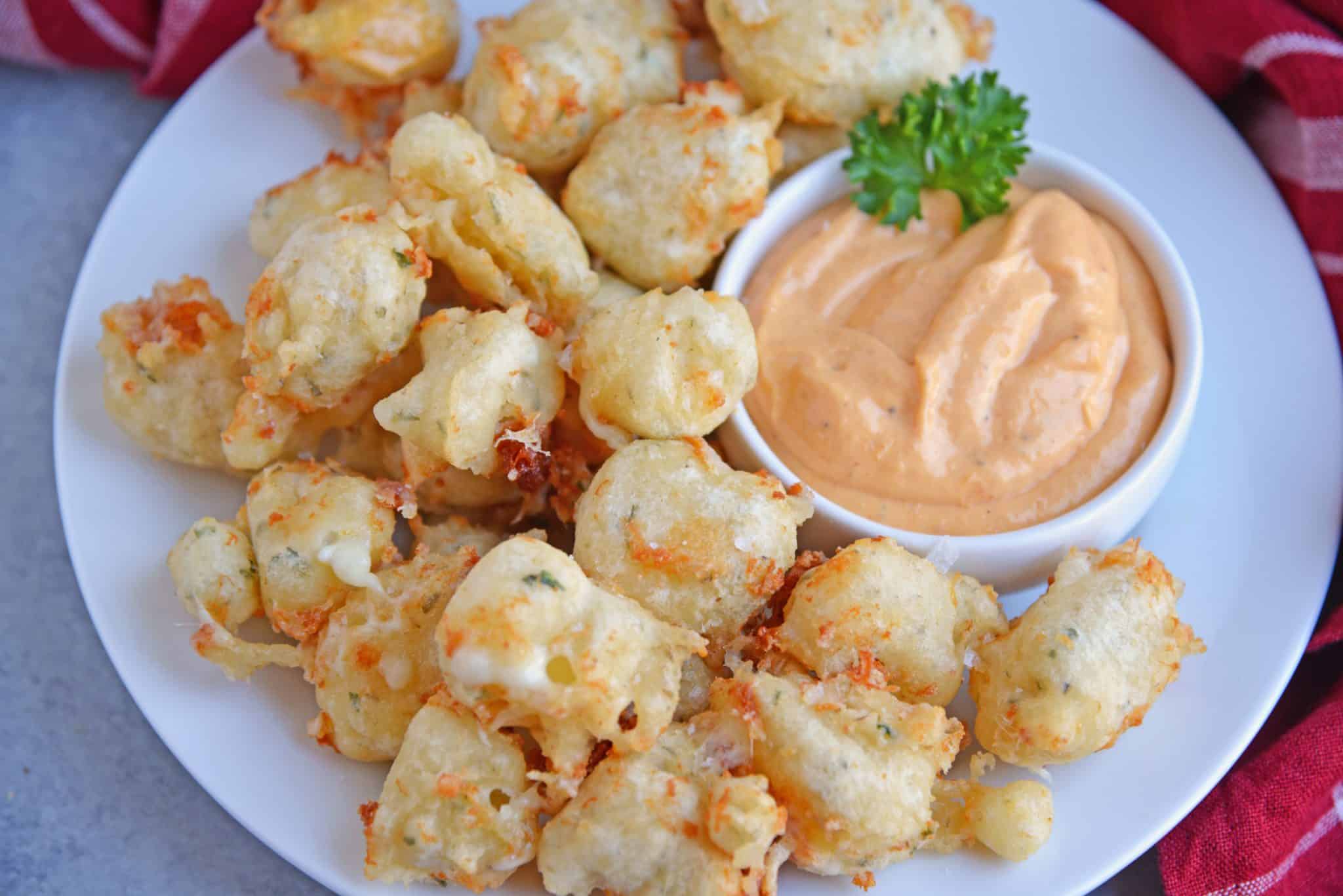 Cheese curds come in a variety of flavors, mostly cheddar, so you can tailor your Fried Cheese Curds to your own liking and tastes.
You can also add different flavors to the beer batter like garlic, onion, paprika, chile powder, lemon pepper, Cajun seasoning and anything else you can think of. 
PRO TIP: Cut the curds so they are a similar size and will then fry at the same rate.
The color of cheese curds comes from the diet of the dairy cow. Most are white, because it is a milk solid. Some naturally have an orange tint, but most with strong hues have been colored.
The next step on the road to making fried cheese curds is the cheese curd batter. I prefer to use a light and fluffy beer batter, but some like to coat in flour, egg and then dried bread crumbs for more of a traditional fried cheese texture and taste. Either way, you'll coat them and fry to a golden brown.
Here are a few of my favorite dipping sauces:
Yum Yum Sauce Recipe
Yum Yum Sauce is an easy sauce for seafood and vegetables. Now you can make your favorite pink sauce at home!
Mustard Aioli Sauce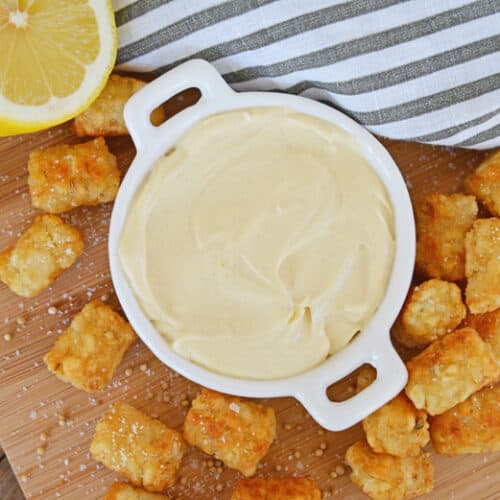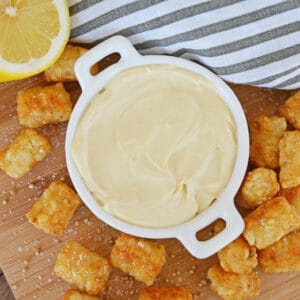 This zesty Mustard Aioli comes together in less than 5 minutes and is the perfect dipping sauce and sandwich topper for any meal or BBQ.
Tools for making Cheese Curds:
Heavy Bottom Sauce Pan– this will be one of your most used kitchen tools. Having something that is heavy bottom will distribute heat better and prevent burning whether you are using an electric or gas range.
Ramekins– I like giving folks their own individual sauce cups. Then you don't have to worry about double dipping! Ramekins are also great for ingredient preparation and baking mini soufflés.
Slotted Metal Fry Spoon– I like these best for frying because they can withstand very high temperatures, the fine mesh means I can fish out any remaining batter that might be burning and they don't stick to things easily.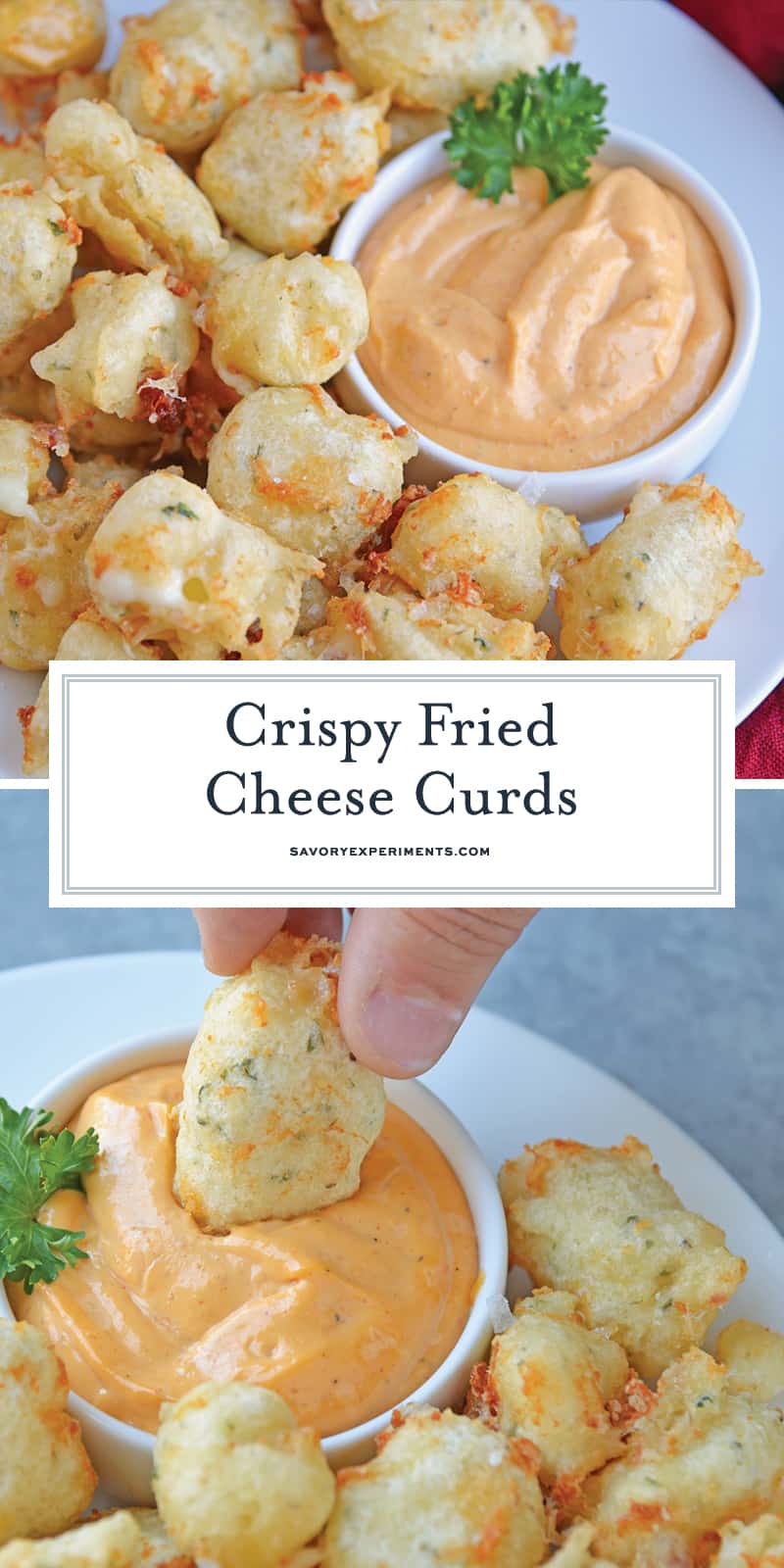 Questions you might have about how to make cheese curds:
Can you freeze cheese curds? Cheese curds can be frozen in their original cheese curd form. I have tried to freeze them after frying, but refried cheese just never comes back to the same texture.
The cheese curd batter I use doesn't freeze well since it is a wet batter. 
Are cheese curds keto friendly? Plain curds are (as far as I know) but deep fried cheese curds are not. Breading or beer batter both make them not keto friendly.
Are cheese curds cheddar? You will get curds out of any type of cheese, but most on the market are cheddar cheese. They taste the best and since the most amount of cheddar is produced, there is the largest opportunity to produce them! Most come from Wisconsin cheese factories.
Can I make fried cheese curds without beer? You sure can. Just substitute water or milk for the liquid.
Can you fry cheese curds without a batter? I supposed you can fry anything without a batter, but you are going to end up with a gooey mess of melted cheese in a pot. Not suitable for eating.
How do you reheat fried cheese curds? The best way is to lightly pan fry them again and allow to drain on paper towels. The next best way is to warm them gently in the oven on 300 degrees for about 10 minutes.
Watch them carefully as the cheese will melt and start to escape. Fried foods can be microwaves, but lose the crunch. 
Fried Cheese Curds, also known as Beer Battered Cheese Curds, as the perfect fried cheese balls! Gooey little nuggets paired with a tangy dipping sauce served as an easy appetizer.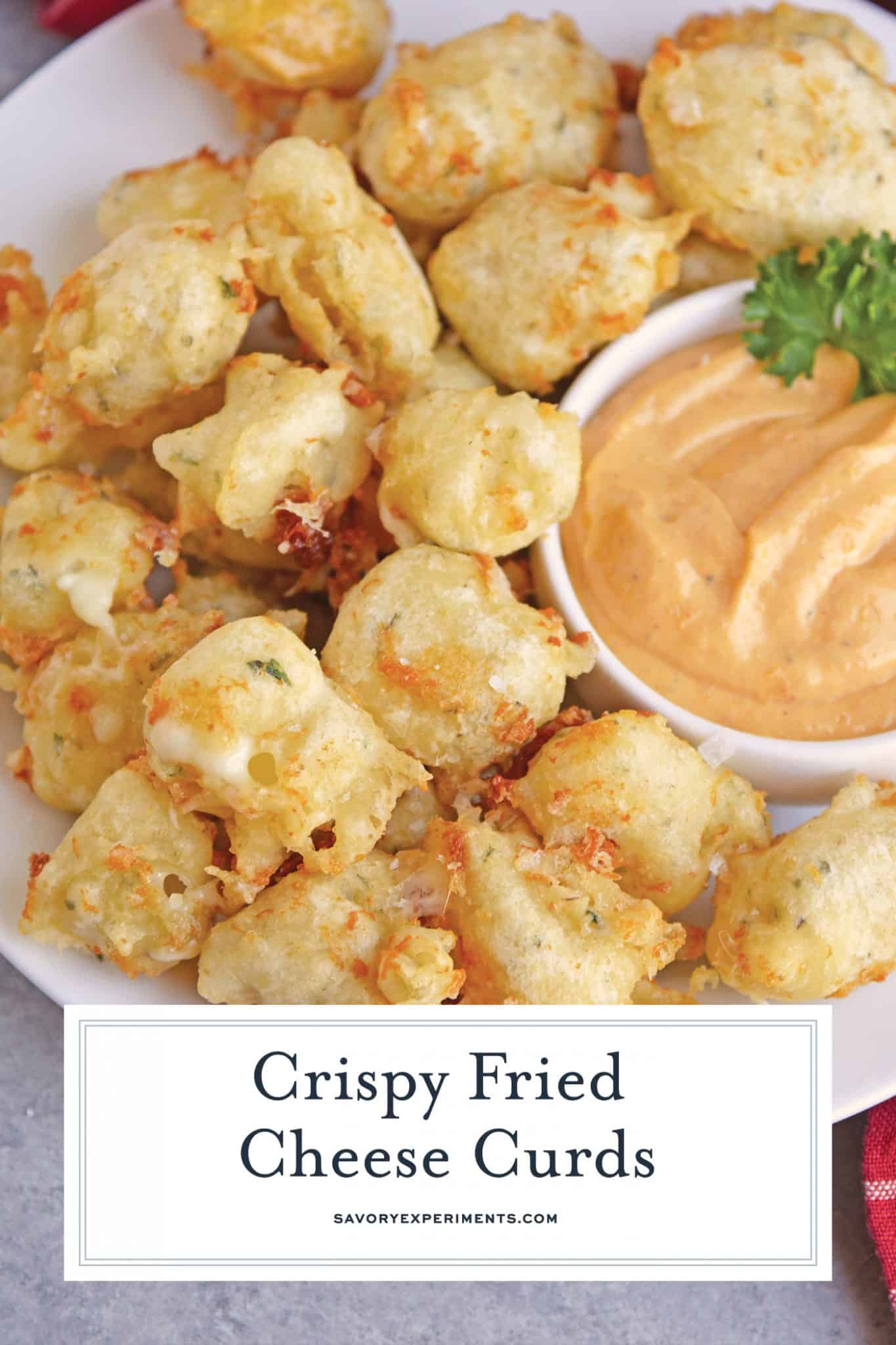 CONNECT WITH SAVORY EXPERIMENTS!

Be sure to follow me on social media, so you never miss a post!

Facebook | Twitter | Youtube
Pinterest | Instagram

Get our FREE 8 Day E-Course on How to Be a Better Home Cook. Sign up HERE!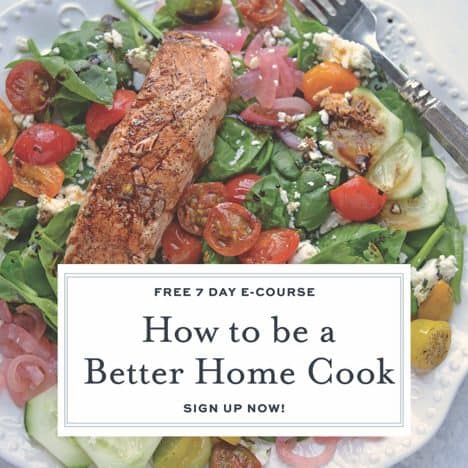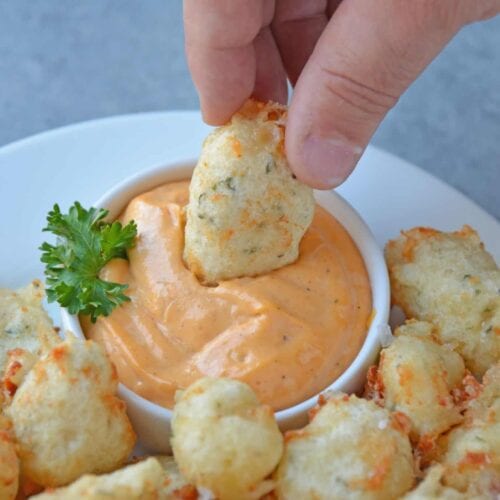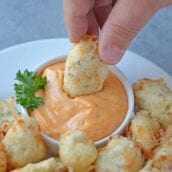 Print Recipe
Fried Cheese Curds
Fried Cheese Curds, also known as Beer Battered Cheese Curds, as the perfect fried cheese balls! Gooey little nuggets paired with a tangy dipping sauce. A great easy appetizer for snack idea!
Instructions
Measure 1 cup cold beer into a measuring cup. Start drinking the remainder of the beer. (This step is essential to perfect cheese curds).

In a medium bowl combine flour through oregano and whisk together. It will be thick and pasty. Slowly whisk in beer. Place in the refrigerate for at least 15 minutes. The colder the curds (which should be frozen) and batter are, the better of a golden brown fry you will get.

In a large heavy saucepan heat oil over medium-high heat. You can test the oil by dripping a small drop of batter into the oil, if it starts to float and sizzle, the oil is ready for frying.

Dredge frozen cheese curds in the cold beer batter. Working in small batches, place beer battered cheese curds in hot oil. Cook for 3-4 minutes turning to evenly brown. Remove as soon as beer batter is a warm brown and before cheese melts and escapes from the crunchy exterior.

Remove each batch to a paper towel lined baking sheet. Sprinkle with desired amount of sea salt. If you are making a large amount, you can keep completed beer battered cheese curds in the oven on 200 degrees to keep warm, but don't heat it up too long or allow them to sit because the cheese will escape!

Serve immediately with Bloomin' Onion Sauce or other desired sauce. Enjoy your Beer Battered Cheese Curds with Bloomin' Onion Sauce!

If you've tried this recipe, come back and let us know how it was!
Video
Nutrition
Calories:
458
kcal
|
Carbohydrates:
25
g
|
Protein:
15
g
|
Fat:
31
g
|
Saturated Fat:
21
g
|
Cholesterol:
86
mg
|
Sodium:
292
mg
|
Potassium:
69
mg
|
Fiber:
1
g
|
Vitamin A:
60
IU
|
Calcium:
323
mg
|
Iron:
1.8
mg