This easy Bang Bang shrimp recipe brings together a spicy creamy sauce with delicious crunchy shrimp. You can serve it as the main meal or it can be an easy appetizer.
I like to serve the shrimp with a veggie on the side or wrap them in lettuce leaves.You can also serve it over spaghetti or other noodles for a delicious Bang Bang shrimp pasta.
No matter how you choose to serve it, this easy, spicy shrimp is likely to become one of your favorite recipes!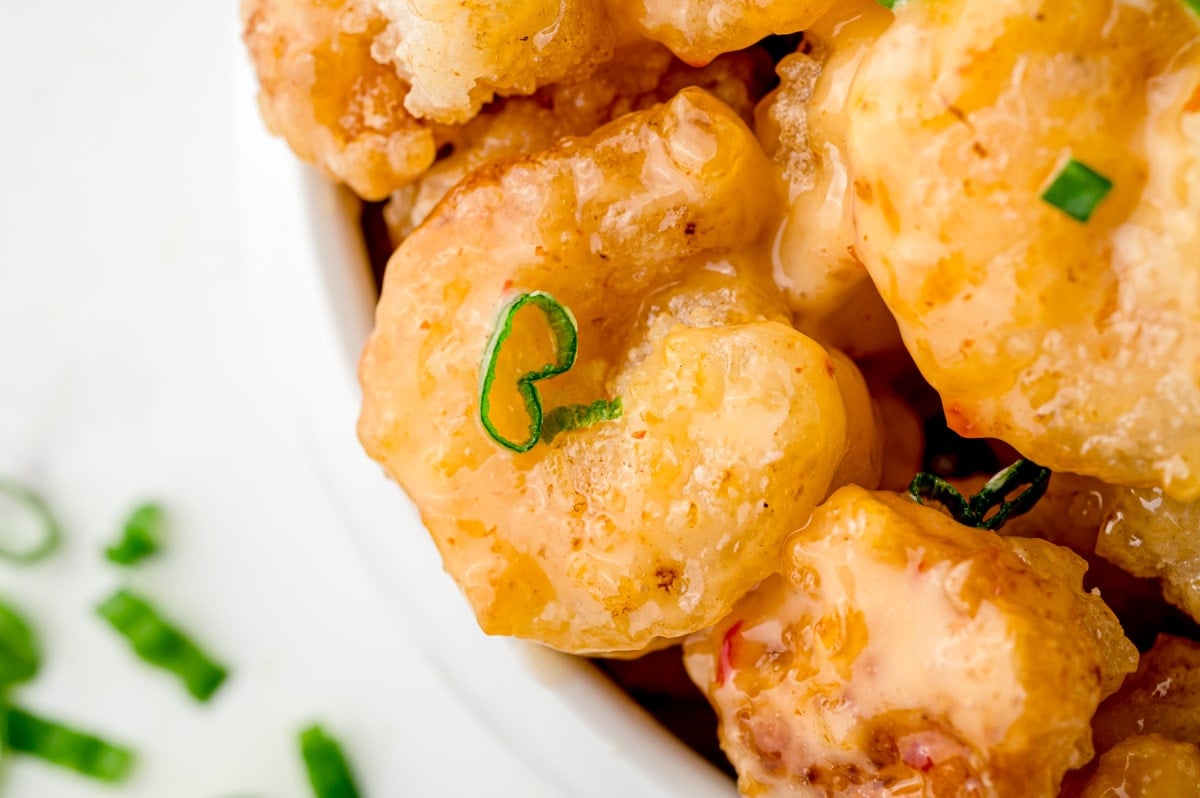 Why You'll Love Bang Bang Shrimp
These spicy, crispy shrimp are easy to love!
Easy – There are only a few steps to make these super simple shrimp.
Convenient – You may have many of the ingredients for Bang Bang shrimp already on hand in your pantry or refrigerator.
Versatile – While these shrimp can be a quick weeknight main course, they're also a delicious appetizer for parties.
Customizable – You can make this as spicy as you like and there are plenty of potential add-ins to make it your signature shrimp dish.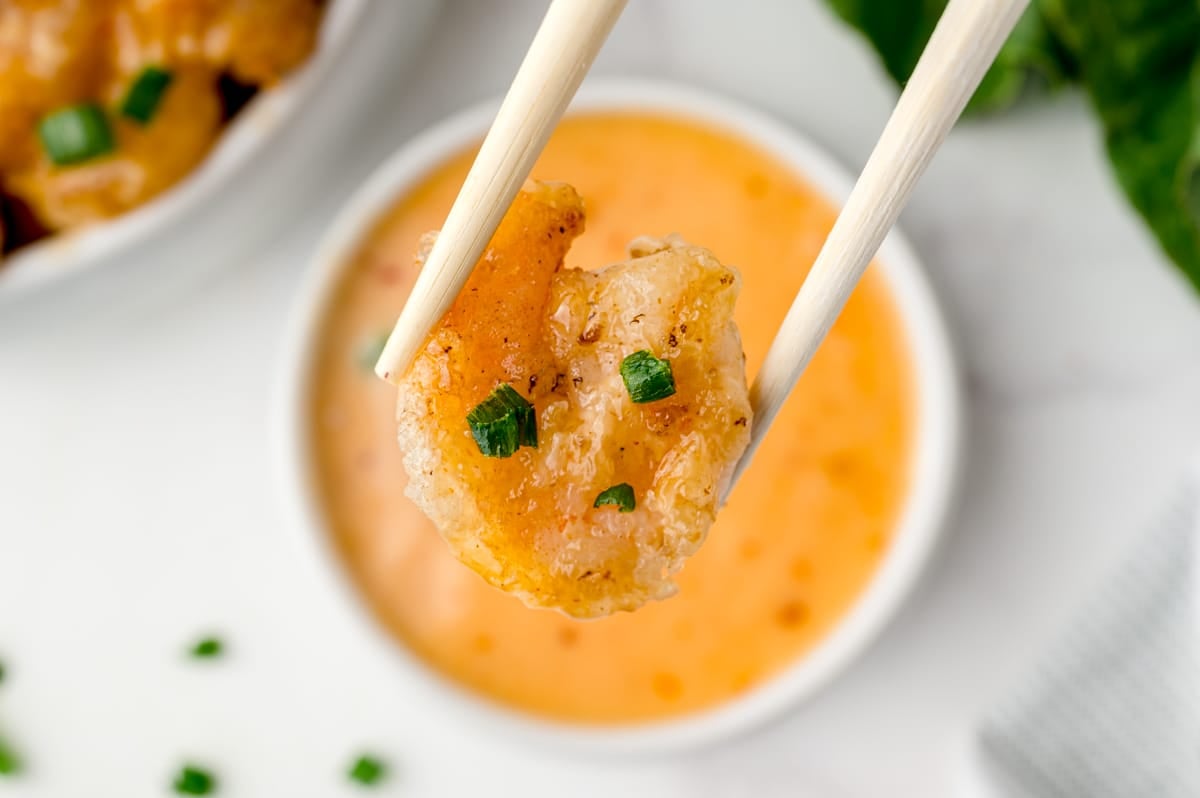 Ingredients
With just a handful of simple ingredients, Bang Bang fried shrimp can be a unique but quick weeknight dinner.
Mayonnaise – Use any brand that you prefer or make your own homemade mayonnaise. It is best to use regular mayonnaise (as opposed to a lower fat version).
Thai sweet chili sauce – This tangy and spicy sauce imparts both sweet and savory notes into the sauce.
Sriracha sauce – This spicy sauce is what gives Bang Bang sauce its kick.
Medium-large shrimp – Make sure that the shrimp are shelled and deveined.
Buttermilk – This ingredient adds flavor but it also helps to ensure that you wind up with tender shrimp, too. This recipe calls for a quick rinse with the buttermilk to help the cornstarch to adhere to the shrimp but you can soak the shrimp in the buttermilk overnight as well.
Coarse kosher salt – Just a little bit of salt in the cornstarch mixture helps to give the fried coating a bit more flavor.
Cornstarch – This ingredient is necessary to get the perfect fried coating on these shrimp.
Scallions or Chives – Either green onions or chives can add bright color to the dish as a garnish.
Black sesame seeds – These seeds are a great garnish for both texture and a bit of sesame flavor.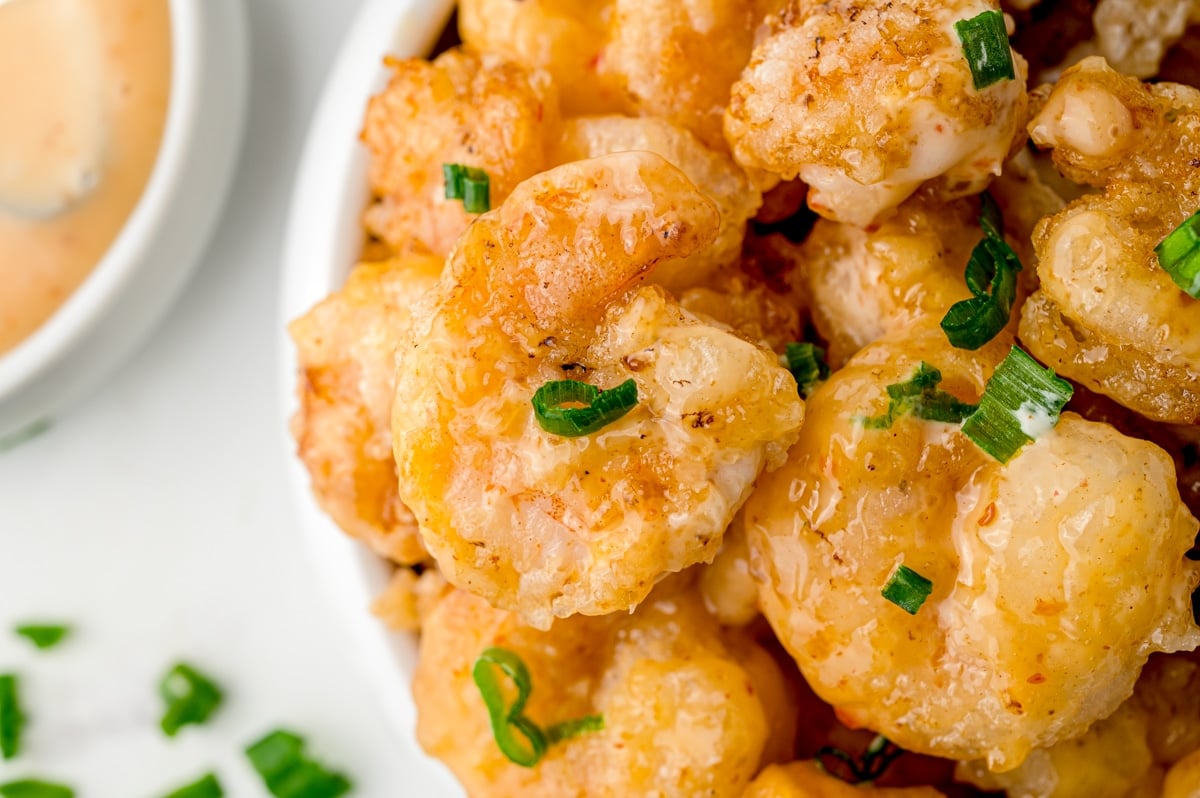 How To Make Bang Bang Shrimp
Making the Bang Bang sauce first will ensure that it's ready when you finish frying the shrimp.
Add the mayonnaise and sweet Thai chili sauce to a large mixing bowl.
Then, add the Sriracha to taste. Note that the amount of Sriracha used will impact the color of the sauce.
Mix all three ingredients together.
Set aside the Bang Bang sauce to use after frying the shrimp.
Place the shrimp in a separate large bowl.
Pour the buttermilk over the shrimp and toss the two together.
Once the shrimp is completely coated, use a colander to drain.
Pour the cornstarch and salt into a pie plate or shallow bowl.
Place the shrimp in the dish and toss them to completely coat the shrimp
In a heavy bottom cast iron skillet, heat canola oil until it reaches the recommended temperature. You can check the temperature of the oil using a deep fry thermometer.
After shaking off any excess cornstarch from the shrimp, place the coated shrimp into the hot oil in the pan. Ensure that there is plenty of space between each shrimp and that they are in a single layer so that they fry properly and do not get soggy.
When the shrimp are lightly browned, flip to fry the other side.
Once browned on both sides, take the shrimp out of the pan and place them on a wire rack to cool. To capture any dripping oil, place a baking sheet lined with a paper towel underneath the rack.
Once the shrimp have cooled slightly, place them in the bowl with the spicy mayo sauce and toss them to coat completely.
When ready to serve, garnish with the sesame seeds or scallions, if desired.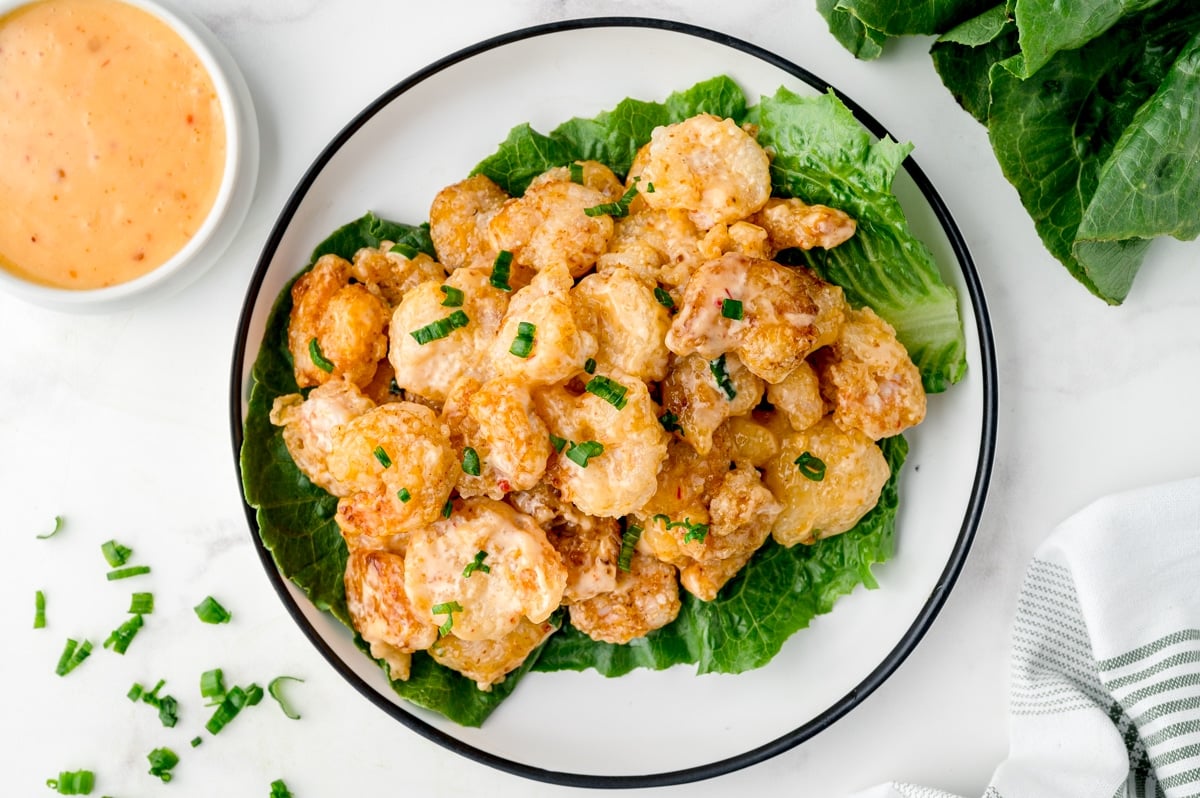 Variations
While we love this simple recipe, there are lots of ways to change it up, too.
Heat – Add more or less sriracha depending on how spicy you want your sauce. You can also add other sources of spiciness like red pepper flakes, hot sauce or gochujang.
Other spices – Try adding garlic powder, black pepper, onion powder, ground ginger, or smoked paprika for a unique flavor profile in either the sauce or the coating.
Protein – You can switch out the shrimp for other seafood, chicken, or your preferred plant-based alternatives.
Oil – If you don't have canola oil handy, or you prefer another variety, you can use another neutral oil that has a high smoke point like olive oil or sunflower oil.
Coating – Instead of, or in addition to, using cornstarch you try other coatings like regular bread crumbs or panko breadcrumbs.
Buttermilk alternative – Instead of buttermilk, you try dredging the shrimp in Greek yogurt or sour cream before tossing with the cornstarch.
Sauce – Rather than tossing the shrimp with the sauce you can serve Bang Bang sauce as a dipping sauce in a small bowl on the side.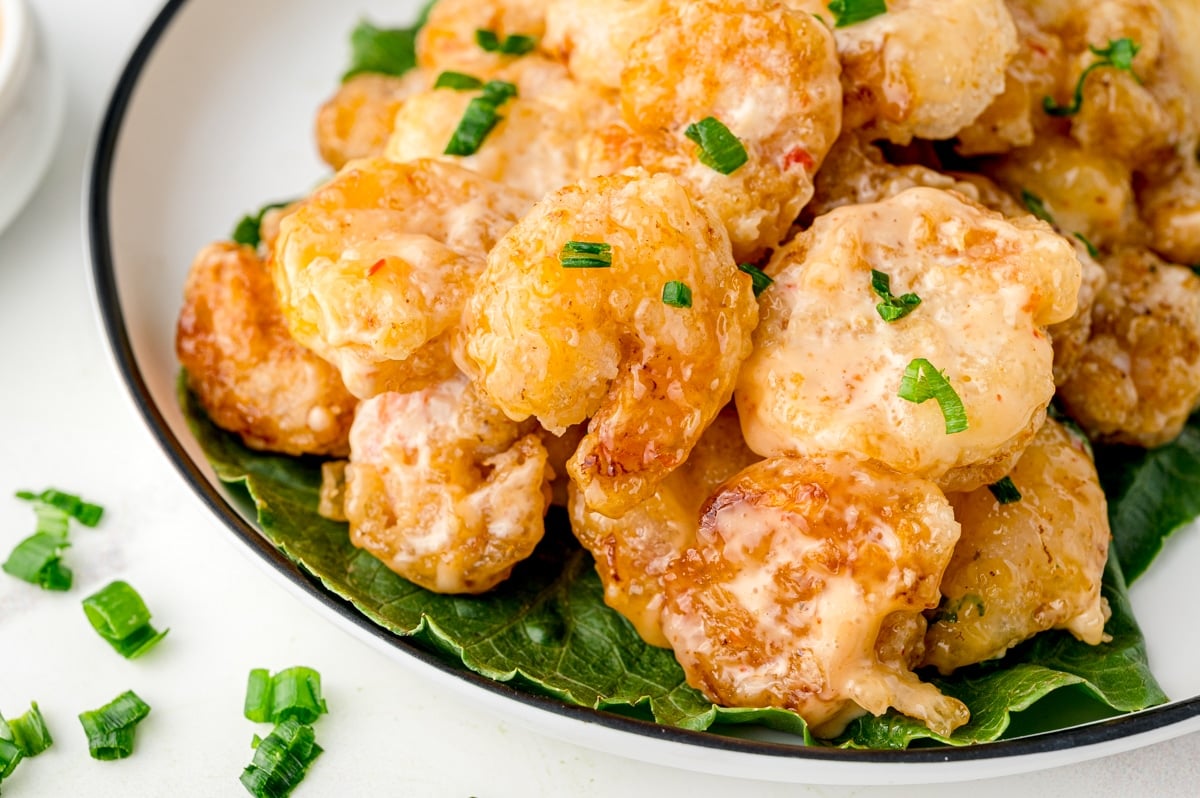 Storage, Make Ahead and Freezing
While Bang Bang shrimp is best just after it's been prepared, you can store leftovers. To reheat, just place them on a baking sheet in the oven at 350 degrees Fahrenheit — to really keep them crispy you can place them on a wire rack over the baking sheet in the oven.
Make-Ahead: You can make the Bang Bang sauce ahead of time and store it in the refrigerator in an airtight container until you are ready to make the shrimp.
Refrigerator: Store Bang Bang shrimp in the refrigerator for up to 3 days in an airtight container.
Freezer: Since the shrimp are unlikely to retain their crispy texture after thawing, we do not recommend freezing Bang Bang shrimp.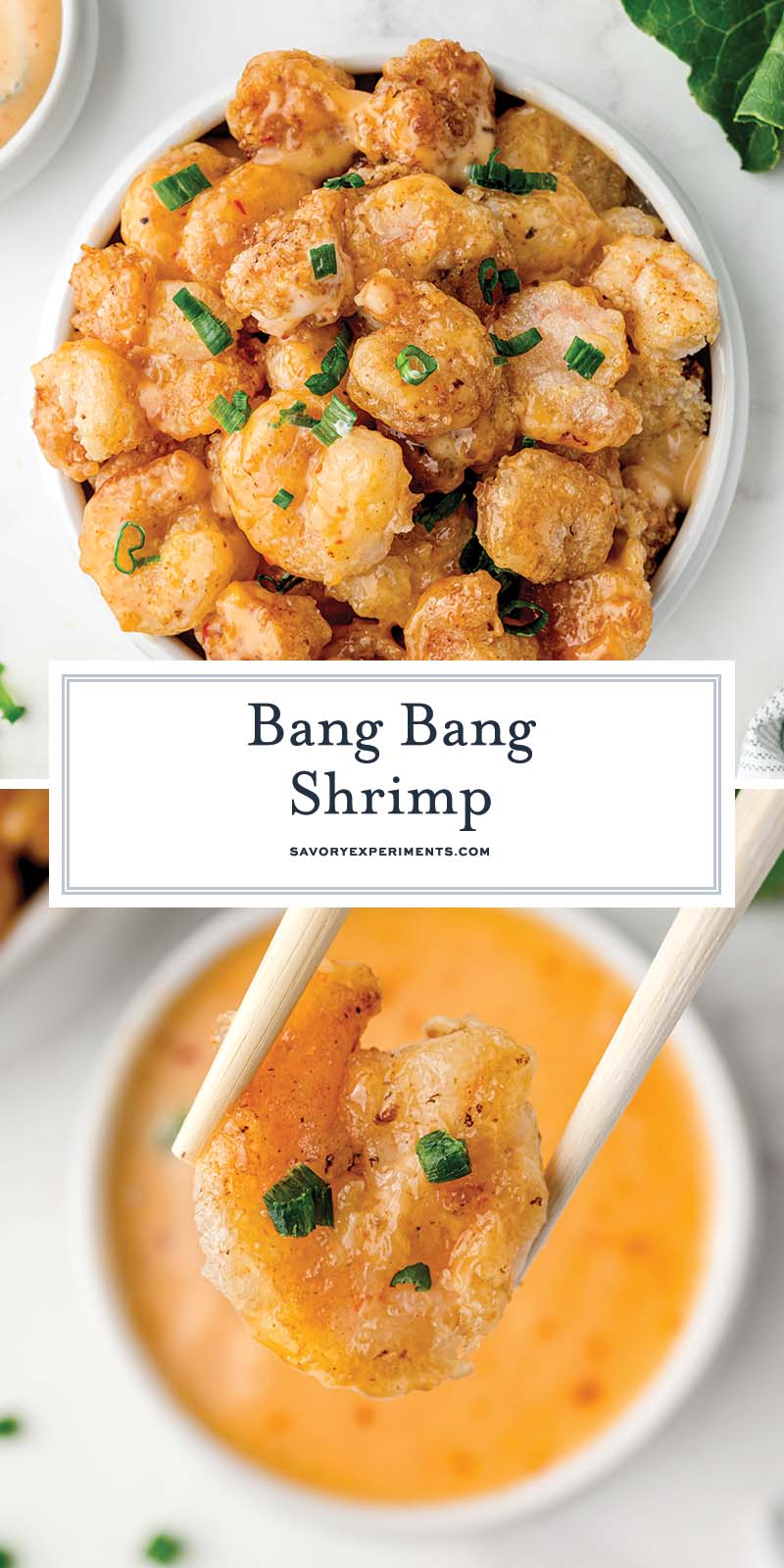 Other Asian-inspired Shrimp Dishes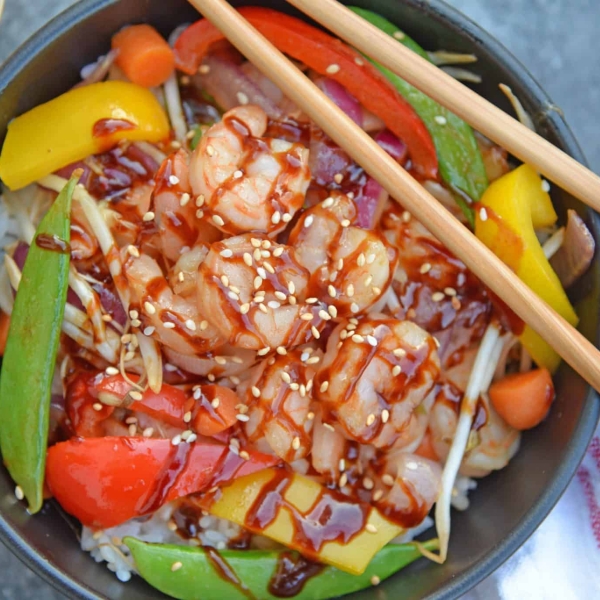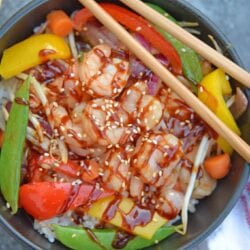 Teriyaki Shrimp Stir Fry
Skip the takeout and make this easy Teriyaki Shrimp Stir Fry in only 30 minutes! This Shrimp Stir Fry is an easy weeknight meal that the whole family will love!
See The Recipe!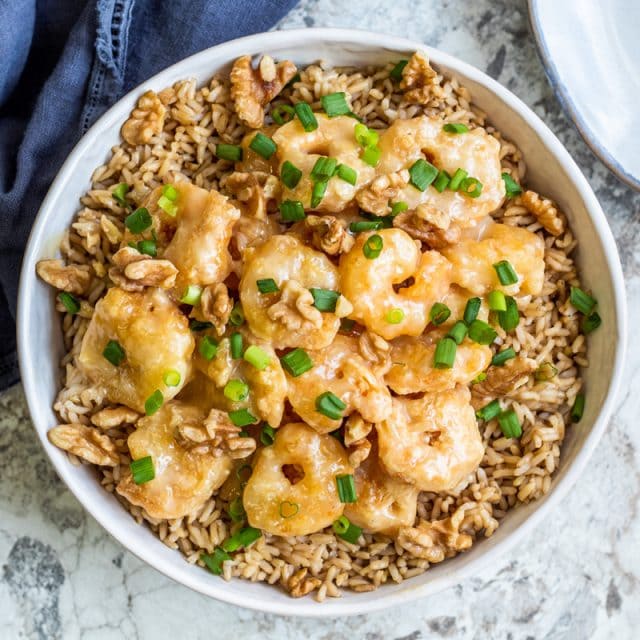 Honey Walnut Shrimp
This quick & easy Honey Walnut Shrimp recipe makes the best weeknight dinner. The shrimp is crisp and coated in a sweet honey glaze sauce!
See The Recipe!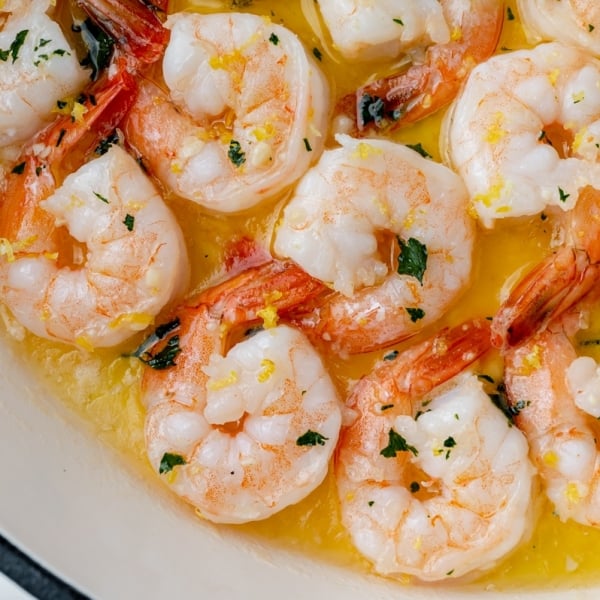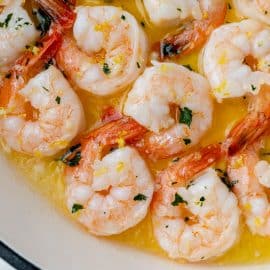 How to Brine Shrimp
The next time you're planning to prepare shrimp, set aside the few extra minutes it takes to brine them to get juicy and tender shrimp!
See The Recipe!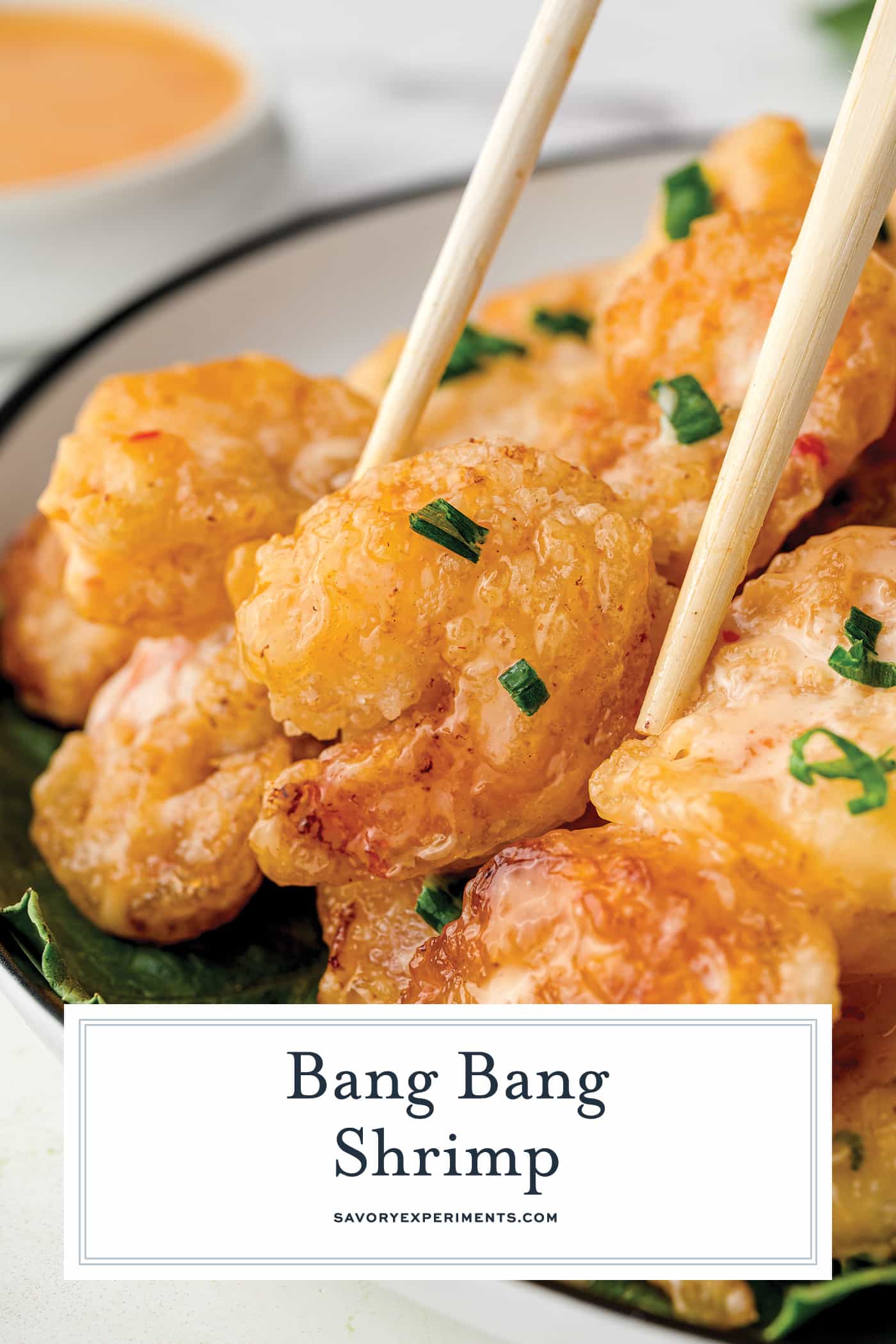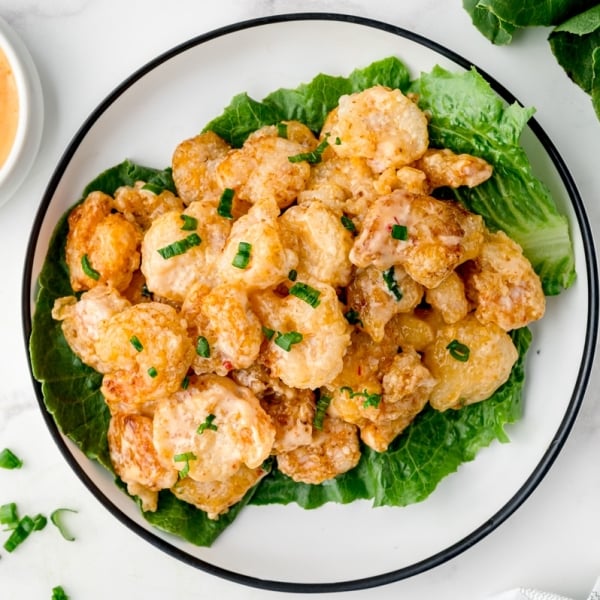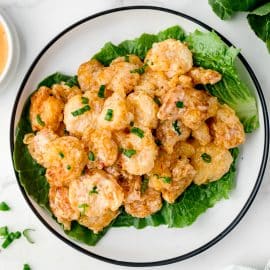 Bang Bang Shrimp
This Bang Bang shrimp recipe combines crunchy shrimp and a creamy sauce for a spicy dish that's a delicious dinner or amazing appetizer.
Instructions
In a large mixing bowl stir together the mayonnaise, Thai sweet chili sauce and Sriracha. Use less or more Sriracha depending on how spicy you like your shrimp. This will also impact how dark the sauce is.

In a large mixing bowl, toss the shrimp with the buttermilk. After all coated, drain in a colander.

Place the cornstarch in a shallow dish or pie plate, toss the wet shrimp in the cornstarch.

Heat 2-3 inches of canola oil in a heavy bottom cast iron pan or skillet until it reaches 350-370°F. Use a deep fry thermometer to monitor the oil.

Remove the shrimp from the cornstarch and shake off any excess. Before adding to the hot oil.

Fry the shrimp in batches, being mindful to not crowd the pan, until lightly brown, approximately 1-2 minutes on each side depending on size.

Remove the shrimp from hot oil, placing on a wire rack over a paper towel lined baking sheet. Allow to drip for 1-2 minutes before tossing in the hot shrimp in the bang bang sauce.

If you've tried this recipe, come back and let us know how it was in the comments or star ratings.
Nutrition
Calories:
397
kcal
,
Carbohydrates:
28
g
,
Protein:
17
g
,
Fat:
23
g
,
Saturated Fat:
4
g
,
Polyunsaturated Fat:
13
g
,
Monounsaturated Fat:
5
g
,
Trans Fat:
0.1
g
,
Cholesterol:
158
mg
,
Sodium:
1425
mg
,
Potassium:
241
mg
,
Fiber:
1
g
,
Sugar:
4
g
,
Vitamin A:
391
IU
,
Vitamin C:
4
mg
,
Calcium:
102
mg
,
Iron:
1
mg