In under 30 minutes, you can have this Instant Pot Chicken Noodle Soup ready to eat, but taste like it's been simmering all day!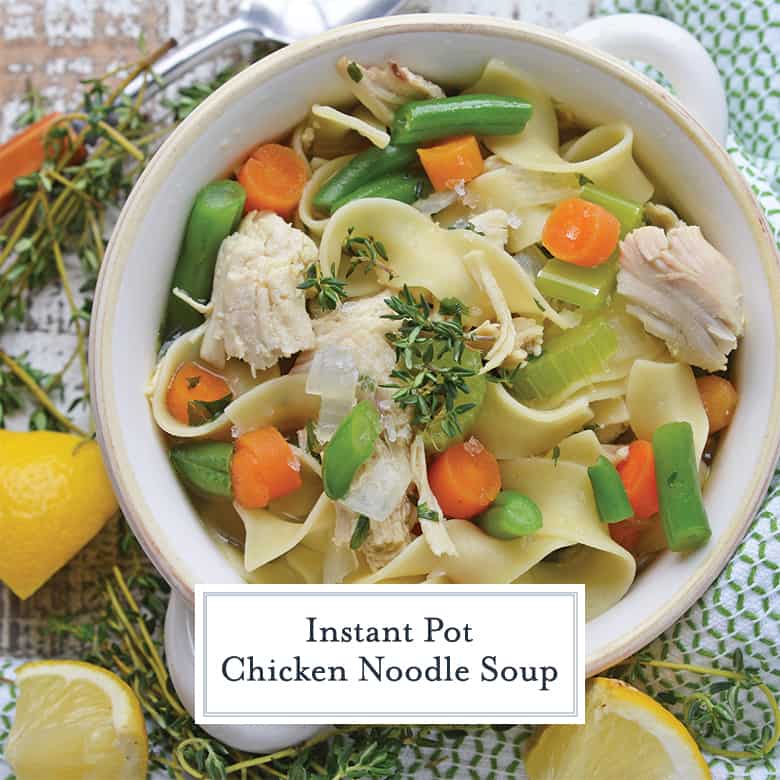 Looking for a homemade chicken noodle soup recipe that you can enjoy all year round? This Instant Pot Chicken Noodle Soup is flavorful and SO easy to make!
With the coming of fall, soup has been on the brain lately! I am a soup fanatic. I love hearty soups, creamy soups, you name it!
There is just something so comforting about a hot bowl of soup. Whether it's served as a starter to a meal, or alongside salad as a meal itself, you can't go wrong with a bowl of soup.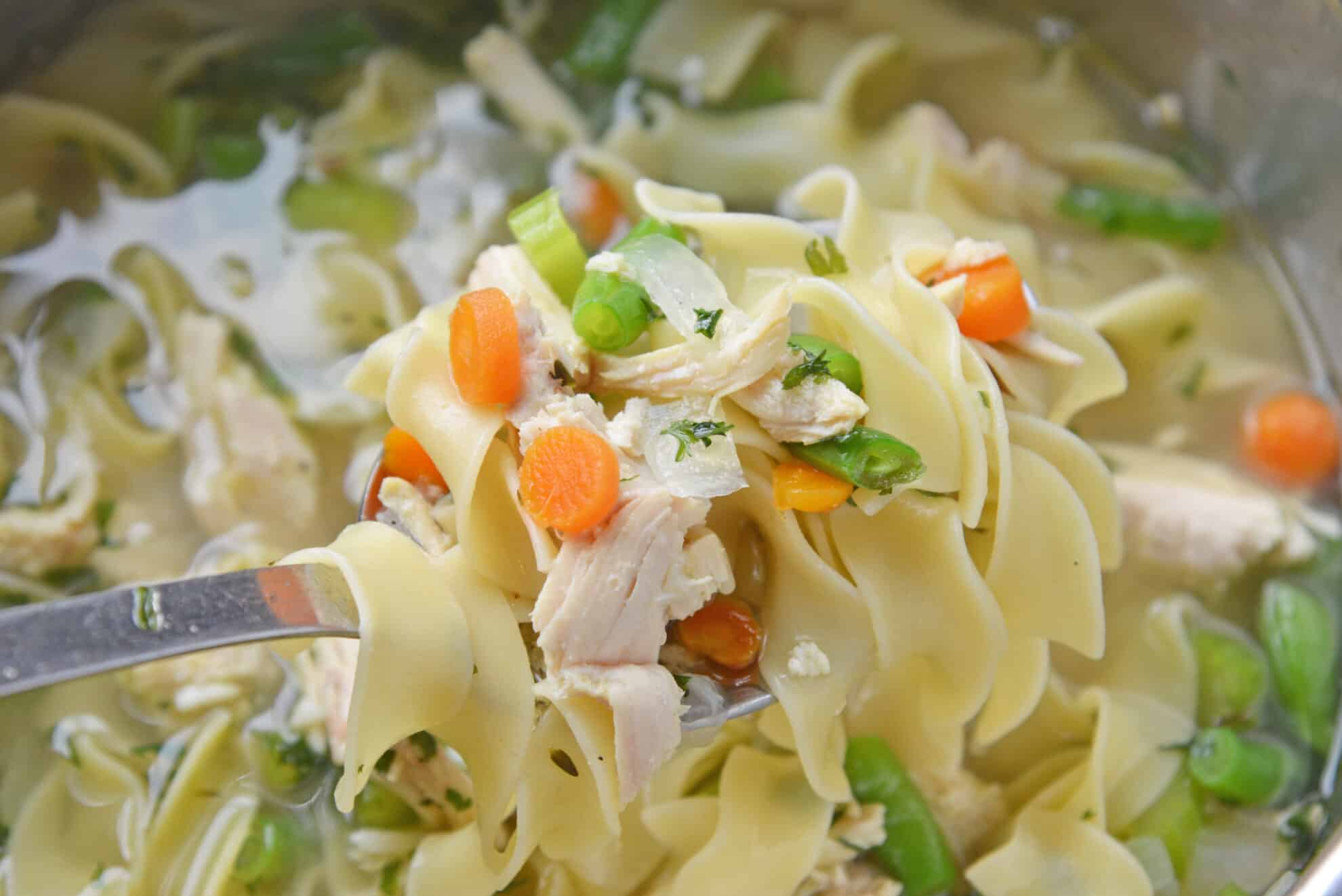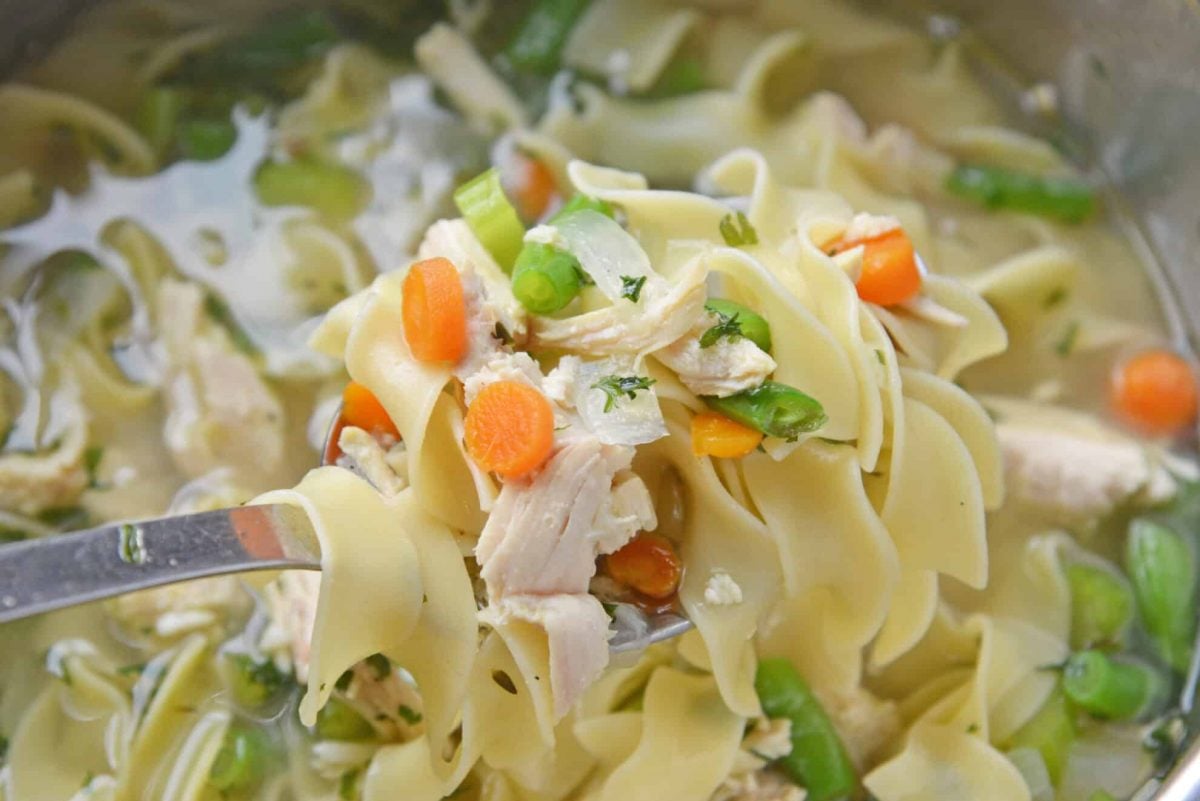 As much as I love soup, sometimes it just takes too long to make. After a long of day of working, sometimes I just need something that is quick and easy, but at the same time tastes great too.
Queue the Instant Pot! After purchasing my Instant Pot, I've come up with quite a few recipes. I just love how quickly you can get dinner on the table!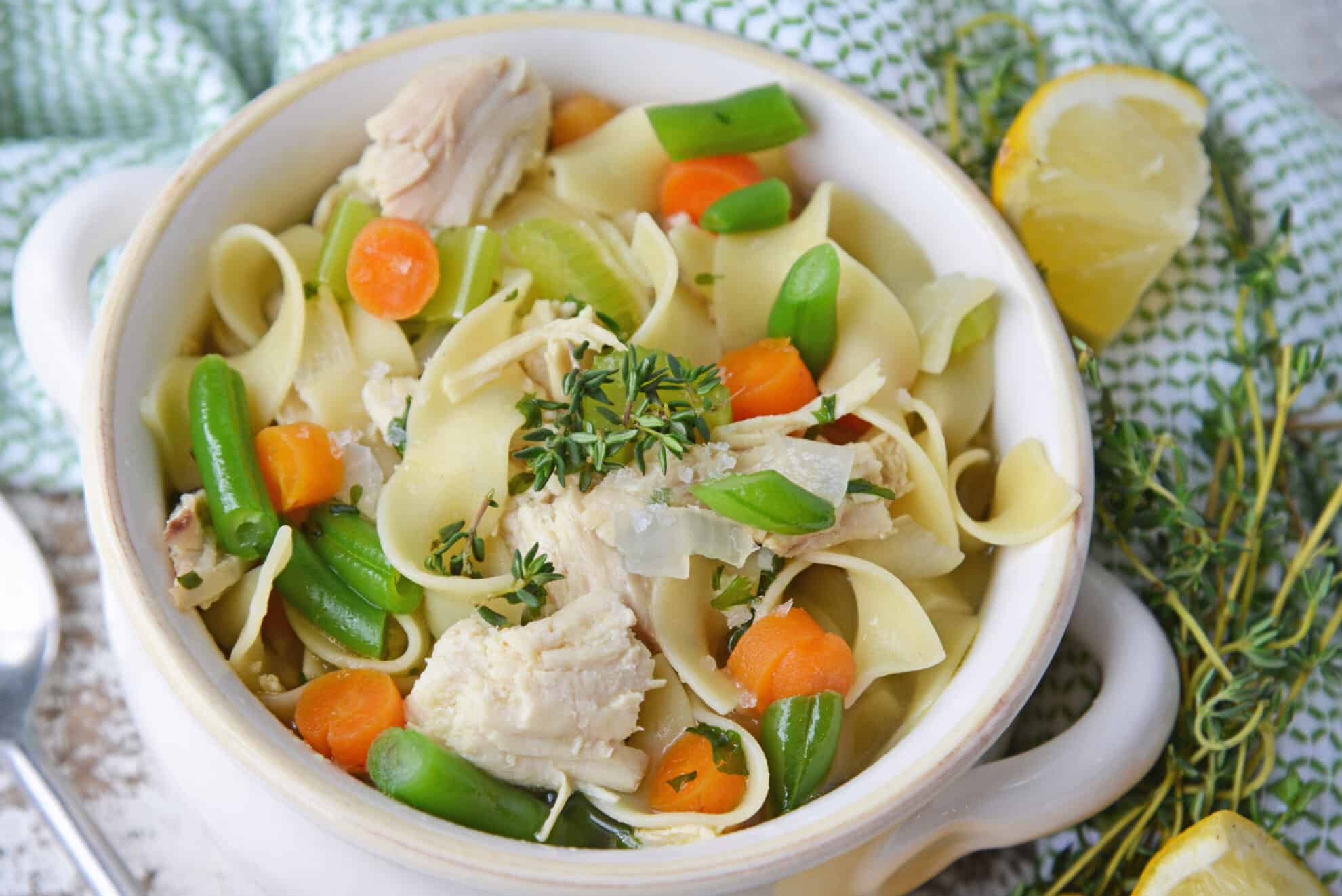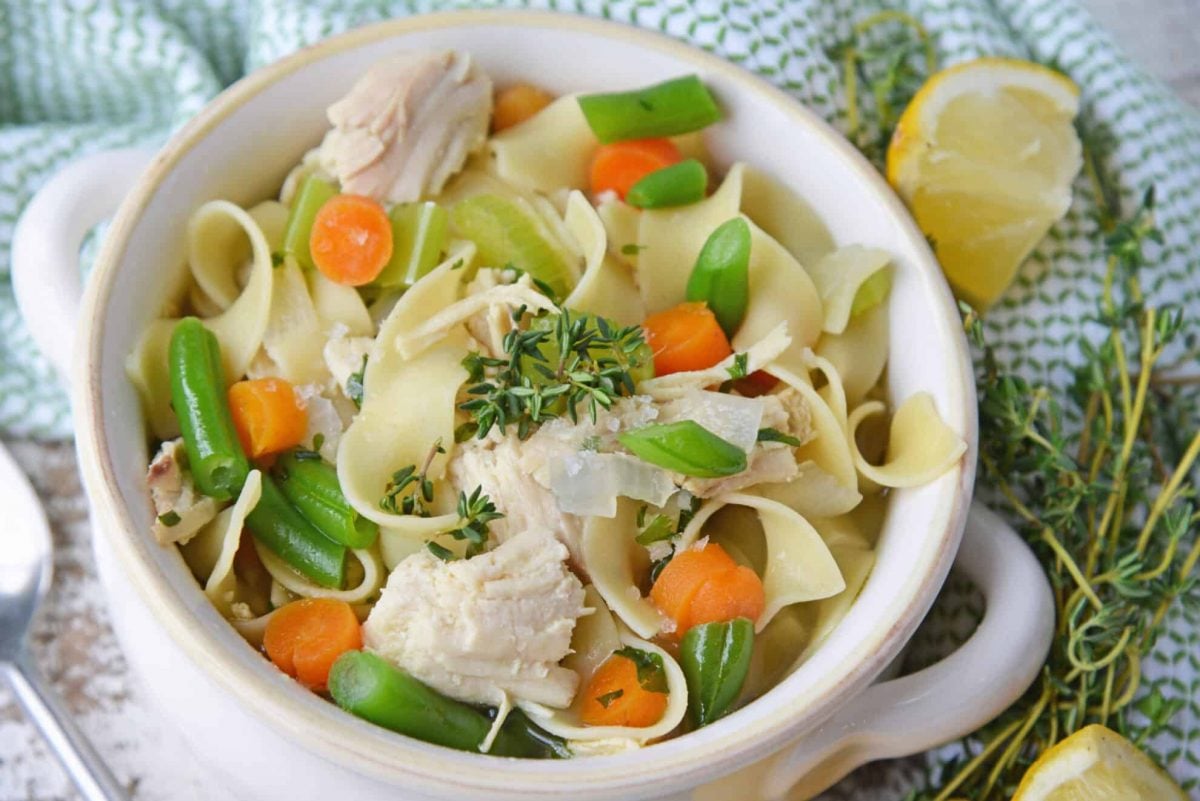 I realized I didn't have an Instant Pot Chicken Soup, so I set about to make one. And man, did I deliver if I do say so myself!
One of the things I love about this particular homemade chicken noodle soup recipe is the flavor in the pasta. While egg noodles are generally pretty tasteless, this pasta will have more flavor because cooking the noodles in the broth helps to absorb all of the flavor.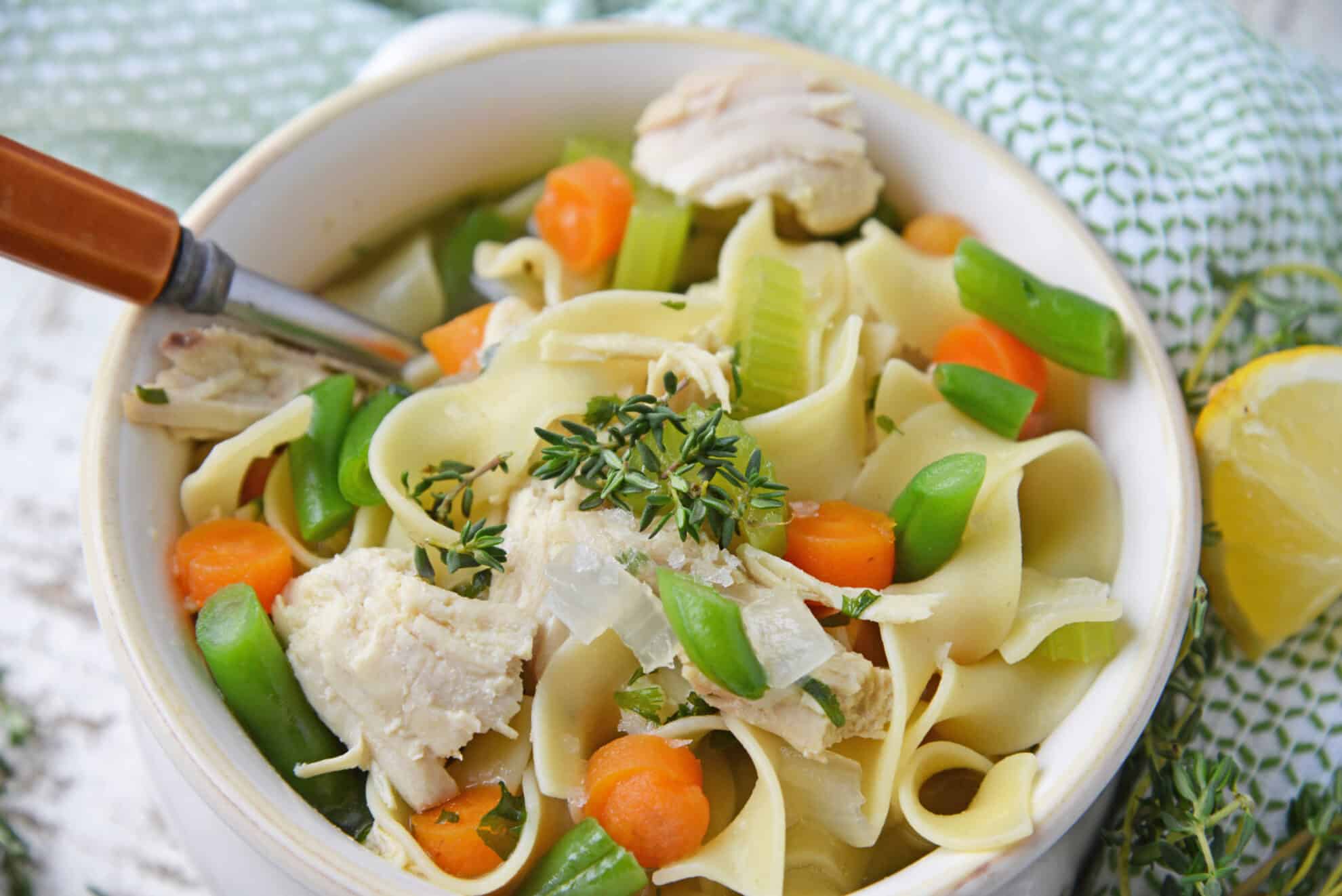 The other element that helps brighten the dish is a little acidity right before serving. In this case, that means lemon juice.
PRO TIP: Any type of acid added to a soup right before serving adds brightness and layers of flavorful sophistication. Try a tablespoon of fancy vinegar (stay away from plain white) or any citrus juice.
Pasta for Chicken Noodle Soup
You can use any type of pasta you wish. Some of the most popular are:
acini di pepe
orzo
tubettini
ditalini
macaroni
To make this super Pressure Cooker Chicken Noodle Soup, start by turning the Instant Pot on the saute function. Add butter and let it melt. Once melted, add carrots, onions and garlic, and saute for 2-3 minutes.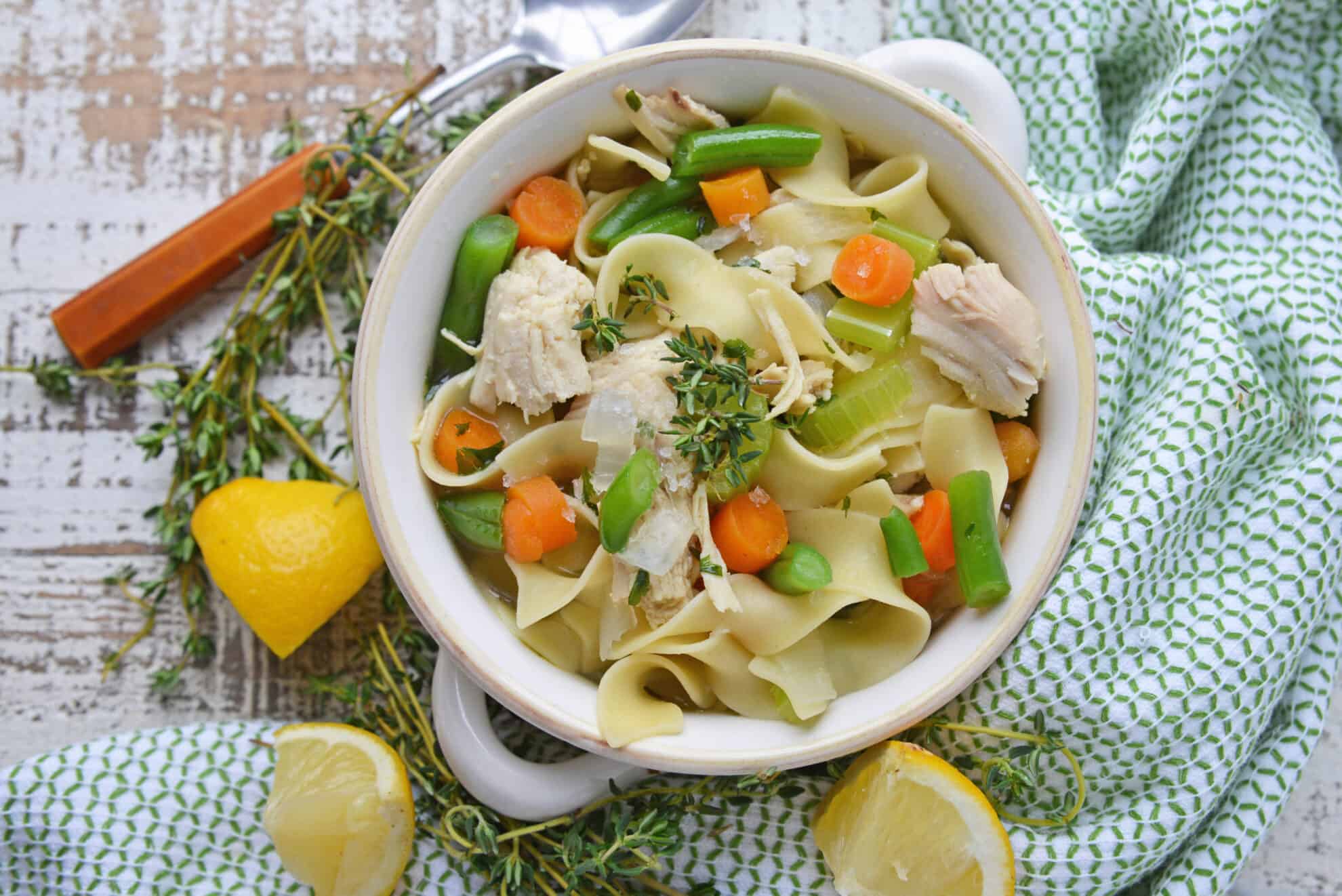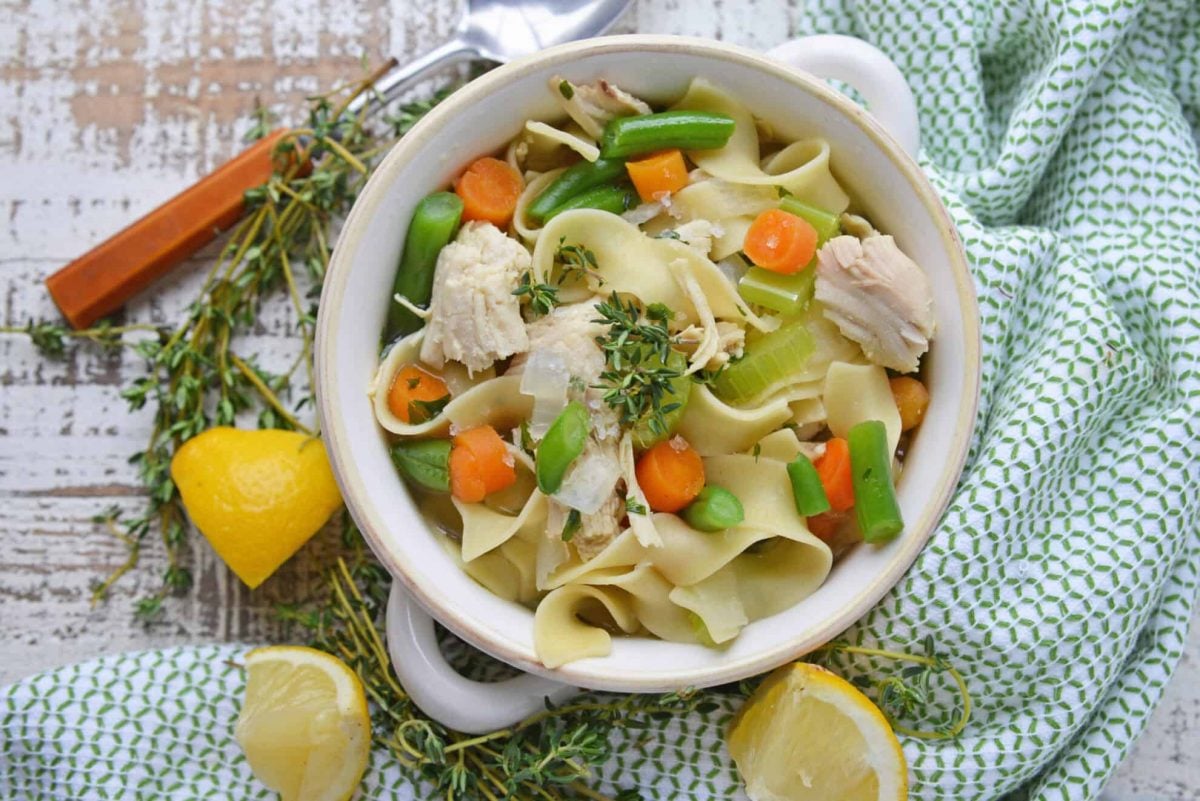 Next add thyme, bay leaf, chicken broth and chicken breasts to the pot. Using manual high pressure, allow that to pressure cook for 15 minutes.
Carefully removing chicken, shred with two forks to make shredded chicken. After shredding, add chicken, frozen green beans, celery and egg noodles back to the pot.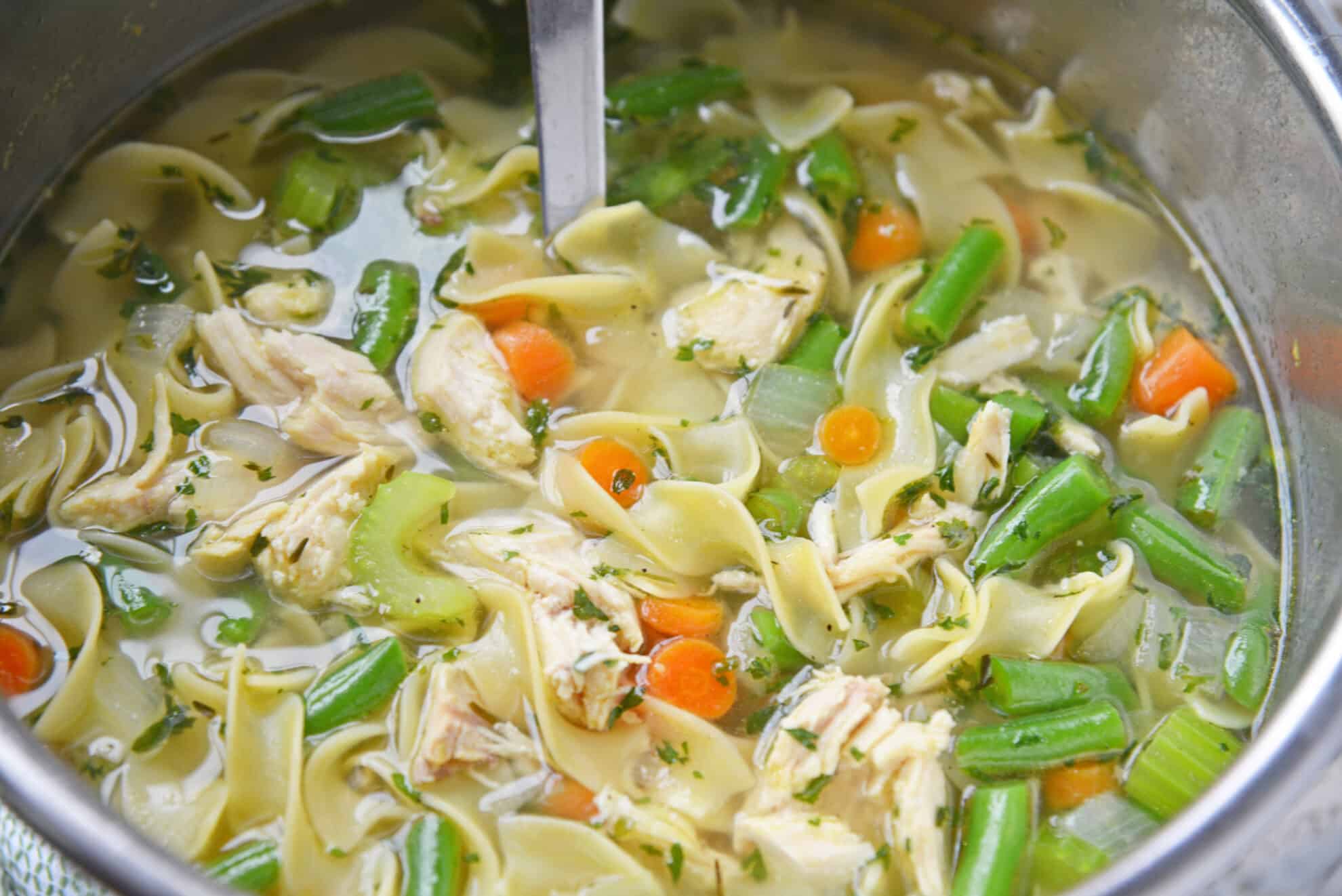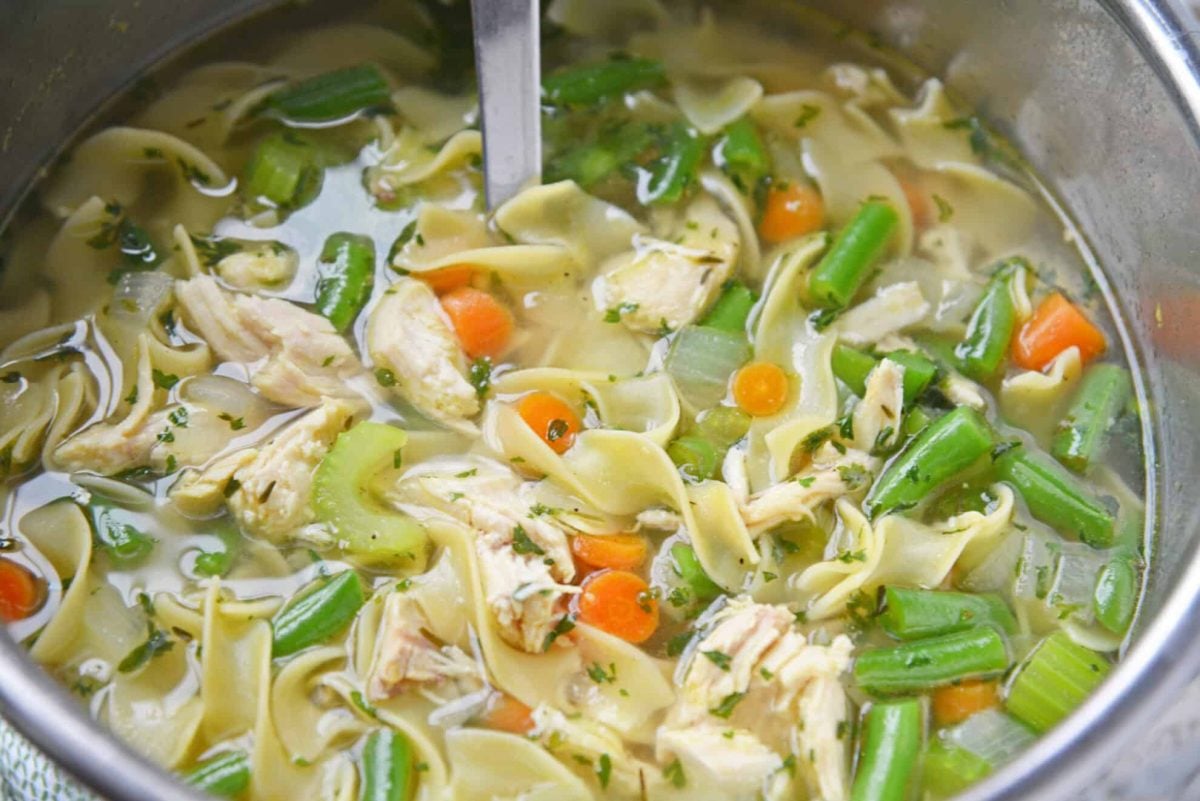 Change to the saute function again, and cook for another 6 minutes (or until the noodles are fully cooked.) Season with salt and pepper, and you're ready to serve.
Perfect for a cool fall night, or any time you're craving something warm and cozy!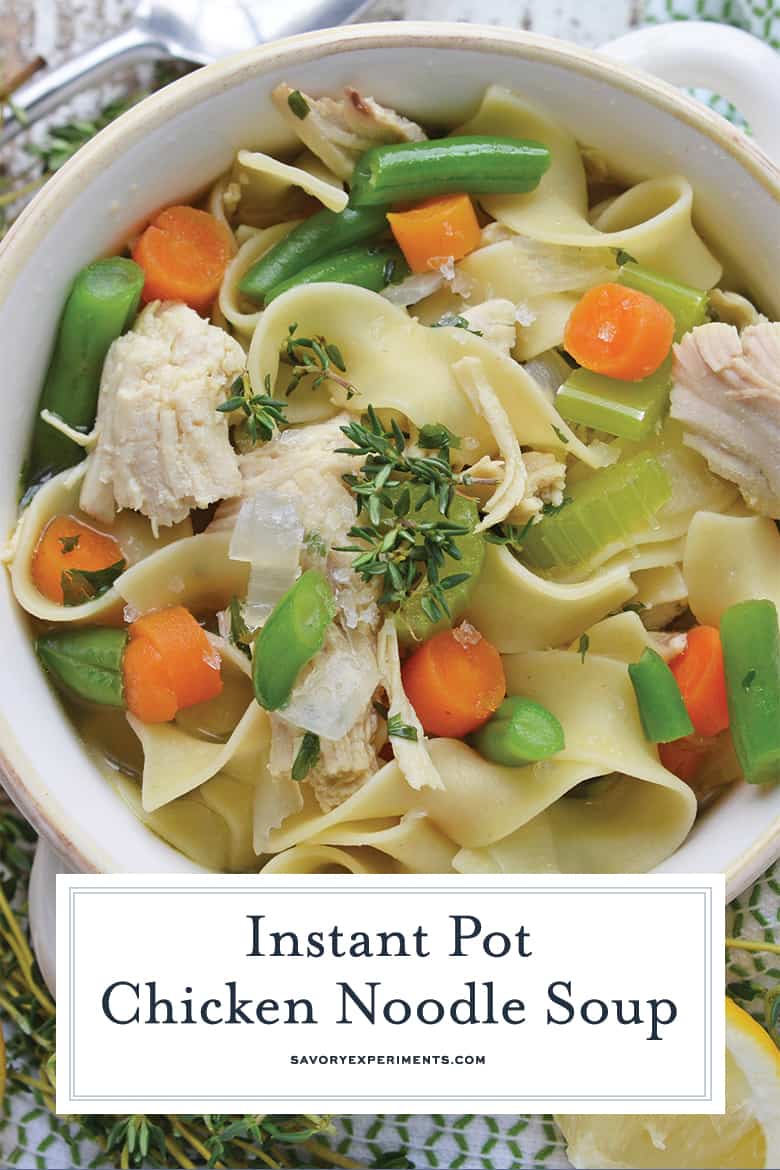 How to make crockpot chicken noodle soup:
Can I make this on the stovetop? You sure can! Just make in a large Dutch oven or large pot and keep on a very low simmer, the lowest possible (don't bring to a boil,) for 2 hours.
What vegetables are in chicken noodle soup? In addition to the traditional onions, carrots and celery of the typical chicken noodle soup recipe, I also like to throw in some green beans.
It adds flavor, texture and color that you wouldn't otherwise have. Plus it's delicious! But if you don't like green beans, you can certainly leave them out. You can also add corn, squash or other types of legumes.
Can chicken noodle soup be frozen? The answer to this is yes…and no. Soups that have noodles don't tend to reheat very well after being frozen. So if you are making this soup just to freeze, leave out the noodles.
When you are ready to thaw and reheat, just boil fresh noodles to add in. However, be aware that the noodles will not have the same flavor, because they will not be cooked in the soup base as the original recipe states.
How to season chicken noodle soup? I like to season mine exactly the way it is written in the recipe: with garlic, thyme, bay leaves, lemon juice and white pepper. But feel free to add in something like rosemary or extra pepper to make it to your liking.
What to serve with chicken noodle soup? We usually eat this as our main meal, so I like to serve my Slow Cooker Chicken Noodle Soup with a good bread. Whether it be Dinner Rolls or even Cheese Stuffed Garlic Rolls.
You could also serve it alongside a nice salad, or even a light sandwich like chicken salad or egg salad.
What is the difference between chicken stock and chicken broth? Chicken stock is made from simmering the bones, which gives it a really full bodied flavor. Whereas chicken broth is mostly made from the meat and some veggies.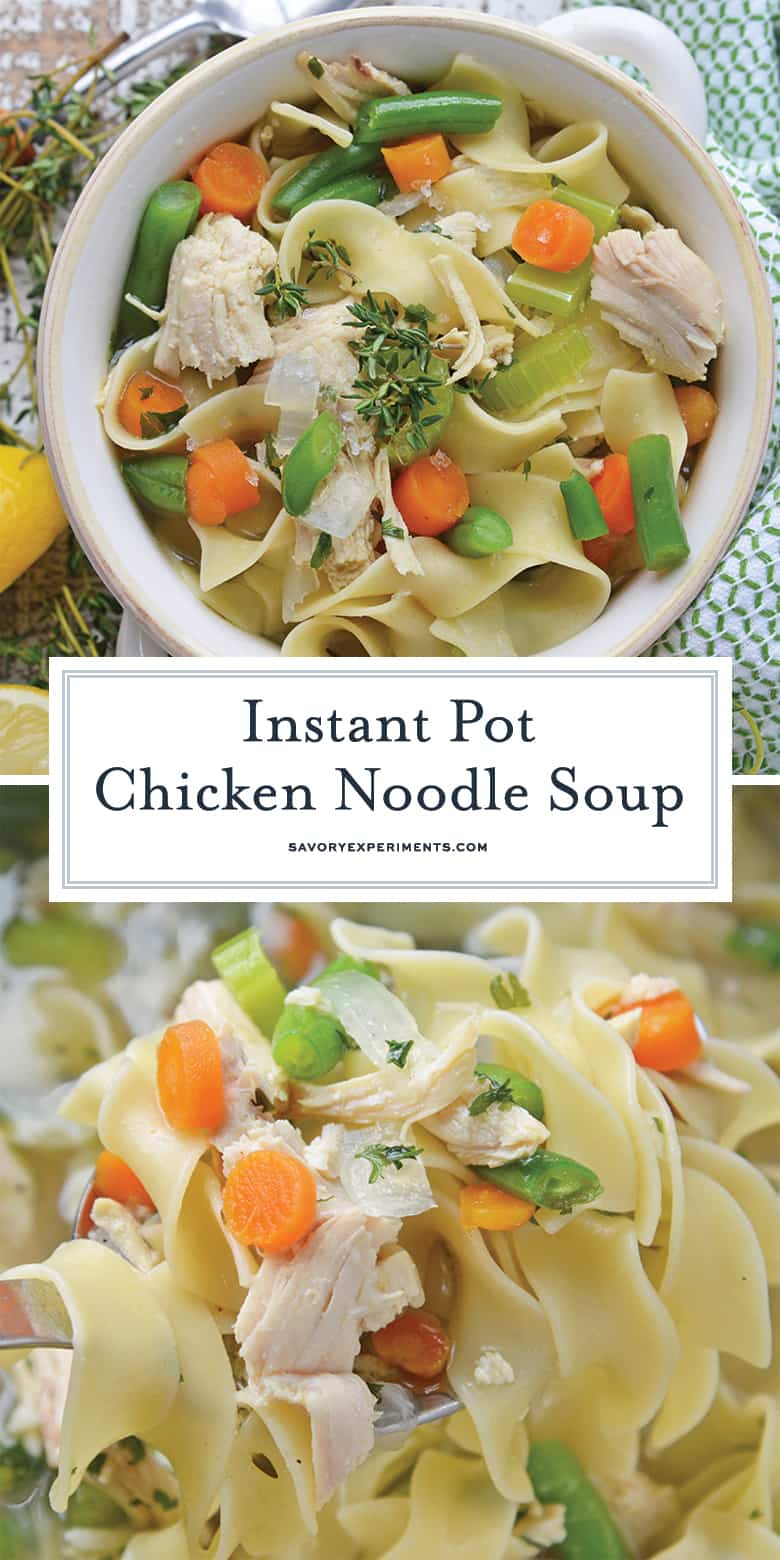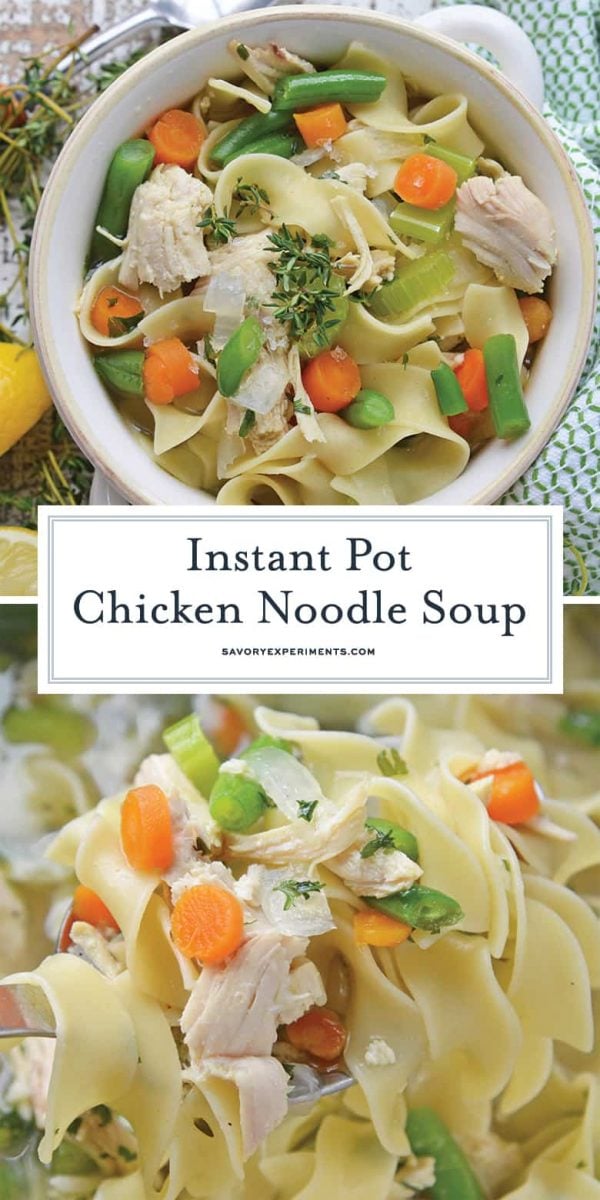 Tools for making Chicken Noodle Soup:
French Onion Soup Crocks– these are oven safe bowls perfect for serving any soup, especially those with melted cheese.
I personally like the old school brown porcelain with a handle. It makes it easier to transfer from the baking sheet to a serving plate.
Instant Pot– You don't have to use an Instant Pot, any electric slow cooker will do.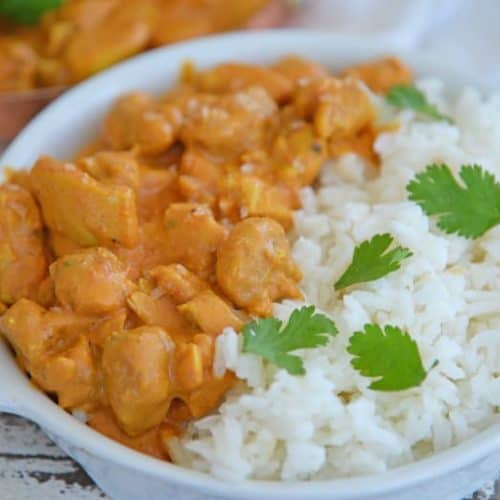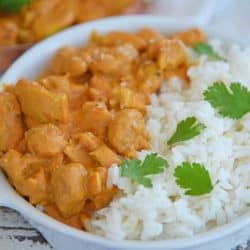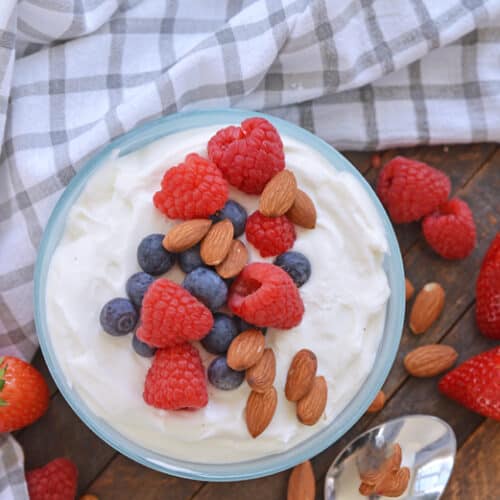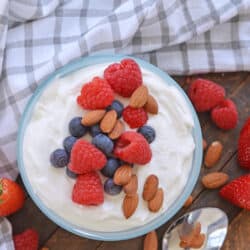 Instant Pot Yogurt
Making your own yogurt at home is easy, delicious, and super cost-effective. Forget stocking your shopping cart with an endless supply of yogurt tubs, cups, and pouches.
See The Recipe!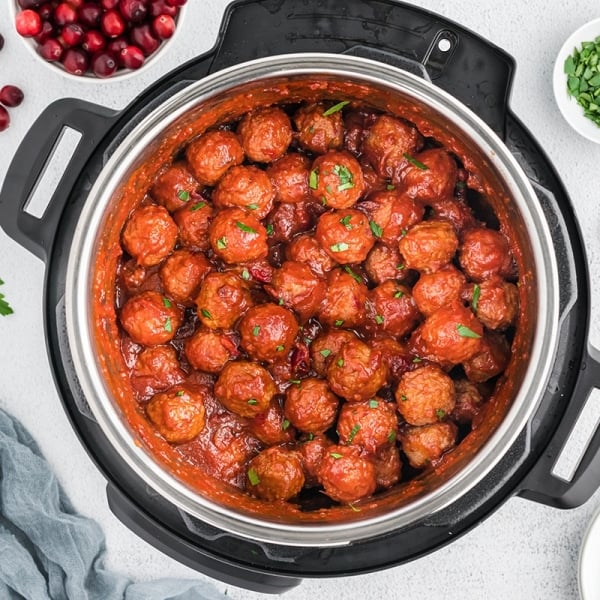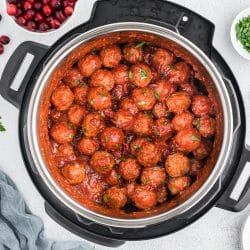 Instant Pot Cranberry Meatballs
Cranberry Chili Meatballs are always a party appetizer favorite, especially around the holidays. Party meatballs don't get easier than these Instant Pot meatballs made with cranberry sauce and sweet chili sauce. Yum!
See The Recipe!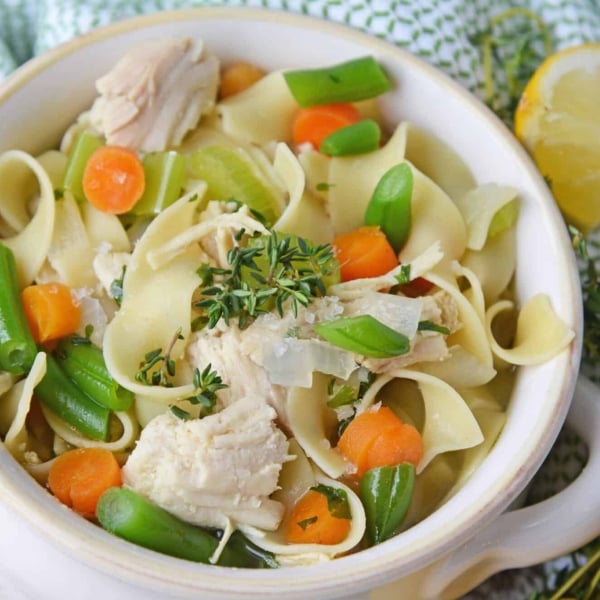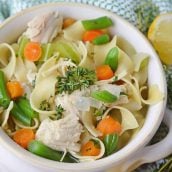 Instant Pot Chicken Noodle Soup
Looking for a homemade chicken noodle soup recipe that you can enjoy all year round? This Instant Pot Chicken Noodle Soup is flavorful and SO easy to make!
Instructions
Set your Instant Pot to the saute function, add butter. When melted, add carrots, yellow onion and garlic. Saute for 2-3 minutes or until they start to soften.

Add thyme, bay leaves, chicken broth and chicken to the pot.

Use manual high pressure for 15 minutes. It will take a while to build because there is so much in the pot.

Remove the chicken pieces from the soup and shred with two forks.

Add frozen green beans, celery and egg noodles to the soup and set the Instant Pot to the saute setting again.

Cook for another 6 minutes uncovered, or until the noodles are cooked.

Lastly, taste and season with white pepper, Kosher salt and lemon juice.

Serve immediately.

If you've tried this recipe, come back and let us know how it was!
Nutrition
Calories:
282
kcal
,
Carbohydrates:
33
g
,
Protein:
20
g
,
Fat:
8
g
,
Saturated Fat:
3
g
,
Cholesterol:
78
mg
,
Sodium:
1781
mg
,
Potassium:
722
mg
,
Fiber:
3
g
,
Sugar:
3
g
,
Vitamin A:
3820
IU
,
Vitamin C:
30
mg
,
Calcium:
57
mg
,
Iron:
2
mg