Coleslaw is a staple and tradition for summertime meals, BBQs and picnics. A convenient way to sneak in those veggies and a splash of color to any meal. Here is my delicious, but easy homemade coleslaw recipe.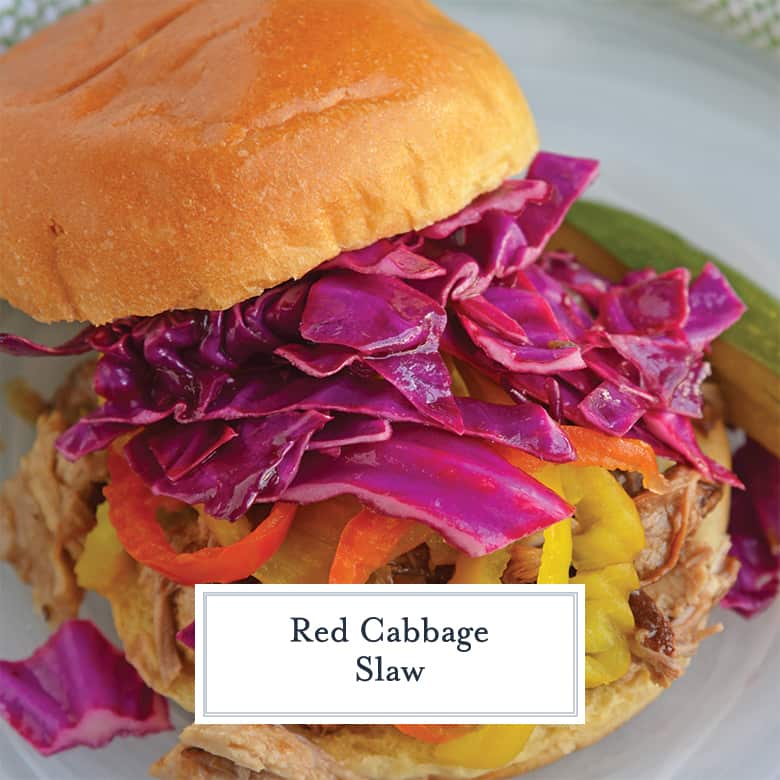 Red Cabbage Coleslaw is an easy coleslaw recipe that pairs well with any BBQ recipe. A no mayo coleslaw that can be made ahead and stays good at room temperture.
For years I stayed away from coleslaw. Then I realized it wasn't because I disliked cabbage or any of the other fresh shredded or minced vegetables, I generally didn't like mayonnaise.
But when I tried a mayo free coleslaw, I loved it! It was like when Princess Jasmine takes a ride on the flying carpet and belts out "a whole new world!!!"
PRO TIP: For angel hair slaw (very thinly cut slices) use a mandolin slicer.
Suddenly I liked the foods that are commonly paired with a side dish of coleslaw too. Pulled pork sandwiches, pulled chicken, fried chicken, fried fish, hot dogs… okay, so I am still not so into hot dogs. But you get the point.
Now that my coleslaw horizons have been opened, I have experimenting with different ways to make it. Some use Greek yogurt as a substitute for mayo, but I've found my favorite coleslaw recipe is actually just using vinegar.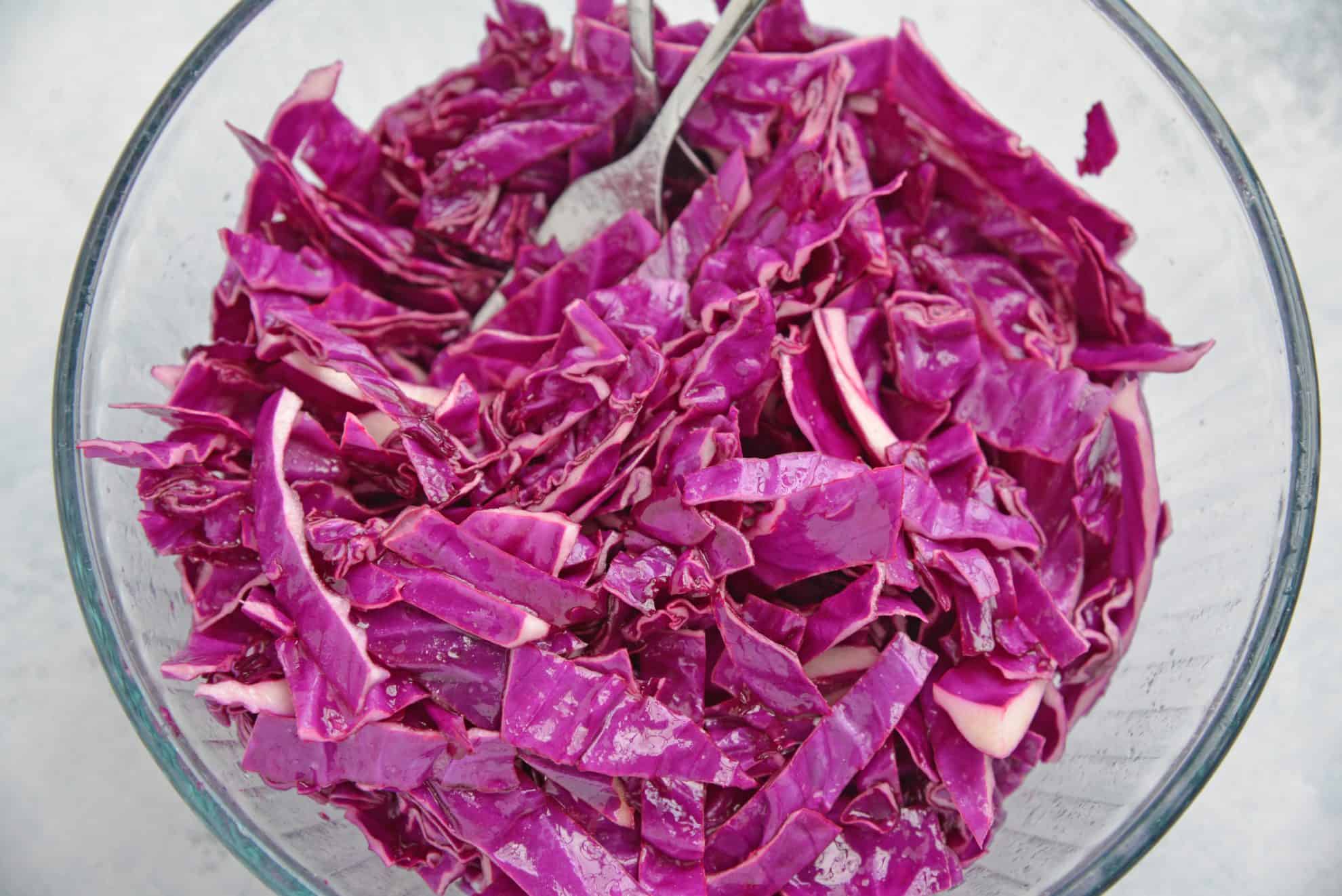 Almost like a southern style kimchi. A quick pickling of cabbage. But coleslaw doesn't even have to use cabbage, although it usually does. Generally speaking, slaw is just shredded, julienned or minced vegetables in some sort of a dressing.
Definition of Coleslaw according to Webster: a salad made of raw sliced or chopped cabbage.
Deciding whether to use green or red cabbage as a base is where I start. From there I add other fresh vegetables like carrots, onion or broccoli.
Others are amped up using fruits and even seeds and nuts for some crunch. Others add green onion, Dijon mustard, celery seed, sesame seeds and lemon juice.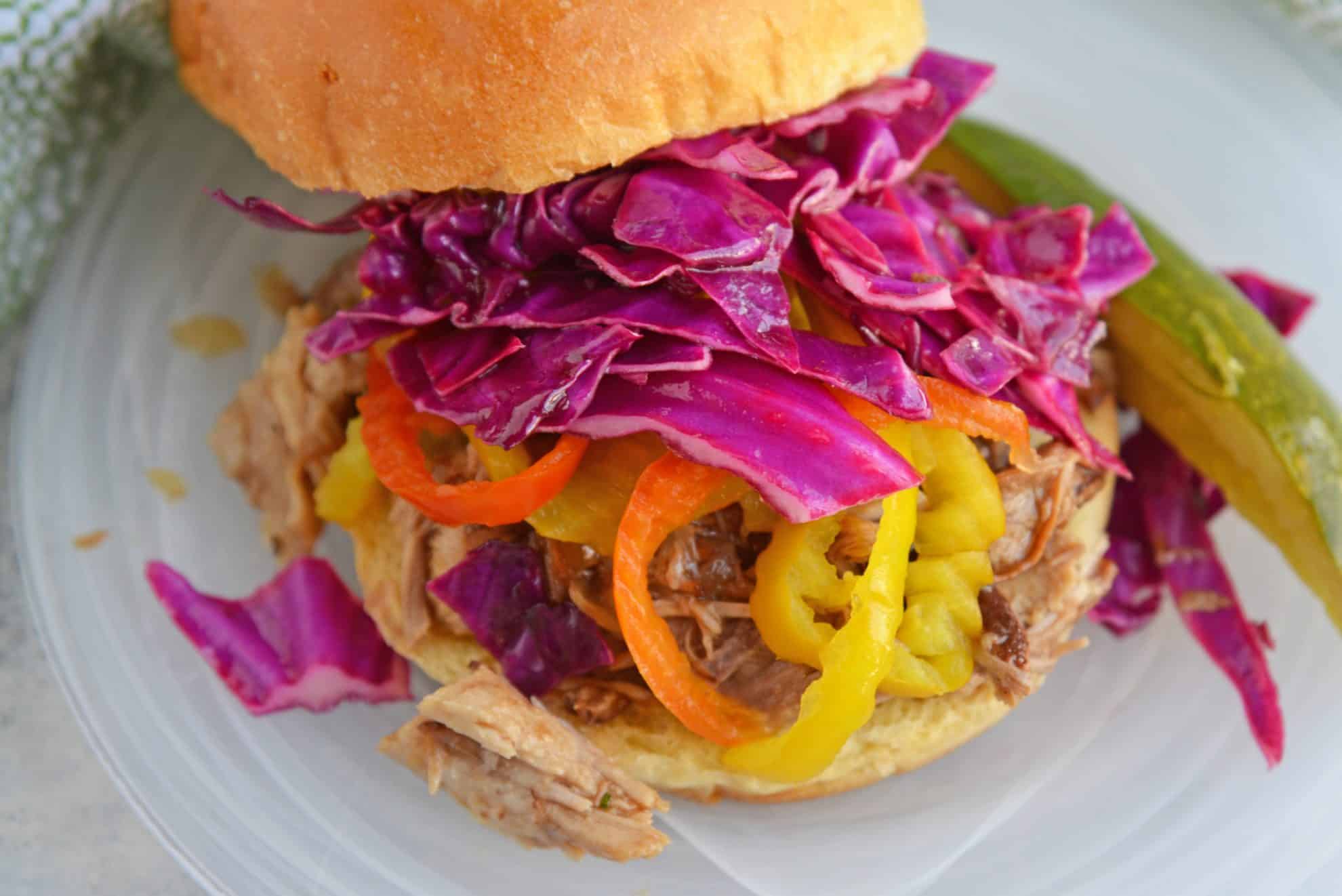 Red cabbage slaw is my most basic of slaws. It is an even simpler version of my Vinegar Coleslaw but using just red cabbage.
If you know me, you know I love COLOR in my food. What is more vibrant and colorful than red cabbage. Which to be fair is actually purple.
PRO TIP: Red and cabbage are very similar in taste and texture and can be used interchangeably. Some beleive red cabbage is slightly more peppery, but I've never noticed the difference. It does however, have slightly more nutritional value.
Beyond that, all you need is apple cider vinegar, olive oil, salt and pepper. I like to give mine an hour or so to marinate, but you can make red cabbage slaw up to 24 in advance.
Just one head of cabbage will make a whole batch. If you don't feel like doing it yourself, feel free to be pre shredded cabbage or even a coleslaw mix.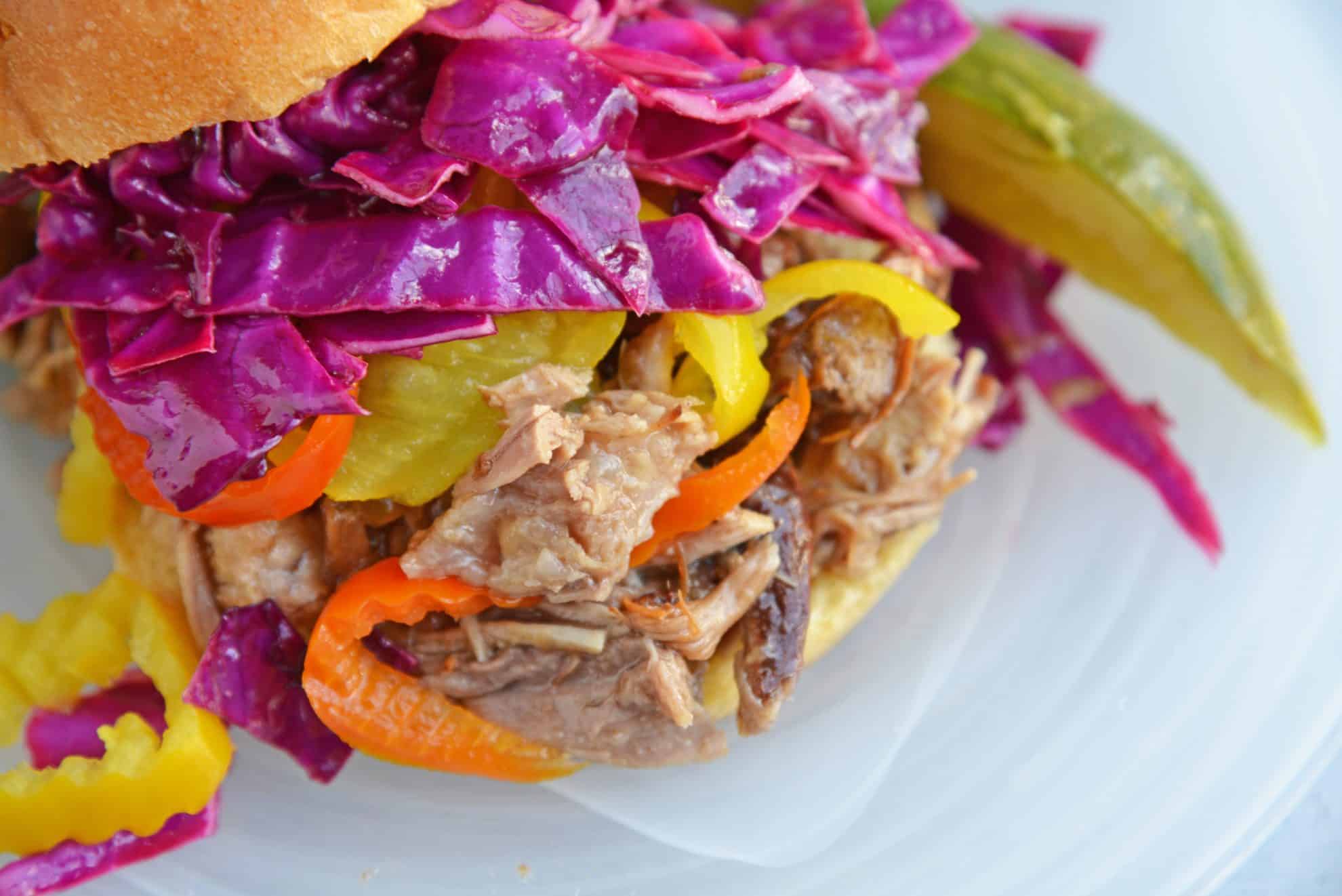 Salt will leach out liquid from your cabbage, so you might need to drain it before serving. Vinegar will pickle is a little, making it limp. The more time it marinates, the limper it will get.
So if you pretty a little toothiness and crunch to your slaw, then marinate it for less time.
PRO TIP: One benefit to a no mayo coleslaw recipe is that it more stable at room temperture or high heat than a mayonnaise based coleslaw.
There are all sorts of do-dads out there to shred vegetables and leafy greens, but I find the easiest for lettuce and cabbage is just a cutting board and large knife.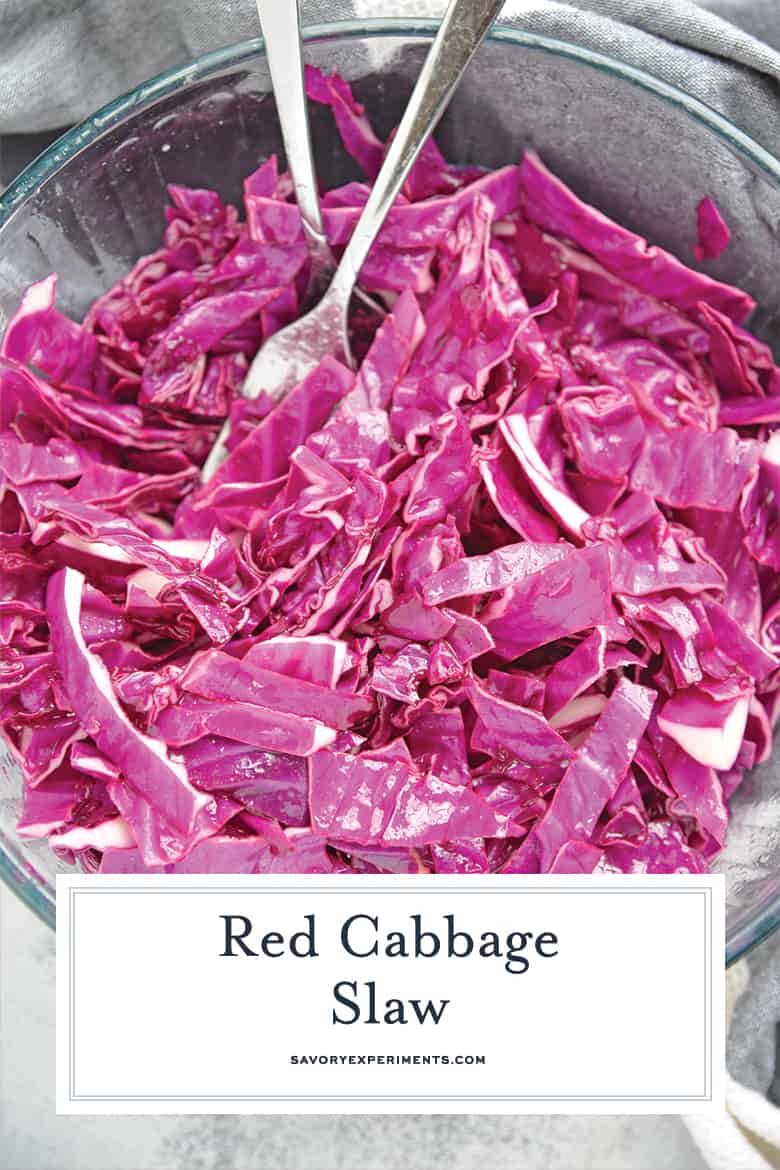 How to shred cabbage:
Rinse cabbage and remove any browned or limp leaves.
Cut the entire cabbage in half, through the stem.
Cut the halves again, so you now have quarters.
To core cabbage, slice on a diagonal to cut off thick stems.
From there, cut all quarters lengthwise.
If you liked this coleslaw recipe, check these out:
Brussels Sprout Slaw with Cranberries and Almonds
Simple, tasty and healthy slaw.
Crunchy Broccoli Slaw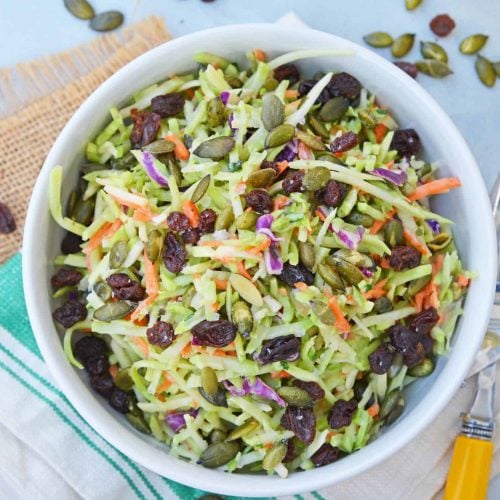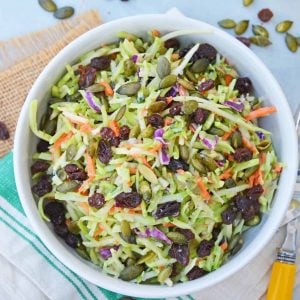 This Crunchy Broccoli Slaw Salad is made with a bagged broccoli slaw and a few extra ingredients for a quick, easy and tasty side salad!
Tools for making Red Cabbage Slaw:
Wood cutting board – wood won't dull your knives like plastic and if treated properly, has natural antimicrobial properties.
Good knife – Global is my favorite! They are worth the price, I promise. I am kind of obsessed with them and store them tucked away so no one else can use them. Including hubby. Hands off my good stuff!
Mandolin Slicer
– if you prefer angel hair slaw, you might need one of these, but if hand slicer or chopped slaw is your jam, you won't need one at all! Please practice all of the suggested safety including the safety guard. The mandolin is #1 kitchen utensil for accidents.
Mixing Bowls– make sure to check out my article on Using the Right Mixing Bowl, you'd be surprised how many people aren't, especially for a recipe like this with high vinegar acidity.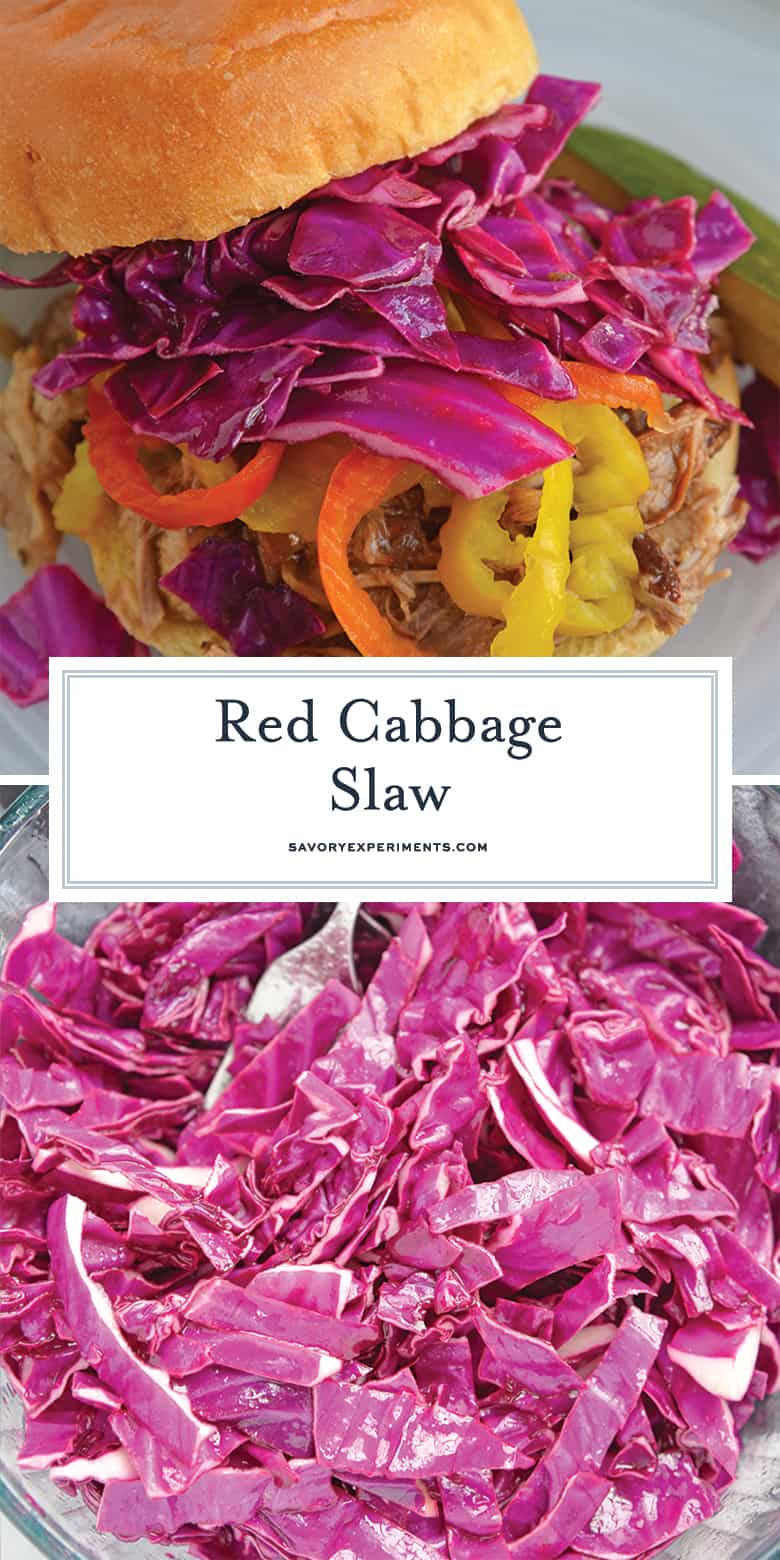 Red Cabbage Coleslaw is an easy coleslaw recipe that pairs well with any BBQ recipe. A no mayo coleslaw that can be made ahead and stays good at room temperture. Click to Tweet
CONNECT WITH SAVORY EXPERIMENTS!

Be sure to follow me on social media, so you never miss a post!

Facebook | Twitter | Youtube
Pinterest | Instagram

Get our FREE 8 Day E-Course on How to Be a Better Home Cook. Sign up HERE!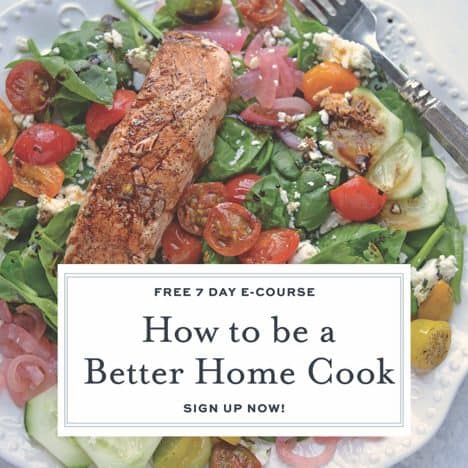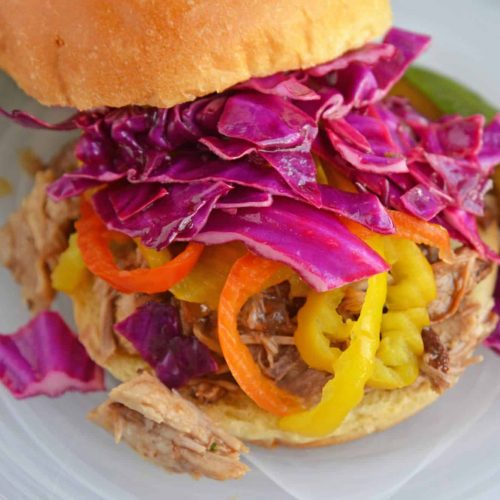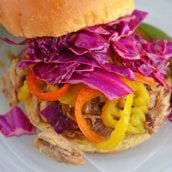 Print Recipe
Red Cabbage Slaw
Red Cabbage Coleslaw is an easy coleslaw recipe that pairs well with any BBQ recipe. A no mayo coleslaw that can be made ahead and stays good at room temperture.
Instructions
Chop, minced or shred cabbage as desired. Place in a large mixing bowl.

Toss with apple cider vinegar.

Toss with Kosher salt and ground black pepper.

Cover, refrigerate and marinate for 1 hour to 24 hours.

Toss again and drain before serving.

If you tried this recipe, come back and let us know how it was!
Nutrition
Calories:
47
kcal
|
Carbohydrates:
10
g
|
Protein:
2
g
|
Sodium:
426
mg
|
Potassium:
354
mg
|
Fiber:
2
g
|
Sugar:
5
g
|
Vitamin A:
1560
IU
|
Vitamin C:
79.7
mg
|
Calcium:
63
mg
|
Iron:
1.2
mg