If I told you that I didn't try cheesecake until I was a full grown adult, would you beleive me? It's true! And now I'm one of those weirdos that obsesses over a good cheesecake. A creamy, rich base with just enough tang and sweetness.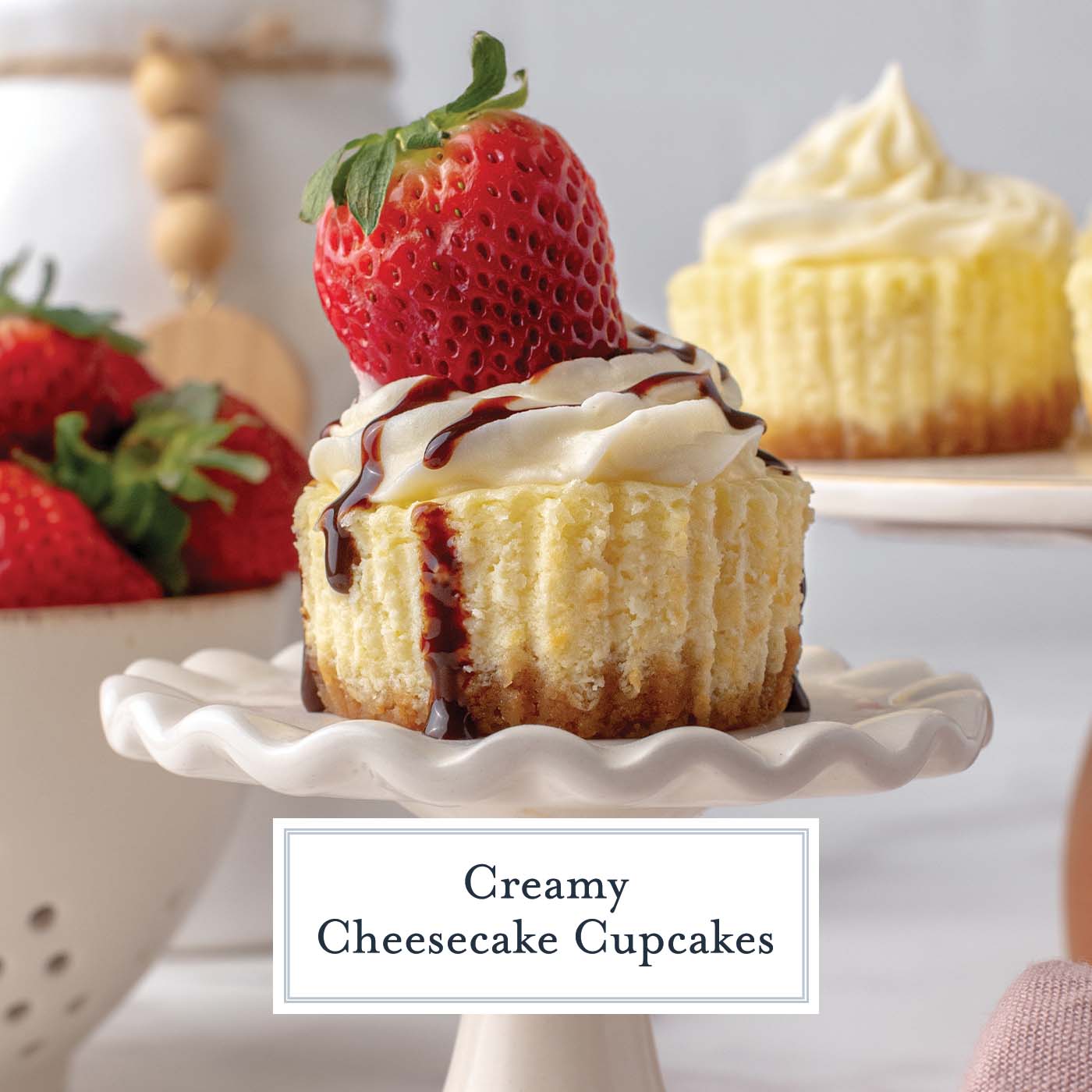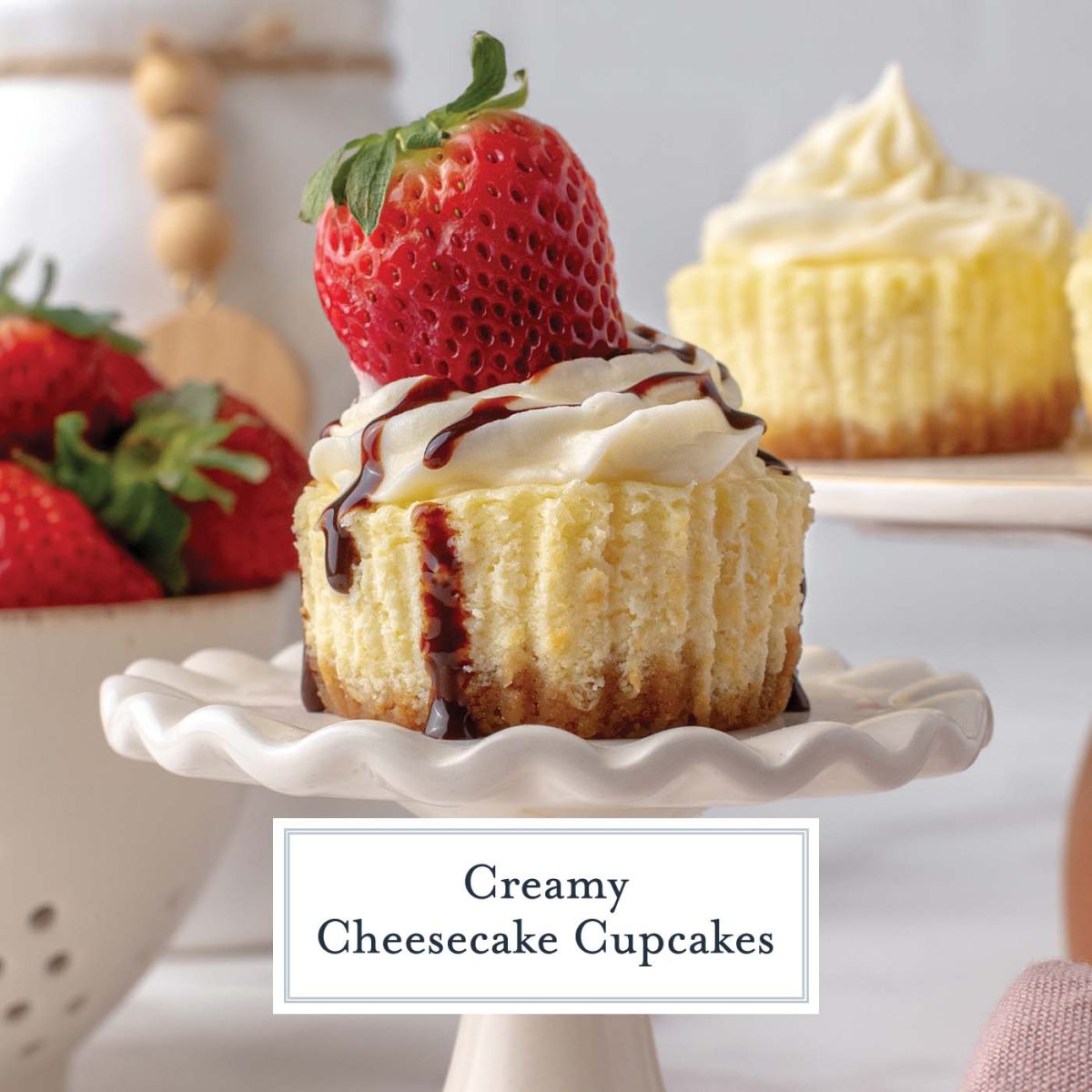 But these mini cheesecakes are elevated by topping them with my favorite frosting: cream cheese frosting. Garnish them with strawberries, chocolate sauce, mint leaves or anything else you might enjoy. They are perfect for parties, potlucks, Valentine's Day or any other holiday.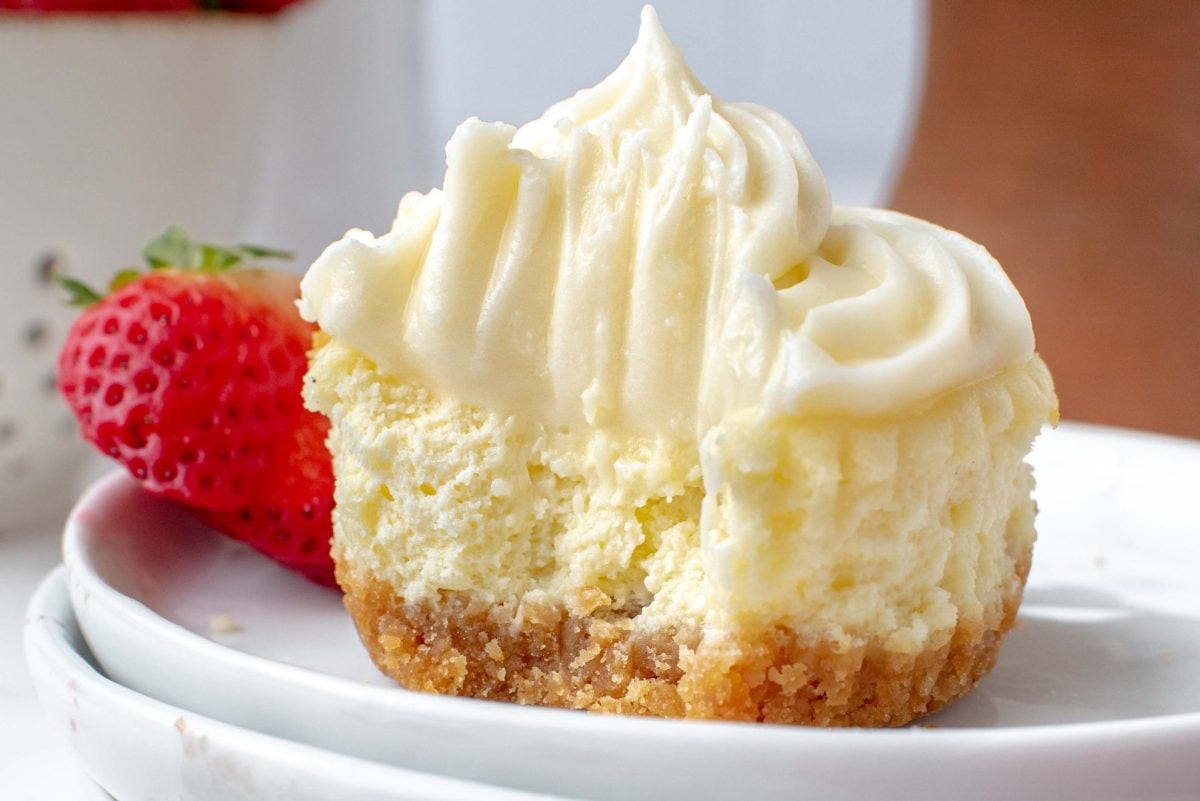 What You'll Need to Make Mini Cheesecakes
Vanilla Wafers- Or Nilla Wafers, make this buttery crust, but honestly, any cracker or cookie can also make these easily customizable. Oreo crumbs, graham crackers and gingersnaps are other favorites.
Butters- I use salted butter for the crust so it has a nice balance, but unsalted butter for the actual cheesecake filling. If you wanted to use unsalted for both, be my guest, but add a pinch of salt or omit salt if you use salted butter in the batter.
Cream cheese- Clearly cheesecake requires cream cheese, go full boar and get full fat. Reduced fat will work, but won't have the the richness. Make sure it is room temperature to get the smoothest blend.
Vanilla Greek yogurt– This ingredient is double fold, it adds tanginess but also amps up the creamy factor. It is important to use Greek yogurt because it is strained to be thicker than traditional yogurt and you don't want that added moisture in the batter, it won't bake up correctly. Vanilla yogurt is slightly sweetened and of course, faintly flavored with vanilla. Try using another flavor to subtly change the flavor profile. Strained sour cream can also be swapped.
Sugar- We are making this sweet, not savory!
Eggs- Gives the cream cheese structure and luft.
Vanilla or Almond Extract– Pick your favorite flavor or use both! Some of my favorite desserts blend the two. Lemon zest and fresh lemon juice can also be swapped.
Fine Sea Salt- Coarse salt won't have enough time to dissolve and evenly distribute. If you do use coarse, double the volume.
Cream Cheese Frosting
Traditional cheesecake doesn't typically use frosting, but I will make zero excuses for loving it (especially cream cheese) and making sky-high swirls with it.
We made ours from scratch, but feel free grab a tub of pre-made frosting or ditch it all together and just skip on down to the toppings suggestions.
You'll need the usual cream cheese frosting ingredients: cream cheese, butter, powdered sugar, fine sea salt and vanilla extract.
How to Make
One of the questions we get most frequently is how to make this recipe into a no-bake cheesecake. Welp, that wouldn't be the recipe. No-bake cheesecakes don't set as well and thus would just flop out into a mess when you removed the wrapper. So, for good reason, this is a baked cheesecake recipe.
Preheat the oven and line 20 standard muffin tins with cupcake liners. Spray lightly with the cooking spray for easy removal before serving. Paper liners tend to work best.
Start by making the crust in a small bowl. In a medium mixing bowl, combine the vanilla crumbs with melted butter until all are wet like sand. Evenly press it into the prepared muffin wells.

Next, make the cheesecake batter in a large bowl. Beat the cream cheese until smooth, which can take several minutes. Doing this will prevent lumpy cheesecake in the long run. Add the sugar and yogurt, blending well again. Add the eggs and extract and mix for approximately 2-3 minutes. A few little flecks might still be in the batter, this is fine, they will bake out.
Divide the cream cheese mixture between muffin cups and tap several times to get any air bubbles out.
Bake until the tops are set and not jiggly, they might be very lightly golden brown. If your oven heat is uneven, rotate the tins halfway through cooking but be mindful to not leave the oven door open for too long so the temperature doesn't drop too drastically. Since these are smaller, they don't really need a water bath and any unsightly small cracks will be covered up with frosting.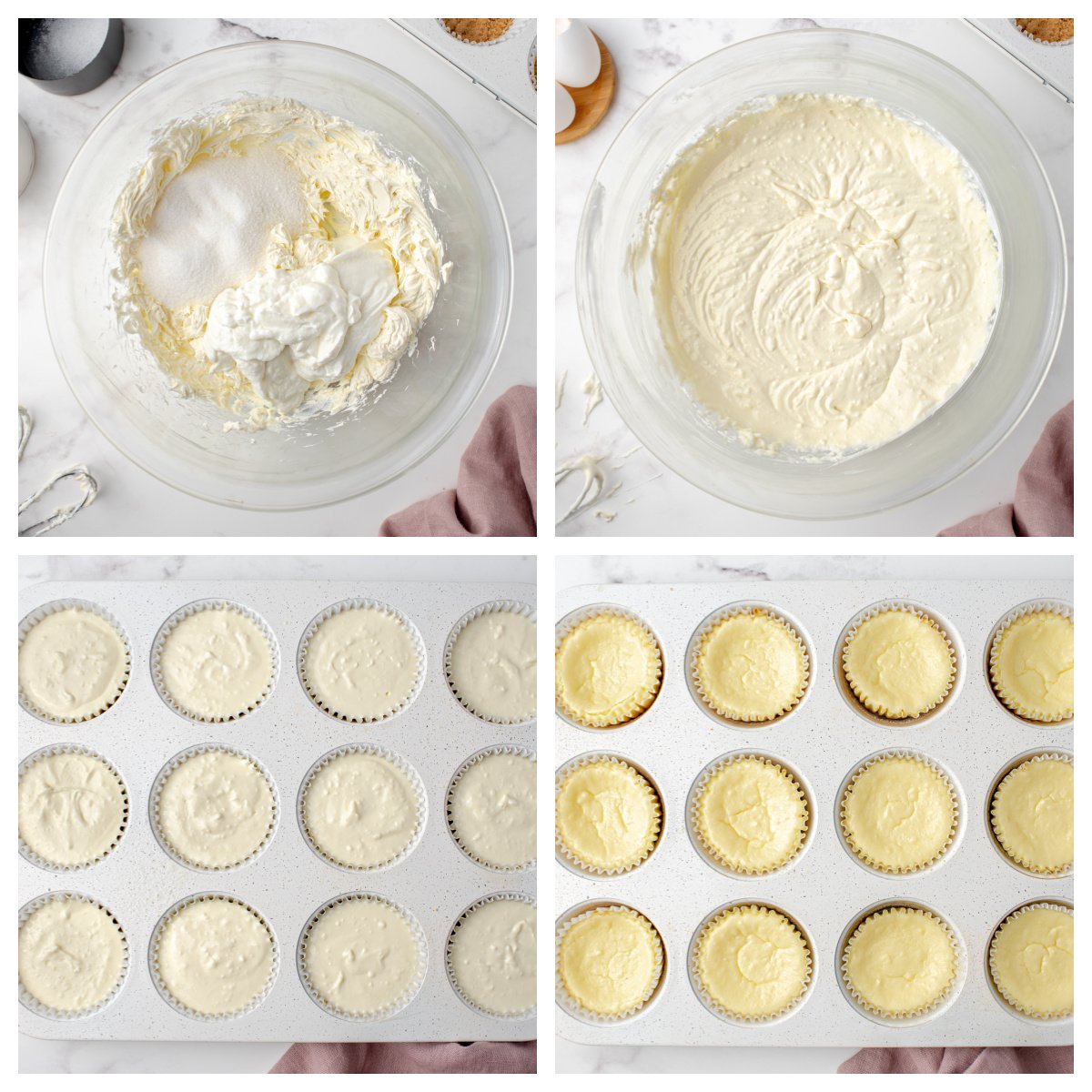 Remove the mini cheesecakes and allow them to cool for 30 minutes, then transfer to the refrigerator to set, approximately 2-3 hours or overnight. If they aren't cool enough before you transfer them, they will create condensation and get a little wet.
When they are chilled and set, make the frosting by combining the frosting ingredients together.
Use an offset spatula or transfer to a piping bag fitted with a large star tip or round tip. Pipe onto the mini cheesecake cupcakes.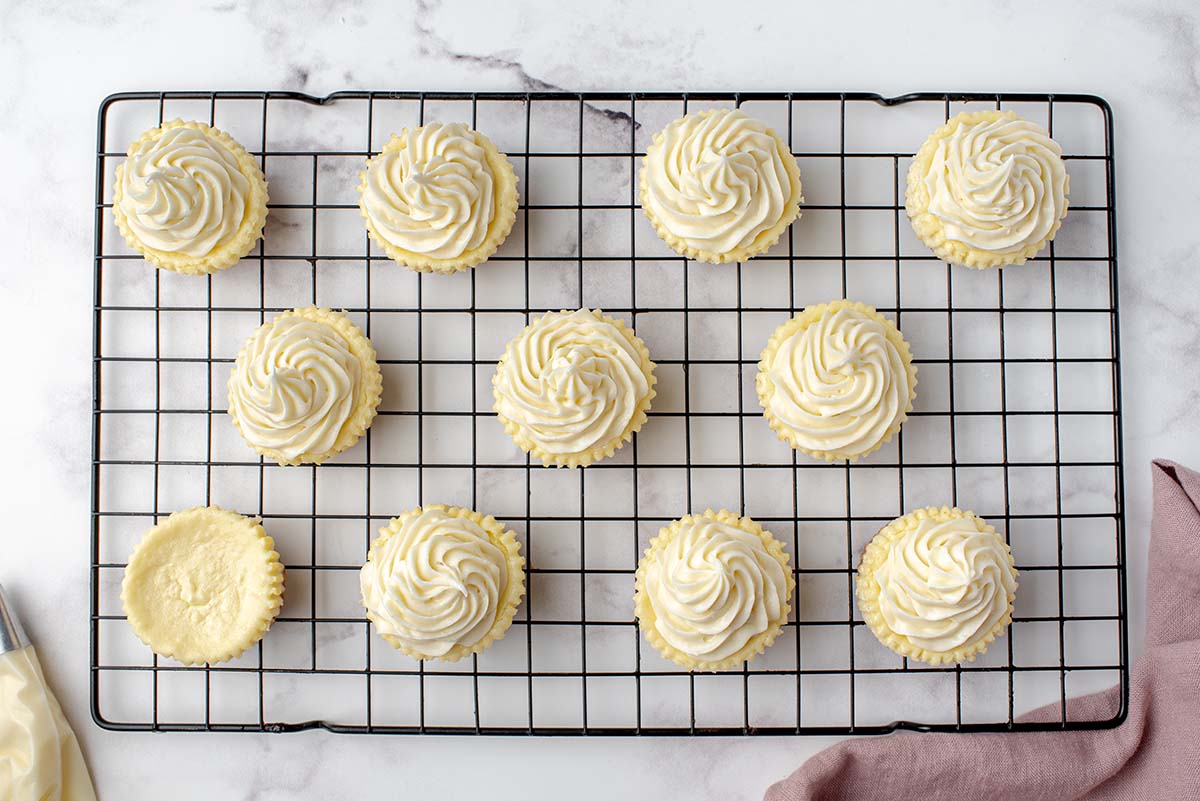 Toppings
These cheesecake cupcakes are delicious without frosting or toppings, but they are so much fun, so why not add a little pizzazz? If you are celebrating a specific holiday or planning a baby shower, feel free to tint the cheesecake filling or frosting with coordinating colors.
Fresh Fruit- strawberries, raspberries, blueberries
Chopped Nuts- walnuts, pecans, pistachios
Mini chocolate chips
Sprinkles
Chocolate syrup
Chopped candy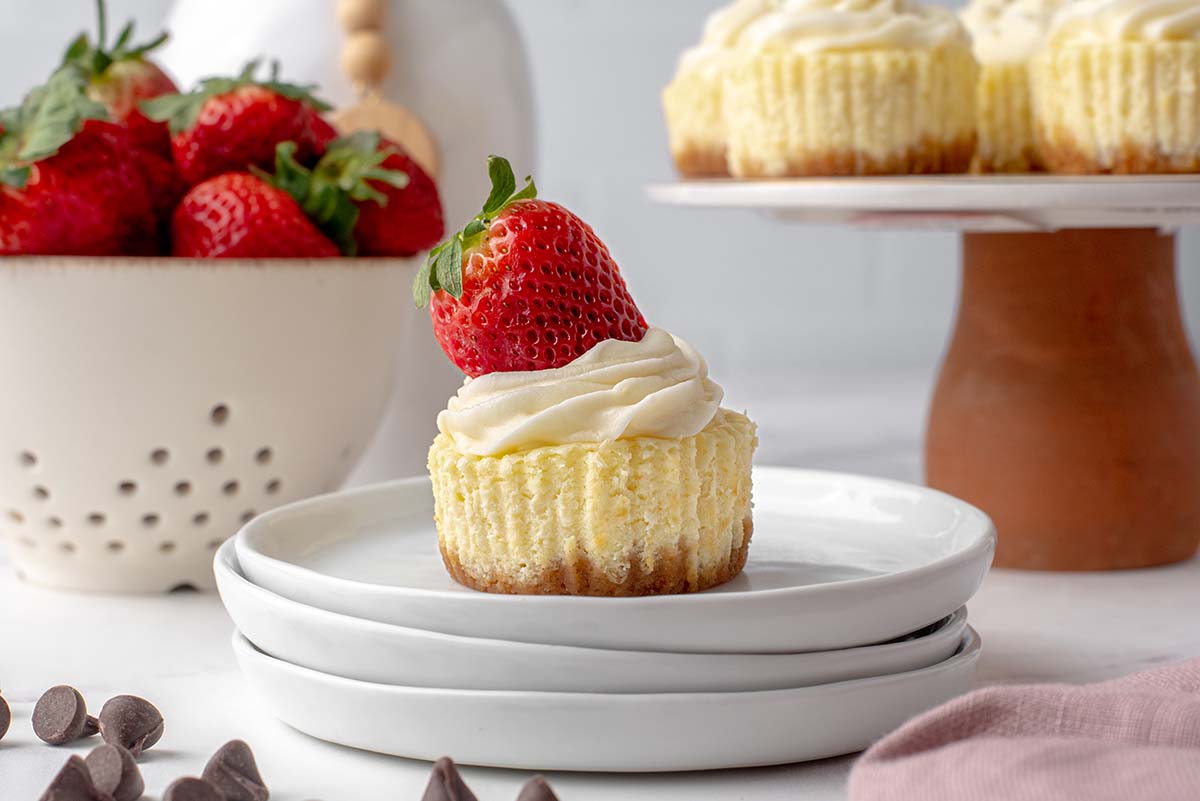 Storage & Freezing
Store mini cheesecakes in an airtight container in the refrigerator for up to a week. Like most baked goods, they are best enjoyed the day they are prepared or the day after. Cheesecakes can build up a little moisture, but this is easily dabbed away with a paper towel. I recommend waiting to frost them until an hour or two before serving.
Baked cheesecakes can be frozen for up to 2 months. Wrap well and airtight. Wait to frost them until fully defrosted. Thaw in the refrigerator for several hours.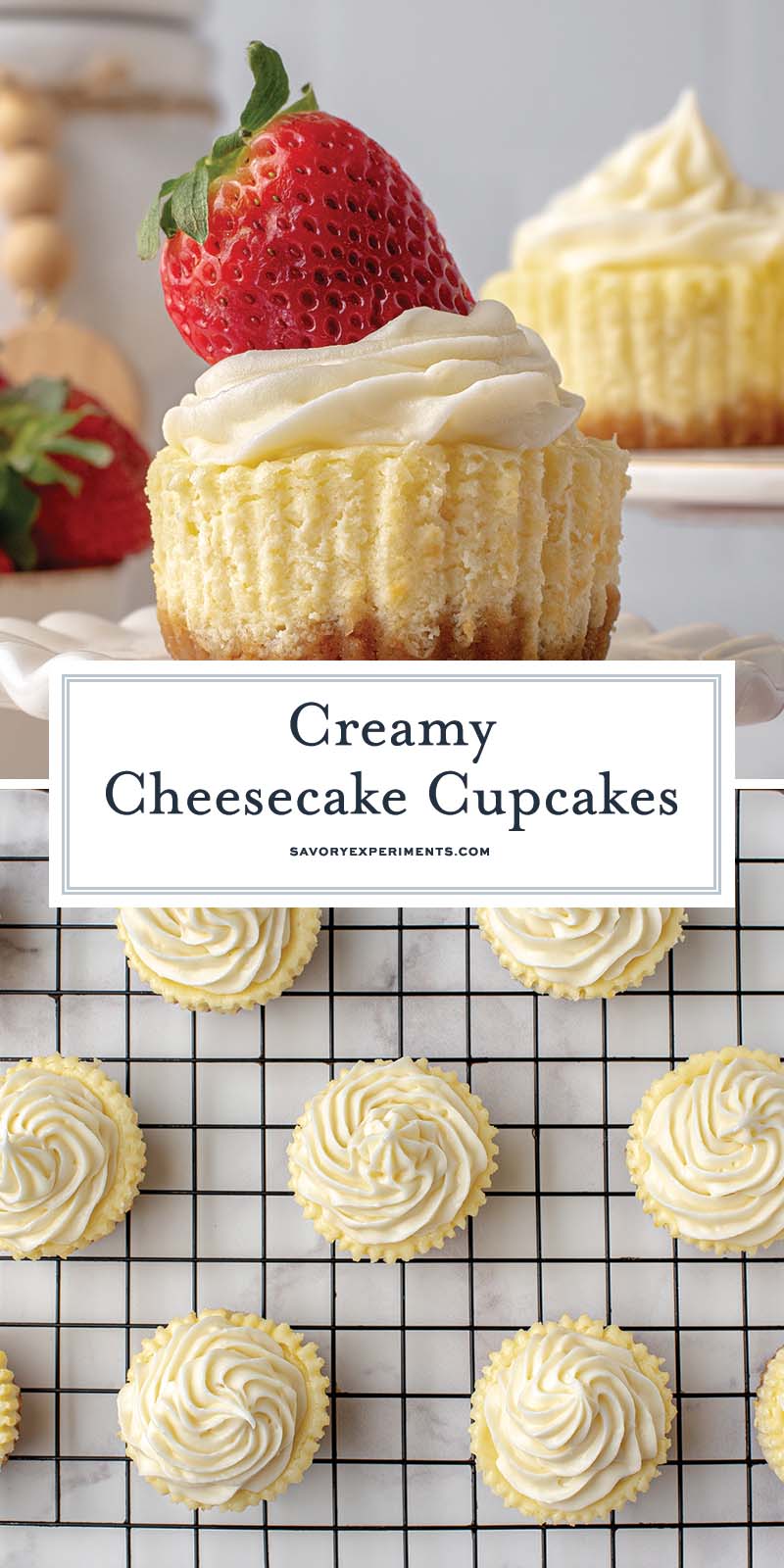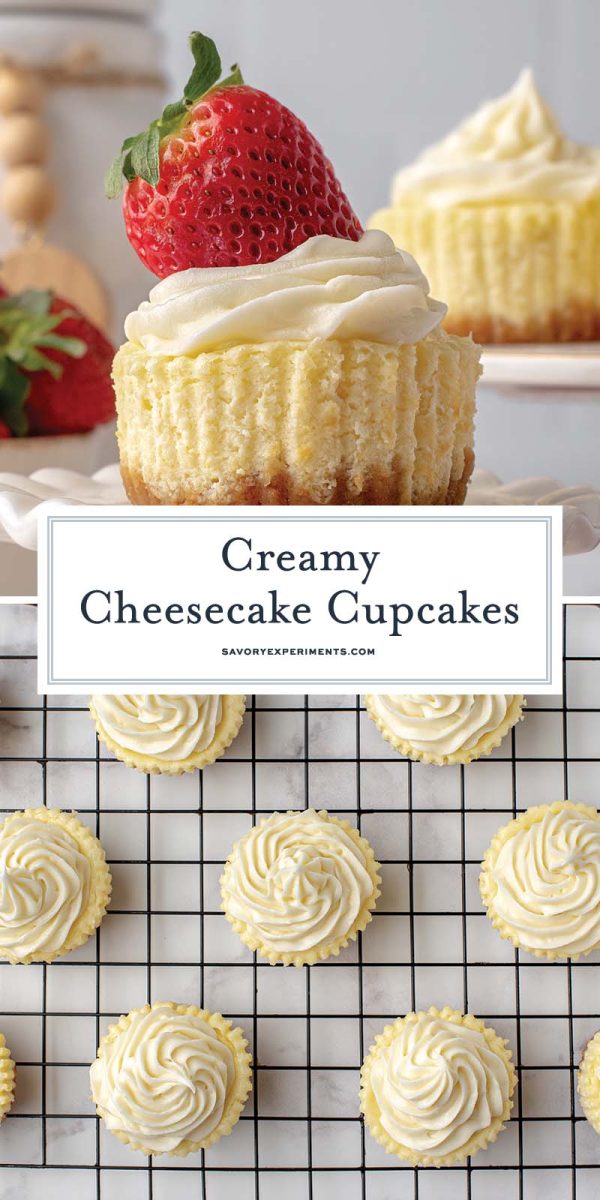 Cream Cheese Candy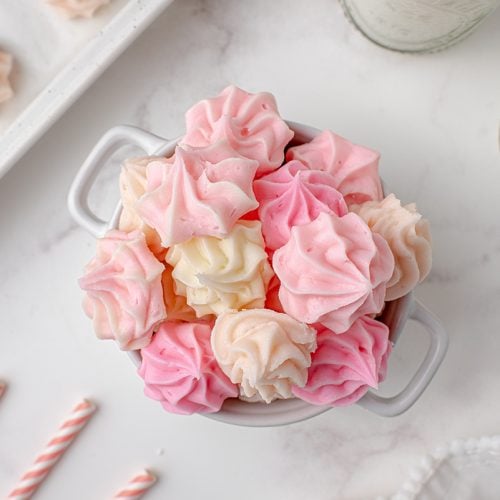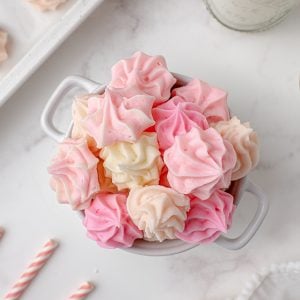 One of the easiest cream cheese desserts, Cream Cheese Candy is an easy no-bake dessert idea for parties, weddings or just to munch on.
Lemon Cheesecake Bars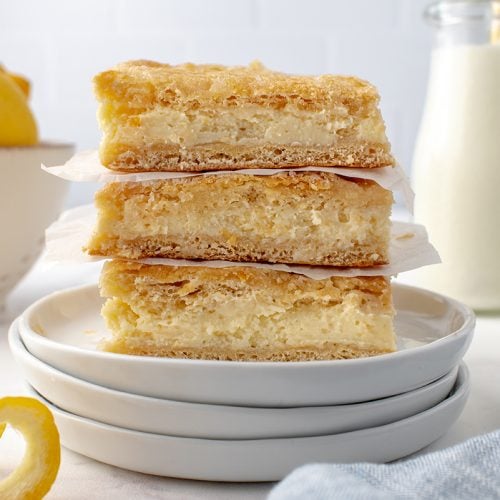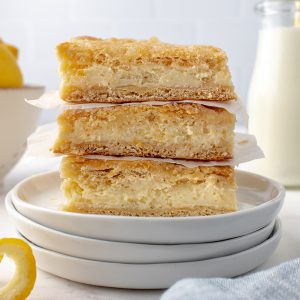 A creamy, lemony cheesecake filling sandwiched between two layers of buttery crescent dough. Perfect casual lunch for parties and potlucks!
Easy Cake Pops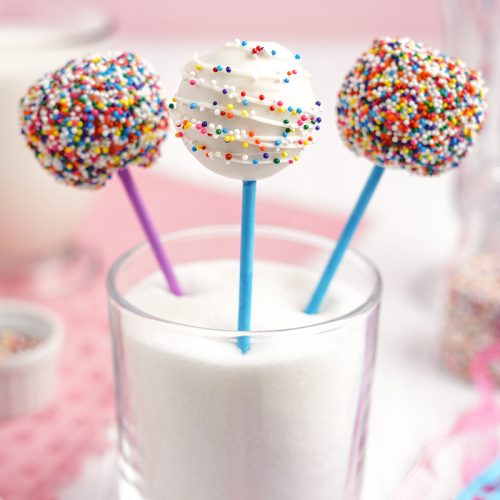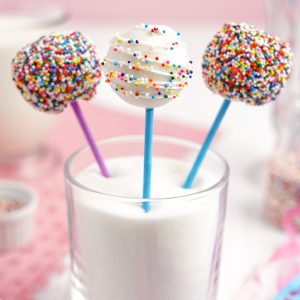 Make these easy cake pops in just 30 minutes using our donut holes instead of baking your own cake. Delicious and beautiful!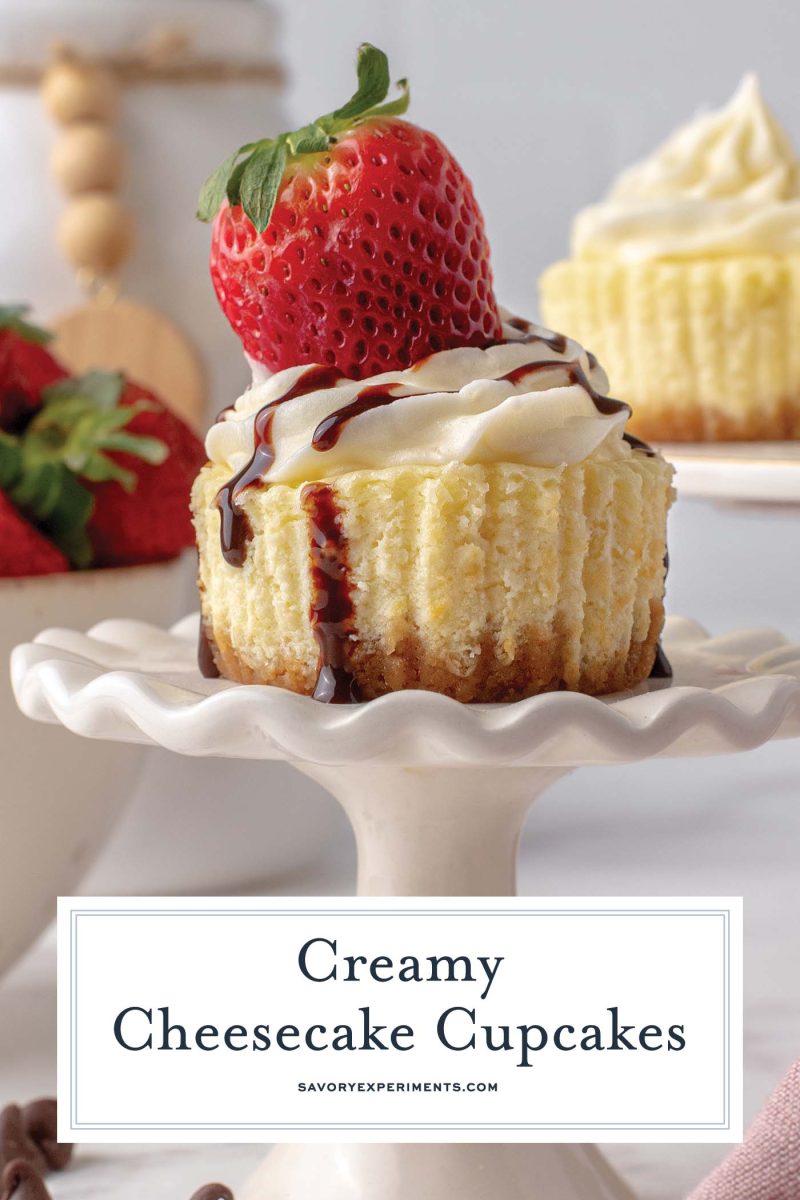 CONNECT WITH SAVORY EXPERIMENTS!

Be sure to follow me on social media, so you never miss a post!

Facebook | Twitter | Youtube
Pinterest | Instagram
Get our FREE 8 Day E-Course on How to Be a Better Home Cook. Sign up HERE!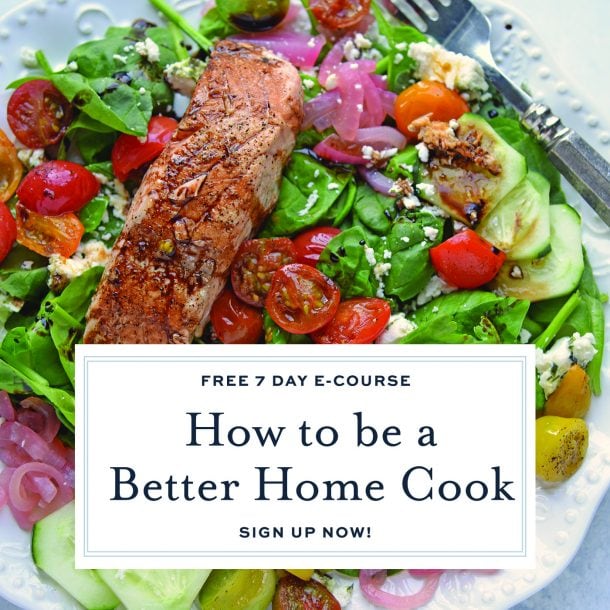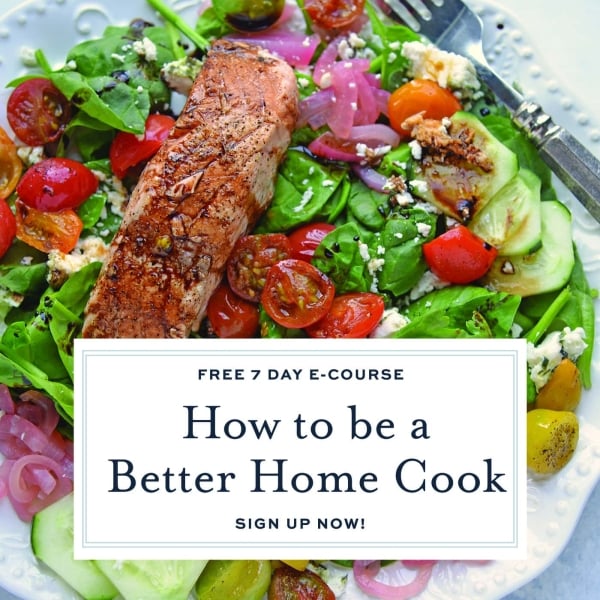 Cheesecake Cupcakes
Individual cheesecakes made in a muffin tin with a Nilla wafer crust, creamy and tangy filling and rich cream cheese frosting.
Instructions
Crust and Cheesecake Filling:
Preheat the oven to 325°F and line 20 muffin tins with liners. Spray lightly with the cooking spray.

Start by making the crust. In a medium mixing bowl, combine the vanilla wafer crumbs with the butter until all are wet. Evenly divide between muffin tins, pressing into the bottom.

Next, make the cheesecake. In the bowl of stand mixer fitted with the paddle attachment or a large mixing bowl with electric hand mixer, beat the cream cheese until smooth. Add the sugar and yogurt, blending well again. Add the eggs and extract, blending until smooth, approximately 2-3 minutes.

Evenly divide between muffin tins.

Bake for 20-22 minutes or until tops are set and not jiggly. Remove and allow to cool for 30 minutes, then transfer to the refrigerator to set, approximately 2-3 hours or overnight.
Cream Cheese Frosting:
Beat the cream cheese and butter until smooth. Add the powdered sugar, vanilla and salt. If the mixture is too thick, add 1 tablespoon of milk or cream until a smooth texture. Set aside.

Remove the cheesecakes from the muffin tins and carefully peel off the liners, if desired.

Place the cream cheese frosting into a piping bag or a plastic storage bag and cut the corner at an angle, about 1 inch wide.

Pipe frosting into just the centers and garnish with fresh fruit, mint, candy or sauces.

If you've tried this recipe, come back and let us know how they are in the comments or star ratings.
Nutrition
Calories:
461
kcal
|
Carbohydrates:
51
g
|
Protein:
6
g
|
Fat:
27
g
|
Saturated Fat:
15
g
|
Polyunsaturated Fat:
2
g
|
Monounsaturated Fat:
7
g
|
Trans Fat:
1
g
|
Cholesterol:
100
mg
|
Sodium:
306
mg
|
Potassium:
107
mg
|
Fiber:
1
g
|
Sugar:
44
g
|
Vitamin A:
911
IU
|
Calcium:
53
mg
|
Iron:
1
mg