If you're looking for a way to step up your brunch game, this blueberry waffle recipe is it. They are easy to whip up, and taste great topped with a homemade blueberry syrup!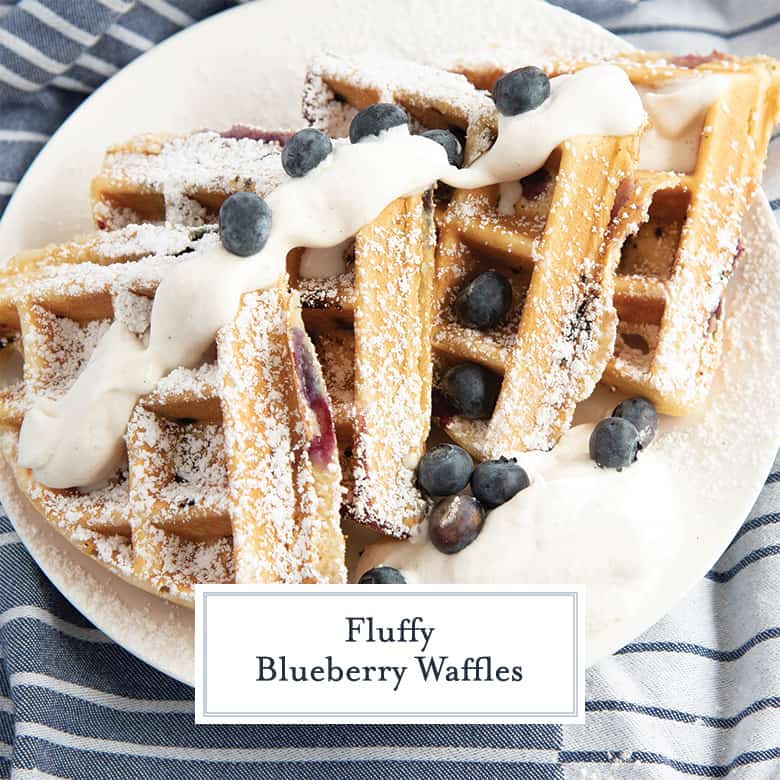 Blueberry Waffles
Do you have a favorite breakfast dish? Breakfast is my favorite meal of the day, and I'm usually a savory breakfast person.
I love a traditional eggs, bacon, toast and hash browns breakfast. I'm always a sucker for a good eggs benedict. Or if I'm in a hurry, an everything bagel is a quick and easy choice, too.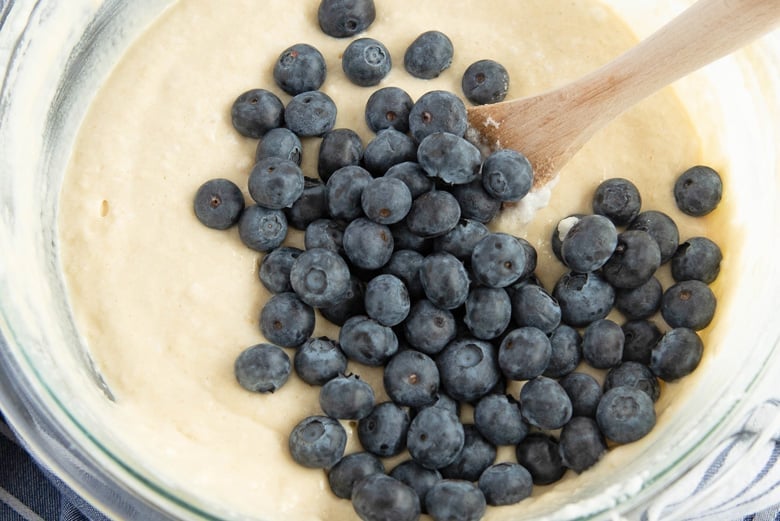 To be honest, I really just love it all. But when I'm craving something sweet for breakfast, these homemade blueberry waffles are my go to. Just the right touch of sweetness amidst fluffy and crunchy batter.
PRO TIP: Use frozen blueberries instead of fresh, but make sure to thaw and drain them first!
Ingredients
I almost always have all of the ingredients on hand. And once the batter is made, you let the waffle make do the rest of the work! Easy peasy.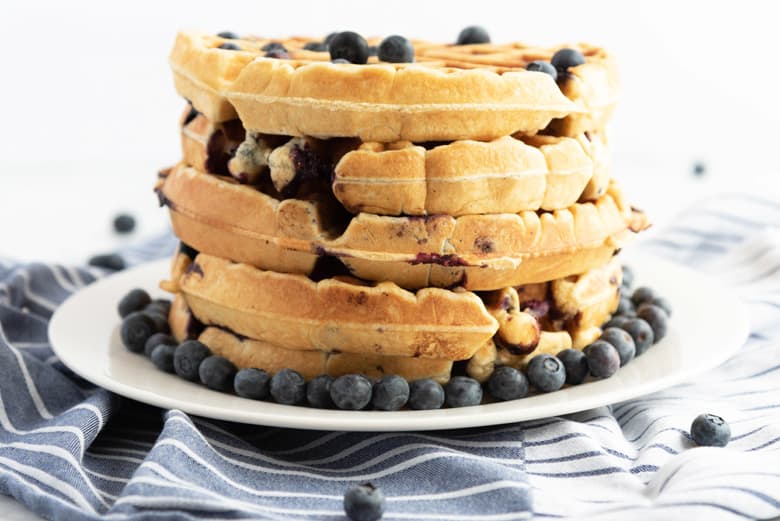 Here is what you'll need:
Blueberries– Fresh or frozen work for this recipe. If using frozen, make sure to thaw them and blot dry. Excess water will mess with the liquid ratio of the batter.
Baking Powder– The leavener makes them rise!
Sugar– Not only does it help to balance the batter, it also caramelizes on the hot iron to assist in the crispy edge factor.
Flour- Gives them structure.
Fine sea salt– Salt helps to accentuate nearly all flavors. If using Kosher, increase to 3/4 teaspoon and omit altogether if using salted butter.
Eggs- Separate the eggs and whisk whites to a meringue consistency. This introduces air and makes your waffles super fluffy!
Vanilla Extract– Almond also works well, as does imitation butter if you want something really rich.
Whole Milk– You need the fat in whole milk to create the right texture and crunch.
Unsalted butter– If you use salted, omit additional salt.
Toppings- Dutch honey, maple syrup, whipped cream, honey, agave nectar, more fresh fruit, powdered sugar… the world is your waffle!
PRO TIP: Be sure to read the instructions from your waffle maker to know exactly how long to cook each waffle. (All waffle makers are different!) It will take the same amount of time as it does to make regular waffles.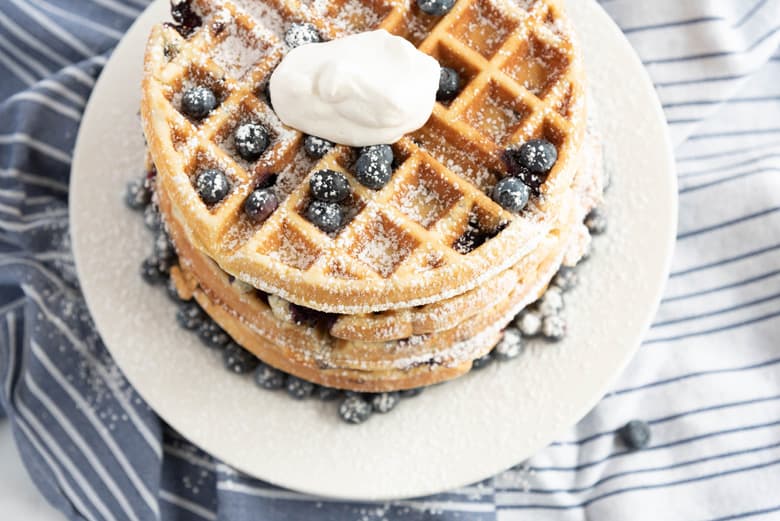 How to make blueberry waffles from scratch:
Start by separating the eggs. Put the whites in a separate bowl, whisk the egg whites until frothy and stiff. Beating the egg whites allows for air to be incorporated.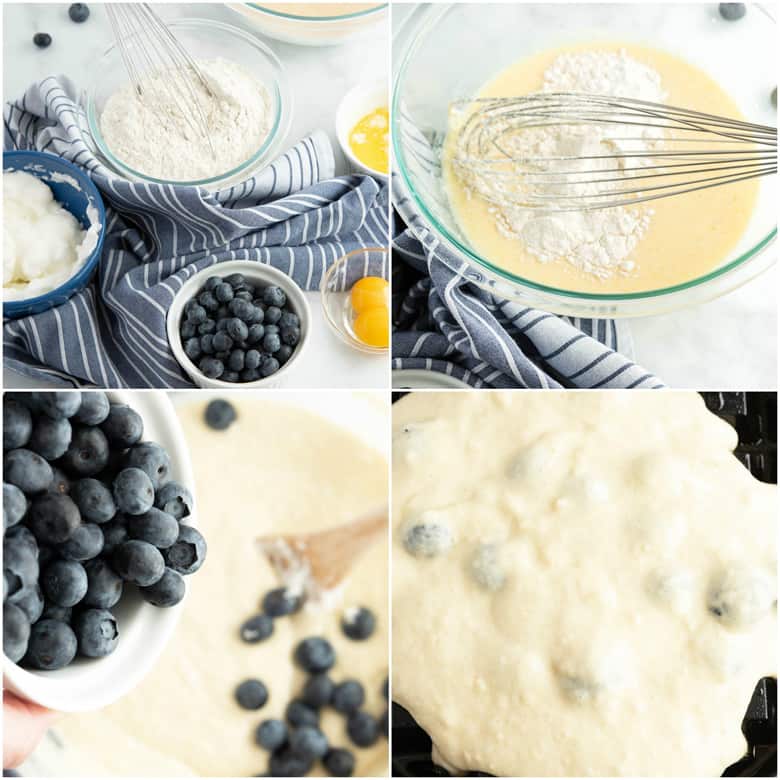 Next, mix all of the dry ingredients in a large bowl. In a different bowl, whisk together the egg yolks, vanilla extract, milk and melted butter.
Slowly add the wet ingredients into the dry ingredients. Gently fold in the egg whites and the blueberries.
PRO TIP: Do not over mix the batter! This creates rubbery waffles.
Then spray your waffle iron with cooking spray and cook until golden brown, according to your appliance's directions. This typically takes about 4-5 minutes for each waffle.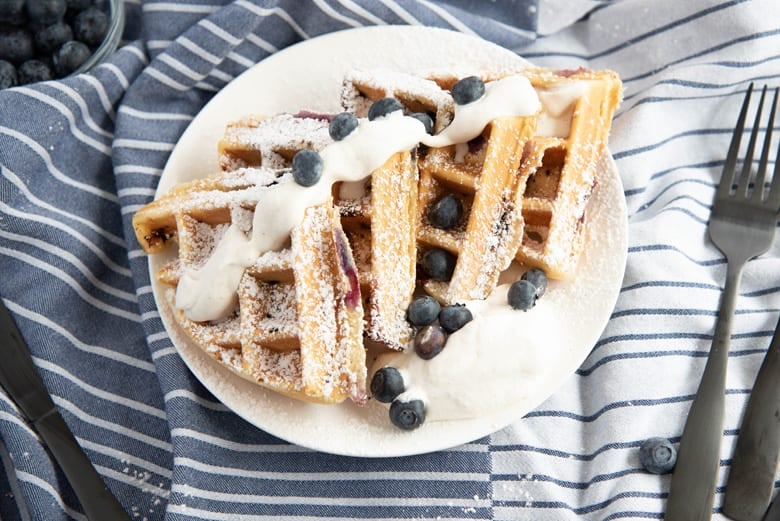 When your waffles are finished, you can top them with your favorite toppings. Here are some ideas:
maple syrup
lemon zest
fresh blueberries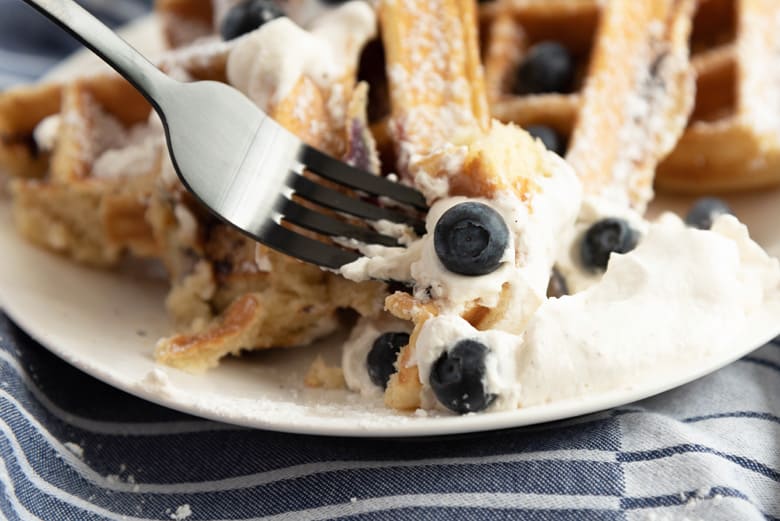 Belgian Waffles vs American Waffles
What really is the difference between Belgian and American waffles? Really, the shape and use of a leavener.
Belgian waffles are larger, with bigger wells. This creates the ability to make a crunchy outside with fluffy inside.
They get this by the use of a leavener. In this case it is baking powder, but in some recipes, yeast. I also separate my eggs and fluff the whites to introduce air and thus, more volume.
American waffles use a batter similar to pancakes and are smaller, making for a crunchier waffle through-and-through. This waffle recipe can be used in either a traditional waffle iron or Belgian based on your personal preference.
Waffle Maker (Waffle Iron)
You know I try my hardest to find work-arounds for special appliances, but for waffles there isn't one. You are going to need a waffle maker.
The one I use is a Bella Home and I like it. Easy to clean, small and easy to store and cooks evenly. The only downside is that it only has the capacity for one at a time.
Is a waffle maker easy to clean?
I think so! I make sure I clean my waffle maker after every use because I don't want anything sticking to it. Here are some tips:
Make sure the waffle maker is unplugged and cooled down
Use a dry paper towel to remove any excess oil
Be sure to use a kitchen brush to get the crumbs off the waffle iron
Use a damp cloth to get any debris or crumbs off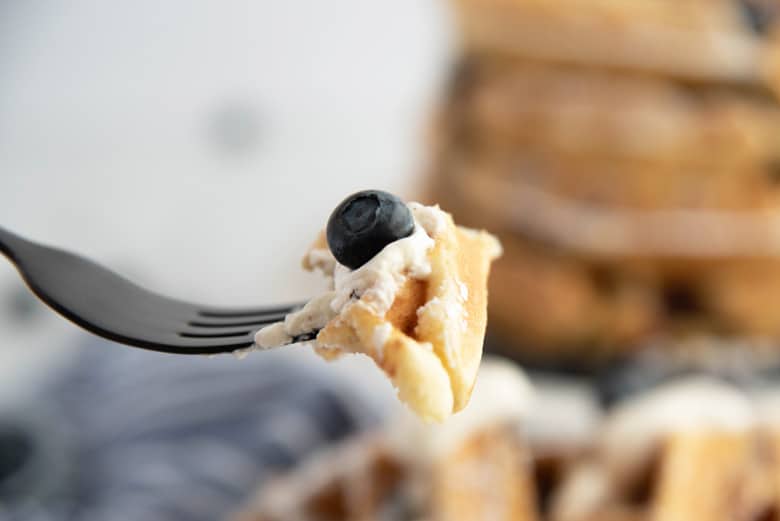 Waffle Making Tips
I have to tell you that it's hard to mess up waffles, but people do it all the time.
Make sure you let the waffle maker heat up all the way. Don't be impatient!
Cook until the edges of your blueberry waffles are crispy. This ensures the inside batter is not still soupy.
Use plenty of cooking spray for an easy release.
Set your waffle maker on a kitchen towel to catch any loose batter.
Make sure to cook the waffle on both sides- rotate it first and then also cook on the other side second. It needs the gravity to create a sear and crunch.
Beat egg white and then fold in right before cooking- this incorporates air which helps them fluff.
Don't over mix the batter, this makes them rubbery. Batter should be slightly lumpy.
Mix batter by hand to avoid overmixing.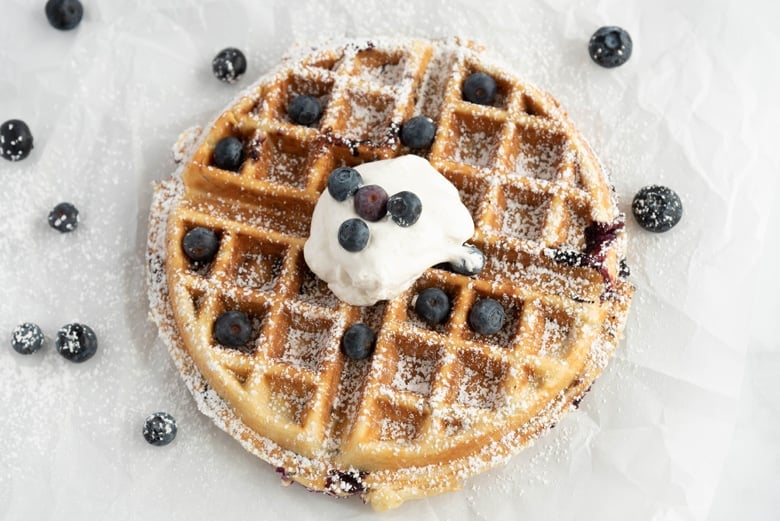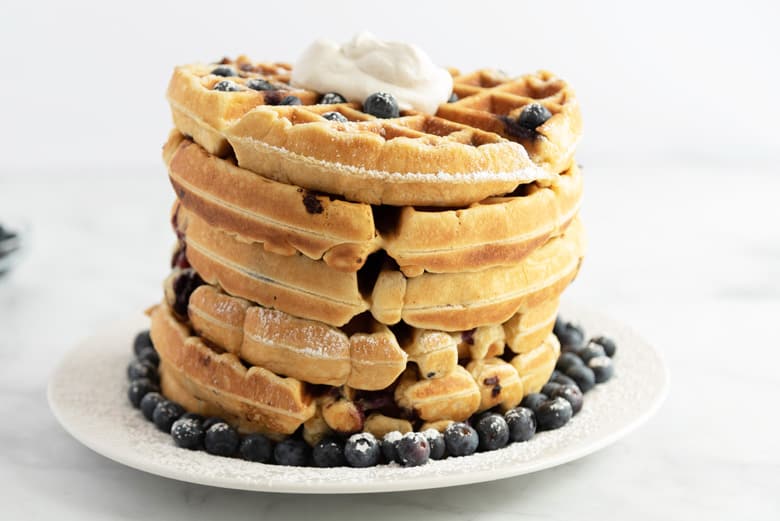 Reheating & Freezing
Can I freeze blueberry waffles? Homemade waffles are just as easily frozen as the ones you buy at the store. Allow them to cool fully before packaging in airtight bags and freezing for up to 3 months. Cook from frozen opposed to thawing and trying to recook.
To reheat, use the toaster, toaster oven or even fit them back into a hot waffle iron. I don't like using the microwave because it tend to make them gummy.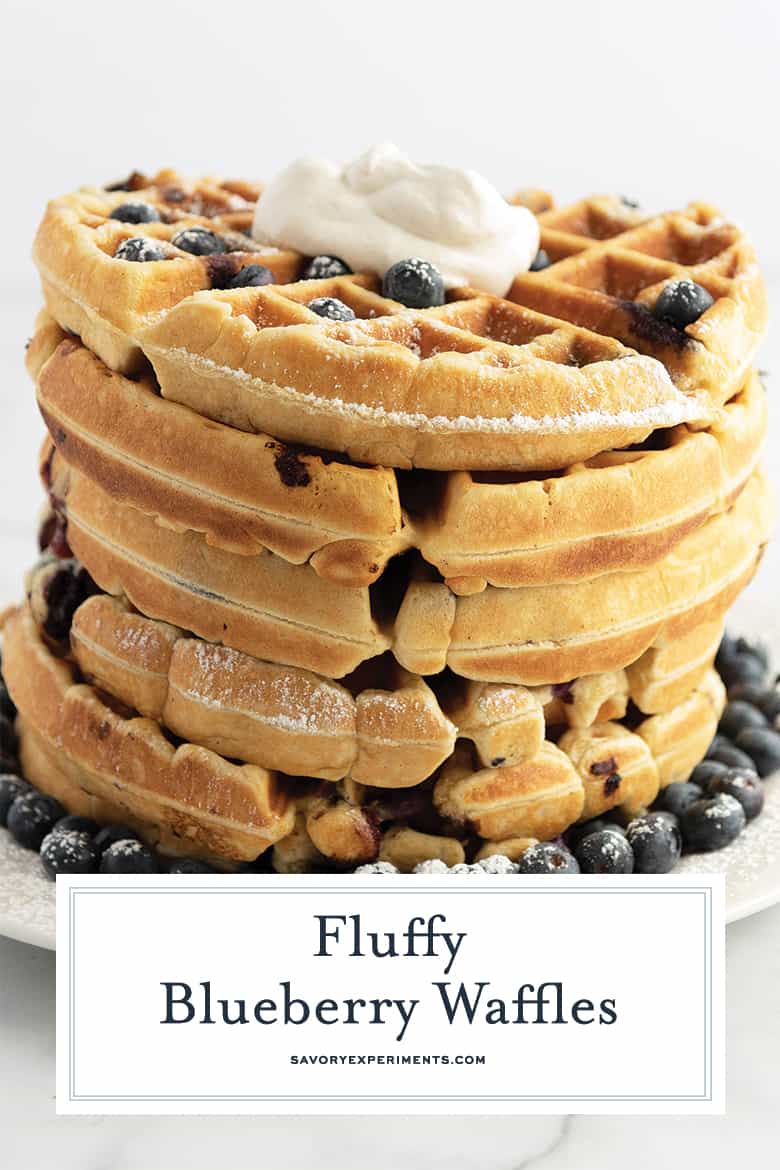 More sweet breakfast treats: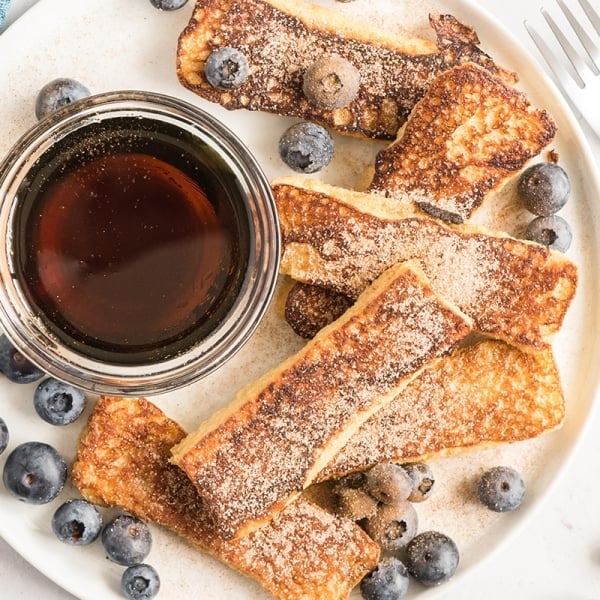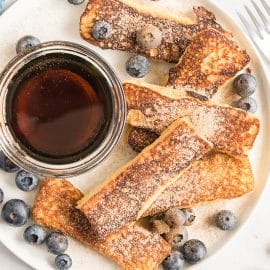 French Toast Sticks
Lightly crisp on the outside and soft on the inside, French Toast Sticks are a fun & delicious breakfast that both kids and adults will love!
See The Recipe!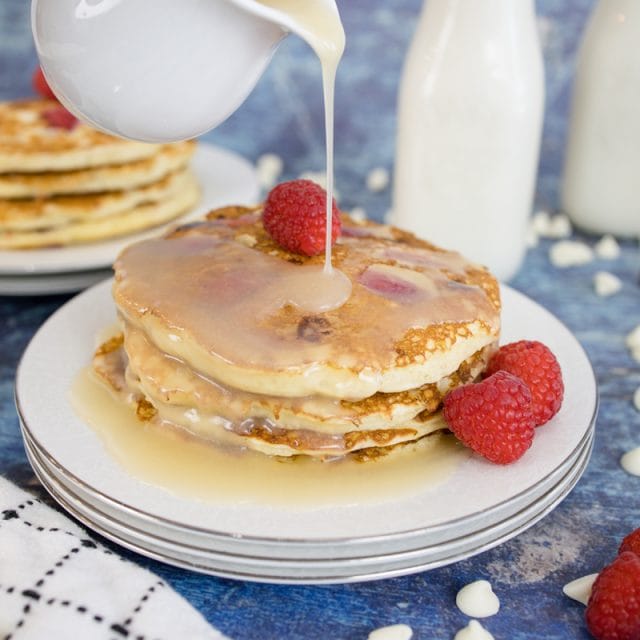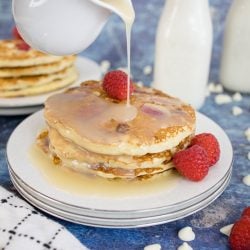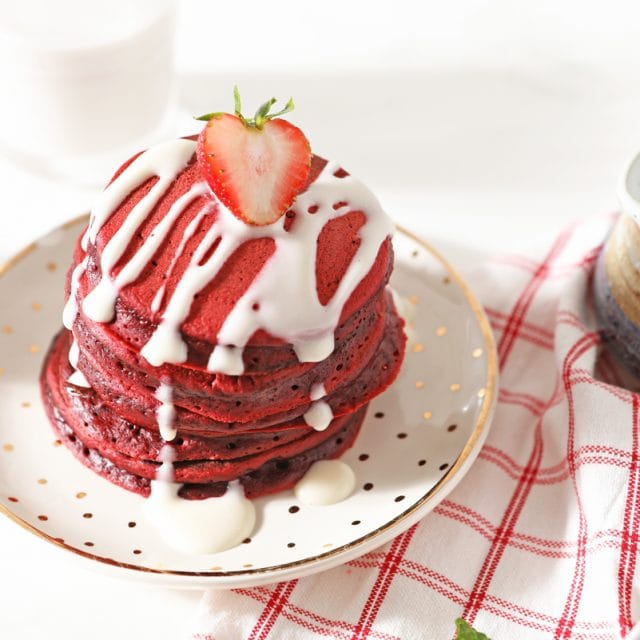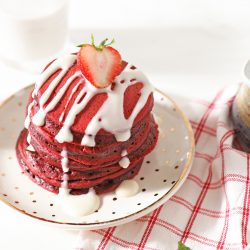 Red Velvet Pancakes
Make breakfast colorful and sweet with Red Velvet Pancakes! They are drizzled with a cream cheese glaze and perfect for weekends and holidays!
See The Recipe!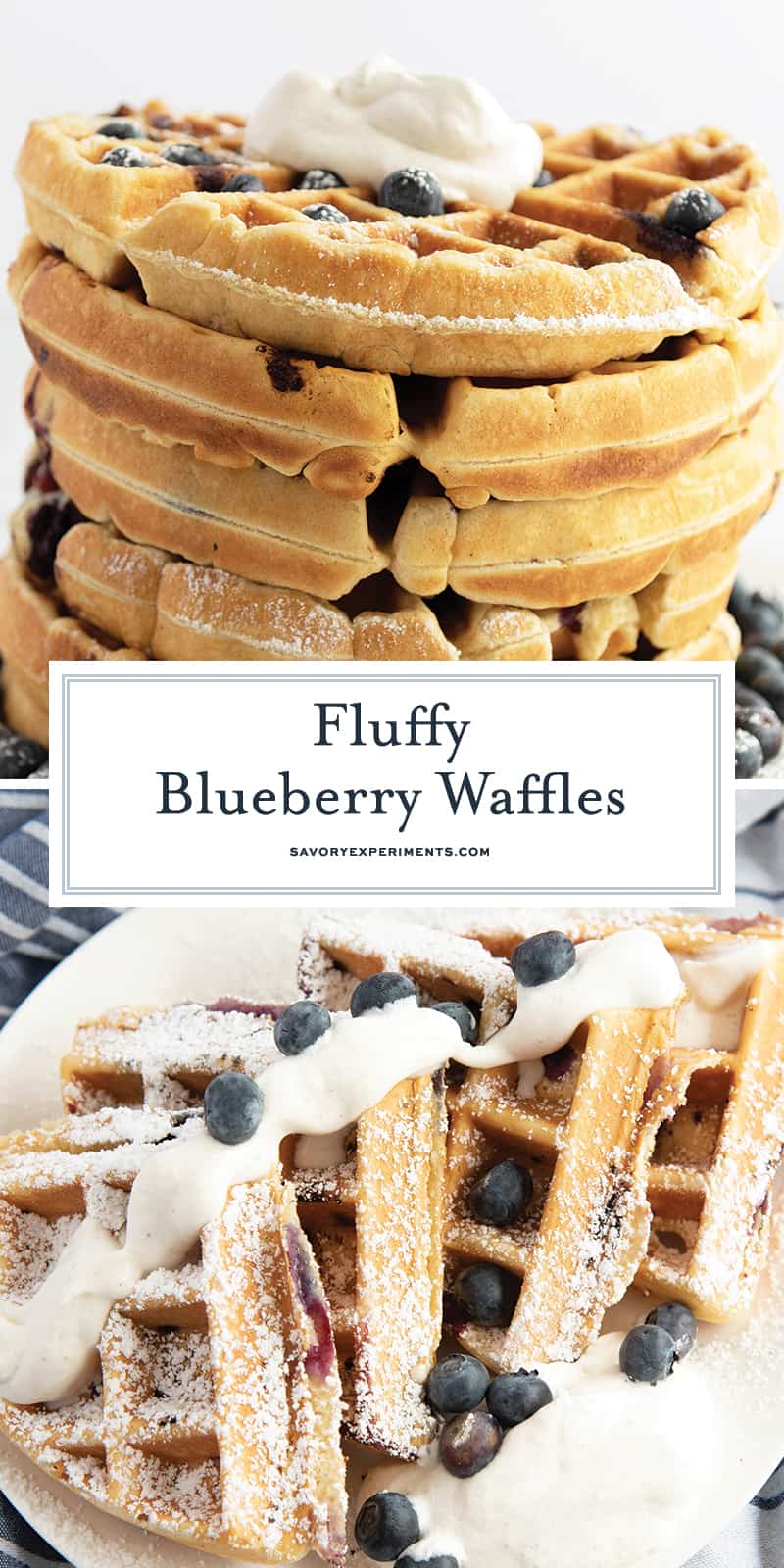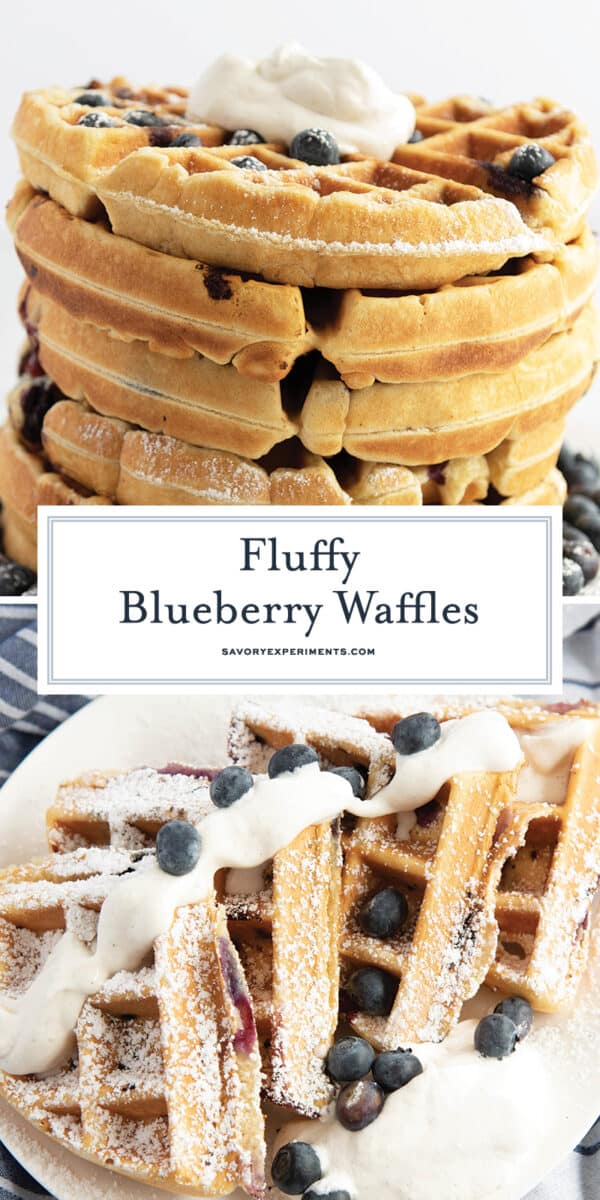 We hope you enjoy these mighty and fluffy homemade waffles. We think they are just to die for!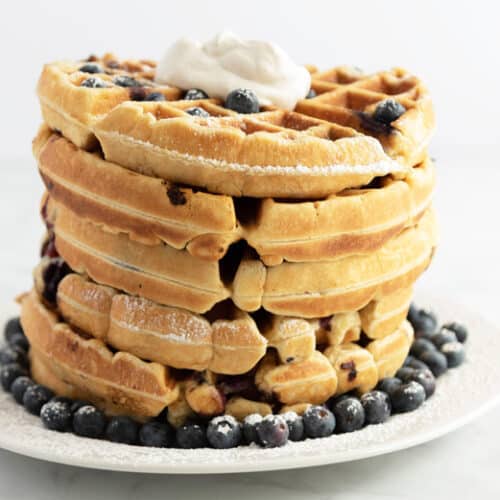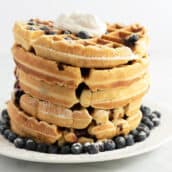 Blueberry Waffle Recipe
This light and fluffy Blueberry Waffles recipes are totally made from scratch! Made with simple ingredients and easy to whip up for a quick breakfast!
Instructions
Separate eggs, beat egg whites until frothy and stiff.

In a large mixing bowl, whisk together dry ingredients including baking powder, sugar, flour and fine sea salt.

Next, whisk together egg yolks, vanilla extract, whole milk and melted unsalted butter. Slowly add to dry ingredients until just wet.

Next, fold in egg whites and blueberries.

Prep waffle iron with cooking spray and cook according to appliance directions. Typically about 4-5 minutes each.

Top with powdered sugar, fresh blueberries and whipped cream.
Notes
If you just rinsed the blueberries, make sure they are dry before adding. They won't stick to the batter and will add moisture to the batter making the waffles not get crispy on the edges.
Nutrition
Calories:
467
kcal
,
Carbohydrates:
65
g
,
Protein:
12
g
,
Fat:
17
g
,
Saturated Fat:
10
g
,
Cholesterol:
121
mg
,
Sodium:
367
mg
,
Potassium:
550
mg
,
Fiber:
3
g
,
Sugar:
15
g
,
Vitamin A:
642
IU
,
Vitamin C:
4
mg
,
Calcium:
258
mg
,
Iron:
4
mg