Red red wine, you make me feel so fine… You keep me rockin' all of the time. Anyone else hear the lyrics to UB40's song in their head whenever you pop open a bottle?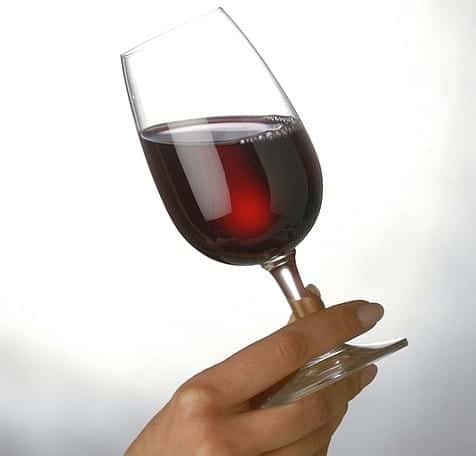 I won't claim to be a wine expert, but I will sure tell you I am a wine lover. I love drinking it and I also love cooking with it.
What is red wine?
Red wine is a broad umbrella for any wine coming from red grape varietals and having a red, purple or brick color. Italy, Spain and France are the largest producers of reds, but nearly every wine producing region has their own varietal and output.
Wine can be a little intimidating. Keep in mind that you only need to know a little to sound a whole lot smart, that the deliciousness factor is always in the eye of the beholder and there are no steadfast rules for pairing wine with food.
These are the 7 most popular red wines:
One. Cabernet Sauvignon
This is the most widely planted grape in the world and even though it is widely popular, every wine will taste different. It is, however, a safe bet when ordering dinner at nearly every restaurant and usually the pick for a "house red".
Cabs are described as full bodied with dark fruity darks and someone even spices or herbs. They pair nicely with dark meat and lamb, but honestly can be served with just about anything.
This is also the safest pick for a bottle to bring as a gift.
TWO. Merlot
Merlot might be more popular in name, but is the second most planted grape and has a vast array of flavor depending on geographic location. While it can be robust in flavor, it isn't as full bodied as a cab and is considered to be a good entry wine.
It is generally fruity and has less tannins (pucker factor). It pairs well with white meats and pasta. But again, drink what you like!
THREE. Zinfandel
Zinfandel is often associated with white zinfandel, but there is also a red zin. Again, the overall flavor profile is highly dependent on the soil and climate. It is a lighter taste and not as "flavor forward" as they say, but usually high in alcohol content.
It is good with lighter dishes and casual dishes and also to make sangria.
FOUR. Syrah/Shiraz
This grape has two names- Syrah through Europe and Shiraz in Australia and South America. It is a flavor forward wine with a bold aftertaste that will fizzle on your tongue.
It has been described as peppery and rich. It is certainly a sipping wine, not a "have several glasses" wine. It is good for a causal and social event like sharing tapas or a cheese plate.
FIVE. Malbec
Malbec is often associated with Argentina, but originated in France. Fun fact for your girls night… It has a brilliant purple color and often fruity notes likes cherries and plums making it another good pick for red sangrias.
Is it light and does well with spicy foods and also lean meats like chicken, fish or salad.
SIX. Pinot Noir
Pinot is also a good entry wine because it is a light bodied wine. It has been described as bright, silky and also fruity. It is good for wine cocktails and spritzers because it doesn't have a heavy profile.
It pairs well with light dishes as well like pizza, fish and salad.
SEVEN. Sangiovese
The most popular grape/wine in Italy, if you visit Tuscany, you will be drinking Sangiovese. It is literally served alongside your water. It is a full-bodied wine with a lot of flavor and punch.
It is described as tannic and "sticky", meaning that the flavors tend to sink into your tongue and stay there a bit. It is earthy and peppery.
Cooking with Wine
Any of these wines can be used to cook with, but the exact pick will depend on the dish you are preparing. Most will call for a dry red wine, opposed to "juicy", of which a cabernet, merlot pinot noir are your best choices.
Wines should cook in the dish long enough to cook off the alcohol, but impart flavor. They are best in stewed and braised dishes or to deglaze a dish and get all the browned bits up. Recipes that use wine should very rarely actually taste like wine… unless it is my red wine cheese dip.
Cooking Wine vs. Drinking Wine
Cooking wine is a shelf stable wine that still has alcohol, but a much higher salt content. This means it doesn't need to be refrigerated and will keep its flavor and potency for months after being opened opposed to a corked wine that is only good for about 24 hours.
You can drink it straight, I suppose, but it won't taste very good. I do keep a bottle of these around for dishes that call for just a tablespoon or so of a particular wine in the rare case that I am not drinking. Or if I need a white wine and am drinking red that night.
Recipes that Use Red Wine: