This easy Dessert Pizza with fresh fruit is the perfect way to finish dinner. A light cookie crust, cream cheese frosting and fresh colorful fruit come together for a fun dessert the whole family will love!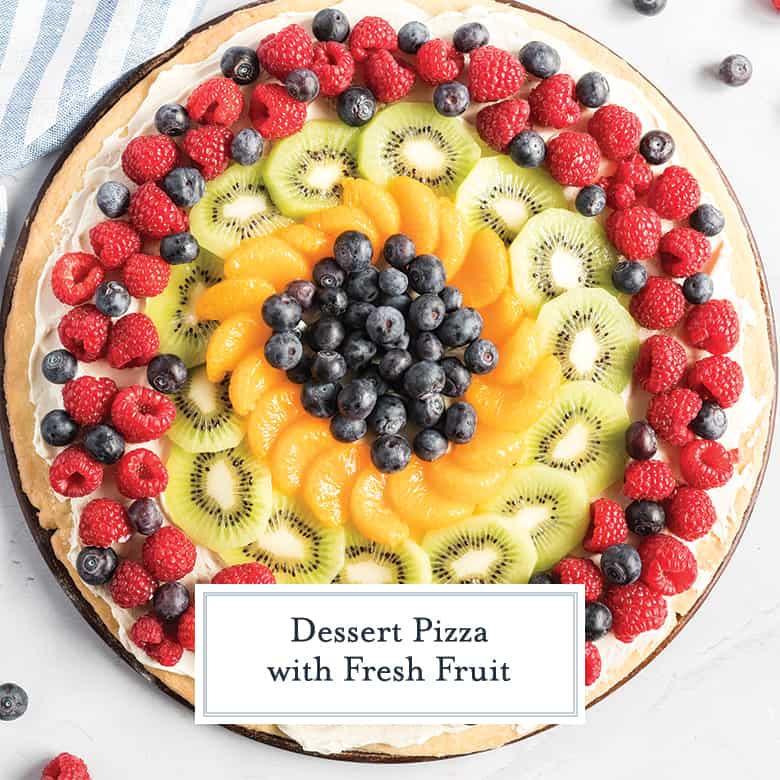 This Dessert Pizza with fresh fruit, cream cheese frosting and a crispy cookie base is a fun and tasty treat the whole family will go crazy for!
Dessert has never been a big deal in my family. When I was growing up we never had dessert unless it was our birthday or we were at Grandma's house.
When we did have dessert it often contained fruit or it was simply a platter of baked goods.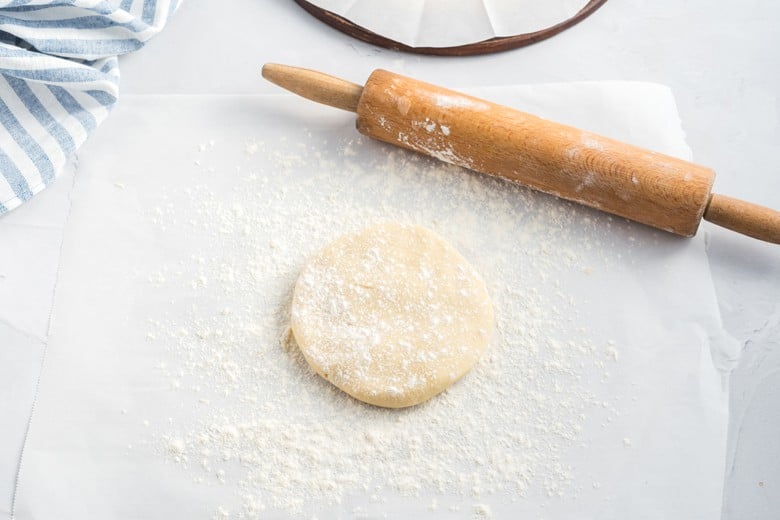 This fruit dessert pizza combines those two ideas into one wonderful, addicting treat. And I'll admit I had a lot of fun testing this recipe and making sure it was perfect.
I tested the dessert pizza crust three times before I was completely satisfied with the result. Don't worry, the test pizzas were not wasted, they were pretty delicious even if they weren't perfect!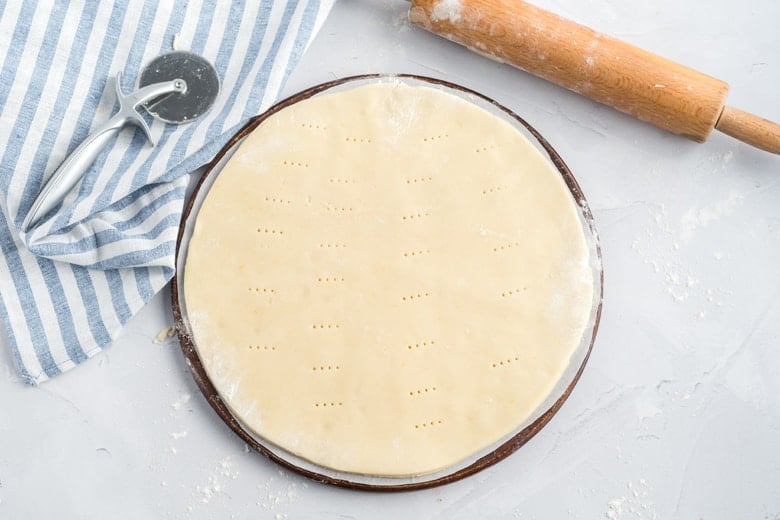 The final recipe, though, is exactly what I was looking for in an easy fruit pizza: a flaky, slightly sweet cookie crust, a light and tangy cream cheese frosting, and a combination of fresh, colorful fruits.
It is a dessert that feels indulgent, but isn't too heavy, and will pair well with almost any meal. What I really love about this dessert is how easily it comes together and how creative you can be with the toppings.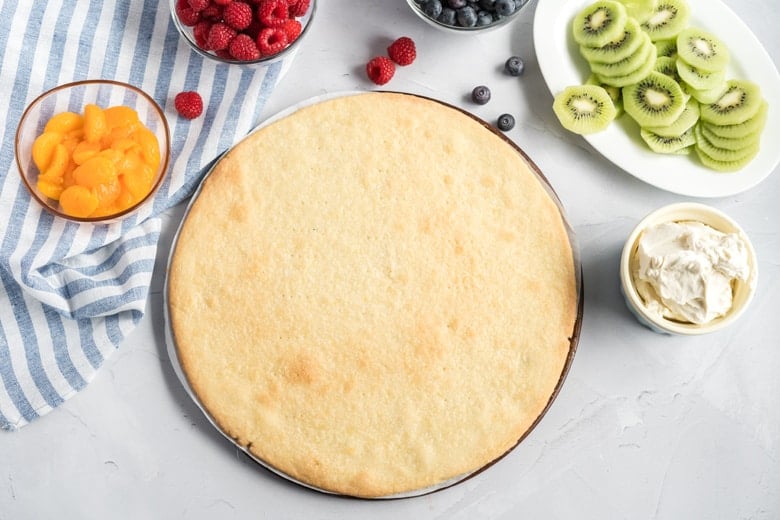 This fruit dessert pizza is easy to customize with whatever fruits you like. Use your favorite, local in-season fruits, use a combination of tropical fruits, or mix it up and use whatever you find on sale.
Pro Tip – Don't overcook the crust. You are looking for slightly golden edges. If the crust is over baked it will crumble when you try to slice it.
I wouldn't even object to adding some shaved chocolate or chopped nuts.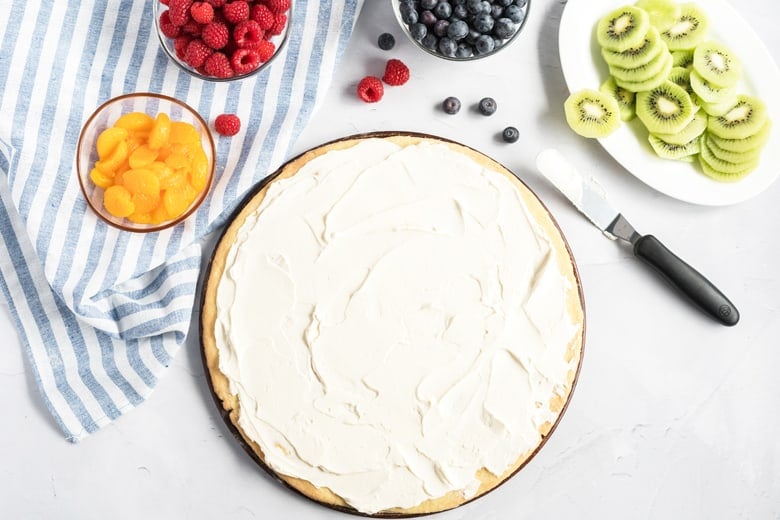 What type of fruit is best on fruit pizza?
You can really use any of your favorite fruits. However, I recommend staying away from fruits that turn brown easily, such as apples or pears.
Great dessert pizza toppings options are:
Berries (any type!)
Orange slices
Kiwi slices
Peaches
Pineapple
Sliced grapes
Pitted Cherries
Also consider making a tropical fruit pizza with pomegranate, pomelo and dragon fruit!
What type of frosting should I use on dessert pizza?
I like to top my dessert pizza with a light cream cheese frosting. I love how the tanginess of the cream cheese balances well with the fruit. But if cream cheese frosting isn't for you, then there are plenty of other great sweet pizza ideas:
Nutella
Lemon curd
Vanilla pudding
Store bought frosting
Pro Tip – Rolling the dough on a piece of parchment paper will make it easier to transfer to the pizza stone. Simply roll the dough, then using the parchment paper flip the dough onto the pizza stone and carefully peel the parchment paper back.
If you liked this dessert pizza recipe, check out these other fruity dessert recipes:
Questions you may have about how to make dessert pizza:
Can I make dessert pizza ahead of time?
You can definitely prepare the components of this pizza ahead of time, but I recommend keeping them separate until ready to serve. Bake the crust, mix up the frosting, and cut the fruit, then refrigerate the frosting and fruit and assemble shortly before serving.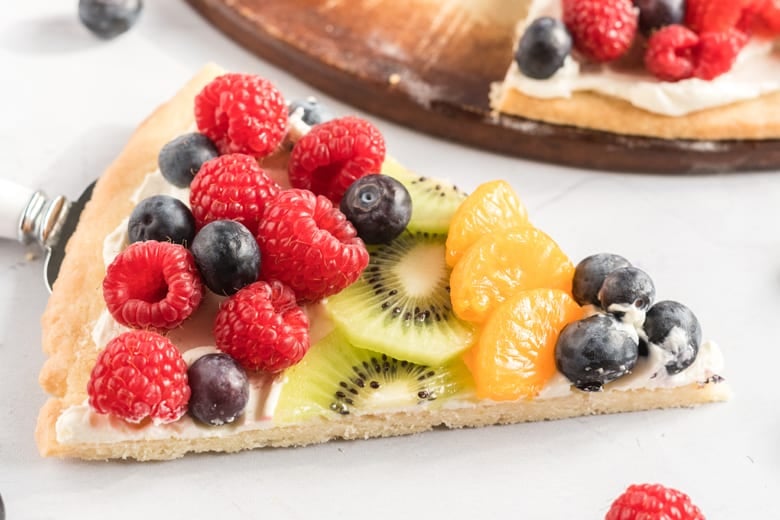 Do I need to refrigerate leftover dessert pizza?
Yes. Because the frosting contains cream cheese, and the fruit is cut, leftovers should be refrigerated to ensure food safety. The crust may become a bit softer as it sits in the fridge, but it is still delicious.
What type of baking sheet is best for fruit pizza?
I like making this fruit pizza on a pizza stone, that way I can get the nice round pizza shape. But if you don't have a pizza stone you can roll into a circle and place on a large baking sheet, or simply make a square or rectangle shaped pizza.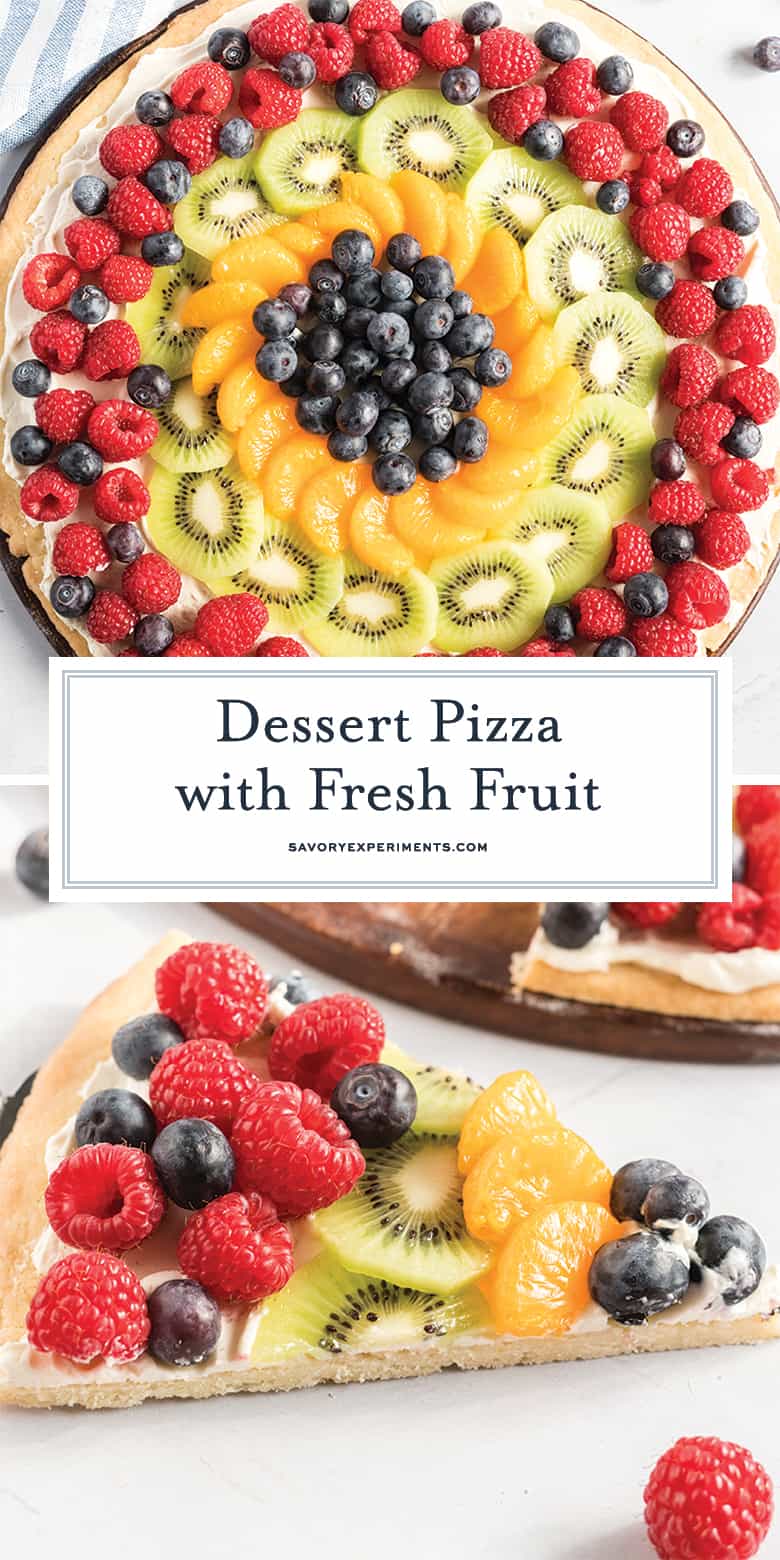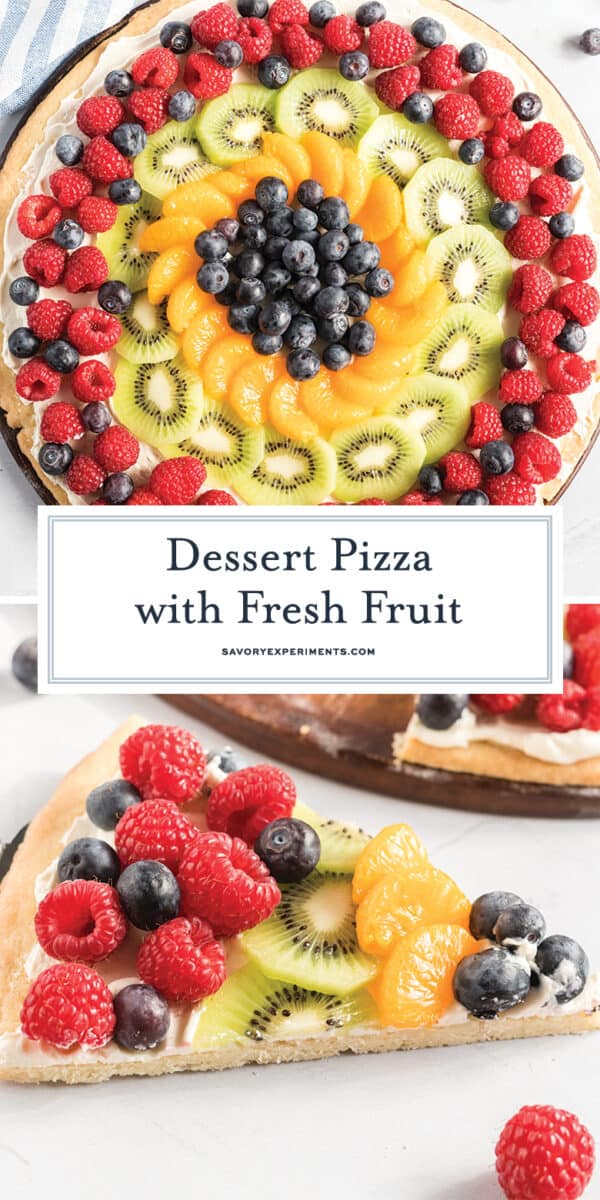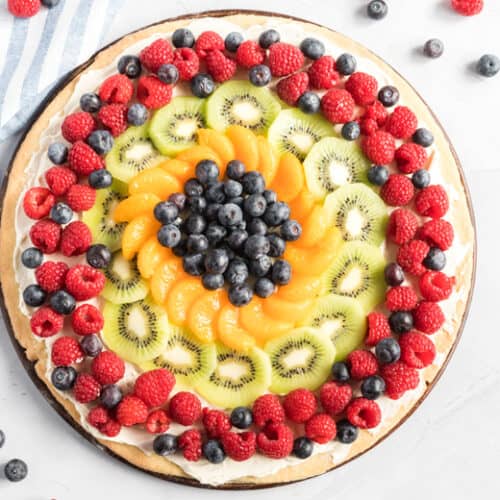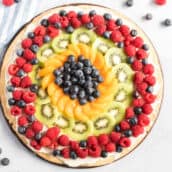 EASY Fruit Pizza
This Dessert Pizza with fresh fruit, cream cheese frosting and a crispy cookie base is a fun and tasty treat the whole family will go crazy for!
Instructions
Preheat oven to 350 degrees

In a large bowl, cream butter until light and fluffy.

Add the sugar and powdered sugar and mix well.

Add the corn starch, flour and lemon zest and mix just until the dough starts to come together into a ball.

Turn the dough onto a large piece of parchment paper that has been sprinkled with flour.

Bring the dough together with your hands to form a ball, then roll out to approximately a 12 inch circle.

Place the rolled dough onto a pizza stone, or baking sheet lined with parchment paper. If you want a perfect circle you can use a pizza cutter to trim the dough to the desired shape.

With a fork, poke a few holes in the dough, this will help keep it from forming air bubbles.

Place in the oven and bake for 20-22 minutes until just slightly golden.

Remove from the oven and allow to cool completely before frosting.
For the Frosting
In a small bowl, beat the cream cheese until light and fluffy.

Add the sugar, vanilla, lemon juice, and heavy cream and mix until smooth.
To Assemble
Spread the cream cheese frosting on the cookie base.

Place the fruit on the pizza in any pattern you'd like.

With a sharp knife, cut into slices and serve.
Notes
If you prefer your frosting a little sweeter you can increase sugar by 1-3 tablespoons until it reaches your desired sweetness.
Nutrition
Calories:
535
kcal
,
Carbohydrates:
56
g
,
Protein:
5
g
,
Fat:
34
g
,
Saturated Fat:
20
g
,
Cholesterol:
94
mg
,
Sodium:
301
mg
,
Potassium:
176
mg
,
Fiber:
3
g
,
Sugar:
30
g
,
Vitamin A:
1466
IU
,
Vitamin C:
4
mg
,
Calcium:
44
mg
,
Iron:
2
mg