I adore fresh watermelon in summer. Its colorful juicy nature just screams summertime to me. A triangle of the sweet summer fruit makes me think of times at the end of the school year as much as times at the beach on summer break. This watermelon feta salad takes me to those memories.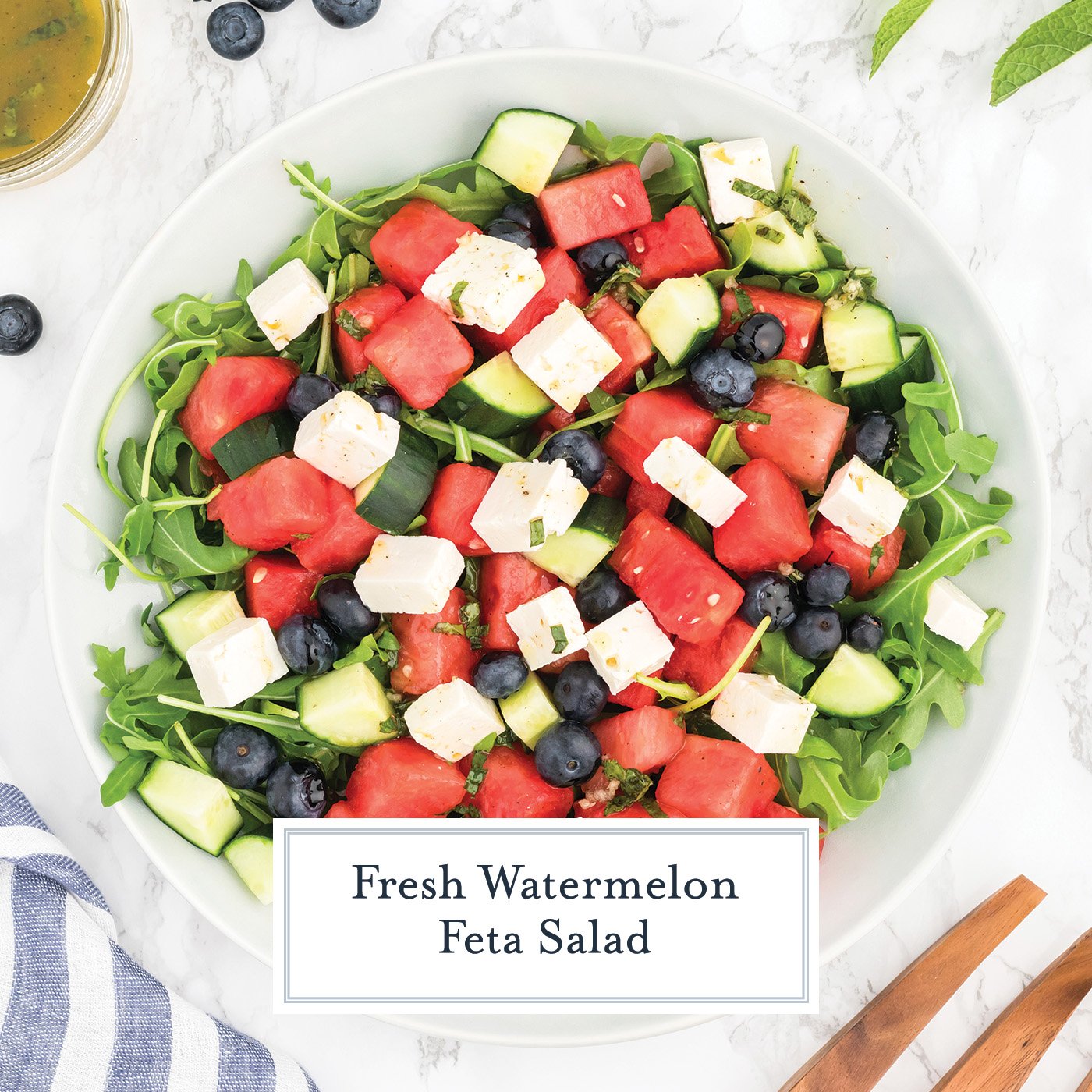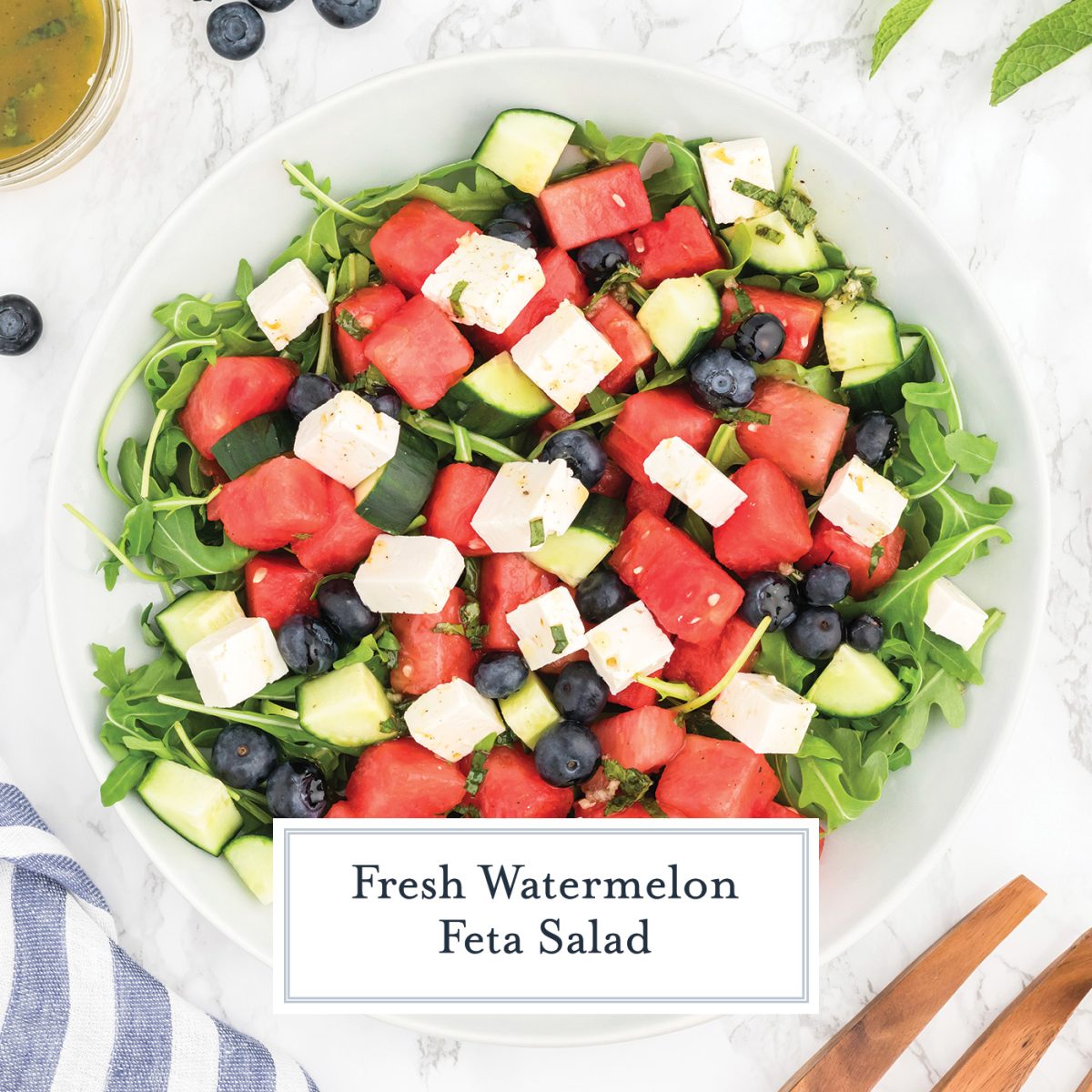 As a kid, one of my summer favorites was snacking on a ripe watermelon triangle on a hot summer day. Now I like to find great ways to transform that simple snack into an elevated dish. This watermelon salad recipe does just that.
Why Do Watermelon & Feta Work?
With salty feta cheese, fresh watermelon, and crunchy cucumbers, all over peppery arugula green, this is the best recipe for a summer salad. I love how the salty components mix with the sweet flavors of summer fruits.
You can take this to a summer potluck or cookout, or it's the perfect side dish to go along a grilling night during the week. It's, honestly, an amazing salad all on its own, as well.
There are plenty of ways to make variations on this salad, too. Don't feel like dicing? Grab a melon baller and do that instead of cutting it up. Make changes to the vinaigrette, or add any of your favorite fruits or veggies. This salad is one that you can change so easily!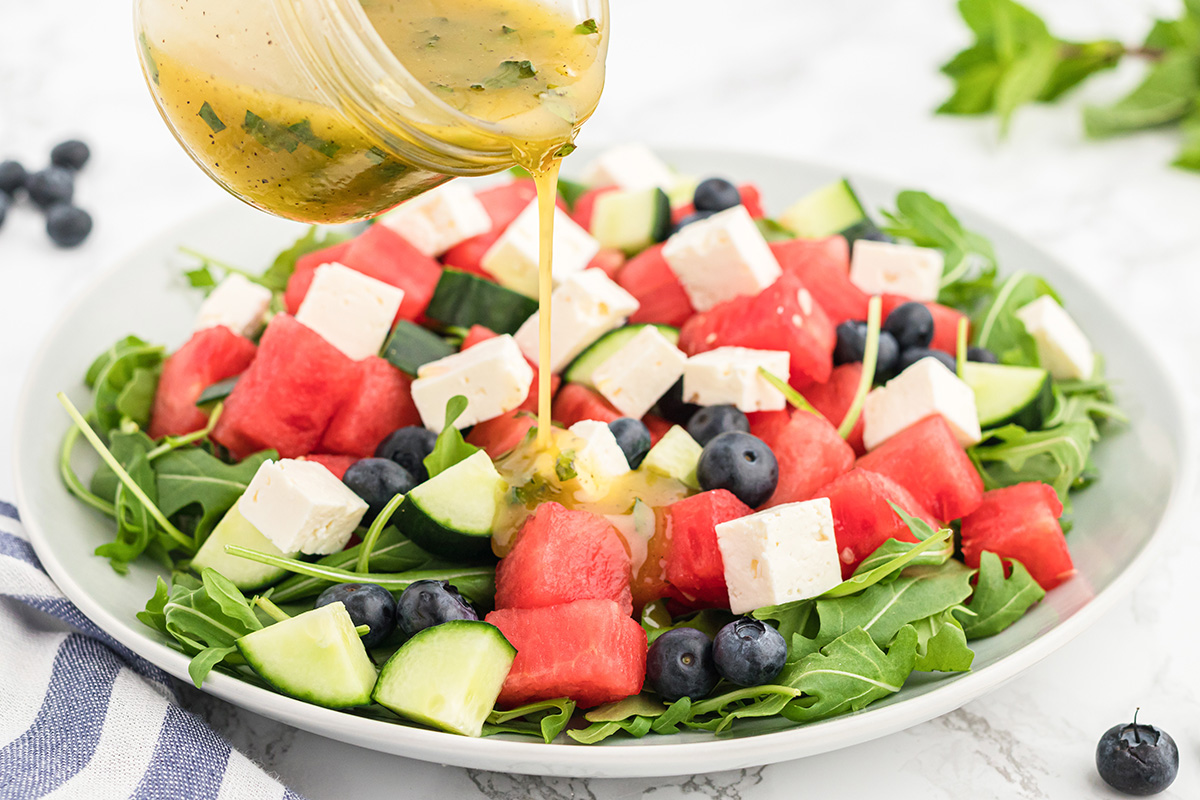 Why You'll Love This Salad Recipe
Pretty- This colorful salad is a pretty addition to any table whether it's at a cookout or for a weeknight dinner.
Seasonal- Spring and summer flavors are on showcase in this dish.
Sweet and salty combinations- The saltiness of the feta complements the sweetness of the fruit. The vinaigrette brings it all together with the zestiness of the mint and slight citrusy tang of the lime.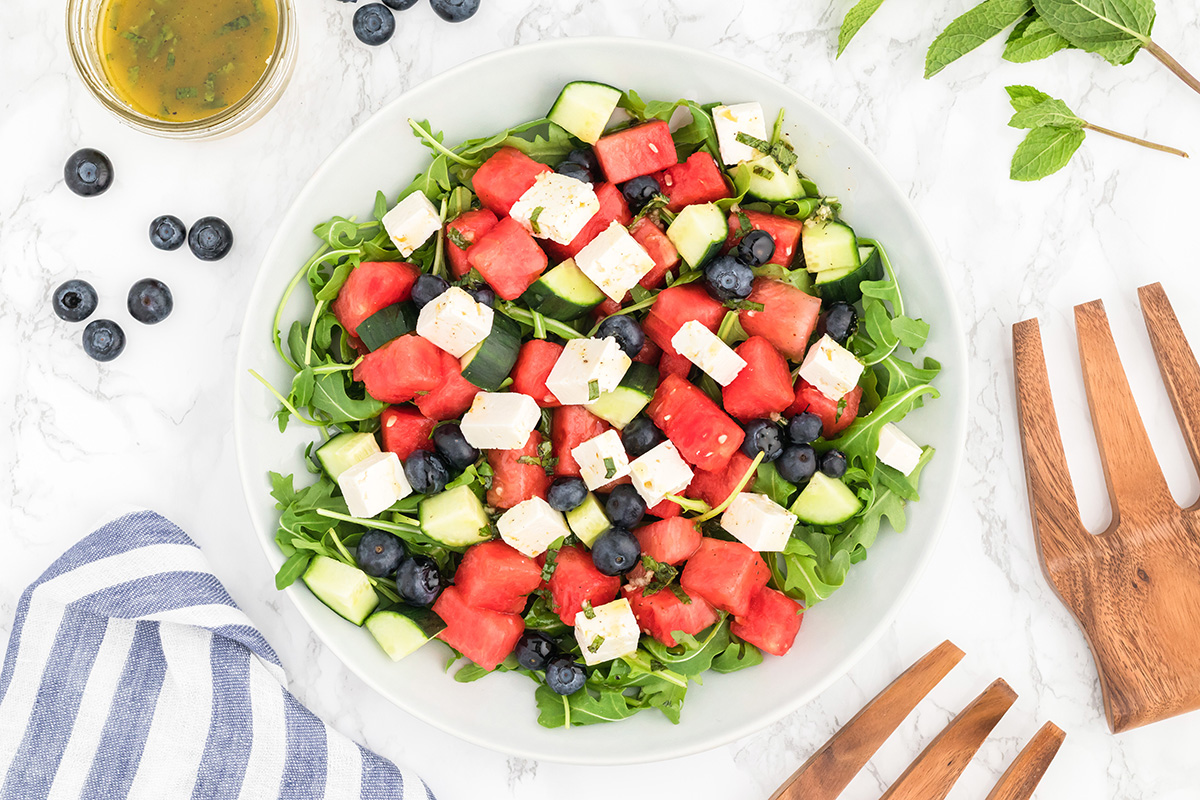 Ingredients
To make the salad:
Fresh watermelon– Some grocery stores already have pre-cut watermelon cubes, but if yours doesn't, it's super easy to dice it up. If you're prepping for a party, grab an extra one and impress your guests with a watermelon keg.
Fresh blueberries– Grab these from the store or your garden — the fresher the better.
Feta cheese– It can be cubed or crumbled. We recommend getting it as fresh as possible and cutting it up on your own, but the easiest method for you is what works.
Cucumber– Again, grab it from your garden, local farmer, or grocer. You can peel the skins off, but I prefer to leave them on for my watermelon feta salad.
Arugula– You can get this peppery green already bagged or get a fresh local batch. Just rinse and add it to the salad.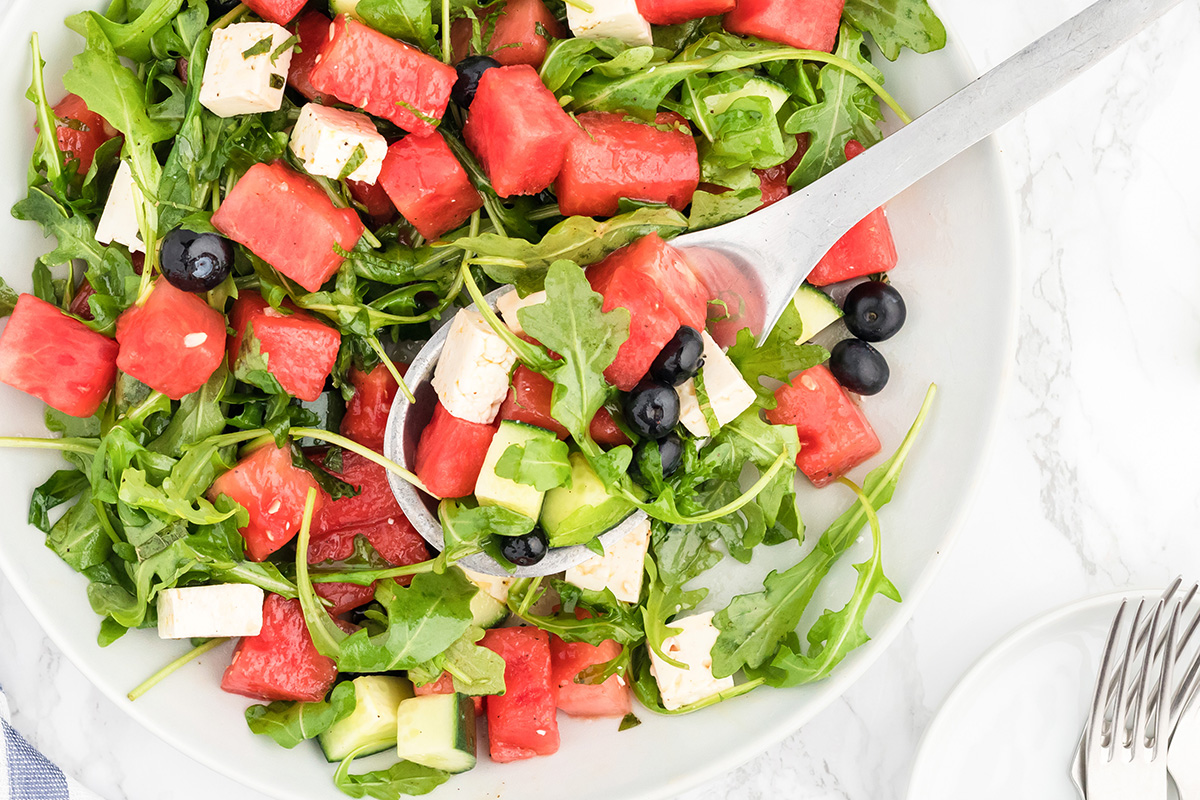 For the vinaigrette:
Olive oil– Extra virgin olive oil is best for this. If you have one on hand that's infused with herbs, that will bring out more flavors.
Limes– If limes are hard to find where you are, use bottled lime juice (or lemon) instead. Either way, the citrus will add a little zest.
White distilled vinegar– This simple ingredient is probably already in your pantry. If not, it should be!
Honey– I'm a big fan of using local honey for lots of reasons, but you can pick your preferred brand. If you find you're having a hard time getting it to combine when shaking, you can always use a whisk.
Garlic– It will need to be minced to make sure it combines well in the vinaigrette. Also, chomping down on unexpected chunks of garlic isn't for everyone!
Salt– You can use any salt that you prefer. Typical table salt will work, but you can experiment with sea salt or spice infused salts as well.
Black pepper– Grind it fresh right into the vinaigrette, or you can sprinkle it from the shaker you keep on the table.
Chopped fresh mint– Be sure to finely chop the mint so that it's able to mix well into the dressing.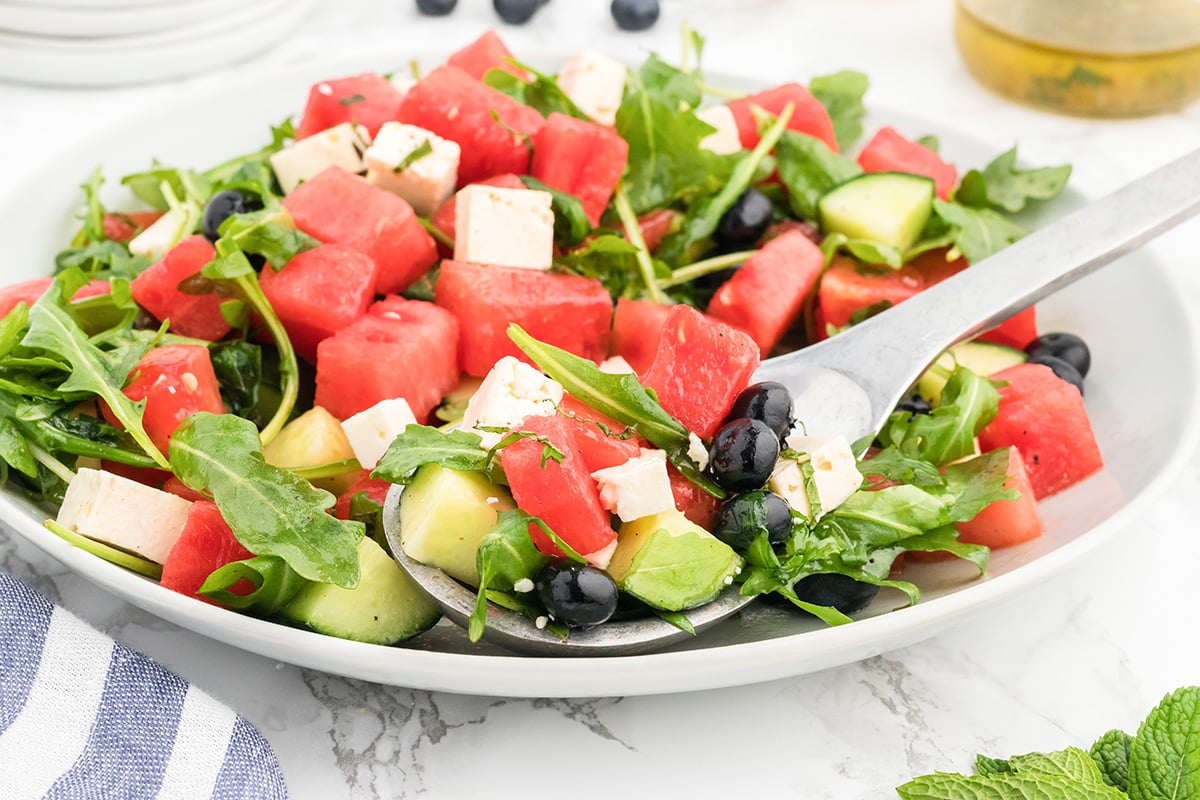 How to Make Watermelon Feta Salad
Choose a large serving bowl or platter that will showcase all of the beautiful colors of this salad. You can layer the ingredients, or just evenly scatter them. It's ideal to start with the arugula on the bottom and then add the fruits, vegetables and finally, the cheese.
Use a mason jar or even a plastic food storage container — anything with a tight fitting lid to make the dressing. Combine all of the ingredients for the dressing, then shake it vigorously to completely mix all of the ingredients.
If eating immediately you can dress the salad. However, if you are not, serve the dressing alongside the salad, in the mason jar or other appropriate container, to avoid having the greens wilt.

Variations
Berries and melons– Add strawberries or melons like cantaloupe or honeydew.
Cheese- While this salad does already have feta, you could also add milder cheeses with great texture like fresh mozzarella, goat cheese, or cotija.
Legumes– For toothsome texture, add some beans. Grab some canellinis, chickpeas, or any white beans you like to add some creamy texture with a bite.
Seeds– Toss in some seeds for texture. Sunflower seeds are perfect with their small size, but almonds and walnuts will add plenty of crunch, too.
Tomatoes- If you have some vibrant juicy tomatoes from your garden, this is the perfect way to use them to add a pop of color. An even easier way to incorporate them is to toss in some whole cherry tomatoes.
Olives- If you want more of that contrast of salty and sweet (and of color) black olives are an ideal addition.
Protein -Want to add some salty meatiness to this watermelon feta salad? Slice up some prosciutto or toss in some diced pancetta to kick this salad up a notch.
Onion or basil– Finely chop either onion or basil (or both) to add even more flavor to the vinaigrette.
Red wine vinegar- Try substituting red wine vinegar for the white for a twist.
Skewers– If you're serving this at a party and want to make it portable you can skewer the ingredients
Cups- Also for portability purposes, you can serve the salad in individual cups.
Dressing- If you prefer a different dressing, try using a balsamic glaze.
Balsamic/honey reduction– Instead of the vinaigrette, mix balsamic vinegar with honey and bring it to a boil. Then, reduce the heat to a simmer until it has thickened. Be sure to cool the mixture completely before drizzling over the salad.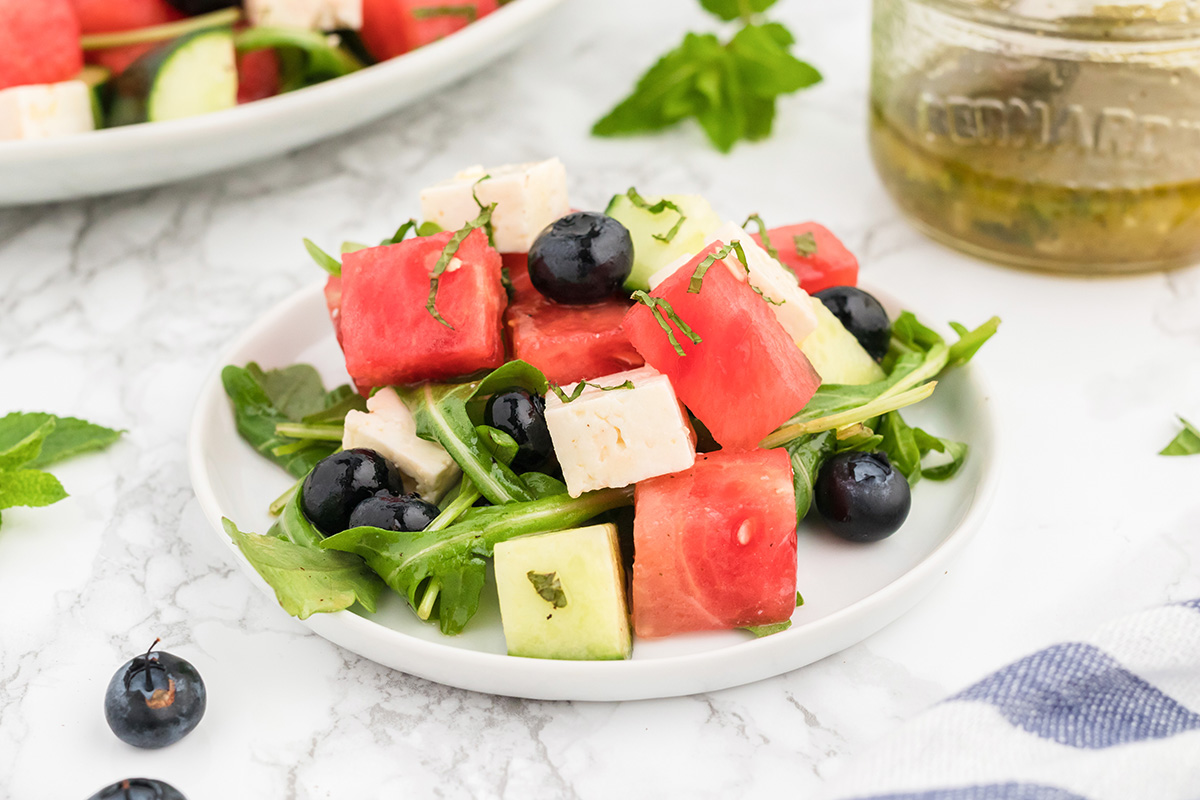 Storage and Freezing
You'll want to devour this watermelon feta salad immediately. If you don't, you can store it for a day or two. Be sure to leave the dressing off so you don't wind up with soggy greens. Freezing is not an option.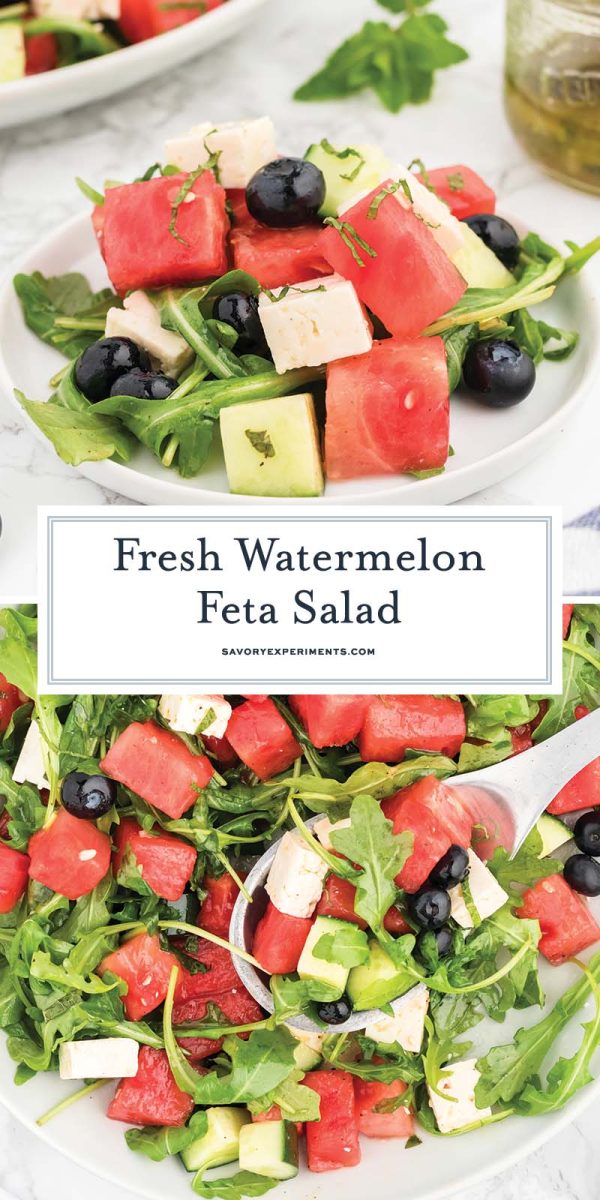 More Salad Recipes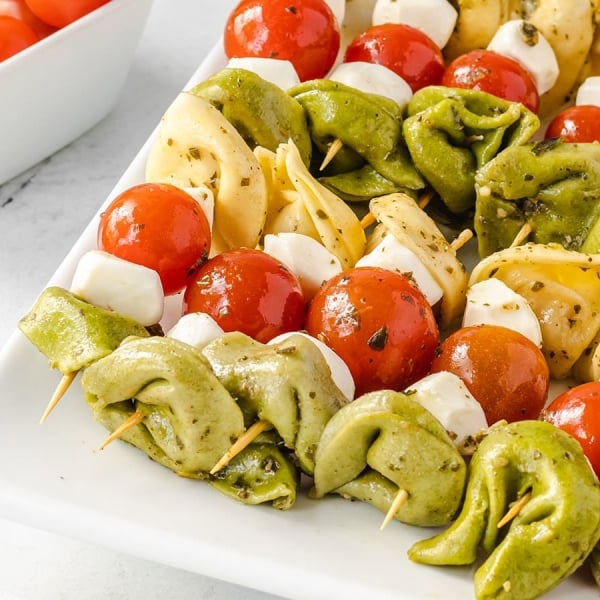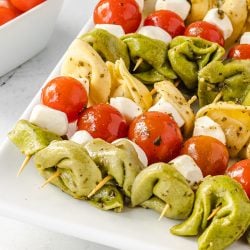 Cold Tortellini Salad Kabobs
Traditional tortellini salad becomes a finger food with these Tortellini Skewers. They are a fresh and flavorful, appetizer, perfect for everything from cocktail hours to pool parties!
See The Recipe!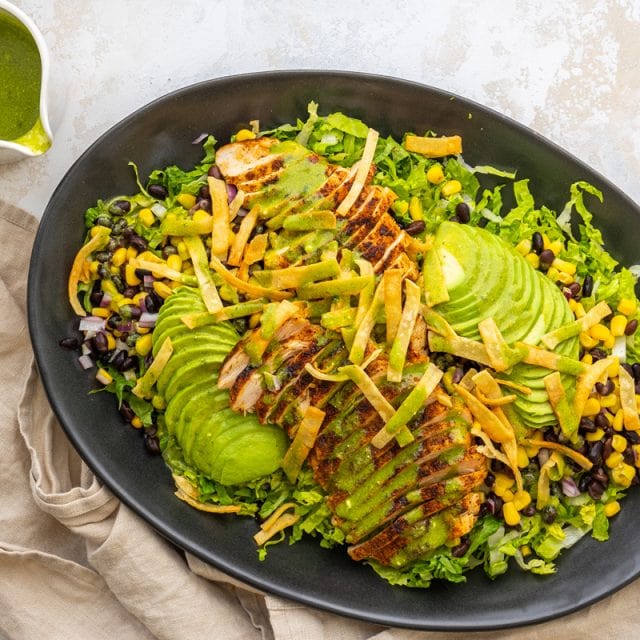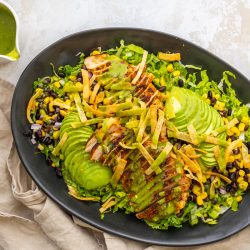 Southwest Chicken Salad
This Southwest Chicken Salad is a delicious salad made with seasoned chicken breast and bold flavors of the southwest. It's paired with a cilantro lime dressing and tortilla strips for added crunch!
See The Recipe!
Cobb Salad
With egg, bacon, tomato, onion, avocado and blue cheese, a Classic Cobb Salad recipe can't be beat! This recipe also has the BEST homemade dressing!
See The Recipe!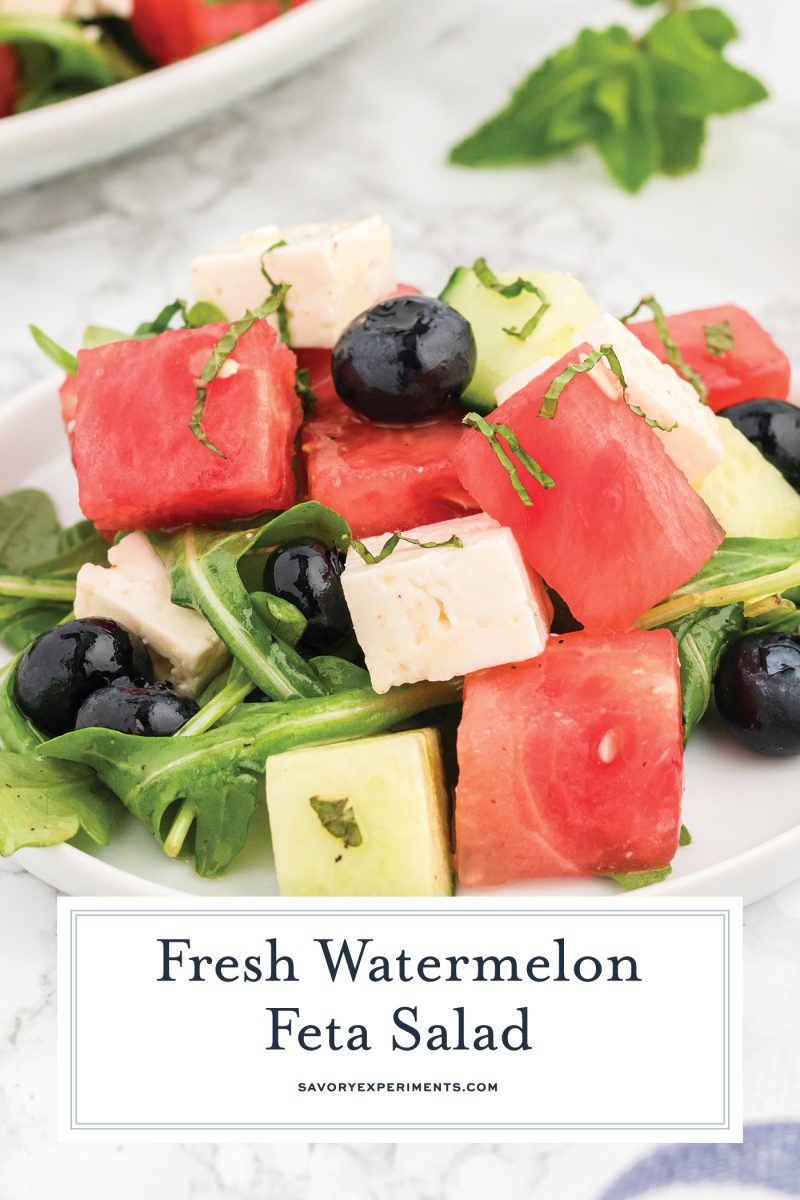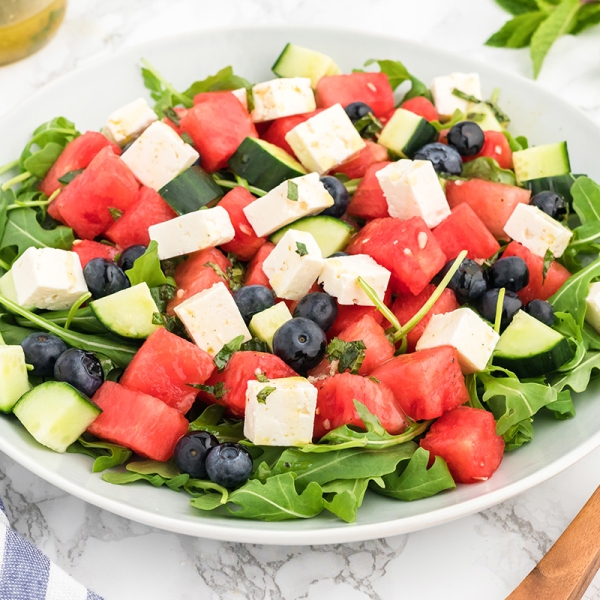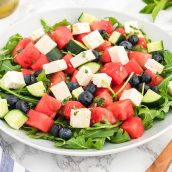 Watermelon Feta Salad
With juicy watermelon, fresh blueberries and cucumber and crumbly feta cheese, this Watermelon Feta Salad is perfectly refreshing for summer!
Instructions
In a large serving bowl, platter, or other preferred vessel, layer or arrange the watermelon, blueberries, feta, cucumber, and arugula as desired.

Place the dressing ingredients into a jar or other container with a lid and shake vigorously to combine.

Pour the dressing over the salad and toss together, or serve on the side.

If you've tried this recipe, come back and let us know how it was in the comments or star ratings.
Nutrition
Calories:
1081
kcal
,
Carbohydrates:
80
g
,
Protein:
21
g
,
Fat:
80
g
,
Saturated Fat:
23
g
,
Polyunsaturated Fat:
7
g
,
Monounsaturated Fat:
45
g
,
Cholesterol:
101
mg
,
Sodium:
1906
mg
,
Potassium:
935
mg
,
Fiber:
5
g
,
Sugar:
64
g
,
Vitamin A:
4417
IU
,
Vitamin C:
53
mg
,
Calcium:
746
mg
,
Iron:
4
mg