This blueberry muffin recipe is so easy to make and so deliciously soft to eat! The crumb sugar topping adds the perfect caramelized topping to finish them off. Your mouth will be watering with each bite!
Homemade Blueberry Muffins with Crumb Topping is a super easy recipe for super soft muffins! This is the best blueberry muffins recipe because they're pleasantly light and full of flavor!
A few weeks ago my neighbor graciously shared her batch of blueberry muffins. Delightfully light and flavorful, I dared to ask her for the recipe.
Turns out it was Paula Deen…. of course, queen of the traditional southern breakfast and decadence, Ms. Paula Deen!
I blended my own recipe for Homemade Blueberry Muffins with Ms. Paula's.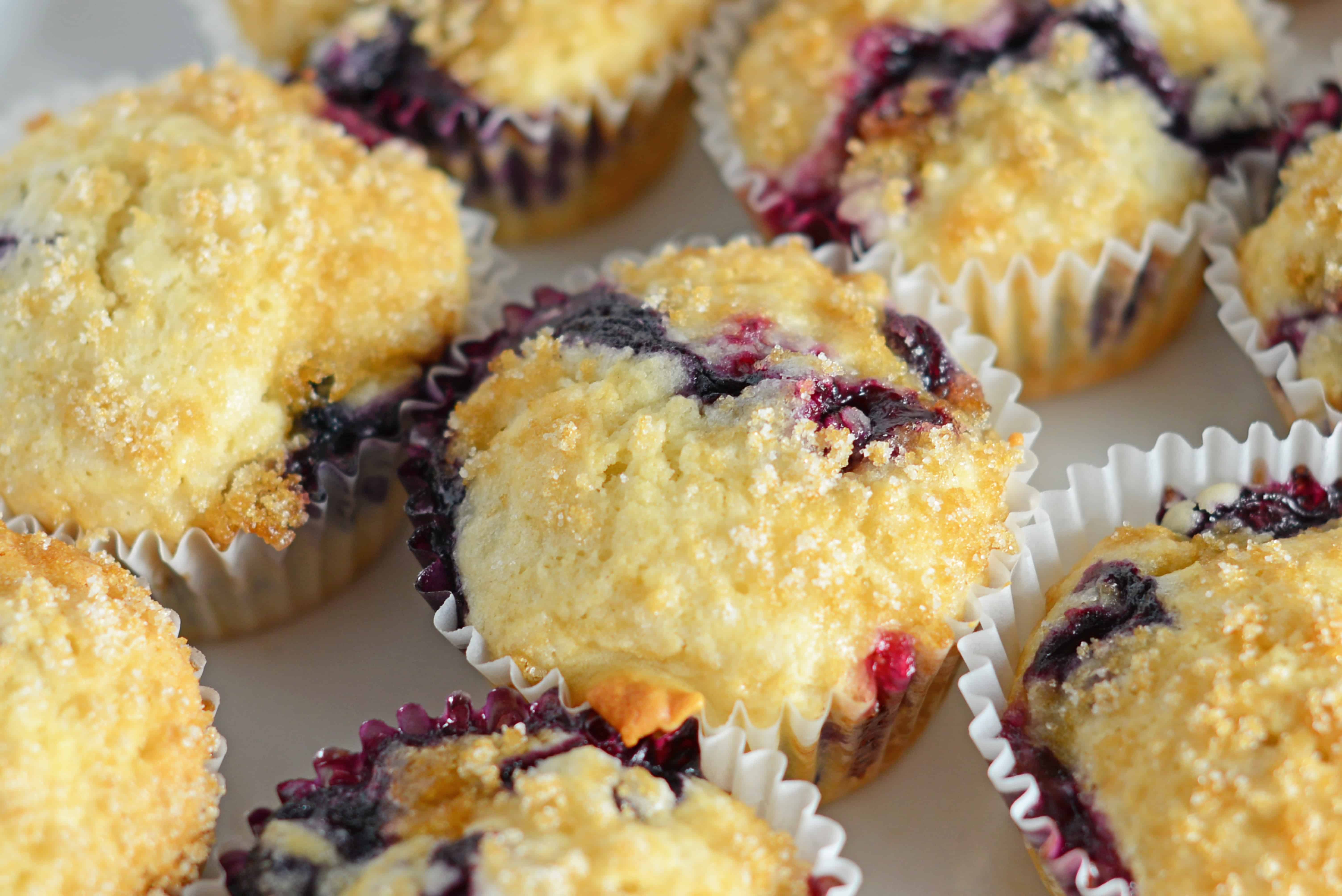 I preferred hers for two reasons: melted butter (as opposed to softened) and a short ingredient list. Muffins are supposed to be easy (ya'll).
Wake up in the morning, whip up a batch of classic blueberry muffins and toss them at folks while they walk out of the door.
Not having to wait for butter to melt, or putting it in the microwave to soften it and then softening it too much, is just a hassle. Calling for melted butter from the start is fabulous! These are easy blueberry muffins.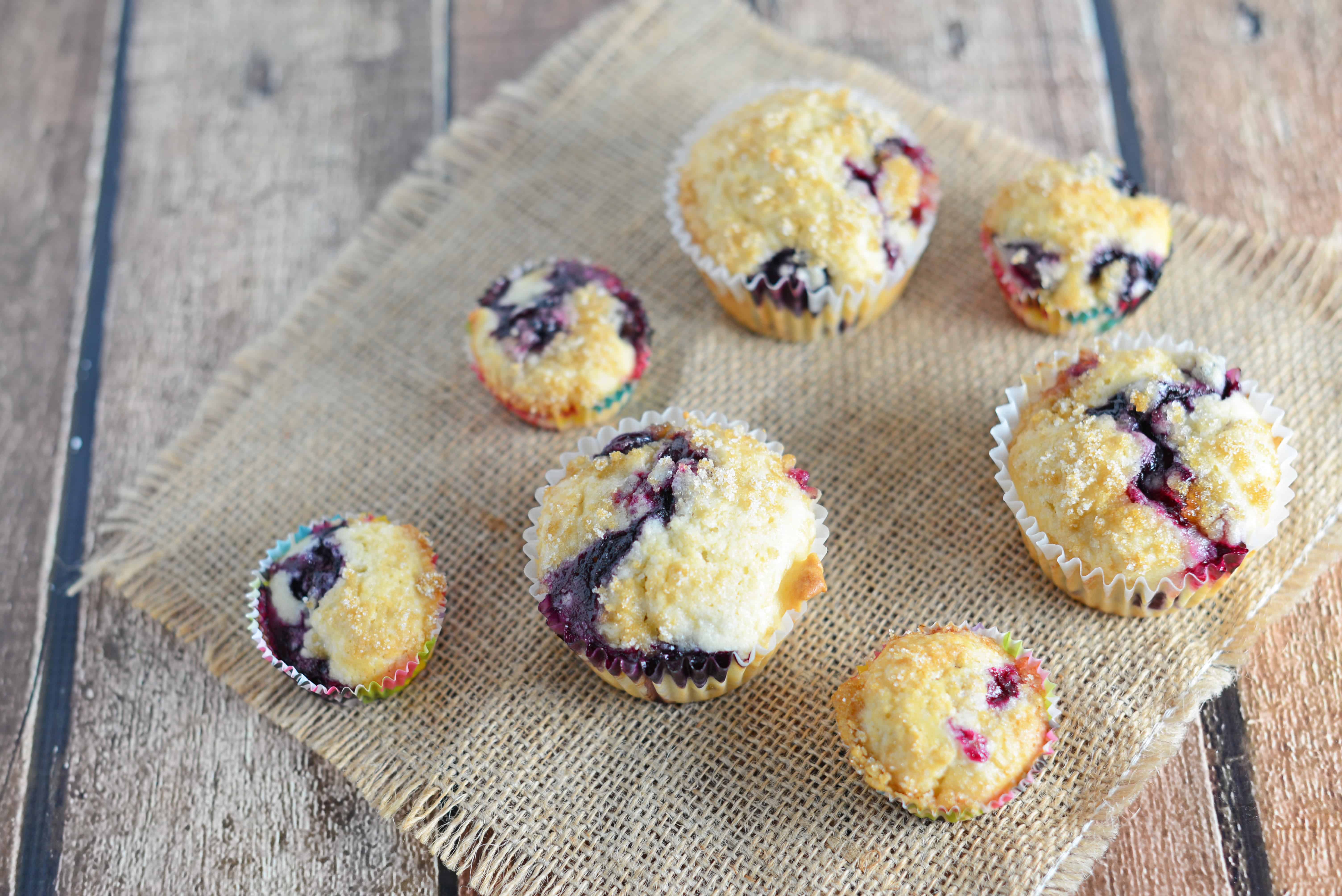 Let's also be honest, buttermilk just isn't one of my kitchen staples. While I agree, buttermilk is fabulous in any muffin, when I am impulsively deciding I need muffins, I generally do not have it.
This recipe is sans buttermilk, perfect for last minute muffins.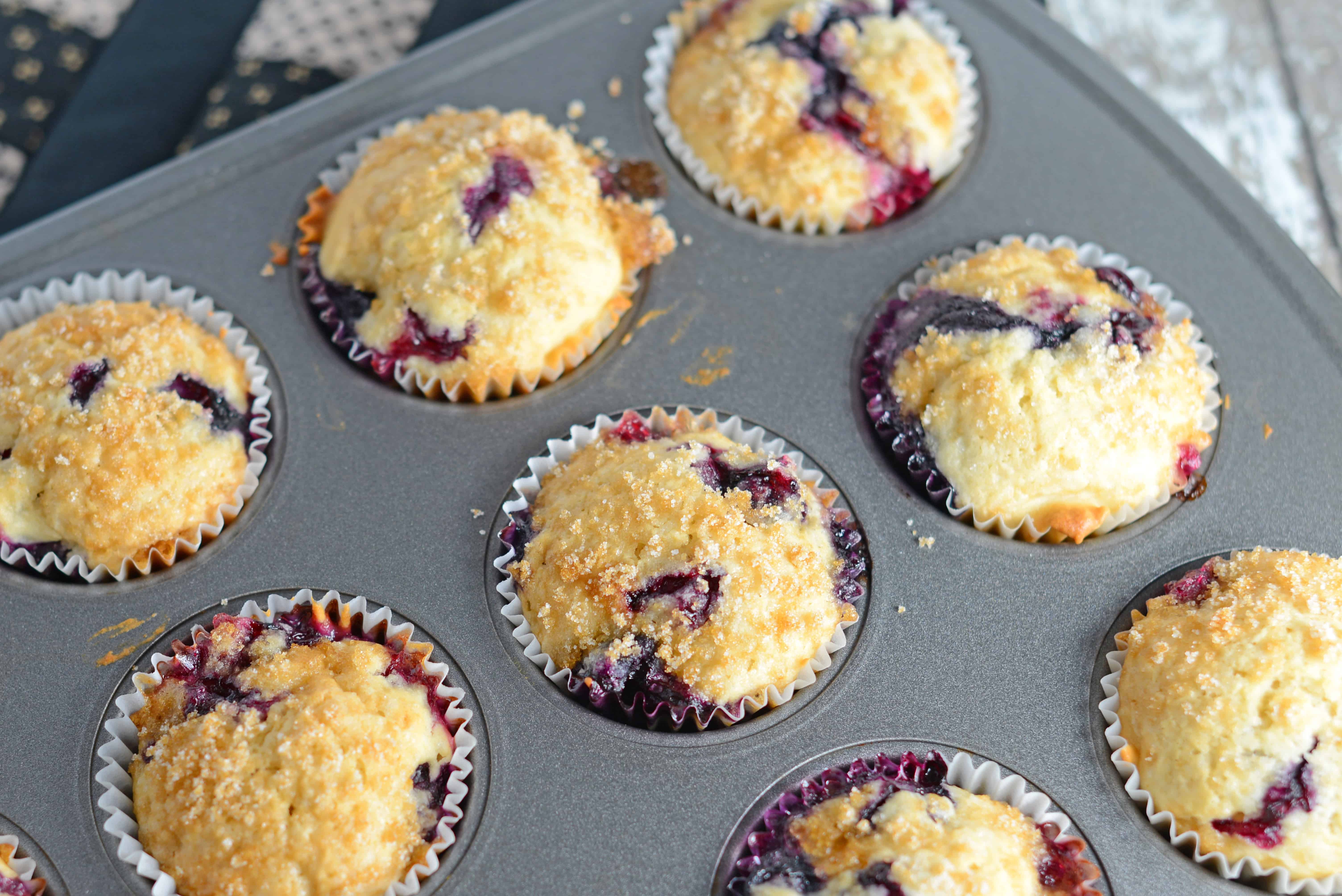 These Homemade Blueberry Muffins with Crumb Topping aren't too sweet, but have a hint of caramelized sugar on top. You can use frozen or fresh berries, your choice, although I always opt for fresh.
I like the way the little flavor bombs burst in my mouth (also known as blueberries). I also like to make both big and mini muffins. If I have guests, it gives them the option of 2 bites or 4.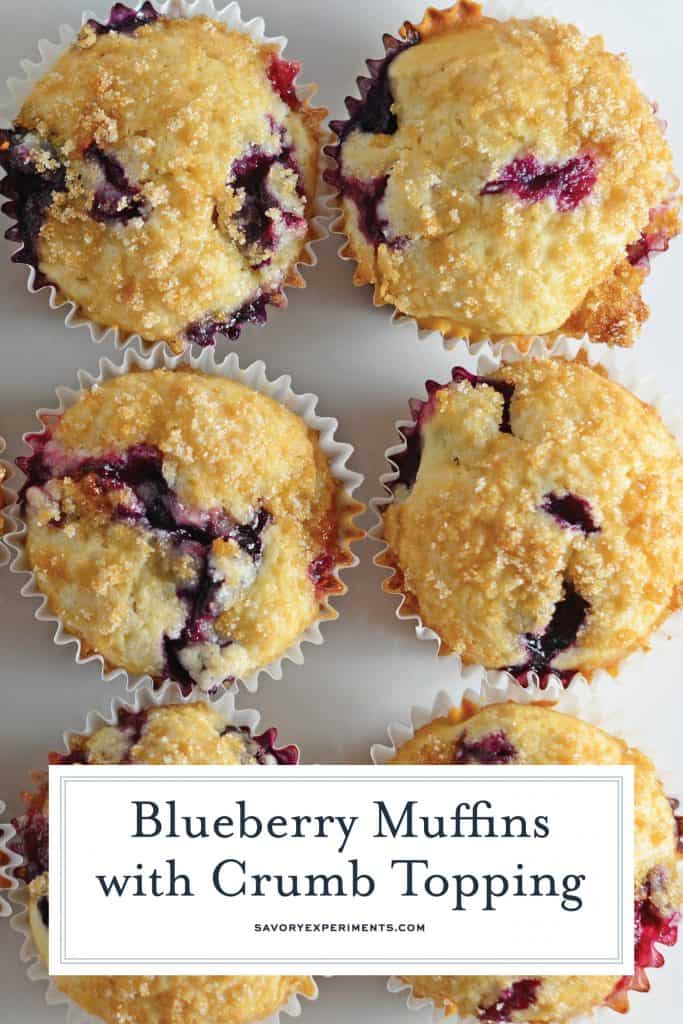 Or if you are like me, you take 6 mini muffins to feel better about yourself, because they are mini, but end up eating two big muffins.
Tips for making the best muffins!
ONE. Do not overmix the batter. Blend wet ingredients and dry ingredients separately to prevent this. This extra step is worth it!
TWO. Only fill muffin batter 2/3 of the muffin tin to prevent overflowing.
THREE. Bake until muffin tops lightly spring back to the touch, which is generally 1 or 2 minutes less than you think they need. For most muffins, you want to avoid them being golden brown. You can also use the toothpick test.
FOUR. If your muffin tin isn't 100% full of muffins, fill empty tins with water to ensure evenly distributed heat.
Homemade Blueberry Muffins with Crumb Topping freeze well. Make the whole batch and then store in an airtight plastic freezer bag and thaw when the mood strikes.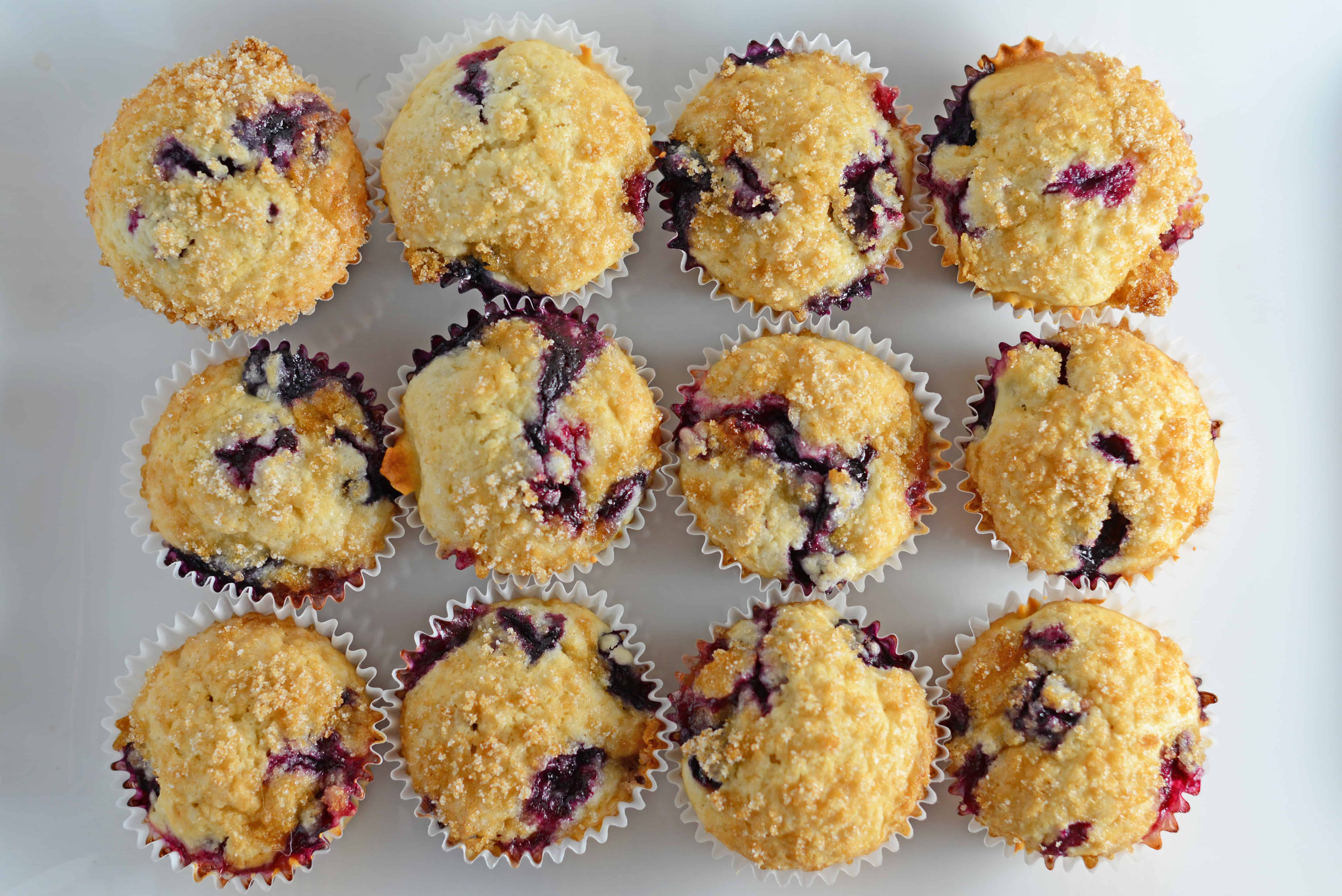 Check out these other easy muffin recipes: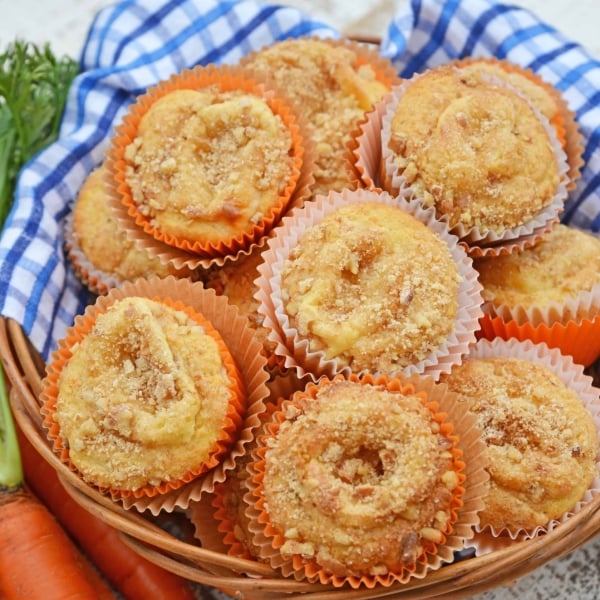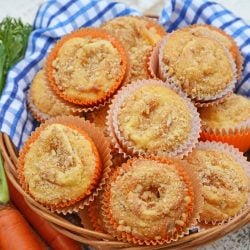 Carrot Cake Muffins
Carrot Cake Muffins are muffins loaded with carrots and stuffed with cream cheese frosting. Perfect for breakfast, brunch or a snack. Also freezer-friendly!
See The Recipe!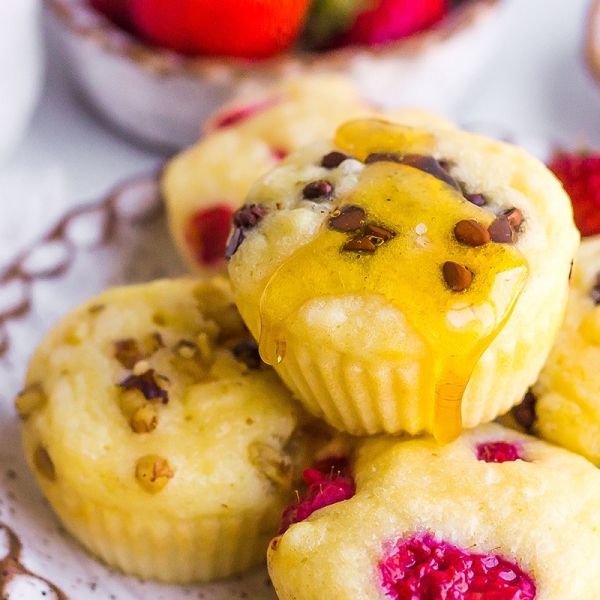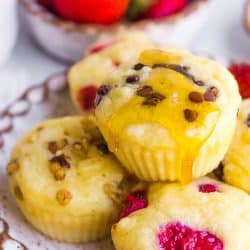 Pancake Muffin Recipe
Pancake Muffins take your favorite homemade pancake recipe and turn it into an easy grab-and-go breakfast. No fuss or flipping involved, with all of the pancake flavor included!
See The Recipe!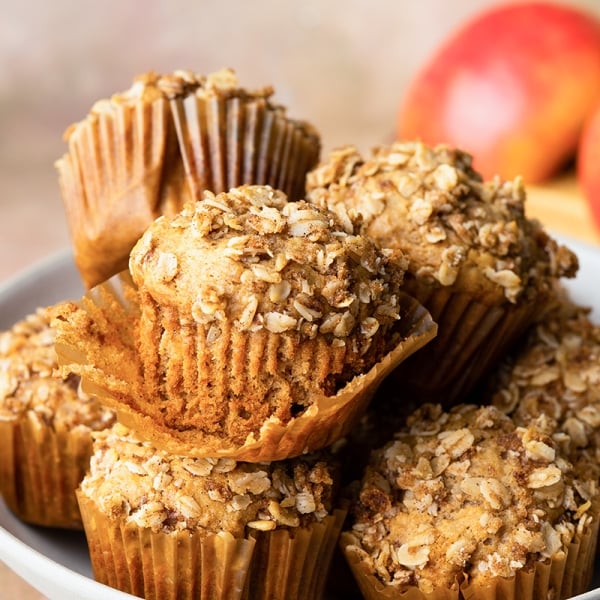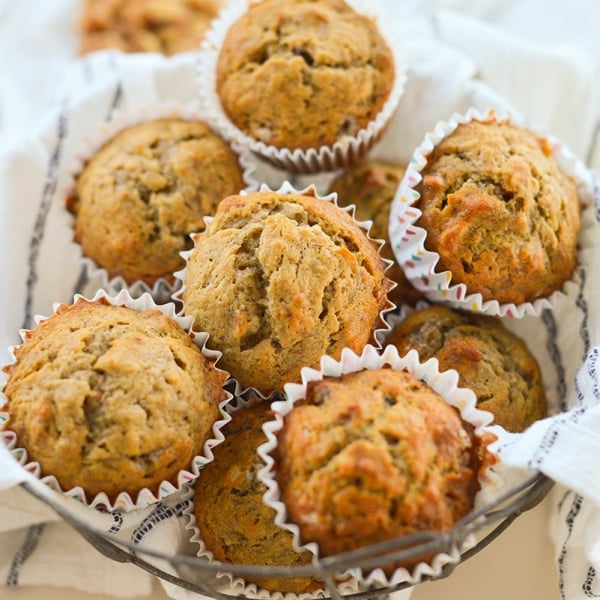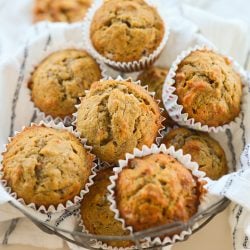 Tools for making Homemade Blueberry Muffins with Crumb Topping:
Muffin Tin– I really suggest having two muffin tins. It makes life a lot easier than baking in two batches and double the cook time.
Stand Mixer– I lived for a long time without one. My life was changed when I finally bit the bullet and bought one. Just do it and thank yourself later.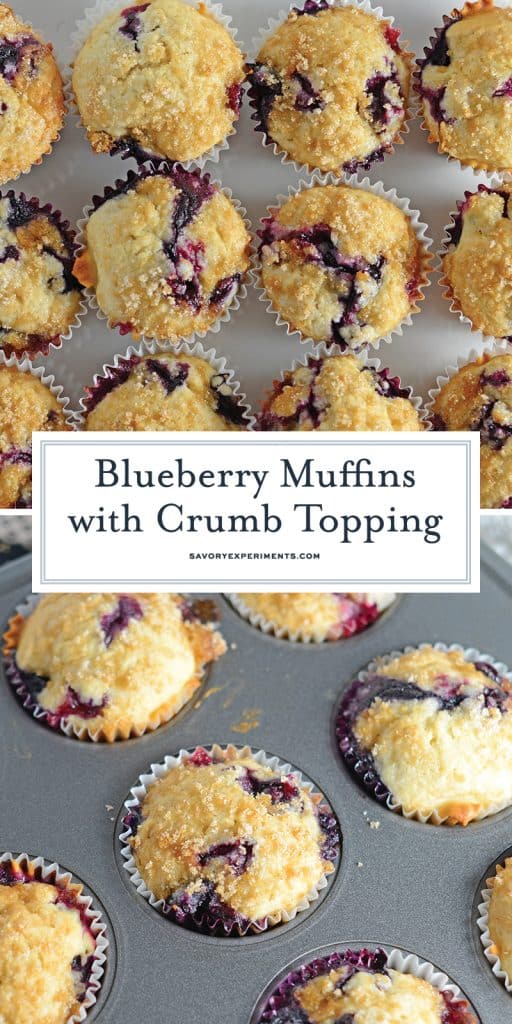 Questions you might have about how to make blueberry muffins:
Can I freeze muffins? You sure can! Place them in an airtight container, releasing as much air as possible, then freeze for up to 6 months.
Can I use a different type of fruit? Blueberries are fabulous and perhaps the most common of fruity muffins, but you can use any type of fruit you want as long as it equals about 2 cups.
Can I use fresh blueberries instead of frozen blueberries? Use fresh blueberries or any other fresh fruit you'd like, just make sure it is bite-size.
How long do muffins last? It really depends on how you package them. Muffins taste best on the day they were baked and last up to 5 days at room temperature.
Do I have to use the streusel? While I think the streusel topping makes the muffin, feel free to omit it.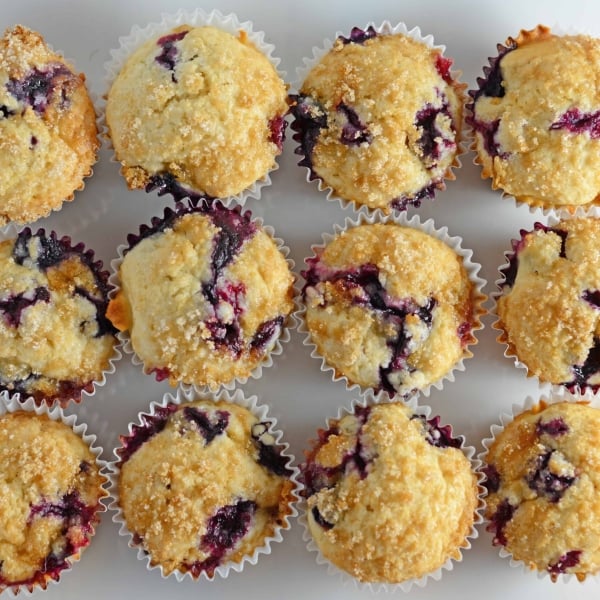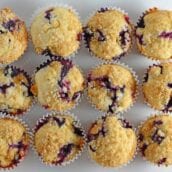 Classic Blueberry Muffins
Classic Blueberry Muffins with a Streusel Crumble Topping – super easy recipe for super soft muffins. Perfect for any breakfast or brunch.
Ingredients
Crumble Topping (Optional):
Instructions
Preheat oven to 350 degrees. Line muffin tins with fun cupcake liners.

Sift together 2 cups flour, baking powder, 1/2 cup sugar and salt in a mixing bowl, set aside.

In a small bowl, toss together blueberries with 2 tablespoons flour and 2 tablespoons sugar. Set aside.

In a stand mixer fitted with the paddle attachment or a large mixing bowl with an electric mixer, blend melted butter, milk and egg.

Slowly add dry ingredients to the batter. Do not over mix. Stop when it is combined, but there are still small lumps.

Fold in blueberries. The batter will marbleize or turn blue if using frozen blueberries. Don't panic.

If using the sugar topping, mix both sugars in a small bowl.

Fill muffin tins 2/3 full. Sprinkle tops evenly with sugar mixture.

Bake for 25 minutes for large muffins and 18 minutes for small muffins. Times may vary based on oven and how much you filled those cups (I know a few of you took some chances and filled them to the brim, didn't you??). Muffin tops will spring back to the touch.

Remove and allow to cool.
Nutrition
Calories:
140
kcal
,
Carbohydrates:
21
g
,
Protein:
2
g
,
Fat:
5
g
,
Saturated Fat:
3
g
,
Cholesterol:
21
mg
,
Sodium:
125
mg
,
Potassium:
117
mg
,
Sugar:
7
g
,
Vitamin A:
170
IU
,
Vitamin C:
1.2
mg
,
Calcium:
34
mg
,
Iron:
0.8
mg