This post is in collaboration with Superior Farms American Lamb. All opinions and statements are 100% my own.
Lamb is one of those proteins that people reserve as a "restaurant only dish". A fancy occasion meal that is too complicated to prepare at home.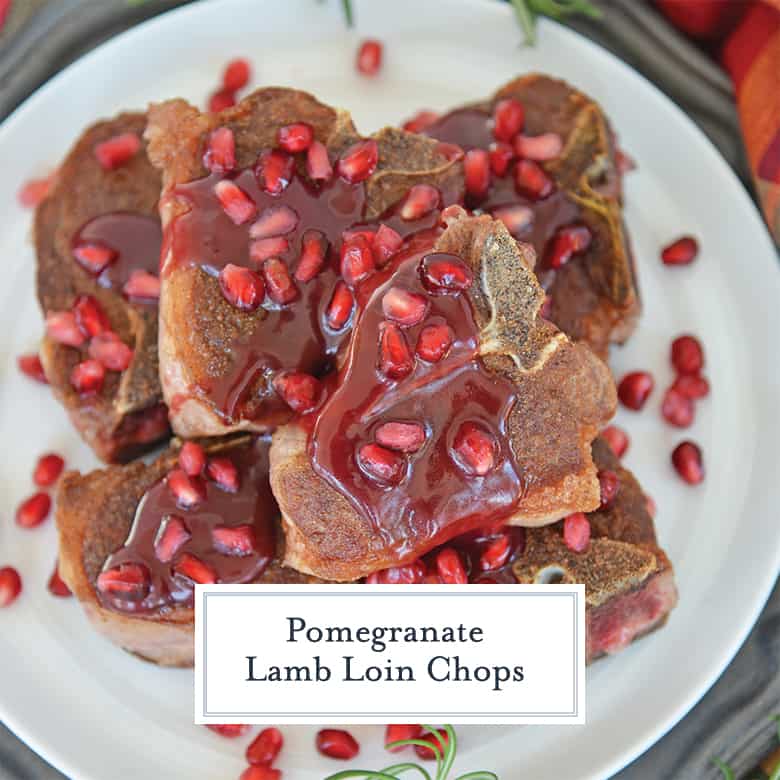 Warm, comforting undertones of fall flavors like cinnamon, nutmeg and coriander create a lamb crust that pairs perfectly with sweet, tart burgundy pomegranate sauce. Aroma alone will get you in the holiday spirit.
This myth couldn't be less true. Lamb, in fact, is easier to prepare than many other meats. And in fact, is so easy, it can be classified in the "easy weeknight meal" category.
I've partnered with Superior Farms American Lamb to provide you with more information and this lovely meal.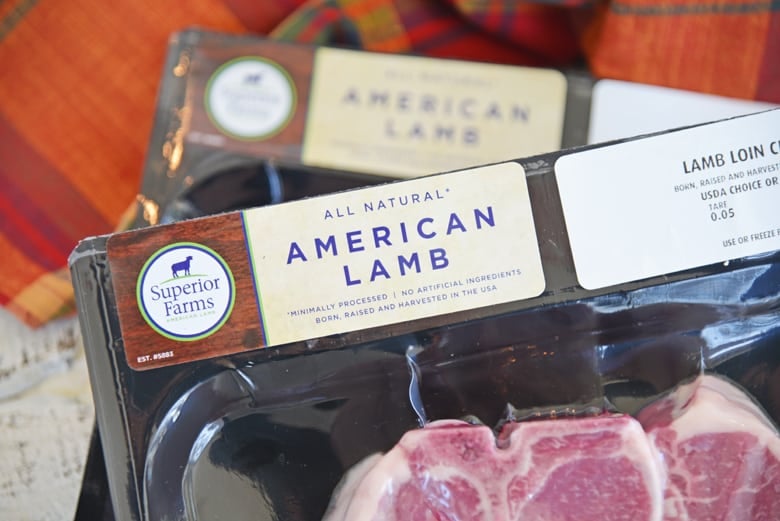 For my Lamb Loin Chops, all you need is a simple spice blend, quick sear and an easy sauce that whips up in less than 30 minutes. No marinating required, no chopping or prep work and the result is a festive and colorful dish in the literal and flavorful sense.
Lamb is so tasty by itself that it requires little seasoning. The seasoning in this recipe is only to complement, but not overwhelm. Ditto on the pomegranate sauce.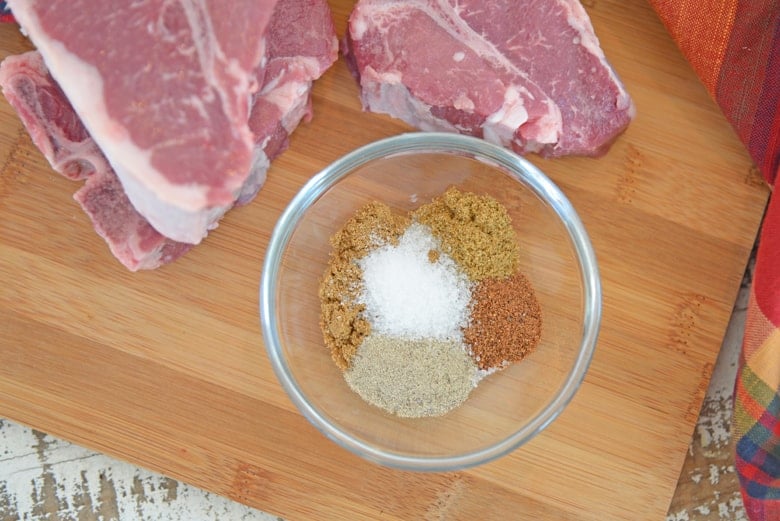 For soft and juicy lamb chops, they should be cooked to an internal temperature of 145 degrees for a medium. While they rest, pomegranate gravy is blended up. Top it all with pops of pomegranate arils for the ultimate main dish.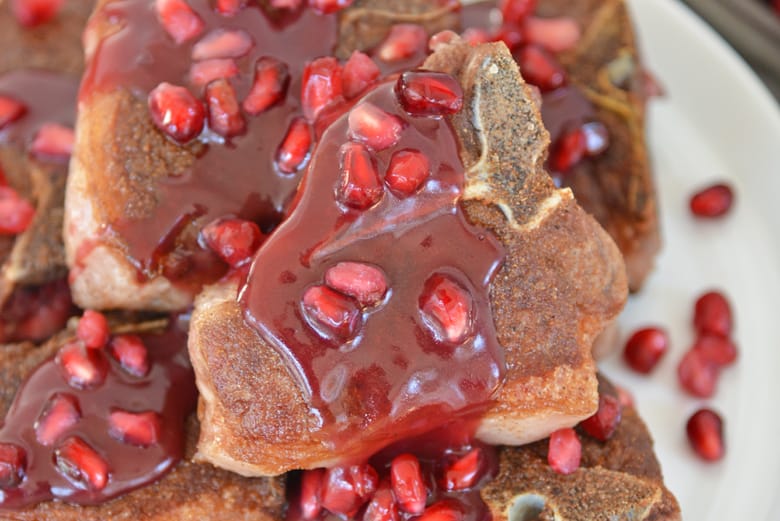 Here are the benefits of Superior Farms American lamb:
American Lamb is nutrient dense, providing protein, B12, niacin and zinc.
Lamb contains monounsaturated fats, the same "good" fats found in olive oil.
Lamb contains more omega-3 fatty acids than the same size portion of beef.
American lamb uses no artificial or synthetic growth hormones during the life cycle.
Before I tell you the other aspects that make this lamb chop recipe so special, let's briefly review the cuts of lamb:
Ground Lamb: Mellow and mildly flavored, ground lamb is a lean and versatile substitute for ground beef in many recipes and is often preferred by those who historically say they don't care for lamb. Use it in meatballs, burgers, shepherd's pie and meatloaf.
Lamb Loin Chop: Loin chops are lean, tender and the most widely available cut of lamb! With their perfect 3- to 4-ounce serving size and attractive "T" shaped bone that runs through the meat, loin chops are simple to prepare. They can easily be baked, pan fried or grilled for an easy weeknight meal.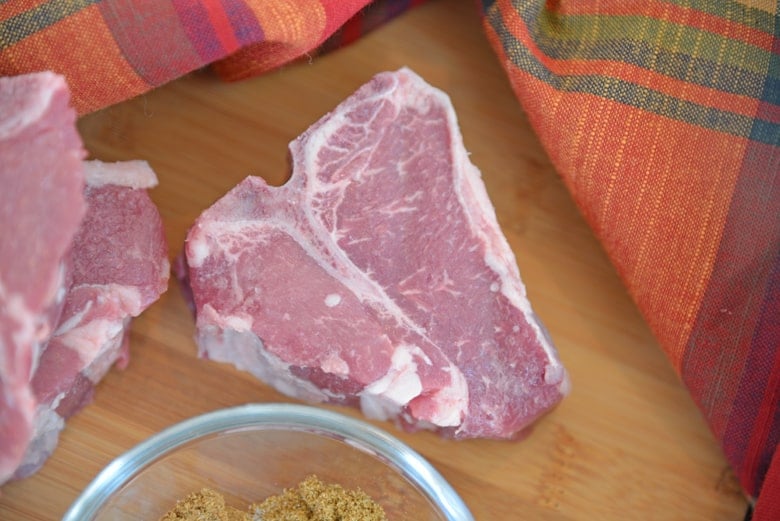 Lamb Shank: Lamb shanks practically melt off the bone when they are slow cooked and are a popular menu item across the country. Lean on fat but big on flavor, the meaty shank is perfect for braising in a slow, simmering broth.
Lamb Shoulder Chop: Shoulder chops require a shorter cooking time than other cuts, making them an economical and flavorful choice for quick and easy meals.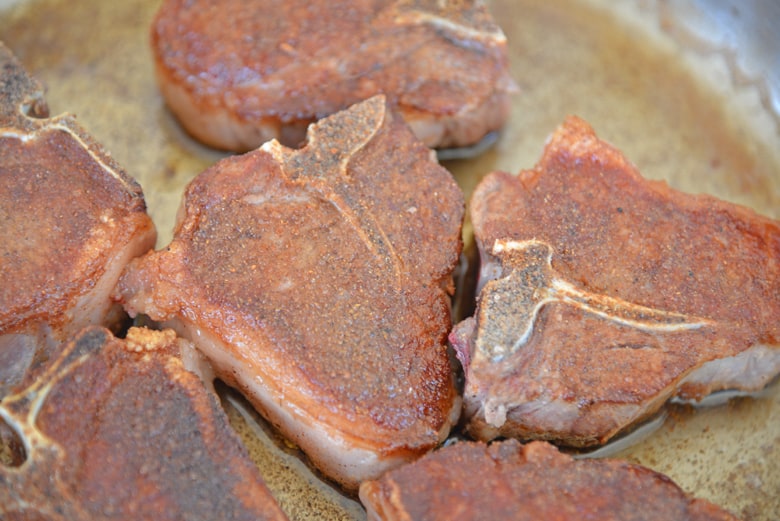 Leg of Lamb: Available boneless or bone-in, leg is the leanest lamb cut and one of the largest. It can be roasted whole or cut into individual steaks. Bone-in leg of lamb is perfect for any holiday or special occasion because of its impressive presentation.
PRO TIP: Save the bones, they add richness and flavor to any homemade stock or broth!
Rack of Lamb: Probably the most iconic, this is what most people envision when they hear lamb. They are commonly available "frenched" or "crowned" with a built in "handle".
They are one of the most elegant, but also the easiest and quickest to prepare. You can make it a one large roast and then cut into individual portions or cut before cooking for an even speedier cooking time.
Lamb Ribs: Lamb spareribs or "Denver Ribs" are perfect for braising and grilling and are a great substitute for baby back pork ribs.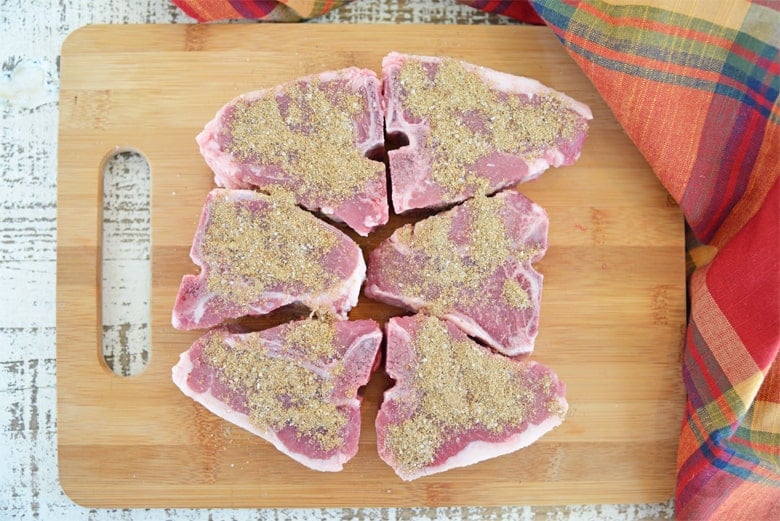 Now let's talk about the pomegranate sauce… although it is more of a gravy.
Pomegranates have popped up recently as a food trend and it is no wonder why. They too, have a number of nutritional assets, are tasty and provide a sweet pop in salads, sauces and as a topper.
PRO TIP: Leftover Pomegranate juice can be added to any smoothie for a boost of antioxidants!
Buying a whole pomegranate is cheaper, but the suckers can be challenging to get seeds out of. You'll need the seeds from one pomegranate for this recipe. Buying juice in a bottle is MUCH easier than making your own.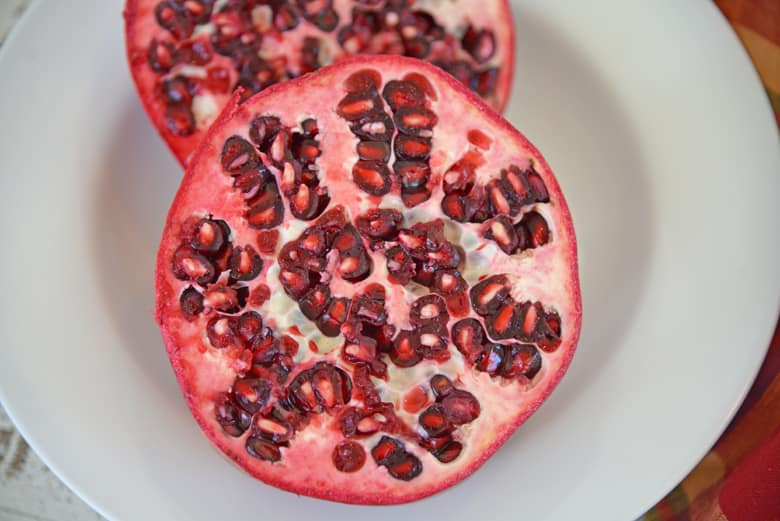 Pomegranate seeds are located near prepared foods in the produce section. The juice is generally nearby as well. But if you do choose to harvest your own…
How do you get pomegranate seeds out of a pomegranate?
Roll the whole fruit on a hard surface to loosen the seeds.
Score around the center and break open into halves.
Turn over onto a bowl or plate and tap the outside of the fruit with a wooden spoon. Gently massaging as you go to loosen more seeds.
Cut into quarters to get the tough ones from the center.
Some really stubborn seeds might need the assistance of tweezers.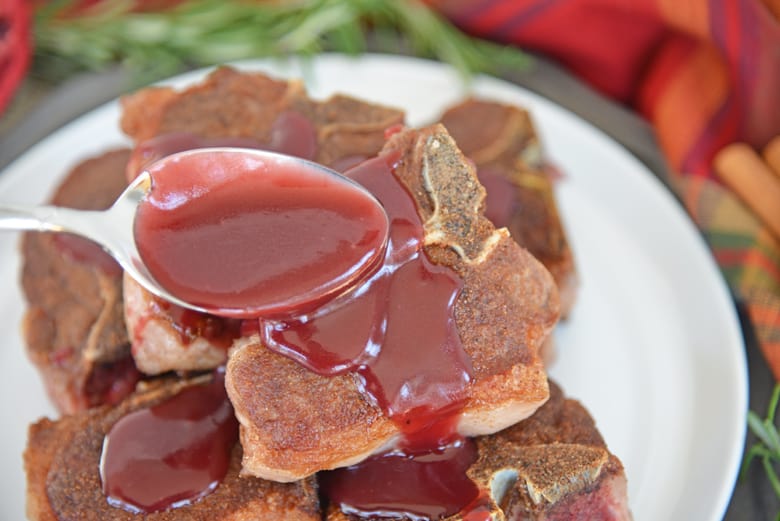 Questions you might have about how to make seared lamb loin chops:
Can I use this recipe on other cuts of lamb? You surely can! The spice rub and pomegranate sauce can be used on any cut of lamb, just the cooking techniques and times will vary.
Can I make the pomegranate sauce ahead of time? You can, but it might need to be thinned out when you reheat it. Add a little more pomegranate juice or water, 1 tablespoon at a time, until it reaches the desired consistency.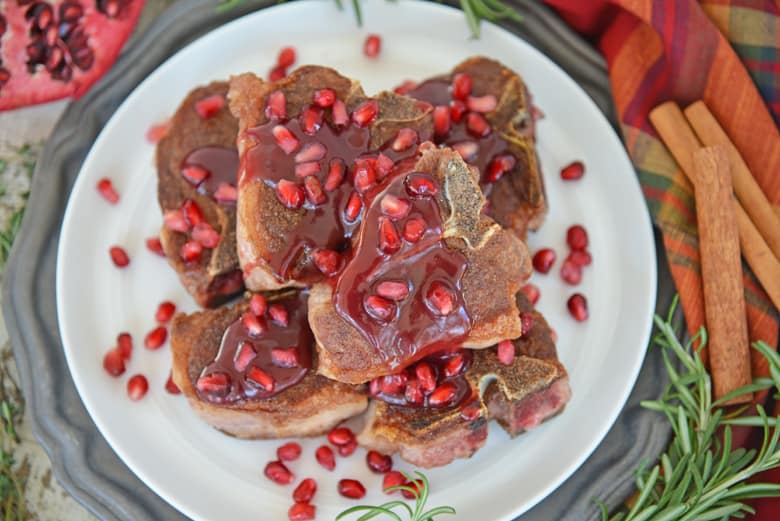 Can I substitute cranberries for pomegranates? You sure can. They have the same flavor profile of slightly sweet and tart, so they are the perfect swap.
What can I substitute for apple cider vinegar? The sauce needs a little acidity, so any type will do. Sherry vinegar adds brightness and citrus, like lemon juice will give this sauce the kick it needs.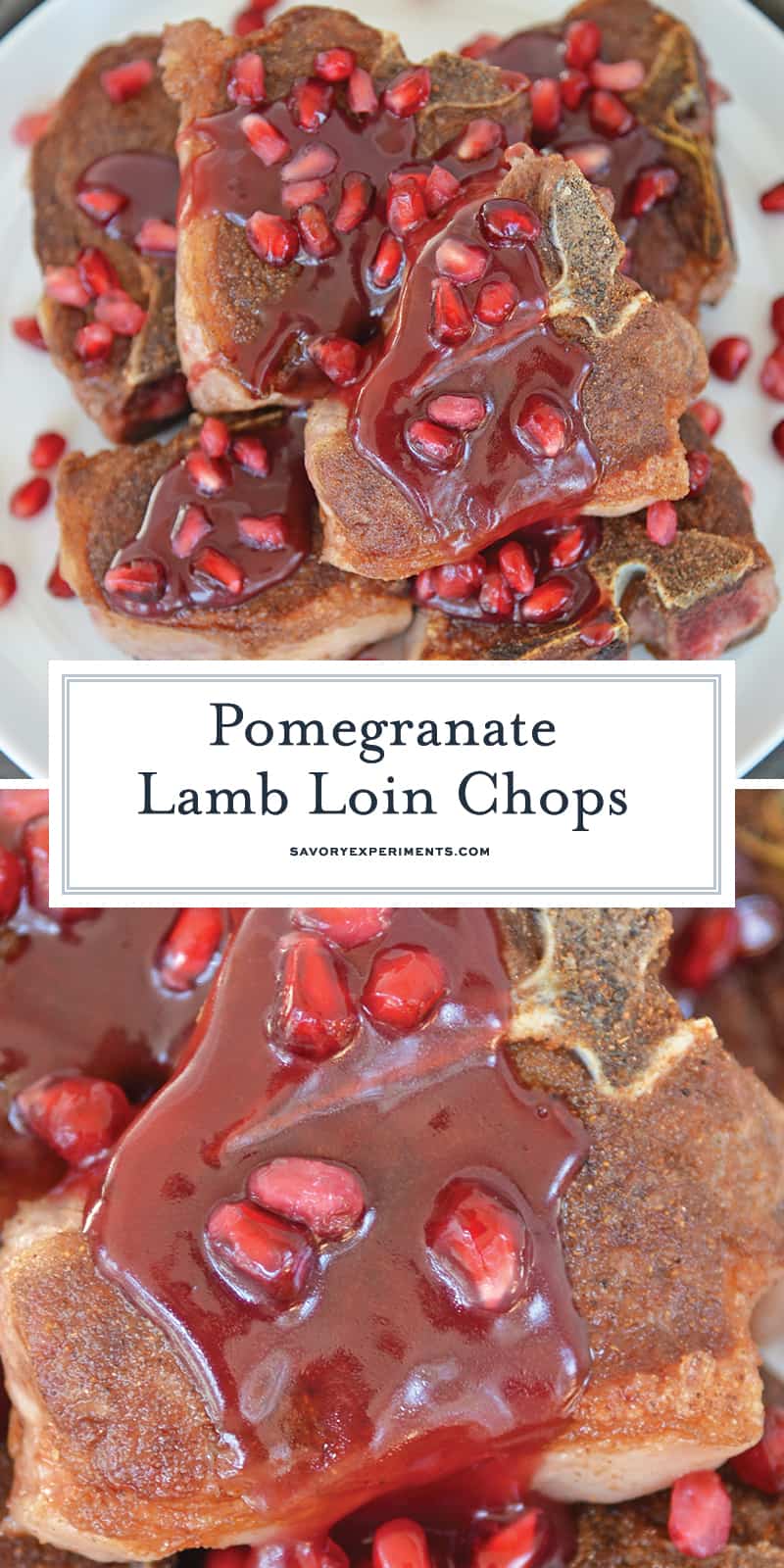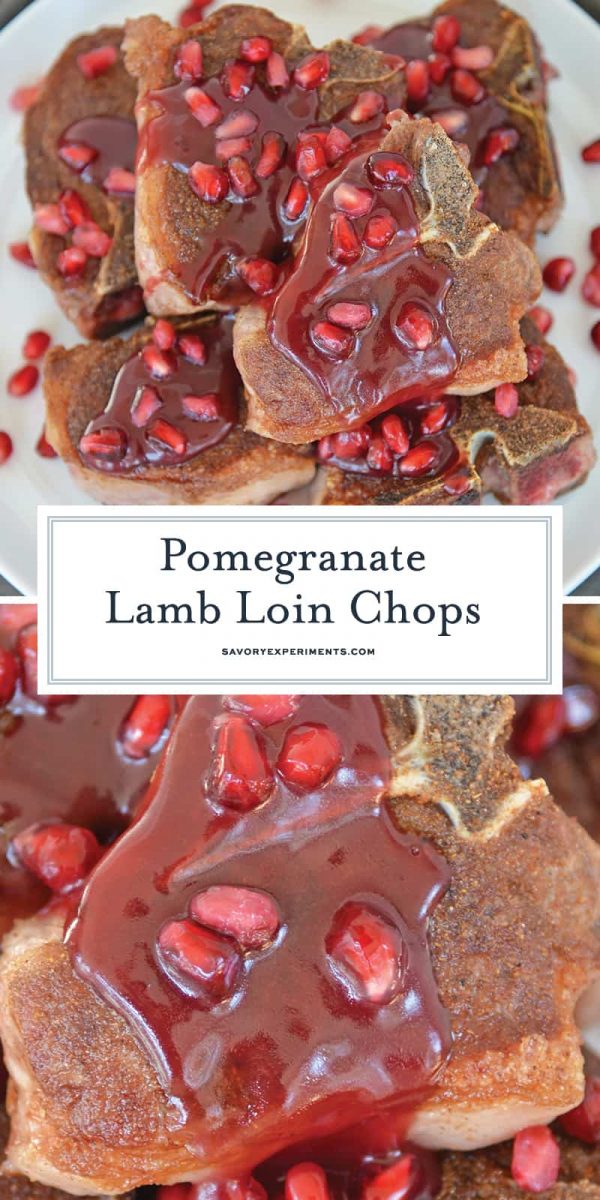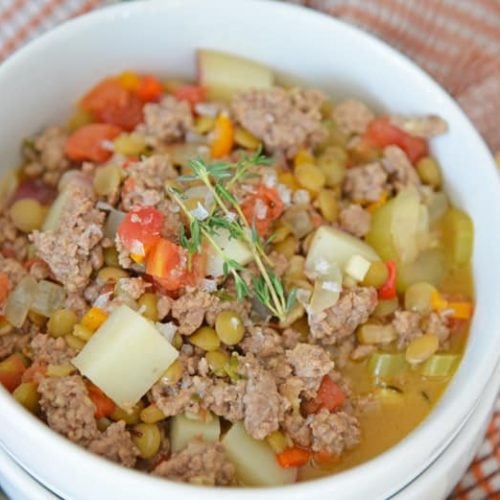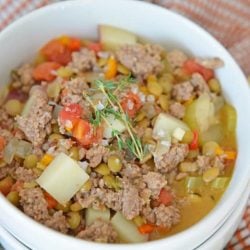 Easy Lamb Stew
Lamb Stew using ground lamb is made in just 30 minutes! Flavorful broth, crispy veggies and lentils make this fall stew recipe an easy weeknight meal.Lamb Stew using ground lamb is made in just 30 minutes! Flavorful broth, crispy veggies and lentils make this fall stew recipe an easy weeknight meal.
View this recipe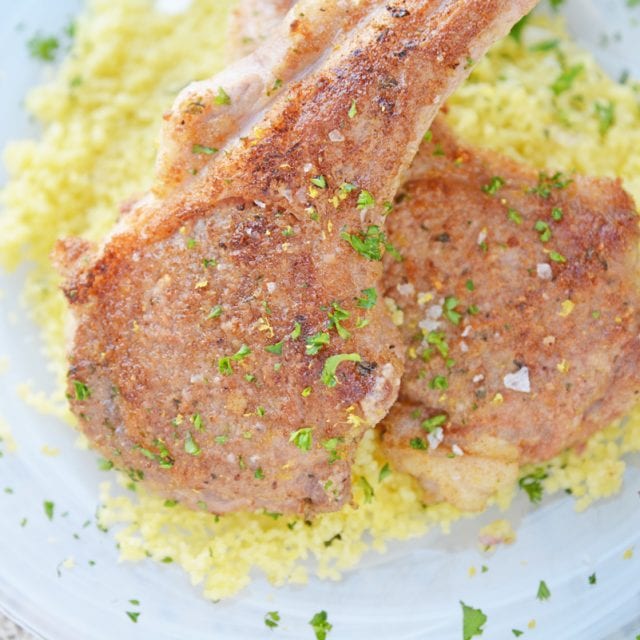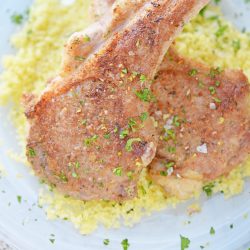 Parmesan Garlic Lamb Chops
Parmesan Garlic Lamb Chops are an easy and tasty Easter dinner recipe made with just bread crumbs, lemon zest and pecorino romano.
View this recipe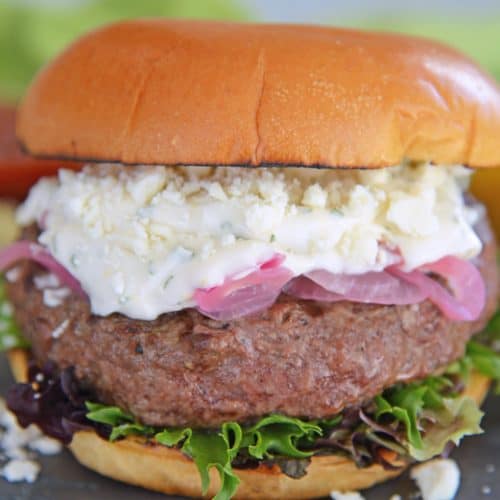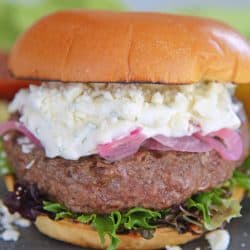 Greek Lamb Burgers
Greek Lamb Burgers are blended with lemon zest and spices then topped with a lemony mint yogurt sauce, pickled onions and feta cheese. The perfect juicy burger on the grill.
View this recipe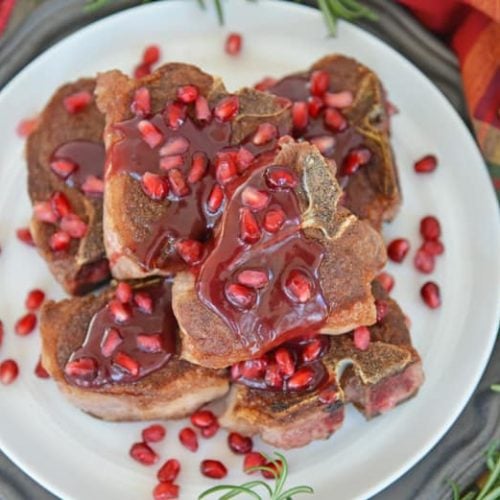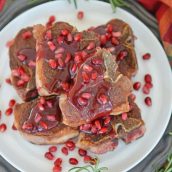 Pomegranate Lamb Loin Chops
Warm, comforting undertones of fall flavors like cinnamon, nutmeg and coriander create a lamb crust that pairs perfectly with sweet, tart burgundy pomegranate sauce. Aroma alone will get you in the holiday spirit.
Instructions
In a small bowl, combine cumin, coriander, white pepper, cinnamon, nutmeg and sea salt, mix to combine.

Blot lamb chops with a paper towel to dry.

Rub spice mixture onto both sides of each chop.

Heat a cast iron skillet over medium heat. When hot, add oil.

Place lamb chops into hot pan, do not move, allowing to sear and form a crust for approximately 3-4 minutes.

Turn and cook for the same time on the other side. Chops should be a nicely browned and an internal temperature just shy of 145 degrees. They will come to temp while resting.

Remove and set on a plate while preparing the pomegranate gravy.

In the same pan, pour off excess oil. Add pomegranate juice, heating over low heat.

In a small bowl, whisk together cornstarch and water. Whisk into heated pomegranate juice along with apple cider vinegar and sugar. Continue to whisk until sauce thickens slightly and sugar has dissolved.

Right before serving, add unsalted butter.

Plate lamb loin chops on each plate, top with about 2 tablespoons pomegranate sauce and 2 tablespoons pomegranate arils.

Serve immediately. If you tried and like this recipe, come back and let us know how it was!
Notes
Note: Even though this dish doesn't use fresh thyme or rosemary, both are excellent to have on hand for décor and garnish during the holiday season.
Nutrition
Calories:
310
kcal
,
Carbohydrates:
9
g
,
Protein:
13
g
,
Fat:
25
g
,
Saturated Fat:
10
g
,
Cholesterol:
61
mg
,
Sodium:
240
mg
,
Potassium:
238
mg
,
Fiber:
1
g
,
Sugar:
7
g
,
Vitamin A:
58
IU
,
Vitamin C:
1
mg
,
Calcium:
16
mg
,
Iron:
1
mg
Superior Farms American Lamb is the leading purveyor of quality natural lamb raised in a human and sustainable way. They offer a variety of premium cuts perfect for any meal. Check out more about the brand and their recipes on Facebook, Instagram or on their website.