Add something new to your Taco Tuesday spread with this Mexican Cream Cheese Shrimp Dip! Make it ahead for parties or even make it for dinner at home!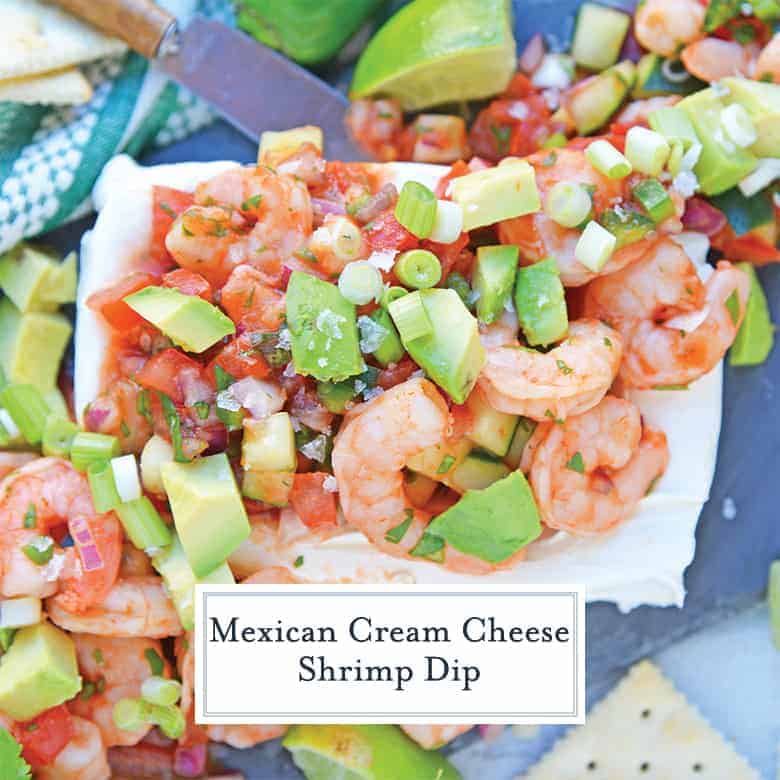 Take your usual cocktail sauce shrimp dip up a notch with this Mexican Cream Cheese Shrimp Dip recipe. It's perfect for any get together or party!
Most Shrimp Dips are just shrimp with cocktail sauce over cream cheese. Some might be Creole or claim to be Louisiana Shrimp Dip using cajun seasoning, but this cream cheese dip takes shrimp in another direction.
Mexican Cream Cheese Shrimp Dip is basically my famous Mexican Shrimp Cocktail over softened cream cheese topped with avocado and Maldon sea salt.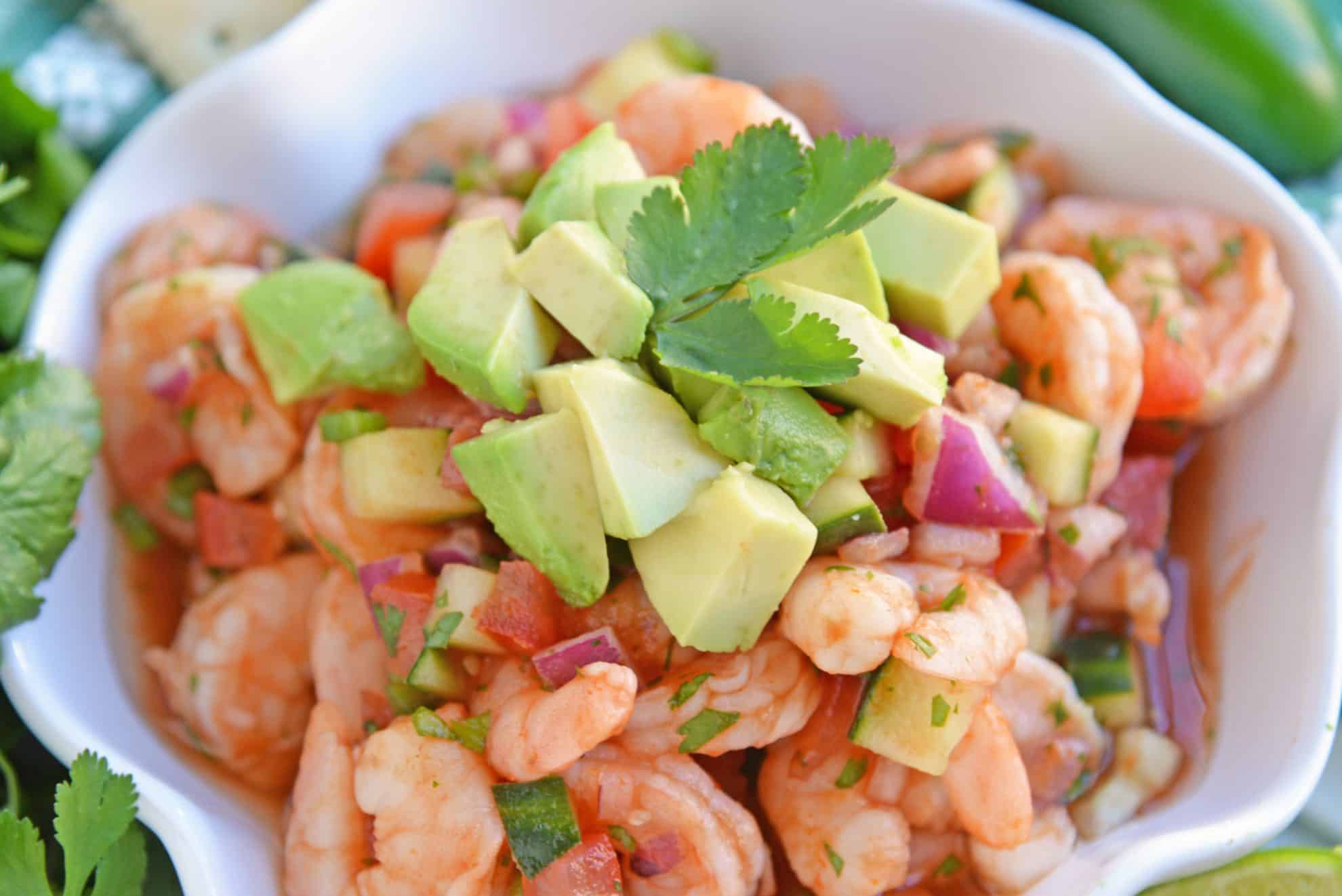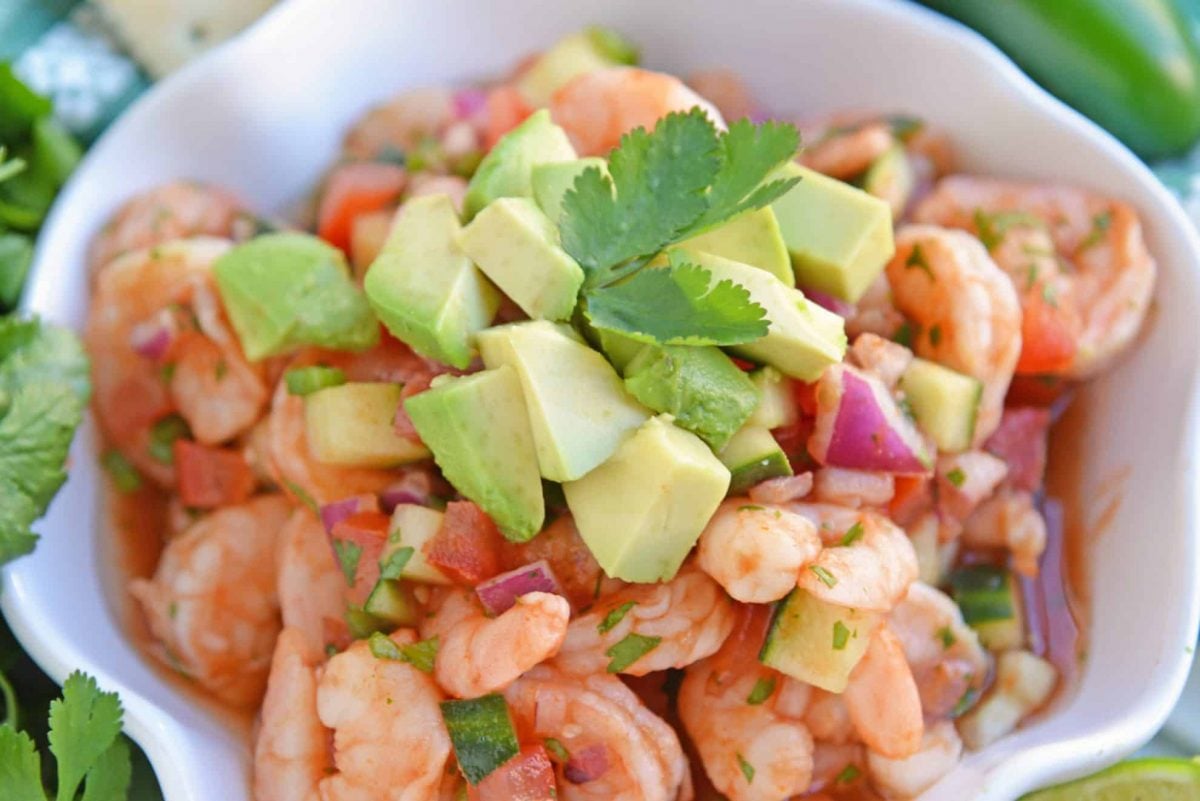 It is an excellent no cook and make ahead appetizer dish perfect for a cozy night at home, full-on fiesta, potluck or other party.
The shrimp portion can be made ahead of time, so you simply have to spoon it over, garnish and serve!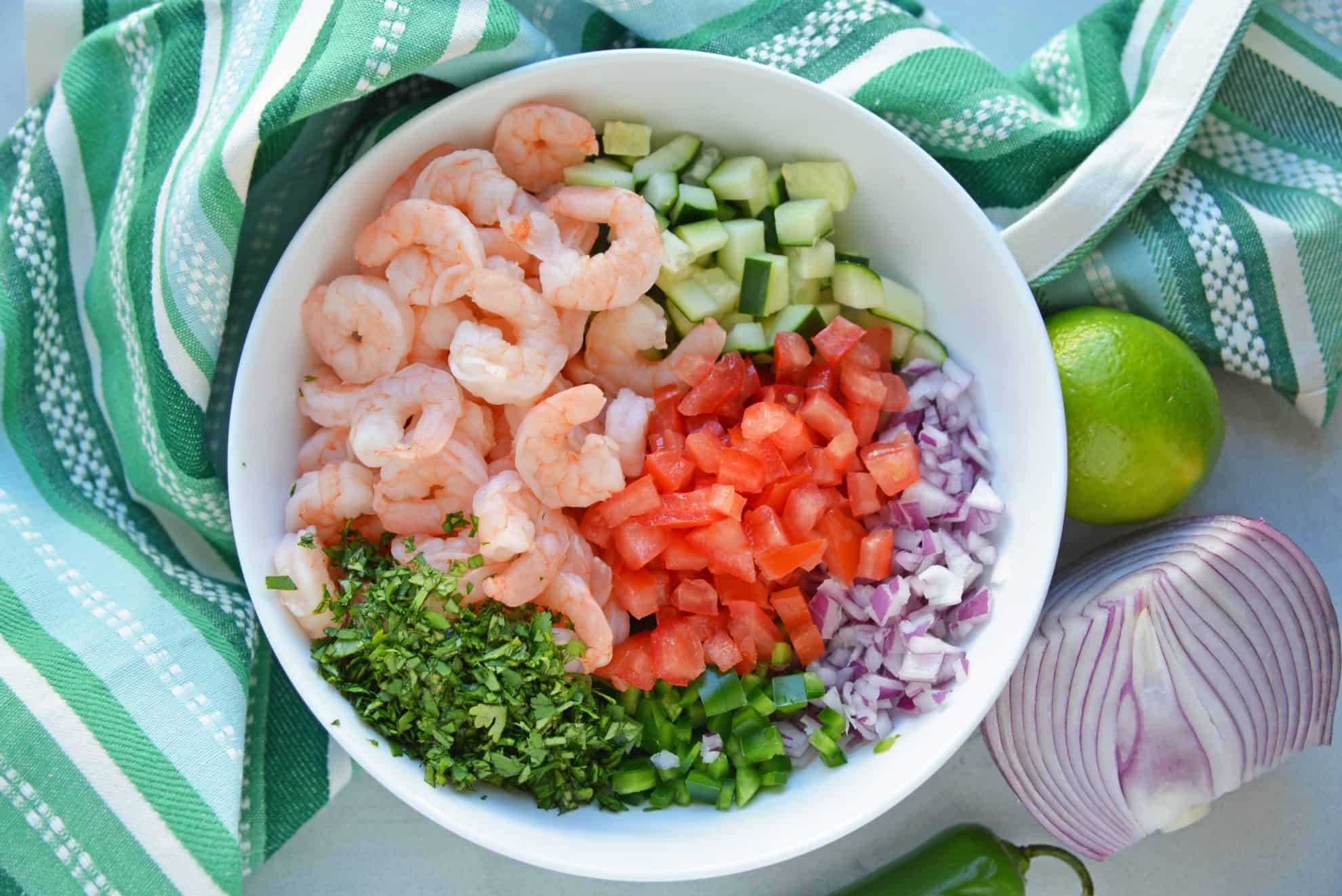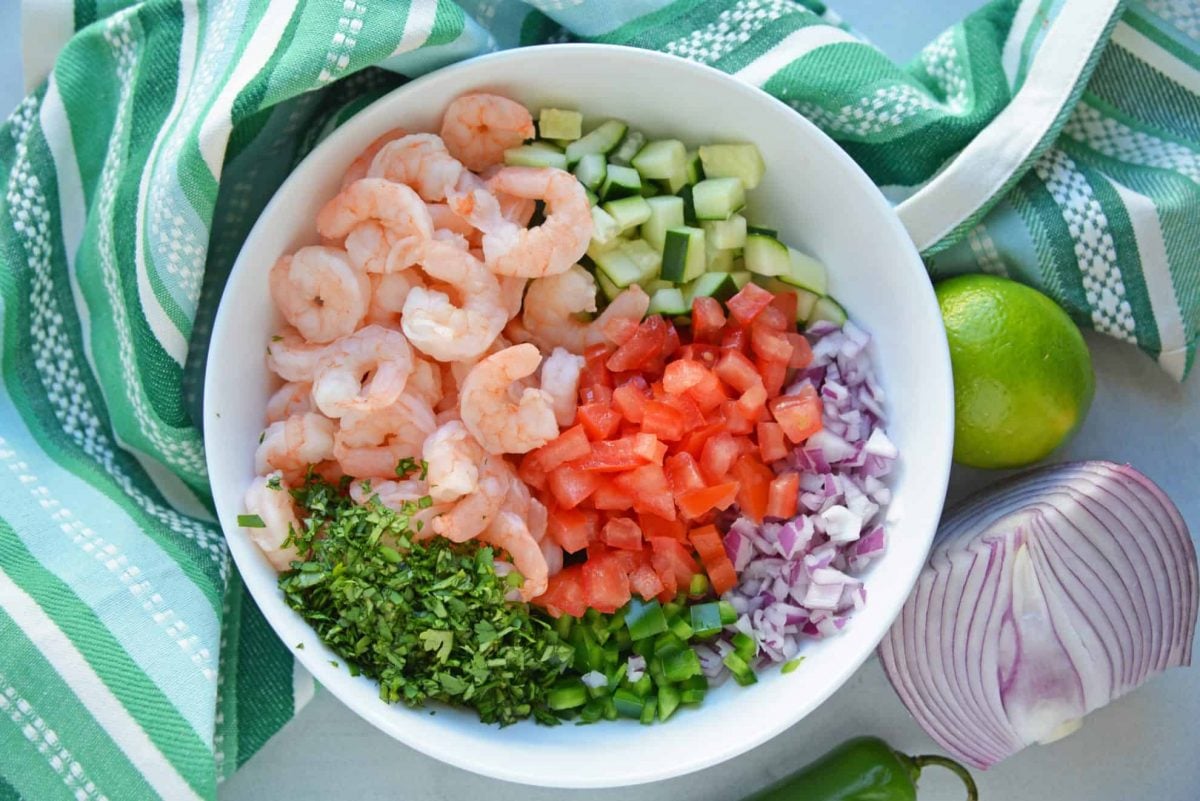 I like to use a flaky sea salt like Maldon salt, but this can be omitted if you wish. You can also use a dollop of sour cream or crema Mexicana, tomato salsa or even freshly cut jalapeno slices.
FACT: Avocados turn brown because they are oxidized, simply meaning their flesh has been exposed to air. Browning after cutting does not mean they have gone bad. To prevent this, brush them with olive oil or citrus like lime or lemon juice.
Another bonus to this Mexican Cream Cheese Shrimp Dip is being able to use fresh shrimp salad shrimp or baby shrimp. They are typically a lot less inexpensive. Although you can use larger shrimp and simply cut them into smaller pieces.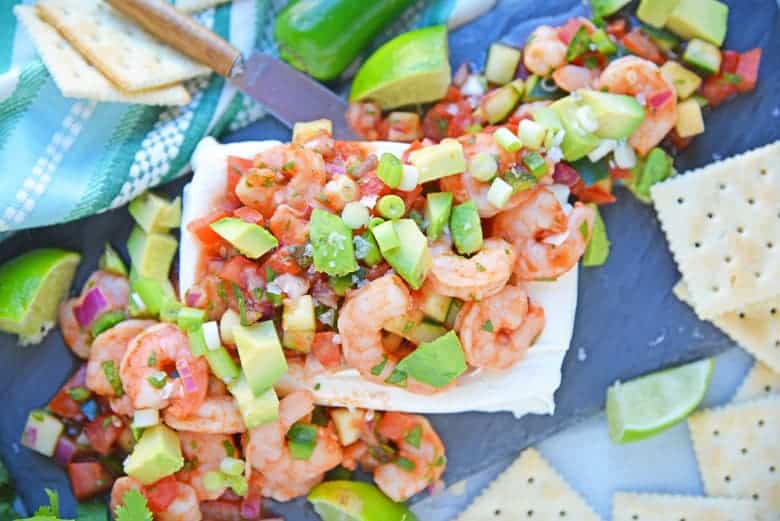 Also make sure to get the best avocados. This also make a huge difference!
Tips on how to choose the best avocado!
ONE. Don't judge by color, judge by texture. Avocados will vary in the hue of green, so don't rely solely on the color. A deep green doesn't necessarily mean that it is overly ripe or bad.
TWO. Do judge by texture. Take it in the palm of our hand and gently squeeze. Ripe, ready-to-eat fruit will be firm but will yield to gentle pressure.
If you are planning to eat your avocado the next day (or days after) pick a fruit that it is a little more firm.
THREE. While you shouldn't judge on overall color, do look for blemishes or discoloration on some spots.
FOUR. Even taking these steps, sometimes you still cut into an avocado and see brown. This is unavoidable and just part of the avocado game.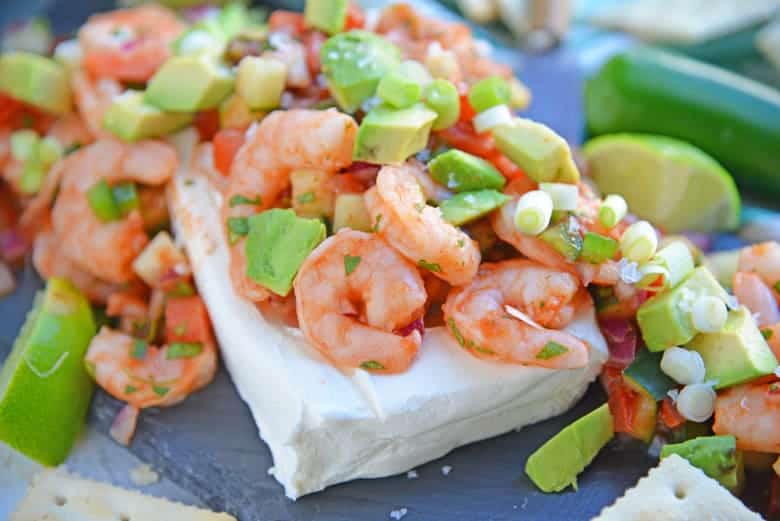 FIVE. If you do pick an overly ripe fruit, you can ripen it faster by putting it in a brown paper bag. They release a gas called ethylene, a natural hormone that promotes ripening.
PRO TIP: To ripen even faster, add more to the same bag. More fruit = more ethylene.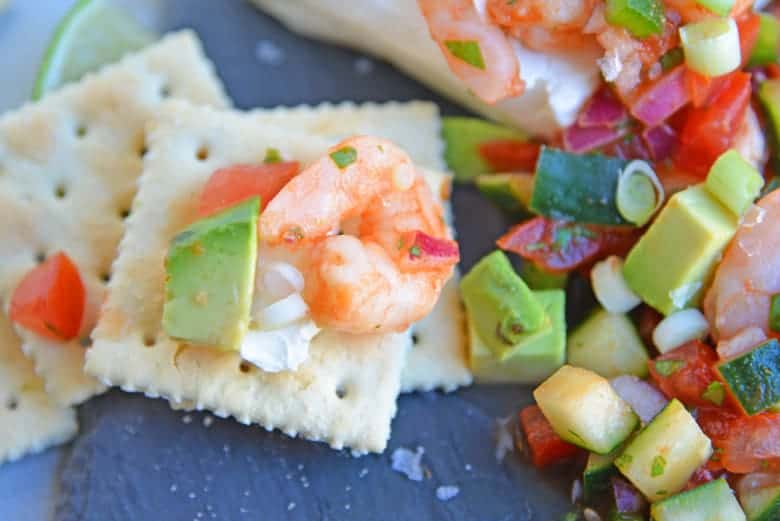 Tools for making this cream cheese shrimp dip recipe:
Wood cutting board – wood won't dull your knives like plastic and if treated properly, has natural antimicrobial properties.
Good knife – Global is my favorite! They are worth the price, I promise. I am kind of obsessed with them and store them tucked away so no one else can use them. Including hubby. Hands off my good stuff!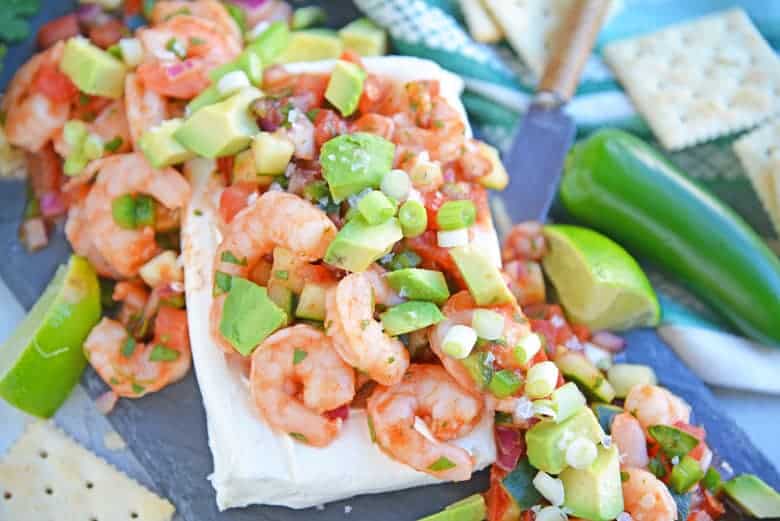 Mixing Bowls– make sure to check out my article on Using the Right Mixing Bowl, you'd be surprised how many people aren't!
Non Powdered Latex Gloves – Say what? Non powdered latex gloves are another one of my kitchen essentials. Anytime I chop a hot pepper (jalapeno, serrano, habanero), you risk the oils permeating your skin and it BURNS! Touch anything else, God forbid your eyes, and you will be in some real pain!
Avoid all of this by throwing on some latex gloves without powder. Unless you are allergic to latex, of course. And if you don't follow my advice and do end up with the burning skin, soak them in milk, the higher fat content the better!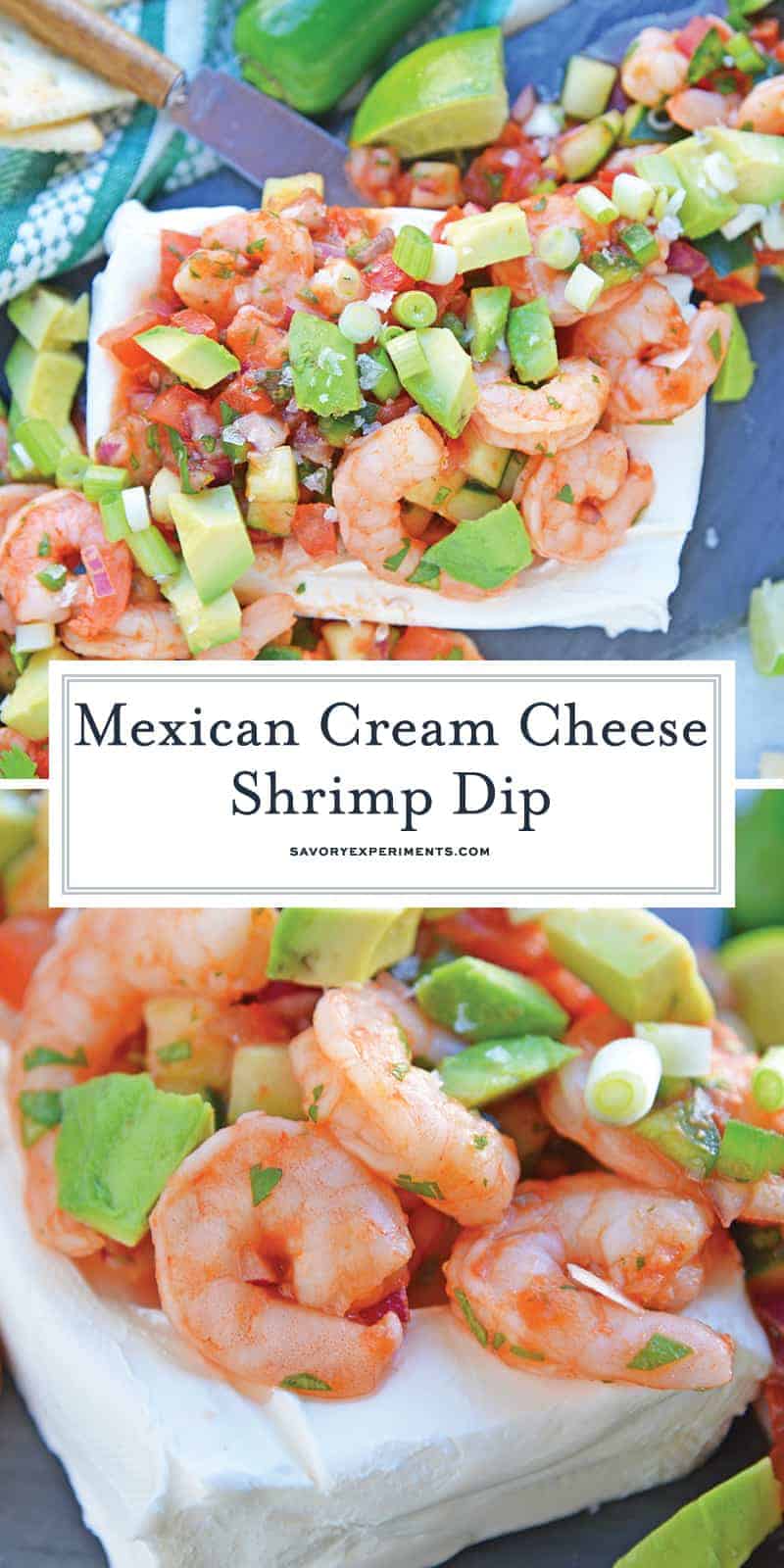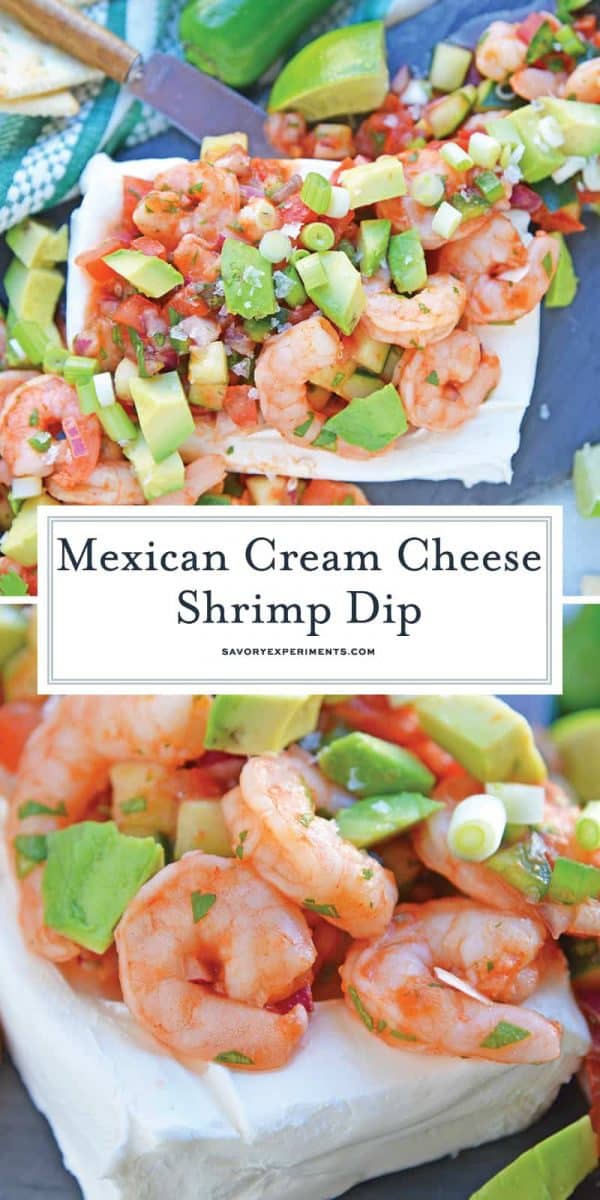 Great shrimp recipes:
Questions you might have about how to make Mexican shrimp cocktail:
Can I omit the cilantro? Yes! Omit the cilantro and you'll still be just fine.
Are the shrimp cooked? Yes. PLEASE COOK YOUR SHRIMP!!!! The recipe calls for cooked shrimp.
What size shrimp should I use? You can use whatever size shrimp you'd like, as long as it equals 1 pound.
Large shrimp or super small shrimp (that won't really require chopping) are all fine. I advise getting whatever is on sale.
Can I use frozen shrimp? Frozen shrimp are totally acceptable, just make sure they are thawed, drained and blot them well with a paper towel so they don't have any excess water.
You will drain it before you spoon it over the cream cheese, but less to begin with is better.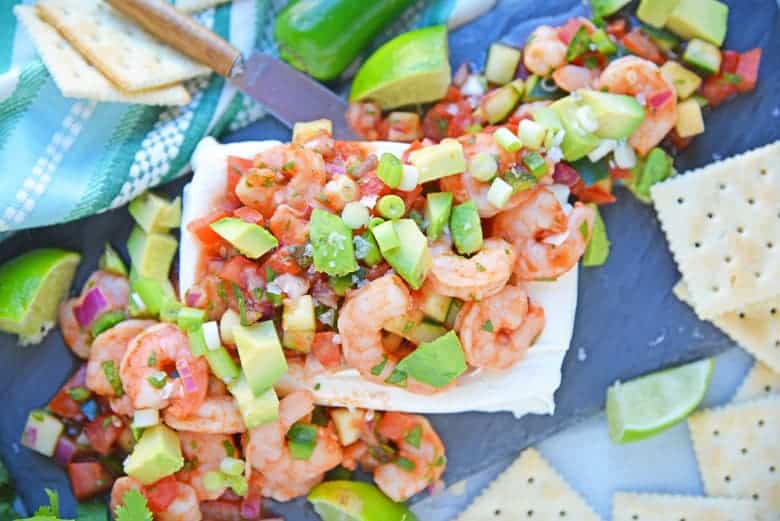 How long can shrimp dip be left out? CDC recommendations suggest no longer than 2 hours.
If you are serving outdoors or in hot weather, place the serving dish in or over another dish with ice packs to keep it colder longer.
How long does this Mexican cream cheese shrimp dip stay good? I would say no longer than 3 days in refrigerator due to the cream and seafood ingredients.
Is this a low carb shrimp recipe? Yes! This is a gluten free shrimp salad that is also low carb… if you use a low carb and low sugar ketchup and use something other than crackers or chips.
Can this recipe be frozen? No. I don't suggest freezing this recipe.