This homemade guacamole is so simple to make and is packed full of flavors! The roasted garlic and red pepper adds just the right amount of 'wow' to make this one great recipe!
Roasted Garlic Guacamole Dip is a refreshing twist on your typical avocado favorite! Roasted garlic and red bell pepper gives this guacamole recipe an edge over the others!
Avocado is a super food and while it can be bought year round, it is best during the late summer season. My husband isn't a big fan, but I try to incorporate avocado into a lot of dishes for myself.
Roasted Garlic Guacamole Dip is slightly different from most because it contains no tomatoes. Yes, you read correctly, NO TOMATOES. Can you believe it?
Instead, Roasted Garlic Guacamole Dip blends Avocado, an entire head of roasted garlic, fresh cilantro, fresh lime juice and a few other spices.
While I like to make my roasted garlic and red peppers from scratch, you can buy these pre-made at your grocery store to save time. I will challenge you to roast your own red pepper and taste the difference between the bottled version.
Another tip for any guacamole is to always add lemon or lime (something citrus and acidic) to your guacamole or avocado dishes- it prevents oxidation and preserves the color for at least 24 hours. It just isn't appetizing when it goes brown.
Flourless Avocado Brownies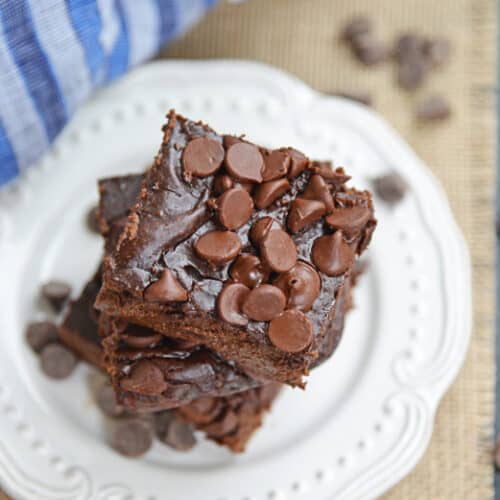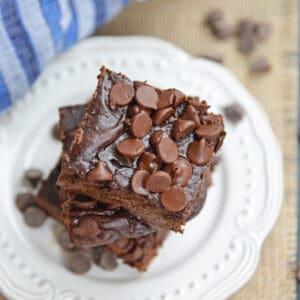 Easy Avocado Brownies are made in the blender and ready in just 30 minutes. No flour and honey instead of sugar!
Creamy Avocado Pasta Sauce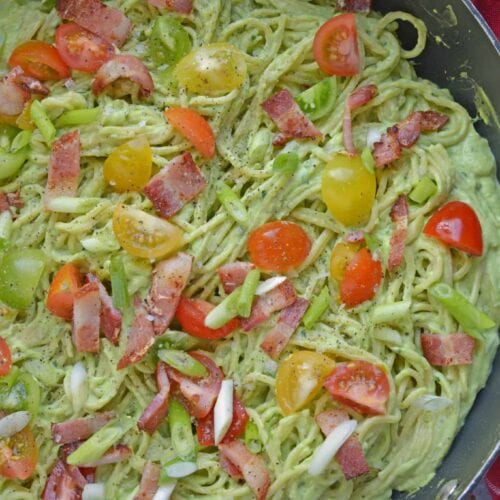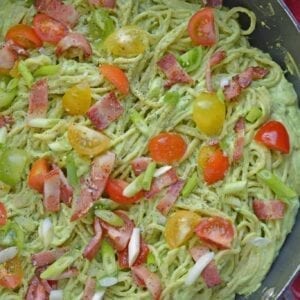 Healthy Creamy Avocado Pasta Sauce is a great alternative to traditional Alfredo sauce. Avocados, thick Greek yogurt, lemon juice, tomatoes and scallions make this wildly popular dish a favorite. Bacon optional!
Bacon Avocado Grilled Cheese Sandwiches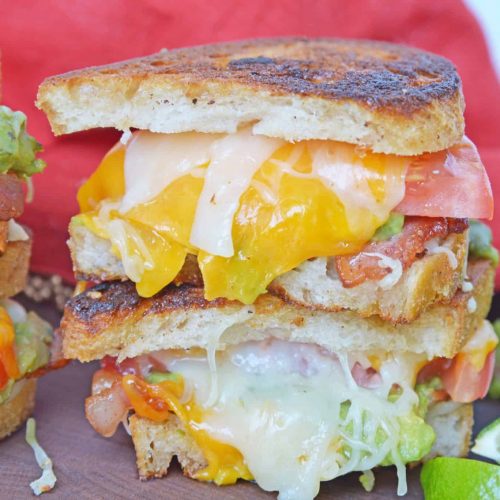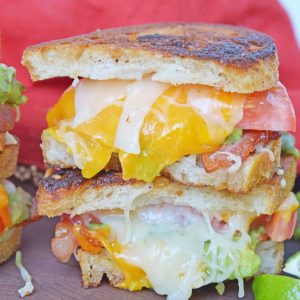 Bacon and Guacamole Grilled cheese is made up of three types of cheese, zesty guacamole, lime and bacon for out of this world sandwich experience!
Tools for making Roasted Garlic Guacamole Dip:
Wood cutting board – wood won't dull your knives like plastic and if treated properly, has natural antimicrobial properties.
Good knife – Global is my favorite! They are worth the price, I promise. I am kind of obsessed with them and store them tucked away so no one else can use them. Including hubby. Hands off my good stuff!
CONNECT WITH SAVORY EXPERIMENTS!

Be sure to follow me on social media, so you never miss a post!

Facebook | Twitter | Youtube
Pinterest | Instagram

Get our FREE 8 Day E-Course on How to Be a Better Home Cook. Sign up HERE!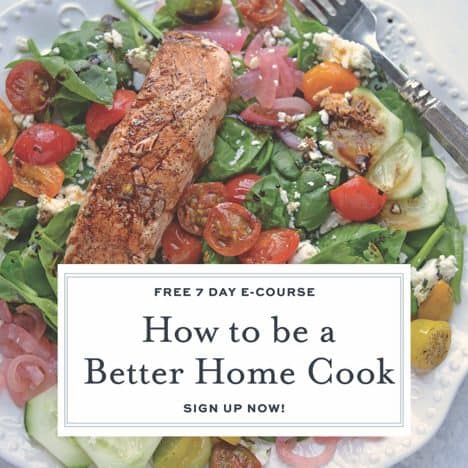 Print Recipe
Roasted Garlic and Red Pepper Guacamole
Roasted garlic and red bell pepper gives this guacamole an edge on the others.
Instructions
Preheat oven to 400 degrees. Cut off the top of the head of garlic. Place it in aluminum foil. If you have trouble with it standing up or all of the pieces staying together you can prop it up in one muffin slot of a muffin tin. Pour 1 tablespoon of extra virgin olive oil over the top of the head of garlic. Fold over aluminum foil into a tight little ball. Bake in the center of the oven for 30-35 minutes or until cloves are browned, sticky and soft.

Remove each clove from the skin to a medium size bowl. Mash cloves well with fork.

Preheat oven broiler. Cut red bell pepper in half. Remove and discard the seeds, membranes and stem. Place a sheet of aluminum foil on a baking sheet. Spray with cooking spray. Place bell pepper halves, skin up, on the aluminum foil and smash down using the palm of your hand. Halves will be flat and spilt in places. Spray skin well with cooking spray.

Place flattened bell peppers in the top half of the oven under the broiler. Watch very closely. You want the peppers skin to be blackened. When almost fully charred, remove from the oven.

Immediately place the red pepper halves an airtight plastic bag. The bag will steam up, assisting the skin to separate from the pepper. Allow to sit in the bag for 10 minutes. Remove from the bag and peel off skin. Mince bell pepper and add to mashed garlic bowl.

Slice avocado in half and remove the pit. While still in the skin, use a small knife and cut crisscross lines into each half. Using a large metal spoon, scoop out the halves. You should scoop out already diced avocado. Place in the bowl with mashed garlic and minced roasted red pepper.

Heat lime in microwave for 30 seconds. Heating will yield more juice. Juice both sides of the lime and add to the mixture. Add in cilantro, sour cream and season with salt and pepper.

Refrigerate until ready to serve.

If you've tried this recipe, make sure to come back and let us know how it was!
Nutrition
Calories:
257
kcal
|
Carbohydrates:
17
g
|
Protein:
3
g
|
Fat:
21
g
|
Saturated Fat:
3
g
|
Sodium:
18
mg
|
Potassium:
647
mg
|
Fiber:
8
g
|
Sugar:
3
g
|
Vitamin A:
2010
IU
|
Vitamin C:
96.3
mg
|
Calcium:
31
mg
|
Iron:
1
mg