Growing tired of the same old meatball or dip appetizer when throwing a party? This Smoked Salmon Dip is elegant, packed with flavor and super simple to throw together.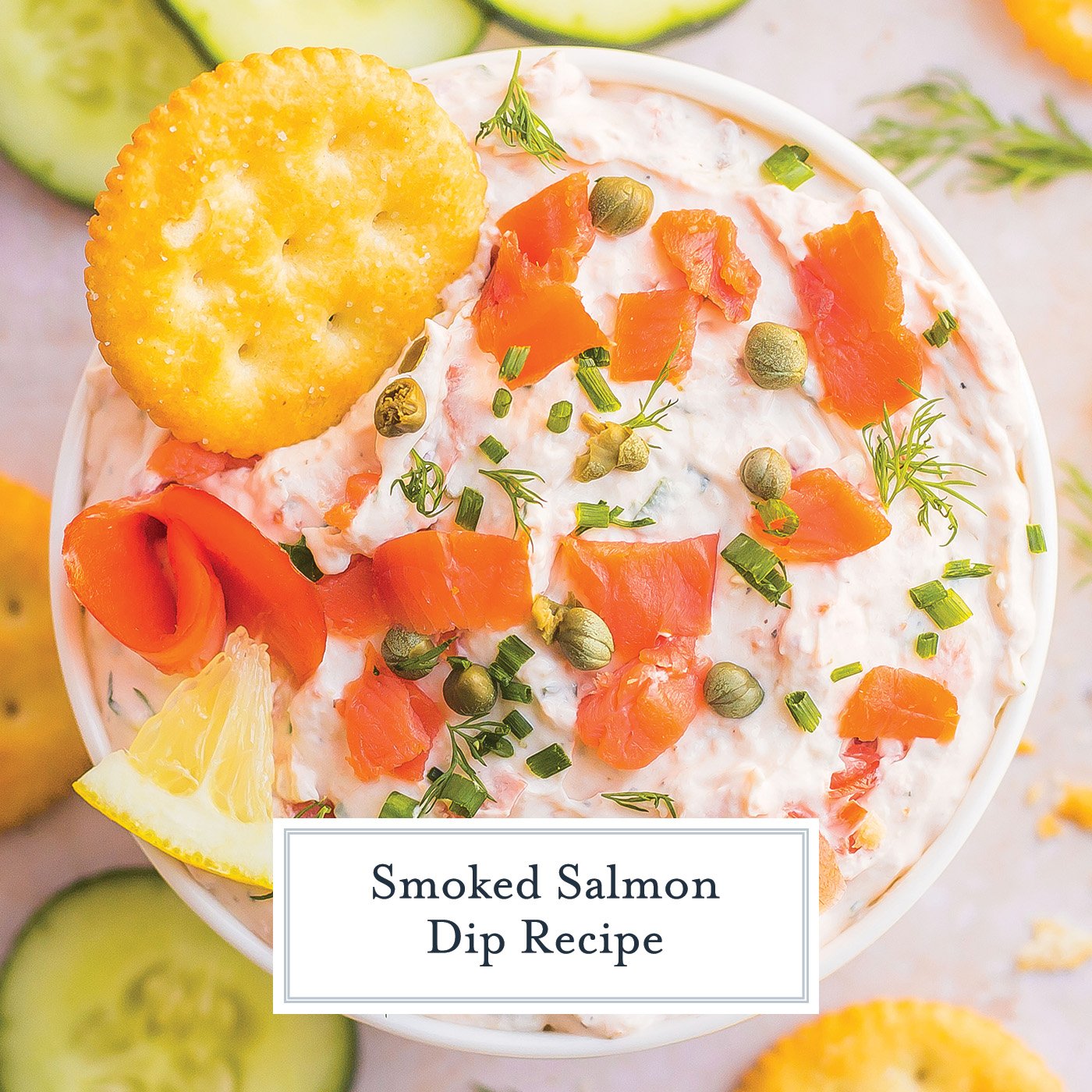 We're always entertaining, whether it's for the holidays or a weekend get together with friends. Because of that, I'm always looking for exciting new appetizers to serve. Sometimes you don't need a full dinner and just want a tasty dip to snack on.
This Smoked Salmon Dip Recipe is the perfect appetizer!
That's where this smoked salmon dip recipe comes into play. Easy appetizer recipes are always something handy to keep in your recipe arsenal. And because this easy smoked salmon dip is made with simple ingredients, it makes it the perfect appetizer for any occasion.
With only three easy steps, you can have this salmon spread ready in no time. So grab your favorite dippers and get ready to dive in.
Why you'll love this Salmon Spread with Cream Cheese
Salmon spread offers a multitude of reasons to love it, ranging from its delicious taste and versatility to its nutritional value and ease of preparation. It's a delightful addition to any meal or occasion and is sure to become a favorite in your culinary repertoire.
Creamy and flavorful: The combination of salmon and cream cheese creates a rich and luscious spread that is incredibly satisfying to the palate.
Versatile: The salmon spread can be used in various ways, making it a versatile addition to your culinary repertoire. Spread it on crackers, toast, or bagels for a delicious snack or breakfast option.
Elegant and impressive: Serving a salmon spread with cream cheese is an elegant choice for entertaining guests or hosting parties. It adds a touch of sophistication to any gathering and is sure to impress your friends and family.
Easy to make: Creating this salmon spread is a breeze. With just a few simple ingredients and minimal effort, you can whip up a delectable spread in no time. It's a convenient option for busy individuals who still want to enjoy a delicious homemade treat.
Refreshing and light: Despite its creamy texture, the salmon spread with cream cheese maintains a refreshing and light quality. The tanginess of the cream cheese complements the subtle flavors of the salmon, creating a harmonious and delightful combination.
Gourmet flavor at home: By making this salmon spread yourself, you can enjoy a gourmet flavor experience without the need for expensive restaurant visits. It allows you to indulge in a high-end taste sensation from the comfort of your own home.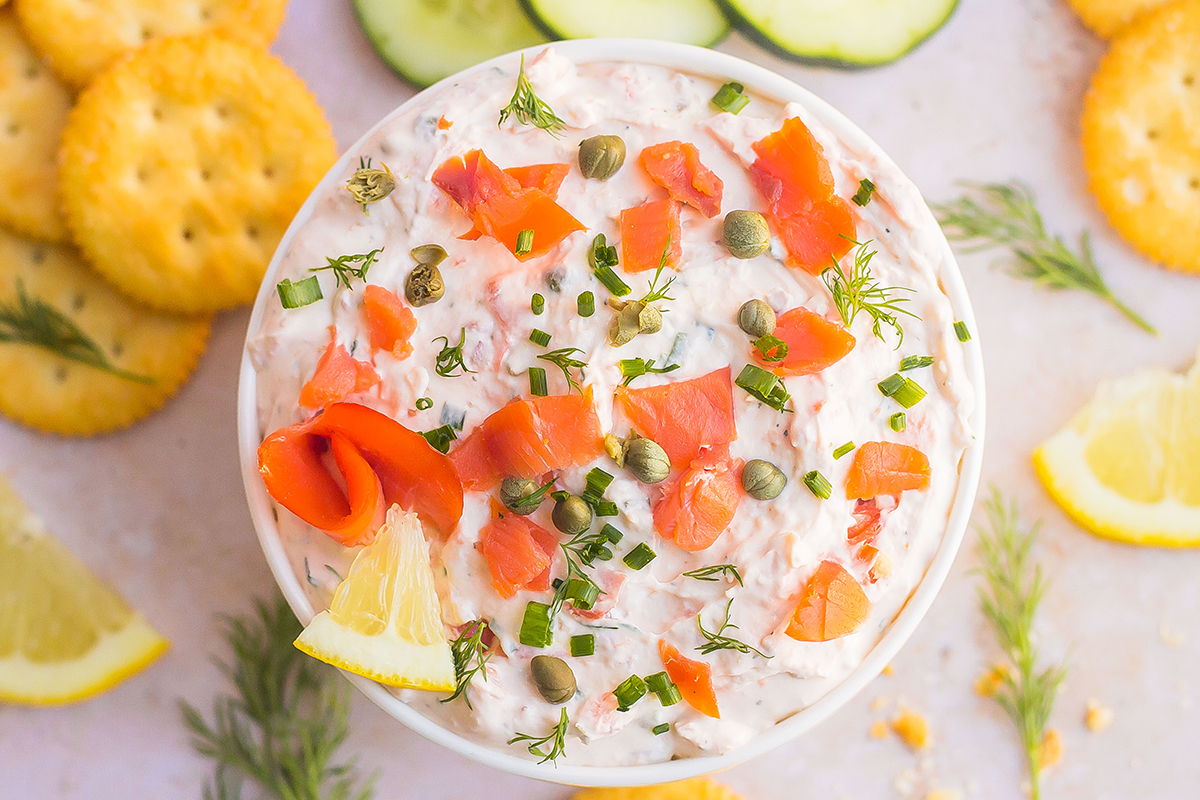 Salmon Dip Recipe ingredients
Cream cheese – You can use full fat or reduced-fat block of cream cheese for this dip, just make sure it is fully softened before using.
Smoked salmon – This recipe is a great way to use up leftover salmon if you have some from dinner the night before. Just make sure it's roughly chopped to get the maximum amount of salmon flavor in every bite. Otherwise, you can gran some at the seafood counter at your grocery stores.
Sour cream – Along with adding some tang and acidity, sour cream helps to thin this recipe out so that's it's more of a dip than a spread.
Mayonnaise – This adds a bit of tang to your salmon dip, but you can also use plain Greek yogurt to make it more of a healthy smoked salmon dip.
Fresh lemon juice – I always opt for fresh lemon when making recipes like this. The bottles lemon juice has a sort of aftertaste that isn't very pleasing, plus you can get some fresh lemon zest to grate on top when you use a fresh lemon.
Fresh dill – Fresh herbs give the most amazing flavors to dip recipes like this. Plus the flavor of dill pairs really nicely with the salmon.
Fresh garlic – I almost always prefer to use fresh garlic over the jarred variety. It's more pungent and packs more of a punch.
Fresh chives – Also known as green onion, we want these to finely chopped so that we aren't getting huge chunks in the dip. Smaller pieces are better.
Red onion – Besides adding a hint of color to your dip, red onion also adds a crunch and a strong onion flavor to accompany the chives.
Capers – Capers and salmon go hand in hand, right? The fresh lemony flavor of the capers pairs so well with salmon.
Salt and pepper – You can use these to taste, but I prefer to use freshly ground black pepper and fine sea salt in my dip.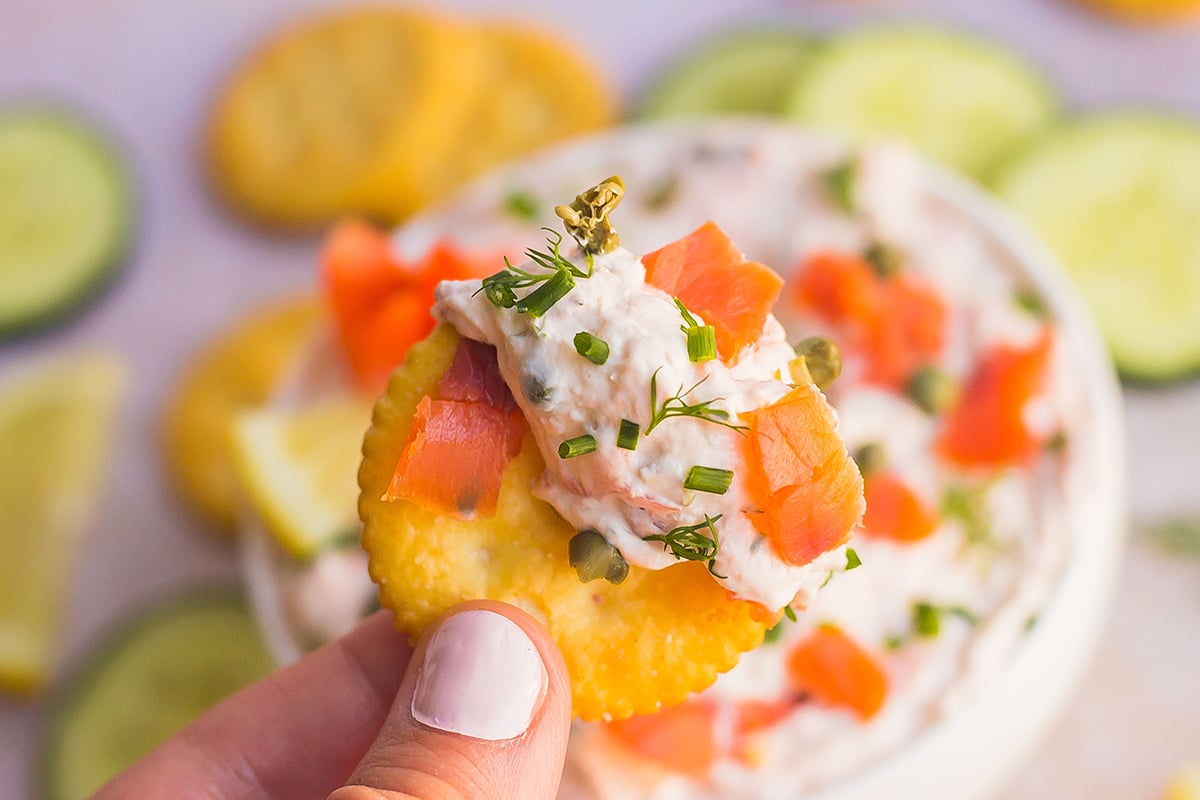 How to make Salmon Dip with Cream Cheese
Blend. In the bowl of a food processor add the cream cheese, some of the salmon, sour cream, mayonnaise, lemon juice, fresh dill, and garlic. Process until combined, scrape down the sides, and pulse until smooth.
Add seasonings. Add the dip to a medium bowl and fold in the remainder of the smoked salmon, chives, dill, capers, salt, and pepper. Mix with a spoon until combined.
Refrigerate. Place the dip in the refrigerator and let it sit. Serve with your favorite dippers.

What to serve with Salmon Cream Cheese Dip
You can really dip anything your heart desires into this Smoked Salmon Dip. You could even use it as a spread for bagels if you're hosting brunch.
However, there are a few dippers that we favor, so I'll list them here:
Cucumber slices
Bagel chips
Crackers
Pita Chips
Bell peppers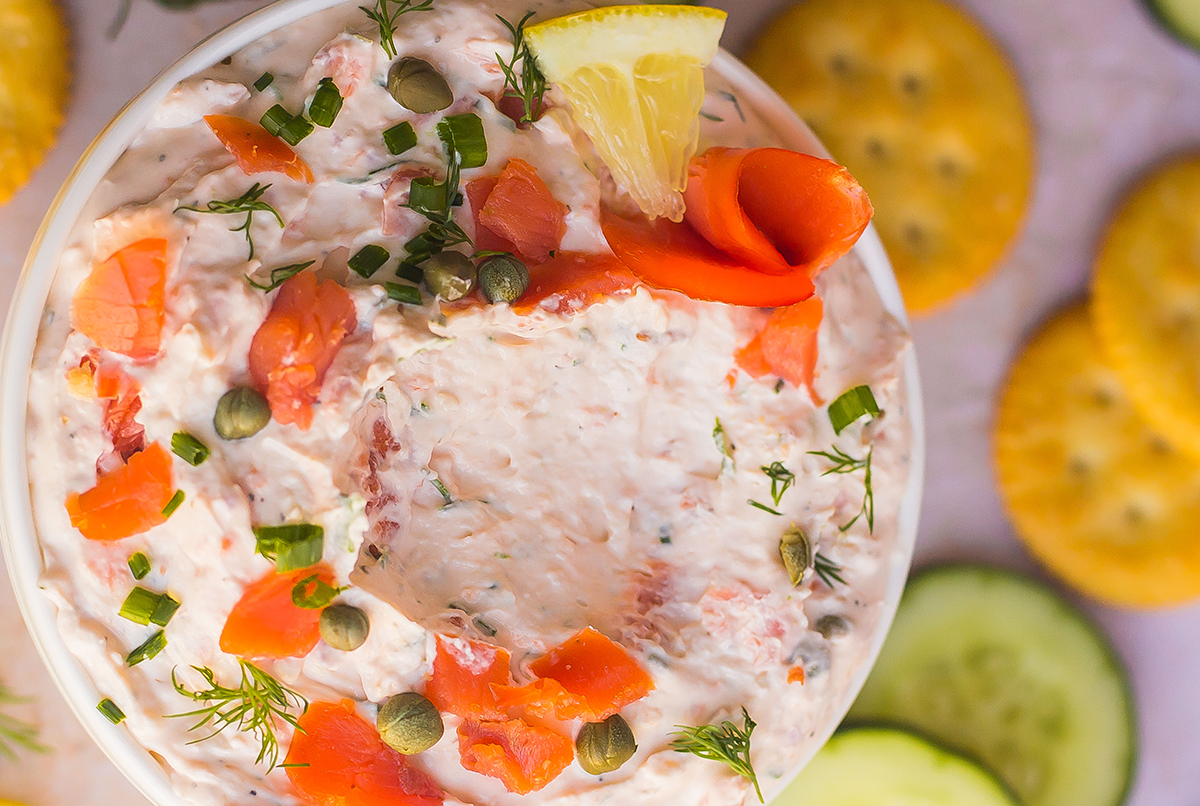 How to store Cream Cheese Salmon Dip
This smoked salmon dip is best stored in an airtight container.
How long is salmon dip good for?
It can last for about 7-10 days, but check the smoked salmon package expiration date for a more exact time frame.
It becomes a little firm when refrigerated, so let it sit out at room temperature before serving, otherwise it will be hard to scoop. If it need a little freshening up after being stored for a few days, squeeze a little fresh lemon juice and it will be just fine.
Can I freeze smoked salmon dip?
I do not recommend freezing this dip.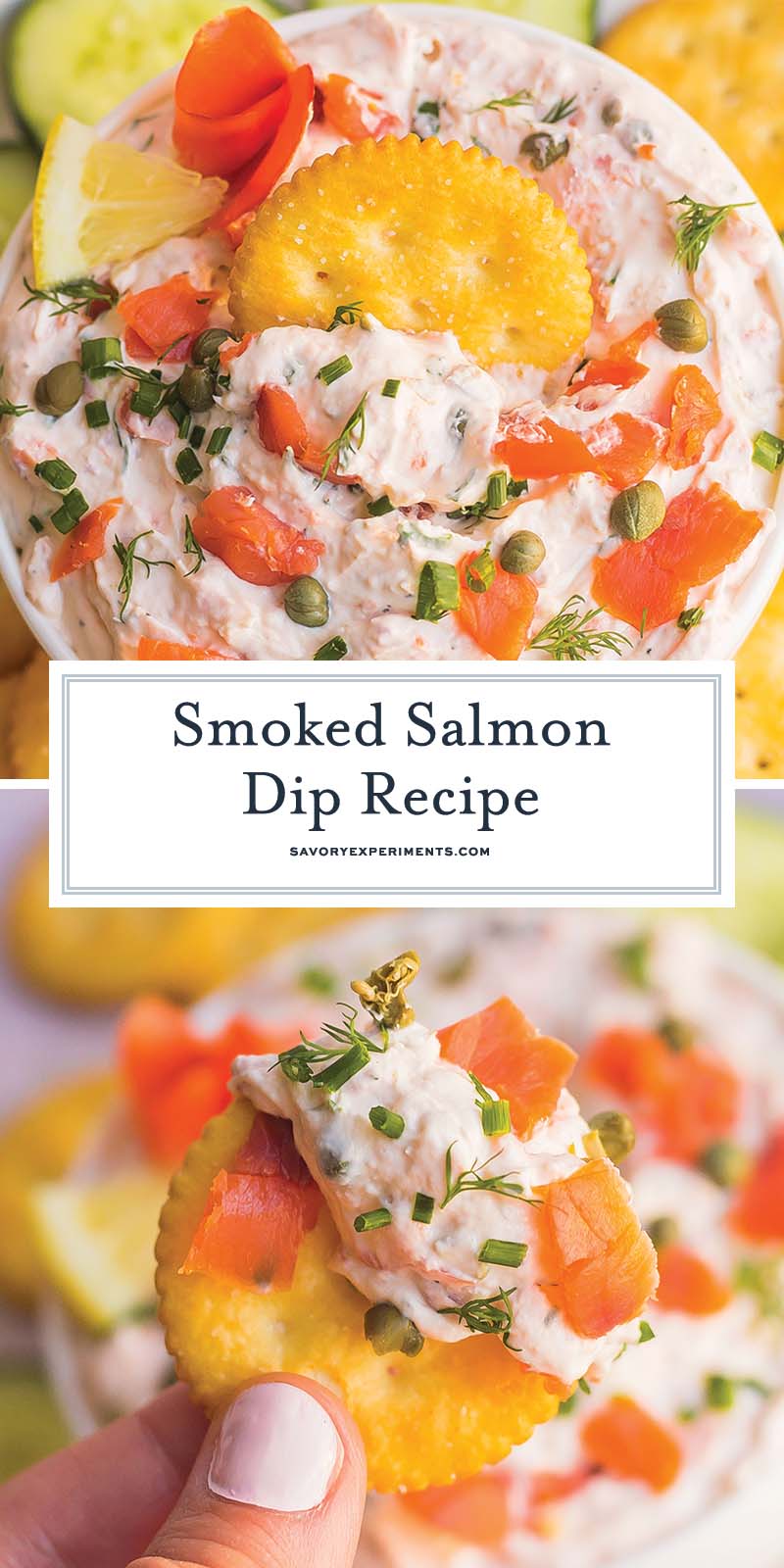 More delicious dips: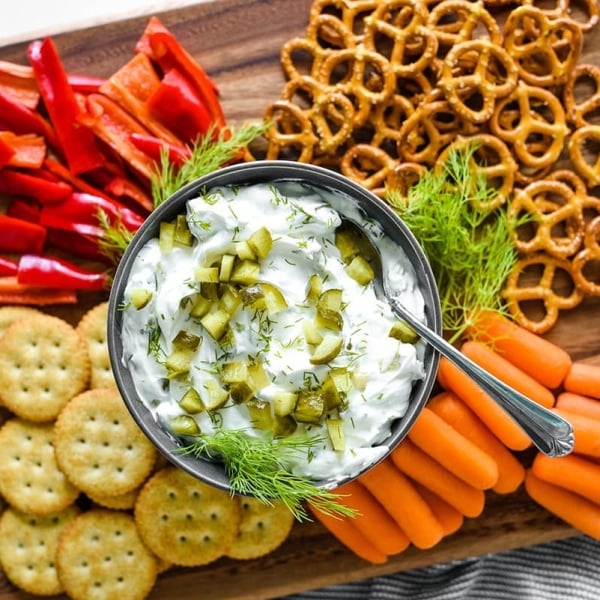 Dill Pickle Dip
This Dill Pickle Dip is a quick and easy appetizer, ready in 5 minutes! Less than 10 ingredients make this creamy dip the BEST!
See The Recipe!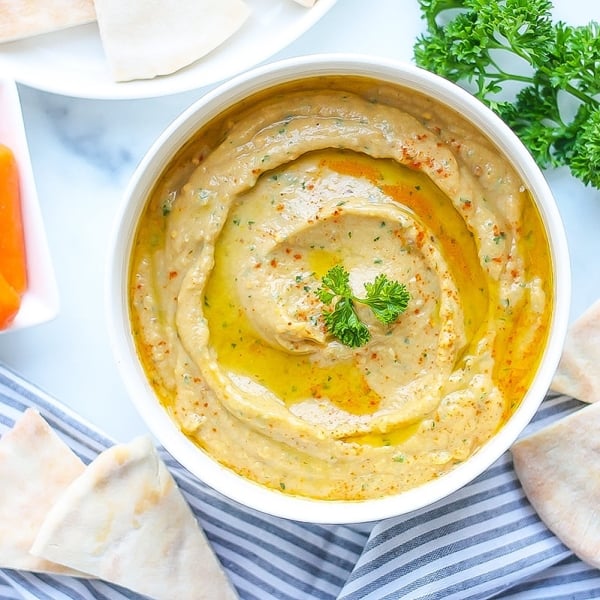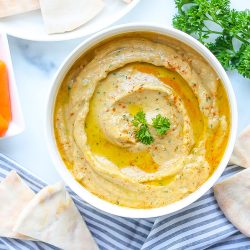 Chili Cheese Dip
If you are a fan of dips you need to make this 3 ingredient Chili Cheese Dip, whips up in under 10 minutes and is fool-proof!
See The Recipe!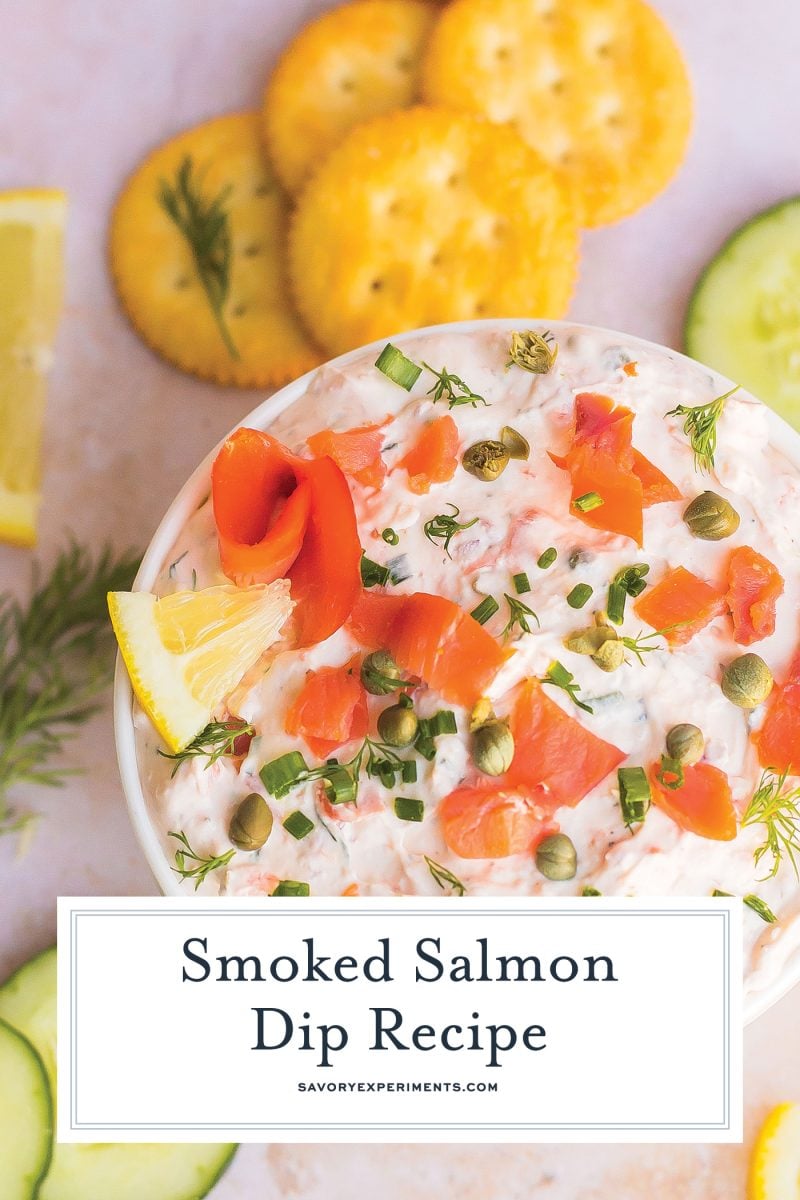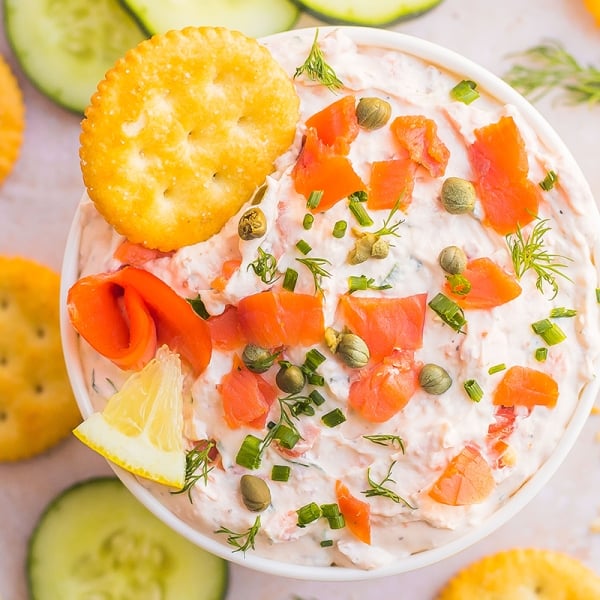 Smoked Salmon Cream Cheese Dip
In under 10 minutes you can have an elegant and delicious crowd-pleasing dip with this EASY Smoked Salmon Dip Recipe! Great for parties!
Instructions
In a food processor add the cream cheese, 2 ounces of the smoked salmon, sour cream, mayonnaise, lemon juice, fresh dill, and garlic. Process until combined, scrape down the sides, and pulse until smooth.

Add the dip to a medium bowl and fold in the remainder of the 2 ounces of smoked salmon, chives, dill, capers, salt, and pepper. Mix with a spoon until combined.

Place the dip in the refrigerator and let it sit for at least 30 minutes. Serve with crackers, sliced cucumbers, bagel chips, or any of your favorite crackers and veggies.

If you've tried this recipe, come back and let us know how it was in the comments or star ratings.
Notes
Store in an airtight container in the refrigerator for up to 5 days.
We do not recommend freezing this dip.
Nutrition
Calories:
198
kcal
,
Carbohydrates:
3
g
,
Protein:
6
g
,
Fat:
18
g
,
Saturated Fat:
9
g
,
Polyunsaturated Fat:
3
g
,
Monounsaturated Fat:
5
g
,
Trans Fat:
1
g
,
Cholesterol:
47
mg
,
Sodium:
413
mg
,
Potassium:
102
mg
,
Fiber:
1
g
,
Sugar:
2
g
,
Vitamin A:
570
IU
,
Vitamin C:
1
mg
,
Calcium:
46
mg
,
Iron:
1
mg